Thailand
Police set to crack down on football gambling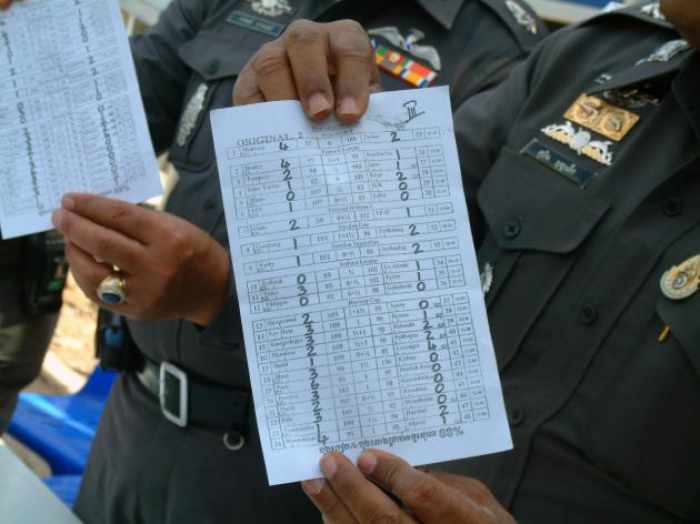 PHUKET MEDIA WATCH
– Thailand news selected by Gazette editors for Phuket's international community
Police set to crack down on football gambling
The Nation / Phuket Gazette
PHUKET: Ahead of the World Cup kick-off on Thursday, police have launched an operations centre to crack down on football gambling, both online and offline, as well as SMS lucky draws.
According to a survey by Chulalongkorn University's Centre for Gambling Studies, 40 per cent of children who bet on football started as early as 15 and 52.6 per cent funded their habit with their own piggy bank money.
Pol General Aek Angsananont, deputy National Police chief and head of the centre, told a press conference yesterday that all unit heads would discuss suppression measures in a videoconference this morning.
Pol Maj-General Noraboon Naenna, deputy Central Investigation Bureau commissioner, said the centre would join with each police precinct to tackle gambling at entertainment establishments or other venues showing live matches. While landlords that allowed gambling on their premises could face a permit revocation, bookies, investors and gang members would also be arrested.
Pol Colonel Akkharadet Pimonsri from the Crime Suppression Division said police and the ICT Ministry would immediately close gambling websites.
Football gambling had surged 30 per cent due growth in Internet usage especially among students and working people in big cities, he said.
Police would monitor calls to the 191 and 1599 hotlines to arrest telephone bookies and operators of SME draws and other gambling channels.
Cases involving more than Bt10 million and over 100 people could also face legal action under the Anti-Money Laundering Act.
As some desperate losers might seek easy cash to repay debts, police would also get tougher on robbers especially of banks, gold shops and 24-hour convenience stores.
Schools and banks were also urged to help alert police to student gambling behaviour and suspicious financial transactions.
Loan sharks using illegal methods for debt collection – as well as any police in their pockets – would also face severe legal action.
If police units nabbed gambling suspects in an area where local police were lax, they would face a probe over dereliction of duty, he added.
Nuannoi Trirat, director of the Centre for Gambling Studies, said 49 per cent of the 3,050 high school and vocational college respondents in eight provinces thought it was okay to wager on football matches with friends using other things besides cash as bets, while 21 per cent thought using cash added excitement to football viewing.
Almost 10 per cent thought it was alright to bet with bookies while 9 per cent were fine with betting online.
Asked when they first placed a football bet, 38 per cent of those with gambling experience cited the age range of 8-14, while 35 per cent cited 15 and 15 per cent said 16.
More than 37 per cent placed a bet once a week averaging Bt228 per time for the following reasons – more thrills to viewing (43 per cent), more serious game analysis (15 per cent), confidence to win (11 per cent), a risk habit (11 per cent) and peer pressure (10 per cent).
A majority of 53 per cent of the 10 per cent who said they intended to gamble on the World Cup 2014 matches were not worried about getting apprehended because they believed that football punters rarely got caught.
One-third of football-gambling youths were plagued with problems including having to find money illegally to clear gambling debts and getting severely stressed out to the point of seeking medical help and contemplating suicide, Nuanoi said.
Thanakorn Khomkrit, a coordinator of an anti-gambling network, called on parents and schools to work together to immunise youths against gambling and promote creative activities for them.
The network also provides a handbook for family football viewing at no charge. Those interested can call (02) 954 23446~7, he added.
— Phuket Gazette Editors