Phuket Gazette: Thailand welcomes Burma's decision to have international observers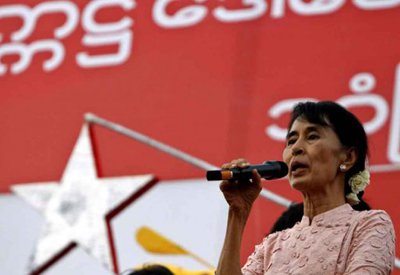 PHUKET MEDIA WATCH– Thailand news selected by Gazette editors for Phuket's international community
Thailand welcomes Burma's decision to have international observers
PHUKET (The Nation): Thailand has welcomed the Burmese government's invitations for international representatives as observers for the parliamentary by-election on April 1.
Thai Foreign Minister Surapong Tovichakchaikul said that the move demonstrates Burma's efforts to promote credibility of the upcoming poll.
Surapong said in a statement issued yesterday that Thailand welcomes the Burmese invitation for international representatives from the Asean Secretariat, Asean member states, together with the accompanying media, as well as representatives from all diplomatic missions, United Nations and international organizations in Rangoon to observe the April 1 by-election.
Opposition leader and Nobel laureate Aung San Suu Kyi is contesting the by-election, which will be held in 48 constituencies.
He said the move was considered an effort by the Burmese government to demonstrate to the international community its strong commitment to promoting the transparency, accountability, and credibility of the by-elections.
The minister said Thailand was very encouraged by the on-going progress in Burma's democratization and national reconciliation process and reaffirmed Thailand's strong support for Burma's reforms and development efforts for the benefit of the Burmese people and the successful future of the country.
Surapong said he encouraged the international community to provide more support in concrete terms to Burma's efforts in its democratization and national reconciliation as well as its economic reforms.
The international media reported that Burma's President Thein Sein confirmed on Wednesday that his country would allow some foreign election observers to monitor next month's polls, considered a crucial test of reforms in the country.
Cambodian government spokesman Khieu Kanharith was quoted as saying that Thein Sein, now making an official visit to Cambodia, had said each of the 10 member countries of the Asean would be allowed to send two official delegates to watch the April 1 by-elections.
— Phuket Gazette Editors
Keep in contact with The Thaiger by following our
Facebook page
.
Never miss out on future posts by
following The Thaiger
.
Thailand News Today | Big Bike licenses, Parliament latest, Zombie saleswoman | October 28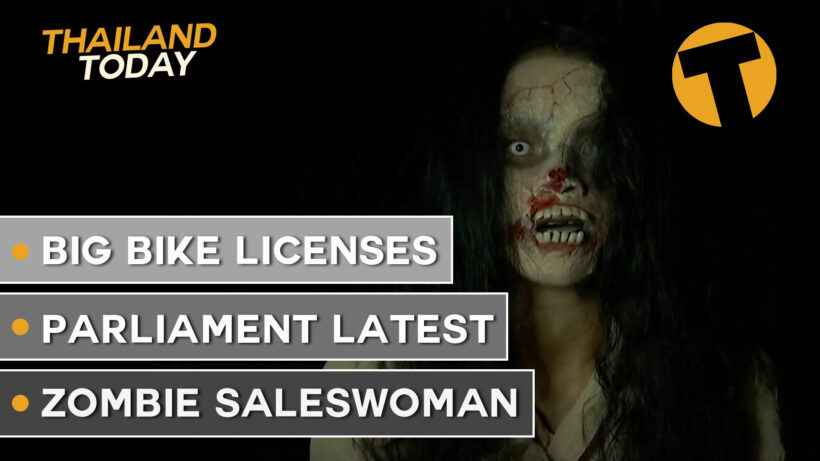 Daily TV news from The Thaiger, the most watched English-language news service in the Land of Smiles, and hosted by Tim Newton.
Thailand to introduce separate test for big bike riders from next year
From next February, motorbike riders in Thailand will be required to pass a separate driving test and training session if they wish to receive a licence for a "big bike".
The regulation has been formalised in a bid to cut road traffic accidents which are predominantly motorbikes (about 75%) and predominantly male. From February 19, anyone with a bike over 400cc will need to attend additional training sessions and take a test in order to comply with the law.
What has not been made clear at this stage is whether foreign riders in possession of a big bike licence from their home country will also be required to take the test.
PM refuses to resign, citing concerns over political divide, the economy, Covid-19
The latest word on Thai politics and the protests and the Thai PM has made it clear he will not resign, saying he has no intention of "abandoning the country during a crisis".
Addressing Parliament, Prayut Chan-o-cha pointed to the current problems facing Thailand, including the political divide in society, the crisis brought on by the slowdown of the economy, and the dangers of a Covid-19 resurgence. He said…
"You should think back to the political rallies in 2006 and 2014, when the ones in power also did not resign. I refuse to comply with the proposals that do not represent the needs of the majority of the people and will not run away from problems or abandon the country during a crisis.
He went on to say…
"The political rallies could undermine the confidence in our economy, but what worries me is that it could cause a rift in Thai society.
Meanwhile an opposition party MP has slashed his arm in front of officials in Parliament, in protest at the treatment of the country's political activists. Visan Techatirawat, a party member of the opposition Pheu Thai Party, says the gesture was his own personal protest to oppose the government's action against peaceful protesters at a rally in the capital on October 17.
Visan slashed his left hand and arm 3 times on the second day of the joint parliamentary debate aimed at finding a way out of the current political impasse.
2 foreigners in same hotel as the Koh Samui woman test positive for Covid-19
Officials are reviewing the use of a Samut Prakan hotel, just outside Bangkok, as an ASQ quarantine facility, after 3 foreign nationals staying there tested positive for Covid-19. The first was a 57 year old woman who developed symptoms of the virus after she had completed 14 days' quarantine and had returned to her home on the island of Koh Samui.
Yesterday, 2 more foreigners staying at the same hotel also tested positive. All 3 are now receiving hospital treatment, but officials are still not sure how they became infected or if their cases are even linked. He added that the hotel, the Siam Mandarina, may not meet the required standard of an alternative state quarantine facility.
Don't forget to extend your visa! Thai Immigration warns about fines for late applicants
Still need to extend your visa? You have until Halloween, October 31. With the visa amnesty deadline approaching, Thai Immigration Bureau is reminding foreigners to get their visa in order by the end of this month.
Late applicants will be fined.
No matter when your visa is extended, as long as it's before the deadline of October 31, it will go into effect on November 1 and allow a 60 day stay.
Since the recent amnesty period was put in place a few days after the initial September 26 deadline, those who paid 1,900 baht for 30 day visa extensions last month are now allowed to stay until November 30, but they need to go to immigration to get a stamp with the new expiration date.
If you're not sure about your visa status, you should go to your local immigration office or speak to a qualified visa agent.
13 new Covid-19 cases in quarantine
Just briefly, 13 new Covid-19 cases have been detected in Thai quarantine over the past 24 hours, including 4 Thai students, according to the Centre for Covid-19 Situation Administration.
The total number of confirmed Covid-19 cases in Thailand is at 3,759 with 3,561 recoveries and 59 deaths. 139 people are currently receiving medical treatment for the coronavirus.
Thai woman dressed as a zombie sells dead people's clothes
And it might not work in many countries but it's sure working well for this enterprising Thai woman. The zombie saleswoman is selling dead people's clothes online.
32 year old Kanittha sells the clothes of deceased people on a Facebook live stream while dressed as "the living dead". She gives a story behind every pieces of clothing, explaining how each person died. Perhaps it would be a real business kill in most countries, but not in Thailand where the spirit world and superstition are just as real to some Thais as the world of the living.
Traditionally in Thailand, clothes of the deceased are burned.
She gets the clothes from a local temple. She says a monk does a blessing for the deceased before the clothes are given to her. The prices range from 10 to 100 baht. Some brand names and designer clothes are also sold at vastly reduced prices. She's donated some money from the sales back to the temple. In addition to the dead's clothes, Kanittha sells handmade zombie dolls.
Kanittha live streams each week from her home in the Northern province of Phetchabun. It takes her up to 3 hours to apply her zombie makeup, but she says the costume helps draw in viewers.
Storm warnings as typhoon enters Vietnam
Flooding is being reported in at least 6 provinces, with warnings of heavy rains and flash-flooding up to Friday. Typhoon Molave has reached the Vietnamese coast, just south of Da Nang, and is slowly moving westwards towards Laos and then north eastern Thailand as it weakens.
It is the fourth tropical storm to batter the southeast Asian country since 11 October and the ninth since the start of the year.
Keep in contact with The Thaiger by following our
Facebook page
.
Never miss out on future posts by
following The Thaiger
.
Woman faces charges after allegedly slapping a student for not standing during national anthem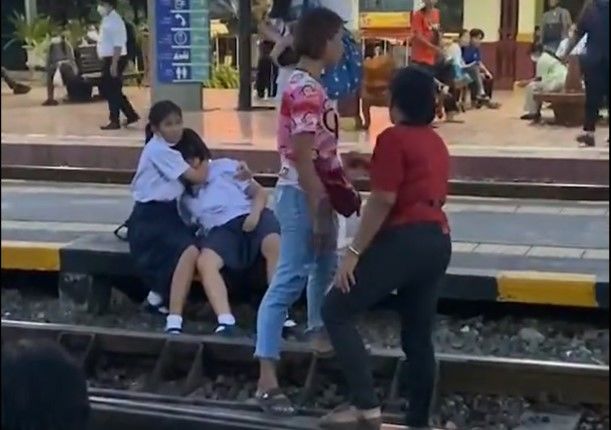 A woman is facing assault charges after she allegedly slapped a 15 year old student who didn't stand up for the national anthem at a train station in Ayutthaya.
The woman, a food vendor at the train station, allegedly approached the student when the anthem ended. In a video shared by thousands on Twitter, the woman said "Stand up. Come here …What a waste. You're a student wearing the student uniform."
The student says she told the woman that she didn't stand up because she was in pain from menstrual cramps. The student's family later filed a complaint with police.
Thailand's national anthem plays at schools and public places everyday at 8am and 6pm. People stop what they are doing and stand in silence until the song is over to show respect for the Thai Monarchy and the country.
With the recent pro-democracy movement, some have shown defiance against the government and monarchy by holding their hands up in the movement's 3-finger salute, borrowed from the Hunger Games films, during the national anthem. Royalists have rallied and called on the protesters to stop "insulting" the Thai institution.
There are also cases of people not standing up before cinema films during the playing of the Royal Anthem.
SOURCES: Nation Thailand | Coconuts Bangkok
Keep in contact with The Thaiger by following our
Facebook page
.
Never miss out on future posts by
following The Thaiger
.
Reminder from Thai Foreign Affairs about staying in Thailand after October 31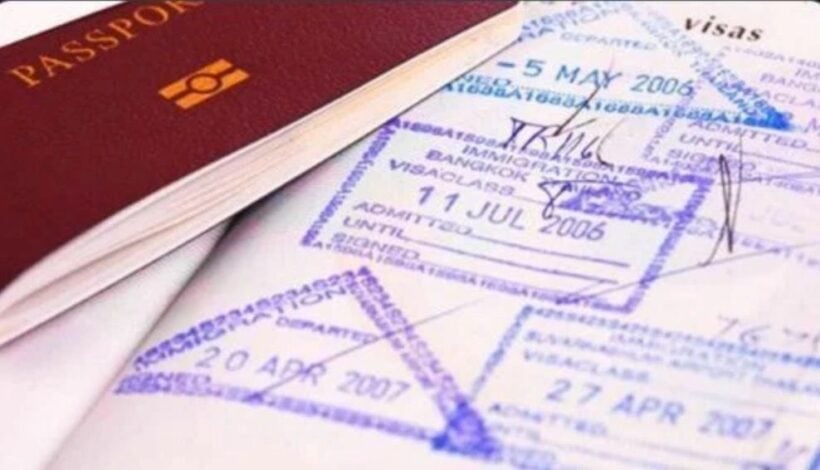 The following was sent by Thailand's Ministry of Foreign Affairs, reminding foreigners about staying in Thailand after the current visa amnesty expires…
"Mr. Tanee Sangrat, Director-General of the Department of Information and Foreign Ministry Spokesperson reiterated that all stranded foreign nationals who wish to stay in the Kingdom of Thailand beyond 31 October 2020 need to submit an application for extension of temporary stay at the Immigration Bureau within 31 October 2020.
The Ministry of Foreign Affairs has circulated a Note Verbale to all diplomatic missions, consular representatives and international organisations in Thailand, to seek their cooperation in informing and advising their foreign nationals regarding this matter.
According to the Notification of the Ministry of Interior on Permission for Certain Groups of Aliens to Remain in the Kingdom as a Special Case (No. 4) issued on 30 September 2020, foreign nationals are permitted for temporary stay in Thailand until 31 October 2020.
Late application submission is allowed within 90 days after 31 October 2020, subject to a fine. Those who remain in the Kingdom without application submission within such grace period shall be deemed as overstaying and will be prosecuted, deported and prohibited from entering Thailand."
Catch up with the latest daily "Thailand News Today" here on The Thaiger.
Keep in contact with The Thaiger by following our
Facebook page
.
Never miss out on future posts by
following The Thaiger
.