Phuket Gazette Thailand News: YouTube sex spoof withdrawn; Saudi case twist; Bangkok polls turn black; Hotels ride high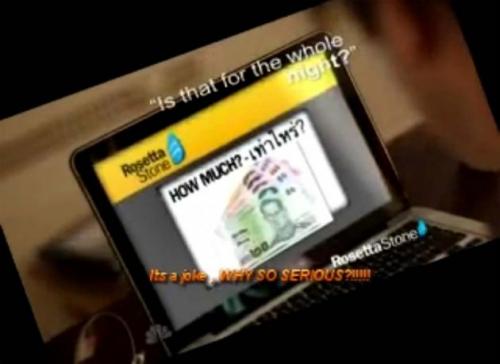 PHUKET MEDIA WATCH
– Thailand news compiled by Gazette editors for Phuket's international community
Spoof on Thailand removed from YouTube
The Nation / Phuket Gazette
PHUKET: Apinand Poshaya-nond, the deputy permanent secretary for culture, has confirmed the removal yesterday of a controversial video posted on YouTube satrizing a computer language-learning program that taught potential toutrists how to negotiate with Thai prostitutes in Thai.
Apinand said yesterday that the ministry would explain the situation later to the producer of "Saturday Night Live", which posted the video.
Culture Minister Sonthaya Kunplome said his permanent secretary Prissana Pongtatsirikul signed an objection letter against the 1.32-minute clip and sent copies to the Foreign Ministry, the Information and Communications Technology Ministry and the US Embassy in Thailand to tell them the clip tarnished Thailand's image and asked for help to solve the problem urgently.
Sonthaya said the ministry also wanted the "Saturday Night Live" producer to explain the facts and know that Thais were upset about the offensive presentation. The clip was a mock commercial for the Rosetta Stone foreign-language learning programme that teaches foreigners who want to speak Thai – so they learned how to buy sex.
The skit upset many Thai citizens who felt it tarnished the country's image and caused complaints to be filed to the Culture Ministry, it was reported.
Key witness to give testimony in missing Saudi case
The Nation / Phuket Gazette
PHUKET: Public prosecutors said United Arab of Emirates-based Kiattikorn Kaewphalue (known formerly as Pol Lt-Colonel Suwitchai Kaewphalue) possesses knowledge about a gold ring worn by al-Ruwaili, which led to the reopening of the case and the current trial involving five policemen suspected of having been behind the disappearance of al-Ruwaili.
Pol Lt-General Somkhid Bunthanom, standing trial in connection with al-Ruwaili's disappearance, accused public prosecutors, police investigators and Department of Special Investigation agents of taking Kiattikorn out of the country illegally, after immigration officers detected his plan for blacklisted overseas travel.
The court finally permitted the testimony, saying that it would not put the five defendants, including Somkhid, at a disadvantage. Somkhid said those he accuses later altered Kiattikorn's travel plans and paid 115,600 baht in air tickets for his new flights.
The retired officer also alleged that Kiattikorn, who was sentenced to life in prison in 2009, had earlier been hidden in Thailand but police made no efforts to locate him.
Somkhid threatened to take criminal action against the individuals representing the three accused agencies.
Chief prosecutor Kowit Sriphairoj said Kiattikorn had earlier been excluded as a state witness because of his seeming disappearance, but a request for his testimony was made to the court following a special request by Saudi Arabia authorities.
Kowit dismissed as untrue Somkhid's allegation about public prosecutors helping to hide Kiattichai and take him out of the country.
A banner year seen for hotel industry
The Nation / Phuket Gazette

PHUKET: According to data released by the Thai Hotels Association (THA), an estimated 3,919 new rooms, mainly four- and five-stars, will be added to the market during the course of the year.
Meanwhile, Jones Lang LaSalle's Hotels and Hospitality Group projects that there are some 8,000 new rooms in all Bangkok hotel segments in the pipeline between now and 2015.
The company's research has found that here are major negotiations under way in Phuket, Bangkok, Pattaya, Samui and Chiang Mai this year as well.
In the capital, Hilton, Radisson Blu, Marriott, Centara and Indigo hotels are all scheduled to be opened this year, mainly in the Sukhumvit area.
In Phuket, Accor Group will open the Pullman Phuket Arcadia and the Novotel Phuket Kamala Beach, while Centara, the country's leading chain, will strengthen its portfolio with seven openings nationwide.
Ronnachit Mahattanapreut, senior vice president for finance and administration of Centara Hotels & Resorts, said it was hard to count the overall number of new hotels among all categories this year, as there are also many three-star hotels opening with less fanfare across the nation to cash in on the rising number of foreign tourists, especially from China.
"However, the clear trend of the hotel industry is that Thailand is considered a major destination for investment among foreign investors in this business," he said.
Centara was recently approached by foreign financial institutions from four countries to set up a real-estate investment trust, but the company needs time to study whether such a move would be a boon for its business, he said. In principle, the fund would take a lead role in purchasing attractive properties around the country.
Patrick Basset, senior vice president of Accor for Thailand, Vietnam, Cambodia, Laos and the Philippines, described the industry outlook as positive, thanks to the impressive number of international arrivals in the final quarter of last year, which led into a very strong first month for 2013.
The benefits have clearly fallen into all of Accor's 50 hotels in Thailand, which have posted solid forward bookings for the current quarter, he said.
"Accor believes Thailand is a country that has very strong economic fundamentals, which have enabled it to pull itself out of every crisis and rebound quickly without serious long-term consequences. We hope Thailand's [political and investment] environment maintains the status quo, so that we can move forward with business as usual and continue to drive Thailand as one of Asia's top tourist destinations," he said.
However, Basset urged the government to continue to improve the Kingdom's airport infrastructure, as airports in both Bangkok and Phuket are reaching full capacity.
AEC investment boost

The advent of the AEC is seen as a force to make Thailand more attractive for investment, with the country becoming a platform to expand hotel networks regionally, thanks to its good location, strong infrastructure and skilled labour.
"Let's take a look at the country in relation to other countries nearby," Centara's Ronnachit said. "From the North to the South and the East to the West, it is being connected with projects. The borders are being opened up like the integration of the European Union, and connected with new transport links."
Thailand will become a corridor for trade and investment, which also means a big opportunity for hotel businesses. According to THA data collected from websites, Bangkok still has more hotels than any other Thai tourism destination with 1,123 properties, followed by Phuket with 1,083, Surat Thani with 867, Krabi with 782, Chon Buri with 711, and Chiang Mai with 565.
The average occupancy rate around the country was recorded at 64.91 per cent last year, an increase of 6.49 percentage points over the previous year.
In Bangkok alone, occupancy grew to 66.76 per cent, compared with 60.07 per cent in 2011.
Cruise ships and yachts to dock in Thailand, visitors to enter on Special Tourist Visa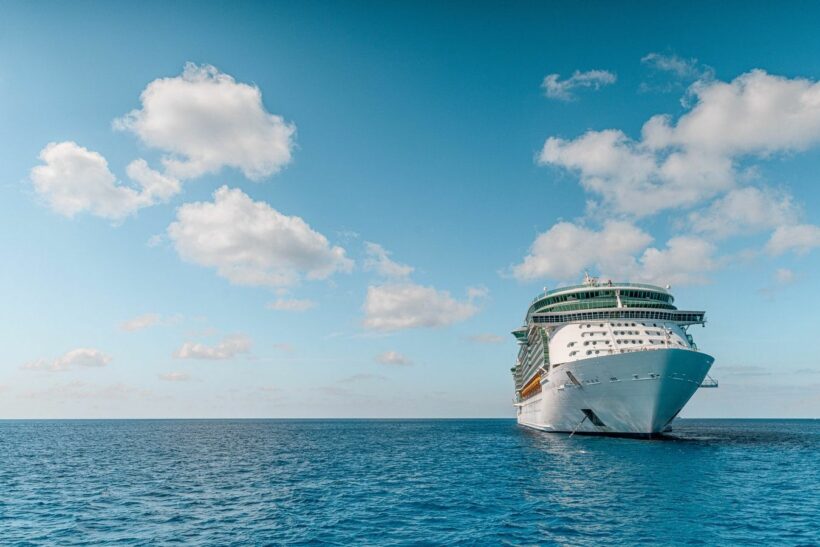 Cruise ships and yachts will be allowed to dock in Thailand and visitors will be allowed disembark under the Special Tourist Visa. The new measure hasn't been made official yet, but it will go into effect 30 days after it's published in the Royal Gazette.
The Cabinet approved the new guidelines yesterday which allows captains, crew and passengers travelling from countries considered at low risk for spreading Covid-19 to dock in Thailand and enter the country, according to deputy government spokesperson Traisuree Taisaranakul.
Visitors must go through a 14 day quarantine. Those on yachts will quarantine onboard before stepping onto Thai soil, according to the Bangkok Post. They must also have Covid-19 health insurance of $100,000 USD as well as local health and accident insurance. Proof of advance payment for anchoring the liner will also have to be provided.
The Special Tourist Visa allows a 90 day stay that can be renewed twice, adding up to around 9 months. So far, only 2 flights of foreigners on the Special Tourist Visa have arrived after a 7 month ban on international tourists.
SOURCES: Bangkok Post | Nation Thailand
Catch up with the latest daily "Thailand News Today" here on The Thaiger.
Keep in contact with The Thaiger by following our
Facebook page
.
Never miss out on future posts by
following The Thaiger
.
Fuel tanker explodes after collision in Buri Ram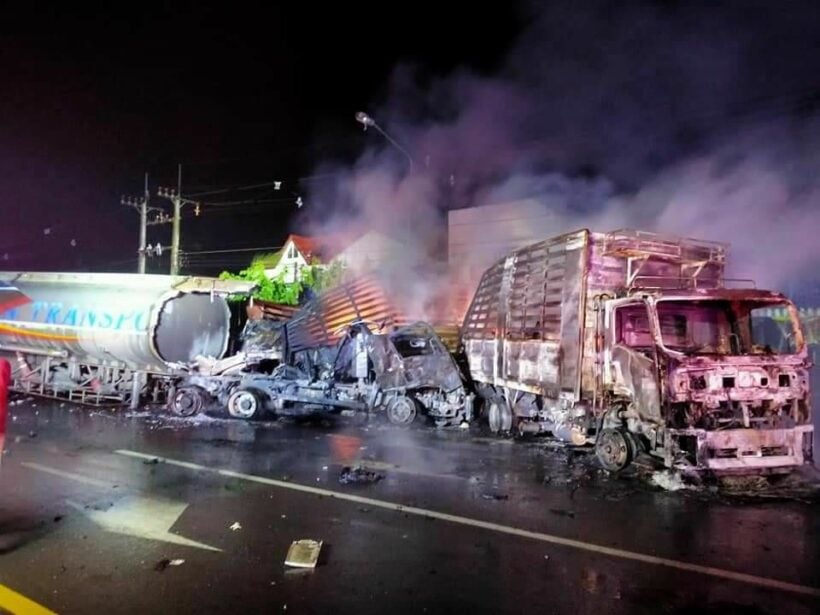 A fuel tanker has exploded after a collision with a trailer truck, causing both vehicles to be engulfed in flames in a series of explosions. Fuel from the 40,000-litre tank spilled out onto the road, spreading about 1 kilometre to nearby homes and into the sewers. People trying to douse the spreading flames found they were just pushing the flaming fuel further down the road, 20 cars, motorcycles and tuk tuks parked along the road were damaged or destroyed in the fire. Many people were injured, but there is no exact count.
The fuel tanker truck and the trailer truck collided on Highway 24 in the Isaan province Buri Ram. The drivers were able to flee before the first explosion. There were a series of explosions as the fuel spread and nearby residents fled their homes. People tried to put the flames out with tap water, but fire continued to spread.
50 fire engines responded to the fire and the road was closed off for a radius of 5 kilometres. It took firefighters more than 4 hours to extinguish the fire. The oil company was called to safely unload 30,000 litres of fuel that was left in the tanker.
SOURCE: Bangkok Post
Catch up with the latest daily "Thailand News Today" here on The Thaiger.
Keep in contact with The Thaiger by following our
Facebook page
.
Never miss out on future posts by
following The Thaiger
.
Is Koh Pha Ngan Thailand's best island?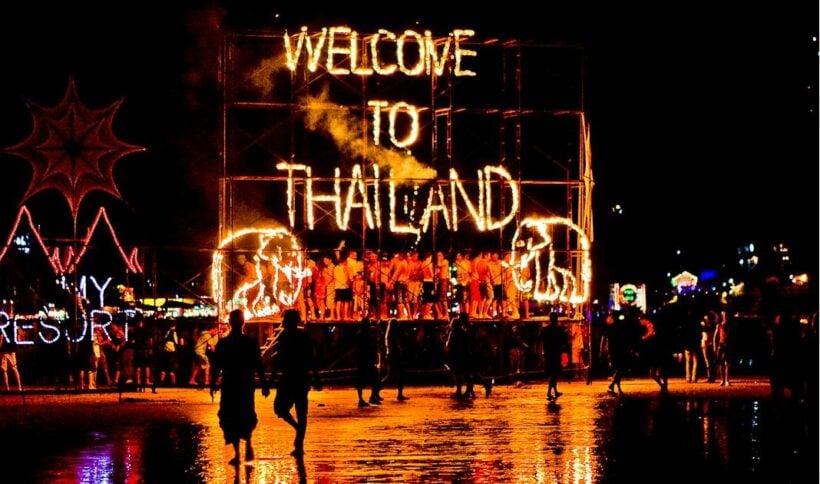 OPINION
Koh Pha Ngan was voted third best island in Asia in the 2020 Condé Nast's Readers Choice Awards. The island is widely known for its monthly Full Moon parties on Haad Rin beach, but Surat Thani governor Wichawut Jinto, who boasted about the island's recent rating, said there's more to Koh Pha Ngan than Haad Rin.
Condé Nast publishes a monthly travel magazine, Condé Nast Traveller, as well as GQ, Vanity Fair and Vogue. It's safe to say the publication's target audience is more interested in luxury resorts than dirt cheap party hostels and monthly beach raves. For example, for the best islands in the United States, Hilton Head Island in South Carolina was voted number 1. It's a golf lovers paradise and a popular vacation spot for suburban families.
A trip Koh Pha Ngan can be a completely different experience depending on where you go and what you do. Some stay on Haad Rin on the southeastern side of the island and have a trip like Hunter S. Thompson's drug-fueled "Fear and Loathing in Las Vegas," while some go to the western side for a yoga or healing retreat.
The Full Moon parties, which would draw more than 30,000 mostly foreign tourists, was put on pause due to the coronavirus pandemic restrictions in Thailand. But before the outbreak, the parties were known to be crazy with neon glow paint, fire jump rope and cheap buckets of alcohol and use of illicit drugs. The sand was so sticky that people were better off wearing shoes, and just about everyone pees (and pukes) in the ocean.
Even on the west side of the island, where it's more known for yoga and meditation retreats, things can sometimes get a little weird. A tourist said she did a "spiritual healing" ritual on the island known as a kambo cleanse where secretion from a South American frog is applied to burnt skin. She said "I feels like you're dying" but "it's great."
While the west side of the island has trendy resorts and bungalows, as well as a variety of yoga retreats and pricy vegan food, some people also live on a budget – a very tight budget. Some tourists even camped out on a hidden beach during the pandemic, a tourist claims. A local artist said he lives in a cave on the same beach.
Koh Pha Ngan topped Bali, Indonesia, which was number 9 on the list. Phuket was number 8 on the list and Koh Samui was number 10.
Here's what made the top 10 Asia islands in the Condé Nast Reader's Choice Awards 2020.
Cebu & Visayas, Philippines 95.83
Sri Lanka 95.45
Ko Pha Ngan, Thailand 95.30
Palawan, Philippines 95.22
Siargao Island, Philippines 95.19
Boracay, Philippines 95.06
Lombok, Indonesia 94.59
Phuket, Thailand 94.12
Bali, Indonesia 93.27
Koh Samui, Thailand 92.73
SOURCES: Condé Nast | Bangkok Post
Keep in contact with The Thaiger by following our
Facebook page
.
Never miss out on future posts by
following The Thaiger
.