Phuket Gazette Thailand News: YouTube sex spoof withdrawn; Saudi case twist; Bangkok polls turn black; Hotels ride high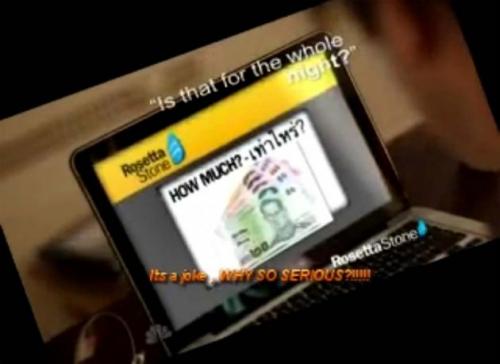 PHUKET MEDIA WATCH
– Thailand news compiled by Gazette editors for Phuket's international community
Spoof on Thailand removed from YouTube
The Nation / Phuket Gazette
PHUKET: Apinand Poshaya-nond, the deputy permanent secretary for culture, has confirmed the removal yesterday of a controversial video posted on YouTube satrizing a computer language-learning program that taught potential toutrists how to negotiate with Thai prostitutes in Thai.
Apinand said yesterday that the ministry would explain the situation later to the producer of "Saturday Night Live", which posted the video.
Culture Minister Sonthaya Kunplome said his permanent secretary Prissana Pongtatsirikul signed an objection letter against the 1.32-minute clip and sent copies to the Foreign Ministry, the Information and Communications Technology Ministry and the US Embassy in Thailand to tell them the clip tarnished Thailand's image and asked for help to solve the problem urgently.
Sonthaya said the ministry also wanted the "Saturday Night Live" producer to explain the facts and know that Thais were upset about the offensive presentation. The clip was a mock commercial for the Rosetta Stone foreign-language learning programme that teaches foreigners who want to speak Thai – so they learned how to buy sex.
The skit upset many Thai citizens who felt it tarnished the country's image and caused complaints to be filed to the Culture Ministry, it was reported.
Key witness to give testimony in missing Saudi case
The Nation / Phuket Gazette
PHUKET: Public prosecutors said United Arab of Emirates-based Kiattikorn Kaewphalue (known formerly as Pol Lt-Colonel Suwitchai Kaewphalue) possesses knowledge about a gold ring worn by al-Ruwaili, which led to the reopening of the case and the current trial involving five policemen suspected of having been behind the disappearance of al-Ruwaili.
Pol Lt-General Somkhid Bunthanom, standing trial in connection with al-Ruwaili's disappearance, accused public prosecutors, police investigators and Department of Special Investigation agents of taking Kiattikorn out of the country illegally, after immigration officers detected his plan for blacklisted overseas travel.
The court finally permitted the testimony, saying that it would not put the five defendants, including Somkhid, at a disadvantage. Somkhid said those he accuses later altered Kiattikorn's travel plans and paid 115,600 baht in air tickets for his new flights.
The retired officer also alleged that Kiattikorn, who was sentenced to life in prison in 2009, had earlier been hidden in Thailand but police made no efforts to locate him.
Somkhid threatened to take criminal action against the individuals representing the three accused agencies.
Chief prosecutor Kowit Sriphairoj said Kiattikorn had earlier been excluded as a state witness because of his seeming disappearance, but a request for his testimony was made to the court following a special request by Saudi Arabia authorities.
Kowit dismissed as untrue Somkhid's allegation about public prosecutors helping to hide Kiattichai and take him out of the country.
A banner year seen for hotel industry
The Nation / Phuket Gazette

PHUKET: According to data released by the Thai Hotels Association (THA), an estimated 3,919 new rooms, mainly four- and five-stars, will be added to the market during the course of the year.
Meanwhile, Jones Lang LaSalle's Hotels and Hospitality Group projects that there are some 8,000 new rooms in all Bangkok hotel segments in the pipeline between now and 2015.
The company's research has found that here are major negotiations under way in Phuket, Bangkok, Pattaya, Samui and Chiang Mai this year as well.
In the capital, Hilton, Radisson Blu, Marriott, Centara and Indigo hotels are all scheduled to be opened this year, mainly in the Sukhumvit area.
In Phuket, Accor Group will open the Pullman Phuket Arcadia and the Novotel Phuket Kamala Beach, while Centara, the country's leading chain, will strengthen its portfolio with seven openings nationwide.
Ronnachit Mahattanapreut, senior vice president for finance and administration of Centara Hotels & Resorts, said it was hard to count the overall number of new hotels among all categories this year, as there are also many three-star hotels opening with less fanfare across the nation to cash in on the rising number of foreign tourists, especially from China.
"However, the clear trend of the hotel industry is that Thailand is considered a major destination for investment among foreign investors in this business," he said.
Centara was recently approached by foreign financial institutions from four countries to set up a real-estate investment trust, but the company needs time to study whether such a move would be a boon for its business, he said. In principle, the fund would take a lead role in purchasing attractive properties around the country.
Patrick Basset, senior vice president of Accor for Thailand, Vietnam, Cambodia, Laos and the Philippines, described the industry outlook as positive, thanks to the impressive number of international arrivals in the final quarter of last year, which led into a very strong first month for 2013.
The benefits have clearly fallen into all of Accor's 50 hotels in Thailand, which have posted solid forward bookings for the current quarter, he said.
"Accor believes Thailand is a country that has very strong economic fundamentals, which have enabled it to pull itself out of every crisis and rebound quickly without serious long-term consequences. We hope Thailand's [political and investment] environment maintains the status quo, so that we can move forward with business as usual and continue to drive Thailand as one of Asia's top tourist destinations," he said.
However, Basset urged the government to continue to improve the Kingdom's airport infrastructure, as airports in both Bangkok and Phuket are reaching full capacity.
AEC investment boost

The advent of the AEC is seen as a force to make Thailand more attractive for investment, with the country becoming a platform to expand hotel networks regionally, thanks to its good location, strong infrastructure and skilled labour.
"Let's take a look at the country in relation to other countries nearby," Centara's Ronnachit said. "From the North to the South and the East to the West, it is being connected with projects. The borders are being opened up like the integration of the European Union, and connected with new transport links."
Thailand will become a corridor for trade and investment, which also means a big opportunity for hotel businesses. According to THA data collected from websites, Bangkok still has more hotels than any other Thai tourism destination with 1,123 properties, followed by Phuket with 1,083, Surat Thani with 867, Krabi with 782, Chon Buri with 711, and Chiang Mai with 565.
The average occupancy rate around the country was recorded at 64.91 per cent last year, an increase of 6.49 percentage points over the previous year.
In Bangkok alone, occupancy grew to 66.76 per cent, compared with 60.07 per cent in 2011.
Independents want polls
— Phuket Gazette Editors
Keep in contact with The Thaiger by following our
Facebook page
.
Thai app will ease expat immigration woes and make 90 day reporting simple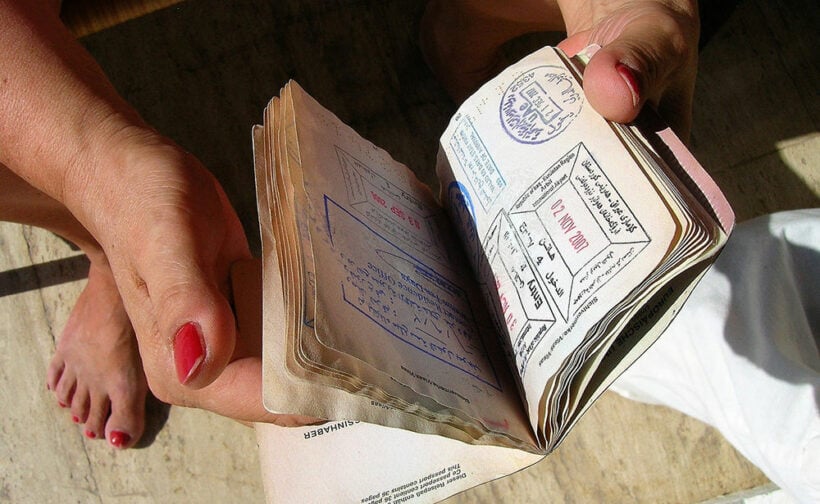 The "OSS Foreigner" app is coming, and you will be able to use it for 90 day reporting, according to the Secretary-General at the office of the PM.
Dr Kobsak Pootrakool says the planned app can be used for all immigration reporting, including 90 day reports, adding that typing in the required data and uploading a selfie will accomplish the same result as filling out paperwork at the local immigration office but without having to make the trip there.
Dr Kobsak has been given responsibility for sorting out the TM30 debate and says the immigration app, called OSS Foreigner, is nearly complete and should make all those who live and work in Thailand feel more welcome and make compliance easier and more convenient.
The TM30 form, and its companion, the TM28, have been a source of expat displeasure over the past five months since the immigration department decided to enforce a little-used 1979 law that required foreigners to report their whereabouts if they had stayed overnight at an address different from their registered address.
This latest move comes as part of a wider program to make Thai public services more efficient, with Dr Kobsak making the announcement while outlining plans for all Thai government departments to embrace digital technology by as early as 2022. Meanwhile, the Deputy PM Somkid Jatusripitak is championing a programme to improve Thai public services for both Thai citizens and foreigners.
"The government's new approach to IT and digital technology is designed to deliver a smarter, easier service as part of the Thailand 4.0 economic model."
SOURCE: The Pattaya News
Keep in contact with The Thaiger by following our
Facebook page
.
Karaoke premises raided in central Thailand, 3 underage sex workers rescued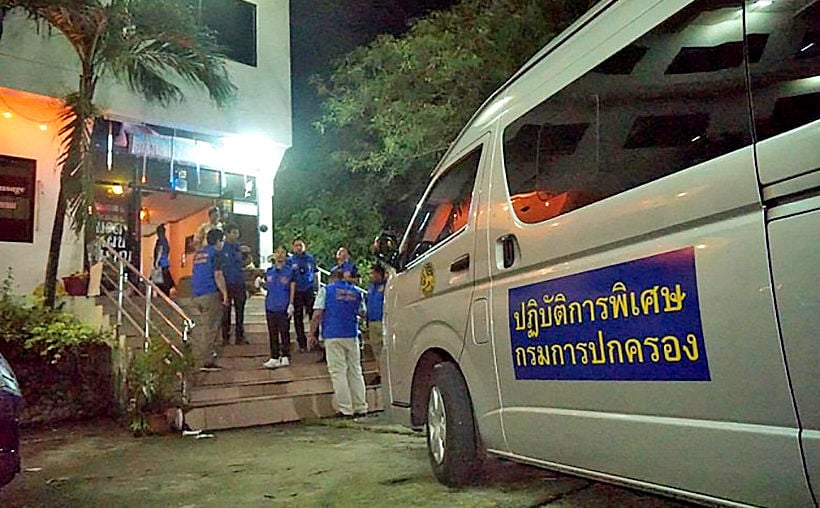 The Nation reports that 3 underage sex workers have been rescued after raids on a karaoke restaurant and a karaoke massage parlour in Ang Thong, central Thailand.
The raids were confirmed at a press conference held by Ronnarong Thipsiri, Head of the Department of Provincial Administration's investigation and suppression division, along with Sakda Bandasak, sheriff of Ang Thong's Muang district. Ronnarong alleges both premises were using the underage girls as prostitutes.
"We collaborated with Damrong Dhama Centre and anti-human trafficking organisations and learnt that two karaoke joints in Ang Thong were employing underage sex workers. These were the Chil Chil Karaoke on Highway No. 3064, Pa Ngiew sub district of Muang district, and Jittra Karaoke on the ground floor of a hotel in Muang district."
During the raids, police identified 6 sex workers offering services to a group of customers. Four of the girls were Thai and two were from Laos. Three were under the age of 18, with the youngest being 15 years old. A large number of used condoms were also found.
Somjit Phetwijit and Aphirom Pheungpracha, the owners of Chil Chil Karaoke and Jittra Karaoke respectively were arrested and charged with human trafficking, solicitation of prostitution, prostitution of an underage person, and opening an entertainment facility without a licence.
A 17 year old girl from Jittra Karaoke told the press she was hired to sit and drink with clients and was paid 50 baht each time a client ordered a drink.
"Clients can buy sex for 1,500 baht a time or pay 3,500 baht for a whole night. They can either use massage rooms in the back or bring the girls to other hotels of their choice."
SOURCE: The Nation
Keep in contact with The Thaiger by following our
Facebook page
.
Singha grabs a 90% stake in Thailand's Santa Fe restaurant chain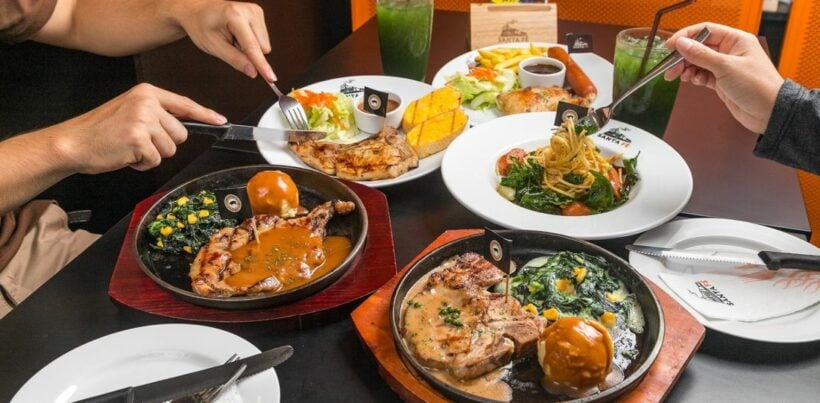 (…or is that a 90% 'steak'?)
PHOTOS: Wongnai
DealStreetAsia, an investor news site reporting on Asian business, confirms that Singha Corporation has purchased a majority stake in the Thai restaurant chain, Santa Fe. It's understood that Singha purchased the shares held by Lakeshore Capital for approximately US$50 million or 1.53 billion baht, giving it a 90% stake in the chain seen in most Thai shopping centres.
The Nation reports that Singha will now oversee over 110 restaurants across Thailand in one of the country's biggest food industry deals of the year. The company first turned its attention to the food industry two years ago, launching Food Factors Company under the Boon Rawd Brewery group.
WongnaiFood Factors aims to make 5 billion baht over 3 years under the stewardship of Piti Bhirombhakdi. The company has an ambitious long-term target of 10 billion baht a year, along with plans to be listed on the stock exchange.
The Santa Fe chain was established in 2003 by Surachai Charn-Anudet's KT Restaurant Company, with the aim of becoming a major competitor to Sizzler, the American chain brought to Thailand by Minor Food.
SOURCE: The Nation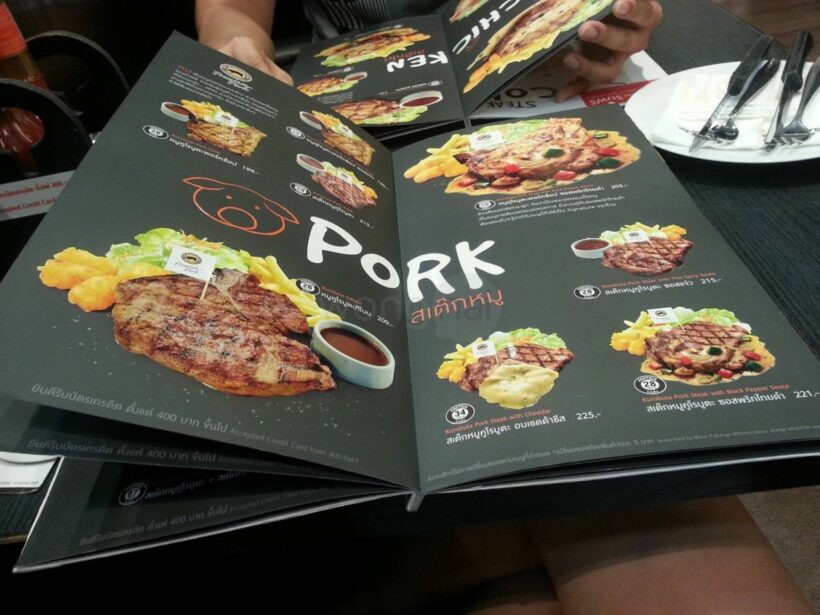 Keep in contact with The Thaiger by following our
Facebook page
.