Phuket Gazette Thailand News; Yingluck dumbs down Thaksin sound bite; Police payout for cell fire; Monks need more proof; Fireworks fatalities spark legal action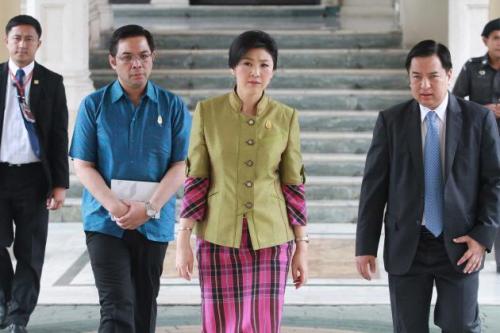 PHUKET MEDIA WATCH
– Thailand news compiled by Gazette editors for Phuket's international community
PM downplays Thaksin audio clip
The Nation / Phuket Gazette
PHUKET: Prime Minister and Defence Minister Yingluck Shinawatra said yesterday that Deputy Defence Minister Yuthasak Sasiprapha had spoken to her by phone about the audio clip in which it is alleged he and Thaksin Shinawatra discussed a plot to bring the former prime minister back to Thailand.
Yingluck said Yuthasak had not offered many details about the clip and did not mention he would be quitting his job. She added that agencies would check the audio clip, but she was confident relations between the government and the military would not be adversely affected.
She declined to comment on whether the clip was leaked by politicians disappointed at not getting a Cabinet seat in the recent reshuffle and refused to say if the voice heard in the clip was her brother Thaksin's.
Yuthasak also declined to respond to media reports about the clip.
Pheu Thai Party leaders have ordered their MPs to refrain from commenting on the issue, saying their comments would only create negative consequences, as Yuthasak had already called the PM to discuss the issue.
Interior Minister and Pheu Thai Party leader Charupong Ruangsuwan said he had not listened to the clip but had read detailed accounts about it. He believed no damage would be caused to the country by the conversation in the clip.
"Even if the conversation was real, which part of it caused damage to the country? From what I have read, I didn't see anything that would harm the country. If some people interpret it as wrong, that's a personal issue," Charupong said.
Pheu Thai party-list MP Cherdchai Tantisirin called on the Information Technology and Communications Ministry to trace who leaked the clip, saying he believed the incident could delay Thaksin's return to Thailand by a further two or three years.
Worachai Hema, Pheu Thai MP for Samut Prakan, said the clip was not real but made by a group who wanted to sabotage the government by causing confrontation with the military. The group also made the fake clip to prevent Thaksin from returning home, Worachai said. He said the opposition, government opponents, and independent agencies have teamed up to bring down the government, which must fight against extra-constitutional power.
Dithaporn Sasasamit, Internal Security Operations Command spokesman, and a Defence Ministry aide, declined to comment on this issue or any relating to his superiors. However, he said what had happened would not affect the work of the military, which was a disciplined organisation.
Moreover, it would not hurt national security, as Thais and people in all neighbouring countries knew the military and its work record well, he said.
Relatives of Nonthaburi jail fire victims to get compensation
The Nation / Phuket Gazette
PHUKET: The relatives of four detainees who died in a fire at Sai Noi police station in Nonthaburi last Saturday night will be compensated and the officers deemed responsible for their deaths will be punished, Deputy Prime Minister Pracha Promnok said yesterday.
Pracha also expressed condolences to the grieving families and said police would not neglect the case. It would be determined later whether the deaths were the result of neglect of duty, carelessness or uncontrollable factors, he added.
An investigation into the incident is underway after a committee was set up yesterday, said National Police chief Adul Saengsingkaew, who said those found responsible would be disciplined and prosecuted.
Asked about complaints by relatives that policemen had not done enough to release the detainees from the lock-up during the fire, Adul said: "We are waiting for the investigation results."
He said preventive measures would be worked out and would become standard practice, while police officers on duty would be instructed to follow them and fire drills would be conducted. Asked whether the station chief would also be held responsible, Adul said it would be known soon.
A senior investigator, Pol Maj-General Piya Sontrakool, said it would take around 10 days for the probe to be completed. He said a police sergeant on duty was trying to help out the detainees but could not brave the heat and smoke in the room where the four were held. The unnamed sergeant suffered minor burns, Piya added.
National Human Rights Commissioner Parinya Sirisarakarn suggested that police learn from this tragic lesson and increase safety measures to protect detainees.
"There should be safety measures and cell improvements," Parinya said, adding that the police officers who hold the cell keys should be authorised to release the suspects in the event of a fire or other emergency, without risk of being disciplined.
"But it should be done carefully to prevent suspects from starting fires in a bid to escape," he warned.
Senior monks want more proof before taking action
The Nation / Phuket Gazette
PHUKET: Senior monks have decided not to terminate Luang Pu Nenkham's status as a Buddhist monk until additional evidence is provided.
Luang Pu Nenkham is accused of having a sexual relationship with a minor and fathering a child. If this can be proved, he will be forced to give up his saffron robes and face legal action because the girl was only 15 at the time of the alleged relationship.
Senior monks in Si Sa Ket yesterday convened a meeting to discuss the evidence gathered by the Department of Special Investigation (DSI).
The DSI submitted its report to the Si Sa Ket monastic chief on Sunday because Wat Pa Khanti Dhamma, where Luang Pu Nenkham serves as an abbot, is located in that province.
Phra Khru Watcharasittikhun, secretary to the Si Sa Ket monastic chief, said yesterday that the senior monks had looked into the report and have decided to wait for more evidence before making any decisions.
"We will request more information from the DSI," he said.
Weera Daosee, an academic at the Si Sa Ket Buddhism Office, suggested that it would take DNA results or the monk's confession to warrant the termination of Luang Pu Nenkham's monkhood.
According to Weera, the monk has yet to be proven guilty.
Luang Pu Nenkham has been at the centre of much negative publicity after a video clip of him enjoying a ride on a private jet and carrying a luxury bag, caught the media spotlight.
Several people have since come forward to file allegations against him, though he has yet to show up or respond.
DSI senior official Pol Lt-Colonel Pong-in Intarakhao said yesterday that there was enough evidence to prove that Luang Pu Nenkham had been sexually involved with a 15-year-old girl.
"We will forward our investigation to the local police so they can take further action," he said.
He added that DSI officials would also arrange DNA tests for the girl who said she was sexually involved with Luang Pu Nenkham, and for her son.
"We will also look into his financial status and transactions," Pong-in said, adding that it is believed the monk was engaged in shady businesses given that he seems to own several luxury vehicles.
Pong-in said the DSI would also summon the pilot who provided some hints about the monk's suspicious behaviou
— Phuket Gazette Editors
Keep in contact with The Thaiger by following our
Facebook page
.
Never miss out on future posts by
following The Thaiger
.
Thai Chamber of Commerce urges visa amnesty to be extended after today's deadline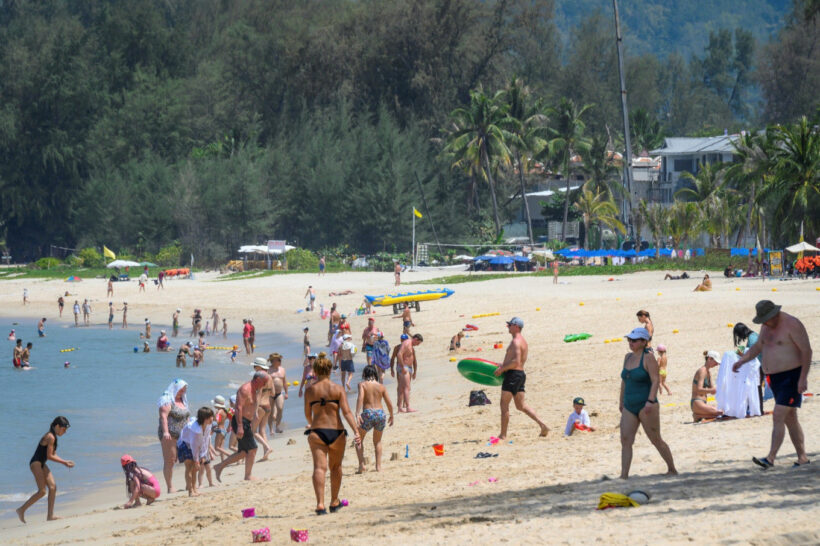 The Thai Chamber of Commerce is urging the government to extend the visa amnesty for the country's 400,000 tourists after today's deadline but has so far been turned down. The move comes as such provinces like Chiang Mai's immigration office sends messages giving tourists until Monday to sort out their visas (which is under the law as Saturday, the final day of the visa amnesty, is usually closed).
"For the foreigners that visas will expire on September 26, 2020, if come to continue the visa on Monday, September 28, 2020, no need to pay for overstay. If you haven't been able to sort through the queues and online bookings for an appointment, you also have Monday (at any immigration office) to get things sorted. Many of the country's immigration offices are open today. Good luck."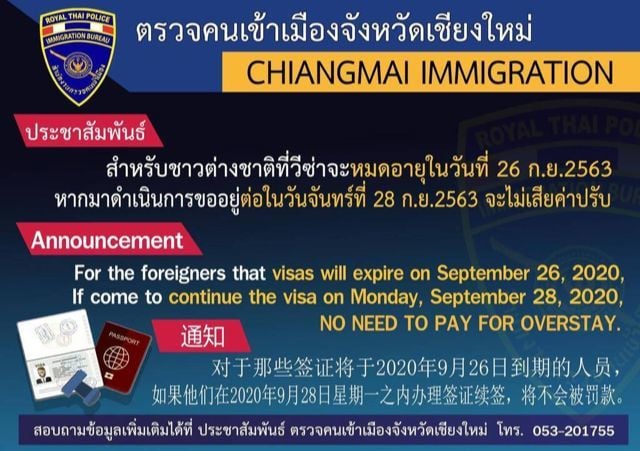 "We were told that this agenda was in the process, but there's been no progress so far."
Kalin says the deadline will bring even more chaos to those who await flights out of the country as they are not yet fully allowed. Furthermore, such provinces as Chiang Mai attribute stranded tourists as helping generate revenue at a time when the country desperately needs it. As these tourists need long-term accomodations, they undoubtedly bring revenue to the domestic tourism sector at a time when hotels and other types of accommodations are struggling.
"Instead of blacklisting those foreigners, the government should accommodate them with a more flexible period, particularly when the country cannot reopen for inbound tourists. The uncompromising stance towards visa extension scares tourists away despite the fact that they help drive the local economy in these tough times."
This week has been the busiest on record for stressed out Immigration officials who have been trying to cope with the last minute influx of tourists and expats whose visas had expired and were trying to extend, or apply for, visas to stay in the country.
Anantorn Hochindarat, president of the Tourism Association of Chiang Mai, says some businesses have received recurring revenue from international tourists which can help a lot when facing difficult times.
Although the profits from such tourists are much lower now, Anantorn says it can help businesses stay afloat. Despite such calls for an extension of visa amnesty, the Immigration Bureau has yet to announce any leeway to be given after today's deadline.
SOURCE: Bangkok Post
Keep in contact with The Thaiger by following our
Facebook page
.
Never miss out on future posts by
following The Thaiger
.
Sex worker support group pressures Thai government to decriminalise prostitution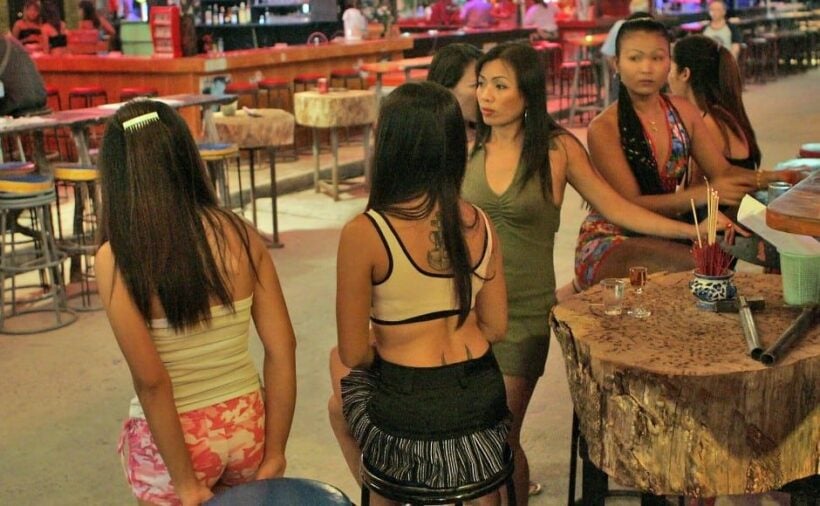 The coordinator for the group, Thanta Laowilawanyakul, says police only go after the sex workers and not the employers, with those found breaking the law to be branded with a criminal record that makes it hard to leave the industry as finding legal work becomes an issue. Thanta says 80 percent of the women working in the sex industry are the primary breadwinners for the entire family.
"Sex workers are lawfully registered in Germany, Amsterdam and Singapore. Why not Thailand? The answer is no, because the government thinks it will ruin the country's reputation. Meanwhile, Germany has over 700,000 prostitutes, yet the profession is not stigmatised."
A researcher at Thammasat University also concluded that the Anti-Prostitution Act doesn't work due to the large scale corruption of the Thai police. Such corruption allows prostitution to continue in the form of massage parlors, karaoke bars and clubs where such establishments can give a kickback to police and still make large profits. Such establishments, according to a Rangsit University criminology expert, reportedly give anywhere from 200,000 – 400,000 baht in bribe money to police to keep prostitution and human trafficking alive.
The numbers of illegal sex workers are staggering as Empower estimates that the country has almost 300,000 such workers, a number that is twice that of a UN report in 2014 due to what the group attributes to a failure to take into account the migrants and underage children in the business.
Empower is hoping its petition, which gained 10,000 signatures at the September 19 anti-government protestin Bangkok, will bring awareness to the issue that has historically been ignoredby the government. A spokesman for the Social Development and Human Security Ministry women's affairs section says that it is reviewing the law and could put amendments on the table for next year.
SOURCE: Pattaya Mail | The Thaiger
Keep in contact with The Thaiger by following our
Facebook page
.
Never miss out on future posts by
following The Thaiger
.
Thai Air Asia returns to Suvarnabhumi in addition to its Don Mueang hub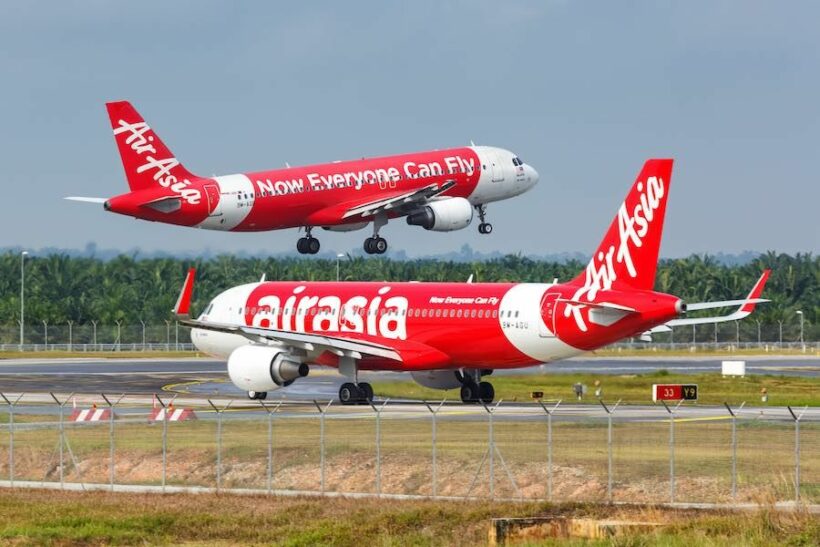 Thai AirAsia is spreading its Bangkok wings and opening up a secondary hub at the main Suvarnabhumi airport (BKK), to help broaden its attraction and bolster its bottomline. Thai Air Asia was the first airline to head back to the moth-balled Don Mueang in 2012 to re-establish the older airport after all the airlines moved across to the new Suvarnabhumi and discount airlines were seeking a lower-cost base.
Although Thai Air Asia carried 22.15 million passengers last year, this year's total will fall a long way short, just 6 million for 2020 up to date. Under the new set up, Thai AirAsia will have resumed nearly 90% of its pre-Covid domestic services, a total of 109 daily flights to 39 destinations. There will be 97 flights from Don Mueang Airport and 12 from Suvarnabhumi Airport.
With only a handful of international traffic, Suvarnabhumi officials are keen to re-kindle revenue for the massive airport and have struck a deal with Thai Air Asia to trial operations from BKK. They will be the only domestic carrier to operate flights from the two airports.
If the 2 month trial at Suvarnabhumi is successful, Thai AirAsia plans to add another plane to the BKK fleet by the end of the year. At this stage the trial is only approved up to the end of November.
Thai Air Asia have been concentrating on their 'bus' model to ferry passengers from the terminals to their aircraft waiting on remote airport aprons, and visa versa, to avoid some of the landing charges and using the sky-bridges. Some passengers have been complaining about the long trips in crowded buses, wild rides and over-enthusiastic air conditioning, whilst being told to strictly adhere to social distancing.
This week the Malaysian parent company Air Asia, announced the introduction of a 'super app', in an attempt to off-set the significant financial losses brought about by the Covid-19 pandemic. The mobile application shuffles Air Asia's model as a flight and accommodation provider, to a broader platform of complimentary services. The app will offer users a variety of options, including digital payment services, delivery services, and an e-commerce platform. Air Asia Chief Executive and founder, Tony Fernandes, says the idea for the app was floated prior to the pandemic, but Covid-19 hastened its development.
Keep in contact with The Thaiger by following our
Facebook page
.
Never miss out on future posts by
following The Thaiger
.