Phuket Gazette Thailand News: Thailand agrees to talk peace with southern insurgent group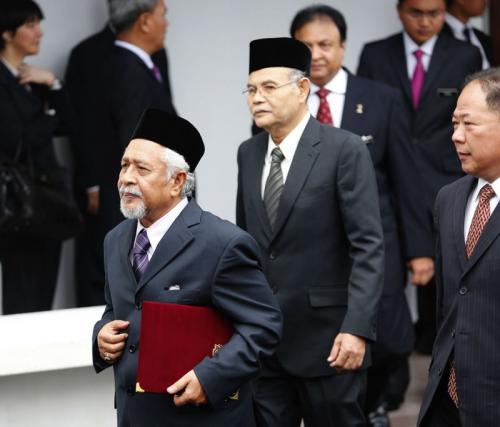 PHUKET MEDIA WATCH
– Thailand news selected by Gazette editors for Phuket's international community
Thailand agrees to talk peace with southern Muslim rebel group
The Nation / Phuket Gazette
PHUKET: Thai security officials on Thursday signed a deal to start peace talks with a Muslim rebel group involved in escalating violence in the southern provinces that has killed more than 5,000 people since 2004.
Thai security officials and representatives of the Barisan Revolusi Nasional, signed the agreement in Kuala Lumpur ahead of the visit of Thai Prime Minister Yingluck Shinawatra for the 5th Malaysia-Thailand Annual Consultation.
Malaysian Prime Minister Najib Razak and PM Yingluck were expected to appraise existing cooperation and explore new initiatives, Malaysia's Foreign Ministry said in a statement.
The leaders were expected to discuss efforts to promote peace, stability, prosperity and connectivity in the border areas, as well as cooperation in labor, trade, education and tourism.
ANALYSIS: Doubts over BRN chief's control of South rebels
The Nation / Phuket Gazette
PHUKET: Yingluck won't rule out role for Thaksin in Malaysia-brokered talks, while Najib says negotiations to be held in Kuala Lumpur in two weeks
Yesterday's agreement between the self-proclaimed leader of the Barisan Revolusi Nasional (BRN), Hassan Thoyib, and National Security Council (NSC) chief Paradorn Pattanathabutr raises doubts as to whether it will have any impact on the insurgency and the violence in the deep South, because the BRN is too factionalized.
Sources in other separatist movements, including BRN factions not affiliated with Hassan, as well as Thai and Malaysian security officials, said Hassan does not have any major influence with the militants on the ground.
These sources said they are aware of many other separatist leaders whose credentials are considered much better than Hassan's because they have demonstrated they have solid command and control on the ground.
However, they will not come to the negotiating table because the Thai government refuses to grant them immunity, the sources said.
Thailand can't be reaching out one hand for peace while at the same time holding an arrest warrant in another hand, they said.
Since these leaders refuse to come to the table, Thailand had to settle for someone who was available – and that someone was Hassan, Thai and Malaysian officials said.
Tawil Pliensri, a former secretary-general of the NSC, doubted the government was dealing with the right person. As there were several groups and factions involved in the violence in the South, betting on one person was too risky, he said.
Indeed, Thai authorities have been dealing with several groups, and upgrading any specific group would not be the right way, he said. "I don't think the pact [with BRN] will end all problems," he said.
Betting on Hassan was a leap of faith, and it is hoped that Hassan can convince other separatist leaders to join the peace process, which Kuala Lumpur has been asked to facilitate.
"God willing, we'll do our best to solve the problem. We will tell our people to work together," Hassan said after a brief signing ceremony with NSC chief Paradorn.
Malaysian Prime Minister Najib Razak said the peace talks would take place in Kuala Lumpur in two weeks. He regarded the signing as "merely the starting point of a long process" because many issues have to be resolved, but added that it was a "solid demonstration of the common resolve to find and establish an enduring peace in southern Thailand".
The peace pact was signed in Malaysia shortly before the arrival of Prime Minister Yingluck Shinawatra, who was making an official visit.
Yingluck said Thailand "wished to see a lasting solution in the southern border provinces", where the nine-year revolt by a number of shadowy groups has claimed more than 5,500 lives.
"We need to move forward as soon as possible," she told a news conference after a meeting with Najib in the Malaysian government headquarters of Putrajaya.
Thailand had taken up a similar approach from 2006 to last year under the so-called Geneva Process, under which a European NGO was to mediate talks between the NSC and one of the three factions of the Patani United Liberation Organisation (Pulo).
But Prime Minister Yingluck, who did not rule out the role of her elder brother Thaksin in taking part in peace talks, ditched the Geneva Process and gave the mandate to facilitate to Malaysia.
In a statement, Pulo yesterday expressed support for the Malaysia-brokered talks between Thailand and the BRN.
Within Pulo there are at least three known leaders – Samsudine Khan, Noor Abdulrahman and Kasturi Mahkota.
It was not clear if Hassan has any pending charges against him. His claim to fame is the fact that he was a personal assistant to the late Haji Amin Toemeena, the late brother of Den Toemeena, a former Pattani MP under the Wadah Faction, which is affiliated with the ruling Pheu Thai Party.
Thai and Malaysian official sources said Bangkok really wanted Sapae-ing Basor, the former principle of Thamvithya Mulniti Islamic school in Yala, to come to the table with Paradorn.
Sapae-ing is the only exiled leader who is a household name in Thailand's Malay-speaking South.
Thai police accuse him of being a major separatist leader of BRN, but sources in the movement see him as a spiritual leader of not just the militants on the ground but of all Muslims in Thailand's three southernmost provinces.
In this respect, Sapae-ing could serve as the much-needed link between the insurgents, the exiled separatist leaders and the Malay Muslim residents of the deep South. But because he is a spiritual leader, Sapae-ing will not permit himself to be exploited for political gain. "Spiritual leaders don't compromise," said one of his closest associates.
Exiled separatist leaders said BRN is not the only group with militants on the ground. One leader said at least three of the 16 militants killed at the recent shoot-out in Bacho, Narathiwat, were affiliated with Pulo.
There is also the question of Malaysia's role in this peace process. Hardliners in the Thai government and the Thai Army, as well as separatist leaders, said Malaysia is not an honest broker, but a stakeholder. The hardliners say they would rather deal directly with the separatist leaders, collectively or individually.
— Phuket Gazette Editors
Keep in contact with The Thaiger by following our
Facebook page
.
Never miss out on future posts by
following The Thaiger
.
US cuts Thailand's tariff benefits after long-running pork dispute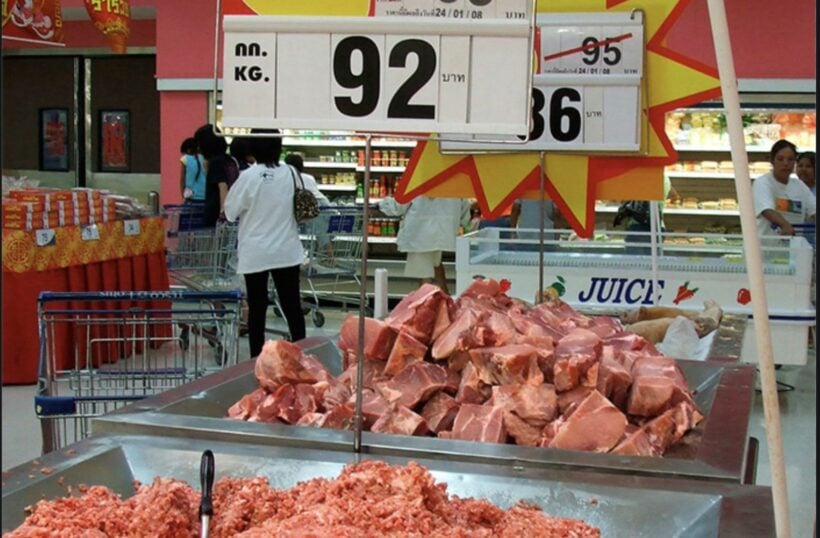 Thailand's duty-free privileges for US$817 million in exports with the US are to be revoked from the end of this year, according to US President Trump in an announcement yesterday. The President blamed a lack of progress in opening the Thai market to US pork products. Trump's letter announcing the action follows more than 2 years of threats and negotiations with Thai officials over issues ranging from access to Thailand's markets for US goods and the documented inadequate labour rights in the south east Asian nation.
Washington will now eliminate some tariff benefits for Thailand, accusing the country of failing to allow imports of pork from US producers.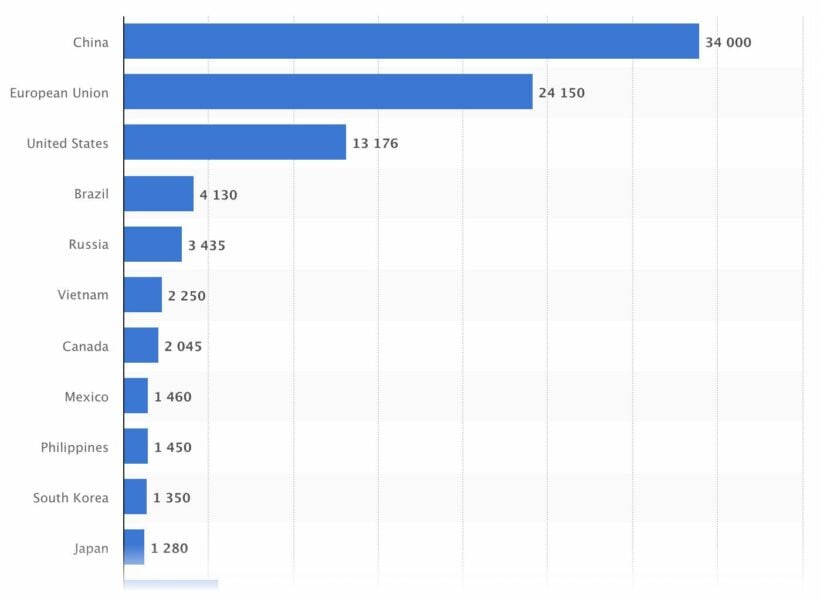 GRAPHIC: Global pork production in 2020, by country (in 1,000 metric tonnes) – statista.com
The suspension of the Generalised System of Preferences access follows a suspension earlier this year on about $1.3 billion worth imports from Thailand, which once had such privileges for about US$4.4 billion in exports to the United States.
The US Trade Representative's office said the list of products includes mango, pineapple, manicure kits, steel pipes and precious stones., auto parts, dried produce, tools, electrical products and aluminium kitchenware.
Writing to the House Speaker Nancy Pelosi, President Trump said… "I have determined that Thailand has not assured the United States that Thailand will provide equitable and reasonable access to its markets."
GSP, Generalised System of Preferences, is a 70s-era program of US trade preferences for developing economies aimed at improving workers' rights and access to broader markets.
"The US Trade Representative's office also announced that it had closed other GSP eligibility reviews with no loss of benefits for Georgia, Indonesia and Uzbekistan. It also said new GSP reviews were opened for Eritrea based on concerns about workers' rights."
SOURCE: Reuters | VOANews | statista.com
Keep in contact with The Thaiger by following our
Facebook page
.
Never miss out on future posts by
following The Thaiger
.
Dow and S&P 500 take a breath after an ugly week, tech stocks lead the way down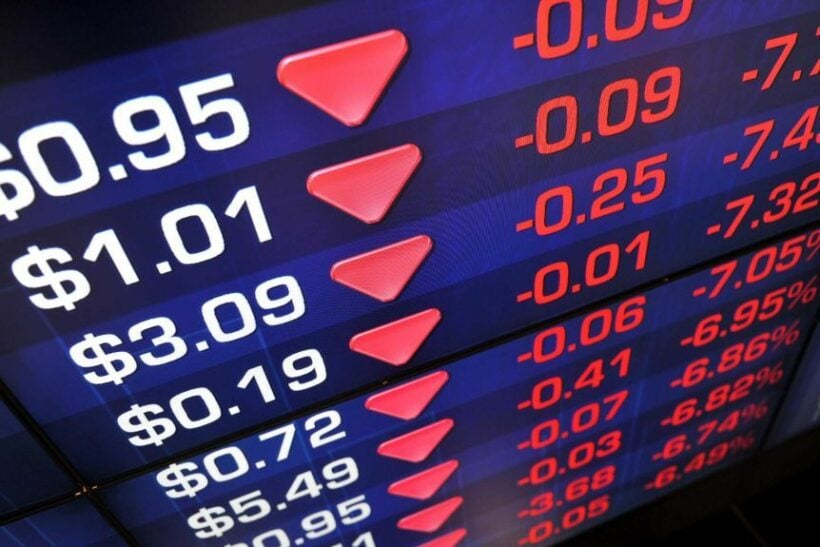 US stocks closed lower yesterday to end an ugly week downbeat with 'uncertainty' remaining the overwhelming sentiment. Tech stocks led the march downwards. The Dow Jones Industrial Average dropped in its biggest monthly collapse since March with investors reacting to rising Covid-19 cases in the US and Europe, peppered by nervousness ahead of next Tuesday's US presidential election. The increased volatility forced all three major indexes seeing their biggest weekly declines since the worst of the coronavirus-inspired selloff 8 months ago.
The Dow fell around 157 points, to end near 26,502, according to preliminary figures, while the S&P 500 lost around 40 points, or 1.2%, to finish near 3,270. The Nasdaq Composite gave up around 274 points, or 2.4%, closing near 10,912. The Dow had a 6.5% weekly fall and a 4.6% monthly drop. Friday's decline saw the Nasdaq negative for the month of October, falling 2.3%. The Nasdaq was down 5.5% for the week.
The Dow dropped more than 500 points at its session low with tech stocks – primarily Apple, Amazon, Alphabet and Facebook – leading the market decline.
A number of stocks were on the move, down, following a slew of earnings, including from the tech giants. Twitter sank more than 20% on slowing growth, while Exxon reported its 3rd straight quarter of losses.
Key moments yesterday…
Dow closed down 0.59% for its 5th negative day out of 6
S&P 500 closed down 1.21% for its 4th negative day in 5
Dow closed down 6.47% this week for its worst week since March 20
S&P closed down 5.64% this week for its worst week since March 20 when the S&P lost 14.98%
S&P closed down 2.77% this month for its second-straight negative month
Nasdaq closed down 5.51% this week for its worst week since March 20 when the Nasdaq lost 12.64%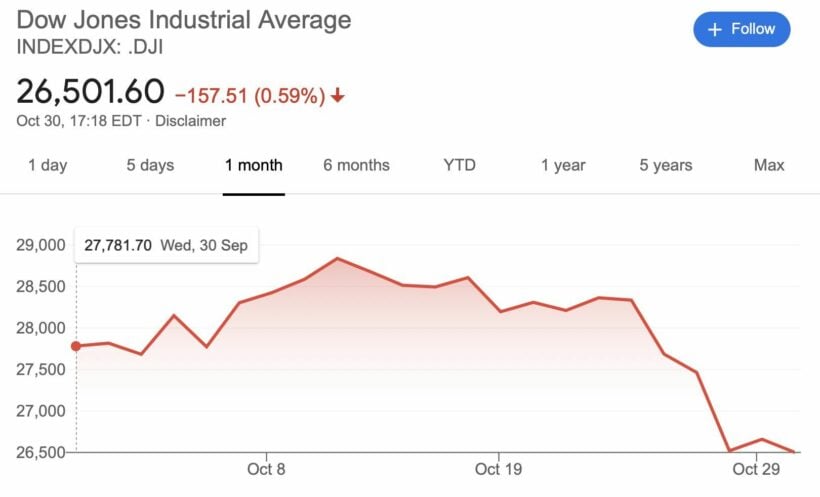 Keep in contact with The Thaiger by following our
Facebook page
.
Never miss out on future posts by
following The Thaiger
.
Free Trade Agreement talks continue between Thailand and EU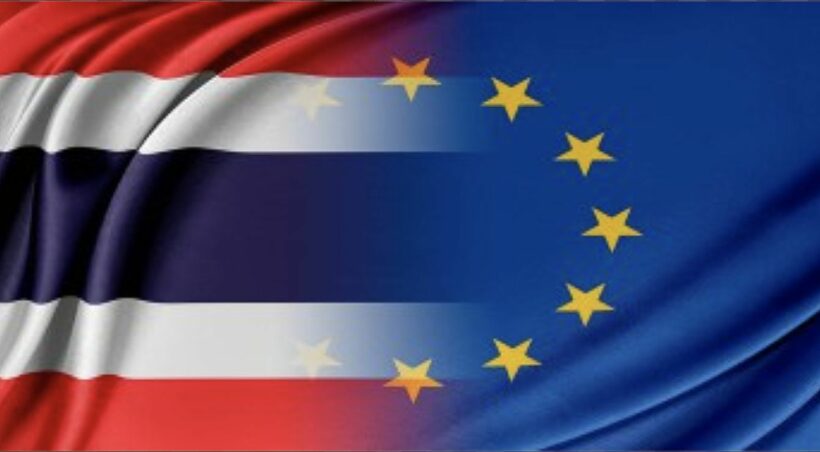 Thailand is resuming trade talks with the European Union on the long-delayed Thai-EU free trade agreement. The 15th Thai-EU Senior Officials' conference was held virtually between leading Thai and European trade officials this week. The push was on to have the Free Trade Agreement signed and sealed by the end of this year.
Discussions were held regarding the ongoing affects of the Covid-19 pandemic, the impact on Euro and Thai economies, the current political unrest in Thailand, the fight against Illegal Unreported and Unregulated fishing, promoting the protection of labourers and a commitment to strengthen ties between the Euro zone and Thailand.
The next step in the establishment of the FTA will be a forthcoming meeting on trade and investment in December.
The virtual meeting was represented by Sasiwat Wongsinsawat, the Director-General of the Department of European Affairs and the European Union's Paola Pampaloni , the Deputy MD for Asia and Pacific Department at the European External Action Service.
Keep in contact with The Thaiger by following our
Facebook page
.
Never miss out on future posts by
following The Thaiger
.