Phuket Gazette Thailand News: Thailand agrees to talk peace with southern insurgent group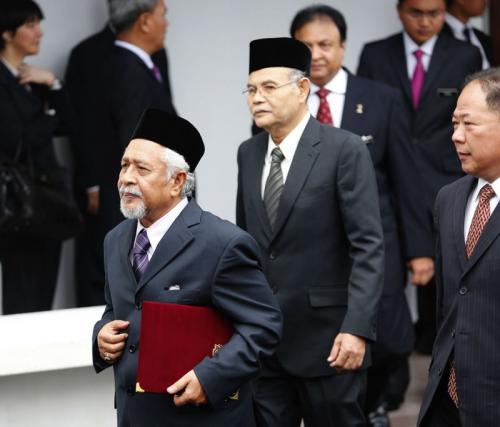 PHUKET MEDIA WATCH
– Thailand news selected by Gazette editors for Phuket's international community
Thailand agrees to talk peace with southern Muslim rebel group
The Nation / Phuket Gazette
PHUKET: Thai security officials on Thursday signed a deal to start peace talks with a Muslim rebel group involved in escalating violence in the southern provinces that has killed more than 5,000 people since 2004.
Thai security officials and representatives of the Barisan Revolusi Nasional, signed the agreement in Kuala Lumpur ahead of the visit of Thai Prime Minister Yingluck Shinawatra for the 5th Malaysia-Thailand Annual Consultation.
Malaysian Prime Minister Najib Razak and PM Yingluck were expected to appraise existing cooperation and explore new initiatives, Malaysia's Foreign Ministry said in a statement.
The leaders were expected to discuss efforts to promote peace, stability, prosperity and connectivity in the border areas, as well as cooperation in labor, trade, education and tourism.
ANALYSIS: Doubts over BRN chief's control of South rebels
The Nation / Phuket Gazette
PHUKET: Yingluck won't rule out role for Thaksin in Malaysia-brokered talks, while Najib says negotiations to be held in Kuala Lumpur in two weeks
Yesterday's agreement between the self-proclaimed leader of the Barisan Revolusi Nasional (BRN), Hassan Thoyib, and National Security Council (NSC) chief Paradorn Pattanathabutr raises doubts as to whether it will have any impact on the insurgency and the violence in the deep South, because the BRN is too factionalized.
Sources in other separatist movements, including BRN factions not affiliated with Hassan, as well as Thai and Malaysian security officials, said Hassan does not have any major influence with the militants on the ground.
These sources said they are aware of many other separatist leaders whose credentials are considered much better than Hassan's because they have demonstrated they have solid command and control on the ground.
However, they will not come to the negotiating table because the Thai government refuses to grant them immunity, the sources said.
Thailand can't be reaching out one hand for peace while at the same time holding an arrest warrant in another hand, they said.
Since these leaders refuse to come to the table, Thailand had to settle for someone who was available – and that someone was Hassan, Thai and Malaysian officials said.
Tawil Pliensri, a former secretary-general of the NSC, doubted the government was dealing with the right person. As there were several groups and factions involved in the violence in the South, betting on one person was too risky, he said.
Indeed, Thai authorities have been dealing with several groups, and upgrading any specific group would not be the right way, he said. "I don't think the pact [with BRN] will end all problems," he said.
Betting on Hassan was a leap of faith, and it is hoped that Hassan can convince other separatist leaders to join the peace process, which Kuala Lumpur has been asked to facilitate.
"God willing, we'll do our best to solve the problem. We will tell our people to work together," Hassan said after a brief signing ceremony with NSC chief Paradorn.
Malaysian Prime Minister Najib Razak said the peace talks would take place in Kuala Lumpur in two weeks. He regarded the signing as "merely the starting point of a long process" because many issues have to be resolved, but added that it was a "solid demonstration of the common resolve to find and establish an enduring peace in southern Thailand".
The peace pact was signed in Malaysia shortly before the arrival of Prime Minister Yingluck Shinawatra, who was making an official visit.
Yingluck said Thailand "wished to see a lasting solution in the southern border provinces", where the nine-year revolt by a number of shadowy groups has claimed more than 5,500 lives.
"We need to move forward as soon as possible," she told a news conference after a meeting with Najib in the Malaysian government headquarters of Putrajaya.
Thailand had taken up a similar approach from 2006 to last year under the so-called Geneva Process, under which a European NGO was to mediate talks between the NSC and one of the three factions of the Patani United Liberation Organisation (Pulo).
But Prime Minister Yingluck, who did not rule out the role of her elder brother Thaksin in taking part in peace talks, ditched the Geneva Process and gave the mandate to facilitate to Malaysia.
In a statement, Pulo yesterday expressed support for the Malaysia-brokered talks between Thailand and the BRN.
Within Pulo there are at least three known leaders – Samsudine Khan, Noor Abdulrahman and Kasturi Mahkota.
It was not clear if Hassan has any pending charges against him. His claim to fame is the fact that he was a personal assistant to the late Haji Amin Toemeena, the late brother of Den Toemeena, a former Pattani MP under the Wadah Faction, which is affiliated with the ruling Pheu Thai Party.
Thai and Malaysian official sources said Bangkok really wanted Sapae-ing Basor, the former principle of Thamvithya Mulniti Islamic school in Yala, to come to the table with Paradorn.
Sapae-ing is the only exiled leader who is a household name in Thailand's Malay-speaking South.
Thai police accuse him of being a major separatist leader of BRN, but sources in the movement see him as a spiritual leader of not just the militants on the ground but of all Muslims in Thailand's three southernmost provinces.
In this respect, Sapae-ing could serve as the much-needed link between the insurgents, the exiled separatist leaders and the Malay Muslim residents of the deep South. But because he is a spiritual leader, Sapae-ing will not permit himself to be exploited for political gain. "Spiritual leaders don't compromise," said one of his closest associates.
Exiled separatist leaders said BRN is not the only group with militants on the ground. One leader said at least three of the 16 militants killed at the recent shoot-out in Bacho, Narathiwat, were affiliated with Pulo.
There is also the question of Malaysia's role in this peace process. Hardliners in the Thai government and the Thai Army, as well as separatist leaders, said Malaysia is not an honest broker, but a stakeholder. The hardliners say they would rather deal directly with the separatist leaders, collectively or individually.
— Phuket Gazette Editors


Read more headlines, reports & breaking news in Thailand. Or catch up on your Thailand news.
Alive and kicking. Tony Jaa says he's very much alive.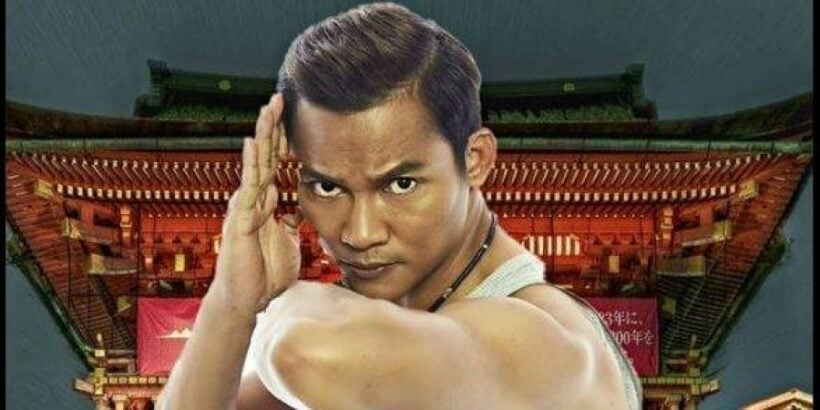 Photo"The reports of my death are greatly exaggerated." – Mark Twain
Tony Jaa, the internationally famous Thai martial arts star, says he's alive and well, dismissing rumours that he died during the shooting of a Hollywood movie in the US last Saturday.
'Tachakorn Yeerum', his real name, has told reporters he was aware of the rumours of his death that had been spread on socia media. To prove he is alive he posted a newly recorded video on his Facebook page under the headline: "A little message for my friends in Thailand".
In the video clip, he denies rumours that he is dead, saying he is alive and kicking, and plans to make more films.
He is best known for his roles in "The Protector" and "Ong-Bak", which brought him international fame.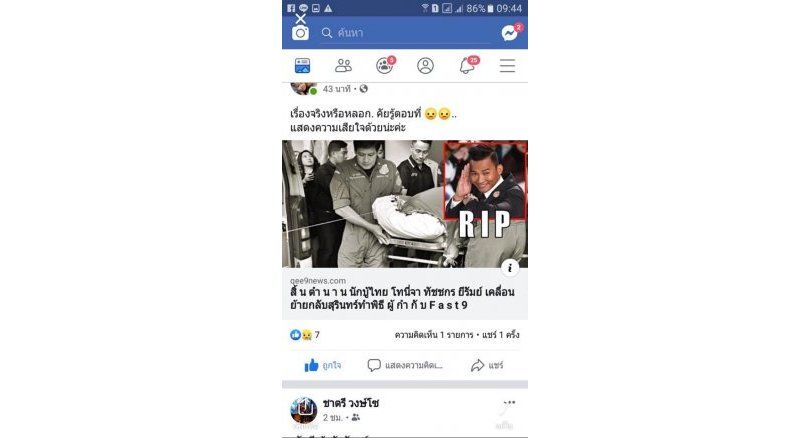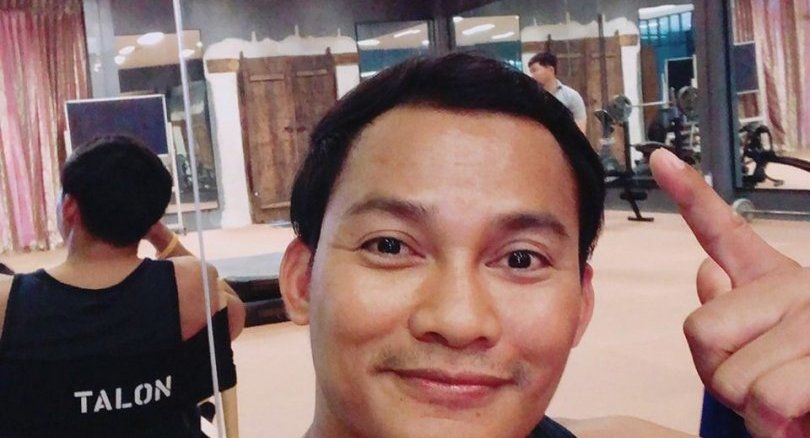 News of Tony's "death" had spread in both Thailand and other countries. One Thai website said that the legendary action star was dead and that his body would be returned to his hometown in Surin province. The website claimed that the actor had died during the final shoot of "Fast and Furious 9" after getting the director's go-ahead to leap about 10 metres from one rooftop to another at 11pm on Saturday.
He was reported to have fallen to his death while attempting the stunt. The website even showed what was claimed to be the scene of the accident, including police yellow tape.
At about 11am ET on Saturday… "our beloved actor Tony Jaa passed away. Tony Jaa was born on February 5, 1976 in Isaan. He will be missed but not forgotten. Please show your sympathy and condolences by commenting on and liking this page."
Hundreds of fans immediately started writing their messages of condolence on the Facebook page, expressing their sadness that the talented 43 year old actor was dead.
Whereas some trusting fans believed the posts, others were immediately skeptical of the report, perhaps learning their lesson from the huge amount of fake death reports emerging about celebrities in recent months.
On Sunday, the actor's representatives officially confirmed that Tony Jaa was not dead.
"He joins the long list of celebrities who have been victimised by this type of hoax. He's still alive and well; stop believing what you see on the internet."
SOURCE: The Nation
Thailand's pro-army party hopes to seal deal with Democrats and Bhumjaithai today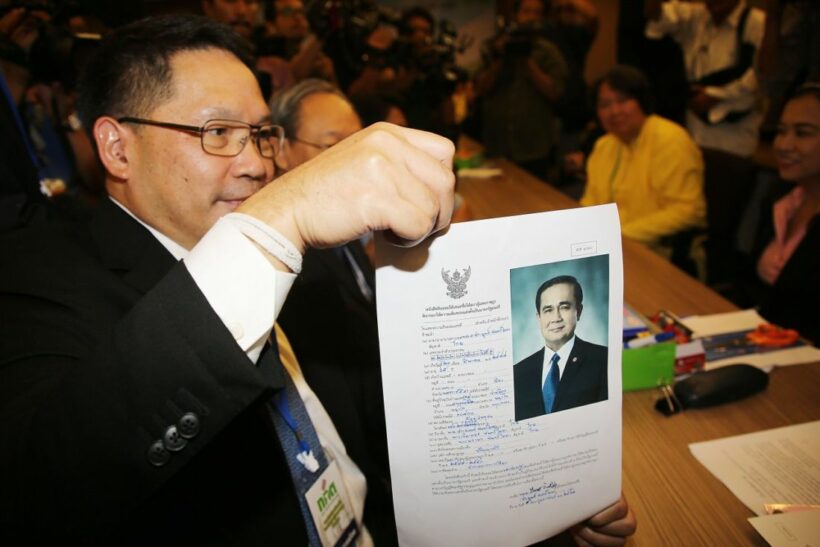 PHOTO: The Nation
Palang Pracharat, the political party supporting Thailand's Junta, is hoping it can complete negotiations and make a deal today to which would see it with enough parliamentary seats to keep Prayut Chan-o-cha in power as prime minister. This analysis from a lawmaker who is a board member of the Palang Pracharat party in a Reuters article.
The deal would be the end of opposition hopes to keep the military out of politics, five years after the NCPO seized power from the elected government on May 22, 2014.
Palang Pracharat party contested the March 24 election as a proxy party for the army with Prayuth Chan-o-cha as their prime ministerial candidate.
Puttipong Punnakanta, one of Palang Pracharat's board members and a member of parliament, has told Reuters the party – which gained the second-largest number of seats in the election – would formally invite two other parties, the Democrats and Bhumjaithai, to join in a coalition government.
"It's certain that we will be forming a coalition government, with at least 251 seats and more. We will see Prayuth Chan-ocha as PM next month."
The Reuters story notes that the opposition Pheu Thai party, which was ousted from power in 2014, won the most seats in the 500 member House of Representatives on the March 24 election, but its coalition of anti-Junta parties has been unable to form a majority when final results were announced.
SOURCE: Reuters
HM The King acknowledges the passing of General Prem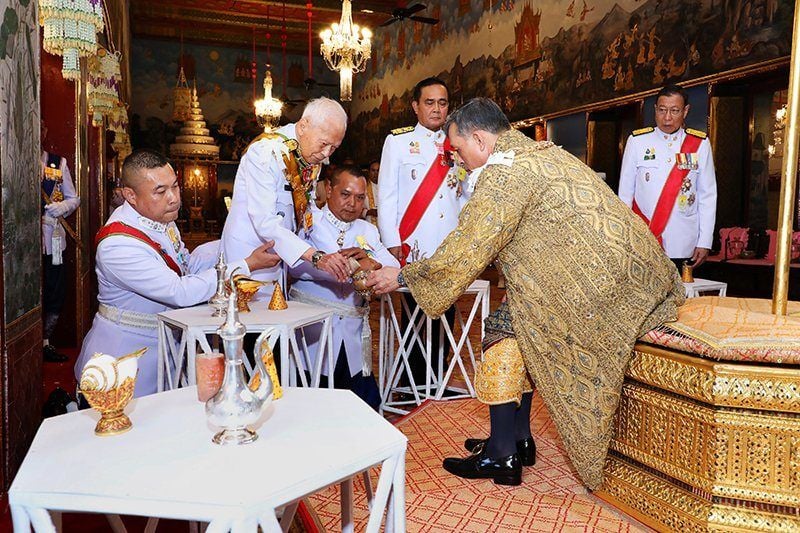 PHOTO: Matichon Online
HM the King has acknowledged, with great sadness, the loss of General Prem Tinsulanonda, whom he described as a great national benefactor. The announcement said HM the King has agreed to sponsor the funeral rite at Wat Benjamaborpit Dusitwanaram for seven days from today and presented a Royal urn for the late statesman.
General Prem had served the country, and the current and former monarchs, in various capacities – as the army commander-in-chief, prime minister, privy councillor, statesman, president of the Privy Council, as well as a regent.
HRH Princess Maha Chakri Sirindhorn will preside over the bathing rites on behalf of HM the King tonight at 6pm. HM The King and HM The Queen will preside over a merit-making ceremony on June 2. Merit-making ceremonies are to be held on June 10, July 15 and on September 3.
Palace officials were ordered to observe the mourning period by wearing black for 21 days from today until June 17, with the exception of June 3 which coincides with the birthday of HM Queen Suthida.
Meanwhile, the government has ordered Thai national flags at all government and state enterprise offices, as well as educational institutions, to fly at half-mast for seven days from today as a gesture of respect and condolence for Statesman General Prem.
All state officials were also ordered to observe the mourning until June 17 while members of the public in general were advised to act as they think appropriate.
SOURCE: Thai PBS | Matichon Online