Phuket Gazette Thailand News: THAI flight skids off Bangkok runway; Oil spill update; Dam tiger fight; Loei says no to gold mine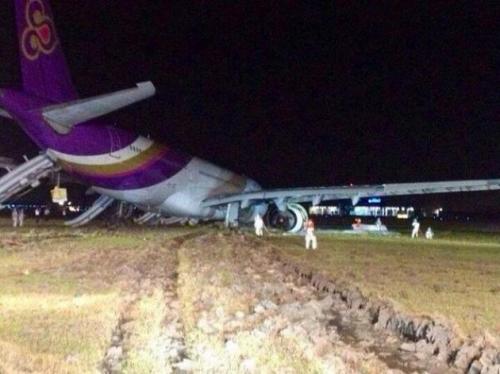 PHUKET MEDIA WATCH
– Thailand news compiled by Gazette editors for Phuket's international community
THAI flight slides off Bangkok runway Sunday night, 13 injured
The Nation / Phuket Gazette
PHUKET: THAI International Airways is investigating an accident in which flight TG 679 skidded off the runway while landing at Suvarnabhumi Airport on Sunday night.
Sorajak Kasemsuvan, THAI president, said thirteen passengers suffered minor injuries from the accident that took place at 11.20pm.
The Airbus A330-300 left Guangzhou at 9.25pm local time with 288 passengers and 14 crew members on board.
During the incident, there were some sparks at the base of the right wheel, making it catch fire. Sorajak said the captain of the flight then managed to control the airplane and ordered evacuation of the passengers through emergency exits.
The Airbus A330-300 involved in the incident was delivered to Thai Airways in March of 1995.
Dam would flood tiger habitat: activists
The Nation / Phuket Gazette
PHUKET: A group of prominent environmental activists will kick off a protest today against the Nakhon Sawan Mae Wong Dam project, calling on the government to scrap the plan.
They said the dam project would inundate more than 13,000 rai of forest areas in Mae Wong National Park, affecting the balance of wildlife, including tigers.
A group led by Seub Nakhasathien Foundation's secretary-general Sasin Chalermlarp will hand the petition to the Office of Natural Resources and Environmental Policy and Planning (ONEP)'s panel of environmental experts.
It will request they stop conducting an environmental and health impact assessment (EHIA) report on the proposed dam.
The Mae Wong Dam project was initiated by the Royal Irrigation Department (RID) 30 years ago and is now part of the government's Bt350-billion water-management and flood-prevention scheme.
The dam is aimed at resolving flood and drought problems in areas, which deliver water to 291,900 rai of irrigated areas in Nakhon Sawan, Kamphaeng Phet and Uthai Thani.
RID submitted the EHIA report for ONEP's deliberation several times without success, as it did not include information about proper measures to mitigate the impact of the project on the flora and fauna in the area.
In a bid to protest over the dam plan, Sasin and other environmental activists will start walking from Bangkok to the dam construction site located in Nakhon Sawan province's Mae Wong National Park. They will also tear up the EHIA report, page by page, during their protest trip. Sasin said he protested about the dam project because it would affect thousands of rai in the country's western forest complex, such as Huai Kha Khaeng Wildlife Sanctuary, a world natural heritage site, and the Kamphaeng Phet's Klong Lan National Park.
According to the study by three environmental agencies – the National Parks, Wildlife, and Plant Conservation Department, the Wildlife Conservation Society, and the WorldWide Fund – these areas are important habitat for wild tigers.
He also found the dam would not protect the local area and Chao Phraya river basin from flooding as it could retain only 258 million cubic metres of water.
Sasin said there were irregularities in the EHIA deliberative process. The government had changed membership of the environmental expert panel who studied the project's EHIA report several times to speed up the approval process.
ONEP secretary-general Santi Boonprakub said his agency would submit the EHIA report for consideration by the National Environmental Board and Independent Commission on Environment and Health to seek additional recommendations on the project before getting the final Cabinet approval.
Loei villagers oppose gold mine plan
The Nation / Phuket Gazette
PHUKET: More than 800 villagers in Loei yesterday protested against a gold mine project as they fear it would hurt the environment and people's health.
The protest took place after Thung Kham Ltd Co held a public hearing over the gold-mining, which would cover more than 12,000 rai in tambon Na Pong of Muang district, in order to seek the state approval for a mining concession there.
Tambon Na Pong Municipality deputy mayor Boonhome Ramsiri said the villagers were worried about the impact on water, underground water, soil, and air quality as well as on farm produce and people's health.
The villagers claimed there was a report on contamination of hazardous chemical such as cyanide from a nearby gold mine in tambon Wang Sa Phung, affecting at least six villages living near the mine.
However, the company representatives informed the locals at the public hearing that although the firm had surveyed for a gold-mining site covering 12,000 rai, they currently had asked the state agency to grant a concession for only 600 rai. As the company was required to host at least 10 public hearings about the project in the future, the representatives claimed if it was found the project would cause severe impacts and most villagers do not want this project, the company would abandon its plan.
Rayong oil spill dangers remain despite clean-up, say US experts
The Nation / Phuket Gazette
PHUKET: Despite the clean-up efforts of PTT Global Chemical in the early stages of the recent oil spill at Rayong province's Koh Samet, the re-emergence and long-term impact of submerged oil should be inspected, according to US experts.
"It's believed by the oil company that the oil dispersant can improve the overall oil-spill conditions, but there are many unknown long-term impacts of the use of the dispersant on marine life and public health," said David Krause, an expert with US-based Geosyntec Consultants.
Krause was with the teams that responded to the 2010 Deep Water Horizon spill in the Gulf of Mexico.
He said oil companies worldwide had used the same dispersant to contain spills as they believed it could make the oil disappear from the sea's surface as rapidly as possible.
But in fact, the spilled oil was merely submerged by the dispersants and could cause long-term environmental impacts on marine life.
"The impact of the oil spill will go on for quite some time and may involve more clean-up events, diminished health of marine life, and increased stress on the food chain," he said.
Krause was speaking to the media during the three-day 34th International Environment Forum "Pacem in Maribus", held in Bangkok, on the topic "Hazards to the World's Oceans".
Contamination from oil spills under the sea can be harmful to seafood and those who consume it.
It can take several seasons for contaminants to break down and pose no further risk, Krause explained.
On concerns about whether it is safe to consume seafood from the area in the long term, Krause said well-established methods to measure any oil-related contaminants in fish from local waters were needed.
To date there are many studies under way to find out the impact of submerged oil on coral reefs and sea creatures such as crab, shrimp and oysters.
"The submerged oil sometimes will not kill marine life but it could weaken it," he said.
— Phuket Gazette Editors Keep in contact with The Thaiger by following our Facebook page.
Never miss out on future posts by following The Thaiger.
Thailand News Today | Waiting for vaccine, new face of Thailand expats, teacher complaints | Oct 1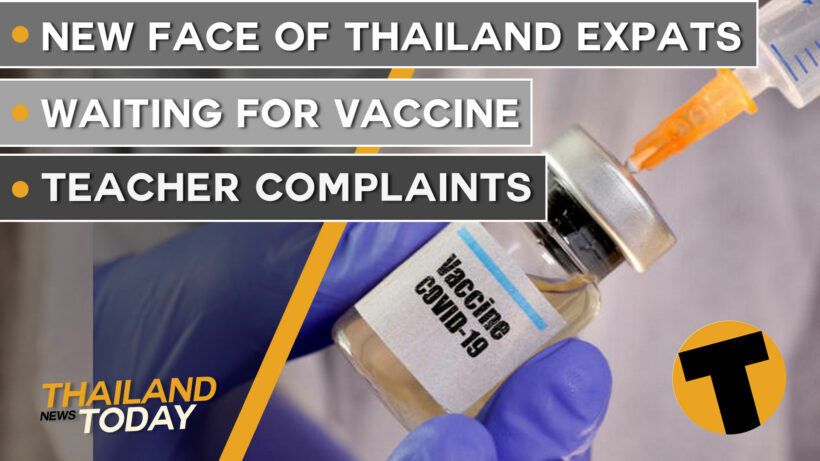 Daily Thai news on The Thaiger. All the latest information about Thailand, Monday to Friday on Thaiger News Today.
Thailand beaches may limit visitors until Covid-19 vaccine is available
Beaches and national parks might not fully open to international tourists until a Covid-19 vaccine is available. The claim comes from the Tourism Council of Thailand president. Around 120 to 150 tourists departing from China are set to arrive in Phuket on October 8 after a 6 month ban on international tourists. They'll have to go through a 14 day state quarantine, but after that, they may not be able to enjoy some of the island's beaches. A report from Bloomberg says it's "unlikely" beaches and parks will fully open to overseas travellers until a vaccine becomes available. At this stage there are still many questions about a successful vaccine either becoming available or the efficacy of such a vaccine even when it is. Then there are questions about whether getting a vaccine will become a condition of travel to Thailand or internationally. For the time being, only tourists on select charter flights with a 90 day Special Tourist Visa can enter the country. "It's good for the country to reopen even if it's just for trial … Once we've tested our reopening plan for a month, we can assess how to go forward and allow more visitors to come in."
Changing face of Thailand's expats
Thailand's dominant working expat nationality in past decades has been Japanese, currently making up 18% of expatriates in the country. But that dominance is about to be overtaken. While Japanese expatriate numbers are decreasing, a CBRE report notes that Chinese and Filipino expats are on the rise in Thailand. There were 28,560 Japanese expats in Thailand as of Q3 2020, just ahead of the Chinese expat contingent at 25,811. As China's manufacturing has shifted overseas and Filipino expatriates have increased in line with local demand for teachers fluent in English, there's been a continuing de-centralisation of the expat communities living in Thailand. You can read more about that report, and the effects on the Thai property market at thethaiger.com
More reports of alleged student abuse, parents file complaint against teacher
More reports of teachers allegedly abusing their students have come to light after a Nonthaburi teacher was caught on video pushing a kindergarten student to the floor, pulling a student across the floor and repeatedly hitting other students. Now more classroom videos of teachers allegedly abusing their students are being widely shared online as well as photos of children's marks and injuries from the alleged abuse. Meanwhile, the main Thonburi school, at the centre of the current allegations, has agreed to pay compensation, including refunding school fees, paying medical costs, and better screening and scrutiny of teaching staff.
Contestant eliminated from Miss Universe Thailand after manager infiltrates organising committee
One of the favourites to take the Miss Universe Thailand title when the contest is held on Saturday, October 10, has just been kicked out for breaking the rules. Chayathanus Saradat, also known as "Cheraim", is accused of allowing her manager and chaperone to infiltrate the organising committee. It's understood he manager, aka "Ken", attended numerous committee meetings, potentially getting the inside scoop on what questions contestants might be asked, and giving his client an advantage. Thailand still has a fascination for the 'beauty contestant' format and there are hundreds of such contests conducted around the country each year.
Police confiscate 300 kilos of marijuana in central Thailand drugs bust
A drugs bust in the central province of Nonthaburi, just north of central Bangkok, has netted 300 kilos of marijuana, valued at around 2 million baht. Anti-narcotics officers confiscated the haul yesterday when they apprehended 3 men in a department store car park. Thai Residents reports that dried marijuana usually fetches around 6,500 baht per kilo on the black market. It's understood this consignment was on its way to a Bangkok-based dealer when it was intercepted.
Keep in contact with The Thaiger by following our
Facebook page
.
Never miss out on future posts by
following The Thaiger
.
Travel agents push to end quarantine for tourists from countries at low risk for Covid-19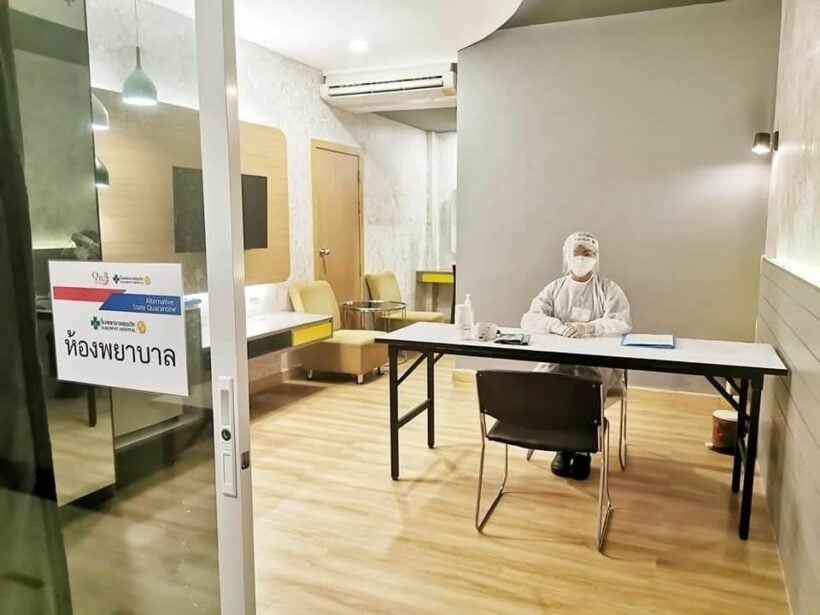 Travel agents are pushing to end the 14 day quarantine required for foreign tourists arriving from countries classified as a very low risk for spreading Covid-19, hoping the government will agree with the idea and start in December. The move could bring in at least 100,000 tourists per month, according to president of the Association of Thai Travel Agents, or ATTA, Vichit Prakobkoson.
The thought of 2 weeks in isolation before enjoying a vacation turns away a lot of potential tourists. Vichit says the idea of quarantine "repulses" them. But some tourists are still onboard with travelling to Thailand, even if that means spending 14 days in quarantine.
Around 120 to 150 tourists on the new Special Tourist Visa are set to arrive next week from China to Phuket after a 6 month ban on international tourists. The tourists are required to quarantine for 14 days at a state approved facility. The new visa allows a 90 stay and can be renewed twice, adding up to about 9 months.
Vichit says new measure won't be enough to revive Thailand's crippled tourism industry which took a hit when the country halted international travel to control the spread of the coronavirus. 1,200 foreign tourists are expected to arrive each month under the new Special Tourist Visa, but Vichit says the number of monthly tourists could increase to 100,000 each month if the quarantine is waived for people from countries consider low risk.
"The government should challenge and revoke the state quarantine, if possible, by this December for certain countries. If so, approximately 100,000 foreigners a month would travel to Thailand and might stay for 5 to 7 days."
SOURCE: Pattaya News
Keep in contact with The Thaiger by following our
Facebook page
.
Never miss out on future posts by
following The Thaiger
.
Opening borders could cause a second Covid-19 outbreak, epidemiologist says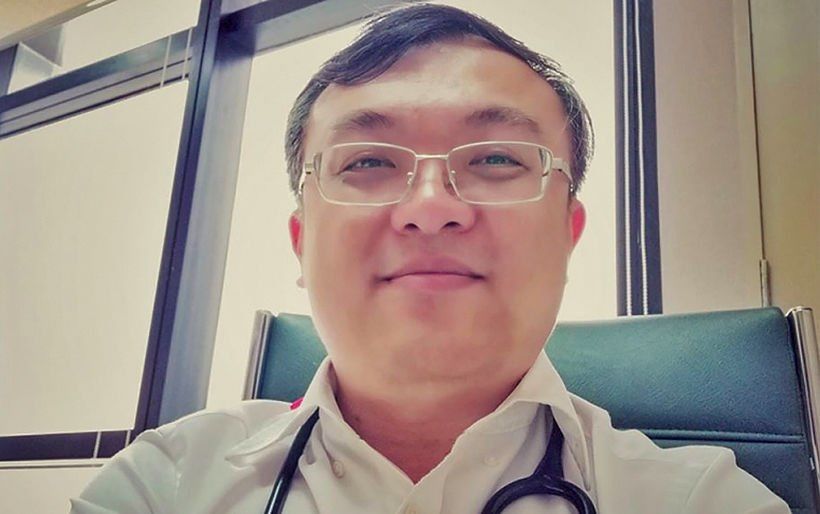 Opening Thailand's borders to foreign tourists may open a "Pandora's box" of Covid-19 infections, according to leading epidemiologist on the Chulalongkorn University Faculty of Medicine Thira Woratanarat. After a 6 month ban on international tourists, the first group of travellers on the new Special Tourist Visa are set to fly from China to Phuket on October 8. Thira says the move puts the country at risk of a second coronavirus outbreak.
"If the country decides to take risks, everyone must rely on themselves because this is a war between virus and humans and people need to survive… The country will be a new endemic area if the government cannot contain the spread of the disease effectively. And even if there is a Covid-19 vaccine, it might be too late."
The 120 to 150 tourists arriving next week on the Special Tourist Visa are required to quarantine at a state approved facility for 14 days. They are also required to be tested for Covid-19 before their flight and before being released from quarantine.
Thira has been vocal for months on his disapproval for opening the borders to foreign tourists and has stood firmly against proposals like so called "travel bubbles." He says the coronavirus cases across globe have continued to raise and warns that people in Thailand should still abide by coronavirus prevention measures like wearing a mask.
"Many countries are still under the severe pandemic and have an infection rate 20 times that of Thailand's, so Thailand will be at a risk of becoming a pandemic hotspot after the country is reopened."
SOURCE: Nation Thailand
Keep in contact with The Thaiger by following our
Facebook page
.
Never miss out on future posts by
following The Thaiger
.