Phuket Gazette Thailand News: Supercar crackdown looms; Bangkok raid nets prized wildlife; Transgender ID photos approved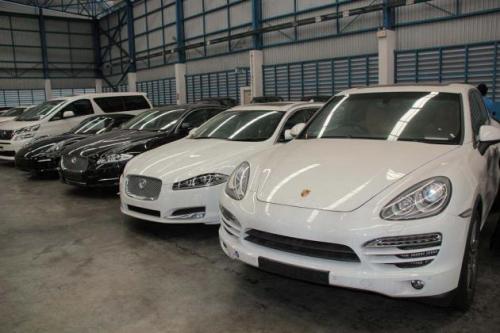 PHUKET MEDIA WATCH
– Thailand news compiled by Gazette editors for Phuket's international community
DSI tells luxury car owners to keep valid documents ready
The Nation / Phuket Gazette
PHUKET: People who own or possess 488 luxury cars, whose domestic prices start at Bt4 million each – mostly senior police and military officers, businesspeople and politicians – are required to produce relevant documents and get their vehicles ready for inspection, as their names are on a list released yesterday by the Department of Special Investigation.
Most of the expensive high-performance cars are, surprisingly, equipped with alternative fuel systems such as liquefied petroleum gas or natural gas for vehicles – a bureaucratic loophole exploited by importers to avoid mandatory exhaust-fume inspections. This would have cost the owners or possessors more than Bt120,000 for each vehicle, so that those vehicles could be resold to buyers with minimal risk of being detected later by police or the registrars of vehicles.
DSI director-general Tharit Pengdit said inspection of documents would begin on June 17, and inspection of the vehicles the week after.
"Owners volunteering to have their cars checked can explain their intent to the DSI now, but those hesitant will be summoned by DSI agents to get their cars inspected, starting from June 24," he added. Some 100 suspiciously registered vehicles in DSI custody, apprehended after a series of raids nationwide, will undergo inspections soon, he said.
On the DSI list, prominent owners or possessors include former National Police chief Sant Sarutanond, crocodil- farm owner Uthane Yangpraphakorn, former deputy House Speaker Apiwan Wiriyachai, renowned preacher monk Phra Khru Palad Sitthiwat, retired police general Khate Nimsomboon and Royal Irrigation Department director-general Lertwiroj Kowatthana.
Tax-evading luxury cars probably cost the country more than Bt20 billion in lost revenue, according to the DSI.
DSI chief Tharit made the estimate based on the assumption that more than 8,000 luxury vehicles in the country had been or were about to be registered illegally.
A total of 5,834 registered luxury cars were suspected of getting their papers through a tax-evasion process. Some 3,000 others were in the process of receiving registration papers through a system officials said was illegal.
Major Sukchart Sasomsap reported himself to the DSI, after a licence plate number that he once owned was linked to an alleged tax-evading vehicle.
Sukchart is a son of Labour Minister Phadermchai Sasomsap.
A DSI source earlier suggested the tax-evading scheme involved politicians or persons with political connections.
Many luxury cars were smuggled into the country, but were later registered under claims they were imported as auto parts and re-assembled later.
Tharit said Thailand has no facility to reassemble super cars. Therefore, super cars that have been registered as reassembled in Thailand must have used false documents.
Animals, birds seized in Bangkok wildlife raids
The Nation / Phuket Gazette
PHUKET: Bangkok police yesterday morning cracked down on an alleged wildlife trade source in Bangkok's Khlong Sam Wa district and seized hundreds of wild birds and animals.
They included 14 white lions, (panthera leo), four civets, one leopard cat, two hornbills, and one slow loris, as well as 23 meerkats, 12 peacocks, and 17 marmosets.
The owner of the house on 2 rai (3,200 square metres), Montri Boonphrom-on, 41, claimed the animals were legally imported, mostly from South Africa.
After the investigation into an alleged unauthorised wildlife-trading house, Metropolitan Police Bureau 3 joined with Natural Resources and Environment Ministry officials to search the house in Soi Hathairat 39.
They apprehended caretakers Rungroj Wattanapongsawat, 34, and Usanee Saejiam, 27, and some Myanmar workers and seized the 200-300 animals and birds and some stuffed animals.
Montri later produced import and purchase papers to explain to officials that the animals – most of which he allegedly imported for breeding and selling – underwent legal procedures. He said he had a permit from CITES (the Convention on International Trade in Endangered Species of Wild Fauna and Flora) to import them and there were actually 22 lions.
He claimed that six lions were his and the rest were Mitraparp Zoo's. The zoo, which took two lions away, asked him to take care of the 14 remaining lions. He said a lion cost Bt200,000 to buy and import.
Metropolitan Police Bureau 3 deputy chief Pol Colonel Ek Ekkasart said possession of a leopard cat, hornbill, civet or slow loris was illegal and Montri would certainly face legal action.
Police will check Montri's claim of having the proper import papers for other animals, but they all would be seized first pending the probe. Ek also revealed that Montri had been arrested for wildlife trading four years ago and received a one-year suspended jail term.
Officials initially charged Montri and Runroj with having wild animals in their possession without permission, and conspiring to hide and trade wild animals as well as stuffed carcasses.
Some animals were sent to Ratchaburi's wildlife nursing facility and the rest to Chon Buri's Bang Phra Animal Centre.
Tax breaks eyed for Deep South strife victims
The Nation / Phuket Gazette
PHUKET: Companies and people affected by the country's political violence and the unrest in the deep South would be eligible for tax exemptions under a draft law approved by the Cabinet yesterday.
Government spokesman Teerat Ratanasevi said the Finance Ministry proposed the draft law to cushion the adverse impact of the conflicts on the victims.
"Those who have received remedial actions from the government will be eligible," Teerat said.
He said the draft decree would be forwarded to the Council of State for further review.
If the decree sails through, it will take effect retroactively from January 1 last year.
According to the draft decree, eligible people and companies would fall into two groups. The first would comprise people who suffered from political unrest between January 1, 2005 and May 31, 2010. The second would comprise people affected by the ongoing unrest in the Deep South.
Ekkayuth's driver found in south
The Nation / Phuket Gazette
PHUKET: Police have found the driver of businessman and government critic Ekkayuth Anchanbutr who has been missing since last week, national police chief Pol General Adul Saengsingkaew said Monday.
The man, Santiparp Pengduang, was found in the southern province of Phatthalung. The police chief declined to say whether Santiparp was involved with the disappearance of Ekkayuth, or whether Ekkayuth was safe, saying it is under investigation.
The police in questioning the driver are looking at two possible motives: personal and business conflicts, Adul said.
Ekkayuth's lawyer Suwat Apaipak said he doubted whether Ekkayuth's disappearance was related to the fact that he had recently fired three employees from his company even though one of them is underst
— Phuket Gazette Editors
Keep in contact with The Thaiger by following our
Facebook page
.
Never miss out on future posts by
following The Thaiger
.
Thailand beaches may limit visitors until Covid-19 vaccine is available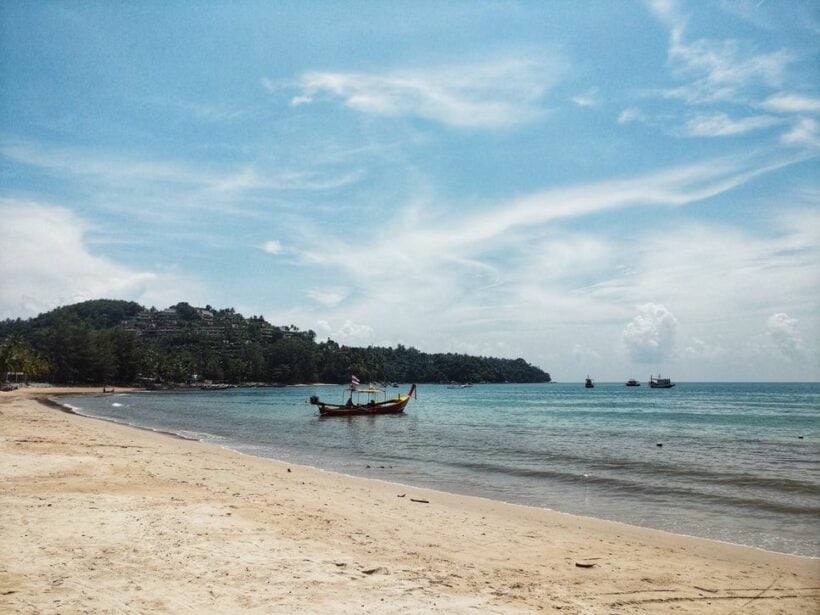 Beaches and national parks might not fully open to international tourists until a Covid-19 vaccine is available. Around 120 to 150 tourists departing from China are set to arrive in Phuket on October 8 after a 6 month ban on international tourists. They'll have to go through a 14 day state quarantine, but after that, they may not be able to enjoy some of the island's beaches. A report from Bloomberg says it's "unlikely" beaches and parks will fully open to overseas travellers until a vaccine is out.
Thailand's borders won't fully reopen to international tourists until a vaccine is widely available to the public, according to Tourism Council of Thailand president Chairat Trirattanajarasporn. For the time being, only tourists on select charter flights with a 90 day Special Tourist Visa can enter the country.
"It's good for the country to reopen even if it's just for trial … Once we've tested our reopening plan for a month, we can assess how to go forward and allow more visitors to come in."
The new Special Tourist Visa is an effort intended to help revive Thailand's tourism industry which has been crippled by the coronavirus pandemic. According to Bloomberg, the sector makes but about a fifth of the nation's economy. Last year, the tourism industry generated 1.9 trillion baht with about 40 million foreign visitors. With travel restrictions in place to control the spread of the coronavirus, Chairat predicts tourism revenue will drop 82.6% to 336.5 billion baht by the end of the year.
"Businesses that rely on foreign tourists, especially in Phuket, Samui, Pattaya and Chiang Mai, will continue to close in the coming months because there would only be a small group of people coming in after the reopening."
SOURCE: Bloomberg
Keep in contact with The Thaiger by following our
Facebook page
.
Never miss out on future posts by
following The Thaiger
.
Thailand News Today | Phuket re-opens, TripAdvisor review saga, Samut Prakhan chem spill | Sept 30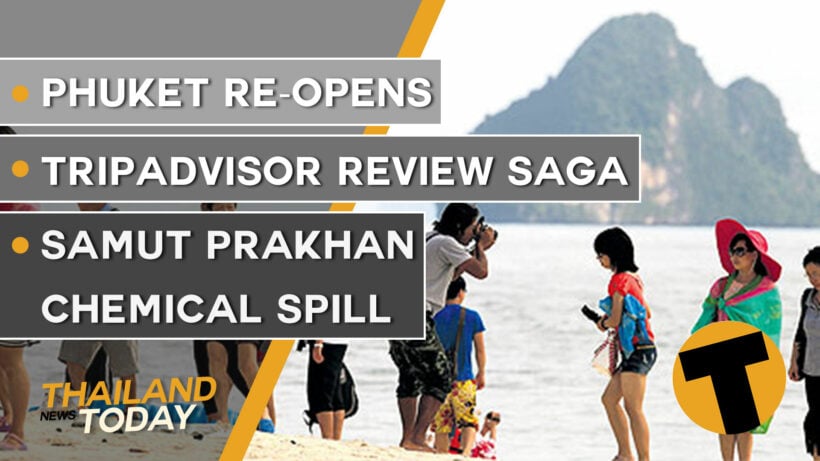 Daily TV news about Thailand. Updates and all the latest information from thethaiger.com.
Phuket prepares to welcome first Chinese tourists in over 6 months
The first group of tourists to arrive under Thailand's new Special Tourist Visa scheme will land in Phuket on October 8.
The flight from Guangzhou in southern China will carry 120 tourists, who will spend their first 14 days in alternative state quarantine. They are reported to be travelling under the government's new STV.
The resort islands of Phuket and Koh Samui will be the first to welcome travellers under the Special Tourist Via scheme. Guangzhou has not recorded any new cases of the Covid-19 virus for a prolonged period.
The CCSA reports that there will be a limit of 300 foreign tourists admitted each week, but this will be reviewed after the first phase of the re-opening. All arrivals will be subject to 14 day quarantine.
Minister calls for all complaints against Sarasas schools to be monitored amid abuse allegations
The Education Minister is asking the Office of the Private Education Commission to closely monitor all complaints filed against all Sarasas Witaed School branches around the country.
34 out of 42 of the schools have had complaints filed against them. Allegations of abuse first emerged when the actions of an abusive teacher at a branch of the school in the central province of Nonthaburi, just north of central Bangkok, were captured on CCTV.
Additional complaints made against several other branches of the private school allege harsh punishment, the charging of fees not sanctioned by the Education Ministry, and the use of unqualified teachers. The Thonburi school was also accused of using babysitters as teachers
The man who wrote the bad reviews for Koh Chang's Sea View Resort has a criminal record
In the ongoing stoush between the American, Wesley Barnes, and Koh Chang's Sea View Resort, it's now been revealed that Mr Barnes has been of interest to the US judicial system in the past, being accused of firing a weapon at a bar in Jackson County, Missouri.
Wesley Barnes, who has been working in Thailand as a teacher, posted a number of negative reviews on different platforms, including Trip Advisor, allegedly accusing the Koh Chang resort of "modern day slavery", amongst other complaints. He stayed at the resort in June this year.
But this isn't the first time Mr Barnes has come to the attention of police.
In the US there was an incident which is now public record. There was an official police complaint against the 34 year old in 2017. He was accused of firing a weapon near Waldo Bar, and later at a convenience store, told people he was a federal agent prior to the initial incident.
Of course the man's criminal record doesn't prevent him from posting negative reviews but provides just a little more context to the ongoing saga between the hotel and Mr Barnes.
PM dismisses rumours of alliance with opposition to form new government
Thai PM Prayuth Chan-o-cha has rubbished rumours that the ruling coalition parties plan to join forces with the opposition Pheu Thai party to form a new government.
While the PM initially didn't respond to the question, instead bidding reporters a good day and walking away, he did mumble that he had enough "headaches" with one of his coalition partners.
Meanwhile Deputy PM, Prawit Wongsuwan, also dismissed the question, accusing the media of being behind the speculation. Under the current constitution the Thai PM is elected by a parliamentary majority, and not automatically coming from the leader of the party with the most number of votes. But a coalition between Prayut and Pheu Thai does seem, at face value, extremely unlikely.
Around 10 villagers hospitalised after chemical spill in Samut Prakan
Around 10 people were hospitalised after a chemical tank spilled at a village in Samut Prakan, just southeast of Bangkok.
Those near the spill reported feeling nauseous and some had trouble breathing. Officials do not known what chemical was in the tank.
The 1 metre tank had been taken into the forest by 2 employees at a second hand shop who hoped they could take it apart and sell the scrap metal. The 2 employees fainted when the tank spilled. Trees and grass in a 100 metre radius of the chemical spill also died.
The chemical let off a strong odour and Thai media says the fumes spread to a nearby village. Those at the second hand shop, close by to the chemical spill, started to feel nauseous and some had trouble breathing. Some people reported skin rashes after the incident. Around 10 villagers, including children, were sent to hospital.
Keep in contact with The Thaiger by following our
Facebook page
.
Never miss out on future posts by
following The Thaiger
.
Thailand farmers hope to grow and export cannabis by next year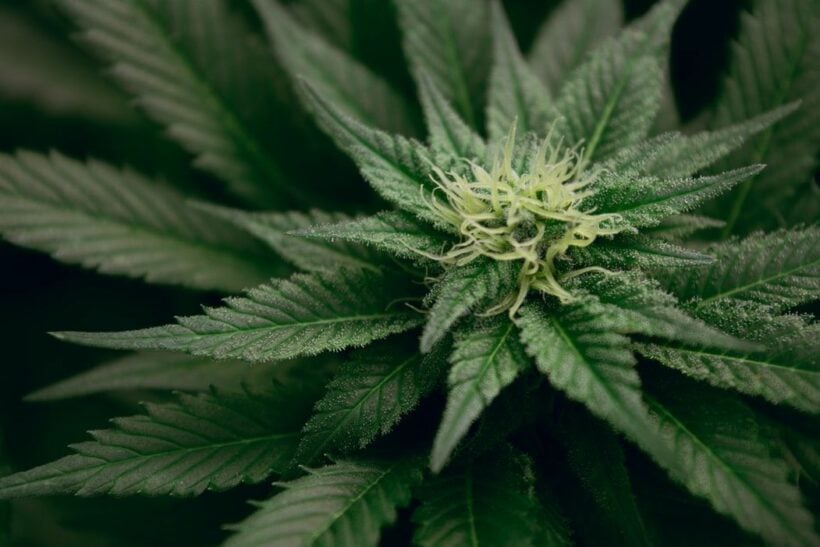 Under a proposed law, Thailand farmers would be allowed to grow cannabis and hemp for export without going through cannabis certified universities or medical institutes. The National Farmers Council president Praphat Panyachatrak says he hopes the new law will be in place by next year. The legislation is still being reviewed by the Public Health Ministry and National Legislative Assembly, but Praphat says he expects an announcement will be made soon.
Thailand's recent rush to decriminalise and even legalise marijuana follows the Bhumjaithai Party joining the government coalition in 2019, headed by current Health Minister Anutin Charnvirakul. His elected MPs provide essential votes for the fragile coalition. His party ran on a platform of legalising marijuana.
Thailand has been gearing up for the global cannabis trade with talk of classifying medical cannabis as an economic crop. The classification would allow the plant to be exported to other countries. The government has also talked about adding a variety of cannabis cultivars to keep up with the demanding cannabis industry.
The National Farmers Council has been advocating for the cultivation of cannabis and Praphat says the new law will make it easier for farmers to grow the plant. He adds that farmers would be able to get a permit to grow cannabis as soon as they got an order from overseas.
Recreational marijuana is still illegal in Thailand and is considered a Category 5 narcotic. Those charged with distributing cannabis face 2 to 10 years in prison and a fine from 40,000 baht to 200,000 baht. Those caught distributing over 10 kilograms of cannabis face up to 15 years in prison and a fine from 200,000 baht to 1,500,000 baht.
SOURCE: Nation Thailand | Chiang Rai Times
Keep in contact with The Thaiger by following our
Facebook page
.
Never miss out on future posts by
following The Thaiger
.