Phuket Gazette Thailand News: School closures bite; Forecast for abundance; Seh Daeng revival; Sudarat says no
PHUKET MEDIA WATCH
– Thailand news compiled by Gazette editors for Phuket's international community
School closings pressure parents
The Nation / Phuket Gazette
PHUKET: Enrolling students every other year at primary school level could be one solution to the government's controversial policy of closing small schools, a leading educator told a Bangkok seminar yesterday.
Other proposals included teaching three two-year classes, utilising self-centred teaching methods (dubbed constant curriculum) and transferring students to nearby larger schools, said Prof Theera Rooncharoen, chairman of the Career Development for Educational Management Association of Thailand.
"The quality of education does not always mean good grades. It also means happiness of students, their being good morally and academically," he said.
Setbacks to the existing public school system were frequent transfers of teachers, lack of teachers' professionalism and good academic backgrounds, poor management, lack of teachers' development and under use of technology in supporting education, he added.
One school hit by the government's policy is Baan Khoke Mamuang School. With 10 students, it's the smallest in Trang province.
With the start of the school term just two days away, acting director Somphorn Bunsongnak said a decision was made to send the students to Baan Khlong Teng School, 3km away. However, transportation for them has not been arranged. The school's budget is Bt150 for daily transport, or Bt15 per student, is not enough for a motorcycle taxi. "I have to keep visiting the parents to convince them to take their children to the school," said Somphorn, who is one of the school's only two teachers.
In Ranong, 10 of the 86 schools have only students from migrants, said Phayab Osoth-charoen, an official with the provincial education office. "The office does not mind them studying in Thai-subsidised schools, but closing them or merging them with larger schools seems a better way to manage education," he added.
At least five Ranong schools are slated for closure, regardless of the students' nationalities.
Forecast for abundant crops, rain
The Nation / Phuket Gazette
PHUKET: HRH Crown Prince Maha Vajiralongkorn yesterday presided over the Royal Ploughing Ceremony at Sanam Luang. HRH Princess Srirasmi accompanied him.
Predictions from the ceremony suggested abundant crops and huge rainfall this year.
Paddy fields in upland areas would prosper while those in low lying areas may face some damage, according to the predictions.
The forecasts were based on the choices of food selected by the Sacred Oxen, Phra Kho Fah and Phra Kho Sai, and a fabric piece chosen by the Lord of the Ploughing Ceremony.
The sacred oxen were offered seven bowls containing grass, paddy, corn, sesame seeds, soy bean, water and liquor. They chose to eat corn and grass.
Phraya Raek Na was offered three pieces of fabric, each with a different length. The one he selected proved to be one metre long.
The Royal Ploughing Ceremony ran from 8.19am to 8.59am yesterday.
Permanent secretary of the Agriculture Ministry Chawalit Chukhachorn served as Phraya Raek Na or the Lord of the Ploughing Ceremony.
This annual ceremony is held in May every year to boost the morale of farmers.
The Rice Department handed out 1,414 kilograms of rice seeds to the people gathering at Sanam Luang. The seeds came from the royal fields. Farmers usually keep the seeds for good luck.
Police to discuss slaying of Seh Daeng
The Nation / Phuket Gazette
PHUKET: The police team probing the fatal shooting of red-shirt chief guard Maj Gen Khattiya "Seh Daeng" Sawasdiphol will meet next week to discuss progress on the case.
"We will try to wrap up the investigation as soon as possible," Pol Maj-General Anuchai Lekbamrung, deputy of the Metropolitan Police and team head, said yesterday.
Khattiya was hit once in the head by a high-velocity bullet on May 13, 2010 while giving an interview to reporters in front of Silom subway station. He died four days later at Watchira Hospital.
Anuchai said his panel has completed inquiries into 32 out the 37 killings assigned to it, leaving only Khattiya and four other cases to finish.
Pheu Thai MP Khattiya, Seh Daeng's daughter, and her sister gathered with 200 red shirts near the King Rama VI Monument to make merit on the third anniversary of his assassination.
At the spot where Seh Daeng was shot, the group placed a banner calling for those responsible to be identified.
In two other cases, Democrat Party leader Abhisit Vejjajiva and MP Suthep Thaugsuban will report today to the Department of Special Investigation to acknowledge charges of authorising the murder of Kunakorn Srisuwan, then 14 years old, and the attempted murder of Samorn Maithong, a van driver who was wounded, when Abhisit was the prime minister and Suthep was his deputy, during the red-shirt uprising three years ago.
Both Abhisit and Suthep, who were in charge of the Centre for the Resolution of the Emergency Situation, are likely to face similar scenarios, as prosecutors have sought 18 indictments related to 91 deaths during the political chaos three years ago. A conviction for authorising the killing of others is punishable by death.
Abhisit and Suthep were summoned on December 13 to hear a charge of authorising the killing of Pan Kamkong, a taxi driver and member of the United Front for Democracy Against Dictatorship.
They both rejected the charges, which they said were politically motivated.
Police chief plays down attack on Thai Rath
The Nation / Phuket Gazette
PHUKET: The weekend attack at the offices of Thai Rath newspaper was instigated by a "third party" but not aimed at hurting anyone, Metropolitan Police Bureau chief Pol Lt-General Khamronwit Thoopkrachang said yesterday.
The attacker merely wanted to stir things up and make it appear to be a political issue, he suggested.
The security box in front of the newspaper's offices in Chatuchak district had been subjected to a firecracker and petanque-ball attack early Saturday morning.
Siroj Mingkwan, president of the Crime Reporters and Photographers Association of Thailand, said the attack looked to be of criminal intent.
Following the attack, Bang Sue police would check 40 security cameras in the vicinity of the Thai Rath daily's premises, after a small incendiary device and two petanque balls were thrown by suspects at a guard box on one of the paper's main gates, said superintendent Pol Colonel Sunthorn Kongklam.
Thai Rath's own security cameras were not functioning at the time of the attack, which took place early Saturday morning. Two petanque balls have been sent for testing at the Scientific Crime Detection Division. Fingerprints had already been discovered and DNA tests would be carried out to secure further evidence.
Metropolitan Police Bureau 2 deputy commander Pol Colonel Charoen Srisulak said Pol Maj-General Parinya Chansuriya, deputy commissioner of the Metropolitan Police Commission, had appointed a team to find additional evidence at the scene, and would call a meeting
— Phuket Gazette Editors
Keep in contact with The Thaiger by following our
Facebook page
.
Never miss out on future posts by
following The Thaiger
.
Isaan woman finds her husband and 2 sons dead in well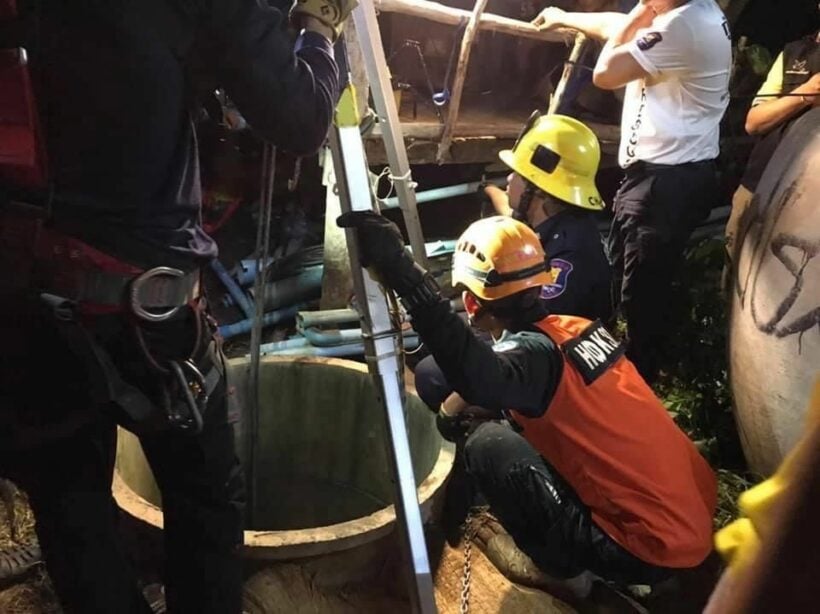 A woman found the bodies of her husband and 2 sons in the bottom of a well in the Isaan province Chaiyaphum. The father and his sons reportedly went to repair the family farm's well, but did not return.
56 year old Thong-in says her husband and sons went to repair the well in the morning. They didn't come back for lunch. When she went to check on them, she found them dead in the well.
Rescuers suspect the father, 56 year old Boonterm Buathong, and his 2 sons, 29 year old Chareonchat and 26 year old Preecha, drowned to death. The well is about a metre wide and 13 metre deep. Rescuers wore breathing apparatuses to dive to the bottom of the well to get the bodies.
SOURCE: Nation Thailand
Keep in contact with The Thaiger by following our
Facebook page
.
Never miss out on future posts by
following The Thaiger
.
Thailand News Today | Protesters face arrest | Phuket "in a coma"| September 22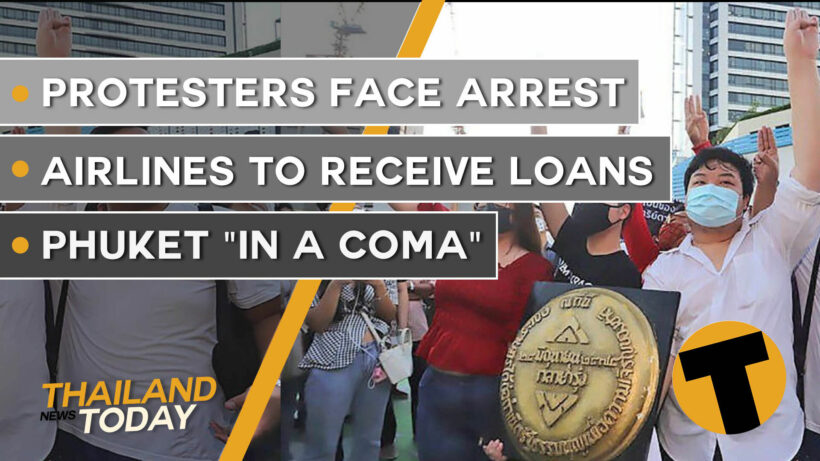 Thailand News Today with Tim Newton. Daily news from around Thailand.
Struggling airlines to get reprieve through small loans, extension to fuel tax cut
Airlines in Thailand are being offered a financial lifeline, as the Government Savings Bank announces soft loans for carriers left struggling as a result of the current Covid-19 'disruption'.
The GSB is offering the loans over a 60 month period, with an annual interest rate of 2%. The bank's chairman says the proposal will be put to Cabinet for approval.
Airlines have been left financially devastated by the fallout from the ongoing Covid-19 pandemic, with countries closing their borders, passenger numbers plummeting, and carriers forced to slash the number of flights on offer. The services available, including the food services, were also curtailed early on as a preventative measure but that restriction has since been lifted.
In a further effort to ease the financial crisis faced by Thai airlines, the Excise Department says it will extend the fuel tax cut for low-cost carriers by another 6 months from the end of this month.
Protest leaders face charges for violating Thailand's lèse majesté law and for installing the plaque
Leaders of the weekend's pro-democracy protest in Bangkok are facing charges for violating Thailand's lèse majesté laws and for installing a symbolic plaque at a "registered historical site". Police filed complaints to between 10 to 16 protesters.
It's unclear how many protesters will be charged, but a Royal Thai Police spokesperson says charges will be pressed against those who "pulled the strings." Under Thailand's lèse majesté law, it is illegal to insult or defame the Thai Monarch or royal family. Police say they will take the strongest legal actions possible against those who undermined the Monarchy, although earlier this year the Thai PM said that His Majesty had requested that such charges not be brought against Thai citizens.
Charges are also being brought against the protesters who installed a commemorative plaque in the forecourt of Sanam Luang, next to the Grand Palace. The Fine Arts Department and the Bangkok Metropolitan Administration have filed complaints with police over the installation of the plaque, saying the protesters broke the law by causing damage to an archaeological site.
Phuket's governor calls for help in restoring island's economy
The governor of Phuket has likened the southern province to a "patient in a coma", as he pleads for help to restore its devastated economy. The governor highlighted the economic crisis caused by the ongoing ban on international tourists. The island's international airport closed in April, cutting off the supply of international tourists, and cutting off the flow of international money coming into the island's tourist economy.
The latest figures show that Phuket has lost over 400 billion baht since the start of the Covid-19 pandemic. The island's economy is, either directly or indirectly, 90% reliant on a steady flow of international tourists, and has seen a massive tourist infrastructure boom over the past 20 years.
Governor Narong predicts the province will face similar hardship next year, and is calling on the government to organise conferences and other events that could attract more visitors to the province.
Sri Panwa Phuket getting social media flak after owner criticises pro-democracy protest leader
Meanwhile, the owner of the Sri Panwa Phuket resort is facing a social media storm after condemning the current pro-democracy movement and one of its main organisers. Taking to Instagram, Vorasit Issara, owner of the five-star Sri Panwa Phuket Resort, singles out the female protest leader saying "she should be in prison".
"This bullshit has got to stop. She is not Thai. Who is she working for?
Sharing a photo of Panusaya, he adds, "arrest this child." Vorasit incorrectly asserted that Panusaya wasn't Thai. In fact she was born in 1998 in Nonthaburi and IS a Thai citizen.
His post has since gone viral, prompting outrage from those who support the anti-government movement. A hashtag calling for a boycott of his Sri Panwa Phuket resort has taken off on Twitter, at a time when almost all hotels are battling for survival, especially on Phuket.
Myanmar's Covid-19 spike causes mass lockdowns as Thai authorities scramble to seal the border
Myanmar is currently suffering a wave of Covid-19, causing concern in Thailand as its western border authorities bump up security measures and patrols.
Burmese authorities have been introducing increasingly draconian restrictions to control the sudden spread of the virus over the past 4 weeks. Whilst the case load is still relatively small, the concerns are focussing on the porous western borders of Myanmar onto adjacent Bangladesh and India, as well as the spike in cases in the largest city Yangon.
Yangon is now under a very tight lockdown as the city is quickly turning into the country's hotspot of Covid-19.
There were 610 and 6 new deaths in the past 24 hours. Yesterday 671 new cases of Covid-10 were reported
Indonesia's economy shrinks for the first time in 22 years
Indonesia's economy will contract for the first time since the Asian financial crisis in 1997/1998.
Gross domestic product is forecast to decline over 1% this year according to the country's Finance Minister. He said…
Southeast Asia's largest economy is struggling to contain the coronavirus pandemic as the number of new cases each day continues to set records. The worsening outbreak prompted the renewal of social-distancing curbs in Jakarta, measures that had battered growth in the second quarter this year.
Keep in contact with The Thaiger by following our
Facebook page
.
Never miss out on future posts by
following The Thaiger
.
PM orders Thai police to collaborate with Interpol to bring Boss back to Thailand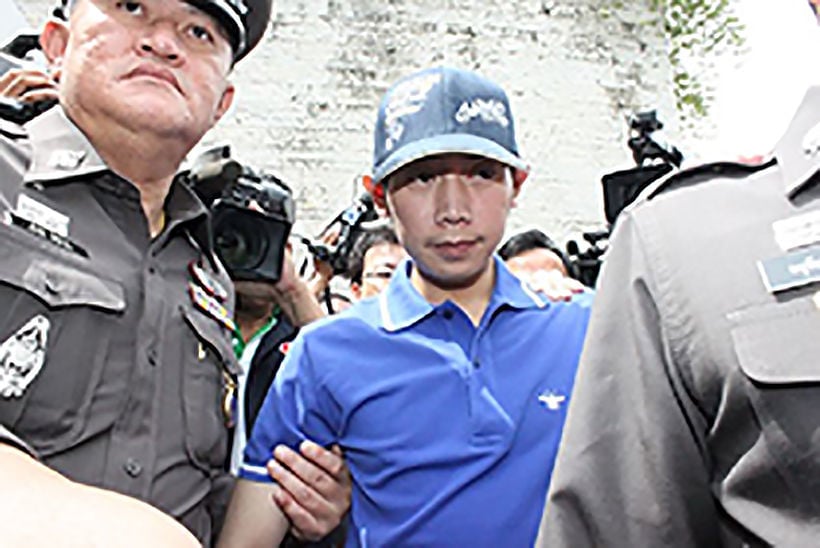 The Thai PM is ordering Thai police to work with Interpol, the International Criminal Police Organisation, to find Vorayuth "Boss" Yoovidhya and bring him back to Thailand for prosecution. The Red Bull heir has been on the run since 2017 and faces charges reckless driving causing death and using cocaine, charges which date back to the incident in 2012 in Bangkok.
In 2012, Boss allegedly sped his Ferrari down Sukhumvit Road in Thong Lor, running over and dragging a 47 year old police officer 100 metres down the road, killing him.
Prosecutors have now officially indicted Boss on the reckless driving causing death and drugs charges, the Office of the Attorney General announced last Friday. The recent indictment, more than 8 years after the fatal crash, follows public backlash after Boss's cases were dropped altogether in July by the deputy attorney general.
PM Prayut Chan-o-cha made a post on his Facebook page saying he ordered police to work with international authorities to find Boss and bring him back to Thailand for trial. He says a Red Notice has been issued and he expects an update by next week.
"I ask every officer to handle this matter correctly and effectively."
Boss, the son of the co-owner of the Red Bull energy drink empire, fled the country in 2017. His hearings were delayed 7 times. He reportedly packed up and fled to Singapore on his family's private jet just 2 days before he was due to face charges. Since then, Boss has been seen and photographed at his family home in London as well as at Red Bull events.
The story has caused ongoing rage in Thai social media with people using the cases as proof Thailand's warped justice system where wealth and power can help you bypass official investigations.
There has been no comment from the Yoovidhya family, Boss or his legal representation since last week's official prosecution.
SOURCES: Nation Thailand | Thai PBS
Keep in contact with The Thaiger by following our
Facebook page
.
Never miss out on future posts by
following The Thaiger
.