Phuket Gazette Thailand News: Rohingya talks with Myanmar; Nat Parks denies trafficking; Akeyuth hit professional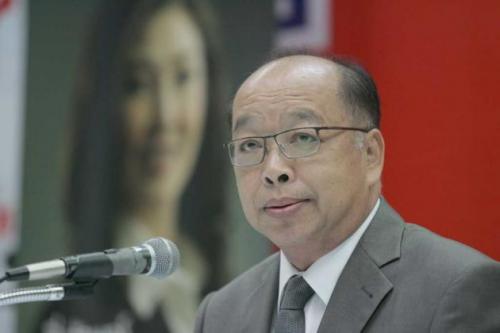 PHUKET MEDIA WATCH
– Thailand news compiled by Gazette editors for Phuket's international community
Surapong discusses Rohingya issue with Myanmar
The Nation / Phuket Gazette
PHUKET: Foreign Minister Surapong Tovichakchaikul discussed with his Myanmar counterpart Wunna Maung Lwin yesterday how to find a lasting solution to the problem of Rohingya boat people detained in Thailand.
More than 1,700 Rohinyga migrants have been held in Thailand for illegal entry after landing in the Kingdom from the border areas of Bangladesh and Myanmar. They said they were seeking better lives.
The initial number was 2,000 but a few hundred broke out of their crowded cells and got away.
"We have already taken care of [the refugees] for six months and are seeking new ways to handle them [and protect their] humanitarian and human rights," Surapong told reporters.
The Social Development and Human Security Ministry has proposed to relocate the Rohingya from immigration detention centres in the southern region to more space somewhere under control of the Interior Ministry, he said.
Surapong and Wunna Maung Lwin discussed the possibilities for resettling the Rohinya. Surapong said the Thai government would have consultations with the United Nations High Commissioner for Refugees (UNHCR) on the matter.
The Rohingya issue came to international attention four years ago when thousands in boats arrived to seek better lives in Southeast Asia.
In Myanmar, sectarian conflict that erupted last year after clashes between Rohingya Muslims and Myanmar Buddhists brought the issue back into focus. Thousands of Rohingya had been in refugee camps on the Bangladesh border for years and sailed out from there.
Thailand wanted to deport them to their places of origin but their nationality was unclear for a long time; whether they were Bangladeshi or Myanmar.
Bangladesh has finished its verification of Rohingya nationality now while Myanmar is continuing with the task, according to Surapong.
Thailand would also report to the Organisation of Islamic Cooperation (OIC), which had earlier voiced concern over the plight of the Rohingya. Asked if Asean would get involved in the Rohingya question, Surapong said Myanmar did not want outsiders working on the issue which it deemed an internal affair.
National Parks Dept denies involvement in Rohingya trafficking
The Nation / Phuket Gazette
PHUKET: Our officials are not involved in the trafficking of Rohingya people, said Department of National Parks, Wildlife and Plant Conservation's director general Manopat Huamuangkaew on Wednesday.
"We have already launched a probe and found that none of the department's officials belongs to human-trafficking gangs," Manopat said.
He admitted, however, that Rohingya had been hidden away in some parts of the Mu Koh Tarutao National Park.
The Rohingya are a Muslim minority from Myanmar, where they are denied citizenship. Many have fled their homeland in recent years following violent clashes with Buddhists.
"We are now dismantling tents used by the illegal labour agents. We will also increase patrols," Manopas said.
He said the chiefs of the national parks in border zones had been instructed to pay close attention to secluded areas of the parks because they were at risk of being used by human traffickers.
Uniformed man killed Akeyuth: Witness
The Nation / Phuket Gazette
PHUKET: Suwat Apaipak, the lawyer of slain businessman Akeyuth Anchanbutr, revealed yesterday that the victim's driver Santiphap Pengduang has retracted his initial confession and is now saying that he and his accomplices were given Bt3 million to kill Akeyuth. The suspect has also said that a "uniformed person" killed the outspoken businessman using a "special method".
Suwat also announced that he was withdrawing from the case as he wasn't being paid and received death threats on a daily basis.
When Santiphap asked to meet Suwat at the Bangkok Remand Prison, Suwat sent another lawyer on his behalf. The suspect then allegedly told the lawyer that Akeyuth's murder was not a simple robbery but an assassination in exchange for Bt3 million.
Suwat cited Santiphap as saying he had tried to kill Akeyuth twice before but failed, hence the person who hired them had a "uniformed person" kill the businessman using a "special method".
The lawyer went on to say that he had asked city police chief Pol Lt-General Camronwit Toopgrajank and investigators how Akeyuth's murder could be considered a robbery when the culprits reportedly threw the valuables in the river. He also asked how the hard disk of security camera in the businessman's house could have gone missing.
Meanwhile, Metropolitan Police deputy chief Anuchai Lekbumrung insisted that the investigators were working on the case based on the evidence present and the National Human Rights Commission (NHRC) could hand in any useful information it might have.
He also pointed out that the investigation team's results did not contradict the NHRC's results, adding that the police was ready to provide explanations.
Insisting that the police had enough evidence to prosecute the four suspects in police custody and that the case was a robbery, he said the team would present its results to the public prosecutor this week.
Anuchai also said he had not heard about Akeyuth's relatives being unhappy with the investigation and that they planned to ask the Central Investigation Bureau take over the case, adding that they were within their right.
Police unbowed in plan to check Line chat records
The Nation / Phuket Gazette
PHUKET: Despite continued public criticism and Prime Minister Yingluck Shinawatra's remark that the government fully respected people's rights, the police commander of the Technology Crime Suppression Division (TCSD) yesterday insisted he would press on with the idea of checking people's use of the globally popular Line chat application.
However, Pol Maj Gen Pisit Paoin said his division would only check for information on people suspected of committing a subversive act or crime online, and not on all Line users' conversations.
Pisit said representatives from all countries at a meeting of the International Criminal Police Organisation (Interpol) believed that illegal activity on websites and smart-phone applications was likely to increase, and that all countries would need to plan measures to prevent such crime.
The TCSD has a duty to protect the country and bring technological crime under control, he said. Therefore, it should lay down measures to protect against future threats, he insisted.
There are currently 20 million Thai Facebook users, while the Line application has some 15 million Thai users. It is, therefore, likely that some of these people will use these programs to stir up trouble and engage in crime, he said.
Pisit said his division would not eavesdrop on social-media users without authorisation, as it would need the consent of mobile operators following a court order.
He gave an assurance that he would only investigate people having committed a crime and would examine the
— Phuket Gazette Editors
Keep in contact with The Thaiger by following our
Facebook page
.
Never miss out on future posts by
following The Thaiger
.
2 million methamphetamine pills found in parked truck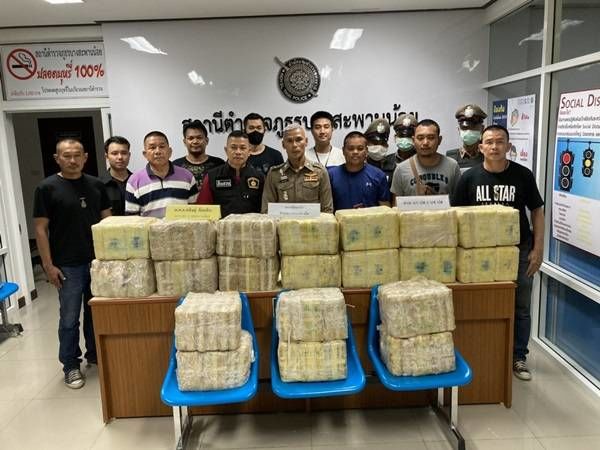 Police found more than 2 million methamphetamine pills in a truck parked at petrol station at Prachuap Khiri Khan's Bang Saphan Noy district. Police are still looking for the driver.
The Narcotics Suppression Bureau alerted local police about a truck in the area suspected of trafficking drugs. Police spotted a truck that matched the description and saw it turning in to a petrol station.
Police followed, but by the time they reached the vehicle, it was parked and the driver was no where in sight. Officers suspect the driver fled the scene.
The truck had a number of cardboard boxes containing thousands of methamphetamine pills. Police say all together they seized 2,002,000 pills. They also found a bank deposit passbook, 2 identification cards and other documents. The evidence was passed on to the Narcotics Suppression Bureau who are now working on the case.
SOURCE: Bangkok Post
Keep in contact with The Thaiger by following our
Facebook page
.
Never miss out on future posts by
following The Thaiger
.
Hua Hin schools close after students get fever, families crossed Myanmar border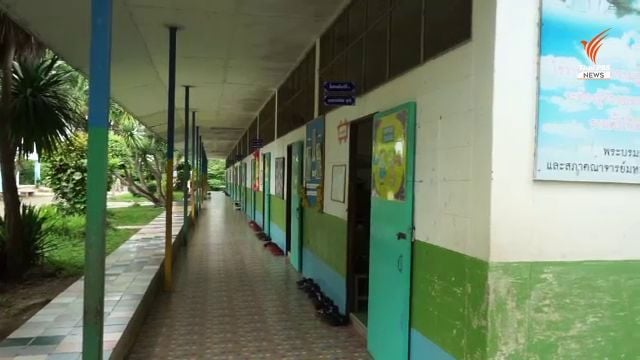 Class is cancelled for a week at 2 schools after some students reported a high fever. School officials discovered many Burmese students and parents have been crossing the Thai-Myanmar border. The Thai government recently told immigration police to patrol the country's natural borders such as along jungles and rivers after Myanmar reported a spike in coronavirus cases.
The 2 Prachuap Khiri Khan schools – Anun School and Wang Ta Krai School – will be closed until at least September 7. Some of the students need to quarantine for 14 days before returning to school. Public health officials have taken fluid samples to test for Covid-19. The results have not yet been released at this stage.
The province is on the Malay peninsula and borders Myanmar's Tanintharyi region. The community has a large Burmese population. Out of the 576 students at Anun School, 300 of them are migrants. Out of the 310 students at the Wang Ta Krai School, 45 of them are migrants.
When students from the Anun School students did not show up in class due to high fever, school officials looked into their case and learned that their families had recently returned from areas around the Thai-Myanmar border. Wang Ta Krai School has not reported any suspected cases.
Most of the cases in the recent spike in Myanmar involve the western Rhakine state, on the other side of Myanmar from the Thai border.
SOURCE: Nation Thailand
Keep in contact with The Thaiger by following our
Facebook page
.
Never miss out on future posts by
following The Thaiger
.
Air Asia and VietJet add some extra domestic routes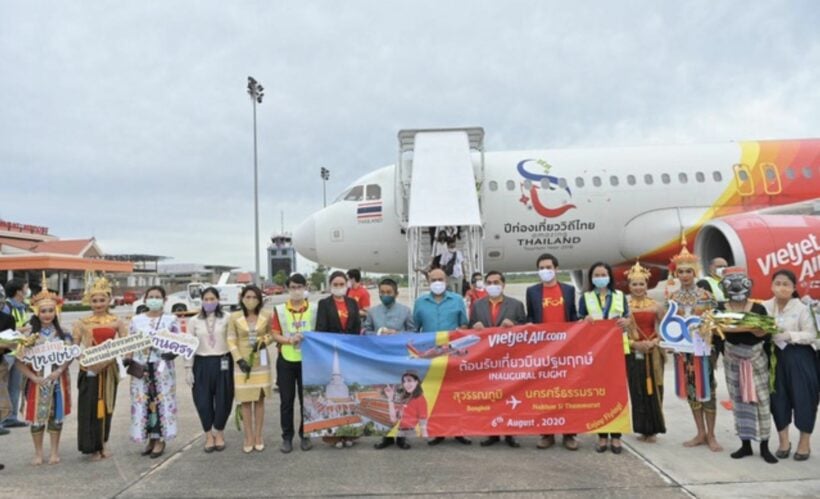 Whilst much of the world waits to get back into Thailand, the local airlines are starting to flex their domestic muscles and add new routes.
Thai AirAsia is launching 2 new routes from Chiang Mai, starting yesterday, offering a one-way fare for as low as 790 baht on flights to Hua Hin, and Udon Thani in the northeast. The cheapie fares will only run until August 16, or when they're booked out. The fares will cover travel from today up to March 26 next year.
Thai Air Asia is attempting to bump up its direct domestic travel from Chiang Mai that will avoid doing a stop-over in Bangkok for these new routes.
The new flight from Chiang Mai to the coastal town of Hua Hin is targeting Thais and expats living in the north who want a seaside break and couldn't be bothered sitting in a bus for 24 hours.
The bi-weekly flights depart every Friday and Sunday which gives travellers at both ends of the route an excuse for weekend travel. Thai Air Asia are now servicing 30 domestic routes that started again in May when Thai-registered airlines restarted limited domestic services.
But the locally-based airlines are still not allowed to fly internationally, and, based on comments from the TAT, that may not happen until early 2021. A deputy governor of the Tourism Authority of Thailand said last Friday there was "no signs to show international tourism would reopen this year and even Chinese New Year in February 2021 was now in jeopardy… It is not a rosy picture."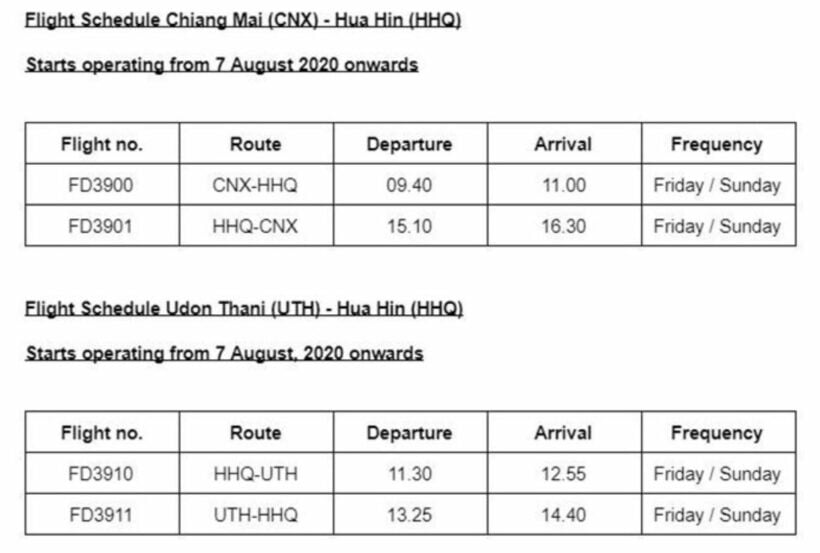 Meanwhile Thai Vietjet has started a new service from Bangkok's Suvarnabhumi Airport to Nakhon Si Thammarat in Thailand's Deep South.
The first flight landed over the weekend to a water salute welcome at Nakhon Si Thammarat Airport. Thai Vietjet's latest service into southern Thailand operates daily but they're hoping to ramp up to four flights a day in October.
A promotional fare of just 199 baht, excluding tax and fees, is on sale at www.vietjetair.com.

SOURCE: TTRWeekly
Keep in contact with The Thaiger by following our
Facebook page
.
Never miss out on future posts by
following The Thaiger
.