Phuket Gazette Thailand News: Ratchanok wins royal praise; Police warned over chat probe; Yingluck tapped on ivory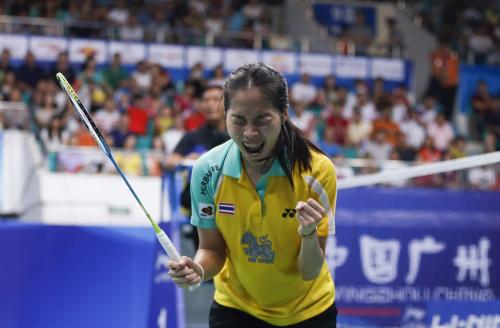 PHUKET MEDIA WATCH
– Thailand news compiled by Gazette editors for Phuket's international community
Ratchanok wins royal praise
The Nation / Phuket Gazette
PHUKET: Newly crowned world champion Ratchanok Intanon could not have been happier to receive bouquets of flowers from the Royal family, especially from Her Majesty Queen Sirikit.
And the young star has set new goals – to become the world No 1 and win a gold medal at the Olympics.
The 18-year-old caused a sensation around the country on Sunday when she stunned world No 1 Li Xuerui of China in the BWF World Championships women's singles final in Guangzhou. She became the youngest winner of the women's singles title and the first ever from Thailand.
The teenager, who will reach No 2 in the rankings this week, was presented with a "Grateful Child" shield from Her Royal Highness Princess Soamsawali at Amporn Gardens before receiving her most valuable present from the Queen via a royal representative at the Badminton Association of Thailand (BAT) headquarters.
"I'm deeply grateful for Their Majesties' gracious kindness and continuing support of Thai sports. I'm even more inspired to work harder and try to win more tournaments," said an overwhelmed Ratchanok.
She was also granted royal bouquets from His Royal Highness Crown Prince Maha Vajiralongkorn, Her Royal Highness Princess Maha Chakri Sirindhorn and Her Royal Highness Princess Sirivannavari Nariratana.
"I want to be No 1 in the world within one or two years and to win the Olympics gold medal at Rio de Janeiro," said Ratchanok, who was tied up with many activities yesterday including posing for Praew magazine, attending a talk show on Channel 3 before having dinner with her family and godmother Kamala Thongkorn, the owner of Banthongyord Badminton School, where she trains.
Ratchanok or May, as she is called by her family and friends, said she would buy a refrigerator and a washing machine for her mother Kamphan as a present for Mother's Day.
Kamphan, who is a worker in a sweet factory, said she wanted her daughter to remain the same and keep working hard to reach the top. "I always taught her to be humble as she was not from a rich family like other kids. I told her to be well behaved. She is a very well disciplined girl. That's why she has got to this stage," she said.
Thai media cheered the teen star with a flurry of ecstatic headlines as the nation celebrated its first gold at the badminton worlds.
Ratchanok, who still has braces on her teeth, sprang a shock when she defeated Chinese Olympic champion Li Xuerui 22-20 18-21 21-14 on Sunday in Li's own backyard.
Pictures of the smiling teenager gripping her trophy after the showdown in Guangzhou adorned almost every front page as Thailand revelled in a rare ray of golden glory.
"Thai badminton roars, May swats China and collects the championship," proclaimed the Thai language Thai Rath, referring to her nickname.
"May – a historic champion. The whole nation is elated," Siam Sport said.
Ratchanok's victory over Li, also aiming for her first world title, broke China's stranglehold on the championship. It is also a fairytale win for the teen, whose career started at the age of five when the owner of the factory where her parents worked sent her to train at a nearby badminton academy.
The teenager, regarded as one of the best young players in the sport, supports her family through her sporting career.
Kamala, who owns both the factory and the badminton school, attended the final.
"This is another triumph – we did not expect that success would be this fast," she told AFP. "I am so proud of her," the 54-year-old Kamala said.
Rights chief warns police on chat probes
The Nation / Phuket Gazette
PHUKET: The chair of the National Human Rights Commission (NHRC) has warned police to be cautious about its reported plan to examine the chat-application conversation histories of some suspects.
The Technology Crime Suppression Division (TCSD) recently suggested that it will be looking into suspects' online-chat history.
NHRC chairwoman Amara Pongsapich yesterday warned that such a move would be very much like tapping a telephone line to listen to a private conversation.
The examination of online-chat histories, she warned, carried risks of violating people's rights.
The plan is reportedly linked to the TCSD's summonses for four persons who posted online political comments deemed by police as a false statement that could have caused public panic and the hoarding of food and water.
Sermsuk Kasitpradit, who now works as Thai PBS's political and security editor, is among the four summoned.
Police plan to study the conversations and comments posted on the popular social-media application Line to see if they violate the law or threaten national security.
Pol Maj Ge Pisit Pao-in, commander of the Technology Crime Suppression Division (TCSD), said the agency had asked Line Corporation in Japan to cooperate, but had failed with other operators of social-media websites as they were mostly in the West and did not allow such investigation.
"We have been talking to them [the operators of social media] a lot, but they do not want to cooperate. When they want anything, they expect to get it, but when we ask them for something, they rarely help us. They have taken a lot from Thailand but refused to cooperate with Thailand. I won't let them go if they make any mistakes," he warned.
TCSD officials will be sent to Japan to seek information about suspicious Line users in Thai-land. The Nation contacted Na-ver Japan, the developer of Line, yesterday for feedback and was told that the company would respond today. Although Pisit admitted that his agency had the means to keep track of people's chat records, it had decided to ask Naver Japan to be ready to send a report on chat records when asked. His agency has yet to hear of the company's decision.
"We are not violating anybody's rights, as the checking is being done overseas. So you can't really attack me for this," he said.
Pisit said his agency also had the authority to check people's social activities on smart phones.
"Nowadays people use smart phones like a mobile computer. They use it to take videos, upload information, transfer money and connect to social networks. Therefore, we have to investigate information being sent via smart phones as well," he said. "If I want, I can investigate all the information on smart phones. We can investigate all the crimes done via computer systems."
Last week, Pisit summoned four suspects for allegedly breaching Article 14 of the National Computer Act and Article 116 of the Criminal Law by posting messages via social media, saying they anticipated a coup and urged people to stock up on food and water. He said such statements could put people in a state of panic, and those who "liked" or "shared" the messages could be considered violators of the law as well.
This action was met by an open letter of opposition from four professional media organisations. Meanwhile, the National Human Rights Commission also issued a statement warning the police to use their authority carefully and not violate people's fundamental rights and freedoms.
NHRC chairwoman Amara Pongsapich said looking into people's online chats was a violation of their rights, and clear guidelines that are acceptable globally should be identified first.
"Mos
— Phuket Gazette Editors
Keep in contact with The Thaiger by following our
Facebook page
.
Never miss out on future posts by
following The Thaiger
.
Thailand beaches may limit visitors until Covid-19 vaccine is available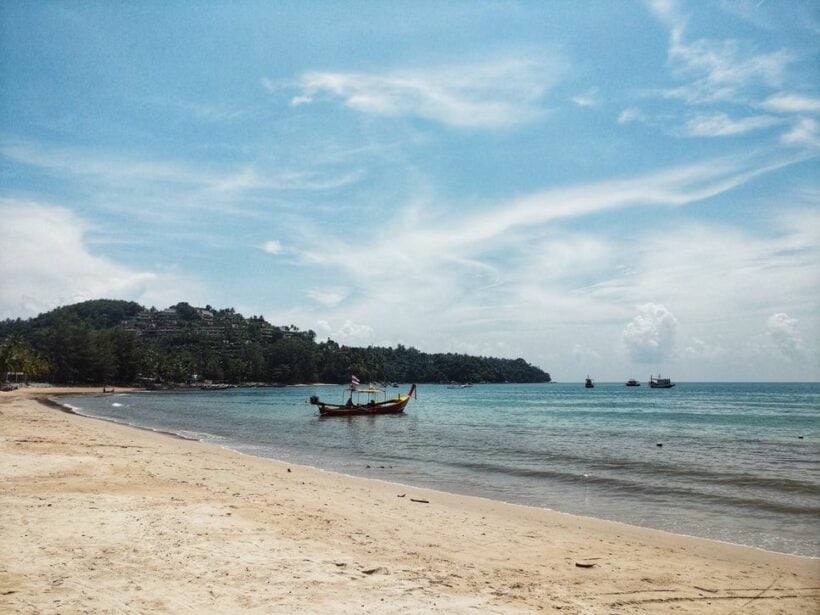 Beaches and national parks might not fully open to international tourists until a Covid-19 vaccine is available. Around 120 to 150 tourists departing from China are set to arrive in Phuket on October 8 after a 6 month ban on international tourists. They'll have to go through a 14 day state quarantine, but after that, they may not be able to enjoy some of the island's beaches. A report from Bloomberg says it's "unlikely" beaches and parks will fully open to overseas travellers until a vaccine is out.
Thailand's borders won't fully reopen to international tourists until a vaccine is widely available to the public, according to Tourism Council of Thailand president Chairat Trirattanajarasporn. For the time being, only tourists on select charter flights with a 90 day Special Tourist Visa can enter the country.
"It's good for the country to reopen even if it's just for trial … Once we've tested our reopening plan for a month, we can assess how to go forward and allow more visitors to come in."
The new Special Tourist Visa is an effort intended to help revive Thailand's tourism industry which has been crippled by the coronavirus pandemic. According to Bloomberg, the sector makes but about a fifth of the nation's economy. Last year, the tourism industry generated 1.9 trillion baht with about 40 million foreign visitors. With travel restrictions in place to control the spread of the coronavirus, Chairat predicts tourism revenue will drop 82.6% to 336.5 billion baht by the end of the year.
"Businesses that rely on foreign tourists, especially in Phuket, Samui, Pattaya and Chiang Mai, will continue to close in the coming months because there would only be a small group of people coming in after the reopening."
SOURCE: Bloomberg
Keep in contact with The Thaiger by following our
Facebook page
.
Never miss out on future posts by
following The Thaiger
.
Thailand News Today | Phuket re-opens, TripAdvisor review saga, Samut Prakhan chem spill | Sept 30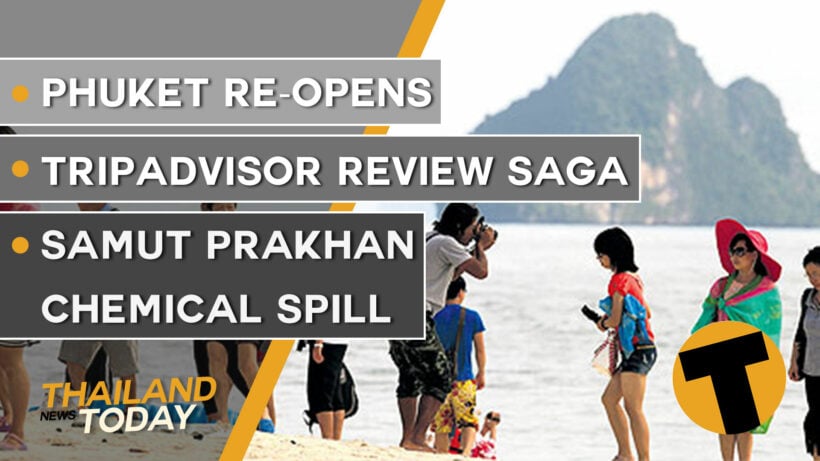 Daily TV news about Thailand. Updates and all the latest information from thethaiger.com.
Phuket prepares to welcome first Chinese tourists in over 6 months
The first group of tourists to arrive under Thailand's new Special Tourist Visa scheme will land in Phuket on October 8.
The flight from Guangzhou in southern China will carry 120 tourists, who will spend their first 14 days in alternative state quarantine. They are reported to be travelling under the government's new STV.
The resort islands of Phuket and Koh Samui will be the first to welcome travellers under the Special Tourist Via scheme. Guangzhou has not recorded any new cases of the Covid-19 virus for a prolonged period.
The CCSA reports that there will be a limit of 300 foreign tourists admitted each week, but this will be reviewed after the first phase of the re-opening. All arrivals will be subject to 14 day quarantine.
Minister calls for all complaints against Sarasas schools to be monitored amid abuse allegations
The Education Minister is asking the Office of the Private Education Commission to closely monitor all complaints filed against all Sarasas Witaed School branches around the country.
34 out of 42 of the schools have had complaints filed against them. Allegations of abuse first emerged when the actions of an abusive teacher at a branch of the school in the central province of Nonthaburi, just north of central Bangkok, were captured on CCTV.
Additional complaints made against several other branches of the private school allege harsh punishment, the charging of fees not sanctioned by the Education Ministry, and the use of unqualified teachers. The Thonburi school was also accused of using babysitters as teachers
The man who wrote the bad reviews for Koh Chang's Sea View Resort has a criminal record
In the ongoing stoush between the American, Wesley Barnes, and Koh Chang's Sea View Resort, it's now been revealed that Mr Barnes has been of interest to the US judicial system in the past, being accused of firing a weapon at a bar in Jackson County, Missouri.
Wesley Barnes, who has been working in Thailand as a teacher, posted a number of negative reviews on different platforms, including Trip Advisor, allegedly accusing the Koh Chang resort of "modern day slavery", amongst other complaints. He stayed at the resort in June this year.
But this isn't the first time Mr Barnes has come to the attention of police.
In the US there was an incident which is now public record. There was an official police complaint against the 34 year old in 2017. He was accused of firing a weapon near Waldo Bar, and later at a convenience store, told people he was a federal agent prior to the initial incident.
Of course the man's criminal record doesn't prevent him from posting negative reviews but provides just a little more context to the ongoing saga between the hotel and Mr Barnes.
PM dismisses rumours of alliance with opposition to form new government
Thai PM Prayuth Chan-o-cha has rubbished rumours that the ruling coalition parties plan to join forces with the opposition Pheu Thai party to form a new government.
While the PM initially didn't respond to the question, instead bidding reporters a good day and walking away, he did mumble that he had enough "headaches" with one of his coalition partners.
Meanwhile Deputy PM, Prawit Wongsuwan, also dismissed the question, accusing the media of being behind the speculation. Under the current constitution the Thai PM is elected by a parliamentary majority, and not automatically coming from the leader of the party with the most number of votes. But a coalition between Prayut and Pheu Thai does seem, at face value, extremely unlikely.
Around 10 villagers hospitalised after chemical spill in Samut Prakan
Around 10 people were hospitalised after a chemical tank spilled at a village in Samut Prakan, just southeast of Bangkok.
Those near the spill reported feeling nauseous and some had trouble breathing. Officials do not known what chemical was in the tank.
The 1 metre tank had been taken into the forest by 2 employees at a second hand shop who hoped they could take it apart and sell the scrap metal. The 2 employees fainted when the tank spilled. Trees and grass in a 100 metre radius of the chemical spill also died.
The chemical let off a strong odour and Thai media says the fumes spread to a nearby village. Those at the second hand shop, close by to the chemical spill, started to feel nauseous and some had trouble breathing. Some people reported skin rashes after the incident. Around 10 villagers, including children, were sent to hospital.
Keep in contact with The Thaiger by following our
Facebook page
.
Never miss out on future posts by
following The Thaiger
.
Thailand farmers hope to grow and export cannabis by next year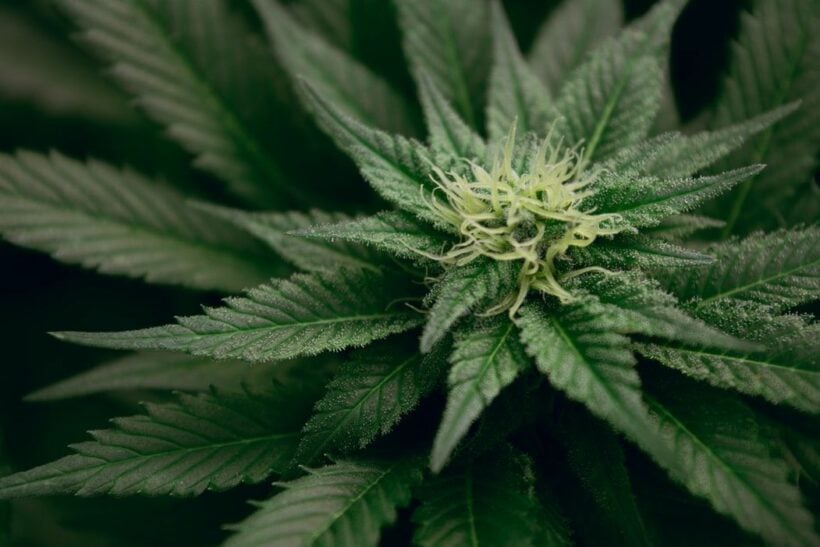 Under a proposed law, Thailand farmers would be allowed to grow cannabis and hemp for export without going through cannabis certified universities or medical institutes. The National Farmers Council president Praphat Panyachatrak says he hopes the new law will be in place by next year. The legislation is still being reviewed by the Public Health Ministry and National Legislative Assembly, but Praphat says he expects an announcement will be made soon.
Thailand's recent rush to decriminalise and even legalise marijuana follows the Bhumjaithai Party joining the government coalition in 2019, headed by current Health Minister Anutin Charnvirakul. His elected MPs provide essential votes for the fragile coalition. His party ran on a platform of legalising marijuana.
Thailand has been gearing up for the global cannabis trade with talk of classifying medical cannabis as an economic crop. The classification would allow the plant to be exported to other countries. The government has also talked about adding a variety of cannabis cultivars to keep up with the demanding cannabis industry.
The National Farmers Council has been advocating for the cultivation of cannabis and Praphat says the new law will make it easier for farmers to grow the plant. He adds that farmers would be able to get a permit to grow cannabis as soon as they got an order from overseas.
Recreational marijuana is still illegal in Thailand and is considered a Category 5 narcotic. Those charged with distributing cannabis face 2 to 10 years in prison and a fine from 40,000 baht to 200,000 baht. Those caught distributing over 10 kilograms of cannabis face up to 15 years in prison and a fine from 200,000 baht to 1,500,000 baht.
SOURCE: Nation Thailand | Chiang Rai Times
Keep in contact with The Thaiger by following our
Facebook page
.
Never miss out on future posts by
following The Thaiger
.