Phuket Gazette Thailand News: PM Yingluck extends ISA; Suthep calls for people's government; Floods ease in South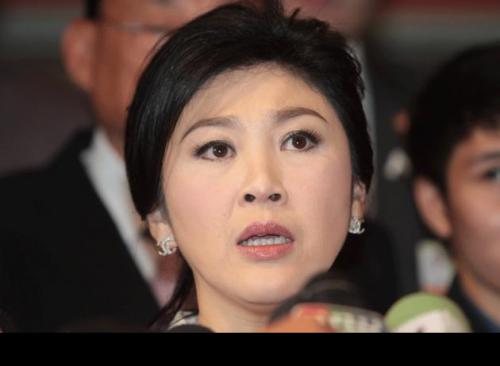 PHUKET MEDIA WATCH
– Thailand news compiled by Gazette editors for Phuket's international community
PM extends ISA and insists she won't resign or dissolve House
The Nation / Phuket Gazette
PHUKET: Prime Minister Yingluck Shinawatra last night extended the invocation of special internal security law to cover entire Bangkok, Nonthaburi, Samut Prakan's Bang Phli district and Pathum Thani's Ladlumkaew district.
Since October 18, the Internal Security Act (ISA) covered only three Bangkok districts; Phra Nakhon, Dusit and Pomprap Sattrupai. The law that prohibits mass gathering would directly affect rally sites on Rajdamnoen Avenue and others.
In a special TV broadcast, Yingluck said her government has no choice but to use the ISA after the anti-government protesters stepped up their protests by invading, seizing many government agencies and destroying the assets including the front gates. The protesters also cut off electricity and water supplies in those buildings, the moves that would affect officials and people in general. The premier called for people not to provide cooperation with the protesters who broke the laws and to cooperate with government officers so that the situation returns to normal.
The US Department of State also issued a statement, urging all sides to avoid violence.
"The US Government is concerned about the rising political tension in Thailand and is following the ongoing demonstrations in Bangkok closely. We urge all sides to refrain from violence, exercise restraint, and respect the rule of law. Violence and the seizure of public or private property are not acceptable means of resolving political differences," said its spokesperson Jen Psaki.
Earlier on the day, the prime minister refused to resign or dissolve the House and plans to use the two-day censure debate, which will start today, as a venue to explain the government's stand.
"I will fully explain every issue during the censure and in order to overcome time constraints, may also issue additional clarification at other venues," she said yesterday.
Yingluck was speaking at the weekly Cabinet meeting.
After the meeting she was asked by reporters if she insisted that she would neither resign nor call a House dissolution. She said, "That's correct."
Meanwhile, junior coalition parties will not desert the Yingluck Shinawatra government – even if the government has been rocked to its core by the Rajdamnoen protesters led by former Democrat MP Suthep Thaugsuban.
Chief coalition whip Amnuay Klangpha said he was not concerned that protesters might lay siege to Parliament today, coinciding with the censure debate.
Today's censure is scheduled to begin at 9.30am and the debate will last until 3am. Tomorrow the censure will resume at 10.00am and conclude at midnight. The censure vote will take place on Thursday, he said.
Censure targets comprise the prime minister and Interior Minister Charupong Ruangsuwan.
The two are expected to issue rigorous rebuttals to issues raised by the opposition.
Opposition Democrat Party leader Abhisit Vejjajiva yesterday said the marches across Bangkok by the anti-government protests won't affect the censure debate scheduled for today and tomorrow.
The opposition party has prepared more than 20 MPs for the debate and is ready to expose alleged corruption scandals of the government, he said.
A government MP who asked not to be named said the junior coalition parties had no choice. They could not stop the political turmoil even if they decided to withdraw from the government coalition.
The junior parties had been pushed into working with the ruling Pheu Thai Party in violating Article 157 of the criminal law and the Constitution, and their implementation of the constitutional-amendment bill related to the Senate.
The MP said the Constitutional Court had ruled in favour of the opposition Democrat Party, which appeared to be politically a bad sign. That's why they should keep their silence now.
"I cannot guess the future of MPs and senators who proposed the charter amendment. They might have to cease their duties this week by order of the National Anti-Corruption Commission [NACC]. If that happens, Pheu Thai must reject the NACC's decision for sure and [this will] lead to political deadlock," he said.
A Chart Pattana MP, who also asked not to be named, said he went to the Rajdamnoen rally site to join the protest on Sunday as a Thai citizen, not a government MP. He said he had no idea if the Yingluck government would survive the opposition moves, especially a House dissolution, which might not be enough to satisfy the demonstrators.
"I admit the Democrats' battle strategy is better than the government's. Suthep and his fellow protest leaders succeeded in analysing the situation and set up conditions consistent with the times. Meanwhile, the Pheu Thai Party's strategy is like two boats tied together. If one boat is burned, it would destroy the other boat," he said.
At about 2pm yesterday, due to the large number of protesters rallying near the Parliament, parliamentary officials were told to leave, but there had been no announcement that they should stay home from work today.
Call for people's government
The Nation / Phuket Gazette
PHUKET: Suthep Thaugsuban, a key leader of the protest against the so-called Thaksin regime, announced a plan to form a "people's government" yesterday following a peaceful seizure of state power by the people.
In a symbolic gesture to paralyse the government, demonstrators began three sieges – at the Finance Ministry, the Public Relations Department (PRD) and the Foreign Ministry.
The latter incident saw about 100 protesters from the Network of Students and People for Thailand's Reform occupy a carpark at the Foreign Ministry in the early evening.
"A people's government will be established to amend the country's rules so that it is genuinely a democracy under constitutional monarchy," he said.
Suthep encouraged people who back the protesters' cause to seize state power "with their bare hands" by occupying government offices all across the country.
He spoke at a press conference held inside the Finance Ministry after a group of protesters that he led managed to occupy the Budget Bureau, which is located inside the ministry's complex. Suthep was surrounded and asked by an army of reporters, many from television stations accused by the protesters of failing to sufficiently cover the mass street demonstrations over recent days.
Suthep said the occupation of the Finance Ministry was an example made for people to occupy state offices in their areas. This was part of efforts to paralyse the "Thaksin regime".
A senior Democrat politician who recently resigned as an MP, Suthep denied he was rebelling against the government. He said the government lost its legitimacy to rule after it rejected the power of the Constitutional Court.
Prime Minister Yingluck Shinawatra expressed concern yesterday about protesters occupying the Finance Ministry compound. She said the government had not expected the protesters to trespass into a government office.
Yingluck said protesters could cause damage and hurt confidence in the government with intrusions into state offices. However, she said the Cabinet had no plan to declare a state of emergency.
She said the protesters had already expressed their wishes and should wait for a censure de
— Phuket Gazette Editors
Want more from the Thaiger family?
📱 Download our app on Android or iOS for instant updates on your mobile
📧 Subscribe to our daily email newsletter
👍 Like/Follow us on Facebook
🔔 Subscribe to or Join our YouTube channel for daily video updates
Closure order in Bangkok set until May 31, restaurants can now offer dine-in services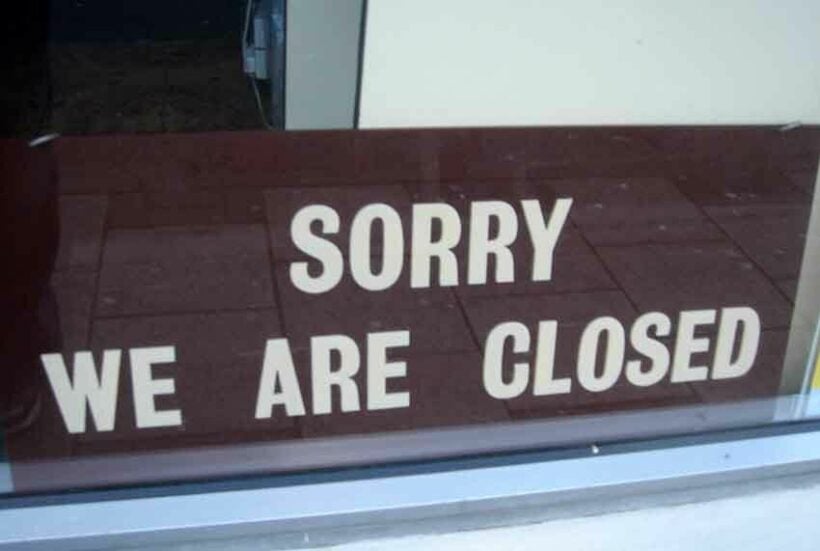 To control the spread of Covid-19 in Bangkok, where more than 28,000 people have tested positive for the virus in the latest wave of infections, the closure order in the capital has been extended a second time, now set to be in place until May 31.
While many entertainment and recreation businesses and venues are ordered to remain closed, some restrictions have been relaxed. Restaurants can now offer dine-in services, but only until 9pm. Restaurants can still offer takeaway services until 11pm.
Businesses and venues that must remain closed include…
Educational places including schools and tutoring centres

Entertainment venues including pubs, bars, karaoke venues and nightclubs

Massage parlours and spas

Recreation and amusement businesses and places including cinemas, theatres, water parks, amusement parks, playgrounds, zoos, skating rinks, billiard halls, bowling alleys, arcades, internet cafes, public parks, gardens

Fitness and sport venues and businesses including public swimming pools, gyms, boxing stadiums, dance studios, golf courses

Care centres such as nurseries, childhood development centres and elderly care centres (with the exception of overnight stays.)

Museums and public libraries
Other restrictions include…
Shopping centres can remain open until 9pm.

Convenience stores and other 24-hour shops must be closed from 11pm to 4am.

Events over 20 people must have permission from the government with a disease control plan.

Face masks are mandatory in public places. Violators face a 20,000 baht fine.
SOURCE: TAT
Want more from the Thaiger family?
📱 Download our app on Android or iOS for instant updates on your mobile
📧 Subscribe to our daily email newsletter
👍 Like/Follow us on Facebook
🔔 Subscribe to or Join our YouTube channel for daily video updates
Thai tourism minister re-iterates Phuket's re-opening on July 1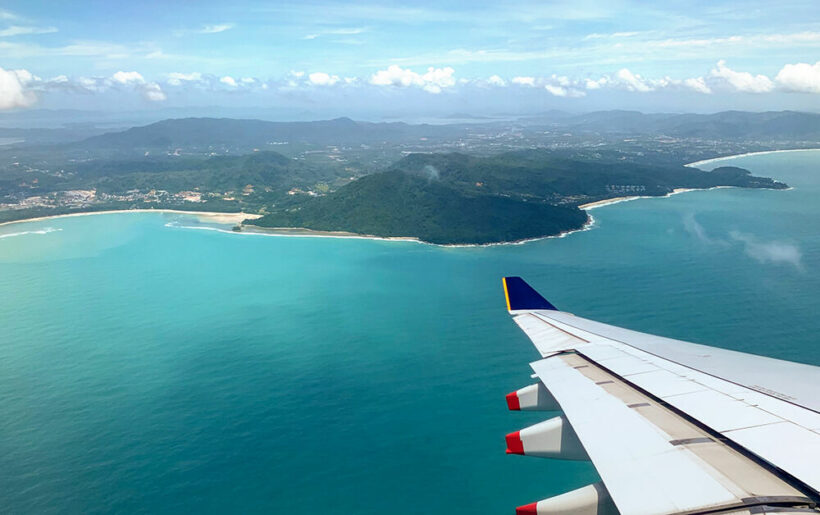 The Thai government has again reiterated its plan to reopen Thailand, specifically Phuket, to foreign tourists and travellers. The southern island province, under the so-called "sandbox" plan, is Thailand's pilot program for re-opening the country to general travel by July 1… just 6 weeks away.
The government has consistently said that the island's residents will have to be 70% vaccinated by the start of July before the re-opening can happen. With a current vaccination success of 22%, the island is certainly a long way ahead of the rest of the country but still a long way from its 70% target.
The National News Bureau, the voice of the Thai government, reports that the Tourism and Sports Minister, Phiphat Ratchakitprakarn, is "urging" Phuket officials to achieve the vaccination target next month.
The media release says… "The provincial administration and the private sector have developed plans to prepare for the reopening in all respects, while creating more awareness and understanding with the local people. Thus, the reopening will be safe and help drive the economy forward."
Far from providing "awareness and understanding with the local people", Phuket officials have been opaque about vaccination roll out programs. The island's foreign population, estimated to be around 40,000 people, or about 10% of the total population, are none-the-wiser today about their prospects to secure a place in the island's vaccination queues.
Last week Phuket residents, with a local and current work permit, were told they would be able to register for vaccination. So far that process has not proceeded.
There is also a hard rump of Thais who have stated in numerous polls, that they remain unwilling to accept a vaccination. This includes thousands of candid posts on social media where fear or mistrust over the Sinovac vaccine from China is plain to see. The island also has a large Muslim population where some community leaders have already expressed some doubt over recommending vaccination to their adherents.
But, even today, the second roll out has begun on the island for Thais who registered on the Mor Prom app since the start of May, so things are progressing. An area has been put aside at the island's Central Floresta shopping centre for registrants.
The 'reopening to tourists' on July 1 isn't without restrictions. People arriving by air will not be open to "countries where COVID-19 is widespread, or tourists without a vaccination certificate". That list hasn't been fully detailed although Thailand has a ban on people arriving from at least 4 countries – India, Pakistan, Bangladesh and Nepal.
"…visitors who travel by air must provide documents to prove that they have received both Covid-19 vaccine doses. They are required to undergo rapid antigen tests, or reverse transcription polymerase chain reaction (RT- PCR) tests, at their place of origin, and to register on www.gophuget.com and the MorChana application."
The MorChana app tracks the location of an individual whilst their phone is turned on with the data turned on as well.
Without specifically mentioning quarantine in the media release, it is understood that quarantine will be waived for international travellers who have have been fully vaccinated. Other specific paperwork requirements have not been announced at this stage… with 6 weeks to go to the international re-opening.
For domestic traffic, arriving in Phuket by road (as of May 17), "…people who do not have a certificate of vaccination and have not taken a swab test will have to undergo a 14 day quarantine. If they plan to spend only 3 days in Phuket, they are required to stay in home quarantine for the 3 days."
Phuket is still experiencing new daily infections
SOURCE: National News Bureau of Thailand
Want more from the Thaiger family?
📱 Download our app on Android or iOS for instant updates on your mobile
📧 Subscribe to our daily email newsletter
👍 Like/Follow us on Facebook
🔔 Subscribe to or Join our YouTube channel for daily video updates
Thai government expects to open vaccine registration to foreigners by August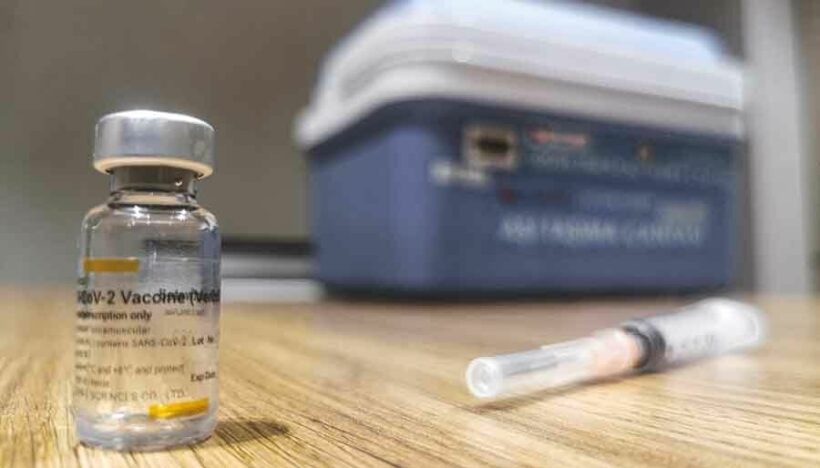 A Health Ministry spokesperson has confirmed that foreigners living in Thailand should be able to register for Covid-19 vaccination by August. Ratchada Thanadirek says the government is working on a dedicated registration platform for foreign nationals living in the Kingdom, which it's hoped will be ready in 3 months' time.
Meanwhile, Thai Visa News reports that vaccine registration for Thais has been extended to those aged between 18 and 59 years old, who can now sign up from May 31. Registration had initially been limited to Thai nationals over the age of 60, as well as those with underlying health conditions. However, the third wave of the virus means registration for younger Thais has been brought forward from July.
Thai nationals can register for vaccination through the Mor Prom platform or the Mor Prom Line account. They can also register at government hospitals. According to Ratchada, the vaccines that will be used in the government rollout will primarily be AstraZeneca, manufactured in-country by Siam Bioscience.
However, she points out that there are 3 other vaccines that have been approved by the Thai Food and Drug Administration. They are the Chinese-made Sinovac, the single-dose Johnson & Johnson vaccine, and the vaccine from US manufacturer, Moderna. The latter is expected to be available for purchase at private hospitals, although there has been no confirmation of when supplies might arrive.
SOURCE: Thai Visa News
Want more from the Thaiger family?
📱 Download our app on Android or iOS for instant updates on your mobile
📧 Subscribe to our daily email newsletter
👍 Like/Follow us on Facebook
🔔 Subscribe to or Join our YouTube channel for daily video updates