Phuket Gazette Thailand News: Military sidelined as Bangkok security locked down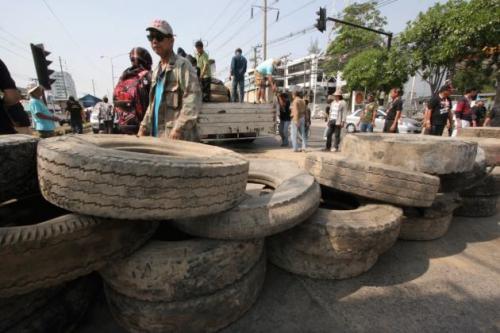 PHUKET MEDIA WATCH
– Thailand news compiled by Gazette editors for Phuket's international community
City put under state of emergency for 60 days
The Nation / Phuket Gazette
PHUKET: The caretaker Cabinet yesterday imposed an emergency decree covering the capital and its outskirts for 60 days. This will give officials more power to handle the anti-government protest, which it claims has been a cause of violence, death and injury.
From today, the entire capital and Nonthaburi, plus parts of Pathum Thani and Samut Prakan will be under emergency law.
To enforce the decree, the authorities have set up a so-called Peacekeeping Centre, replacing the Centre for the Administration of Peace and Order, to keep order.
Caretaker Deputy Prime Minister Surapong Tovichakchaikul will supervise the centre's policies, with caretaker Labour Minister Chalerm Yoobamrung as director in command of the centre. Police chief General Adul Saengsingkaew and the Defence Ministry's permanent secretary Nipat Thonglek have been named as operating directors.
The decision to impose the decree was made by caretaker Prime Minister Yingluck Shinawatra and some members of her Cabinet, including Surapong and Chalerm, sources said. In a sign of possible disagreement, there were only military representatives instead of commanders present at the meeting yesterday, sources said. With a lack of military chiefs at the centre, the police under Adul will be at the frontline.
Yingluck said she had instructed operations officials to exercise utmost restraint when handling the protest. Asked if the situation would turn violent, like in 2010, she said the government would mostly have the police force overseeing operations. Protesters should not be worried, as police would operate in accordance with law.
"If the soldiers are put under police command, it will be problematic," academic Panitan Wattanayagorn said. "I have never seen troops being placed under police [control]."
Surapong reasoned that the emergency decree was necessary given that protesters led by Suthep Thaugsuban had violated the law, raided government agencies and state banks, as well as threatened state officials. Violent incidents were intentional and meant to hurt and kill people, he claimed.
Since the anti-government protest began in November 30, at least nine people have been killed and 554 injured.
The foreign minister said that diplomats and representatives of the international community would be briefed about the situation and the consequences of the emergency decree.
Meanwhile, hardliner Chalerm said he would call a first meeting today to map out an operation plan to handle the current situation as well the February 2 election. He said that the police would not hunt Suthep but wait for him to surrender.
The decree authorises the authorities to announce a curfew, limit people's movement and even censor the media, National Security Council secretary-general Paradorn Pattanatabutr said earlier.
Officials operating under the decree would get some immunity from legal consequences under the Penal Code, he said.
The emergency decree was declared at about 6.30pm last night at a press briefing instead of a live TV broadcast, as is usual.
Suthep said it was unnecessary for the government to invoke the emergency decree, as this was not an emergency situation. "Protests have continued peacefully over the past three months. We will defy the emergency law," he said.
Earlier, caretaker Prime Minister Yingluck Shinawatra said she did not want to resort to using force to control the situation, deputy government spokesman Parkdehans Himathongkom said.
At present, police and security officials are carefully monitoring rally sites, and not allowing any weapons to be smuggled in, he said.
Yingluck also expressed sympathy for officials who were intimidated, humiliated and harassed by protesters, while the Centre for the Administration of Peace and Order (CAPO) yesterday denounced the protesters' hostile behaviour against a senior official at the Department of Special Investigation.
DSI chief Tarit Pengdith, who is also a member of CAPO, said it was not acceptable that protesters led by the People's Democratic Reform Committee stormed into the Software Park and belligerently demanded that DSI officials stop working. The protesters also chained the office doors shut on Monday.
Tarit told a press conference that was broadcast live on TV that the PDRC leaders and security guards had set a bad precedent for society by cornering Pol Colonel Nirand Adulsak, chief of Special Cases Division 1, and scaring and scolding him.
Chumphon Junsai, a PDRC leader, led the mob to surround the building to block DSI personnel from working.
Tarit said that they had also gone there believing he was inside. The protesters' verbal assault forced Nirand to wai the PDRC leaders and guards, begging them not to hurt him, Tarit said. The act was a serious crime and needs to be condemned, he said.
He noted that Nirand could have used a gun to defend himself, but chose not to do so for fear of causing deaths and injuries.
Emergency decree
Effective for 60 days (January 22-March 22)
Agency responsible: Peacekeeping Centre (located at the Office of the Permanent Secretary for Defence, Chaeng Wattana Road)
Supervisor: Caretaker Deputy Prime Minister Surapong Tovichakchaikul
Commanding director: Caretaker Labour Minister Chalerm Yoobamrung
Operating directors: Royal Thai Police commander-in-chief Pol General Adul Saengsingkaew and permanent secretary of Defence General Nipat Thonglek
Affected areas: Bangkok, Nonthaburi, Pathum Thani's Lat Lum Kaeo district and Samut Prakan's Bang Phli district..
Public hospitals on alert
The Nation / Phuket Gazette
PHUKET: The Public Health Ministry has instructed its officials to be on the alert for violent incidents ahead of the February 2 election.
Dr Narong Sahametapat, the ministry's permanent secretary, Tuesday ordered the heads of provincial public health offices in 18 provinces to be on the look out for clashes and be ready to provide emergency medical attention to the injured.
The Public Health Ministry's deputy permanent secretary, Dr Wachira Pengjuntr, said he had been monitoring the rallies led by the People's Democratic Reform Committee (PDRC) in 18 provinces and so far, no casualties had been reported, although in Phatthalung, public health officials have had to move to another office.
"Some provincial public health offices have been shut, while some officials have moved to work in other places. The protesters are just making symbolic moves," he said.
Dr Narong Apikulwanich, chief of the ministry's emergency medical services operation, said his agency has not received any reports of violence during the PDRC rally to shut down several government offices in Bangkok, such as the Government Savings Bank and Export-Import Bank.
As many as 272 people have been injured and four killed in violent clashes since December 26. Up to 25 of the injured are still being treated in hospital.
PDRC tightens security at Victory Monument
The Nation / Phuket Gazette
PHUKET: The People's Democratic Reform Committee (PDRC) yesterday installed 28 security ca
— Phuket Gazette Editors
Keep in contact with The Thaiger by following our
Facebook page
.
Survey – Thais not taking sides and 66% prioritise health care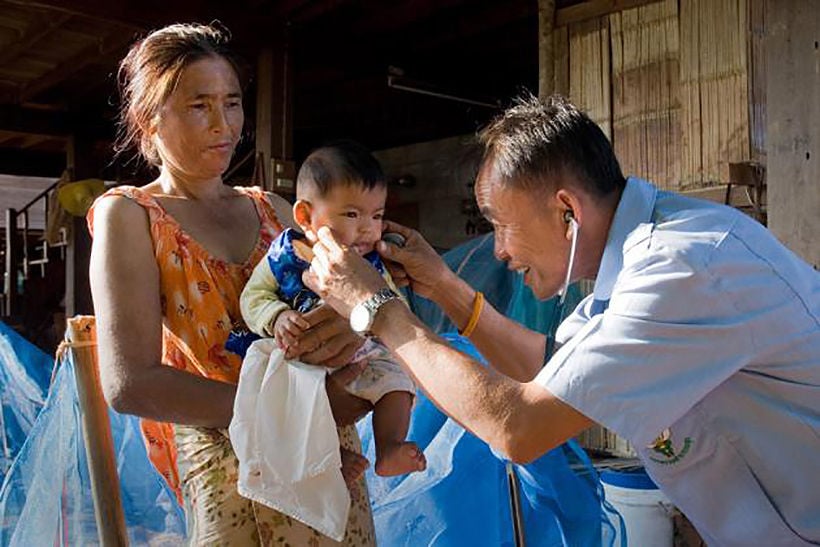 The majority of respondents to a Super Poll survey, say that they are still waiting to see where they will put their future support. For now they're saying they neither support the Government or Opposition, preferring to wait to assess their performance.
Super Poll conducted the survey on 1,069 people from a wide range of occupations nationwide between October 15–19.
The director of Super Poll, Noppadol Kannikar, says that one interesting finding was that 67.2% of respondents admitted that they prefer not to take sides, with the Government or Opposition, because both are currently under-performing and they want to wait to assess their performance.
But 16.9% of the respondents are supportive of the coalition Government, compared to 15.9% who oppose it.
On the question of Government spending, the survey showed 65.9% want quality health care as their top priority, 59.8% want good and secure jobs, 54.3% want security for their lives and property, 50.8% want increased road safety, 48.2% want government help for small and medium-size enterprises and 37.0% want government to provide them with housing.
SOURCE: Thai PBS World
Keep in contact with The Thaiger by following our
Facebook page
.
Top 10 English news sources in Thailand (2019)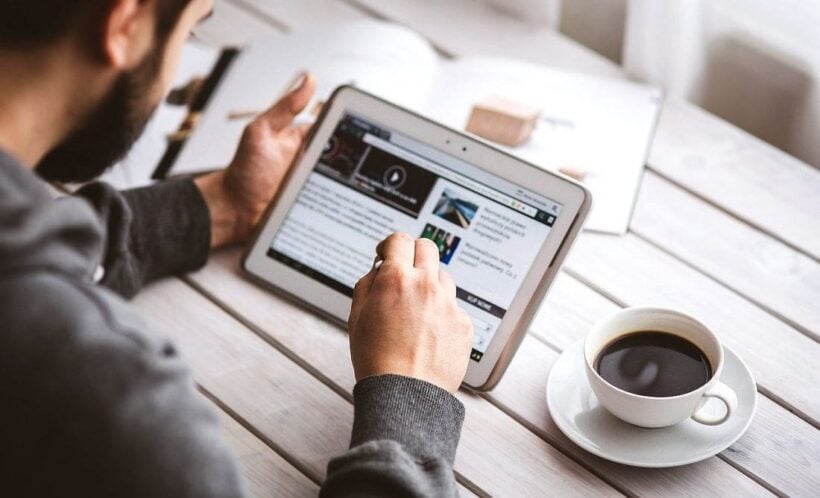 …in English, in no particular order.
This post is mainly for newbies, tourists and people-interested-in-Thailand. Locals already have their home favorite news sources. But all these Top 10 do it well, in their own way. All are trying to navigate their way through the labyrinth of modern media, some better than others, whilst punching out daily news. We think they're all stars because doing media in Thailand, in English, is a tough gig.
These are all news and information sources and the list doesn't include the myriad of excellent blogs around – a topic for another Top 10.
1. Bangkok Post
Traditional news, still delivered as a daily newspaper, but with an expansive and thorough website. It's been going since 1946 and reported on a coup or two, or three. As far as making the move into digital media is concerned, Bangkok Post is doing it better than most. Editorially it has has taken a, mostly, neutral political stance with a few exceptions. But, as newspapers go, it walks down the middle fairly reliably. It is currently the leading English language news portal in Thailand and deserves its position on top.
2. The Thaiger
Please indulge us as we put our own website and news in the Top 10. The Thaiger, only running as a national website since April 2018, remains the fastest growing English-speaking online-only news and information site in the Kingdom (according to the 'stats').
The Thaiger curates the news and chooses topics it believes will be interesting, important or newsworthy, in English, Thai and now Vietnamese too. The Thaiger bought out the Phuket Gazette's digital assets in August 2017 but now has a national and regional focus, whilst continuing to pay homage to its home turf in Phuket. Currently has the second highest readership of any English-speaking news website in Thailand.
3. The Nation
The Nation was the other major daily coming out of Bangkok, well for 48 years anyway, was a lot newer than Bangkok Post when it started up in 1971. The Nation took a more partisan line, famously turning its editorial voice against PM Thaksin Shinawatra. In latter years the paper struggled with circulation and was taken over by Sontiyan Chuenruetainaidhama, founder of conservative outlets T News and INN News. Falling circulation and advertising revenues eventual killed off the printed daily version. Final issue June 28, 2019. The Nation changed their domain name (suicidal) and continues as an online-only news source with an excellent coverage of local Thai politics.
4. ThaiVisa
Used to be the biggest and most popular news website in Thailand (in English). If it moves or breathes, you'd find the story on ThaiVisa. It's full of news copied and pasted from partners who agree to share their news on the site. It's also famous, or infamous, for its hugely popular forums where keyboard warriors dispense their opinions and wisdom on everything, usually tearing just about everything in Thailand to shreds. Whilst it was once the biggest English-speaking news website in Thailand for a decade it is now being challenged by new sources moving into the same web space. Plenty of info, a lot out of date, about visas and other snippets about living in Thailand.
Fresh, selective, well-written and a rising star in real Thai english-language journalism. An offshoot of it's much bigger Thai-language sister. To the point, original stories with a modern journalistic spark. They tend to choose their stories and provide excellent insight when they do. Original and deserving of your daily read.
6. Coconuts
Most would agree that when Coconuts started it was the best and cheekiest news blog for its time. Actually covering all of South East Asia, it's Bangkok blog was a daily log-on for most hip expats. Now they've taken the brave 'paywall' option (because people want to pay for good journalism they say) which seems to have killed off some of their web traffic but the company says they will persist with the subscription model. In our opinion it's lost a bit of its verve but it's still a healthy and reliable daily read for Thailand and the region. Singapore it its most popular location, Thailand is third.
A shameless aggregator, they copy and paste headlines and a few paragraphs with a link to the original story. Designed to rank in Google, the site is still in its early days. To avoid any copyright issues, the stories usually include a photo library 'look-a-like', instead of the real photo from the story. For all we know the entire site could be run by cleverly-coded robots.
There is no sign of a human touch anywhere. Rather than a contributor to the world of Thai journalism, the site is just a parasite using everyone else's news. Bottomline, it's nicely set up and has, well, most of the stories around Thailand, all in one neat package.
Chiang Rai Time is a local website that is regularly updated, nicely laid out, aggregates most of the main international stories and has plenty of local news relevant to the residents of northern cities of Chiang Rai and Chiang Mai. You may notice a similarity with The Thaiger as they used the same WordPress theme – we'll take it as a compliment. There's also Chiang Mai City Life which is a bit less 'newsie' and has plenty of northern lifestyle info in addition to the local news.
Whilst the rest of Thailand does things one way, Pattaya does things differently, in every aspect, including its media. But The Pattaya News does a better job than most with daily content, some original, and translating stories from Thai media. Easy to navigate, clear and readable, unlike a lot of others!
10. Thai PBS World
A government news agency but has demonstrated its independence over the years. As a website it's had more face-lifts than Joan Rivers but remains solid, reliable and surprisingly (especially as it's run by a quasi-military government) unbiased. Also tends to cover stories the other news sources don't.
Keep in contact with The Thaiger by following our
Facebook page
.
Thai app will ease expat immigration woes and make 90 day reporting simple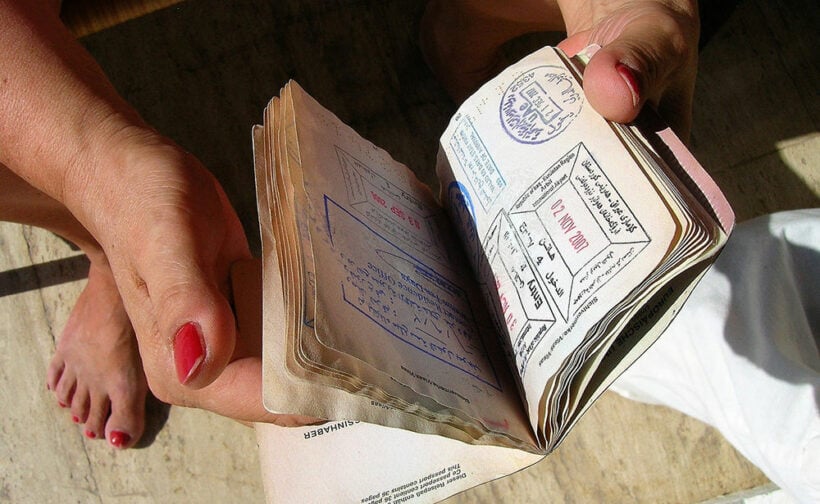 The "OSS Foreigner" app is coming, and you will be able to use it for 90 day reporting, according to the Secretary-General at the office of the PM.
Dr Kobsak Pootrakool says the planned app can be used for all immigration reporting, including 90 day reports, adding that typing in the required data and uploading a selfie will accomplish the same result as filling out paperwork at the local immigration office but without having to make the trip there.
Dr Kobsak has been given responsibility for sorting out the TM30 debate and says the immigration app, called OSS Foreigner, is nearly complete and should make all those who live and work in Thailand feel more welcome and make compliance easier and more convenient.
The TM30 form, and its companion, the TM28, have been a source of expat displeasure over the past five months since the immigration department decided to enforce a little-used 1979 law that required foreigners to report their whereabouts if they had stayed overnight at an address different from their registered address.
This latest move comes as part of a wider program to make Thai public services more efficient, with Dr Kobsak making the announcement while outlining plans for all Thai government departments to embrace digital technology by as early as 2022. Meanwhile, the Deputy PM Somkid Jatusripitak is championing a programme to improve Thai public services for both Thai citizens and foreigners.
"The government's new approach to IT and digital technology is designed to deliver a smarter, easier service as part of the Thailand 4.0 economic model."
SOURCE: The Pattaya News
Keep in contact with The Thaiger by following our
Facebook page
.