Phuket Gazette Thailand News: Little optimism for breakthrough in Thailand's forgotten jihad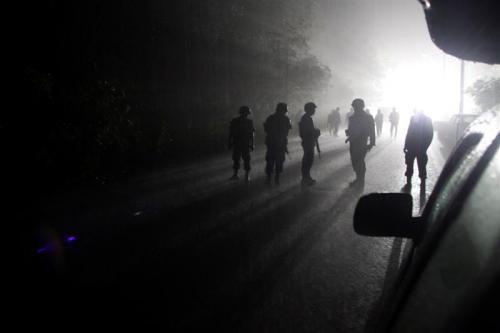 PHUKET MEDIA WATCH
– Thailand news selected by Gazette editors for Phuket's international community
SPECIAL REPORT: Little optimism for breakthrough in Thailand's forgotten jihad
Reuters / Phuket Gazette
PHUKET: Rusnee Maeloh slept through the 30-minute gunfight that killed her husband, but her neighbours in the notoriously violent Bacho district of southern Thailand heard distant explosions and feared the worst.
Mahrosu Jantarawadee, 31, was Rusnee's childhood sweetheart, the father of their two children, and part of a secretive Islamic insurgency fighting a brutal nine-year war with the Thai government that has killed more than 5,300 people.
Mahrosu died with 15 other militants while attacking a nearby military base in Bacho district on February 13. Acting on a tip-off, Thai marines repelled the attack with rifle fire and anti-personnel mines. "He died a martyr," said Rusnee, 25, dabbing her eyes with a black headscarf.
Just over two weeks later, the Thai government agreed on peace talks in neighbouring Malaysia with the insurgent group Barisan Revolusi Nasional (National Revolutionary Front, or BRN). Although the first round is set for Thursday, there has been no halt in the fighting and people in the region see no early end to one of Southeast Asia's bloodiest conflicts.
In a rare interview, an operative for BRN-Coordinate, a faction blamed for most of the southern violence, told Reuters the talks were "meaningless" and "tens of thousands" of Malay-Muslims would fight on.
An older generation of insurgent leaders has struggled to control young jihadis like Mahrosu, said the operative, nicknamed Abdulloh. This raises doubts over the BRN's ability to meet the Thai government's key initial demand at the talks: stop the escalating bloodshed.
Thailand is dominated by Thai-speaking Buddhists, but its three southernmost provinces are home to mostly Malay-speaking Muslims. They have chafed under the rule of faraway Bangkok since Thailand annexed the Islamic sultanate of Patani a century ago. The latest and most serious violence erupted in the early 2000s.
"This round of talks will not result in any formal deals," said Paradorn Pattanathabutr, secretary-general of the National Security Council (NSC), Thailand's lead agency in the process. "We will ask them to reduce violence towards certain groups and soft targets."
More insurgents were killed during the Bacho raid than in any other single clash since April 2004. But even this rare defeat revealed their growing military sophistication, the depth of local support they enjoy, and their links to Malaysia – long an insurgent safe haven and source of bomb-making materials and other supplies, say security analysts.
Poorly understood
Thailand's southern provinces are only a few hundred miles from Phuket and other tourist destinations, but the insurgency is poorly understood, partly because it doesn't fit the pattern. Long-running sub-national conflicts are usually found in weak or failing states, not along the border of two prospering allies in a fast-developing region.
Thailand's home-grown jihad also rarely blips on the global security radar. That's because the militants have no proven operational link to Al Qaeda or regional terror groups such as the Indonesia-based Jemaah Islamiya, although they do boast a secretive, cell-like structure and are partly driven by post-9/11 jihadi zeal.
The militants, who number in the low thousands, are ranged against 66,000 soldiers, police and paramilitary forces spread across a conflict area half the size of Israel. Like their U.S. counterparts in Afghanistan, Thai soldiers face a ruthless enemy sheltering amid a largely hostile Muslim population.
Their pitiless response has further fuelled the insurgency. The dispersal by soldiers and armed police of a protest at Tak Bai town in 2004 led to deaths of 85 Muslim men and boys, mostly by suffocation, after they were stacked four or five deep in army trucks.
Mahrosu Jantarawadee symbolises the divide between Muslims and Buddhists in southern Thailand – a martyr to some, a murderer to others. He was born, killed and buried in Bacho, an area of rice fields and rubber plantations the Thai military calls a "red zone" of insurgent activity.
Hundreds of mourners cried "God is great!" at his funeral in Duku village. Mahrosu's family and neighbours believe he died while fighting a holy war against a Thai government whose harsh assimilation policies have suppressed their religion, language and culture.
Mahrosu is no hero to the authorities or to the relatives of his alleged victims. The Thai military links him to an eight-year streak of gun and bomb attacks that killed at least 25 people. Sometimes, said the military, he shot his victims and then set their bodies alight. His mug shot appears on posters at heavily fortified police stations across the region.
One of his alleged victims was teacher Cholatee Jarenchol, 51, shot twice in the head in front of hundreds of children at a Bacho school on January 23. The children included Cholatee's seven-year-old daughter. "She's scared she'll be killed next," her mother Fauziah, 47, said.
Cholatee was one of at least 157 teachers killed by suspected insurgents since 2004, ostensibly for being government employees.
Stubborn
Mahrosu was advised not to attack the Bacho military base, said Abdulloh, the BRN-C operative. A wiry man in his sixties dressed in a tracksuit and sneakers, Abdulloh met Reuters in a teashop in Yala, the capital of Yala province, in a shabby neighbourhood known locally as "the West Bank".
Like many militants, Abdulloh hides in plain sight in the towns of the region, although he kept the meeting brief and clutched a bag that he said concealed a pistol.
"He wouldn't listen to the elders," Abdulloh said, referring to Mahrosu. "They told him it was too risky to have so many fighters in one place. But he was stubborn and went ahead."
It was Abdulloh's task to monitor the movement of soldiers and police, and to liaise between militant cells and what he called "the elders". He said nine of the 16 dead, including Mahrosu, were "commandos" – well-equipped veterans who join forces with villagers to form platoon-strength units for big attacks.
The Bacho operation illustrated an insurgent attempt to "shift military operations to a higher level", said Anthony Davis, a Thai-based analyst at security consulting firm IHS-Janes. There are relatively fewer attacks than in previous years, but they are often better planned and more lethal, reflecting a "growing professionalization within insurgent ranks", Davis said.
The insurgents are also making more – and bigger – bombs. On March 15, just two weeks after the Malaysia talks were announced, a 100-kg device exploded beneath a pick-up truck carrying three policemen through Narathiwat province, flipping the vehicle and scattering body parts across the road. All three died on the spot.
In towns and villages, insurgents move about with surprising ease, considering the massive deployment of security forces, and pay discreet but regular visits to their families.
"He usually stayed for less than an hour," Rusnee said of Mahrosu. He was already on the run when they married in 2006. Many insurgents manage to raise families. Mahrosu and Rusnee have a six-year-old daughter and a 17-month-old son.
The ability to blend with the population also makes the militants a formidable enemy. Bacho-style insurgent attacks are logistically complex, said Thamanoon Wanna, commander of a Thai marine task force resp
— Phuket Gazette Editors
Keep in contact with The Thaiger by following our
Facebook page
.
Never miss out on future posts by
following The Thaiger
.
Thailand News Today | Army deny Twitter spin, "Don't Reopen", English proficiency low | Nov 27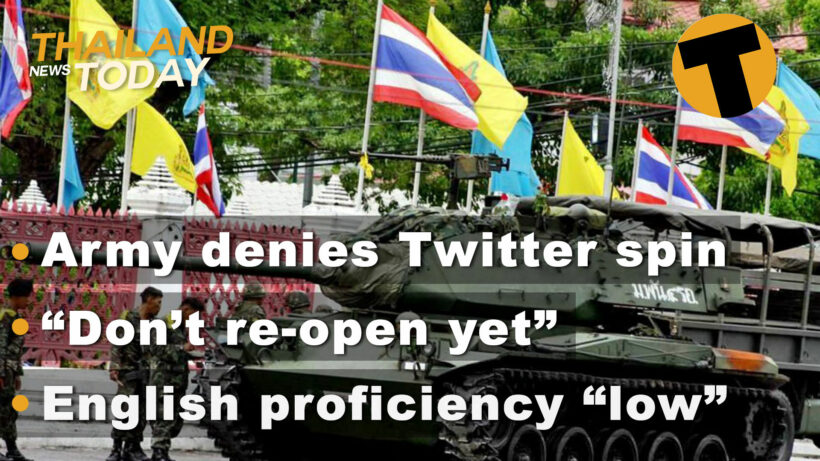 Last day of the week. Thought we'd go outside. Bad idea! Welcome to Friday's Thailand News Today.
Royal Thai Army denies claims about Twitter campaign to spread pro-government propaganda
Following a shutdown of 926 Twitter accounts linked to the Royal Thai Army, documents were leaked of what appears to be a contract between the Army and a private company supposedly hired to spread pro-government propaganda.
But Thailand's Army chief is denying the claims and says the Army never hired a company to spread pro-government propaganda through the over 900 Twitter accounts.
Last month, Twitter announced that it had suspended 926 accounts linked to the Royal Thai Army for violating the social media company's "platform manipulation" policies.
A report by an independent Cyber Policy Centre says the Army used Twitter to "cheerlead" with pro-government propaganda. The report says the Army used Twitter to criticise the now disbanded Future Forward Party and neutralise criticism after February's mass shooting where an Army soldier killed 30 people and injured 57 others.
Former WTO director cautions against re-opening Thailand too quickly
The former director general of the World Trade Organisation has issued a caution against Thailand throwing open its borders too early.
Supachai Panitchpakdi says Covid-19 is still very much a threat, pointing to other countries that appear trapped in a cycle of restrictions and lockdowns. He said that the cycle in many Western countries is not just damaging their economies, it's also leading to more infections and deaths and prolonging the time until the affected countries can restart their economies. He warns that re-opening Thailand's borders too quickly could have long-term negative impacts for the Kingdom.
Within Thailand there is a polarised view as to whether Thailand should be broadly re-opening its borders or not. Successive polls show that the Thai population is, generally, suspicious about re-opening too soon, especially whilst parts of the rest of the world are still trying to contain their infection rates. On the other hand Thailand's tourism and hospitality industry has been decimated with millions unemployed.
Bangkok's canal boat services go electric
A new electric passenger boat service started operating on Bangkok's Khlong Phadung Krung Kasem today. The klong traverses the eastern side of Rattanakosin Island.
The Thai PM launched the service at the Hua Lamphong Railway Station Pier, and was a passenger on the first boat ride this morning.
There's seven electric fibreglass boats in the initial service, each carrying 30 passengers.
The boats can run for four hours per charge at a speed of 10-15 kilometres per hour. There's solar roof panels to help power the electric outboard motors.
The new e-boats operate from 6am-7pm, with a boat departing every 15 minutes. Good news, passengers can travel for free for the first six months of the service.
Thailand's English level drops for the third year – English Proficiency Index
English skills in Thailand have dropped for the third year in a row with an English language proficiency score considered to be "very low."
In the past year, Thailand's ranking dropped from 74 out of 100 countries to 89, according to the 2020 English Proficiency Index by EF Education First. The index is based on test results from 2.2 million adults from 100 countries and regions.
Thailand scored 419 out of 800, which is considered "very low." Thailand ranks 20 out of 24 countries surveyed in Asia and 7 out of 8 countries in Southeast Asia, just ahead of Myanmar in last place.
According to the report, the lack of English proficiency in Thailand, Cambodia and Sri Lanka hampers access to jobs in the tourism industry which makes up more than10% of their economies.
Keep in contact with The Thaiger by following our
Facebook page
.
Never miss out on future posts by
following The Thaiger
.
9 arrested for allegedly embezzling more than 2.8 billion baht from Railway Club Cooperative funds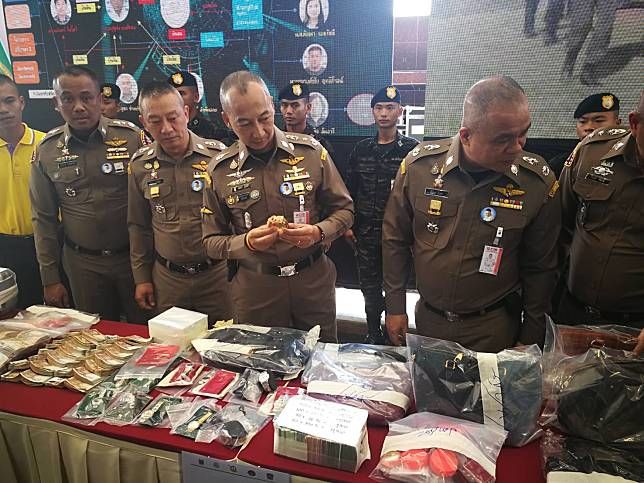 Police arrested 9 people involved in the Railway Club Cooperative, including the former chief, on collusion charges for allegedly approving loans behind closed doors to embezzle a total of 2.8 billion baht from members' funds.
Officers from the Central Investigation Bureau have been investigating since June 30 of last year. Investigators say the suspects approved loans without calling meetings for the roughly 2,300 cooperative members and used falsified documents to take out loans of about 15 million baht each.
When reviewing loan approvals made between January 2012 and November 2016, investigators say they found loans given to a hotel, housing estate, resort and property project. They say loans were also used to buy luxury cars and other valuables.
Officers from the bureau along with the Department of Special Investigation and the Anti-Money Laundering Office recently raided 26 locations in Bangkok, Phetchaburi, Samut Prakan and Nonthaburi. Officers seized a total of more than 10 million baht as well as luxury cars.
The 9 suspects face charges of colluding in theft, falsifying documents, using fake documents and money laundering. Along with arresting the cooperative's former chief executive, 70 year old Boonsong Hongthong, police arrested committee members 49 year old Pimpa Rodrassamee, 31 year old Orchanok Sa-ngadsap, 59 year old Weerachai Srisawat, 69 year old Surat Srisawat, 37 year old Prapat Srisawat, 44 year old Supakit On-aree, 63 year old Preecha Thanapairin and 40 year old Natyanit Mahachot.
SOURCE: Bangkok Post
Keep in contact with The Thaiger by following our
Facebook page
.
Never miss out on future posts by
following The Thaiger
.
Protected hornbill dies from gunshot wound, 2 suspects in police custody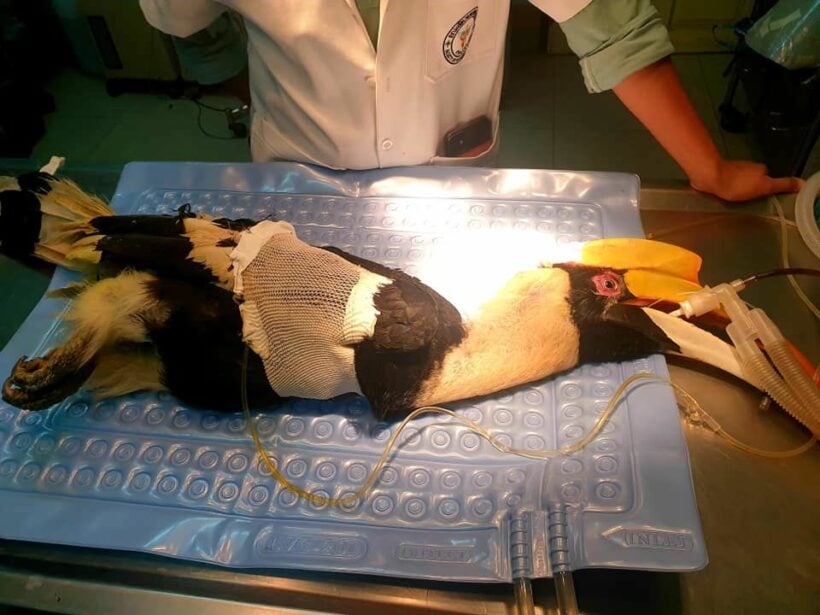 A protected great hornbill died after 5 days of medical treatment for a severe gunshot wound. 2 suspects are now in police custody and officers have seized a .22 calibre rifle, according to Thai PBS.
A tourist found the injured bird near the Khiriphet waterfall on Koh Chang. The hornbill, known in Thai as a nok nguek, was treated at the Nuern Plub Wan animal hospital in Chon Buri. The great hornbill's condition rapidly deteriorated and veterinarian Phadet Siriadmrong says the hornbill suffered brain stem death.
The great hornbill, Buceros Bicornis, is listed as a vulnerable species on the International Union for Conservation of Nature's Red List of Threatened Species. According to IUCN, hunting his substantial threat to the great hornbill.
Hunting poses a substantial threat to the species. Because of its predictable behaviour when regularly visiting the same feeding sites, it is easily targeted by local hunters.
Thailand's Wild Animal Reservation and Protection Act prohibits hunting preserved or protected wild animals. Those found guilty of violating the act could face up to 4 years in prison and a fine up 40,000 baht.
SOURCES: Thai PBS | Bangkok Post | IUCN
Keep in contact with The Thaiger by following our
Facebook page
.
Never miss out on future posts by
following The Thaiger
.