Phuket Gazette Thailand News: Little optimism for breakthrough in Thailand's forgotten jihad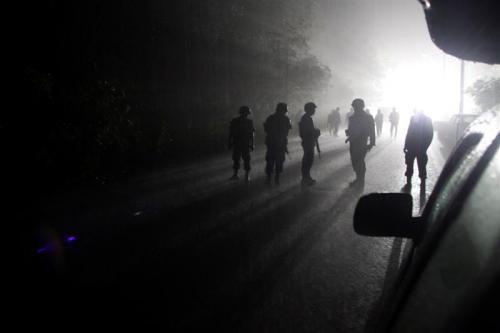 PHUKET MEDIA WATCH
– Thailand news selected by Gazette editors for Phuket's international community
SPECIAL REPORT: Little optimism for breakthrough in Thailand's forgotten jihad
Reuters / Phuket Gazette
PHUKET: Rusnee Maeloh slept through the 30-minute gunfight that killed her husband, but her neighbours in the notoriously violent Bacho district of southern Thailand heard distant explosions and feared the worst.
Mahrosu Jantarawadee, 31, was Rusnee's childhood sweetheart, the father of their two children, and part of a secretive Islamic insurgency fighting a brutal nine-year war with the Thai
government
that has killed more than 5,300 people.
Mahrosu died with 15 other militants while attacking a nearby military base in Bacho district on February 13. Acting on a tip-off, Thai marines repelled the attack with rifle fire and anti-personnel mines. "He died a martyr," said Rusnee, 25, dabbing her eyes with a black headscarf.
Just over two weeks later, the Thai government agreed on peace talks in neighbouring Malaysia with the insurgent group Barisan Revolusi Nasional (National Revolutionary Front, or BRN). Although the first round is set for Thursday, there has been no halt in the fighting and people in the region see no early end to one of Southeast Asia's bloodiest conflicts.
In a rare interview, an operative for BRN-Coordinate, a faction blamed for most of the southern violence, told Reuters the talks were "meaningless" and "tens of thousands" of Malay-Muslims would fight on.
An older generation of insurgent leaders has struggled to control young jihadis like Mahrosu, said the operative, nicknamed Abdulloh. This raises doubts over the BRN's ability to meet the Thai government's key initial demand at the talks: stop the escalating bloodshed.
Thailand is dominated by Thai-speaking Buddhists, but its three southernmost provinces are home to mostly Malay-speaking Muslims. They have chafed under the rule of faraway
Bangkok
since Thailand annexed the Islamic sultanate of Patani a century ago. The latest and most serious violence erupted in the early 2000s.
"This round of talks will not result in any formal deals," said Paradorn Pattanathabutr, secretary-general of the National Security Council (NSC), Thailand's lead agency in the process. "We will ask them to reduce violence towards certain groups and soft targets."
More insurgents were killed during the Bacho raid than in any other single clash since April 2004. But even this rare defeat revealed their growing military sophistication, the depth of local support they enjoy, and their links to Malaysia – long an insurgent safe haven and source of bomb-making materials and other supplies, say security analysts.
Poorly understood
Thailand's southern provinces are only a few hundred miles from Phuket and other tourist destinations, but the insurgency is poorly understood, partly because it doesn't fit the pattern. Long-running sub-national conflicts are usually found in weak or failing states, not along the border of two prospering allies in a fast-developing region.
Thailand's home-grown jihad also rarely blips on the global security radar. That's because the militants have no proven operational link to Al Qaeda or regional terror groups such as the Indonesia-based Jemaah Islamiya, although they do boast a secretive, cell-like structure and are partly driven by post-9/11 jihadi zeal.
The militants, who number in the low thousands, are ranged against 66,000 soldiers,
police
and paramilitary forces spread across a conflict area half the size of Israel. Like their U.S. counterparts in Afghanistan, Thai soldiers face a ruthless enemy sheltering amid a largely hostile Muslim population.
Their pitiless response has further fuelled the insurgency. The dispersal by soldiers and armed police of a protest at Tak Bai town in 2004 led to deaths of 85 Muslim men and boys, mostly by suffocation, after they were stacked four or five deep in army trucks.
Mahrosu Jantarawadee symbolises the divide between Muslims and Buddhists in southern Thailand – a martyr to some, a murderer to others. He was born, killed and buried in Bacho, an area of rice fields and rubber plantations the Thai military calls a "red zone" of insurgent activity.
Hundreds of mourners cried "God is great!" at his funeral in Duku village. Mahrosu's family and neighbours believe he died while fighting a holy war against a Thai government whose harsh assimilation policies have suppressed their religion, language and culture.
Mahrosu is no hero to the authorities or to the relatives of his alleged victims. The Thai military links him to an eight-year streak of gun and bomb attacks that killed at least 25 people. Sometimes, said the military, he shot his victims and then set their bodies alight. His mug shot appears on posters at heavily fortified police stations across the region.
One of his alleged victims was teacher Cholatee Jarenchol, 51, shot twice in the head in front of hundreds of children at a Bacho school on January 23. The children included Cholatee's seven-year-old daughter. "She's scared she'll be killed next," her mother Fauziah, 47, said.
Cholatee was one of at least 157 teachers killed by suspected insurgents since 2004, ostensibly for being government employees.
Stubborn
Mahrosu was advised not to attack the Bacho military base, said Abdulloh, the BRN-C operative. A wiry man in his sixties dressed in a tracksuit and sneakers, Abdulloh met Reuters in a teashop in Yala, the capital of Yala province, in a shabby neighbourhood known locally as "the West Bank".
Like many militants, Abdulloh hides in plain sight in the towns of the region, although he kept the meeting brief and clutched a bag that he said concealed a pistol.
"He wouldn't listen to the elders," Abdulloh said, referring to Mahrosu. "They told him it was too risky to have so many fighters in one place. But he was stubborn and went ahead."
It was Abdulloh's task to monitor the movement of soldiers and police, and to liaise between militant cells and what he called "the elders". He said nine of the 16 dead, including Mahrosu, were "commandos" – well-equipped veterans who join forces with villagers to form platoon-strength units for big attacks.
The Bacho operation illustrated an insurgent attempt to "shift military operations to a higher level", said Anthony Davis, a Thai-based analyst at security consulting firm IHS-Janes. There are relatively fewer attacks than in previous years, but they are often better planned and more lethal, reflecting a "growing professionalization within insurgent ranks", Davis said.
The insurgents are also making more – and bigger – bombs. On March 15, just two weeks after the Malaysia talks were announced, a 100-kg device exploded beneath a pick-up truck carrying three policemen through Narathiwat province, flipping the vehicle and scattering body parts across the road. All three died on the spot.
In towns and villages, insurgents move about with surprising ease, considering the massive deployment of security forces, and pay discreet but regular visits to their families.
"He usually stayed for less than an hour," Rusnee said of Mahrosu. He was already on the run when they married in 2006. Many insurgents manage to raise families. Mahrosu and Rusnee have a six-year-old daughter and a 17-month-old son.
The ability to blend with the population also makes the militants a formidable enemy. Bacho-style insurgent attacks are logistically complex, said Thamanoon Wanna, commander of a Thai marine task force resp
— Phuket Gazette Editors
Thailand News

Join the conversation and have your say on Thailand news published on The Thaiger.
Thaiger Talk is our new Thaiger Community where you can join the discussion on everything happening in Thailand right now.
Please note that articles are not posted to the forum instantly and can take up to 20 min before being visible. Click for more information and the Thaiger Talk Guidelines.