Phuket Gazette Thailand News: HM calls for unity; Protests to resume today; Red-shirts to rally in Ayutthaya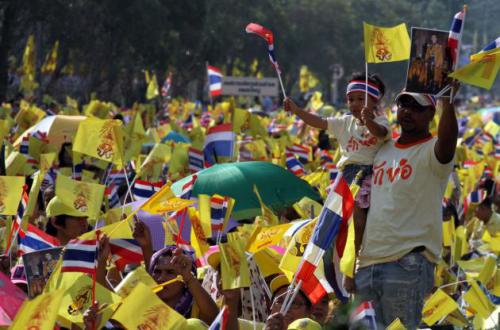 PHUKET MEDIA WATCH
– Thailand news compiled by Gazette editors for Phuket's international community
HM issues call for unity
The Nation / Phuket Gazette
PHUKET: His Majesty King Bhumibol Adulyadej yesterday called on all Thais to carry out their duties for the benefit of their homeland and ensure its security.
In his birthday speech, His Majesty said Thailand had maintained happiness due to unity and because of people who had done their duty for public benefit.
"Thais should be aware of this and be determined to perform their duty for the benefit of the public – which is stability and security of the country," the King said.
Millions of Thais were glued to their TV screens to listen to the live broadcast, while tens of thousands of people gathered along Phetkasem Road in Prachuap Khiri Khan's Hua Hin district to chant "Long Live the King" as the royal motorcade drove past.
His Majesty left Piumsuk Villa, travelled along a portion of Phetkasem Road, and arrived at Rajapracha Samakhom Pavilion of Klai Kangwon Palace at around 10.30am. It is rare for the King to grant audience on his birthday outside the capital. Some of his well-wishers were seen shedding tears of delight as they caught a glimpse of their much-beloved King.
His Majesty, now 86, is the world's longest-reigning monarch and has worked tirelessly for his people throughout his reign. This devotion has earned him the respect and adoration of people, as evidenced by the crowds in Hua Hin yesterday. Some people even travelled from as far as Yala, the southernmost province.
The King granted audience to senior government officials and top military officers at Rajapracha Samakhom Pavilion. Also present were other members of the Royal Family, whose best wishes for the King were delivered in a speech by HRH Crown Prince Maha Vajiralongkorn.
Prime Minister Yingluck Shinawatra then delivered a speech wishing the King a happy birthday on behalf of government officials, soldiers and the people, while Parliament President Somsak Kiatsuranont did the same on behalf of parliamentarians.
Supreme Commander General Thanasak Patimaprakorn then led military officers in taking an oath of allegiance to His Majesty.
The King thanked his well-wishers and urged his people to perform their duties and work together for the good of the country. The King also wished his people happiness and prosperity.
After the ceremony was completed, His Majesty left the pavilion and returned to Piamsuk Villa.
The confrontations between anti-government protesters and the administration have been halted temporarily for His Majesty's birthday. Loyal subjects gave alms to monks, made merit and joined various activities to celebrate the occasion.
On Twitter, many users said they were tearful watching the ceremony and hearing the King's speech.
A foreigner with the Twitter account name @pvdb64 posted, "He is still 'the' light in dark times. He shows all 'the' simple essence of life." Another user @Wimuttipage said, "Today's timeline is really peaceful. It'd be good if every day is like this."
As of 6.14pm, hashtag #WeLoveKingTH was mentioned 258,057 times, #LongLiveTheKing (in Thai) was mentioned 96,250 times, and #longlive the king was mentioned 54,904 times while #WeLoveKingThailand was mentioned 41,892 times.
On Facebook, a lot of Thai users shared pictures and stories or messages wishing the King.
Meanwhile, many Thais shared pictures of them with their father, as HM the King's Birthday is also marked as Father's Day in Thailand.
At Democracy Monument, the main rally site of the anti-government protesters, thousands of people gathered to show respect for the King.
Protest leader Suthep Thaugsuban, speaking at the protest headquarters at Government Complex, said: "What the King said was each side has to preserve the interests of the country, and we are working for the interests of the country. We are not fighting to divide the country but to unite it."
Suthep said yesterday that the truce between the protesters and the government would end today. "[Yesterday] is a day that Thai people nationwide believe is an auspicious day," Suthep said after watching the King's speech. "[Today] the people's movement will continue to eradicate the Thaksin regime from Thailand."
After truce to honour the King, political battle set to resume today
The Nation / Phuket Gazette
PHUKET: Confrontation between the government of Prime Minister Yingluck Shinawatra and protesters led by veteran politician Suthep Thaugsuban appeared set to resume today, as support for both sides was being mobilised yesterday.
After a truce reached in respect of His Majesty the King for the royal birthday yesterday, both sides were preparing for a resumption of their confrontation.
More protesters from the provinces, particularly from the South, will travel to Bangkok today to take part in the street demonstrations, according to some protest supporters. Also, red-shirt supporters will hold a pro-government rally in Ayutthaya next week, according to a red-shirt leader.
The government's Centre for the Administration of Peace and Order (CAPO) convened yesterday afternoon to assess the situation and prepare for coping with renewed demonstrations, Interior Minister Charupong Ruangsuwan said.
Deputy Prime Minister Surapong Tovichakchaikul, who is now in charge of the CAPO, called the meeting, which was also attended by Charupong, Deputy Prime Minister Pracha Promnog, Defence Ministry permanent secretary General Nipat Thonglek, and national police chief Pol General Adul Sangsingkaew.
Nipat said before the meeting that the situation remained fluid as the protesters planned to continue with their street rallies. "We have to prepare for the new moves," he said.
In Phuket, local protest leader Amnuay Kumban said that while a parallel rally would be resumed in the island province, a "considerably large number" of new protesters would be joining the anti-government demonstration in Bangkok. He said that from today, volunteers would be asked to sign up for the Bangkok protest.
More protesters are also expected to arrive from other southern provinces, such as Nakhon Si Thammarat and Songkhla, according to local leaders and sympathisers. They will mainly travel by train and bus to the capital.
In Songkhla, security guards have been trained to provide safety for the protesters in Bangkok, according to Chalee Noppawong, director of a local radio station who has raised funds for protesters from the province. He said that from today, new protesters would begin travelling to Bangkok, mostly by bus.
Meanwhile, red shirts planned a mass rally in Ayutthaya next Tuesday to defend the government and Parliament, Pheu Thai MP and red-shirt leader Weng Tojirakarn said yesterday.
He said the red shirts would express their stand that they would fight to the end to defend the government and Parliament from being toppled by Suthep.
Weng said he expected that tens of thousands of red shirts would join the demonstration after their leaders decided not to rally in Bangkok to avoid confrontation with the anti-government side.
He said Suthep was following in the footsteps of Sondhi Limthongkul, a former leader of the yellow-shirt People's Alliance for Democracy. Weng warned Suthep against attempting to seize Suvarnabhumi Airport as Sondhi did when he led protesters to demonstrate against the People Power go
— Phuket Gazette Editors
Keep in contact with The Thaiger by following our
Facebook page
.
Never miss out on future posts by
following The Thaiger
.
Thailand News Today | Waiting for vaccine, new face of Thailand expats, teacher complaints | Oct 1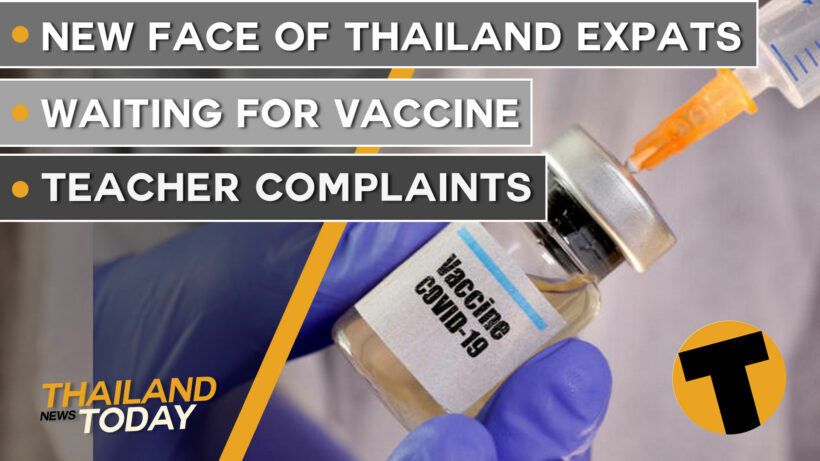 Daily Thai news on The Thaiger. All the latest information about Thailand, Monday to Friday on Thaiger News Today.
Thailand beaches may limit visitors until Covid-19 vaccine is available
Beaches and national parks might not fully open to international tourists until a Covid-19 vaccine is available. The claim comes from the Tourism Council of Thailand president. Around 120 to 150 tourists departing from China are set to arrive in Phuket on October 8 after a 6 month ban on international tourists. They'll have to go through a 14 day state quarantine, but after that, they may not be able to enjoy some of the island's beaches. A report from Bloomberg says it's "unlikely" beaches and parks will fully open to overseas travellers until a vaccine becomes available. At this stage there are still many questions about a successful vaccine either becoming available or the efficacy of such a vaccine even when it is. Then there are questions about whether getting a vaccine will become a condition of travel to Thailand or internationally. For the time being, only tourists on select charter flights with a 90 day Special Tourist Visa can enter the country. "It's good for the country to reopen even if it's just for trial … Once we've tested our reopening plan for a month, we can assess how to go forward and allow more visitors to come in."
Changing face of Thailand's expats
Thailand's dominant working expat nationality in past decades has been Japanese, currently making up 18% of expatriates in the country. But that dominance is about to be overtaken. While Japanese expatriate numbers are decreasing, a CBRE report notes that Chinese and Filipino expats are on the rise in Thailand. There were 28,560 Japanese expats in Thailand as of Q3 2020, just ahead of the Chinese expat contingent at 25,811. As China's manufacturing has shifted overseas and Filipino expatriates have increased in line with local demand for teachers fluent in English, there's been a continuing de-centralisation of the expat communities living in Thailand. You can read more about that report, and the effects on the Thai property market at thethaiger.com
More reports of alleged student abuse, parents file complaint against teacher
More reports of teachers allegedly abusing their students have come to light after a Nonthaburi teacher was caught on video pushing a kindergarten student to the floor, pulling a student across the floor and repeatedly hitting other students. Now more classroom videos of teachers allegedly abusing their students are being widely shared online as well as photos of children's marks and injuries from the alleged abuse. Meanwhile, the main Thonburi school, at the centre of the current allegations, has agreed to pay compensation, including refunding school fees, paying medical costs, and better screening and scrutiny of teaching staff.
Contestant eliminated from Miss Universe Thailand after manager infiltrates organising committee
One of the favourites to take the Miss Universe Thailand title when the contest is held on Saturday, October 10, has just been kicked out for breaking the rules. Chayathanus Saradat, also known as "Cheraim", is accused of allowing her manager and chaperone to infiltrate the organising committee. It's understood he manager, aka "Ken", attended numerous committee meetings, potentially getting the inside scoop on what questions contestants might be asked, and giving his client an advantage. Thailand still has a fascination for the 'beauty contestant' format and there are hundreds of such contests conducted around the country each year.
Police confiscate 300 kilos of marijuana in central Thailand drugs bust
A drugs bust in the central province of Nonthaburi, just north of central Bangkok, has netted 300 kilos of marijuana, valued at around 2 million baht. Anti-narcotics officers confiscated the haul yesterday when they apprehended 3 men in a department store car park. Thai Residents reports that dried marijuana usually fetches around 6,500 baht per kilo on the black market. It's understood this consignment was on its way to a Bangkok-based dealer when it was intercepted.
Keep in contact with The Thaiger by following our
Facebook page
.
Never miss out on future posts by
following The Thaiger
.
Travel agents push to end quarantine for tourists from countries at low risk for Covid-19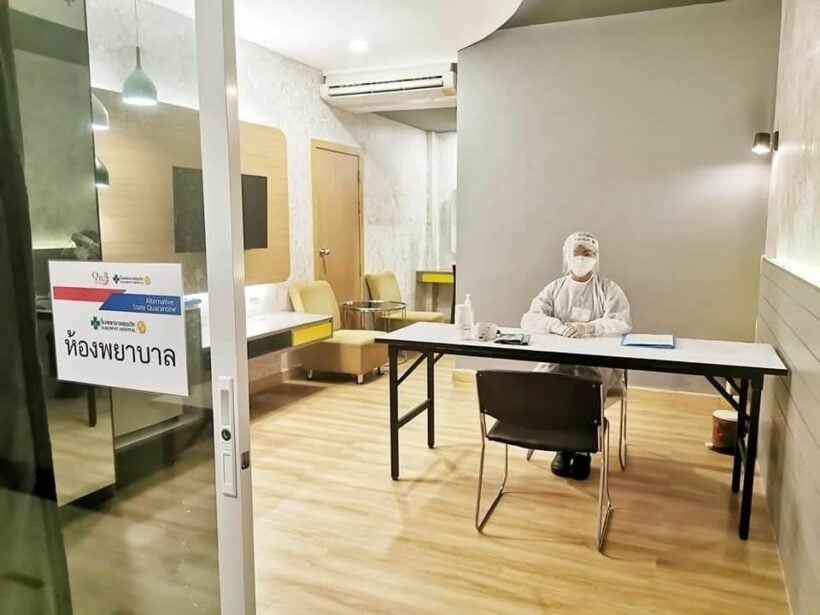 Travel agents are pushing to end the 14 day quarantine required for foreign tourists arriving from countries classified as a very low risk for spreading Covid-19, hoping the government will agree with the idea and start in December. The move could bring in at least 100,000 tourists per month, according to president of the Association of Thai Travel Agents, or ATTA, Vichit Prakobkoson.
The thought of 2 weeks in isolation before enjoying a vacation turns away a lot of potential tourists. Vichit says the idea of quarantine "repulses" them. But some tourists are still onboard with travelling to Thailand, even if that means spending 14 days in quarantine.
Around 120 to 150 tourists on the new Special Tourist Visa are set to arrive next week from China to Phuket after a 6 month ban on international tourists. The tourists are required to quarantine for 14 days at a state approved facility. The new visa allows a 90 stay and can be renewed twice, adding up to about 9 months.
Vichit says new measure won't be enough to revive Thailand's crippled tourism industry which took a hit when the country halted international travel to control the spread of the coronavirus. 1,200 foreign tourists are expected to arrive each month under the new Special Tourist Visa, but Vichit says the number of monthly tourists could increase to 100,000 each month if the quarantine is waived for people from countries consider low risk.
"The government should challenge and revoke the state quarantine, if possible, by this December for certain countries. If so, approximately 100,000 foreigners a month would travel to Thailand and might stay for 5 to 7 days."
SOURCE: Pattaya News
Keep in contact with The Thaiger by following our
Facebook page
.
Never miss out on future posts by
following The Thaiger
.
Opening borders could cause a second Covid-19 outbreak, epidemiologist says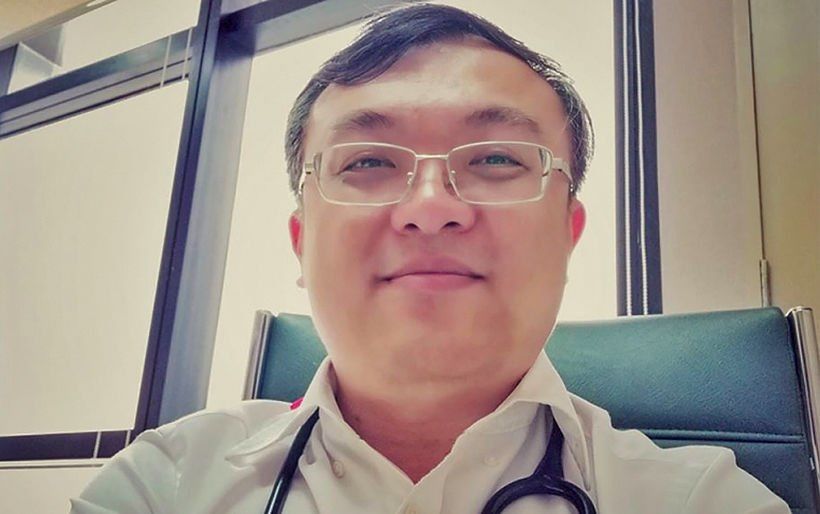 Opening Thailand's borders to foreign tourists may open a "Pandora's box" of Covid-19 infections, according to leading epidemiologist on the Chulalongkorn University Faculty of Medicine Thira Woratanarat. After a 6 month ban on international tourists, the first group of travellers on the new Special Tourist Visa are set to fly from China to Phuket on October 8. Thira says the move puts the country at risk of a second coronavirus outbreak.
"If the country decides to take risks, everyone must rely on themselves because this is a war between virus and humans and people need to survive… The country will be a new endemic area if the government cannot contain the spread of the disease effectively. And even if there is a Covid-19 vaccine, it might be too late."
The 120 to 150 tourists arriving next week on the Special Tourist Visa are required to quarantine at a state approved facility for 14 days. They are also required to be tested for Covid-19 before their flight and before being released from quarantine.
Thira has been vocal for months on his disapproval for opening the borders to foreign tourists and has stood firmly against proposals like so called "travel bubbles." He says the coronavirus cases across globe have continued to raise and warns that people in Thailand should still abide by coronavirus prevention measures like wearing a mask.
"Many countries are still under the severe pandemic and have an infection rate 20 times that of Thailand's, so Thailand will be at a risk of becoming a pandemic hotspot after the country is reopened."
SOURCE: Nation Thailand
Keep in contact with The Thaiger by following our
Facebook page
.
Never miss out on future posts by
following The Thaiger
.