Phuket Gazette Thailand News: Gold sales soar as price falls; Teachers charged for toddler's death; Police corruption probe continues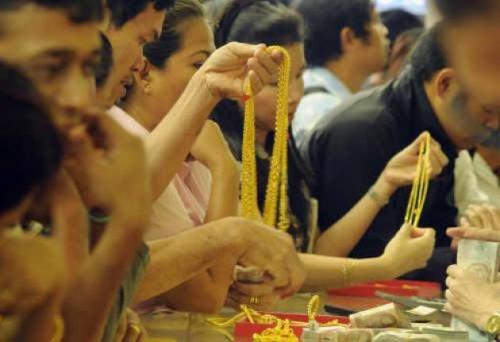 PHUKET MEDIA WATCH
– Thailand news compiled by Gazette editors for Phuket's international community
Gold sales soar as price dips below Bt20,000 per baht weight
The Nation / Phuket Gazette

PHUKET: Local gold has been sold below Bt20,000 per baht weight for the first time since 2011, following a sharp fall in global prices over the past few days.
Bullion for immediate delivery was at US$1,379.50 (Bt39,770) an ounce at one point in London trading, while gold fell to a two-year low of $1,321.95 an ounce yesterday on growing optimism that an economic recovery – particularly in the US – will curb demand for the precious metal as a protection of wealth.
The price of gold bullion has gone down 18 per cent so far this year, after rising six-fold in a 12-year rally through last year.
In an interview with Bloomberg TV, Cypriot Finance Minister Haris Georgiades confirmed yesterday that the Cyprus government planned to sell part of its gold reserves within the next few months.
Sales of assets and gold are a way to raise revenue in order to unlock the €10-billion (Bt380 billion) European Union bail-out package for the ailing island-state.
Thai gold prices were adjusted eight times yesterday for an aggregate cut of Bt2,400 per baht weight to Bt18,950, as business resumed after the long Songkran holiday period.
People buying up
The falling prices drew heavy traffic to Yaowarat gold shops. As some shops remained closed, others were crowded and inventory, particularly that of bullion, ran out.
Hua Seng Heng, the oldest gold shop in Bangkok's Chinatown, had to issue coupons to clients, urging them to pick up their purchases on April 24.
As gold and silver prices changed more than 10 per cent, the Thailand Futures Exchange temporarily halted trading in order to help investors digest news.
Deputy Prime Minister and Finance Minister Kittiratt Na-Ranong, trying to calm the nervousness, said the dip would be short-term as gold remained an asset with relatively high security. Gold-price speculation is normal, he added.
Mathee Supapongse, Bank of Thailand's senior director at the Macroeconomic and Monetary Policy Department, said sliding prices had no impact on the growth prediction, as gold prices had not been taken into account in predicting the economic outlook.
"Gold was set up for having a proper correction," Jim Rogers, chairman of investment company Rogers Holdings, said on Bloomberg TV. "This may be the proper correction and, if so, then it will make a bottom and we can all buy gold again because it is going to be much higher over the decade."
During March and April, many researchers revised down their gold-price predictions for this year. Goldman Sachs, for example, cut its prediction for the precious metal to $1,545 an ounce from the $1,610 it predicted earlier.
"Given gold's recent lacklustre price action, and our economists' expectation that the acceleration in US growth later this year to above-trend pace will support US real rates, we are lowering our dollar-denominated gold-price prediction once again," said the US investment bank. "While higher inflation may be the catalyst for the next gold cycle, this is likely several years away."
France's Societe Generale has also lowered its gold outlook for 2013, to $1,500, while Nomura has cut its prediction from $1,981 to $1,602.
"For the first time since 2008, the investment environment for gold is deteriorating as economic recovery, rising interest rates and still-benign Western inflation [for now] will leave some investors rethinking their cumulative $240-billion investment in gold over the past four years," said the Japanese institution.
Teachers face jail term for toddler's death
The Nation / Phuket Gazette
PHUKET: Police are preparing to press harsher charges against a teacher and an assistant teacher over the death of a young girl who was accidentally locked inside a school van early this month.

Three-year-old Manassanan Thongphu never regained consciousness following the April 3 incident, and died at Bangkok Hospital yesterday morning.
Bang Poo Police Station superintendent Pol Colonel Wichit Boonchitwuttikul said Daorong Srisamung, an assistant teacher, and Santiparp Wanjai, the computer teacher-cum-school van driver, would be charged with recklessness leading to the girl's death.

Initially, they were charged with recklessness that led to her being hospitalised. According to the ongoing investigation, Daorong was responsible for checking arriving students and closing the van's door on April 3. Santiparp was the van driver that day.

If convicted, both face up to 10 years in jail and a maximum fine of Bt20,000.

Wichit said the school would also be held responsible for Manassanan's death.

"This is separate from the civil lawsuits that her parents can file," he added.

The girl's mother, Rattana Nakhonsopa, said she would now focus on arranging the funeral for her daughter and leave it to police to pursue the case.

"I loved my girl so much, it's heartbreaking for us to lose her," said her tearful husband.

The grieving father urged schools to improve safety precautions for all children, irrespective of their age.


Police cancel contract with PCC
The Nation / Phuket Gazette

PHUKET: The Royal Thai Police announced yesterday that it was cancelling the Bt5.848-billion contract it had signed with PCC Development and Construction Co to build 396 police stations nationwide.
Police spokesman Piya Uthayo said the bureau had the right to cancel the contract because the police logistics office and regional committees had reported that the contractor had failed to meet the completion deadline. He said only 12 per cent of the project had been completed over the past 755 days.
Hence, he said, the national police chief had approved the cancellation, effective from today, and the police bureau would notify PCC and other related agencies later.
The police bureau plans to seek Cabinet approval to hire a new contractor for each of the 396 projects so they can start the e-bidding right away. Deputy police chief Worapong Chewpreecha said he had already called a meeting of related officials in relation to the development of the project.
As for the Royal Thai Police's plan to seek compensation from PCC, Piya said the bureau's legal team was working on it, adding that PCC was within its legal rights to file a lawsuit against the police bureau as it had threatened earlier. He said the Royal Thai Police was ready for a court battle.
When asked if taking the case to court would affect the construction of police stations, Piya said there should not be a problem because the goal was to build the stations as soon as possible.
Pol Lt-Colonel Santhana Prayoonrat, who works as adviser to PCC executive Pibul Udomsithikul, was also present at the press conference yesterday.
In response to questions, Santhana said PCC did not know former prime minister Abhisit Vejjajiva, former deputy PM Suthep Thaugsuban and veteran politician Newin Chidchob and that it was just being dragged through the mud for the sake of politics. Abhisit and Suthep are being investigated for alleged abuse of authority in relation to this project.
Santhana said the PCC h
— Phuket Gazette Editors
Keep in contact with The Thaiger by following our
Facebook page
.
Never miss out on future posts by
following The Thaiger
.
Thai sex workers push for prostitution decriminalisation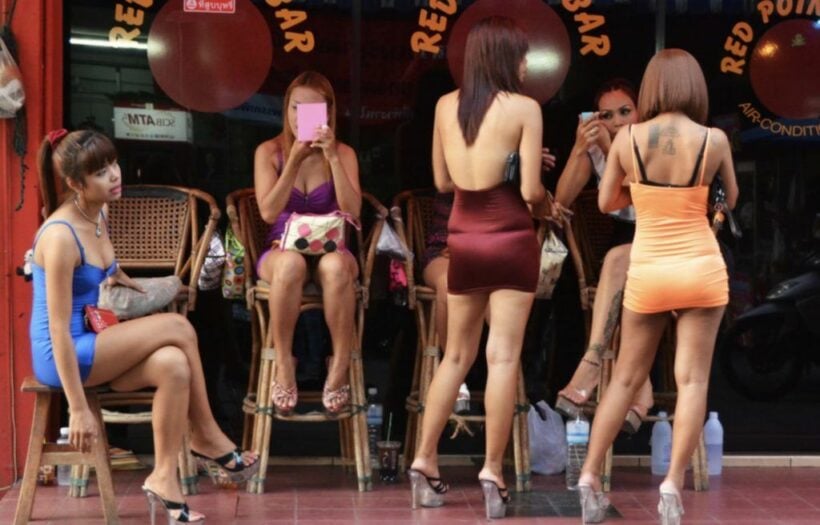 "The Royal Thai Police says just last year more than 24,000 people were arrested."
Prostitution could become further decriminalised in Thailand. A petition is being passed around calling on the government to stop arresting and fining sex workers. The Empower Foundation, which supports sex worker, is trying to collect 10,000 signatures before they send it to parliament. 'EMPOWER', aka. the Centre for Sex Workers' Protection or Moolniti Songserm Okard Pooying, is a non-profit organisation in Thailand that supports sex workers by offering free classes in language, health, law and pre-college education, as well as individual counselling.
"Prostitution is not illegal in Thailand, although many activities associated with it are (brothels, pimping, causing a public nuisance etc.). Nevertheless, it was estimated to be worth US$6.4 billion a year in revenue in 2015, accounting for a significant portion of the national GDP" – Wikipedia
Parts of the prostitution industry were made illegal in the 1960s. Today, many go go bars, massage parlours and popular red light districts marketed to foreign tourists are known for soliciting sex, but most of the sex industry actually caters to Thai men.
Activists say prostitution laws do little to protect sex workers. Fines and arrests for soliciting sex, have pushed some sex workers into poverty, most of them being women, according to Mai Junta, a representative from Empower.
"The law punishes sex workers, 80% of whom are mothers and the main breadwinner for the whole family… It turns us into criminals."
If charged with prostitution, sex workers could face a fine up to 40,000 baht and up to 2 years in prison. The Royal Thai Police says just last year more than 24,000 people were arrested, prosecuted and fined for offences related to prostitution. And people who pay for sex with underage workers can face up to 6 years in prison, according to the Reuters Foundation. Reuters did not report on what penalities people face who pay an adult for sex.
There were an estimated 123,530 sex workers in Thailand, according to a 2014 report from a United Nations agency. But a local prostitution advocacy groups says there are probably at least twice that number in reality. Many sex workers are migrants from Myanmar, Laos, Cambodia and Vietnam. In Pattaya, alone, there were estimated to be over 30,000 prostitutes working before the Covid-19 pandemic hit Thailand and closed the borders.
Surang Janyam, director of the Service Workers in Group, a local organisation for sex workers, says the workers' rights need to be recognised and protected.
"With thousands of sex workers, the industry brings in a significant amount of income to Thailand and sex workers should be protected under labour laws rather than punished under prostitution laws."
"The sex industry generates massive income for the country, but there is no mechanism to protect sex workers."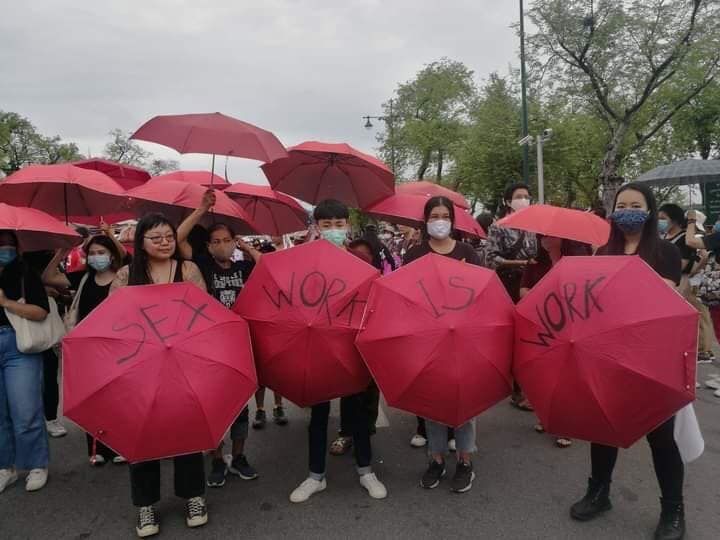 PHOTO: Empower Today
On their Facebook page, Empower Today call for urgent changes to Thailand's Prostitution Act.
"The police intimidating and arresting students are the same police who harass and arrest us. The police cells they are held in are the same cells we are held in. Empower stands with all those demanding an end to oppression. It must include the end of the oppressive Prostitution Act."
The government is already working on amending the country's prostitution laws, according to a spokesperson from the women's affairs department at Thailand's Ministry of Social Development and Human Security. The spokesperson says public hearings would start next year, but did not say what the proposed amendments would be.
"We are aware of complaints regarding rights violations of sex workers due to this law… and we are not neglecting their suggestions to repeal the law."
Thailand has had a long history of officially shunning the country's sex industry, some officials even going so far in the past to say that "it does not exist" in Thailand. But unofficially there is a huge underground cash economy which thrives in Thailand's popular red light hot spots. Read more HERE.
SOURCE: Bangkok Post
Catch up with the latest daily "Thailand News Today" here on The Thaiger.
Keep in contact with The Thaiger by following our
Facebook page
.
Never miss out on future posts by
following The Thaiger
.
Thai cabinet adds 2 more 4-day long weekends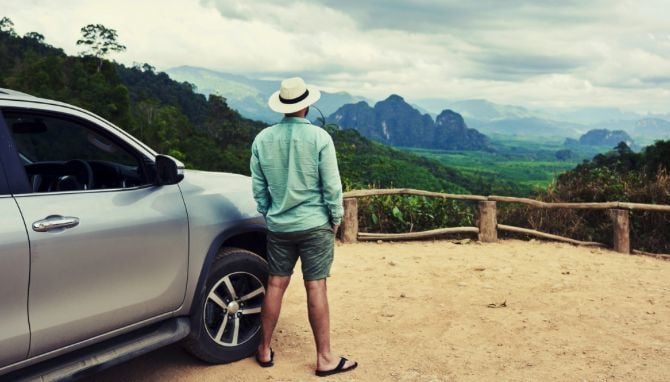 A holiday-led economic recovery. That appears to be a part of the government's agenda following yesterday's meeting of the Thai cabinet. 2 new holiday weekends have been created, one in November, one in December, in efforts to further stimulate the economy. In both cases the extended weekends will be 4 days each, adding the Thursdays and Fridays before the weekend.
Tip: Book any flights early to get the best discount on tickets if you intend to fly anywhere for the newly scheduled long weekends.
Given the exodus of foreigner this week, there will be fewer of the 'stranded' expats and foreign visitors to add to the economic tally of the additional holidays.
The 2 long weekends have now been approved and Thai PM Prayut Chan-o-cha specifically noted that they were intended to stimulate local tourism. A similar 4-day long weekend at the start of this month was a relative success encouraging Thais to go on short breaks, but it did little for the the mostly deserted tourist streets of Phuket, Pattaya and Koh Samui.
The 2 new long weekends were proposed by the Ministry of Tourism and Sports.
In November there will be an extended 4 day weekend which will run from November 19-22 with the Thursday and Friday declared special holiday. The break will fall in the middle of the scheduled school term break between November 13 and December 1. The term break was pushed forward due to the late start of the school term because of the Covid-19 situation in Thailand the late return to class by students.
The school break was pushed back from next month to November due to the Covid-19 pandemic, which forced the current school term to start late.
The second new holiday, in December, will be Thursday, December 10 – Sunday, December 13. Constitution Day falls on December 10 and the annual Father's Day holiday on December 5 has now been pushed back to the following Friday, to create the extended weekend.
So, put it in your diaries…
• November 19-22
• December 10-13
Keep in contact with The Thaiger by following our
Facebook page
.
Never miss out on future posts by
following The Thaiger
.
Thai hotels concerned extra holidays may not benefit all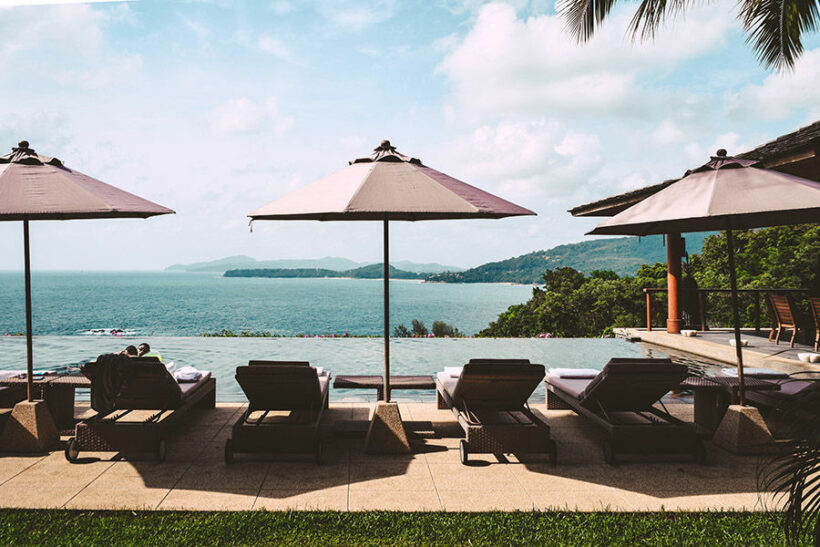 As the Cabinet confirms two additional long weekends in November and December, the country's hotels are concerned that not all operators will benefit. The extra holidays, running from November 19 to 22, and from December 10-13, are being introduced to further boost domestic tourism. Although they have been given a cautious welcome by hotel operators, the Thai Hotels Association points out that some properties will benefit more than others.
The Bangkok Post reports that the THA is concerned about domestic tourists' ongoing purchasing power, due to a number of holiday weekends taking place recently, including the Songkran replacement holidays in July and again earlier this month. The association says there's a chance only those who can afford another trip will travel during the November and December holidays, and their spending power means they're more likely to book higher end, 5-star properties.
THA president, Marisa Sukosol Nunbhakdi, says not everyone will be able to afford air tickets, in addition to hotel accommodation and the cost of leisure activities at their destination. If only the wealthier can travel, they are also more likely to favour luxury accommodation.
"When luxury hotels have more affordable prices after enrolling in domestic stimulus campaigns, tourists who still have strong purchasing power will pick these hotels first."
Marisa adds that with all properties sharing the same small pool of target customers, namely Thai citizens and expats, competition is tough. She is calling on the government to provide additional incentives to help operators outside of the luxury, 5-star category. The THA acknowledges that the November and December holidays are likely to provide a boost for hotels in the north of the country, which is usually popular during the winter season.
During the recent holidays, hotel bookings were up 20 – 30%, with some hotels enjoying a 40% increase due to their location. Marisa says the huge slump in international tourists means properties are now relying on government conferences and seminars to make up some of the shortfall. However, the delay in budget spending from October will have a negative impact.
"Hotels should have higher bookings from state agencies for October, but the delayed budget has stagnated this segment."
With most operators still struggling with debts, the THA is calling on the Finance Ministry to extend the debt moratorium and to create a tourism fund whereby hotels can use their shares to avail of loans, re-purchasing the shares once financial stability returns.
SOURCE: Bangkok Post
Catch up with the latest daily "Thailand News Today" here on The Thaiger.
Keep in contact with The Thaiger by following our
Facebook page
.
Never miss out on future posts by
following The Thaiger
.