Phuket Gazette Thailand News: Gambling talk hits tourism tables; B2trn transport plans; No visas for Gulf medical tourists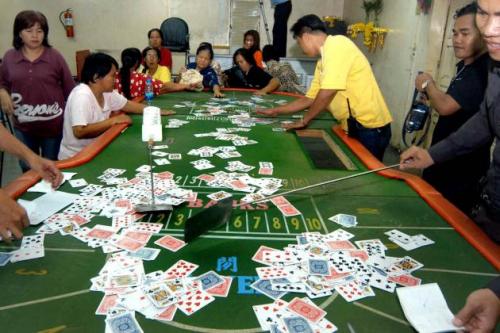 PHUKET MEDIA WATCH
– Thailand news compiled by Gazette editors for Phuket's international community
Kingdom must consider legalised gaming soon, tourism forum hears
The Nation / Phuket Gazette
PHUKET: The nation's pre-eminent gathering of tourism and travel-industry experts has concluded that while Thailand looks headed for its best year ever for tourist numbers and revenues, action to legalise gaming, improve infrastructure and attract "quality" travellers is urgently needed ahead as establishment of the Asean Economic Community (AEC) nears.
More than 350 tourism-industry movers and shakers attended the Thailand Tourism Forum at the InterContinental Bangkok recently, voting on key issues facing the industry and setting alarm bells ringing about the country's long-term competitiveness in the region.
Bill Barnett, co-organiser of the forum and managing director of C9 Hotelworks, said more than 60 per cent of respondents at the event who participated in the Thailand Tourism Index survey believed legal casinos would be an important factor in Thailand remaining competitive with other economic and tourism powers in the region.
"Thailand's tourism [industry] needs to study very carefully the issue of gaming and other demand generators to attain sustained volume growth," he said. "There is a very real risk of us slipping behind places like Singapore and Macau in terms of visibility, branding and revenues. Thailand is also facing a glut of hotel rooms, so we need big draw cards like casinos as key drivers of demand."
More than 80 per cent of those voting agreed that Thailand was now staring down the barrel of an oversupply of rooms and that urgent action was required.
Among them were keynote speakers at the forum and notables including Dillip Rajakarier of Minor Hotel Group, Chanin Donavanik of Dusit Hotels and Resorts, Peter Henley of Onyx Hospitality and Hotels, Robert Hecker of Horwath HTL, Paul Logan of InterContinental Hotels Group, Jonas Ogren of STR Global, David Keen of Quo Global and John Koldowski of the Pacific Asia Travel Association.
Barnett said the Thailand Tourism Forum was the country's first report card on the state of the industry and an opportunity to look beyond the numbers at how tourism performance can affect a country's entire economy.
The Tourism Authority of Thailand (TAT) aims to welcome 24.5 million international visitors this year, after a 15-per-cent increase last year that earned the country more than Bt965 billion, up 24 per cent from 2011.
Among the top source countries for international visitors, China stays at the top, followed by Malaysia, Japan, Russia, South Korea, India, Laos, Australia, the United Kingdom and Singapore.
'Elephant In The Room'
Barnett said mass tourism was the "elephant in the room".
"As Wall Street learned, nothing grows forever. Thailand needs to learn the lessons of a volatile trading environment and focus on developing stronger infrastructure and perhaps temper growth targets and create more healthy segmentation than simply more, more, more."
The AEC is undoubtedly a "game-changer", and will accelerate the impetus that has been building for a less divided Asean ever since the global financial crisis thrust Thailand and the region on to the world stage in 1997, he said.
"The AEC will only create a stronger fundamental for this going forward. Boosted by rising low-cost airline carriers and a growing middle class, we expect this trend to dominate the market during this decade."
The AEC comprises the economic integration of all 10 Asean member states by 2015, with the goals of creating a single market and production base.
More freedom of travel and likely single-issue visas for the entire Asean region also raises security issues for travellers and nations but is not a reason to be too pessimistic, Barnett said.
"The euro zone has effectively handled this for an extended time, and I believe with appropriate technology and increased cooperation between intelligence services and police in Asean, that risk can be mitigated. Ultimately the benefits far outweigh the downside."
Mike Batchelor, managing director of investment sales at Jones Lang LaSalle Hotels and Hospitality Group and a keynote speaker at the conference, said Bangkok was expected to replace Phuket as Thailand's hospitality-investment hot spot. The new real-estate investment trust law is likely to lead to an increase in property transactions, bolstered by increasing levels of international investment as global economies recover.
Anti-money laundering agency eyes more dens
The Nation / Phuket Gazette
PHUKET: The Anti-Money Laundering Office (AMLO) last month seized the Tao Poon casino in Bang Sue district, and has two or three more illegal gambling dens in its sights.
The land on which the Tao Poon casino sits is worth Bt10 million. Sihanart Prayoonrat, director-general of AMLO, said yesterday that Samart Singjamnong, the food vendor listed on the title deed as the owner of the land, was just a "nominee".
Police would trace money transactions to determine who the real landowner was, he said.
The land had been subleased a few times and currently was rented to gambling den operator Winyoo Sri-ngernyeung, he said. AMLO instructed the Lands Office to freeze the property and notified the owner about the action on January 29, he said.
If the owner couldn't convince authorities within 90 days that the source of funds used to acquire the parcel was above board and the site wasn't used for vice activities, AMLO would ask the public prosecutor to seek a civil court order to transfer the land to the state.
This wasn't a political move or discrimination against a certain group, he said.
A major raid was launched on the Tao Poon den on December 21, 2011, when 100 police officers swooped in and arrested 199 gamblers and a woman dishwasher were arrested.
Many slot machines and gambling paraphernalia, as well as chips worth millions of baht, were confiscated. The operation behind metal gates was protected by the Tao Poon community, which reportedly refused to cooperate with police in catching the gamblers, so it was difficult for police to gain access.
AMLO also seized Yihad Witthaya School in Ban Tha Dan of Tambon Taloh Kapo in Pattani's Yaring district, which was found to be used as a training facility for separatist militants, he said. The 14-rai parcel on which the school was located had an estimated value of Bt590,000, he said.
Bt2-trillion transport plans to go to Cabinet
The Nation / Phuket Gazette
PHUKET: The Transport Ministry will propose three blueprints requiring almost Bt2 trillion to the Cabinet on Tuesday as part of the country's plan to spend Bt2.2 trillion to build basic infrastructure.
PM's Office Minister Varathep Ratanakorn said yesterday that one blueprint was for transport connectivity with eight projects worth Bt190.4 billion. The second was for the infrastructure development for sustainability with nine projects worth Bt1.55 trillion, of which most was for rail systems such as the high-speed train network, dual tracks and 10 mass-transit routes in Greater Bangkok.
The third was for mobility with 10 projects worth Bt158.86 billion. The focus would be
— Phuket Gazette Editors
Keep in contact with The Thaiger by following our
Facebook page
.
Never miss out on future posts by
following The Thaiger
.
Ministry of Labour, CP Foods to hire 8,000 graduates to help reduce unemployment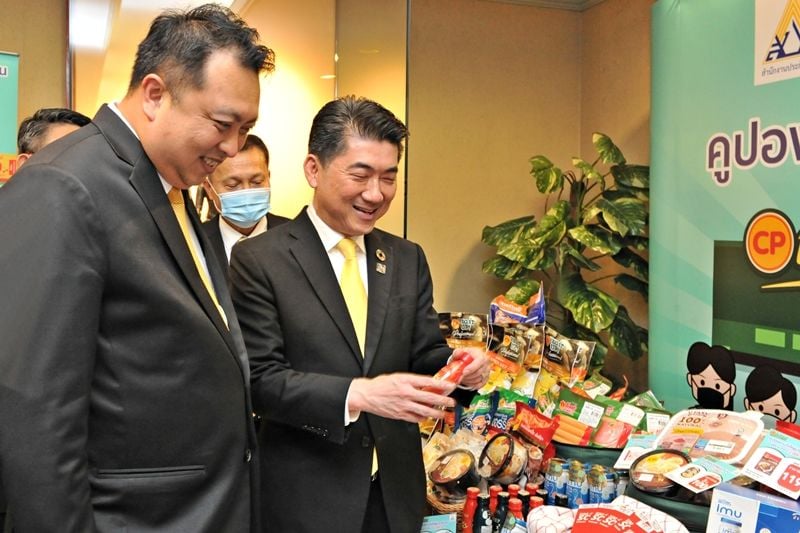 To help reduce unemployment and boost the economy after the pandemic, 8,000 graduates will be hired by the company Charoen Pokphand Foods, known as CP Foods. Thailand's Ministry of Labour recently signed a memorandum of agreement with the company.
4,000 of those jobs will be in Bangkok and metropolitan areas while the other 4,000 more in the upcountry. The job offers vary from positions in the computer science field to positions in the culinary industry.
Labour Minister Suchart Chomklin says the government has a policy to unite all sectors of the society to revive the economy from the coronavirus crisis that caused job cuts, leaving many unemployed, especially new graduates.
He adds that CP Foods has been constantly supporting the government in Covid-19 relief effort since the beginning of the outbreak. This post Covid-19 collaboration will create stability for people at all levels and build more small and medium sized enterprise, or SME, owners that are the foundation of Thai economy.
There's also a discount coupon giveaway from CP Foods and the minister says it will help reduce cost of living for people who are eligible for social security benefits.
CEO of CP Foods Prasit Boondoungprasert says CP Foods is managed in line with the parent group CP Group's policy, to solve the Thailand's unemployment problem, particularly for new graduates, by creating job opportunities and job security. He says it's an "engine for economic revival."
CP Foods will also provide a business opportunity for SME franchises like FiveStar and STAR Coffee, which need a small budget and small space to kick off.
The company will also offer training courses with experts to guide them to start up the business. It expects to create 4,500 franchise owners nationwide.
CP Foods will have a book at the Job Expo Thailand 2020 this Saturday until Monday at the Bangkok International Trade & Exhibition Centres, or BITEC. Those interested can click HERE for more information.
To learn more about starting a FiveStar franchise click HERE and for a STAR Coffee franchise click HERE.
Keep in contact with The Thaiger by following our
Facebook page
.
Never miss out on future posts by
following The Thaiger
.
Empire strikes back: Thai royalists oppose constitution changes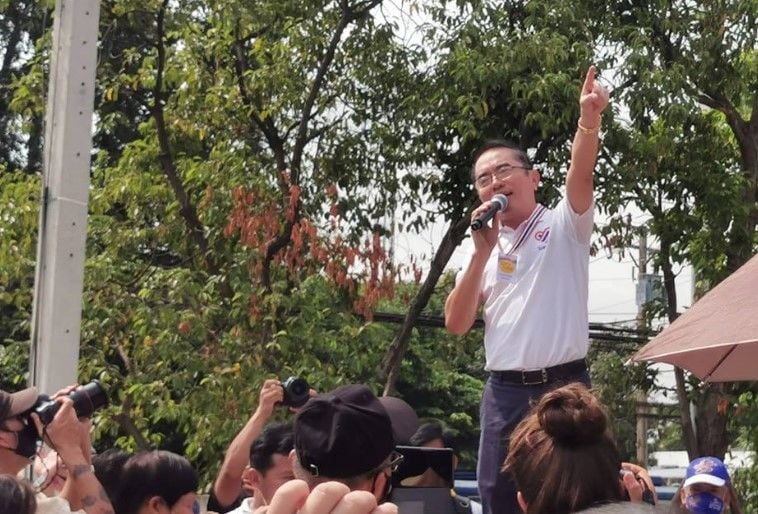 Just after proposed constitutional amendments, backed by pro-democracy supporters, were submitted to the Thai parliament, the Thai Pakdee royalist group filed a petition with 130,000 signatures saying they are against making changes to the constitution.
Pro-democracy activists have been demanding a rewrite of the Thai constitution at protests over the past few months. The nonprofit organisation Internet Law Reform Dialogue, known as iLaw, drafted amendments including one that would require all senators and local administrators to be elected. Currently Thailand's entire Senate is hand-picked by the ruling party. More than 100,000 people back the proposed changes.
"There's no need to make changes", according to Former Democrat MP and leader of Thai Pakdee Warong Dechgitvigrom. He says the 2017 Constitution was approved by 16.8 million people (Thailand's population is 69.4 million).
"Redoing the process would cost 15 billion baht in taxpayer money. On top of that, it would require 2 referenda and a general election."
According to Thai PBS, 84 of the 250 senators need to be on board to move forward with revisions to the constitution. At the moment, around 60 of them are in favour of constitutional amendments while 100 oppose any changes and the rest are undecided. But Senators against the amendments might change their minds, according to Senate whip Sangsit Phiriyarangsan. He says he believes more senators will be in favour of making some amendments after hearing debates in parliament.
SOURCES: Thai PBS
Keep in contact with The Thaiger by following our
Facebook page
.
Never miss out on future posts by
following The Thaiger
.
Thailand News Today | Surachet sues, The Nude Panda | September 23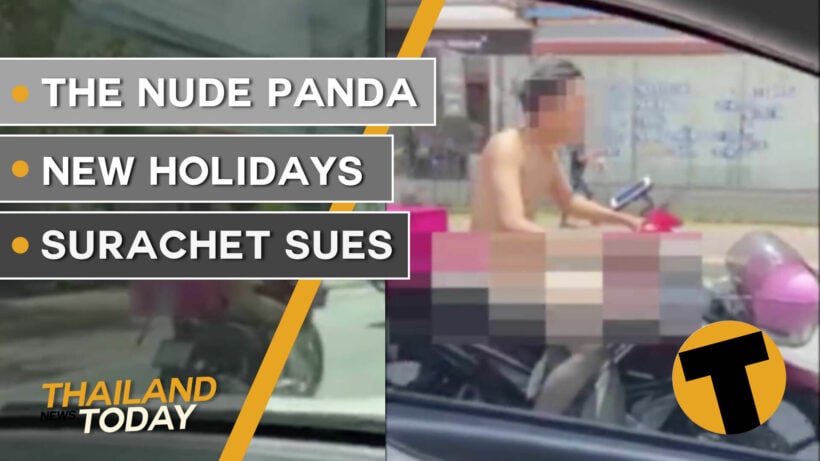 Daily TV News from The Thaiger
Former immigration chief, "Big Joke" suing Thai PM over transfer
The former head of Thai Immigration, and poster boy for Thai officialdom, Surachet Hakparn, is taking legal action against Thai PM Prayut Chan-o-cha, after the PM had him unceremoniously transferred to an inactive post last year.
Surachet, commonly known by the nickname "Big Joke", (a nickname given to him by Thai media) accuses the PM of transferring him without just cause and has been petitioning for a review of the decision ever since.
At the time there was no reason given for the high-profile head of Thailand's Immigration to be 'side-lined' to desk duties at the PM's office.
Surachet's lawyer says that in the 1 year and 5 months since his client's transfer, there has been "no investigation launched against him" and that he should immediately re-instated.
At the height of his fame, in 2017 and 2018, Surachet's face was everywhere in daily media reports, often seen with hordes of foreigners his team had 'rounded up' in immigration crackdowns around the country.
But at some point, he appears to have stepped on the wrong toes, calling into question procurement practices at the Immigration Bureau, amid plans to spend billions on smart cars and the airports biometrics system. Surachet was dumped and sidelined… the purchases went ahead.
4 Thai banks to be investigated for "suspicious transfers" after FinCEN files report
4 Thai banks are being investigated after an international money laundering report said the Thai banks had "suspicious financial transactions." The report found 92 "suspicious" transactions in and out of Thailand totalling to $9,558,752 USD received in Thailand and $31,750,000 USD sent out.
Files were allegedly leaked from the US Financial Crimes Enforcement Network.The FinCEN Files report"reveals the role of global banks in industrial scale money laundering," citing a total of $2 trillion USD in suspicious global transactions from 1997 to 2017.
The Thai Anti-Money Laundering Office plans to investigate Kasikorn Bank, Bangkok Bank, Krungthai Bank and the Export Import Bank of Thailand. But he says the information from the international report needs to be verified first.
Thai sex workers push for prostitution decriminalisation
Prostitution could become further decriminalised in Thailand. A petition is being passed around calling on the government to stop arresting and fining sex workers.
The Empower Foundation, which supports sex worker, is trying to collect 10,000 signatures before they send it to parliament. Also known as the Centre for Sex Workers' Protection, Empower is a non-profit organisation in Thailand that supports sex workers by offering free classes in language, health, law and pre-college education, as well as individual counselling.
"Prostitution is not illegal in Thailand, although many activities associated with it are… like brothels, soliciting, pimping and causing a public nuisance etc. Still the underground industry is estimated to be worth US$6.4 billion a year.
Activists say prostitution laws do little to protect sex workers. Fines and arrests for soliciting sex, have pushed some sex workers into poverty, most of them being women. Thailand is estimated to have up to 200,000 sex workers, many of them now unemployed with no recourse to unemployment benefits or official help during the pandemic.
Thai cabinet adds 2 more 4-day long weekends
A holiday-led economic recovery. That appears to be a part of the government's agenda following yesterday's meeting of the Thai cabinet. 2 new holiday weekends have been created, one in November, one in December.
In both cases the extended weekends will be 4 days each, adding the Thursdays and Fridays before the weekend. Given the exodus of foreigner this week, there will be fewer of the 'stranded' expats and foreign visitors to add to the economic tally of the additional holidays.
So, put it in your diaries…
• November 19-22
• December 10-13
Nude Panda: naked food delivery man hit with 500 baht fine
A man working as a food delivery driver in the southern province of Songkhla, has been filmed riding his motorbike totally naked. The 24 year old later handed himself in to police, explaining that he'd taken his clothes off due to "a personal problem".
The nature of the problem is not known, and police let the man go with a 500 baht fine.
A video was posted on social media, showing the naked young man hurtling along on his motorbike, which had a food delivery bag on the back. The video has now been deleted. According to a motorbike taxi driver witness, the man parked his bike in front of a local temple, removed his clothes, then got back on the bike and drove off.
Social media response was mixed with most just inquisitive about his motives to ride "commando" with little protection, actually no protection at all.
Keep in contact with The Thaiger by following our
Facebook page
.
Never miss out on future posts by
following The Thaiger
.