Phuket Gazette Thailand News: Floods rage in Isarn; 17 killed in pickup crash; Hmong Bt344mn drug bust; Supercar probe stalls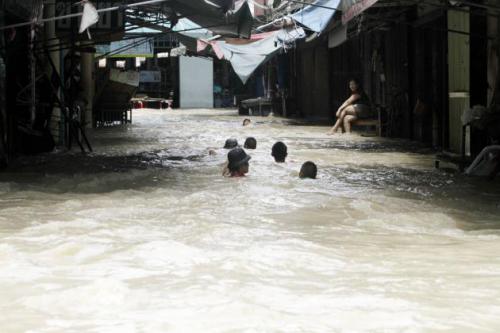 PHUKET MEDIA WATCH
– Thailand news compiled by Gazette editors for Phuket's international community
Lack of water-drainage options blamed for Isarn inundation
The Nation / Phuket Gazette
PHUKET: The Royal Irrigation Department is blaming the raging floods in the East on the lack of water-drainage options.
Many areas in the region have been under water for more than a month already.
"The region has been relying on local rivers for water draining; there's nothing else," the department's deputy director general, Suthep Noipairoj, said yesterday.
He said that though there are plenty of reservoir projects in the works for the region, none of them has been completed yet. For instance, the Huai Samong Reservoir in Prachin Buri's Nadi district is scheduled for completion in 2017.
"We need to invest more in this," Suthep said, though he admitted that the continuous downpours were also to be blamed.
According to Prachin Buri Governor Jitra Phomchutima, her province has been getting about 200 millilitres of rain per day since September 19. The province spans an area of just over 7,500 square metres.
Serious inundation
"The province has more than 1.1 billion cubic metres of water now," she said.
Jitra went on to say that the only channel to drain water was through the Prachin Buri River, which is already brimming over.
The Disaster Prevention and Mitigation Department said 17 boats have so far been deployed on the river to help with the water drainage.
Neighbouring province Sa Kaew is also struggling with serious flooding. So far, about 100 families in Khao Chakan district have been evacuated due to high flood levels in their hometown.
As of press time, floods have ravaged 28 provinces and affected the lives of some 1.98 million people.
Suwan Dejkhum, a vendor at the Lam Nang Rong Dam in Buri Ram's Non Din Daeng district, said flooding was hurting business very badly.
"The dam usually attracts tourists, but with the flooding nobody is showing up. We can't earn anything," she said.
Floods raise questions on Bt120bn prevention measures
The Nation / Phuket Gazette
PHUKET: The Government budgeted Bt120 billion to repair the vast damage from the Great Flood of 2011 and protect the country from repeat rainy-season disasters, but the recent swamping of at least 35 provinces shows the scheme has failed to do the job very well.
The Bt120-billion budget was allocated to 19 agencies including the Transport Ministry, Public Works and Town and Country Planning Department, Water Resources Department and Irrigation Department for 154 projects in 30 provinces under the flood recovery and reconstruction scheme.
The projects included the restoration of damaged equipment and construction of dykes, sluice gates, pump stations and flood-prevention roads (click
here
to see high-resolution graphic).
Most of the projects were completed and were said to be ready to tackle flooding, until the recent deluge proved otherwise.
Prachin Buri's case was a good example to show that the equipment and construction could not control and prevent flooding, Assoc Prof Bancha Kwanyuen, dean of engineering at Kasetsart University, told The Nation yesterday.
For example, the riverside dykes, instead of protecting the city, helped raised the river level and increase the current speed.
"I have seen that the Tha Chin River's bottleneck was not given attention and dredged by any authority to improve discharge capacity. They just dredged somewhere else, which was not the obstacle to flood drainage," he said.
Besides, the Bt120-billion scheme didn't link with the Bt350-billion water management and flood prevention scheme, which is undergoing public hearings before contracts can be signed with the four bid-winning contractors, he said.
Apichart Anukularmphai, chairman of the Water and Flood Management Commission's committee on academic affairs, said that although the Bt120-billion scheme had been completed, there was no agency to monitor the equipment and project effectiveness.
Suthep Noipairoj, deputy chief for operations and maintenance at the Irrigation Department, insisted the dykes and sluice gates built by his department along the Chao Phraya River could be used to prevent floods effectively.
"The dykes can still do their job in preventing floods this year," he said.
Maitree Pititanon, director of the Ayutthaya Irrigation Project, said all of the flood-handling equipment and civil works in the area were restored under the Bt120-billion scheme and could be used to prevent flooding.
For example, this year his agency diverted floodwater into the four retention areas covering over 100,000 rai of land – Thung Bang Ban 1, Thung Ban 2, Thung Phak Hai and Thung Maharat. The roads, now raised by more than three metres, were used as barriers to control the direction and block floodwaters, he added.
Deputy Transport Minister Pong Chewananth said his office spent over Bt7.5 billion to construct road networks to be used as flood embankments in Bangkok and nearby cities along both sides of the Chao Phraya River.
On the eastern bank, roads were elevated by over 50 centimetres above the 2011 flood level and a dyke was also installed along the roads.
The elevated roads covered the Pa Sak River, Southern Rapeepat Canal, Khlong 13 Canal and Eastern Rapeepat Canal.
On the western bank, the elevated road extended from the Phraya Banlue Canal to the Tha Chin River and Mahasawat Canal.
"The road construction is nearly completed and I'm sure they can be used to prevent floods this year," he said.
Sirichai Kunanopparat, former deputy director-general of the Water Resources Department, said the department had received Bt5.8 billion to improve the discharge capacity of water resources and purchase over 200 pumps to help drain water.
The infrastructure could be used to prevent floods, he said
17 killed, seven injured in Buri Ram crash
The Nation / Phuket Gazette
PHUKET: A pickup carrying Laotian migrant workers skidded off a road and crashed into a tree in Buri Ram yesterday morning, killing 17 people on board, including the driver and two heavily pregnant women. Seven others were also injured, six of them seriously.
Passenger Phu Liamwonglad, 30, was the only person in a fit enough condition to give a statment to police.
"There were 24 people on board including the driver," he said, adding that he and his wife paid more than Bt2,000 to hitch a ride in the pickup from Samut Prakan to the border province of Ubon Ratchathani. They were heading home to Laos.
The driver, identified as Chawalit Thavornkham, 34, is believed to have taken an alternative route to reach the border checkpoint in order to avoid police detection.
"The main road is more convenient, but there are police checkpoints," a source said.
Buri Ram's deputy police chief Colonel Prayut Phokaeokul said a methamphetamine tablet was found on Chawalit's body, as well as a bottle of alcohol next to his seat.
Thailand News Today | Immigration deadline, quarantine update?, arrests averted | October 30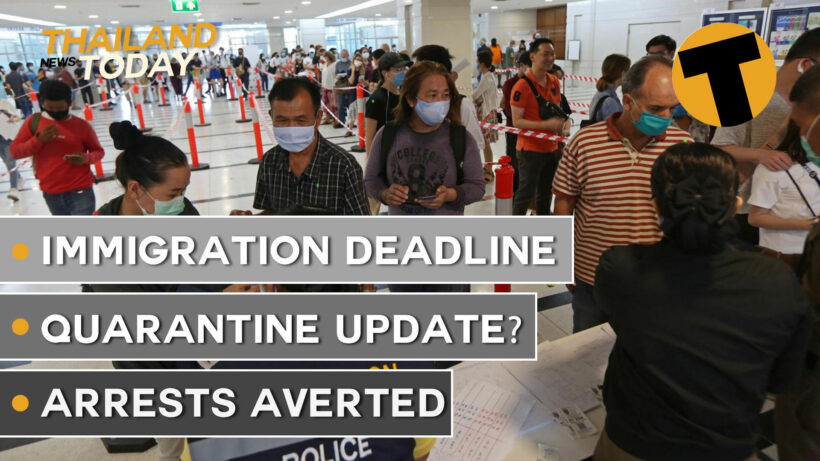 Last day of the week and all the main stories from around Thailand. Thailand News Today, a bit late today but here it is…
Some immigration offices open tomorrow for last minute visa extensions
The latest amnesty is up tomorrow (October 31) and some immigration offices will be open for those who still need sort out their visa extensions.
Those who miss the deadline could face fines for overstay, immigration officials warn. The extensions all go into effect from November 1 and allow a 60 day stay.
Some immigration offices that are typically closed on Saturdays will be open tomorrow for those filing for extensions. Immigration Bureau commissioner Sompong Chingduang says immigration offices on Chaeng Watthana Road in Bangkok and at Muang Thong Thani in Nonthaburi, just outside Bangkok city, will be open tomorrow from 8.30am to 4.30pm. Check with your local immigration office.
Court rejects bid to arrest activists who led march on German Embassy
A bid to apprehend 5 anti-government activists who led a march to the Germany Embassy on Monday has failed, after a court in Bangkok rejected a police application for arrest warrants.
The Bangkok South Criminal Court has turned down the application for arrest warrants.
The 5 would have faced charges of sedition and other offences. But the court told officials to instead issue a summons, given that the protesters are students who only gathered for a short time and are unlikely to flee.
On Monday, protesters marched to the German Embassy to submit a petition calling on the country's government to investigate whether Thailand's Head of State conducted official business while in Germany. Which nicely segues to the next story…
German government does not believe the Thai Monarch broke the law on conducting state affairs
The German government does not believe the Thai Monarch broke the law on conducting state affairs during his time in the German state of Bavaria.
Germany says His Majesty the King has not violated the European country's ban on conducting foreign politics on German soil where he resides. The government in Berlin briefed lawmakers this week, saying the Thai Monarch is allowed make occasional decisions regarding Thai state affairs, but he cannot continuously conduct business from overseas.
So far, the German government says they do not believe the King Maha Vajiralongkorn "continuously" conducted Thailand state business during his residence in Bavaria.
PM to visit Phuket on Monday as island's economy lies in tatters
PM Prayut Chan-o-cha is heading to Phuket on Monday, where he will meet with local business leaders and discuss proposals to help revive the southern island's devastated tourism sector.
Despite Phuket Models and any number of promises from the Thai tourism sector, Phuket remains in a perilous situation whilst the government keeps its borders closed. Almost 100% of Phuket's economy is derived directly or indirectly from tourist traffic.
Health officials propose reducing quarantine to 10 days
Health officials are suggesting cutting mandatory quarantine for international arrivals to 10 days. We've heard it all before but the idea has risen to the top of the Health Minister's file again.
Health Minister Anutin Charnvirakul says the proposal will be submitted to the CCSA for approval. It's hoped that a reduction in the quarantine period could help revive Thailand's battered tourism sector. Only a tiny handful of STV tourists have arrived on the the tourist visa over the past month. The health minister said…
"The priority now is to strike a balance between people's health and the economy. Thailand still has to rely on foreign tourists. Re-opening the country to foreign visitors will help put the economy back on track."
The Minister didn't say where all these tourists might come from or speculate when a reduction on the quarantine period might be introduced.
Police arrest woman for allegedly selling fashion dental retainers
Police have arrested a woman for allegedly selling and fitting fashion dental retainers and braces.
Police seized equipment used for making dental casts and retainers found at her home in Ratchaburi and charged the 27 year old with illegally fitting fashion dental retainers.
The woman has allegedly been selling the retainers on a Facebook page under the name since November 2017, targeting mostly teenage students.
In Thailand, braces and retainers are a fashion trend and also seen as a symbol of wealth. The Thaiger suggests that if you want a set of straight teeth, go to an orthodontist.
Floods in NE Thailand as Vietnam mops up after typhoon
Flooding persists in four north eastern provinces, including Nakhon Rachasima as of this morning. All in the wake of the weakening tropical depression that crossed the Vietnamese coast on Wednesday as Typhoon Molave.
'Molave' was the most powerful typhoon to hit Vietnam in 20 years. The remnants of the tropical depression are now centred over the west of Thailand where it continues to drop plenty of rain.
At least 35 people are dead, 100s injured, and 50+ missing in Vietnam as disaster mitigation authorities are now reaching some of the worst hit areas in central Vietnam.
Keep in contact with The Thaiger by following our
Facebook page
.
Never miss out on future posts by
following The Thaiger
.
Lockdown may contribute to Thailand's rise in dengue fever cases, study suggests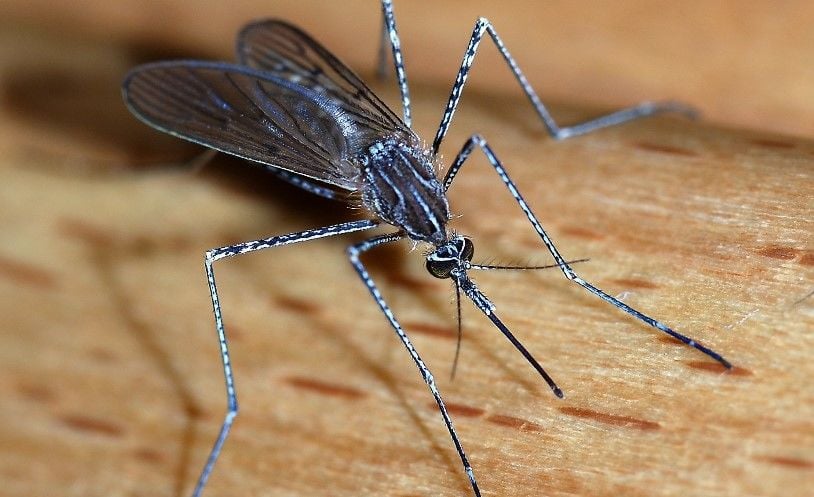 Social distancing and lockdown measures may have contributed to a rise in dengue fever in Thailand, according to a recent study funded by the Singapore Ministry of Health's National Medical Research Council.
Researchers, which included scientists from the University of Singapore, examined dengue fever cases in Malaysia, Singapore and Thailand. No impact on the dengue transmission was found in Malaysia or Singapore, but in Thailand, they found that social distancing may lead to an increase in the number of coronavirus cases. They say the largest impact is in Bangkok Researchers say social distancing is expected to lead to 4.32 additional dengue fever cases per 100,000 people in Thailand each month.
Many people in Thailand stayed at home during lockdown measures put in place to control the spread to the coronavirus, but the study found that people in Thailand are typically bitten by dengue-carrying mosquitos at home rather than at work. Some people even travelled back home to their home provinces to be with their families during the lockdown period.
"Although it is possible for dengue infections to occur in workplaces, it was found in one study that 60% of dengue cases live less than 200m apart came from the same transmission chain, revealing that residential areas are a focal point of transmission."
Reported dengue fever cases in 2019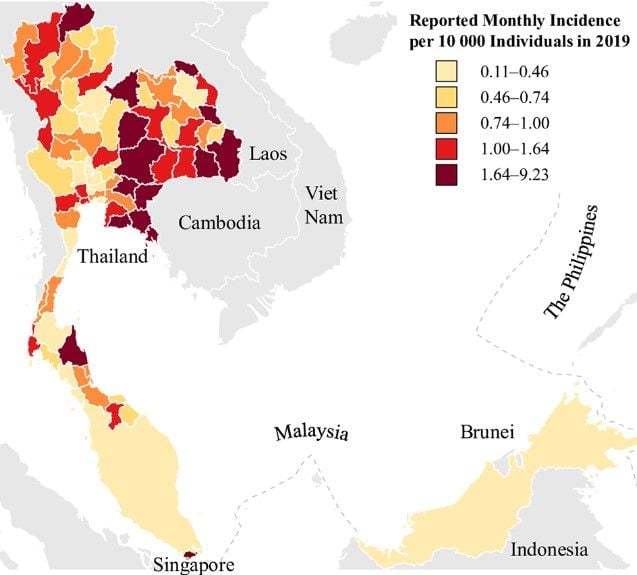 Reported dengue fever cases in 2020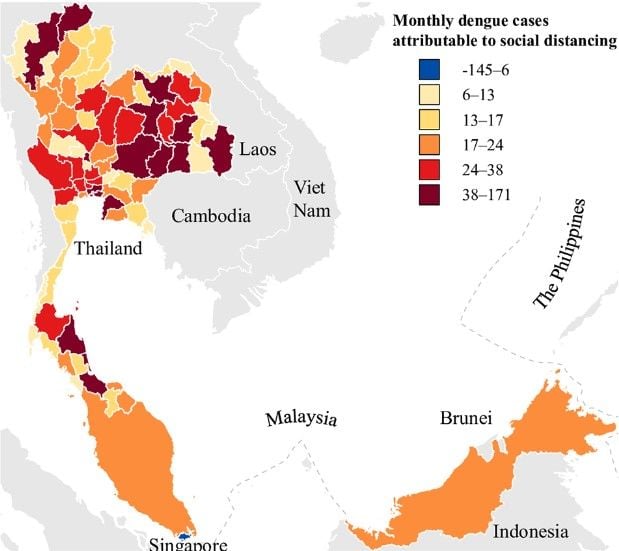 To read the full study click HERE.
Keep in contact with The Thaiger by following our
Facebook page
.
Never miss out on future posts by
following The Thaiger
.
Man arrested for allegedly driving with monitor lizards tied to his motorbike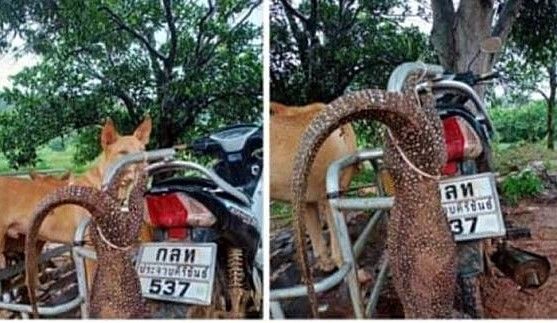 A man was arrested on animal abuse charges for allegedly catching water monitor lizards, tying them to his motorbike and driving around Prachuap Khri Khan, south of Phetchaburi province.
The man, who is identified as Chaowalit, posted photos on Facebook of lizards tied up to the back of his motorbike. One photo shows a large monitor lizard tied up to the back of the bike, hanging upside-down. Apparently, Chaowalit has been posting photos for about 4 months now on Facebook page on wildlife hunting.
Officials from the Kui Buri National Park were notified about the photos and a team of special unit officers were sent to Chaowalit's house to arrest him. He was charged with catching and harming protected wildlife as well as violating the Wild Animal Reservation Protection Act. If found guilty, he could face up to 10 years in prison and a fine up to 1 million baht.
SOURCE: Nation Thailand
Catch up with the latest daily "Thailand News Today" here on The Thaiger.
Keep in contact with The Thaiger by following our
Facebook page
.
Never miss out on future posts by
following The Thaiger
.