Phuket Gazette Thailand News: Floods rage in Isarn; 17 killed in pickup crash; Hmong Bt344mn drug bust; Supercar probe stalls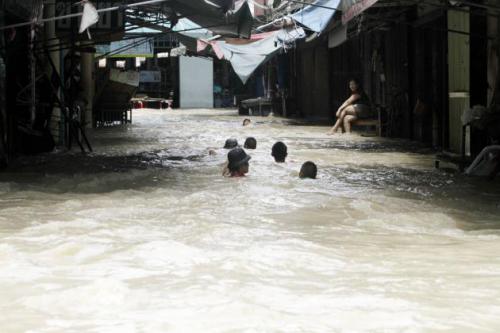 PHUKET MEDIA WATCH
– Thailand news compiled by Gazette editors for Phuket's international community
Lack of water-drainage options blamed for Isarn inundation
The Nation / Phuket Gazette
PHUKET: The Royal Irrigation Department is blaming the raging floods in the East on the lack of water-drainage options.
Many areas in the region have been under water for more than a month already.
"The region has been relying on local rivers for water draining; there's nothing else," the department's deputy director general, Suthep Noipairoj, said yesterday.
He said that though there are plenty of reservoir projects in the works for the region, none of them has been completed yet. For instance, the Huai Samong Reservoir in Prachin Buri's Nadi district is scheduled for completion in 2017.
"We need to invest more in this," Suthep said, though he admitted that the continuous downpours were also to be blamed.
According to Prachin Buri Governor Jitra Phomchutima, her province has been getting about 200 millilitres of rain per day since September 19. The province spans an area of just over 7,500 square metres.
Serious inundation
"The province has more than 1.1 billion cubic metres of water now," she said.
Jitra went on to say that the only channel to drain water was through the Prachin Buri River, which is already brimming over.
The Disaster Prevention and Mitigation Department said 17 boats have so far been deployed on the river to help with the water drainage.
Neighbouring province Sa Kaew is also struggling with serious flooding. So far, about 100 families in Khao Chakan district have been evacuated due to high flood levels in their hometown.
As of press time, floods have ravaged 28 provinces and affected the lives of some 1.98 million people.
Suwan Dejkhum, a vendor at the Lam Nang Rong Dam in Buri Ram's Non Din Daeng district, said flooding was hurting business very badly.
"The dam usually attracts tourists, but with the flooding nobody is showing up. We can't earn anything," she said.
Floods raise questions on Bt120bn prevention measures
The Nation / Phuket Gazette
PHUKET: The Government budgeted Bt120 billion to repair the vast damage from the Great Flood of 2011 and protect the country from repeat rainy-season disasters, but the recent swamping of at least 35 provinces shows the scheme has failed to do the job very well.
The Bt120-billion budget was allocated to 19 agencies including the Transport Ministry, Public Works and Town and Country Planning Department, Water Resources Department and Irrigation Department for 154 projects in 30 provinces under the flood recovery and reconstruction scheme.
The projects included the restoration of damaged equipment and construction of dykes, sluice gates, pump stations and flood-prevention roads (click
here
to see high-resolution graphic).
Most of the projects were completed and were said to be ready to tackle flooding, until the recent deluge proved otherwise.
Prachin Buri's case was a good example to show that the equipment and construction could not control and prevent flooding, Assoc Prof Bancha Kwanyuen, dean of engineering at Kasetsart University, told The Nation yesterday.
For example, the riverside dykes, instead of protecting the city, helped raised the river level and increase the current speed.
"I have seen that the Tha Chin River's bottleneck was not given attention and dredged by any authority to improve discharge capacity. They just dredged somewhere else, which was not the obstacle to flood drainage," he said.
Besides, the Bt120-billion scheme didn't link with the Bt350-billion water management and flood prevention scheme, which is undergoing public hearings before contracts can be signed with the four bid-winning contractors, he said.
Apichart Anukularmphai, chairman of the Water and Flood Management Commission's committee on academic affairs, said that although the Bt120-billion scheme had been completed, there was no agency to monitor the equipment and project effectiveness.
Suthep Noipairoj, deputy chief for operations and maintenance at the Irrigation Department, insisted the dykes and sluice gates built by his department along the Chao Phraya River could be used to prevent floods effectively.
"The dykes can still do their job in preventing floods this year," he said.
Maitree Pititanon, director of the Ayutthaya Irrigation Project, said all of the flood-handling equipment and civil works in the area were restored under the Bt120-billion scheme and could be used to prevent flooding.
For example, this year his agency diverted floodwater into the four retention areas covering over 100,000 rai of land – Thung Bang Ban 1, Thung Ban 2, Thung Phak Hai and Thung Maharat. The roads, now raised by more than three metres, were used as barriers to control the direction and block floodwaters, he added.
Deputy Transport Minister Pong Chewananth said his office spent over Bt7.5 billion to construct road networks to be used as flood embankments in Bangkok and nearby cities along both sides of the Chao Phraya River.
On the eastern bank, roads were elevated by over 50 centimetres above the 2011 flood level and a dyke was also installed along the roads.
The elevated roads covered the Pa Sak River, Southern Rapeepat Canal, Khlong 13 Canal and Eastern Rapeepat Canal.
On the western bank, the elevated road extended from the Phraya Banlue Canal to the Tha Chin River and Mahasawat Canal.
"The road construction is nearly completed and I'm sure they can be used to prevent floods this year," he said.
Sirichai Kunanopparat, former deputy director-general of the Water Resources Department, said the department had received Bt5.8 billion to improve the discharge capacity of water resources and purchase over 200 pumps to help drain water.
The infrastructure could be used to prevent floods, he said
17 killed, seven injured in Buri Ram crash
The Nation / Phuket Gazette
PHUKET: A pickup carrying Laotian migrant workers skidded off a road and crashed into a tree in Buri Ram yesterday morning, killing 17 people on board, including the driver and two heavily pregnant women. Seven others were also injured, six of them seriously.
Passenger Phu Liamwonglad, 30, was the only person in a fit enough condition to give a statment to police.
"There were 24 people on board including the driver," he said, adding that he and his wife paid more than Bt2,000 to hitch a ride in the pickup from Samut Prakan to the border province of Ubon Ratchathani. They were heading home to Laos.
The driver, identified as Chawalit Thavornkham, 34, is believed to have taken an alternative route to reach the border checkpoint in order to avoid police detection.
"The main road is more convenient, but there are police checkpoints," a source said.
Buri Ram's deputy police chief Colonel Prayut Phokaeokul said a methamphetamine tablet was found on Chawalit's body, as well as a bottle of alcohol next to his seat.
— Phuket Gazette Editors
Keep in contact with The Thaiger by following our
Facebook page
.
Thais go bananas over freak plants in pursuit of lottery numbers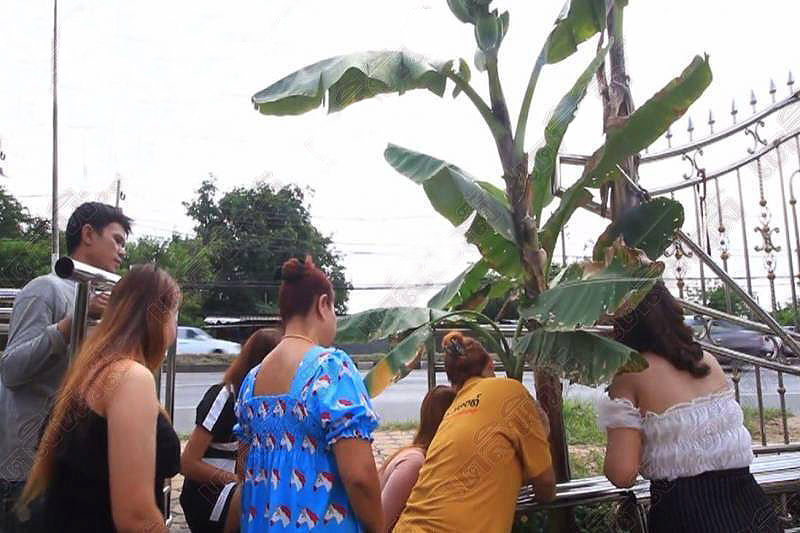 PHOTOS: Daily News
The answers are in the banana leaves.
Thai people LOVE playing the lottery (and gambling generally). In fact they're BANANAS about the twice-monthly lottery (it was drawn again today). Daily News has reported about two unusual banana trees growing in front of a shop in Klong 4 Pathum Thani, just north of Bangkok. The trees did not have blossom and on one plant two bananas were pointing skywards. On another there was a whole bunch pointing up into the sky.
There was a steady stream of the faithful lighting incense, praying and rubbing powder on the trees to get lottery numbers. One group thought '542' was the magic numbers and a path to riches (we're not sure how they came to this conclusion). 53 year old Surachai says the trees had been growing for a few months and that he'd never seen anything like it before.
An unnamed agricultural expert suggested that there was probably something wrong with the banana plants. Trees and malformed animals are a favourite source of inspiration to select numbers for the lottery, as are numbers of houses and vehicles involved in events where people experience "miracle" escapes from danger, or even bizarre accidents.
SOURCE: Daily News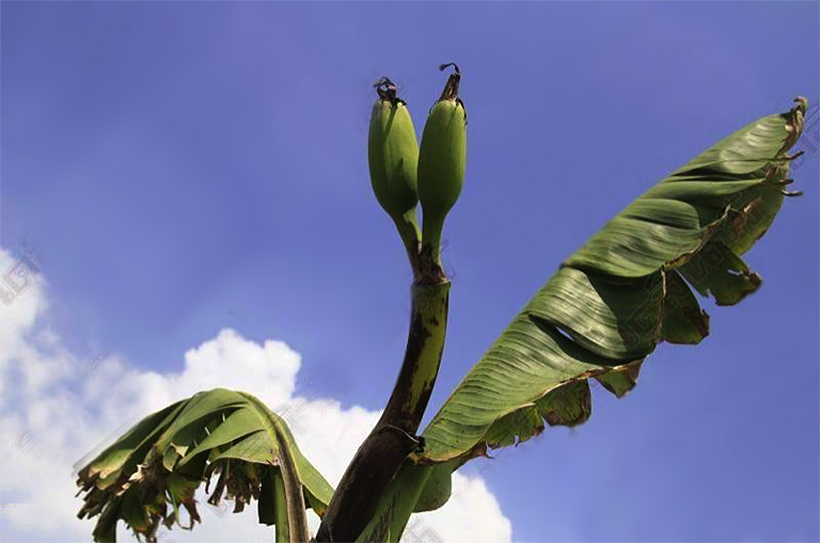 Keep in contact with The Thaiger by following our
Facebook page
.
Clean Up to the Countdown – Crackdown on illegal software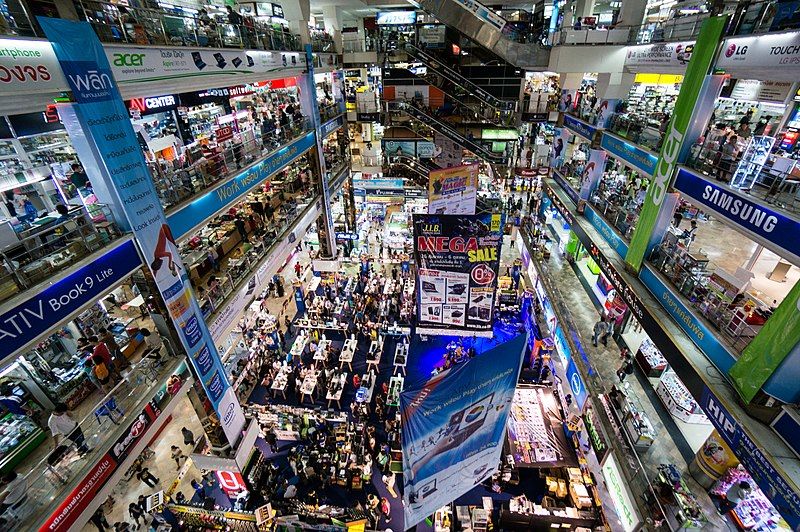 PHOTO: Pantip Plaza, Bangkok
The Clean Up to the Countdown campaign aims to encourage top executives to legalise their corporate software before midnight on December 31, 2019."
BSA The Software Alliance is partnering with Thai police and chief executives on a campaign to crackdown illegal software in the workplace by the end of 2019. Many companies still use illegal, pirated or copied computer software.
This campaign will target 10,000 companies across Thailand that are thought to be using illegal software. This includes corporations in a variety of business sectors, such as manufacturing, construction, banking and finance, engineering, architecture, media, design, IT and healthcare. Many of these companies are known users of software, but lack license agreements from software providers.
The Nation reports that the BSA is working with police to ramp up enforcement against corporations using illegal software and has already helped identify nearly 10,000 companies in 10 provinces suspected of using illegal software.
The Economic Crime Suppression Division wants to see business leaders take a proactive approach to cleaning up their corporate software assets so that they can enter 2020 fully legal and compliant. From now until the end of the year, it will continue to raid companies suspected of not complying with Thai laws protecting software copyright.
While ECD enforces the Thai laws, BSA is contacting thousands of corporate leaders in Thailand to offer guidance and advice in addressing illegal software use in the workplace.
BSA Senior Director Tarun Sawney believes that some CEOs may be aware their company is using illegal software and are wary of investing in genuine software.
"But there are other CEOs whose companies have hundreds or thousands of PCs, who simply may not be aware of the type of software running on their corporation's PCs, and whether it is legal or not."
"BSA wants to help CEOs do the right thing but this requires that CEOs take a hands-on approach to addressing the risk of using illegal software in business operations. Our advice is that CEOs treat the risk of illegal software with the utmost importance. This means being hands-on and proactive. CEOs can and should control this risk factor."
The solution, according to the software industry, includes a better effort by CEOs at self-policing their own use of software by corporations in Thailand. The Clean Up to the Countdown campaign is a part of Legalize and Protect initiative launched earlier this year. So far, the initiative has helped thousands companies in Thailand legalize their software assets and protect data from malware and hackers.
SOURCE: The Nation
Keep in contact with The Thaiger by following our
Facebook page
.
Thai Airways must modify rehabilitation plan to survive: Airline President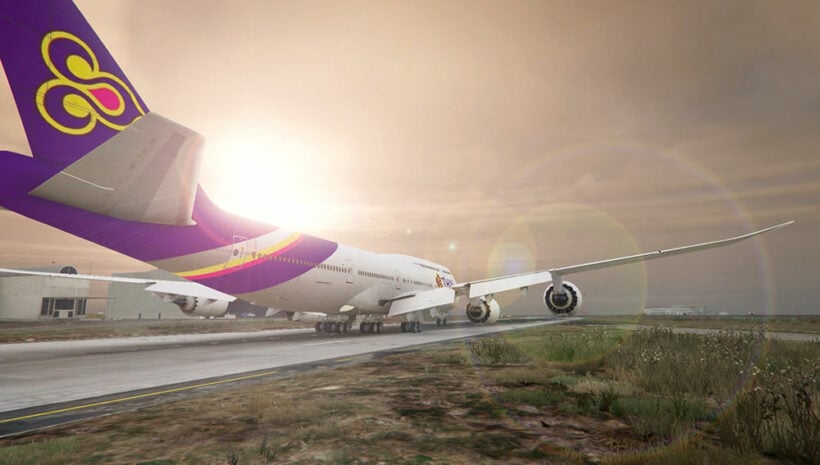 PHOTO: gta5-mods.com
"Thai Airways will have to modify its rehabilitation plans to survive in the face of tight competition." This frank admission by the airline's president Sumet Damrongchaith.
The national carrier is now carrying a total debt of over 2.45 billion baht and losses of more than 20 billion, despite being able to reduce its debts by 48 billion baht over the past five years.
Sumet says the first step will be to restructure the airline's management and finances as well as reconsider its plan to spend 1.5 billion baht on 38 new aircraft. He admits the biggest problem is that Thai Airways has low capital but a high debt-to-equity ratio of eight times.
In order to maintain its competitiveness, the carrier will have to reduce its debts versus assets and boost its working capital with support from the ministries of Transport and Finance. Hence, it plans to borrow approximately 3.2 billion baht in fiscal 2020 in line with the budget limit set by the Office of Public Debt Management.
This loan will be taken to support the airline's investments as well as for its working capital, to update equipment and maintain existing aircraft, but will not be used to repay old debts.
The Nation also reports that the airline is also concerned about maintaining its liquidity because at the end of June this year, its revolving credit line stood at 13.4% of the total revenue forecast for 2019.
Sumet admits that, though the original rehabilitation plan has a set framework, the situation has now changed due to the appreciation of the baht, so in order to achieve goals, the work method has to be redesigned, such as finding a way to procure more passengers.
"We are now in the process of analysing new markets."
Meanwhile, Thai Aiways' board chairman Aek-Niti Nitithan-Praphas says the board is reconsidering plans to procure a new fleet taking into consideration the state of the global and domestic economies as well as the US-China trade war.
"The growth of the tourism industry and the airlines' financial status needs to be reviewed in line with strong competition and routes that are no longer popular. It's better to carefully revise the plan instead of exposing the airline to greater risk. The target should be reduce expenses by 20%."
Meanwhile, Thai Airways aims to boost the sale of tickets, find ways of increasing online shopping of duty-free goods and reducing unnecessary expenses by 10%without affecting the quality of service in the last three months of 2019.
The airline is also negotiating the option of cutting down overtime expenses and is looking into curbing losses incurred by it's semi-budget offshoot Thai Smile by increasing its flying hours to 10.5 hours daily. These steps are expected to help the airline reach breakeven point in the short term.
The airline is also considering long-term goals such roping in more passengers by offering greater benefits to Royal Orchid Plus members, focusing on digital marketing, retiring non-performing assets as well as increasing revenue from related businesses such as kitchens and aircraft repair centres.
SOURCE: The Nation
Keep in contact with The Thaiger by following our
Facebook page
.