Phuket Gazette Thailand News: Farmers maintain blockades; Student tablet scheme fails; Thai in mysterious South African death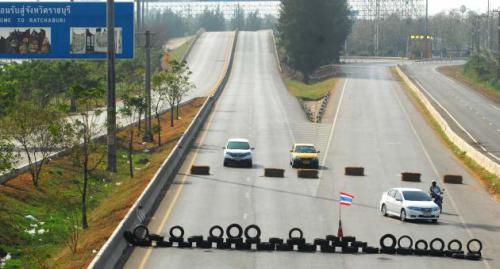 PHUKET MEDIA WATCH
– Thailand news compiled by Gazette editors for Phuket's international community
Defiant farmers maintain blockades, draw up petition
The Nation / Phuket Gazette
PHUKET: While one group of rice farmers today brings tractors and trucks to rally outside the Commerce Ministry in Nonthaburi – to pressure for long overdue payments from the rice-pledging scheme – another group from the north will submit a royal petition this morning.
Meanwhile, rice farmers from western provinces are continuing their Rama II Road blockade at the Wang Manao intersection in Ratchaburi's Pak Tho district, which began on February 1.
Protest leader Rawee Rungreung said they would also rally at the ministry to demand answers about their pledged rice and overdue payments.
Rawee said the farmers had to do something because they were severely affected.
The rice-growing season was approaching but farmers who normally earned money twice a year, according to seasonal rice harvests, had no money to pay for their rice-growing costs as well as household and personal expenses.
Rawee insisted this wasn't a politically motivated move and the farmers wouldn't completely relocate their rally from Rama II Road to the ministry.
Rather, they would send some demonstrators while the rest remained at the southbound road.
He said his group would suspend their movement to gather names of the farmers affected by the scheme to submit a petition to the Bureau of Royal Household.
Their woes came from the caretaker government's action, hence the caretaker government must solve it, he said.
Some 500 farmers from Phichit, Nakhon Sawan, Sukhothai, Kamphaeng Phet and Phitsanulok for the third day yesterday continued to camp on Asian Highway 117 near a branch of the Bank of Agriculture and Agricultural Cooperatives at Po Sai Ngam intersection in Phichit's Bung Narang district.
Group leader Prakasit Jamjumrus, who is president of Tambon Tai Nam Administration Organisation in Phichit's Pho Thale district, said they had gathered 1,000 names for the royal appeal. Some 200 farmers and protest leaders would travel to Bangkok later last night to join other farmers in submitting the petition to the bureau this morning, he said.
Another protest leader, Manu Maneechote, said that after the 200-strong group departed for Bangkok, the remaining farmers would clear away the rally site on Asian Highway 117. They would later discuss the next move after those submitting the petition returned to Phichit, he added.
In Kanchanaburi's Tha Muang district, some 300 rice farmers from tambon Nong Khao blocked an intersection on Asian Highway 324 with tractors, 10-wheel trucks and a pick-up truck as well as five tents yesterday morning.
Deputy Governor Suriyan Kanchanasilpa and senior officials tried to negotiate with them but they continued rallying at press time.
Ten kilometres away in Phanom Thuan district, local farmers held another road blockade at a three-pronged intersection.
They demanded by February 12 the caretaker government honour pledged rice payments of at least 80 per cent of the amount stated on each farmer's rice-pledging certificate.
The group also wanted the caretaker government to help farmers in talking with their creditors including BAAC, commercial banks and agricultural co-ops, because they didn't want creditors taking away their tractors or tools.
EC to tackle problems arising from disrupted poll
The Nation / Phuket Gazette
PHUKET: The Election Commission (EC) will meet today to decide how to resolve major problems stemming from the February 2 election, a source from the EC said yesterday.
The source said the poll organiser would hold discussions with its legal advisory team before seeking solutions for the problems, which include how to hold elections at polling stations where voting was disrupted; advance voting; and how to handle 28 constituencies in the South where no candidates are registered.
Meanwhile, Pheu Thai Party spokesman Prompong Nopparit yesterday filed a complaint with the EC, asking it to seek a court order to dissolve the Democrat Party.
Prompong alleged that the Democrats had violated Article 68 of the Constitution by seeking to overthrow the democratic system through their support for protesters in blocking the February 2 election.
The complaint alleges that the Democrats supported the People's Democratic Reform Committee (PDRC), which is led by former Democrat MP Suthep Thaugsuban, in blocking the election.
Prompong also handed over video CDs of the PDRC's protests and blockades of party-list candidacy registration, advance voting and the February 2 election.
Prompong said the Democrats had asked the Office of the Ombudsman to seek a ruling by the Constitutional Court to annul the election because the Democrats wanted to overthrow an elected government.
"The country is embroiled in problems now because Democrat Party leader Abhisit Vejjajiva and Suthep would not accept the rules of the nation. Although the government dissolved the House and set a new election date, the Democrats refused to contest the election and used the [call for] reforms as an excuse to further its own political interests," Prompong said.
Court rejects complaints filed by Democrat, Pheu Thai
The Nation / Phuket Gazette
PHUKET: The Constitutional Court has rejected a complaint submitted by members of the Democrat Party to have the Pheu Thai Party dissolved.
The Democrats claimed that by holding the February 2 election while parts of the country were placed under the emergency decree, Pheu Thai caused the election to be unfair and not free. The court, by a majority ruling, said there were insufficient grounds to conclude that the imposition of the emergency decree during the election violated Article 68 of the Constitution as claimed by the complainants – Wirat Kalayasiri, former Songkhla MP for the Democrat Party, and Paiboon Nititawan, former Democrat party-list MP.
Article 68 of the charter stipulates that it is one's right to protect the Constitution and also prohibits any act that would seek change or the obtaining of power through unconstitutional means.
The article also permits dissolution of political parties found to have done this, and can ban party executives from participating in political activities for five years.
In a related development, the court also rejected a complaint filed by a member of the Pheu Thai Party, Singthong Buachum, accusing the anti-government People's Democratic Reform Committee (PDRC) and its affiliates of wanting to overthrow the political system. The court said the charges could be laid against figures within PDRC, or specific actions by the movement which violated the criminal code or other laws – but the right to freedom of assembly is guaranteed under the Constitution and the PDRC protest stemmed from its opposition to the government's bid to pass the blanket amnesty bill.
Police issue progress report on probes into violent incidents
The Nation / Phuket Gazette
PHUKET: The Royal Thai Police yesterday issued the latest developments in their investigation in
— Phuket Gazette Editors
Keep in contact with The Thaiger by following our
Facebook page
.
Never miss out on future posts by
following The Thaiger
.
Alcohol ban for the end of Buddhist Lent this Friday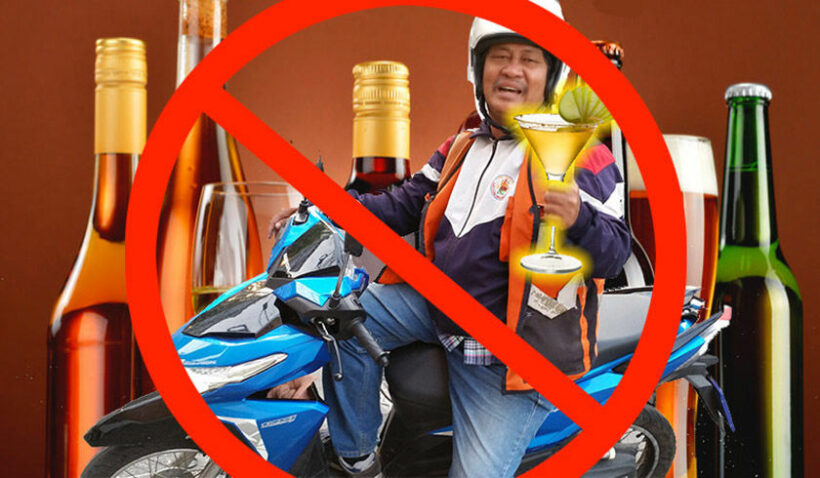 An alcohol ban is looming for this coming Friday, as Buddhists mark the end of the Lent period. While officials have so far remained silent on the possibility of a ban on the purchase and consumption of alcohol, previous years have seen one implemented at the end of Buddhist Lent. The ban has not been formally announced but our Thai staff have confirmed that it will be in place.
The Buddhist Lent is when monks finish their 3 month retreat and leave the temples to travel and resume normal life. It also marks the end (in theory) of Thailand's rainy season. This year, the end of Buddhist Lent falls on Friday, October 2, and is almost certain to bring a ban on alcohol sales, as in previous years.
This will mean bars, clubs, and other nightlife venues will need to close from midnight the night before, and cannot re-open until midnight Friday night/Saturday morning. The ban on alcohol sales will also apply to supermarkets, hotels, and restaurants.
As with similar alcohol bans, the enforcement by officials can be 'selective' but will attract a fine if caught.
SOURCE: The Pattaya News
Catch up with the latest daily "Thailand News Today" here on The Thaiger.
Keep in contact with The Thaiger by following our
Facebook page
.
Never miss out on future posts by
following The Thaiger
.
Luxury resort built on national park land given demolition order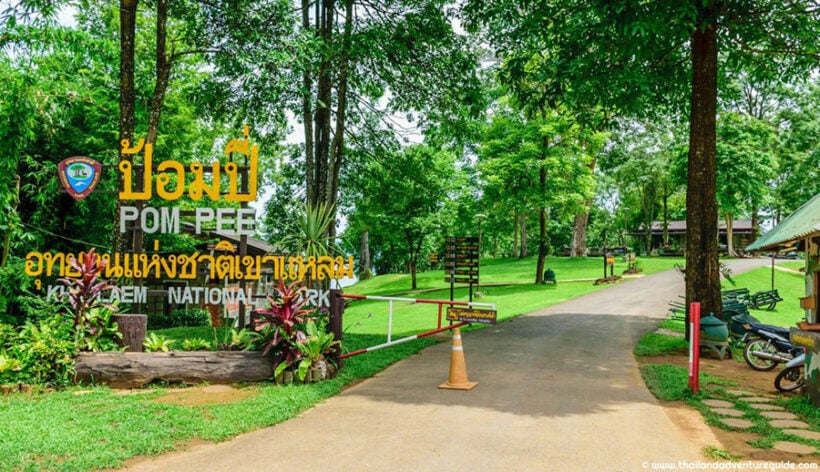 "Tear it down, or we will."
That's the ultimatum officials have given the owner of a luxury resort built on national park land in Kanchanaburi, western Thailand. The Phatsapada Resort, which consists of 17 chalets, has been built on land belonging to Khao Laem National Park. A demolition order, posted outside the property yesterday, gives the owner 7 days in which to pull it down.
"Failure to do so will see officials take charge of the demolition, at a cost of 200,000 baht, which the owner will be obliged to pay."
The Bangkok Post reports that the resort was recently inherited by the heirs of its former owner, Ms Jarupha Detchinda, after she died. It's understood Jarupha represented an alleged "high-ranking member of the military" who built the resort, according to Niphon Chamnongsirisak, from the Protected Areas Regional Office 3.
Jarupha had previously been fined 30,000 baht and sentenced to 6 months' imprisonment in January 2018. She was also required to pay 103,379 baht to the Department of National Parks, Wildlife and Plant Conservation. A subsequent appeal upheld the prison term, but suspended it for 2 years, and her fine was reduced to 10,000 baht.
SOURCE: Bangkok Post
Catch up with the latest daily "Thailand News Today" here on The Thaiger.
Keep in contact with The Thaiger by following our
Facebook page
.
Never miss out on future posts by
following The Thaiger
.
Top 10 things that changed in Thailand during the Covid outbreak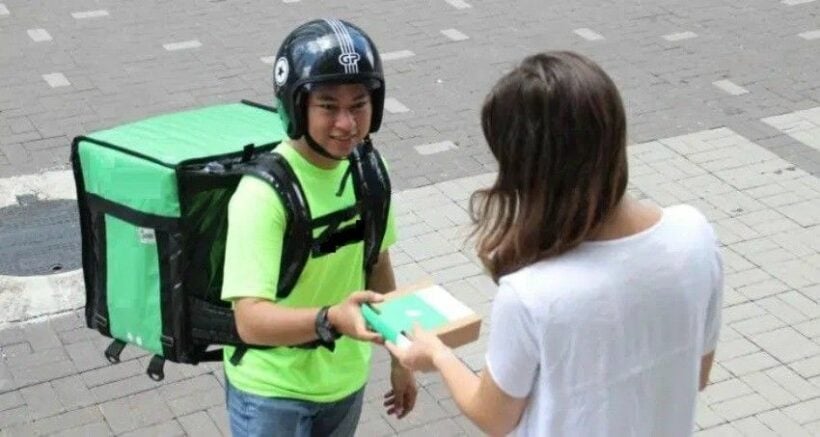 Things have changed. In some cases they've changed a lot and may never be the same again. Many people are suffering as a result of the impacts of lockdowns and the border closures. Entire industries, like aviation and entertainment, have been profoundly affected. Some people are being forced to re-invent their lives as a result. Fears over Covid-19 are causing people to change their habits and re-evaluate their lives. Here are some of the main things we believe have changed since January this year.
Face Masks
The now ever-present face mask will be with us for a long time. In Asia, it was never uncommon to see people wearing face masks for traffic, air pollution, fears of disease or just as a fashion statement.
In the Covid-era, mask wearing will now just become part of what we wear when in public spaces. When we leave home we'll check if we have our keys, our wallet AND our face mask. Even when the government relaxes the current laws about the wearing of face masks, most people, we predict, will continue to wear them anyway, at least in the medium to long term.
Taking Your Temperature
It's everywhere, it doesn't appear to be very effective or reliable, but it's not uncommon to have your temperature taken by someone pointing an infra-red thermometer at your head numerous times a day. The only people that appear to have benefitted from these temperature checks are the manufacturers of infra-red temperature check machines. But in the Covid-era they remain an ever-present reassurance that at least businesses are trying and want to be seen as contributing to the broader public health safety.
Xenophobia

As Thais have pondered the reason their shops closing, their tourist customers vanishing and their income dropping, thoughts turn to the foreigners that brought the virus here in the first place…. and the vast majority of new cases recently, from OVERSEAS!
Either real or imagined, xenophobia and racism always creep in during times of national stress. Many politicians perpetuate the fears to their advantage and right-wing groups thrive on the blame game.
During Covid-19, Thailand has been a wonderful host to the hundreds of thousands of foreigners stuck here to share this testing time. And many foreigners have responded to the crisis by volunteering their time and resources to help struggling locals get through the worst of the local lockdowns and closures.
There has been a few, luckily very few, outbursts by some mis-informed Thai politicians, journalists and local keyboard warriors expressing their frustrations and targeting the foreigners as the butt of their frustrations.
Flying in the Covid-era
While the domestic carriers are all flying again, they're doing it tough. Planes are sometimes half-empty and there's certainly less choice of times and destinations, compared to before the Covid travel restrictions set in.
But it hasn't stopped the budget airlines from making the situation extremely competitive with the fares still very low. The aviation industry will certainly re-emerge with fewer airlines as some will be unable to weather the Covid storm. Even the Thai government's announcement of soft-loans to airlines, with 2% interest, will do little to help and simply kicks the bankruptcy can down the road a few more months.
Confidence
Many business had to close during the lockdown. Some have re-opened. Others tried to re-open but have since closed again. Some are struggling along as best they can, tweaking their business models to cope. But people, through fear or simply being unable to afford it, are going out less and spending less. People are rediscovering the values of close communities, family or the joys of Netflix and at-home entertainment.
The impacts of recessions across the region will have long-lasting, profound effects on consumer confidence and behaviour. People's renewed confidence will lag behind any eventual economic recoveries.
Eating Out
There's been few clear winners in all this Covid mess. But delivery companies are one of them and the local motorcycle delivery services in particular. Grab Food and Food Panda are just two examples of the new way we eat and many restaurants are changing their table service model, and even their take away services, to suit the new normal of food-on-demand. Some restaurants have even closed their doors forever and turned into virtual restaurants, delivering food exclusively through the convenience of app ordering and delivery.
Even as the situation has eased to a large degree in Thailand where a lot of daily living is back to 'normal', people simply aren't going out as much, have pivoted to the delivery services for some shopping and eating, and finding new ways of running their lives, closer to home and with less household outlay.
The Travel Industry
Apart from the obvious lack of international tourism, there's no doubt we're simply going to be travelling less in the short to medium term. Many people will be unable to afford the long holidays of the pastand may travel less, or not at all. For business we've found efficient ways to keep in contact without meeting face to face. Had anyone ever heard of "zoom' video conferencing software before Covid?
For the communities that relied on tourism, the changes in their situation has been profound. Businesses are having to reinvent their model to cater for domestic tourism or simply find other ways to diversify their business plan, or just wait out the situation. That wait will eventually kill off a large chunk of local and foreign businesses.
The Economy
Thailand is in recession. So is everywhere else, and the situation, sadly, is likely to get worse as the Covid-era stretches out beyond 2020 and restrictions hold back investment. Some previously good businesses are now out of business. Businesses that were struggling before have been proven unsustainable and closed, probably never to re-open.
Globally, the government stimulus poured into local economies has caused artificial spikes in some stock markets. All this debt will need to be repaid at some stage. In other countries, where the government paid salaries for companies that were forced to close up or sack staff, are finding it hard to ween people off the grants and get them back to work.
In Thailand the economy has been hit hard, particularly in the export , tourism and hospitality industries. The downstream effects of all the staff losing their work, will have an effect on the local economy for many years.
Thailand, reliant on international tourism, has found itself exposed once the borders were closed. As the situation extends way past the 'few months' people were expecting, the full impact is starting to hit hard, particularly in places like Pattaya, Phuket and Chiang Mai. Their reliance on tourism has exposed their economies and left thousands wondering what else they can do to sustain themselves.
Whilst Thailand has recovered quickly from past political unrest, tsunamis and past pandemic threats, this time there will be a much longer path to recovery and will force many businesses to re-evaluate their businesses.
Work from home
Both Thailand's commercial property market and businesses that have previously had centralised offices, have seen a big shift in behaviour. Driven by the need to work from home during the lockdown in April and May, many businesses magically discovered that they can actually function perfectly well with their employees working from home. The flow-on effects of all this is reducing traffic on the roads, lighter peak traffic loads, flexible hours and, of course, larger businesses wondering why they've been renting all this expensive commercial building space. Freelance work is a boom industry as company's work forces move online instead of in-office.
The red light industries
The reality has certainly hit home for tens of thousands of Thailand's sex workers. Although not officially recognised in Thailand, prostitution has been a huge local underground (and not-so-underground) industry in the past, creating its own micro-economy involving locals and international tourists.
Without official government acknowledgment, the jobs of Thai sex workers are not recognised and their salaries vanish once the bars and borders close. No rights, no unemployment pay. The number of prostitutes in Thailand is upwards of 100,000, and these workers have had to head home, many back to the northern and northeast provinces. Thailand's red light districts were locked down for almost 3 months and bars and clubs, and the bar girls and boys, have been struggling ever since.
Keep in contact with The Thaiger by following our
Facebook page
.
Never miss out on future posts by
following The Thaiger
.