Phuket Gazette Thailand News: Blair, Annan to join reform effort; Trang Airport reopens; Floods hit north; Politics harms investor confidence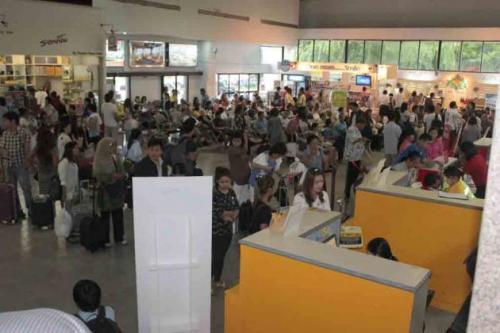 PHUKET MEDIA WATCH
– Thailand news compiled by Gazette editors for Phuket's international community
Blair, Annan to contribute to reform effort
The Nation / Phuket Gazette
PHUKET: Former British prime minister Tony Blair and ex-United Nations secretary general Kofi Annan have agreed to contribute to Thailand's political-reform effort, Prime Minister Yingluck Shinawatra said yesterday.
She said both Blair and Annan had unofficially accepted the government's invitation to take part in a panel discussion to be hosted by the Foreign Ministry.
The ministry, assigned by the government, is approaching foreign leaders, particularly those with experience in dealing with conflicts between compatriots, to help contribute to Thailand's efforts towards national reconciliation, the PM said.
"The government wants to embrace international viewpoints and measures that have been successfully implemented in foreign countries. We want these to benefit Thailand, too. Foreign leaders are invited to speak to Thai people," she added.
The ministry has approached more than 10 foreign leaders and former leaders, said PM's secretary-general Suranand Vejjajiva.
The foreign leaders will take part in a panel discussion titled "Uniting for the Future: Learning from Each Other's Experiences", to be held by the Foreign Ministry on September 2, said Foreign Minister Surapong Tovichakchaikul.
In addition to Blair and Annan, Finland's former president Martti Ahtisaari has been invited to join the discussion and share his international-reconciliation experience, Surapong said.
Blair, 60, served as UK prime minister from 1997 to 2007, while Ghanaian Annan, 75, served as the seventh UN secretary-general from 1997 to 2006. Ahtisaari, 76, was in office from 1994 to 2000.
Both Annan and Ahtisaari are Nobel Peace Prize laureates.
In an interview with the Thai media last year, Annan was asked to comment on the role of former prime minister Thaksin Shinawatra in reconciliation. He said it was up to the country's political leaders to find a way to bridge gaps.
"They have to put the country first. The country is bigger than they are," he added.
Thaksin's legal adviser Noppadon Pattama said yesterday that it depended on the government whether to invite Thaksin to join the proposed political reform forum.
He said that regardless of whether Thaksin was invited, there were already people with the same views as his in the forum.
Priscilla Hayner, an expert on truth commissions and transitional justice who has focused her work on official truth-seeking measures in political transitions around the world, has also been invited to join the discussion, said Deputy Prime Minister Phongthep Thepkanjana.
He said the political reform forum, proposed recently by the prime minister, could begin next week with about 100 participants.
"The number of participants should be more than 50, but not over 100. Too few people, and the viewpoints gathered would lack diversity. Too many people, and you don't have [enough time for] everyone speaking," he said.
Phongthep said he understood that some of the senior figures invited might, however, be unable to join the forum, because of their current status.
In a related development, former Democrat Party leader Bhichai Rattakul yesterday accepted a government invitation for him to join the political reform forum. Phongthep had called on Bhichai at his house to extend the invitation.
Bhichai said the reform effort should not be aimed at benefiting anyone or any political party in particular, nor should anyone set conditions for joining the forum.
The opposition Bhum Jai Thai Party also agreed to take part yesterday. Party leader Anutin Charnweerakul, who was approached by Phongthep and PM's Office Minister Varathep Ratanakorn, said he had accepted the invitation in principle.
"Bhum Jai Thai would be delighted to see peace in the country. Personally, I will do anything to help with the reconciliation efforts," he said.
People's Army continues rally despite lifting of ISA
The Nation / Phuket Gazette
PHUKET: An anti-government group continued rallying at Lumpini Park yesterday despite the fact that the government has lifted the Internal Security Act imposed in three Bangkok districts.
National Police chief General Adul Saengsingkaew yesterday thanked the 3,700 police officers deployed when the ISA was imposed on August 1, saying they had done a good job in enforcing the law and preventing protesters from entering the restricted areas.
Deputy Prime Minister Pracha Promnog said the anti-government People's Army to Overthrow the Thaksin Regime can continue rallying at Lumpini Park as it is within their rights and should clashes break out, the Metropolitan and Special Branch police can handle the situation.
However, he said, security officers have been tasked with closely watching the group's movements.
Pracha went on to say that though this group will possibly head to Government House or Parliament, there should be no problems provided the traffic or other people's rights do not get affected.
As to whether the ISA would be imposed again, Pracha said that was entirely up to the Internal Security Operations Command.
Admiral Chai Suwannaphap, leader of the People's Army to Overthrow the Thaksin Regime, said that though more supporters were joining the rally, many of them were doubtful if this movement can be taken seriously. He went on to say that the lifting of the ISA does not affect his group as they were not planning to move to the areas in question. As for whether a red-shirt community radio group would rally near the Parliament compound, he said his group had nothing to do with that.
Somchai Chatsakunpen, deputy director of the Bangkok Metropolitan Administration's Environmental Office, said he had asked the protesters to remain outside the park as residents complained they could not do their exercises conveniently. However, he added, he had yet to speak to the protest leaders again.
Foreign Minister Surapong Tovichakchaikul said he had told his ministry officials to inform foreign missions in Bangkok that the ISA has been lifted, adding that he was meeting with ambassadors and diplomats on Tuesday to give them a translated version of the amnesty bill.
Foreign investors concerned political tension will boil over
The Nation / Phuket Gazette
PHUKET: The Pheu Thai-led government pushed the controversial amnesty bill through its first reading in the House of Representatives on Thursday, raising the spectre of a renewed political confrontation between government supporters and their opponents inside Parliament and possibly on the streets.
Nandor von der Luehe, chairman of the Joint Foreign Chambers of Commerce in Thailand, said: "Political tension is always negative [for business and industry]. We had the Internal Security Act in the South [as well as in three districts of Bangkok from August 1-10]. All these are negative news going out from Thailand.
"Travel advisories from embassies are out. When you go to the American Embassy's website, there is a warning on Thailand that again we have political tension and that American citizens should be careful [while in Thailand].
"If something [worse] happens, i
— Phuket Gazette Editors
Keep in contact with The Thaiger by following our
Facebook page
.
Never miss out on future posts by
following The Thaiger
.
News of American sued over bad Koh Chang hotel review has everyone talking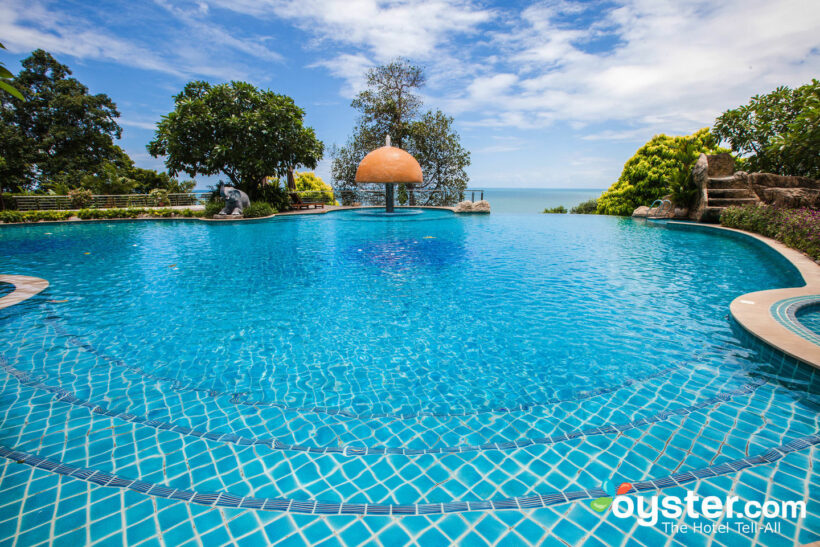 After news hit of an American being arrested and sued for defamation over leaving a bad review about a Koh Chang hotel on TripAdvisor, many are taking to the internet to voice their opinions on the issue. The Sea View Resort owners say it tried in vain to negotiated with Wesley Barnes after he posted the reviews, but he continued to post completely untrue comments.
The owners released a five-page statement after the news of it suing the American gained widespread attention. You can read their response HERE. Then, Barnes submitted his own response detailing the situation which was also published online.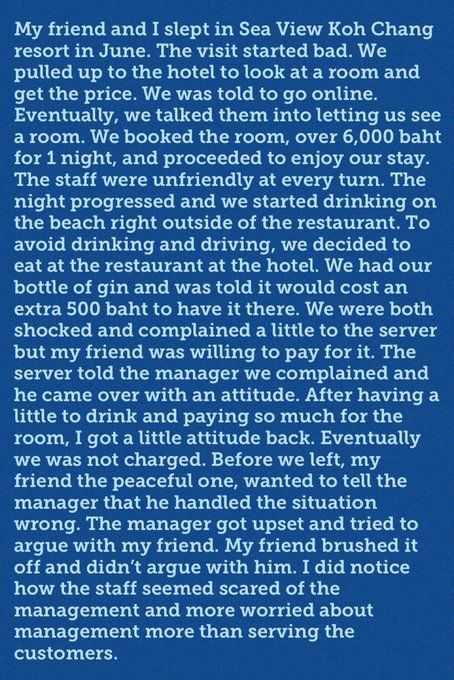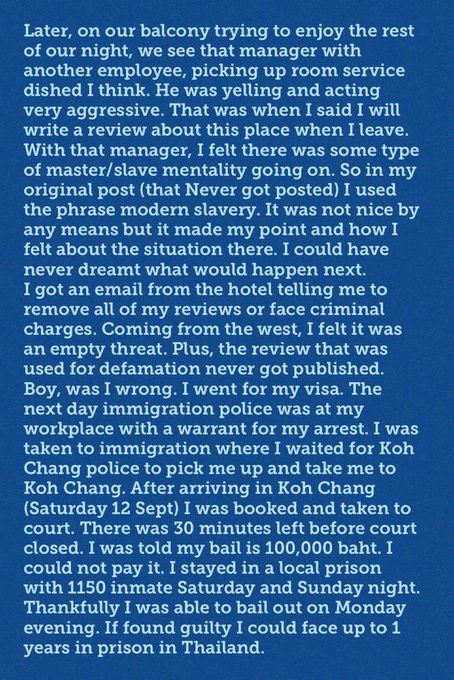 Now, the story has gained even more attention as netizens have begun posting their opinions on the controversial issue of Thailand's defamation laws. Below, are some of those posts on The Thaiger's Facebook page.
"Can someone clarify for me Thailand's position on people leaving honest bad reviews as my girlfriend says it's fine to leave a bad review of a business and it's not defamation if honest of course? I have heard people say that you simply can't leave bad honest reviews at all here but that sounds ridiculous. The thing about many Thais is that they think they're beyond reproach. They can't accept criticism because it's not aligned with their grandiose self-image. Many also have a torrid time when it comes to ownership of their own actions and decision making."
"OMG! He is arrested for a review.?! I know of an expat in Malaysia that wrote a bad review about a Thai-owned resort in Penang and he was sued as well. Be careful with what you share in that neck of the woods."
"It's one thing to leave a bad review but to throw in "modern slavery" remarks escalates to thai defamation law. He shouldn't be arrested for his comments but you need to respect the country laws no matter how crazy they seem compared to your own country. This press is going to negatively affect the business way more than that review would have done though."
"The owner should have settled with the review platforms privately and move on. I would hardly hold up Trip Advisor as a beacon of truth, however some people write extremely personal and vindictive comments that go beyond a review, in an attempt to gain product or refunds in return, this is an absolute fact, and hopefully this might make people think before they start writing reviews that are not exactly honest, I have read stories critical of the General Managers because they didn't contact the guests, some really petty reviews by rather petty people."
If Barnes is indeed found to be guilty of defamation, he could spend up to 2 years in prison and pay up to a 200,000 baht fine.
SOURCE: Chiang Rai Times
Keep in contact with The Thaiger by following our
Facebook page
.
Never miss out on future posts by
following The Thaiger
.
Phuket police arrest 6 after finding large amounts of methamphetamine in raid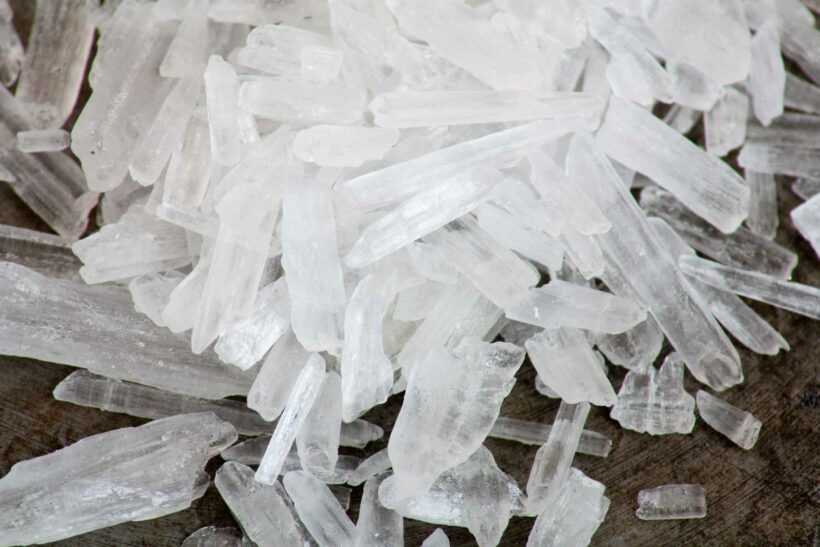 Phuket Provincial Police have arrested 6 people after finding large amounts of methamphetamine and other drugs during a raid. One suspect alone allegedly had 7.6 kilograms of crystal meth (ya ice) and over 12,500 methamphetamine pills (ya bah). 29 year old Surasak 'Bank' Wijit and 27 year old Panida 'Mei' Saeyang were arrested at an apartment car park in Soi Lookkaew, Moo 6, Rassada, in eastern Phuket, after they were found in possession of the drugs.
Police also found 2 mobile phones and a red Honda PCX, registered in Phuket, as evidence. Both suspects have been charged with posessing a Category 1 drug with the intent to sell.
Other suspects arrested at the same time include 36 year old from Chiang Rai, 42 year old Sarawut 'An' Srichanon, from Ranong and 31 year old Pornthep 'Iew' Thepchampa, who were charged with the same crimes in Chalong after police found more drugs in their possession. 33 year old Kamon 'Kung' Sae-ngow, was arrested as well after police found kratom juice and leaves at a house in Rassada. He was taken to Phuket City Police station and was charged with a Category 5 drug possession.
SOURCE:The Phuket News
Keep in contact with The Thaiger by following our
Facebook page
.
Never miss out on future posts by
following The Thaiger
.
Phuket Muay Thai fighter is the first Thai national to compete in UFC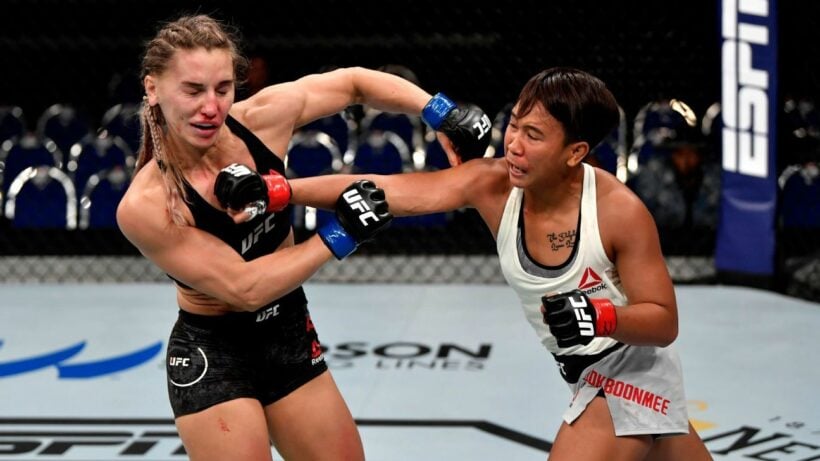 The upcoming Ultimate Fighting Championship Fight Night event in Abu Dhabi will feature Thailand's only national marking her third fight with the UFC, the world's largest mixed martial arts competition. 24 year old Loma Lookboonme, from Burirram in northeastern Thailand, will fight in the event on October 3, 2020.
Loma is a Muay Thai fighter who has adapted her MMA skills to fight in the UFC where she currently trains at the Tiger Muay Thai gym in Phuket. Loma qualified for the national team at the age of 19 and has fought in over 12 nations worldwide. She currently trains 6 days a week starting daily at 6:30am with a 3 kilometre run. In the UFC, she will be competing against China's Angela Lee who is the undisputed champion of the 52 kilogram fist weight category.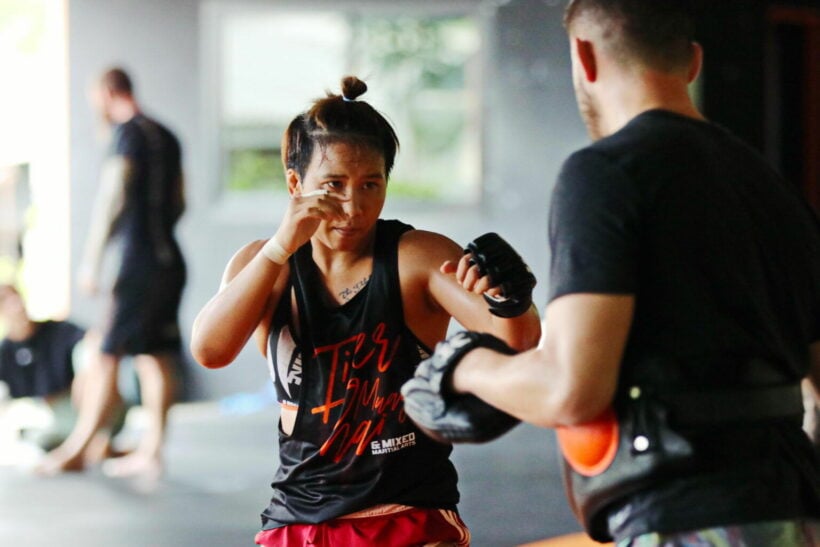 Loma's parents are former Muay Thai fighters and her 2 sisters currently compete as well. She reportedly started training at 8 years old after being inspired by her father, whom she describes as her "hero."
Like most Thais in such fighting sports, Muay Thai offers a way to rise out of poverty-and fighting for the UFC can be financially lucrative. But Loma says her only Thai sponsor is the gym where she trains, with the rest of her sponsors being from foreign brands. She says she is trying to get more Thai sponsors but feels that maybe she needs to win the UFC first before Thai brands notice her.
Loma lost her last fight and says her new opponent gives her nothing to lose. She says her goal is to get into the Top 10, but is not sure when it will happen. Loma says for now, it would be good to fight against someone in the Top 10 to help her prepare for her future.
FULL INTERVIEW: Thisrupt.co
Keep in contact with The Thaiger by following our
Facebook page
.
Never miss out on future posts by
following The Thaiger
.