Phuket Gazette Thailand News: Bangkok flight delays continue; Abhisit in stupid woman hot water; Govt punts for double rubber prices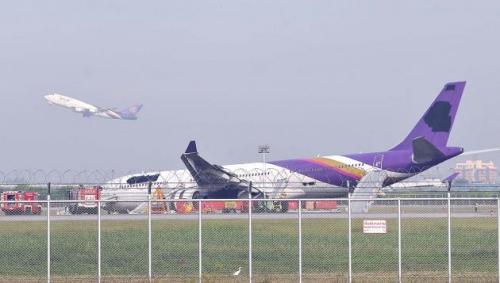 PHUKET MEDIA WATCH
– Thailand news compiled by Gazette editors for Phuket's international community
Bangkok flight delays continue
The Nation / Phuket Gazette
PHUKET: Passengers flying out of Suvarnabhumi airport in Bangkok can expect inconvenience and delays until a runway damaged by a crash landing by a THAI flight late on Sunday night is opened again tomorrow. Work is now being done to salvage the damaged plane and repair the runway pavement.
In a statement early yesterday, Thai Airways president Sorajak Kasemsuwan said the landing seemed to be routine until pilots detected a fault in the landing gear, before the aircraft skidded to the right on touchdown.
"Initially it was probably the front landing gear that broke, but a further investigation is needed to find out the cause," he said. The engine having a problem did not catch fire, but only caused sparking.
In a detailed statement later, Sorajak said the incident was beyond the pilots' capacity to control. The plane, which is 18 years old, underwent a full inspection and routine maintenance before the flight began. It had had an overhaul in April, while the pilots had 14 years of experience.
He apologised to passengers on board the flight and to people who were inconvenienced.
The worst injury sustained by a passenger, a Chinese national, was a broken wrist, he said.
Sorajak said he visited all four passengers at two hospitals and that their treatment costs would be covered by THAI. The Chinese passenger with a broken wrist would be given a free air ticket back to China, and expenses if he returns to Thailand for a possible future trip, as his trip was spoiled because of the accident and injury.
Sorajak said black paint was put on the THAI logo at the back of the plane to cover it, as part of accident procedure. And certain cabin crew left the aircraft before passengers to prepare cushion ladders on the ground, as part of standard safety procedure – not to escape, as claimed in passengers' complaints that circulated on social media.
THAI later said passengers in economy class would be given US$100 (Bt3,219) for delays in delivering their luggage, and those in business class would get $200.
Sorajak said injured passengers would be compensated while all 288 onboard would possibly get an extra payout to make up for the inconvenience. All luggage would be given to them at their hotels or accommodation where they are staying, and belongings left in the cabin were being retrieved, with policemen present as witnesses to ensure nothing went missing or was stolen.
Airports of Thailand (AOT) president Sita Divari said around 200 flights would face delays during the 48 hours that Runway 19 L was closed, while the Airbus 330-300 is salvaged.
Meanwhile, the five-hour job to repair the runway would cost around Bt1 million. That would be paid by THAI, and the work done at the same time.
Sita said all airlines had been informed of an AOT offer that they could switch to use Don Mueang as an alternative airport during this time, but none wished to do so.
The crash of flight TG679 caused delays to 99 airborne flights waiting to land for an average of 15 minutes while delaying 106 departing flights, for an average 30 minutes, from the time of accident at 11.20pm on Sunday night till 1.30pm yesterday afternoon.
Flight TG679 carried 288 passengers including one infant and 14 crew. All up, 12 passengers sustained injuries, including shock and people who choked on thick smoke or fainted.
Department of Civil Aviation director-general Worradej Harnprasert said an initial in-house investigation found that the rear starboard landing-gear broke. A further investigation using in-flight details from the black box, to begin today when the unit is expected to be retrieved, would conclude the cause of the drama.
He said airport fire engines scrambled to put out a blaze caused when the fuselage dragged over the runway. His statement contradicted Sorajak's about fire burning the aircraft, but there were several passengers who reported choking on smoke inhaled during the rescue.
Flight TG679: Eyewitness accounts
The Nation / Phuket Gazette
PHUKET: Former Bangkok gubernatorial candidate Kosit Suvinitjit and Channel 7 soap-opera star Weeraparp Suparbphaiboon were both on board Flight TG679 during the landing. Here are their eyewitness accounts:
Kosit Suvinitjit, Former Media of Media executive and former Bangkok gubernatorial candidate:

"BEFORE LANDING, the pilot announced that the plane would be parked a fair way from the terminal building because the runway was under construction. Everything was normal while landing, then there was a sudden brake.
Looking out of the window from my first-class front-row seat on the far-right, I saw two pieces of metal fly by and realised that we had had an accident. "The plane slid off the runway into the soft ground and there was a smell of something burning. Then I heard someone scream 'Fire! Fire!'
"The pilot ordered emergency exits to be opened and released the rubber slide for passengers to flee the plane. We were all instructed to run as far away from the plane as possible.
"I suspected something was wrong with the wheels and, looking back, I saw smoke with fire engines spraying water onto the plane I hurt my back a bit sliding down the rubber slide.
"This is the first such incident in my life. THAI later got passengers to register their names so their luggage can be delivered to them later."
Weeraparp Suparbphaiboon, Channel 7 soap-opera star:
"My group was returning from a tour in Guangzhou on this flight and we were sitting near the emergency exits. During the flight, I joked with my friends and the air-hostess what would happen if the exit popped open in case of emergency. A friend of mine cried that she was terrified of a plane crash.
"As I talked to a steward, I heard a loud bang and then a foreigner was heard yelling 'Fire! Fire!' That's when chaos broke out.
"I didn't think my joke would come true. Everything happened so fast and [we] slid out via the rubber slider [exit ramp]. I was only slightly injured from being pushed.
"This is the most frightening thing that has ever happened to me – it felt like I died and came back to life just before my 33rd birthday this month.".
Panel opts to double rubber subsidy
The Nation / Phuket Gazette
PHUKET: The National Rubber Policy Committee has decided to double the subsidy for rubber growers from Bt1,260 per rai to Bt2,520/rai for seven months, from September 2013 to March 2014, said Deputy PM and and Finance Minister Kittiratt Na-Ranong announced yesterday.
As the panel's chairman, Kittiratt said the new rate would be provided for up to 25 rai per case. The proposal will be submitted to the Cabinet today. He said the new rate would hike the budget for subsidy from Bt10.644 billion to Bt21.209 billion, adding that this assistance was on the principle of helping the farmers' production and not as an intervention in the para-rubber market mechanism. The price of rubber currently is Bt78/kilo.
Earlier yesterday, Deputy PM Pol General Pracha Promnog insisted that the government was committed to the previously agreed price of Bt90/kg for ribbed
— Phuket Gazette Editors
Keep in contact with The Thaiger by following our
Facebook page
.
Never miss out on future posts by
following The Thaiger
.
Thailand News Today | Visa amnesty extended, first STV tourists, teacher sacked | September 29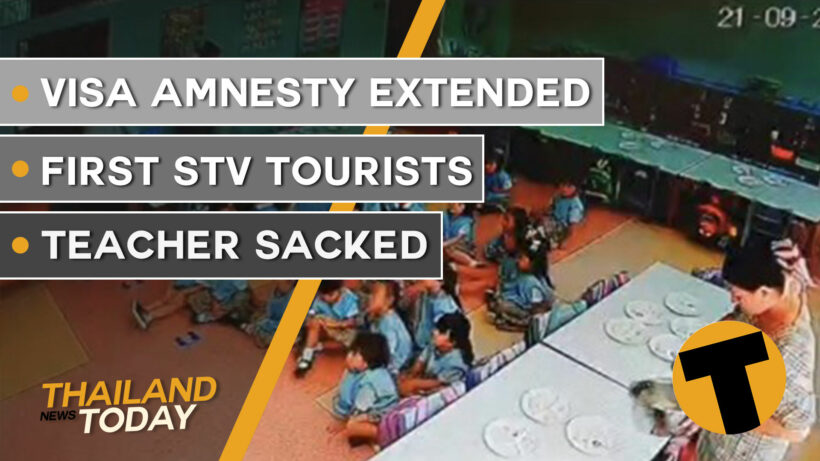 Daily TV news on thethaiger.com, Thailand News Today.
Get your visa figured out by October 31
In a surprise decision that arrived late yesterday afternoon, following a week of denials and threats to prosecute foreigners on overstay, the Thai government has granted another stay of grace to foreigners up to the end of October.
Foreigners stuck in Thailand will now be able to stay until October 31 to get their visa in order. The Thai PM Prayut Chan-o-cha, in announcing the new visa amnesty,recognised that travel restrictions are still in place around the world and the coronavirus continues to spread with global deaths surpassing 1 million.
After rumours floated around about a possible amnesty yesterday, a spokesperson for the government's Covid-19 task force confirmed that a new visa amnesty will be in place until October 31, allowing foreigners stranded in Thailand a 'free pass' until then.
Under the new regulation, 60 day extensions will be issued to foreigners who are unable to leave the country due to limited flights or other issues preventing them from going home.
The first tourists to arrive next week on the Special Tourist Visa
Meanwhile… The first group of foreigners under the new Special Tourist Visa will be arriving to Thailand next week.
About 120 people are set to fly from Guangzhou, China and land in Phuket on October 8. As some would say, at least it's a start!
The new tourist visa scheme comes after months of discussion on how to safely reopen Thailand's borders to foreign tourists. The effort is aimed at boosting the country's tourism dependent economy after it was crippled by the lack of travel during the coronavirus pandemic, border closures and the virtual grounding of airlines around the world.
There have been no local Covid-19 transmissions reported in Guangzhou for many months. Another group of long stay tourists from China will arrive at the end of October. A group of tourists from Scandinavian countries is scheduled to arrive at the start of November. All STV applicants have to arrive on special charter flights at this stage. The new STVs are clearly aimed at the high-spend tourists with time on their hands.
All 42 Sarasas private schools to be investigated after teacher is sacked for beating students
All of the 42 Sarasas private schools throughout Thailand will be investigated by the Office of the Private Education Commission, or OPEC, after a teacher was caught on camera allegedly hitting kindergarten students.
The teacher, Ornuma Plodprong, allegedly beat young students at the school in Nonthaburi, a suburb in Bangkok on the western banks of the Chao Phraya.
Along with other teachers who witnessed the abuse, the named teacher has been fired and may face criminal charges pressed by parents of student victims.
Surveillance camera footage of the classroom shows the teacher hitting kindergarten students and forcefully pushing them around.
It's also been revealed that the named didn't have a teaching license.
Russian man stabs Chiang Mai park officer, also arrested for breaking into tourist bungalows
A Russian man has been arrested after he allegedly tried to break into tourist bungalows and stealing property at a Chiang Mai national park and stabbed a park officer with a pair of scissors.
The incident follows months of complaints from Thai tourists at the national park reporting missing property after they woke up in the morning.
Thai media reports the 32 year old Russian man allegedly tried to rob a tourist bungalow at Doi Suthep-Pui National Park. He was nabbed by park offices after stabbing a night patrol park officer in the neck and head with a pair of scissors and ran off. The wounded park officer was taken to a local hospital where he has been reported as being in a stable condition.
Alcohol ban for the end of Buddhist Lent this Friday
An alcohol ban is looming for this coming Friday, as Buddhists mark the end of the Lent period.
While officials have so far remained silent on the possibility of a ban on the purchase and consumption of alcohol, previous years have seen one implemented at the end of the Buddhist Lent.
This will mean bars, clubs, and other nightlife venues will need to close for 24 hours until midnight Friday night. The ban on alcohol sales will also apply to supermarkets, hotels, and restaurants.
Keep in contact with The Thaiger by following our
Facebook page
.
Never miss out on future posts by
following The Thaiger
.
Get a new stamp! Foreigners on a current 30 day visa extension can stay until November 30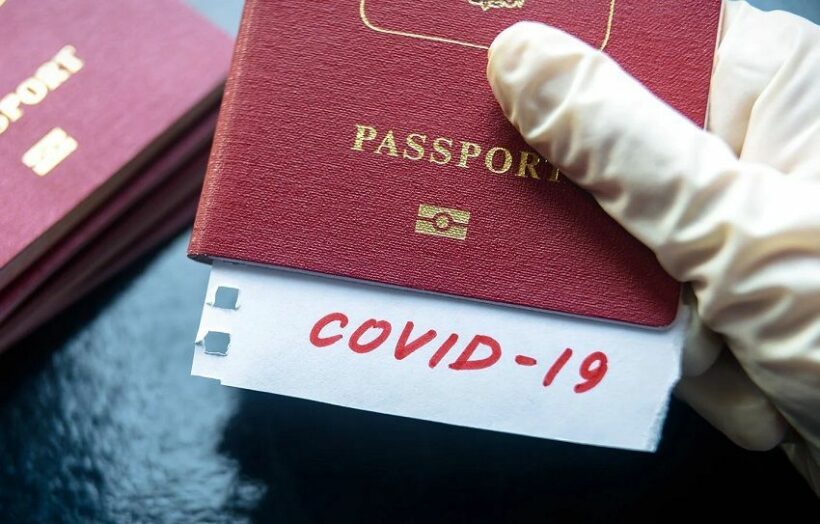 Details are emerging about the new visa amnesty that was announced by the Thai PM and the CCSA yesterday afternoon. Foreigners who recently paid 1,900 baht for a 30 day visa extension are now clear to stay in Thailand until November 30 at no extra cost, but those foreigners need to report to immigration to get their visa stamp corrected.
At this stage, although announced and approved by the CCSA and the Thai PM, the new amnesty has not been entered into the Royal Gazette but is expected to be in the next 24 hours.
The announcement follows a decision confirmed late yesterday by the CCSA to issue another grace period for foreigners stranded in Thailand, until October 31. Under the new regulation, 60 day visa extensions will be issued to those who are unable to travel back to their home country. The reasons could be lack of flights, problems with Covid in their home country, medical reasons or something else that prevent you from leaving the country.
Those who received a 30 day extension will need to visit their local immigration office and get the correct stamp that will indicate the new expiration date in their passport, according to a story in The Phuket News. In the past, foreigners have needed to present a letter from their country's embassy requesting an extension, but Immigration Bureau Deputy Commissioner Pornchai Kuntee says "letters from embassies may not be needed."
"Right now in Thailand there are two groups of foreigners: People who already applied for extensions before September 26, and those who did not. Today Cabinet will approve the second group of people to stay until October 31… But for the first group, the Immigration Bureau will extend their stay until November 30."
Up to the end of last week, immigration officials estimated around 150,000 foreigners were in Thailand under visa amnesty. Travel restrictions are still in place around the world as the coronavirus continues to spread with global deaths surpassing 1 million late Sunday, Thai time. While some foreigners were able to get their visa in order before the September 26 deadline, many had trouble obtaining a visa and could not leave the country in time. Some tried to make appointments but were unable to get on a list.
Good luck!
SOURCE: The Phuket News
Keep in contact with The Thaiger by following our
Facebook page
.
Never miss out on future posts by
following The Thaiger
.
Foreign teachers checked by immigration at Sarasas school after alleged student abuse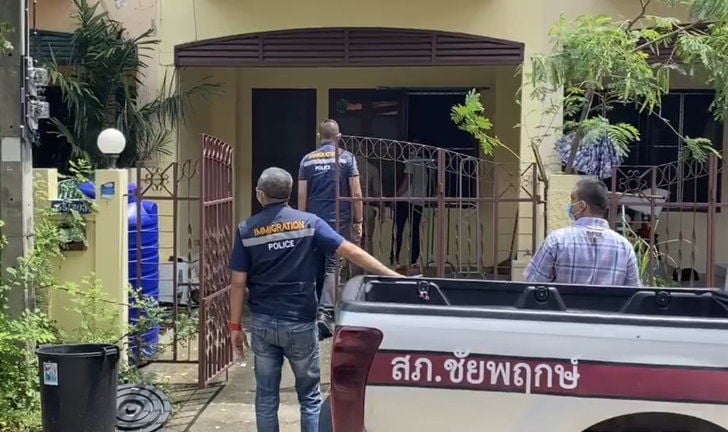 A foreign English teacher at a Sarasas private school in Nonthaburi was allegedly caught working without a proper visa and work permit after an immigration check. An investigation into all 42 Sarasas schools was prompted after a Thai teacher at the Sarasas Witaed Ratchapreauk School in Nonthaburi was allegedly caught on camera beating kindergarten students.
A Filipino English teacher at the school, who also allegedly mistreated a student, reportedly worked at the school on a tourist visa and didn't have a work permit. Classroom surveillance camera footage shows a teacher, who Thai media identifies as "Teacher Marvin," grabbing a student by the arm. The 25 year old Filipino teacher says he did not abuse the student and was just trying to get the student to the restroom because the student had a runny nose.
After the video was released of the Filipino teacher allegedly mistreating a student, immigration officials went to the school as well as the teacher's home to check his paperwork. The Filipino teacher was not home or at school, but later reported to immigration.
The investigation and review of classroom surveillance camera footage started after videos of a Thai teacher at the school, identified as Ornuma "Khru Jum" Plodprong, were shared online. The videos show a teacher pushing a 3 year old student to the ground and pulling another across the classroom. Khru Jum, along with teachers who allegedly witnessed the abuse, were reportedly fired.
Reports from Thai media say immigration checked all 74 foreign teachers at the Nonthaburi school, but the Filipino teacher was the only teacher at the school found to be working illegally. The teacher was not "officially" hired by the school, but started working at the school in July on a monthly salary of 20,000 baht, according to the school.
The Office of the Private Education Commission, or OPEC, set up a committee to investigate the 42 Sarasas schools. The Immigration Bureau has not announced if they will do checks at the schools, but OPEC secretary general Attapon Truektrong has asked the Sarasas schools to make sure teachers have a license issued by the Teachers' Council of Thailand. The commission is also making sure the schools are abiding by other rules such as maximum class size.
SOURCE: Thai Visa
Catch up with the latest daily "Thailand News Today" here on The Thaiger.
Keep in contact with The Thaiger by following our
Facebook page
.
Never miss out on future posts by
following The Thaiger
.