Phuket Gazette: Thailand business news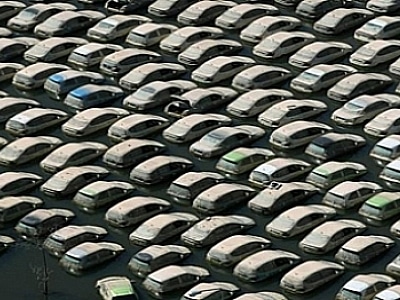 PHUKET MEDIA WATCH
– Thailand news compiled by Gazette editors for Phuket's international community
Honda's April restart means no plans for relocation
PHUKET (The Nation): Honda Automobile (Thailand) will not relocate to Indonesia, as confirmed by its plan to resume operation at the Rojana Industrial Park in Ayutthaya province on April 1, said Industry Minister Pongsvas Svasti.
It was reported a few days ago that Honda would invest US$340 million (10.4 billion baht) to triple its production capacity in Indonesia to 180,000 units. The investment would serve the growing demand for vehicles in Southeast Asia's largest market, a nation of 200 million. The plant near Jakarta will create 2,000 jobs and commence production in 2014, the report said.
Pongsvas said Honda executives had insisted that the company would maintain its production in Thailand and has no plan to move out of the country. Honda will resume production, which was hit by severe floods in the second half of last year, on April 1.
Honda was the only car maker hit directly by the flooding. About 1,000 of its vehicles were swamped at the factory in Rojana Industrial Park. The company's auto production, which has total capacity of 240,000 units per year, was disrupted for nearly six months.
The industry minister said Honda's new factory in Indonesia would serve domestic demand, which is growing very fast, while production in Thailand would continue to serve both the local market and exports. He added that other car makers besides Honda were still confident to operate in Thailand despite the impact from the floods.
In addition to Honda, Nissan has announced that it will invest in eco-car production in Indonesia. Nissan allocated US$400 million to increase its production capacity to 250,000 units by 2014.
According to Indonesia's automotive industry, domestic sales in February grew by 24.2 per cent from the same month last year to 86,407 units. The growth in the automotive industry is attributed to the rising middle class and low interest rates for loans.
Gratuities cannot be part of wage
PHUKET (The Nation): Labor Minister Phadermchai Sasomsap said yesterday that extra income from gratuity or service charges could not be included in the 300 baht daily minimum wage, but if any employer insists on including the service charge, he must discuss it with the workers first.
This would be an employment change so the Labor Court's mediation service could be used if both sides couldn't agree, he said.
Arthit Isamo, director-general of the Labor Protection and Welfare Department, said the service charge was considered as welfare under the Labor Relations Act.
The Supreme Court has also ruled that an employer could keep 22 per cent of the service charge for workers' welfare and share the rest among the staff, he said.
Since it was money from customers, not from the employer, it wasn't a wage, he added.
From April 1, Bangkok, Phuket, Samut Prakan, Samut Sakhon, Pathum Thani, Nakhon Pathom and Nonthaburi will hike the daily minimum wage to Bt300.
Policy rate kept steady at 3.00%
PHUKET (The Nation): The Monetary Policy Committee yesterday held the policy rate steady at 3.00 per cent as inflation was still under control, but noted that the minimum-wage increase and rising oil prices could intensify upward pressure on prices.
"The wage increase could lead to rises in expenses and goods prices, as a wage-price spiral effect. Looking forward, crude-oil prices, which could continue rising, and domestic demand could be issues," said Paiboon Kittisrikangwan, assistant governor for the Bank of Thailand and secretary of the MPC.
The committee struck a balance between positive and negative economic trends.
"The risks from the global economy have decreased and the recovery in the Thai economy is gaining momentum. Simultaneously, inflationary pressure has edged up because of prices of oil and goods," he said.
Core inflation, instead of headline inflation, is being used this year as the target of monetary policy under an agreement between the central bank and the Finance Ministry. The target range is 0.5-3.0 per cent this year.
"We will discuss the new framework [use of core inflation] again next year. Now, we're monitoring both," headline and core inflation, he said. The latter measure excludes volatile items such as food and energy.
When the Thai economy is reaches its full potential, likely in the third or fourth quarter of this year, public and private consumption and investment could stoke inflation, he said.
From the central bank's preliminary study, the increase in the minimum daily wage to Bt300 on April 1 is expected to increase headline inflation by 0.2 percentage point and core inflation by 0.3 percentage point, said Songtum Pinto, a senior director of the central bank.
Every US$10 climb in crude-oil prices is forecast to boost headline inflation by 0.4 percentage point and core inflation by 0.1 percentage point.
The central bank raised its price projection for Dubai crude oil to US$115 per barrel from US$103 for 2012. Its 2013 estimate is now US$110 per barrel, up from US$110.
The monetary-policy makers revised their 2012 forecast for headline inflation to 3.4 per cent from 3.2 per cent on the higher prices of crude oil and goods. This year's projection for core inflation was raised to 2.4 per cent from 2.2 per cent.
This year's estimate for growth in gross domestic product was upped to 5.7 per cent from 4.9 per cent because of last year's low base. Domestic demand was cited as the main engine of growth this year.
— Phuket Gazette Editors
Keep in contact with The Thaiger by following our
Facebook page
.
Never miss out on future posts by
following The Thaiger
.
Thailand News Today | German Embassy rally, permanent residency prospect, crowds in Pattaya | Oct 26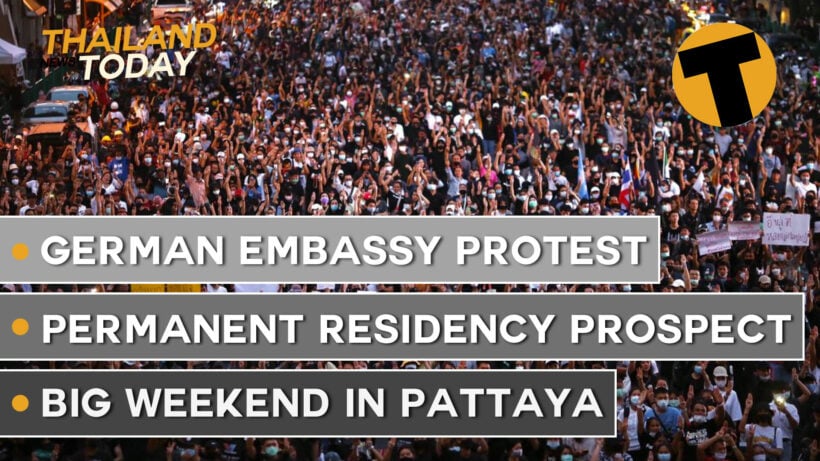 Today's latest news from The Thaiger, looking at the latest in the protests, a surge of crowds in Pattaya and the latest proposals from the Thai government to increase a new stream of revenue.
Permanent residency, changes to quarantine period – Government mulls strategies to revive economy
Thailand's energy minister has outlined a number of new strategies the government is discussing tohelp the Thai economy recover from the fallout of Covid-19 fallout.
Permanent residency for some condo purchases, changes to the mandatory quarantine and incentives for foreign investment are all under discussion.
The Eastern Economic Corridor, the special economic zone covering the eastern provinces of Rayong, Chon Buri and Chachoengsao, continues to eye foreign investors with a number of large infrastructure projects in the pipeline.
Of particular interest in the topics for discussion are that the government is considering offering permanent residency to people buying condos in the Kingdom, provided they don't mortgage, transfer, or sell the units within 5 years of purchase.
In relation to foreign arrivals, he says the government will clarify its plans on any further reduction in quarantine time. He says that if the current 14 day quarantine period is to be reduced, this would only apply to those coming from countries considered "low risk" for Covid-19. It's understood the Public Health Ministry is working on categorising countries into low, medium, and high risk.
Parliament in the middle of a 2 day session to discuss political impasse
An opposition spokesperson opened the special joint session of parliament today with a call for Prime Minister Prayut Chan-o-cha to step down, as anti-government protesters continued to keep up their pressure.
Mr Sompong also called for the release of detained protesters as a goodwill gesture to try and end the current impasse. " He said… The prime minister should be open-minded to the young protesters'demands, and stop delaying the process of writing of a new constitution."
Meanwhile a Palang Pracharath Party MP Paiboon Nititawan defended the PM saying the country needed his leadership to get through the economic crisis and to protect the institution of the monarchy, which was under attack by protesters.
Protesters march on German Embassy in Sathorn Road
Meanwhile protesters gathered at the Sam Yan intersection today at 5pm, near Chulalongkorn University, and marched to the Germany embassy on Sathorn Road, to submit a controversial petition.
Protesters are asking German authorities to look into whether His Majesty the King had violated German sovereignty by exercising his power from German soil. It is the first time a foreign government has been targeted by the anti-governmentprotesters.
Protesters say the intention is to push for the restoration a "truly" constitutional monarchy in Thailand, under law.
A 'spoiler' rally is also underway by government supporters and 'royalists' at Lumpini Park, right in the middle of the march route to the German Embassy.
Protesters massed at the Ratchaprasong intersection in Bangkok last night
Last night crowds gathered at the Ratchprasong intersection, one of the promised locations for a rally in response to Saturday night's refusal of the Thai PM to resign. Thousands gathered, mostly along the Ratchadamri Road, to hear speeches and musical performances.
Messages on some of the banners read "We are the people", "Everyone is a leader", "Thailand is for the people", "Police should protect the people".
Whilst blocking the intersection for 3 hours, with little police presence, the protesters disbanded peacefully just after sunset.
Pattaya springs back to life over the long weekend, more to come
Pattaya, struggling along for the past 7 months with a handful of domestic tourists and Bangkok weekenders, has had its busiest weekend for a long time, albeit a long weekend created by the public holiday in commemoration of King Chulongkorn.
Much of the increased traffic were Thai faces, a big change to the city's old demographic of international tourists and expats.
Tourists flocked to the city for the long weekend which included the Eastern Colorful Food, Culture and Music festival stretching along the Beach Road foreshore.
The focus of the weekend's events was the Beach Road which was visibly busy with locals and tourists joining in the foreshore festival, talent shows, music concerts and local food.
Schools advised to improve online learning in case of second Covid-19 outbreak
Thailand schools are told to get ready for a possible second wave of Covid-19 and prepare to for lockdown measures, just in case, to make sure all children have equal access to education.
A Thai economist warns that the education gap between rich children in urban areas and poor children in rural areas could widen if schools are shut down again and resort to the same online learning measures tried out months ago.
Keep in contact with The Thaiger by following our
Facebook page
.
Never miss out on future posts by
following The Thaiger
.
Expert says all rail crossings should be upgraded after fatal train-bus collision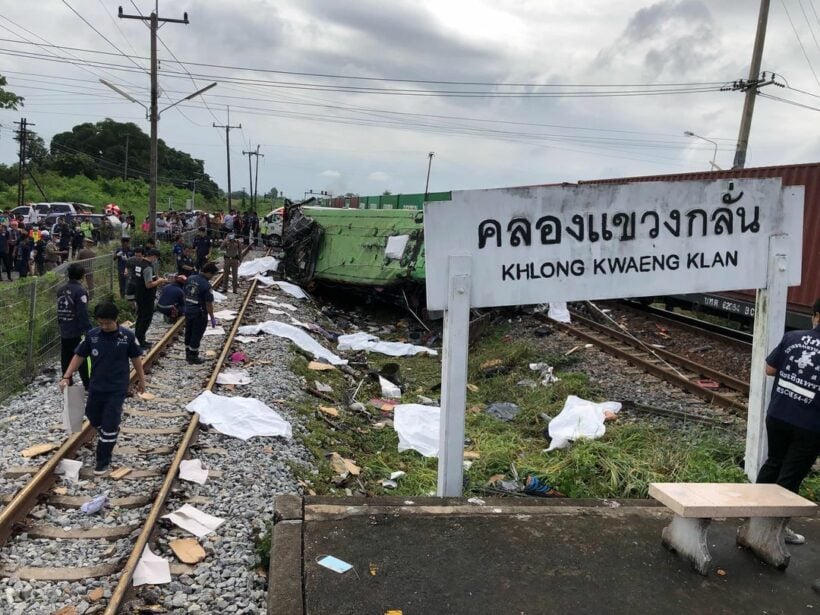 After the fatal freight train-charter bus collision earlier this month, authorities are looking into ways to make the rail crossings safer and to prevent potentially deadly incidents from happening in the future.
An expert in rail engineering says all rail crossings need to upgraded, urgently, while unofficial or illegal crossings should either be permanently closed off or upgraded with the proper safety equipment. Unofficial crossings are those that are used by locals, but are not approved by the State Railways of Thailand.
Chairperson of the Rail Engineering Committee at the Engineering Institute of Thailand, Rattapoohm Parichatprecha, gave suggestions about how to improve the rail crossings after an incident in Chachoengsao. On October 10, a train collided with a charter bus crossing the railway, killing 18 and injuring 44 who were on their way to a merit-making ceremony. Officials say the signal was broken and the crossing didn't have a barrier gate to block traffic.
Then, a passenger train collided with a car, killing a woman and injuring 2 others at a railway crossing in Phetchaburi's Khao Yai district on October 15.
The State Railway of Thailand says an average of 77 railway crossing incidents happen each year, killing an average of 28 people yearly and injuring 74. Some crossings are known as "black spots" where accidents occur more frequently, sometimes up to 4 times a year.
Rattapoohm says all legal crossings upgrade the warning signs and barricades, but warns that revamping the crossings could be expensive. In a previous report, Transport Minister Saksiam Chidchob acknowledged that the State Railways of Thailand's budget to install railroad crossing gates has been cut.
The size of the rail crossing as well as the direction also comes into play, according to Rattapoohm.
"The width of the crossing must not be at least three metres. The road should also cut through the rail tracks in a straight line and not in a diagonal direction which would create blind spots."
He says tree canopies must also be trimmed regularly to prevent branches and leaves from obstructing the view for both train conductors and drivers crossing the railway.
For illegal crossings, Rattapoohm says some can stay put since they are just used by the locals who are familiar with the terrain and know where the blind spots are, but says they should make sure the unofficial crossings stay off Google Maps.
"People outside the areas are unaware of the lurking danger the illegal crossings pose and many just follow directions in Google Map."
SOURCE: Bangkok Post
Keep in contact with The Thaiger by following our
Facebook page
.
Never miss out on future posts by
following The Thaiger
.
Schools advised to improve online learning in case of second Covid-19 outbreak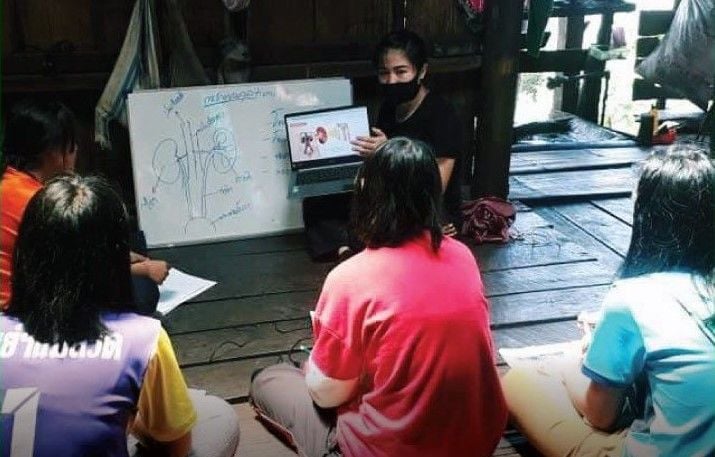 Thailand schools are told to get ready for a possible second wave of Covid-19 and prepare to for lockdown measures – just in case – to make sure all children have equal access to education. An economist warns that the education gap between rich children in urban areas and poor children in rural areas could widen if schools shut down again and resort to the same online learning measures tried out months ago.
In an online seminar called "My school and Covid-19," human development economist Dilaka Lathapitate stressed that school closures and the switch to online learning during the lockdown period led to an increase in the country's education disparity. Dilaka, from the education unit of the World Bank in Bangkok, says Thailand's education system isn't ready for another outbreak.
"The pandemic denied many children, particularly those in rural areas, learning and self-development opportunities."
Thailand tried the "distance learning" experiment during the lockdown, but it was deemed a failure. Many in remote areas had problems like the lack of WiFi, faulty reception and limited to no access to working computers. At one point, hundreds of volunteers were sent out by the Equitable Education Fund teach children in remote areas.
Taking students out of the classrooms and moving to online learning hit poor students the hardest, according to chairperson of the Princess Maha Chakri Award Foundation, Krissanapong Kirtikara. He says those students are often the most in need of comprehensive support.
Thailand isn't ready to implement online learning, Dilaka says. If there was another coronavirus outbreak, the education gap between the rich and the poor would likely widen due to access to technology. Dilaka cited a survey that showed a "digital divide" between children in urban and rural areas.
SOURCE: Bangkok Post
Keep in contact with The Thaiger by following our
Facebook page
.
Never miss out on future posts by
following The Thaiger
.