Thailand
Phuket Gazette: Thailand business news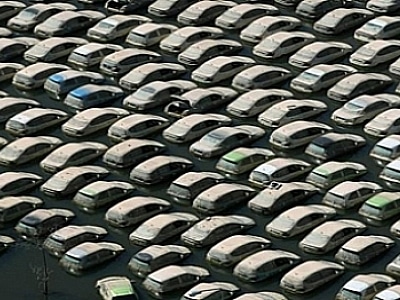 PHUKET MEDIA WATCH
– Thailand news compiled by Gazette editors for Phuket's international community
Honda's April restart means no plans for relocation
PHUKET (The Nation): Honda Automobile (Thailand) will not relocate to Indonesia, as confirmed by its plan to resume operation at the Rojana Industrial Park in Ayutthaya province on April 1, said Industry Minister Pongsvas Svasti.
It was reported a few days ago that Honda would invest US$340 million (10.4 billion baht) to triple its production capacity in Indonesia to 180,000 units. The investment would serve the growing demand for vehicles in Southeast Asia's largest market, a nation of 200 million. The plant near Jakarta will create 2,000 jobs and commence production in 2014, the report said.
Pongsvas said Honda executives had insisted that the company would maintain its production in Thailand and has no plan to move out of the country. Honda will resume production, which was hit by severe floods in the second half of last year, on April 1.
Honda was the only car maker hit directly by the flooding. About 1,000 of its vehicles were swamped at the factory in Rojana Industrial Park. The company's auto production, which has total capacity of 240,000 units per year, was disrupted for nearly six months.
The industry minister said Honda's new factory in Indonesia would serve domestic demand, which is growing very fast, while production in Thailand would continue to serve both the local market and exports. He added that other car makers besides Honda were still confident to operate in Thailand despite the impact from the floods.
In addition to Honda, Nissan has announced that it will invest in eco-car production in Indonesia. Nissan allocated US$400 million to increase its production capacity to 250,000 units by 2014.
According to Indonesia's automotive industry, domestic sales in February grew by 24.2 per cent from the same month last year to 86,407 units. The growth in the automotive industry is attributed to the rising middle class and low interest rates for loans.
Gratuities cannot be part of wage
PHUKET (The Nation): Labor Minister Phadermchai Sasomsap said yesterday that extra income from gratuity or service charges could not be included in the 300 baht daily minimum wage, but if any employer insists on including the service charge, he must discuss it with the workers first.
This would be an employment change so the Labor Court's mediation service could be used if both sides couldn't agree, he said.
Arthit Isamo, director-general of the Labor Protection and Welfare Department, said the service charge was considered as welfare under the Labor Relations Act.
The Supreme Court has also ruled that an employer could keep 22 per cent of the service charge for workers' welfare and share the rest among the staff, he said.
Since it was money from customers, not from the employer, it wasn't a wage, he added.
From April 1, Bangkok, Phuket, Samut Prakan, Samut Sakhon, Pathum Thani, Nakhon Pathom and Nonthaburi will hike the daily minimum wage to Bt300.
Policy rate kept steady at 3.00%
PHUKET (The Nation): The Monetary Policy Committee yesterday held the policy rate steady at 3.00 per cent as inflation was still under control, but noted that the minimum-wage increase and rising oil prices could intensify upward pressure on prices.
"The wage increase could lead to rises in expenses and goods prices, as a wage-price spiral effect. Looking forward, crude-oil prices, which could continue rising, and domestic demand could be issues," said Paiboon Kittisrikangwan, assistant governor for the Bank of Thailand and secretary of the MPC.
The committee struck a balance between positive and negative economic trends.
"The risks from the global economy have decreased and the recovery in the Thai economy is gaining momentum. Simultaneously, inflationary pressure has edged up because of prices of oil and goods," he said.
Core inflation, instead of headline inflation, is being used this year as the target of monetary policy under an agreement between the central bank and the Finance Ministry. The target range is 0.5-3.0 per cent this year.
"We will discuss the new framework [use of core inflation] again next year. Now, we're monitoring both," headline and core inflation, he said. The latter measure excludes volatile items such as food and energy.
When the Thai economy is reaches its full potential, likely in the third or fourth quarter of this year, public and private consumption and investment could stoke inflation, he said.
From the central bank's preliminary study, the increase in the minimum daily wage to Bt300 on April 1 is expected to increase headline inflation by 0.2 percentage point and core inflation by 0.3 percentage point, said Songtum Pinto, a senior director of the central bank.
Every US$10 climb in crude-oil prices is forecast to boost headline inflation by 0.4 percentage point and core inflation by 0.1 percentage point.
The central bank raised its price projection for Dubai crude oil to US$115 per barrel from US$103 for 2012. Its 2013 estimate is now US$110 per barrel, up from US$110.
The monetary-policy makers revised their 2012 forecast for headline inflation to 3.4 per cent from 3.2 per cent on the higher prices of crude oil and goods. This year's projection for core inflation was raised to 2.4 per cent from 2.2 per cent.
This year's estimate for growth in gross domestic product was upped to 5.7 per cent from 4.9 per cent because of last year's low base. Domestic demand was cited as the main engine of growth this year.
— Phuket Gazette Editors