Phuket Gazette Thai News: Chalerm to free Yingluck; Health groups plan protest at PM's home; BKK will get electric racing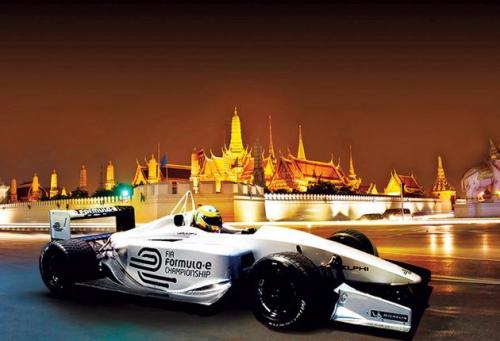 PHUKET MEDIA WATCH
– Thailand news compiled by Gazette editors for Phuket's international community
Chalerm backs down on reconciliation bill
The Nation / Phuket Gazette
PHUKET: Deputy Prime Minister Chalerm Yoobamrung looks to have backed down from his plan to push through a controversial version of the reconciliation bill – although this may just be a tactical retreat.
His move to tone down the bill by removing an article and giving up his characteristic determination to push the bill for deliberation in Parliament is not unexpected.
"I've assigned MP Piraphan [Palusuk, Pheu Thai-Yasothon] and MP Surajit [Yontrakul, Pheu Thai-Maha Sarakham] to submit the bill to the House on May 23 [tomorrow]. It will be fine if they don't do it," he said.
He is believed to have softened his stance because the bill has met opposition from all sides – both from opponents of former PM Thaksin Shinawatra, as well as his supporters.
The red shirts do not want a blanket amnesty bill to be enacted because they want members of the previous government and military leaders punished for the 2010 crackdown. And many Pheu Thai MPs don't want Chalerm's bill considered in the House, as they believe it will provide a cause for Thaksin's opponents to launch an all-out protest against the government.
Chalerm removed Article 5, which sought to provide financial compensation to people affected by political violence and crackdowns. He said the article was removed so it would not rely on the national budget, and thus, would not need to be endorsed by Prime Minister Yingluck Shinawatra.
However, the real motive behind removing the article may be that he wants to free Yingluck from being held responsible for this controversial bill.
Chalerm claims that removing the article takes away the bill's link to the national budget. However, the bill sought to undo punishment meted out to Thaksin, including seizure of his assets, and if passed, the government would have had to return Bt46.37 billion – a sum that would have to be taken from the national budget.
Article 143 in the Constitution states that any bill requiring the government to pay out national funds needs to be endorsed by the premier. The charter also authorises the House speaker and chairpersons of House panels to decide if a bill is considered linked to the national budget or not.
The opposition, meanwhile, plans to seek a ruling from the Constitutional Court if Chalerm's bill does get sent to the House. Yet, Chalerm's "backdown" may just be a tactical move. This was made clear after Pheu Thai Party came up with a half-hearted resolution over the bill yesterday, and the party's de-facto boss Thaksin made no mention of it during his Skype address to the red-shirt rally on Sunday.
Thaksin just said he backed the bill put forward by Samut Prakan MP Worachai Hema, which seeks to absolve any wrongdoing by demonstrators – not their leaders.
Meanwhile, in its resolution yesterday, Pheu Thai said Chalerm's bill was a personal matter between the deputy PM and a group of MPs, and that it was not related to the party.
"Pheu Thai has resolved to support Worachai's bill and will not take up Chalerm's version for deliberation at the same time," Pheu Thai spokesman Prompong Nopparit told reporters after the party meeting. "Chalerm may sponsor the bill but it will not have anything to do with the party."
A Pheu Thai source admitted that Chalerm's bill "would become a magnet to attract opposition against the government. But the party let Chalerm go ahead to test the waters and see if it does get strong opposition. It was decided that if the opposition were strong, we would retreat. The prime minister and Pheu Thai are not related to it so there will be no damage against us," the source said. "However, if the opposition is not strong, the bill might get enacted."
But opposition to Chalerm's bill is clearly very strong.
The red shirts are against it because they want former PM Abhisit Vejjajiva and his then-deputy Suthep Thaugsuban to be punished.
And Democrat MP for Nakhon Si Thammarat Thepthai Senpong said the opposition would also put up a strong fight against it.
"At the House debate, we will use every effort to point out that this bill seeks to benefit only Thaksin. Though the Democrat Party is a minority in the House, we will do our best to block it," Thepthai promised. He added that his party would employ every House regulation to delay the bill's passage.
Chalerm's bill, they expect, would allow the now-weak People's Alliance for Democracy to boost its strength and come out to oppose any return of money to the former PM and absolving Thaksin of any wrongdoing over recent conflicts.
Health groups plan protest at PM's house
The Nation / Phuket Gazette
PHUKET: The Rural Doctors Society and its allies will protest in front of Prime Minister Yingluck Shinawatra's residence from June 6 onward to press for the dismissal of Public Health Minister Pradit Sinthawanarong.
They have accused Pradit of many wrongdoings, including an attempt to undermine the Government Pharmaceutical Organisation (GPO). The protest plan was unveiled yesterday around the time the Cabinet approved the GPO board's decision to sack GPO managing director Witit Artavatkun.
Thai Kidney Club of Thailand chairman Saharat Sarapaiwanich said someone had secretly plotted to destroy the GPO and push for a co-payment system at the expense of patients.
"Such actions will put kidney patients in serious trouble," he said.
As part of the protest, Saharat said more than 50 kidney patients would undergo dialysis in front of Yingluck's house on June 6.
"If she ignores us, the number of patients in front of her house will increase," he said.
Rural Doctors Society chairman Kriengsak Watcharanukulkiat attacked Pradit for many controversial policies including the pay-for-performance system for medical workers and an alleged plot to privatise the GPO.
"He's unethical," Kriengsak said.
Pradit, who is now in Geneva, has yet to respond. Deputy Public Health Minister Cholnan Srikaew, however, urged all sides to embrace mutual discussions.
"Please talk, otherwise problems can't be solved," he said.
In regard to the plan to arrange dialysis in front of Yingluck's home, he asked protesters to think about patients' safety.
Cholnan dismissed a suggestion that Witit was kicked out because he tried to resist the transfer of Bt75 million from the GPO to the Public Health Ministry.
"I don't believe he was sacked on this ground. Otherwise, he would be able to easily fight against the GPO board's decision to sack him," the deputy public health minister said.
Witit said yesterday he had not yet planned to lodge a complaint against his dismissal, because he had yet to see an investigation report about his "wrongdoing".
The GPO board says it sacked Witit over alleged irregularities in the procurement of raw material to produce paracetamol.
Witit said he would be looking for a new job and would never return to the government sector.
Cholnan, however, insisted the termination of Witit's employment contract was in line with proper procedures. "I hardly needed to explain anything when his proposed dismissal was put before the Cabinet," the deputy minister said.
Bangkok set for 2014 Formula E Grand Prix
Thailand Consumer Confidence Index hits record low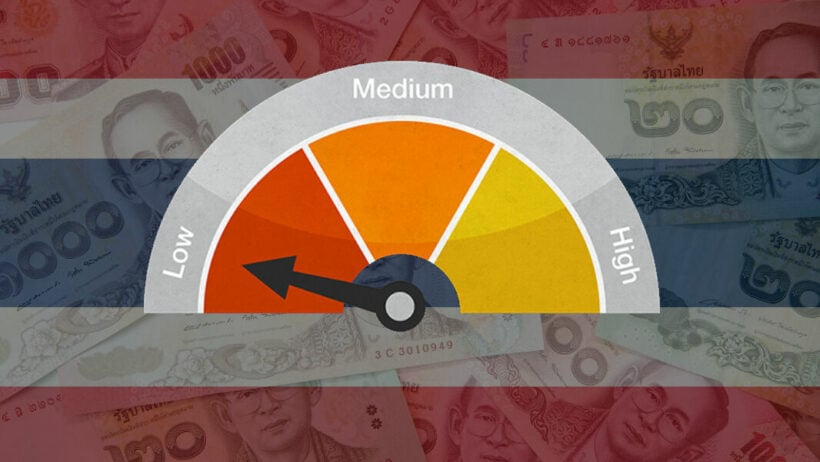 The University of the Thai Chamber of Commerce has reported that the Consumer Confidence Index has hit another new record low of 46.0 in April. The Covid-19 global pandemic has had a devastating effect on the economy and consumer confidence has fallen frequently to the lowest points that it has seen since 1998.
The president of the UTTC believes that consumers generally don't feel like there has been much of a recovery for the economy since the global pandemic began and without a stimulating event to motivate economic growth, the index is expected to continue to fall further. The university estimated that if the third wave of Covid-19 continues past the end of May the economy can expect to lose 400 to 600 billion baht.
The UTTC president stressed that the government should hasten to step up relief measures and make sure they continue relief and economic stimulus throughout the pandemic to avoid economic catastrophe. He predicted that the economy and the Consumer Confidence Index will continue on a downward slope without any hope of improvement until the vaccine rollout gets well underway towards herd immunity, and new Covid-19 infections are decreased dramatically.
Today saw another 2,101 new Covid-19 infections and 17 deaths in Thailand. Vaccination efforts are continually being stepped up, but still remain woefully slow.
The Consumer Confidence Index first started falling last year, with a drop below the previous record low in 1998 in April of 2020, when it fell to 47.2. A few months later, by July of last year, it had recovered significantly, climbing back over 50. But by March of this year, the index had fallen again to 48.5. With April's tumble of 2.5 points, the Consumer Confidence Index pushes once again to a new record low.
SOURCE: Thai Business News
Want more from the Thaiger family?
📱 Download our app on Android or iOS for instant updates on your mobile
📧 Subscribe to our daily email newsletter
👍 Like/Follow us on Facebook
🔔 Subscribe to or Join our YouTube channel for daily video updates
Thailand searches for cow vaccine for lumpy skin disease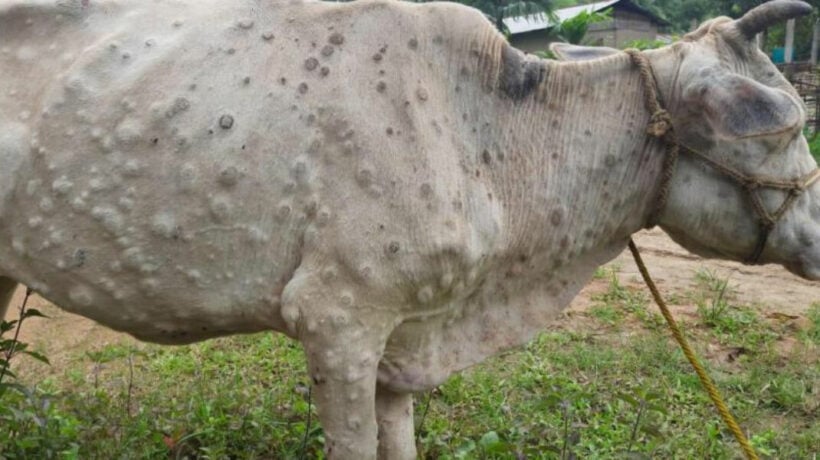 Move over Covid-19 there's a new disease sweeping the country as Thailand's cow population is afflicted with a lumpy skin disease. The Department of Livestock Development is now working on procuring vaccines from overseas manufacturers to import and treat the cattle population in Thailand. The lumpy skin is caused by pustules that are the most visible symptom, perhaps more detectable than other bovine signs such as drooling, loss of appetite and drowsiness.
The cow disease is spreading in the North, Northeast, and Central Plains area of Thailand and has been found in 18 provinces total. First identified in Roi Et, it has now spread in Chiang Rai, Kalasin, Kanchanaburi, Khon Kaen, Maha Sarakham, Nakhon Pathom, and Nakhon Phanom. The first case of the lumpy skin disease was reported in Don Daeng village last month and on April 9th officials reported it to the World Organisation for Animal Health.
The lumpy skin disease is found in cow pens and spread through flies, ticks, and mosquitoes, but the DLD says not to panic, it is not transmissible to humans. The department is distributing important information about symptoms and how the disease spreads to breeders and farmers in the area. They're requiring the breeders to monitor their cattle closely and have imposed measures to control the disease in heavy hit areas.
To prevent the spread of disease in livestock, traders are being requested to not buy and sell cattle within 50 km from disease-stricken regions. And for farmers caring for cattle, the DLD recommends spraying insecticide in all areas to prevent transmission via insects. Finally, in case the cattle were jealous of traveling humans, the DLD is advising farmers to prevent disease spread by isolating any new cow that comes into their farms with a 28-day bovine quarantine where they should be kept under nets to keep insects away.
SOURCE: Bangkok Post
Want more from the Thaiger family?
📱 Download our app on Android or iOS for instant updates on your mobile
📧 Subscribe to our daily email newsletter
👍 Like/Follow us on Facebook
🔔 Subscribe to or Join our YouTube channel for daily video updates
Covid-19 third wave cuts Thai domestic flights predictions by 38%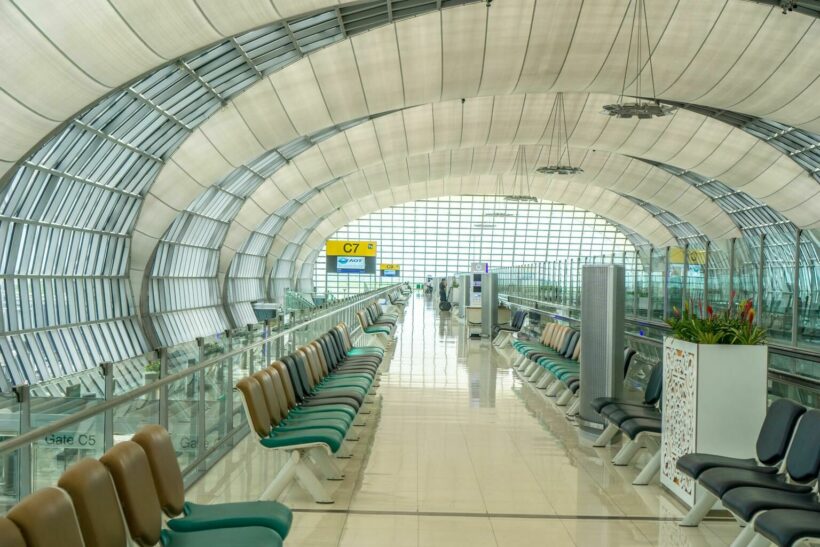 The Aeronautical Radio of Thailand is predicting a 38% drop in travel by domestic flights due to the effect of the third wave of Covid-19. Aerothai is a department under the Ministry of Transport that provides aeronautical communication and air traffic control in Thailand. With Covid-19 experiencing a rapid spread beginning in April and not yet under control, infections across all of Thailand's 77 provinces are projected to drastically hamper local travel until at least September.
The fiscal year, beginning last October, was originally predicted to have almost 519,000 domestic flight. But Aerothai has now reduced those figures down 38% to just over 323,000 flights in Thailand. The executive vice president for operations of Aerothai said that by the second half of April domestic flights had been severely reduced despite remaining relatively stable in early April.
The Civil Aviation Authority has also added increased restrictions on the way passengers are carried, adding another layer of difficulty for the domestic airlines who have slashed their schedules after having a bumper Songkran holiday period and were looking forward to better times ahead.
Flight reductions were a result of attempts to reduce and contain the spread of Covid-19 by implementing strict travel and safety measures. While domestic travel was strongly affected by Thailand's second wave of Covid-19 at the beginning of 2021, the current wave is much worse and Aerothai predicts domestic flights will reach their lowest point by the end of May.
An expectation of recovery beginning next month hinges on international flights starting to slowly creep back into Thailand. The Civil Aviation Authority of Thailand has loosened the restrictions for international travel in preparation for the government's plan to relaunch the tourism industry in key hotspots of Thailand like Phuket and Koh Samui in July. Aerothai is hoping that by August domestic flights will return to the levels seen at the end of 2020 before the second wave of Covid-19, with about 1,095 daily flights.
Aerothai has been tracking flight statistics since it was founded in 1948 by a group of airlines with the approval of the Royal Thai Government. In 1963 the government took on a majority stake in the company from the founding airlines and converted it to a state enterprise operating under the Ministry of Transport.
SOURCE: Bangkok Post
Want more from the Thaiger family?
📱 Download our app on Android or iOS for instant updates on your mobile
📧 Subscribe to our daily email newsletter
👍 Like/Follow us on Facebook
🔔 Subscribe to or Join our YouTube channel for daily video updates