Phuket Gazette: Don Mueang; Yala bombing; Sex 'trade' not 'traffic'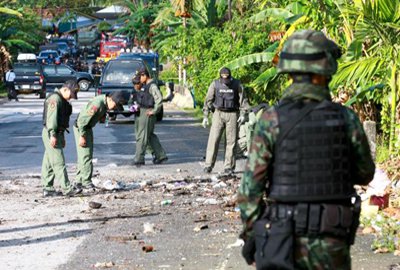 PHUKET MEDIA WATCH
– Thailand news compiled by Gazette editors for Phuket's international community
Passengers give top marks to Don Mueang restart
PHUKET (The Nation): According to a survey conducted by The Nation, only budget airline Nok Air was in operation at the airport. Passengers said they found the service convenient.
Security guards said there had been no disruption since the early-morning opening. Passenger traffic flowed well and the air-conditioners kept the building comfortable.
Patee Sarasin, chief executive officer of Nok Air, said on Monday that the airline was ready to resume 80 flights at Don Mueang Airport as usual. Reopening of only two routes was to be delayed. On the same day, Prime Minister Yingluck Shinawatra presided over the airport's reopening.
Yesterday, the first flight took off at 6am, headed to Udon Thani, and the last one was at 8pm, traveling to Chiang Mai.
A man heading for Ubon Ratchathani said his flight was to take off at 6pm, but he came early because he was not sure how efficient the service would be on the first day of the reopening.
Two lecturers who hold PhDs and teach environmental health at Rajabhat Ubon Ratchathani University were somewhat worried about the airport's cleanliness, especially the air-conditioners, after the flood. They said some bacteria might be lurking on the floor or somewhere if disinfecting had been inadequate. Since bacteria are invisible, it can be difficult to make sure they have been eradicated.
The airport should display signs inside telling passengers that the building is kept clean according to high standards to make sure that it will not harm passengers' health, they said.
A man who declined to be named was waiting for the flight to Nan. His Nok Air flight was scheduled for 3.40pm, but was delayed to 4.20pm. Nok Air staff said the plane itself was late, and the delay was not due to the smog situation in the northern region. Despite the delay, overall this passenger felt OK about the airport facilities on the first day.
Nok Air staff said they had spent a week preparing to provide service for all passengers. Twelve check-in counters were opened, previously only seven or eight counters were in operation.
The two lecturers, who are regular Nok Air passengers, said Don Mueang was more convenient than Suvarnabhumi Airport. Access to downtown was easier, facilities for passengers were good, and it was not congested. At Suvarnabhumi, Nok Air had too few check-in counters and the number of shuttle buses was limited, causing them inconvenience.
"Nok Air's operation at Suvarnabhumi looked like a son of the second wife,' one of them said.
When asked whether Bangkok should have two airports or just one, most people said the separate airport was a good idea. They felt it was more convenient and easier to get transport to downtown.
One soldier killed, another injured in Yala bomb attack
PHUKET (The Nation): Police said the blast occurred in Kuwa village, Tambon Huaykrathing in Yala's Krong Penang district at 6.40am yesterday.
Sgt Preecha Kongphakdee, 52, was struck by shrapnel on the head and body and was pronounced dead at Yala Hospital.
Pvt 1st Class Thongchai Boonchuay, 23, was hit by shrapnel in his left eye and body, leaving him severely injured. Doctors said his condition is stable and he is now out of danger.
Police said insurgents planted a home-made bomb at a roadside garbage dump site and detonated it a when a unit of nine soldiers, led by Preecha, arrived at the scene. The troops were patrolling the road on foot to provide protection for teachers as they traveled to school in the morning.
Police said the area was the zone of insurgent leader Ismael Rayalong.
Bomb disposal officers said the bomb was apparently made of 5kgs of explosives contained in a metal box. The bomb was detonated with a walkie-talkie radio.
A police source said about 100 walkie-talkie radio sets have recently been shipped by an insurgent supporter to three southern border provinces.
Sex 'trade', not 'traffic'
PHUKET (The Nation): Being a sex worker these days isn't what it used to be, at least for those whose rights are backed up by the Empower Foundation. Much has improved – no more pimps or mamasans, and fewer punches thrown their way. Being "rescued", though, causes them all sorts of problems.
Most people remain unaware of the dramatic new context in the flesh trade, Empower director Chantawipa Apisuk said at the recent release of a report, "Hit & Run: Sex Workers' Research on Anti-trafficking in Thailand".
"We have now reached a point in history where there are more women in the Thai sex industry being abused by anti-trafficking practices than there are women exploited by traffickers," she said.
The government and the agencies that abet its efforts to "help" prostitutes have, in many ways, gone too far in enforcing the Prevention and Suppression of Human Trafficking Act.
The modern sex worker has work tools apart from makeup and condoms, said Chantawipa, who founded Empower in 1985 to safeguard their rights. They have cell phones and the Internet. Rather than greedy pimps, their support network is centered on a trusted tuk-tuk driver or the local motorcycle-taxi guy who takes them around and protects them.
These people have designated workplaces – restaurants, massage parlors, go-go bars, beer bars or karaoke clubs. Their work might also entail dancing for or drinking beer with the customers.
More than 20,000 sex workers make use of Empower's contact points in 11 provinces in the North, Northeast and Central region, including several on the Burmese border.
Empower has seen the industry develop continuously through three decades and 10 governments. Sex work is now widely regarded as a quasi-legitimate profession, with its own form of employers and self-employed workers.
Inevitably, though, prostitution remains a crime in the eyes of many, and those plying the trade are treated accordingly.
But the kindlier view, that they are victims of human trafficking, isn't a great deal of help either, Chantawipa said. Legislation aimed at stopping the trafficking of people has had a serious adverse effect.
The "Hit & Run" report is an effort to assess the state of the profession. More than 200 sex workers helped the foundation conduct a survey over the course of 12 months, in bars, restaurants and brothels across the county and even into Burma and Laos.
"We trained them in legal rights," Chantawipa said, although some were already university graduates and several even had law degrees. "We call them our 'high-heeled human-rights defenders'."
It's a play on the term "barefoot lawyer" – a solicitor who cares about justice rather than fees – explains Liz Hilton. She's worked with the foundation for nearly 20 years and helped coordinated the project and the associated Rapid Action Training for Sex Workers.
"The first round of training was done in 12-month blocks in 2008 and 2009. There were 23 sex workers – men, women and transgender people."
The survey determined that more than 50,000 sex workers have been involved with Empower since it started, including migrants mainly from Laos, Burma, China and Cambodia.
Migration, it was noted, is part of the "culture" of sex work, and the brokers involved in transpor
— Phuket Gazette Editors
Keep in contact with The Thaiger by following our Facebook page.
Never miss out on future posts by following The Thaiger.
45 new cases today, 37 local‐Covid‐19‐Update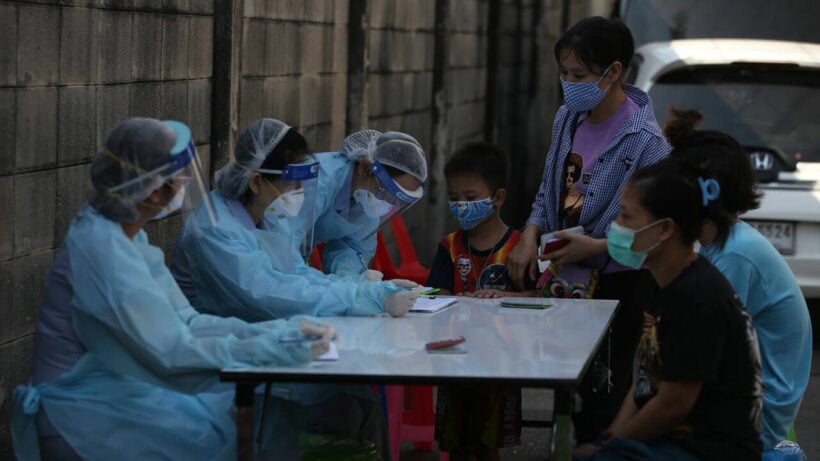 Thailand reports 45 new cases of Covid-19cases today, with 37 infections being locally-transmitted. 8 of those infections were imported, raising the total amount of infections since the pandemic began to 25,809.
The Department of Disease Control reports that 32 cases were confirmed at hospitals with 5 confirmed through active case finding in communities.
Samut Sakhon province, the 2nd wave epicentre, reported over half of the new cases at 19. 14 of those cases were confirmed at hospitals and 5 were detected in Myanmar communities. Bangkok has reported 3 new cases, Nakhon Nayok reported 5, Chai Nat 3, Nakhon Pathom 3, Saraburi 2, Prachuap Khiri Khan 1, and Samut Prakan 1.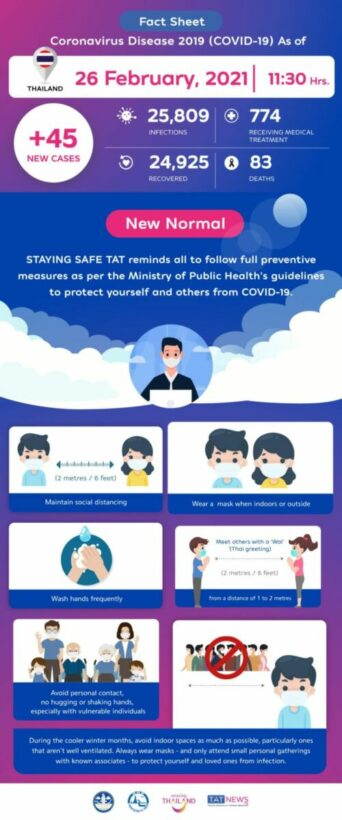 The 8 imported cases were those under quarantine arriving from Pakistan, Bangladesh, the UK, Germany, France, The Netherlands, and Kuwait. The case from the UK was that of a 6 year old Thai schoolgirl.
Globally, Covid-19 cases rose by 444,466 over the past day to 113.54 million. The worldwide death toll increased by 10,552 to 2.52 million. The United States still has the most cases at 29.5 million, with the most deaths at 520,785.
SOURCE: Bangkok Post
Keep in contact with The Thaiger by following our Facebook page.
Never miss out on future posts by following The Thaiger.
Surveys show Thailand still one of the top holiday choices post-pandemic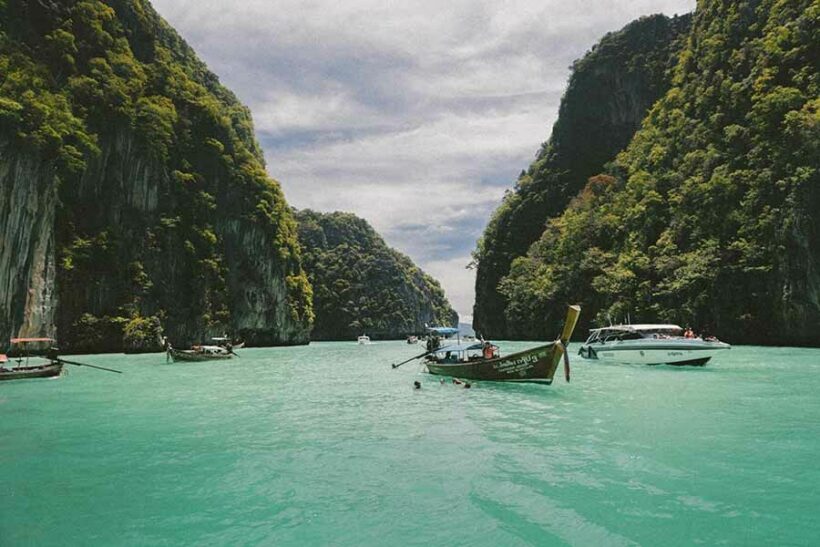 The Stockholm office of the Tourism Authority of Thailand has conducted a survey in which 62% of respondents say they want to spend winter in Thailand provided restrictions are lifted. The top destinations are Phuket, Krabi and Khao Lak, followed by Koh Samui, Koh Pha-ngan, Koh Tao, Bangkok, and Hua Hin.
68% say they would cancel bookings if the 14-day quarantine remains in place. 26% say they would still go ahead, and 13% said they'd be in favour of quarantine being cut to 10 days. 99% of participants say they would be worried about testing positive for Covid-19 after travel plans have been made.
Meanwhile, the TAT's London office has also been busy, carrying out a survey in conjunction with market research firm, YouGov. The idea behind the survey was to get an idea of the future of tourism once the pandemic is over.
4,127 people took part, with 75% of them saying they're prepared to be vaccinated if it's required for travel. 41% are against mandatory quarantine, although 52% would accept a 5-day quarantine. 62% of those planning holidays are over the age of 50 and interested in countries with low infection rates.
According to a Nation Thailand report, Siripakorn Cheawsamoot from the TAT says the findings of the survey indicate that up to 6 million people are interested in travelling to Thailand at some point this year.
Meanwhile, a number of online travel agency platforms in France have also carried out a survey. The poll, conducted by companies such as Go Voy, Opodo, and eDreams, showed that the number of hits to tourism-related websites rose by 15% once the success of Covid-19 vaccines was announced. The top destinations searched for were Dubai at 49%, Marrakesh at 27%, and Bangkok at 25%.
Another travel survey in the Americas found that most holidaymakers have chosen to postpone their trips by 7 months to a year, rather than cancelling completely. Siripakorn says that booking flexibility is a priority for Americans.
"Flexibility to reschedule is the top priority for American tourists, followed by safety. These tourists are looking for safety, no quarantine, flexibility, and no deposit."
Meanwhile, a report issued by Skift Research shows that travel will not recover until 2023 and will not return to pre-pandemic levels until 2025.
SOURCE: Nation Thailand
Keep in contact with The Thaiger by following our Facebook page.
Never miss out on future posts by following The Thaiger.
Long Buddhist holiday to see over 40 percent reduction in domestic tourism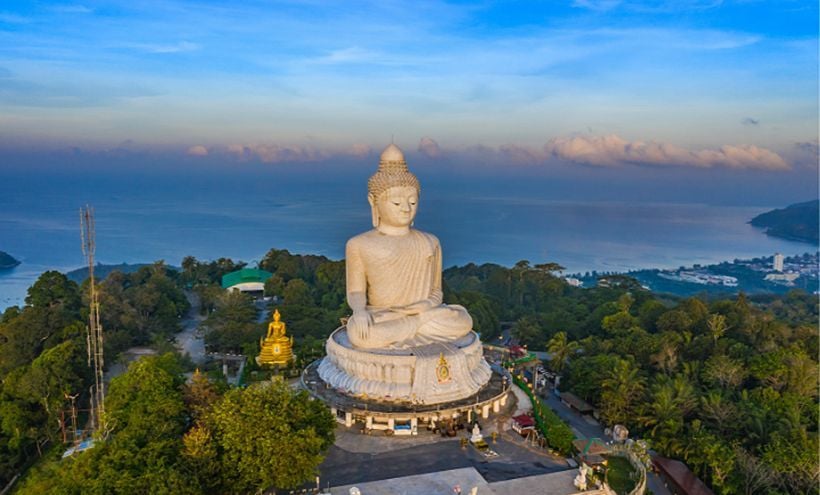 The long Buddhist festival holiday, which starts today, is set to see over a 40% reduction in domestic tourism. The Tourism and Transport Authority of Thailand has made the estimation which tallies around 1.09 million domestic trips, a number that is down 44% from last year's Makha Bucha Day.
The 2nd wave of the Covid pandemicthis year has made potential tourists cautious about spending money, with the holiday forecasted to yield 3.9 billion baht. That number is 38% lower than the same period last year. Hotel occupancy rates are also expected to only be 50% of last year's tally on average.
Other venues that are normally open for tourists on this holiday, such as the ancient Buddha's footprint at Khao Khitchakut in Chanthaburi, have been closed out of fears for Covid spreading through mass gatherings. As one of the country's top 10 religious events, it is indicative of how the 2nd wave has taken a toll on the country's tourism. The event's closing is attributed to the forecasted 74% drop in trips to Thailand's northeastern region, otherwise known as Isaan. And, if there are less tourists, then there is less revenue. The cancellation is expected to decrease expenditures by 68% on average.
Meanwhile, the 2nd wave is also affecting airlines as Thai AirAsia has reported only 9.49 million passengers with an average load factor of 75% for 2020, posting a net loss of 4.76 billion baht with a total revenue of 16.3 billion baht.
Thai VietJet's marketing manager says before the 2nd wave hit late last year, the airline was on the upswing, operating 120 domestic flights per day. Recently, top economic leaders have warned that Thailand's tourism industry will fallout soon if it is not revived. The 60 plus year industry is in dire trouble with slow vaccine rollouts, country travel restrictions, and virus variants all being major factors in Thailand's slow reopening of tourism.
With the vaccine set to be issued to tourism hotspots first, PM Prayut has stated that the government is mulling whether to allow tourists to skip quarantine requirements if they can show that they have received the Covid vaccine.
SOURCE: The Phuket News
Keep in contact with The Thaiger by following our Facebook page.
Never miss out on future posts by following The Thaiger.