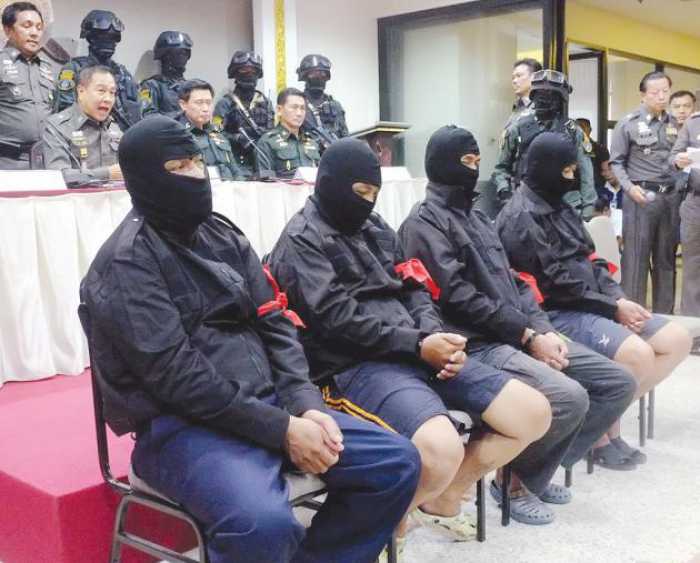 PHUKET MEDIA WATCH
– Thailand news selected by Gazette editors for Phuket's international community
'Men in black' arrested
The Nation / Phuket Gazette
PHUKET: Police have arrested four men and one woman in connection with the killings of several soldiers in Bangkok, including Colonel Romklao Thuvatham, during the political unrest in 2010, and are hunting for two more suspects.
Romklao was serving as deputy chief of staff of the Second Infantry Division of the Royal Guards. He was promoted posthumously to general.
All the suspects were involved in a firearm and grenade attack against troops dispatched to a protest rally in a small alley near the Democracy Monument on the night of April 10, 2010, Pol General Somyot Pumpunmuang, deputy National Police chief, said yesterday.
The attackers all wore black clothes and hoods, he said.
Earlier investigations into the 2010 disturbances found that armed men in dark attire, dubbed "men in black" by many people, had mingled with red-shirt protesters.
Somyot was speaking during a press conference at police headquarters attended by many senior police and military officers that was called to announce the arrest.
An eighth suspect has died, but Somyot did not state the cause.
Romklao's wife Nicha Hiranburana thanked Somyot for the arrests. She posted a long Facebook message saying she hoped the arrests would expose the mastermind of the attack that left five military officers dead and many others wounded.
Somyot said that under questioning, the suspects confessed that they participated in the attack. Investigators would next attempt to link the suspects to their accomplices and mastermind(s).
The arrests were the result of careful police investigation that led to a court-issued warrant, he said.
The suspects were identified as Kittisak Sumsri, 45, Preecha Yooyen, 24, Chamnan Pakeechai, 45, Ronnarit Suricha, 33, and Punika Choosri, 39, who are now under custody, while Wattanachok Chinpui, 23, and Thanadej Ekapiwat, 45, remain at large.
Police have identified a mastermind as Chakrarin Ruangsak-vichit, who is now wanted under an arrest warrant issued by the military court of Saraburi.
There is a connection between the suspects and Kritsuda Kunasen, a red-shirt leader who recently accused the junta of torturing her during military detention, Somyot said.
The suspects were charged with carrying war-grade weapons in public without a permit. They were handed over to Crime Suppression police for detention after the press conference.
The attack was plotted at a condominium on Ram-Inthra Road, Somyot said.
The assailants, armed with heavy weapons including an M79 grenade launcher, were taken to the scene of the attack in a van.
Kittisak, one of the suspects, said they had not known one another before joining the attack. They were not instructed to target any military officer in particular, he said.
During the press conference, the men were brought into the room wearing black clothes and hoods, while the woman was not made to dress in black.
Thanawut Wichaidit, spokesman for the red-shirt United Front of Democracy Against Dictatorship, said the red shirts were confident there were no "men in black" among their protesters during the unrest of 2010.
"We fight peacefully, and the red shirts had nothing to do" with the violent attack, he said.
Timeline: The hunt for the 'men in black'
April, 10, 2010: Colonel Romklao Thuvatham, deputy chief-of-staff of the 2nd Infantry Division, King's Guard, is hit by grenades lobbed in his direction by "men in black". He was at a command post near Khok Wua Intersection as part of the military operation to disperse red-shirt protesters. He succumbed to his injuries.
July, 16, 2010: Tarit Pengdith, Department of Special Investigation (DSI) chief, announces the arrest of suspects involved in attacks during the red-shirt protests. These attacks included the one on Romklao and other soldiers.

January 20, 2011: DSI concludes its investigation into 89 deaths, dividing them into three categories:
• 12 deaths in incidents allegedly stemming from acts of red-shirt United Front of Democracy against Dictatorship (UDD), including the killing of Romklao and people killed when CentralWorld was set ablaze;
• 13 deaths in eight incidents allegedly stemming from acts of government officials, which are under normal police investigation, including the death of a Japanese photojournalist and the three people killed in Wat Pathum Wanaram;
• 64 deaths in 18 incidents where the identities of suspects are unknown, including the assassination of Maj-General Khattiya Sawasdiphol, nurse Kamolked Akkahad and an Italian photojournalist.
February 28, 2011: Eight suspects allegedly involved in the murder of Romklao are released on bail.
January 13, 2012: Romklao's widow Nicha Thuvatham is given a facsimile from then-justice minister Pracha Promnok about a DSI investigation into Romklao's murder. It does not implicate anybody.

June 25, 2014: The Saraburi military court issues arrest warrants for four people suspected of planning and supporting attacks carried out by "men in black". The four are Manas Paorik, Jakkarin Ruengsakwichit, Pheeraphong Sinthusonthichart and Somsak Kosinanont.
September 10, 2014: Arrest warrants are approved for seven "men in black" over Romklao's killing, following a joint investigation by the police and Army.
September 11, 2014: Deputy police chief Pol-General Somyot Poompanmuang announces the arrest of five people, including one woman. Two others are allegedly on the run.
— Phuket Gazette Editors