Mass grave in Southern Thailand linked to human trafficking, say police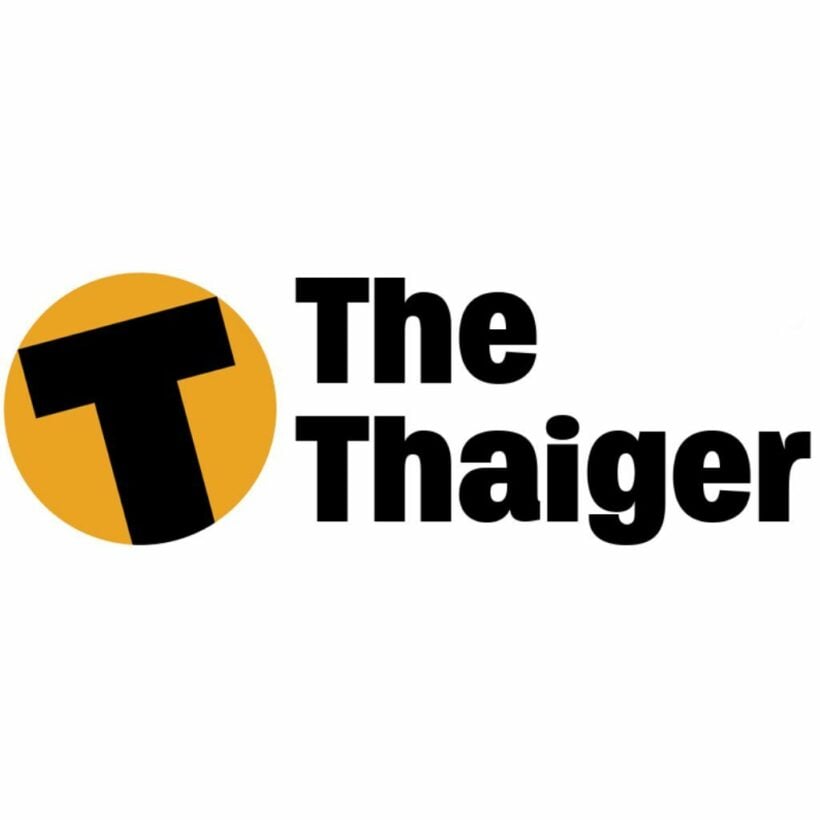 PHUKET: A mass grave near the Thai-Malaysian border in Songkhla was uncovered by Thai authorities today, reported Thai PBS.
A total of 33 partially decomposed bodies, thought by police to be Rohingya migrants, have been identified.
The area was previously used to hold about 200 to 300 Rohingya who were smuggled into the country, according to investigators, reported Thai PBS.
Royal Thai Police Commissioner Somyot Phumphanmuang confirmed the discovery of the mass grave, noting that the area had been used as a detention center by human traffickers.
However, villagers said that these migrants died of sickness and some died in fights after having quarrels among themselves. As the authorities arrived on the scene, following a tip-off by a Malaysian national, the area was vacant.
First-person accounts suggest human traffickers are shifting their operations into Malaysia as Thai authorities' crack down on jungle camps near the border that have become prisons for Rohingya asylum seekers fleeing persecution in Myanmar, reported Reuters.
The report goes on to say that human traffickers have kept hundreds of Rohingya captive in houses in northern Malaysia, beating them, depriving them of food and demanding a ransom from their families, according to detailed accounts by the victims (story here).
Many of the tens of thousands of Rohingya fleeing Myanmar by boat have fallen into the hands of human traffickers at sea who then hold them hostage in remote Thai camps near the Malaysian border until relatives pay thousands of dollars to release them, according to a Reuters investigation published on December 5 (story here).
In January, Thai police said they rescued hundreds of Rohingya from a remote camp in southern Thailand, a raid they said was prompted by the Reuters investigation, and had launched a manhunt for the 'kingpins' who routinely smuggle humans through Southern Thailand to Malaysia with impunity (story here).
The intensified trafficking of Rohingyas into Muslim-majority Malaysia threatens to undermine its anti-human-trafficking record, which is at imminent risk of being downgraded by the United States to a par with North Korea, reported Reuters.
— Thai PBS / Phuket Gazette
Keep in contact with The Thaiger by following our Facebook page.
Never miss out on future posts by following The Thaiger.
Thailand News Today | Week In Review | February 26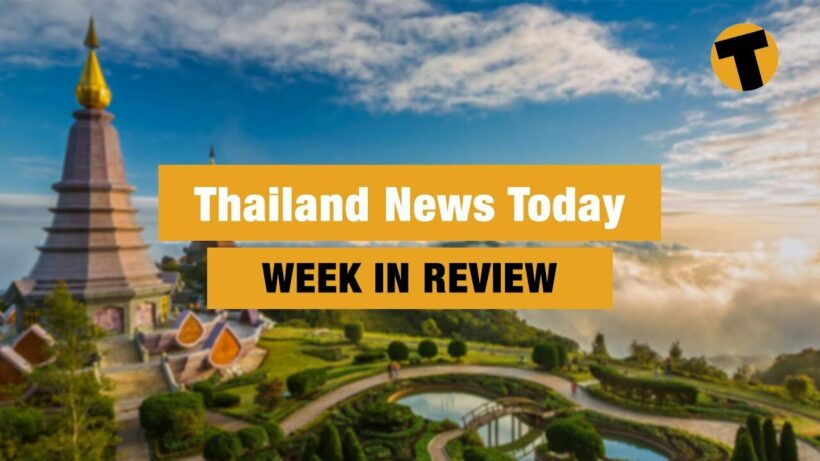 Thailand News Today usually covers five days of the news week. This week only four days as today (Friday) is a public holiday. Now we have a weekend edition which goes over the biggest, or best stories, from the past week. Out every Saturday afternoon, catch up with Jett and Tim's major Thai news stories. Welcome to the Thailand News Today Week in Review. Tim and Jett give you a quick recap of the main news stories.
To get all the latest news and information about Thailand, go to https://thethaiger.com. Like and subscribe our YouTube channel too. Go on, right now 🙂
You can also LIKE our Facebook page https://facebook.com/thethaigernews to get even more information about Thailand.
Keep in contact with The Thaiger by following our Facebook page.
Never miss out on future posts by following The Thaiger.
45 new cases today, 37 local‐Covid‐19‐Update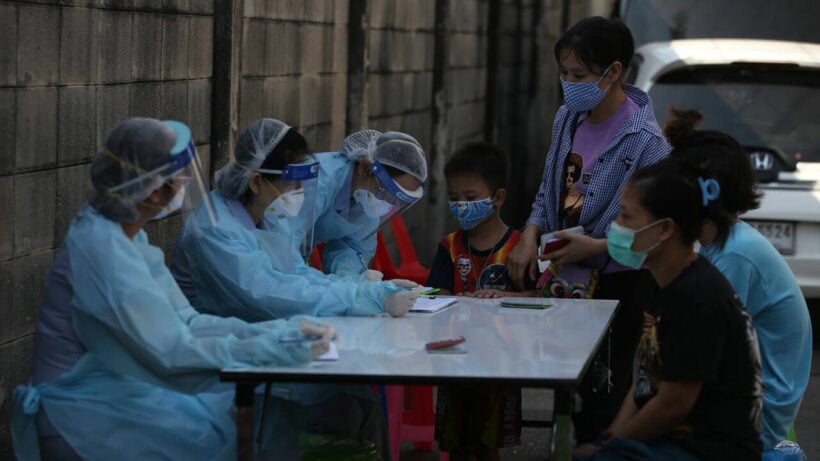 Thailand reports 45 new cases of Covid-19cases today, with 37 infections being locally-transmitted. 8 of those infections were imported, raising the total amount of infections since the pandemic began to 25,809.
The Department of Disease Control reports that 32 cases were confirmed at hospitals with 5 confirmed through active case finding in communities.
Samut Sakhon province, the 2nd wave epicentre, reported over half of the new cases at 19. 14 of those cases were confirmed at hospitals and 5 were detected in Myanmar communities. Bangkok has reported 3 new cases, Nakhon Nayok reported 5, Chai Nat 3, Nakhon Pathom 3, Saraburi 2, Prachuap Khiri Khan 1, and Samut Prakan 1.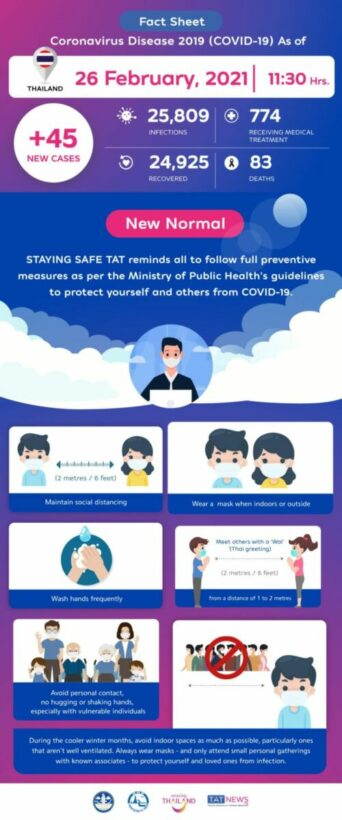 The 8 imported cases were those under quarantine arriving from Pakistan, Bangladesh, the UK, Germany, France, The Netherlands, and Kuwait. The case from the UK was that of a 6 year old Thai schoolgirl.
Globally, Covid-19 cases rose by 444,466 over the past day to 113.54 million. The worldwide death toll increased by 10,552 to 2.52 million. The United States still has the most cases at 29.5 million, with the most deaths at 520,785.
SOURCE: Bangkok Post
Keep in contact with The Thaiger by following our Facebook page.
Never miss out on future posts by following The Thaiger.
Surveys show Thailand still one of the top holiday choices post-pandemic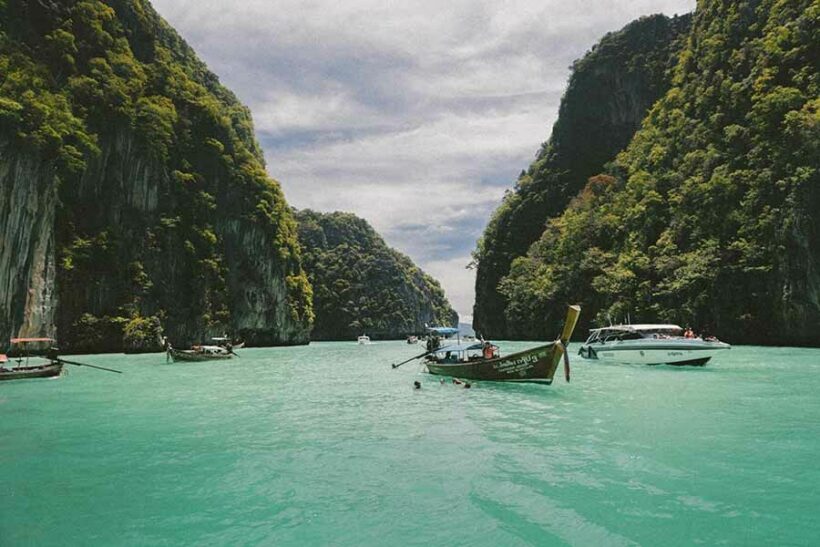 The Stockholm office of the Tourism Authority of Thailand has conducted a survey in which 62% of respondents say they want to spend winter in Thailand provided restrictions are lifted. The top destinations are Phuket, Krabi and Khao Lak, followed by Koh Samui, Koh Pha-ngan, Koh Tao, Bangkok, and Hua Hin.
68% say they would cancel bookings if the 14-day quarantine remains in place. 26% say they would still go ahead, and 13% said they'd be in favour of quarantine being cut to 10 days. 99% of participants say they would be worried about testing positive for Covid-19 after travel plans have been made.
Meanwhile, the TAT's London office has also been busy, carrying out a survey in conjunction with market research firm, YouGov. The idea behind the survey was to get an idea of the future of tourism once the pandemic is over.
4,127 people took part, with 75% of them saying they're prepared to be vaccinated if it's required for travel. 41% are against mandatory quarantine, although 52% would accept a 5-day quarantine. 62% of those planning holidays are over the age of 50 and interested in countries with low infection rates.
According to a Nation Thailand report, Siripakorn Cheawsamoot from the TAT says the findings of the survey indicate that up to 6 million people are interested in travelling to Thailand at some point this year.
Meanwhile, a number of online travel agency platforms in France have also carried out a survey. The poll, conducted by companies such as Go Voy, Opodo, and eDreams, showed that the number of hits to tourism-related websites rose by 15% once the success of Covid-19 vaccines was announced. The top destinations searched for were Dubai at 49%, Marrakesh at 27%, and Bangkok at 25%.
Another travel survey in the Americas found that most holidaymakers have chosen to postpone their trips by 7 months to a year, rather than cancelling completely. Siripakorn says that booking flexibility is a priority for Americans.
"Flexibility to reschedule is the top priority for American tourists, followed by safety. These tourists are looking for safety, no quarantine, flexibility, and no deposit."
Meanwhile, a report issued by Skift Research shows that travel will not recover until 2023 and will not return to pre-pandemic levels until 2025.
SOURCE: Nation Thailand
Keep in contact with The Thaiger by following our Facebook page.
Never miss out on future posts by following The Thaiger.