Martial law not a coup, says Army chief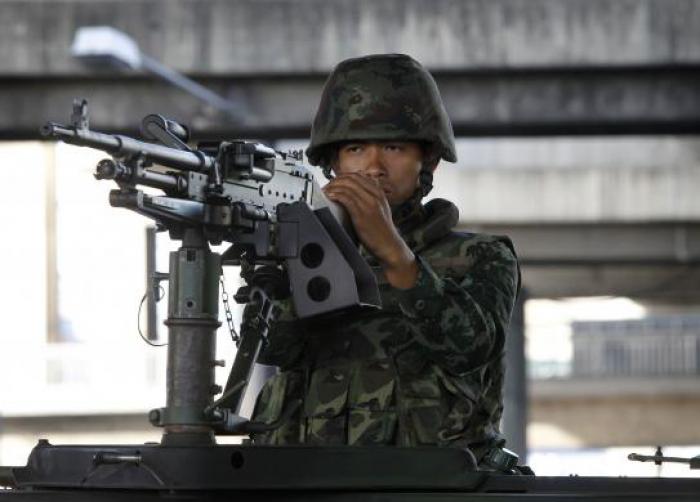 PHUKET MEDIA WATCH
– Thailand news selected by Gazette editors for Phuket's international community
'This is not a coup' says Thai army, as martial law declared
Reuters / Phuket Gazette
PHUKET: Thailand's army declared martial law nationwide this morning to restore order after six months of street protests that have left the country without a proper functioning government, but denied that it was staging a military coup.
While troops patrolled the streets of Bangkok, the caretaker government led by supporters of fugitive former premier Thaksin Shinawatra was still in office, military and government officials said. Ministers were not informed of the army's plans before the surprise announcement on television at 3am.
Army chief General Prayuth Chan-ocha said the military was taking charge of public security because of violent protests that had claimed lives and caused damage. Nearly 30 people have been killed since the protests began in November last year.
"We are concerned this violence could harm the country's security in general. So, in order to restore law and order to the country, we have declared martial law," Prayuth said.
"I'm asking all those activist groups to stop all activities and cooperate with us in seeking a way out of this crisis."
Prayuth had invited government leaders to a meeting at 2pm, an army spokesman said.
The pro- and anti-government protesters are camped out at different places in Bangkok and the army ordered them to remain where they were and not march anywhere, to prevent clashes.
The army also called on media not to broadcast material that would affect national security.
GOVERNMENT STILL IN CHARGE
The caretaker government, wary of the army given its past interventions on the side of the establishment, welcomed the move to restore order. It said it had not been informed about martial law in advance but it was still running the country.
"The government doesn't have a problem with this and can govern the country as normal," caretaker Justice Minister Chaikasem Nitisiri, told Reuters.
Thailand has been stuck in political limbo since Prime Minister Yingluck Shinawatra, Thaksin's younger sister, and nine of her ministers were dismissed on May 7 after a court found them guilty of abuse of power. An acting prime minister has since taken over.
The crisis, the latest instalment of a near-decade-long power struggle between former telecoms tycoon Thaksin and the royalist establishment, has brought the country to the brink of recession.
The military, which put down a pro-Thaksin protest movement in 2010, has staged numerous coups since Thailand became a constitutional monarchy in 1932. The last one was in 2006 to oust Thaksin, a billionaire who has lived in self-exile since 2008 but commands huge support among the poor.
The United States, which cut aid to its military ally after the 2006 coup, said it was monitoring the situation in Thailand closely.
"We expect the army to honour its commitment to make this a temporary action to prevent violence, and to not undermine democratic institutions," said U.S. State Department spokeswoman Jen Psaki in a statement.
Army chief Prayuth had warned last week, after three people were killed in a gun and grenade attack on anti-government protesters in Bangkok, that troops might have to be used to restore order if the violence continued.
"The army chief was moving towards imposition of martial law ever since his announcement last week that the army would use full force if things get out of hand," said a senior army official, who spoke on condition of anonymity.
"He now feels that the police cannot handle security and is alarmed by grenade attacks and other incidents and the fact neither side looks like it will back down."
The army tried to mediate in the crisis late last year, bringing together then premier Yingluck and anti-government protest leader Suthep Thaugsuban. It has played down fears of a coup, stressing that politicians must resolve the dispute.
TROOPS PATROL THE CAPITAL
Troops stopped some traffic from entering the city and placed sandbags outside a city centre police headquarters, witnesses said. Soldiers had also secured television stations.
"We need cooperation from them to announce to the people 'do not panic, this is not a coup'," an army general said.
Ten satellite television channels, including stations run by pro- and anti-government groups, were ordered to stop broadcasting to "preserve peace and order".
The baht fell against the dollar in early trade but steadied later and dealers suspected that was due to intervention by the central bank. At 0346 GMT the baht was quoted at 32.48/50 per dollar after earlier trading at a low of around 32.64.
The stock market fell around 1 per cent.
Acting Prime Minister Niwatthamrong Boonsongphaisan on Monday ruled out resigning as a way out of the crisis that is stunting economic growth, as the anti-government protesters stepped up their pressure to remove him and install a new administration.
Six months of turmoil, including a disrupted general election and violence on the streets, is dragging down Southeast Asia's second-biggest economy, which shrank 2.1 percent in the first quarter of the year.
Andrew Colquhoun, Head of Asia-Pacific Sovereigns at ratings agency Fitch, said the imposition of martial law was not necessarily negative for Thailand's government debt, and might even help break the political deadlock.
"The key factors for the ratings are whether Thailand can avert more serious and bloody political disorder, and whether we see a return to a fully functioning government that is able to make policy and pass a budget for the next fiscal year starting in October," he said.
ELECTION PLANS UNCLEAR
While the anti-government protesters want a "neutral" prime minister appointed to oversee electoral reforms aimed at ending Thaksin's influence, the government views an early general election as the best way out – the ruling Puea Thai Party would be well placed to win. But a vote tentatively scheduled for July 20 already looked unlikely to take place.
Opposition supporters disrupted a Feb. 2 election which was later declared void by the Constitutional Court. The protesters say they reject any vote before electoral reforms.
Jatuporn Prompan, leader of pro-government "red shirt" activists, said he and his followers would keep up their protest in Bangkok's western outskirts until the restoration of "democratic principles" leading to an election.
"That's fine," Jatuporn told Reuters when asked about his reaction to martial law. "We will stay here and continue our protest until the country is back to democratic principles, which will lead to an election and getting a new elected prime minister."
The anti-government protesters said they still wanted the caretaker government out.
"We will not march today but we will stay and continue the protest until we achieve our goal," anti-government protest leader Sathit Wongnongtoey told Reuters.
Weak exports and the political mayhem have damaged the economy, prompting the state planning agency to cut its forecast for 2014 growth to between 1.5 and 2.5 percent, from a range of 3.0 to 4.0 percent.
— Phuket Gazette Editors
Want more from the Thaiger family?
📱 Download our app on Android or iOS for instant updates on your mobile
📧 Subscribe to our daily email newsletter
👍 Like/Follow us on Facebook
🔔 Subscribe to or Join our YouTube channel for daily video updates
Thailand Consumer Confidence Index hits record low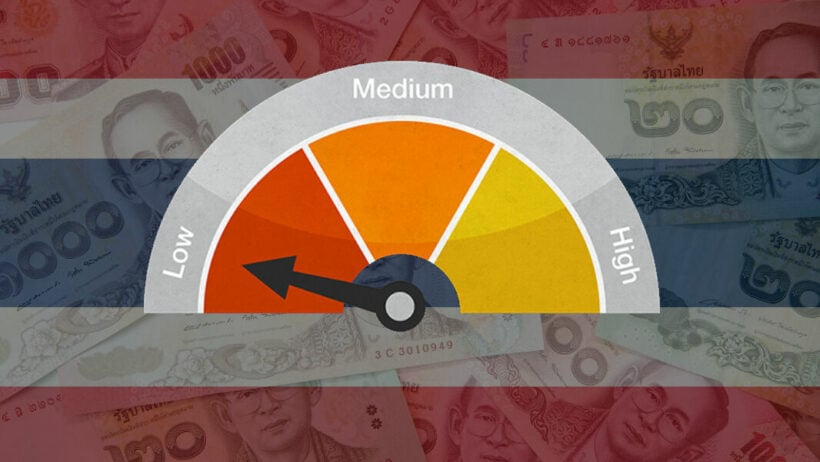 The University of the Thai Chamber of Commerce has reported that the Consumer Confidence Index has hit another new record low of 46.0 in April. The Covid-19 global pandemic has had a devastating effect on the economy and consumer confidence has fallen frequently to the lowest points that it has seen since 1998.
The president of the UTTC believes that consumers generally don't feel like there has been much of a recovery for the economy since the global pandemic began and without a stimulating event to motivate economic growth, the index is expected to continue to fall further. The university estimated that if the third wave of Covid-19 continues past the end of May the economy can expect to lose 400 to 600 billion baht.
The UTTC president stressed that the government should hasten to step up relief measures and make sure they continue relief and economic stimulus throughout the pandemic to avoid economic catastrophe. He predicted that the economy and the Consumer Confidence Index will continue on a downward slope without any hope of improvement until the vaccine rollout gets well underway towards herd immunity, and new Covid-19 infections are decreased dramatically.
Today saw another 2,101 new Covid-19 infections and 17 deaths in Thailand. Vaccination efforts are continually being stepped up, but still remain woefully slow.
The Consumer Confidence Index first started falling last year, with a drop below the previous record low in 1998 in April of 2020, when it fell to 47.2. A few months later, by July of last year, it had recovered significantly, climbing back over 50. But by March of this year, the index had fallen again to 48.5. With April's tumble of 2.5 points, the Consumer Confidence Index pushes once again to a new record low.
SOURCE: Thai Business News
Want more from the Thaiger family?
📱 Download our app on Android or iOS for instant updates on your mobile
📧 Subscribe to our daily email newsletter
👍 Like/Follow us on Facebook
🔔 Subscribe to or Join our YouTube channel for daily video updates
Thailand searches for cow vaccine for lumpy skin disease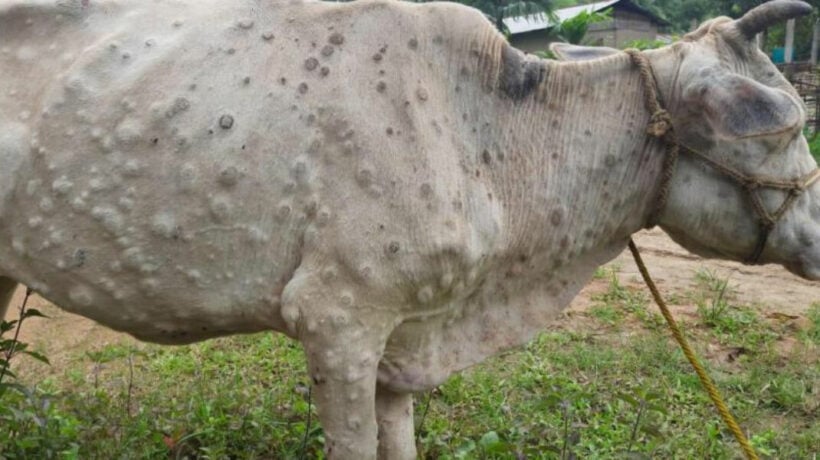 Move over Covid-19 there's a new disease sweeping the country as Thailand's cow population is afflicted with a lumpy skin disease. The Department of Livestock Development is now working on procuring vaccines from overseas manufacturers to import and treat the cattle population in Thailand. The lumpy skin is caused by pustules that are the most visible symptom, perhaps more detectable than other bovine signs such as drooling, loss of appetite and drowsiness.
The cow disease is spreading in the North, Northeast, and Central Plains area of Thailand and has been found in 18 provinces total. First identified in Roi Et, it has now spread in Chiang Rai, Kalasin, Kanchanaburi, Khon Kaen, Maha Sarakham, Nakhon Pathom, and Nakhon Phanom. The first case of the lumpy skin disease was reported in Don Daeng village last month and on April 9th officials reported it to the World Organisation for Animal Health.
The lumpy skin disease is found in cow pens and spread through flies, ticks, and mosquitoes, but the DLD says not to panic, it is not transmissible to humans. The department is distributing important information about symptoms and how the disease spreads to breeders and farmers in the area. They're requiring the breeders to monitor their cattle closely and have imposed measures to control the disease in heavy hit areas.
To prevent the spread of disease in livestock, traders are being requested to not buy and sell cattle within 50 km from disease-stricken regions. And for farmers caring for cattle, the DLD recommends spraying insecticide in all areas to prevent transmission via insects. Finally, in case the cattle were jealous of traveling humans, the DLD is advising farmers to prevent disease spread by isolating any new cow that comes into their farms with a 28-day bovine quarantine where they should be kept under nets to keep insects away.
SOURCE: Bangkok Post
Want more from the Thaiger family?
📱 Download our app on Android or iOS for instant updates on your mobile
📧 Subscribe to our daily email newsletter
👍 Like/Follow us on Facebook
🔔 Subscribe to or Join our YouTube channel for daily video updates
Covid-19 third wave cuts Thai domestic flights predictions by 38%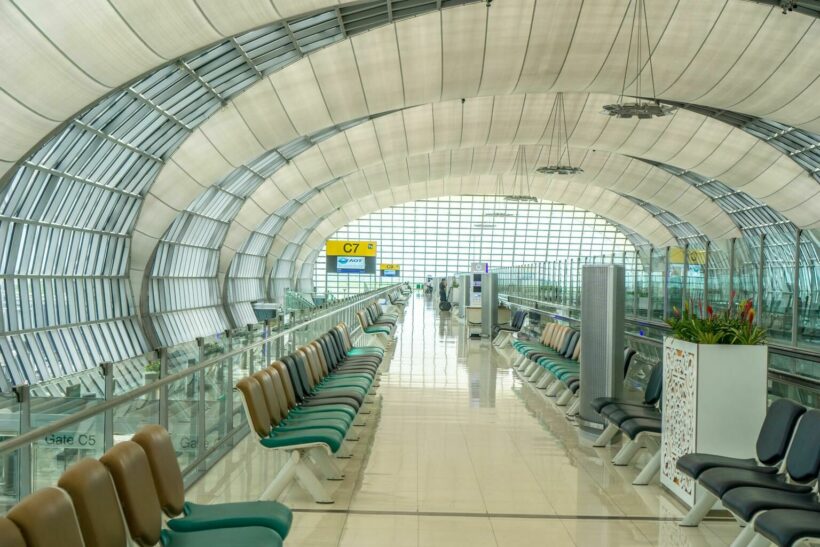 The Aeronautical Radio of Thailand is predicting a 38% drop in travel by domestic flights due to the effect of the third wave of Covid-19. Aerothai is a department under the Ministry of Transport that provides aeronautical communication and air traffic control in Thailand. With Covid-19 experiencing a rapid spread beginning in April and not yet under control, infections across all of Thailand's 77 provinces are projected to drastically hamper local travel until at least September.
The fiscal year, beginning last October, was originally predicted to have almost 519,000 domestic flight. But Aerothai has now reduced those figures down 38% to just over 323,000 flights in Thailand. The executive vice president for operations of Aerothai said that by the second half of April domestic flights had been severely reduced despite remaining relatively stable in early April.
The Civil Aviation Authority has also added increased restrictions on the way passengers are carried, adding another layer of difficulty for the domestic airlines who have slashed their schedules after having a bumper Songkran holiday period and were looking forward to better times ahead.
Flight reductions were a result of attempts to reduce and contain the spread of Covid-19 by implementing strict travel and safety measures. While domestic travel was strongly affected by Thailand's second wave of Covid-19 at the beginning of 2021, the current wave is much worse and Aerothai predicts domestic flights will reach their lowest point by the end of May.
An expectation of recovery beginning next month hinges on international flights starting to slowly creep back into Thailand. The Civil Aviation Authority of Thailand has loosened the restrictions for international travel in preparation for the government's plan to relaunch the tourism industry in key hotspots of Thailand like Phuket and Koh Samui in July. Aerothai is hoping that by August domestic flights will return to the levels seen at the end of 2020 before the second wave of Covid-19, with about 1,095 daily flights.
Aerothai has been tracking flight statistics since it was founded in 1948 by a group of airlines with the approval of the Royal Thai Government. In 1963 the government took on a majority stake in the company from the founding airlines and converted it to a state enterprise operating under the Ministry of Transport.
SOURCE: Bangkok Post
Want more from the Thaiger family?
📱 Download our app on Android or iOS for instant updates on your mobile
📧 Subscribe to our daily email newsletter
👍 Like/Follow us on Facebook
🔔 Subscribe to or Join our YouTube channel for daily video updates