Kratom leaves to be declassified as a narcotic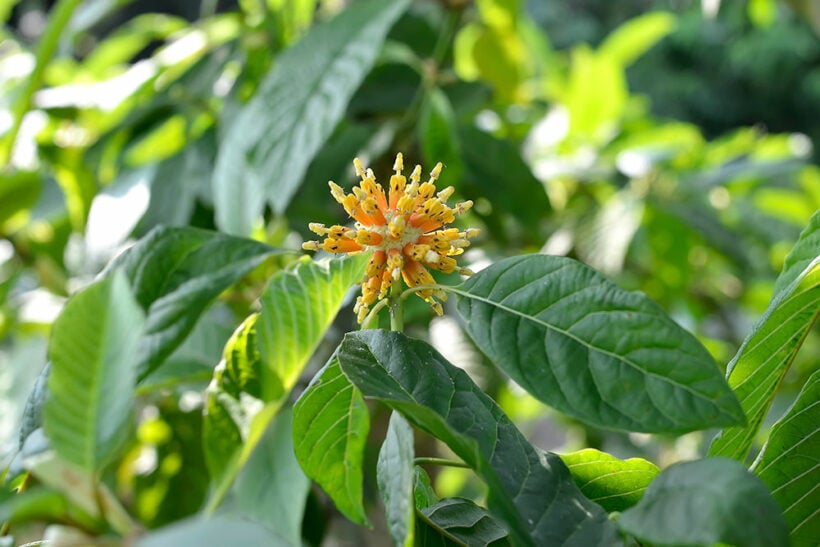 PHOTO: Kraken Kratom
Kratom, the controversial leaf used both medicinally and recreationally in Thailand, is to be declassified as a narcotic. Justice Minister Somsak Thapsutin says his ministry will propose new narcotics laws that will exclude kratom leaves from illegal drugs lists.
Kratom is a tropical evergreen tree in the coffee family native to Southeast Asia. It's common in Thailand, Indonesia, Malaysia, Myanmar and Papua New Guinea.
"To decide which plants or chemicals are narcotics, the government used the World Health Organisation framework which defines narcotics as having four characteristics."
According to the WHO, to be considered a narcotic, a substance must cause effects on the user's body when they stop using it. Effects often include anxiety, paranoia and dysentery. A narcotic must offer little or no medical value, and chronic use must cause health problems such as emaciation, weakness, nervousness or lack of self control. Finally, a narcotic substance must threaten a negative impact on society.
Kratom leaves don't have these characteristics, Thapsutin claims in The Nation.
"Those who use them can easily stop, and the leaves can be used to relieve pain, fever, dysentery and diarrhea. Also, Kratom is thirteen times as effective as morphine in killing pain, and has few disadvantages," he claimed.
(Justice Minister Somsak Thapsutin's claims have not been verified by a peer-reviewed medical study)
Thai researchers have already studied kratom leaves together with Japanese researchers, and have even patented two strains in Japan and in the US.
SOURCE: The Nation
Keep in contact with The Thaiger by following our Facebook page.
Never miss out on future posts by following The Thaiger.
Updates on international travel to Thailand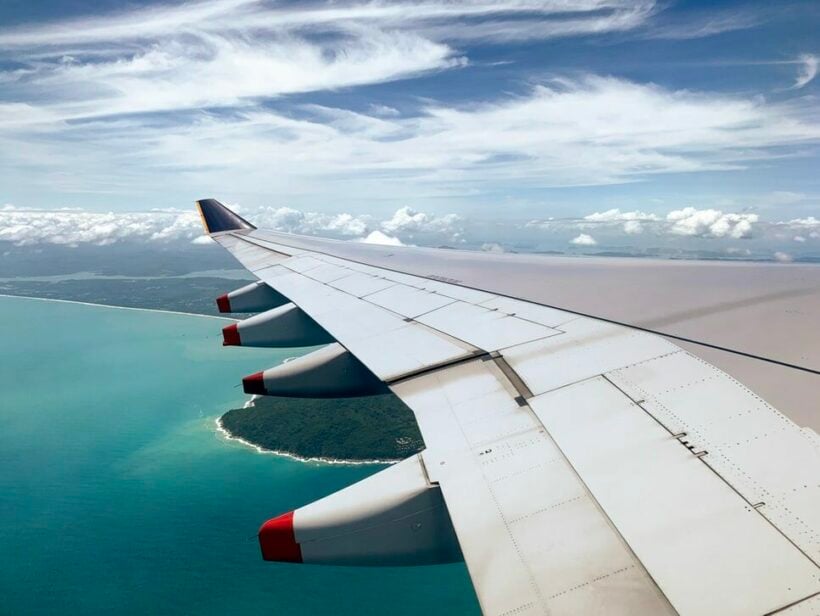 Thailand to introduce "area quarantine" for international visitors from April
From next month, foreign visitors to the Kingdom will be able to experience the delights of "area quarantine", after the government confirmed the scheme for 5 provinces: Phuket, Krabi, Chiang Mai, Chon Buri and Surat Thani, which includes the popular tourist islands Koh Samui and Koh Pha Ngan. Some of the tourist destinations are considered areas of "economic significance" and are included in the first phase of the Covid-19 vaccine campaign.
Read the full story HERE.
Thailand considering vaccine passport policy in bid to revive international tourism
A so-called vaccine passport, declaring a traveller has been vaccinated against Covid-19, would potentially allow foreign visitors to enter Thailand without going through a mandatory quarantine. Thailand's Tourism Minister says he has asked the Public Health Ministry to approve a vaccine passport scheme, but the government is waiting on a statement from the World Heath Organisation on the matter before moving forward with a decision.
Read the full story HERE.
"Sealed route" set at Bangkok airport for international transfers
International transits and transfers are now allowed at Bangkok's Suvarnabhumi Airport. A so-called "sealed route" is being set up in the airport to ensure the passengers with a layover in Thailand don't come in contact with the other passengers. Passengers need to have the required documents including a fit-to-fly certificate, travel insurance that covers Covid-19 expenses and a negative Covid-19 test result issued no more than 72 hours before departure.
Read the full story HERE.
Foreign tourists travelling to Thailand must now download a Covid-19 tracking application
Foreign tourists travelling to Thailand will need to download the Covid-19 contact tracking mobile application "ThailandPlus" before arriving in Thailand and use it throughout their stay. The app will notify travellers if they have been in close contact with any confirmed cases.
Throughout their trip to Thailand, tourists will need to keep the app "on" and check in and out of various locations by scanning QR codes. The app requires access to the smartphone's GPS , but the Tourism Authority of Thailand says the information collected will only be used for public health purposes and will not infringe on the tourists' right to privacy.
Read the full story HERE.
Thailand tourism sector seeks to reopen the country by July
The campaign Open Thailand Safely is urging the Thai government to reopen Thailand to international tourists by July 2021. The campaign there's 5 reasons why Thailand should reopen by July.
The majority of citizens in many source markets will have been vaccinated by then.
It gives time to Thai medical authorities to vaccinate both front line staff in hospitality settings in Thailand and/or vulnerable citizens around the country.
It gives international travellers time to make travel plans and bookings.
The date gives time to airlines, hotels, tour operators and others to start marketing and sales and get ready for tourism operations to commence
It will take Thailand at least a year, and maybe longer, to return to the large numbers of international visitors that it had before the Covid-19 crisis.
Read the full story HERE.
Keep in contact with The Thaiger by following our Facebook page.
Never miss out on future posts by following The Thaiger.
Freedom House downgrades Thailand to "not free"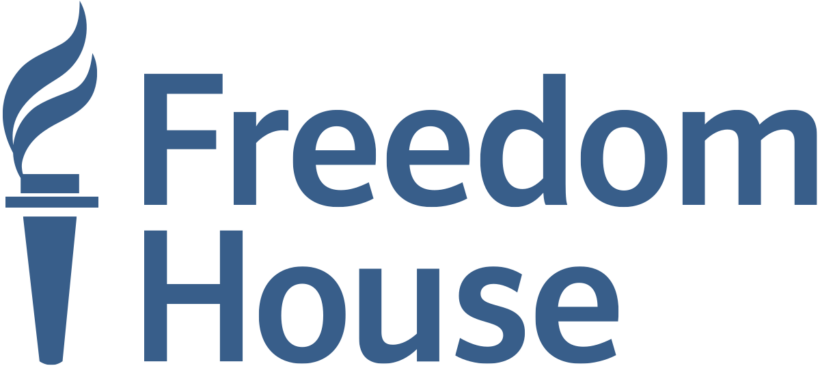 US based Freedom House, a democracy advocacy group, has downgraded Thailand from being "partly free" to "not free" in its latest global rankings. The Freedom in the World 2021 report released this week assigned Thailand a total score of 30 out of 100, dropping from 32 out of 100 in the previous survey conducted in 2019.
Before, Thailand was deemed "not free" in the years of 2017 and 2018, but then was upgraded after elections were held after 5 years of military rule. But, the NGO has deemed the election process to be flawed.
The reasoning for the current downgrade is partly due to the court-ordered dissolution of the Future Forward Party in 2020 and the recent crackdown on pro-democracy groups, which have seen young students being charged with lese majeste, or defaming the monarchy, which is a crime in Thailand. As for the elections that were considered as flawed by Freedom House, the NGO issued a statement explaining their take on the supposedly democratic process.
"The results, announced 6 weeks after the polls, were tainted by irregularities, with ballots 'lost', and initial vote tallies changed. Additionally, the formula for distributing party seats was altered after the election in order to reduce seats won by opposition parties and redistribute them to military-aligned parties."
The report also noted that "a combination of democratic deterioration and frustrations over the role of the monarchy" had provoked the country's largest anti-government demonstrations in a decade.
"In response to these youth-led protests, the regime resorted to familiar authoritarian tactics, including arbitrary arrests, intimidation, lèse-majesté charges, and harassment of activists."
"Freedom of the press is constrained, due process is not guaranteed, and there is impunity for crimes committed against activists."
Freedom House rates countries based on 10 political rights issues and 15 civil liberties issues. It gave Thailand 5 out of 40 for political rights and 25 out of 60 for civil liberties in 2020.
SOURCE: Bangkok Post
Keep in contact with The Thaiger by following our Facebook page.
Never miss out on future posts by following The Thaiger.
Thailand bans assemblies, protests, mass gatherings citing Covid-19 fears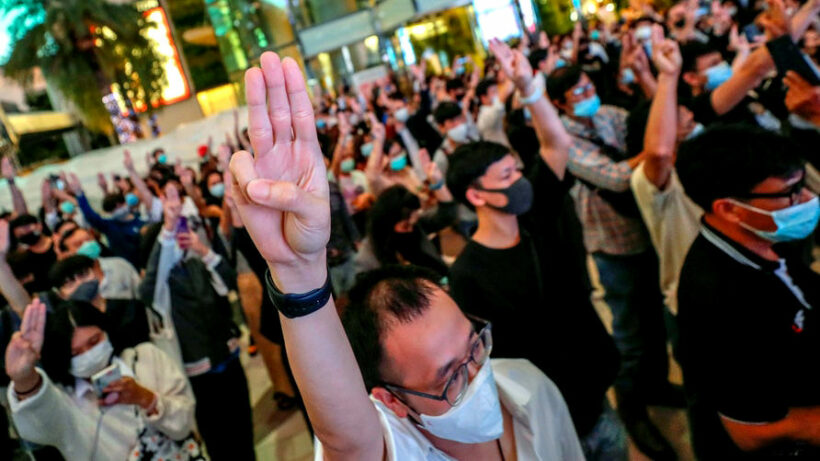 Thailand's government has banned assemblies, protests, and mass gatherings citing fears over Covid-19 spreading. The Royal Gazette, Thailand's official site for publishing new laws and regulations, made the announcement late last night on the heels of another protest scheduled for today.
The ban is in place for Bangkok and 5 other provinces including Samut Prakan, Samut Songkhram, Pathum Thani, Nakhon Pathom, and Nonthaburi provinces.
Thai Government officials insist the ban on protests is not political but some are skeptical as a protest last weekend ended in violence after demonstrators tried to march to the home of PM Prayut Chan-o-cha. The "leaderless protest" set for today, by "Redem" pro-democracy group, is set to march to the Thai Criminal Court. And, protest groups on social media have stated that the new regulations will not stop scheduled future protests.
Despite the Emergency Decree that has been put in place to ban mass gatherings, the new law will cover more ground by giving the government more power to assert control over law-breakers by including fines up to 40,000 baht or up to 2 years in jail. The new law is effective until further notice.
Yesterday, the pro-democracy group Ratsadon, arrived to the outskirts of Bangkok, after a nearly 250 kilometre, 17 day long walk from the Thao Suranaree statue in Korat province's Muang district. The group was protesting the imprisonment of 9 pro-democracy demonstrators who are being denied bail. The march, named "Walk Through the Sky: Bring Back the People's Power," started on February 16.
The march is expected to end today at Bangkok's Democracy Monument, but it is unclear whether or not the protest will be stopped in accordance to the new ban.
Thailand has seen a drop in the amount of daily reported cases of Covid-19, with numbers decreasing to double-digits. The Centre for Covid-19 Situation Administration assistant spokeswoman is now claiming that Thailand has successfully contained the second wave of Covid, which broke out last December.
SOURCE: Bangkok Post
Keep in contact with The Thaiger by following our Facebook page.
Never miss out on future posts by following The Thaiger.