Is a fresh crackdown on alcohol-related sales and businesses on the way?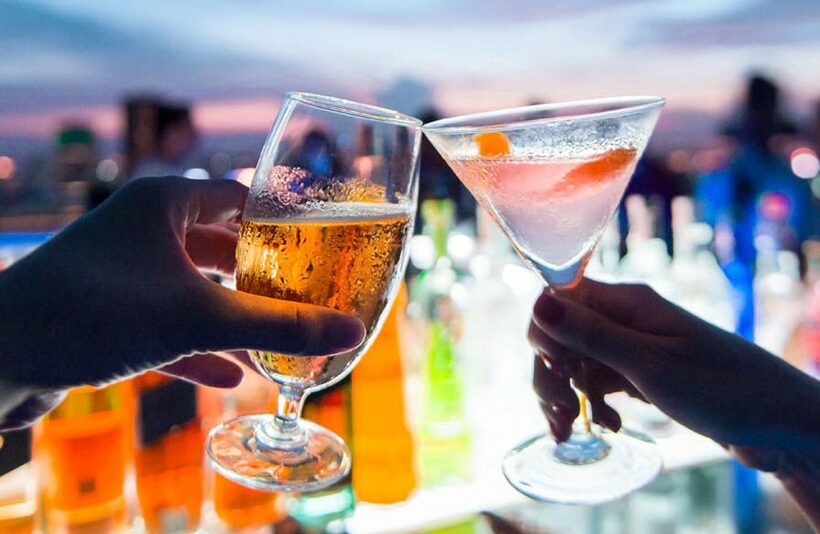 The Thai junta is warning that it intends to enforce harsh measures regulating the advertising and promotion of alcohol, in a move that will affect thousands of businesses throughout the country.
Details of the law, which affected business claim is vague and open to interpretation, are provided below. There has been a number of raids on pubs, clubs and hotels recently where police have enforced some of the laws which have been 'overlooked' at other times. Owners and licensees are fearing a more draconian approach to enforcement which could threaten the viability of their businesses.
In a recent crackdown in Chiang Mai Second Lieutenant Taweesak Jintajiranan made it clear that police have been given the green light to enforce the laws that are already in place, but frequently neglected.
"I am only here to help you, the media and relevant businesses to understand the law," said Second Lieutenant Taweesak Jintajiranan.
"This law was put into effect due to the rapidly growing costs of alcohol to this nation. Alcohol-related accidents have increased significantly in recent years. While the government makes 70 billion baht income per year from alcohol tax, the cost to the government is upwards of 150 billion baht."
Here's a precise of some of the actual laws that are currently in force.
• Under the newly enforced rules all alcohol products must carry health warnings, sales are banned to anyone under the age of 20, and initiatives promoting alcohol – such as happy hours, free ice and mixers, and the use of 'beer girls' – are banned.
• No drinking is allowed after midnight in bars or restaurants, even though sales have ended; no alcohol logos are allowed on glasses, ashtrays and other paraphernalia; and bars will not be allowed to display posters or bottles – even old ones – featuring such logos.
• Bar staff cannot wear T-shirts with alcohol logos, and it is illegal to promote events such as wine and beer tastings.
• Alcohol logos – or even images accepted as representative of brands, such as a deer head for Benmore or red stars for Heineken – are not allowed to be displayed in sponsorship or any kind of advertising or promotion.
• Promoting alcohol through word of mouth is also illegal, so if a waiter is asked to recommend a particular brand of beer he would be breaking the law if he responds.
• All printed photographs of glasses or bottles in the media must have visible brands and logos blurred.
Officials have also vowed to strictly enforce laws on alcohol advertising.
The authorities are using an existing law, the Alcohol Control Act of 2008. It was introduced with the aim of reducing consumption, but while some aspects have been in effect for years there are many minor points which, until now, have been ignored by authorities.
Essentially all promotion of alcohol is now illegal. Here is a breakdown of the laws, some of which were already being enforced but from now on will be universally enforced nationwide.

For producers and importers of alcohol…
• All alcoholic drinks packaging must carry a clear and government-approved health warning (see example above), and a list of ingredients. It must be stated clearly on the packaging that this is an alcoholic beverage.
• Consumers cannot drink in the following areas: temples or religious places (unless alcohol is used in religious ceremonies), public spaces belonging to the government (except for private residences within said area), government buildings (apart from club houses, special designated areas for commerce and private residences, or during special events), within education centres (apart from residences, parties or clubs, or if the education centre is teaching how to mix alcohol), petrol or gas stations, public parks, and anywhere else the government announces at any date.
• Alcohol cannot be sold on the Makhabucha, Visakabucha, Asarahabucha and Khao Pansa religious holidays, except from in hotels in order to promote tourism and stimulate the economy.
• No sales are allowed to anyone aged under 20 years, or anyone who is obviously drunk.
• No sales of alcoholic beverages are allowed by automated machines, non-location-specific sales are banned (ie. no mobile bars or wandering around selling), and no promotions, offering rights, points, lucky draws or awards and no freebies of any kind including swaps and exchanges are allowed.
Advertising…
• No images of alcoholic drinks, including photography, and logos in any language which "invite" the public to drink alcohol are allowed.
• For television, movies, video, electronic formats and all advertising mediums showing images, logos must not be bigger than 5 percent of all advertising space. The time in which the logo is shown cannot be more than 5 percent of total advertising time and no longer than two seconds. Advertising can only be done between 10pm and 5am, and the logos can only be shown at the end of the advertisement.
• For print media, advertisements containing alcohol logos cannot be more than 5 percent of all advertising space, and advertising cannot be on front or back of publications, nor the middle fold.
• For other media (websites), logos cannot be larger than 3 percent of advertising space.
• Adverts must include one of five permissible warning messages. Roughly translated from the Act: "Alcohol can cause cancer; alcohol can lower sexual abilities; alcohol may lead to paralysis or death; alcohol is the cause of argument and crime; alcohol damages families and societies."
• For television, movies, videos, electronic or all advertising mediums showing images: Sound or text warnings must be perfectly clear down to each syllable and last no more than two seconds. In text version, the 'Super' text must be in Thai Angsana New Bold or similar fonts in white on a black background, which is clear to read. The text must be no less in size than one-third of the black frame, which must be clearly different in colour from the advertisement image and in a square size no less than one quarter of the advertising space, and cover the entire top of the advert. The same applies to printed media.
Rights of inspecting officials
• Officials can enter the premises of producers or importers of alcohol during working hours and inspect premises and vehicles.
• They can confiscate alcohol of producers or importers who are not compliant with this law.
• They can send summonses for people or evidence.
• They must show an ID card each time.
• Members of the public must be of assistance to inspectors.
Encouraging people to try an alcoholic drink is not allowed – no inviting people to sample alcohol. No more three-for-two promotions, no more free mixers, free ice, no more beer promotion girls, no written or even spoken promotions or discounts are allowed. No alcohol logos on plates, cups, vases, or anything commercial are allowed. No posters (even old ones) of any alcohol bottles or glasses with logos – or logos themselves – or any other decorative items in a bar or pub or establishment selling alcohol.
If you wear a T-shirt or apparel with an alcohol logo on it and happen to be serving in a bar at the same time, it is considered an advertisement, and that is illegal. When asked to clarify, Taweesak suggested the media ask shops selling such T-shirts to stop doing so.
No old bottles of wines or beer can be used to decorate a business. No drinking is allowed in cars, while riding bicycles, and no drinking after midnight is allowed, even though sales have stopped. No word of mouth promotions, so servers are not allowed to recommend particular brands.
SOURCES: CityLife, ThaiVisa
"Government stimulus package for Thai economy is unsustainable"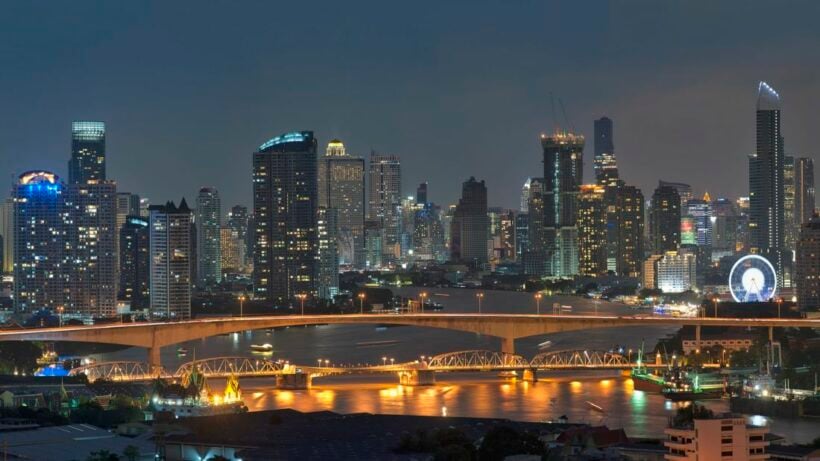 PHOTO: Wikipedia
Anusorn Tamajai, an economist from Rangsit University, says he expects the proposed package to make little difference and has declared it unsustainable.
The package, which should be approved this week, is worth 370 billion baht and includes cash handouts for farmers and low-income earners, grants for children, incentives for domestic travelers, and tax incentives for small businesses.
It's hoped to stimulate the economy by 3%, in the wake of domestic uncertainty and the ongoing US-China trade war. Last week, the Finance Minister said the aim of the package was to prevent growth sliding below 3% in 2019.
However, economist Anusorn Tamajai has his doubts.
"Short-term spending as part of populist policies will not help much, as the Thai economy is monopolised by big business."
He adds that most spending by low-income groups will end up as revenue for large businesses. However, he agrees with the plan to reduce the tax burden for small and medium-sized enterprises, which could lead to more private investment.
The government plans to offer generous tax reductions for those who import machinery to upgrade their production with a five-year depreciation allowance. The state-run Government Savings Bank and Krung Thai Bank will also provide combined soft loans worth about 100 billion baht.
The government also plans to direct a number of other state-run banks to provide soft loans to farmers and lower income groups, which Anusorn warns may not be sustainable as its effectiveness relies on public confidence in the future.
Thai governments often resort to state-run bank lending, quasi-fiscal measures that usually increase the burden for banks but translate into a burden for tax payers later.
SOURCE: The Nation
Calls for total ban on use of single-use plastic bags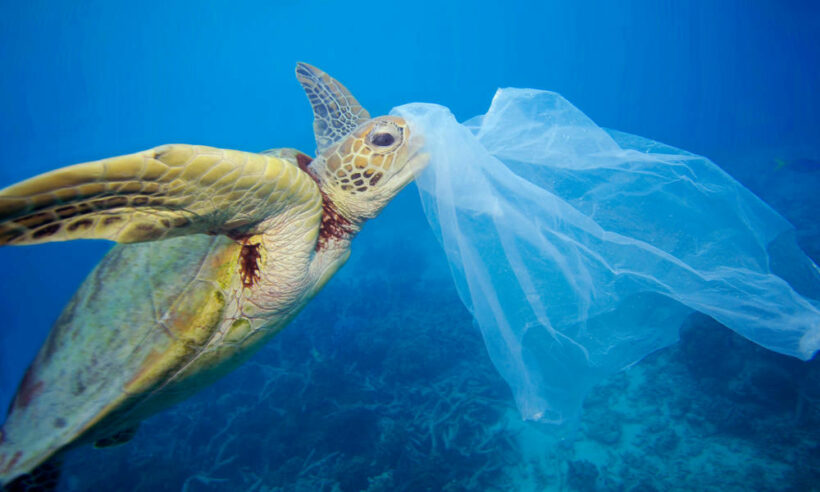 PHOTO: World Wildlife Fund
The death of baby dugong Mariam, which was found to be caused from problems associated with plastic bags blocking her digestive system, has brought about renewed calls for stricter control, or a complete ban, on the use of single-use plastic bags.
Marine scientist, and vice dean of the Faculty of Fisheries of Kasetsart University, Dr. Thon Thamrongnawasawat, told Thai PBS that the recent campaigns to reduce the use of plastic bags "was not enough".
The campaigns, much touted as 'environmental Community Service Initiatives', have been perfunctory and, whilst the 'savings' in plastic bag use sound massive, they are in a tiny proportion of the actual single-use plastic bag use in Thailand.
The Charoen Pokphand Group, owners of Thailand's 7-11 franchise, Family Mart stores – 51% owned by the Central Group and 49% by Japan's FamilyMart Uny Holdings – and Central Pattana, the operators of the biggest number of shopping centres around Thailand, could do a LOT to take single-use plastic bags out of the system but have so far been reluctant to do more than just pay lip service to the problem.
Dr. Thon suggests that single-use plastic bags should be banned, beginning next year, as was done in New Zealand, or a fee should be imposed for their use. He also says that the plan to reduce the use of plastic straws, due to begin in the next three years, should be brought forward to next year.
Dr. Thon admitted that he was shocked to learn about the sudden death of Mariam, and that several pieces of plastic were subsequently found in her intestine. The plastics ultimately resulted in the septic shock that killed her.
He disclosed that members of more than ten rare marine species, including sea turtles and whales, had died this year by becoming entangled in fishing nets or from eating plastic waste, including the case of a pilot whale which was found to have 85 plastic bags in its stomach.
He also cited the case of a leatherback sea turtle, which was found dead on a beach in Rayong province last month. Veterinarians found two plastic bags in its stomach, one plastic wrap for bread and five small pieces of plastic.
Thammasat University's vice rector Prinya Thaewanarumitkul, meanwhile, appealed to the Thai public to stop using plastic bags "so that no more marine animals will die from eating plastic bags or pieces."
"About 80% of the 2,000 tonnes of garbage dumped into the sea each day come from the rivers."
"The garbage, including plastic waste, dumped into natural inland waterways find their way into the sea."
SOURCE: Thai PBS
The Thaiger would like to call on Thailand's main retailers to initiate a total ban on single-use plastic bags.
UPDATE: 9 Chinese arrested over 5 billion baht fraud case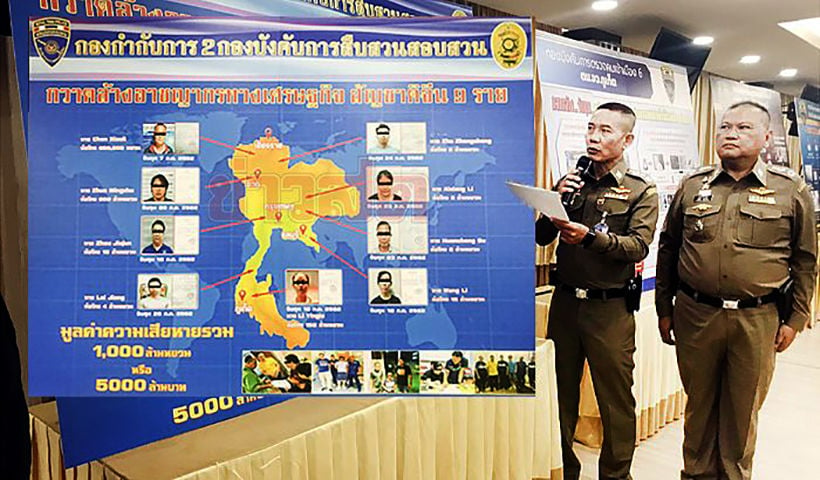 On Saturday The Thaiger reported that nine Chinese nationals had been taken into custody after travelling to Thailand in order to avoid prosecution for crimes in China. They were wanted by Chinese authorities for alleged crimes in China. Read that report HERE.

We now have some further details…

Out of the 9, 5 were male and 4 were female. They were involved in a case that, according to Chinese counterparts, had affected the Chinese economy by forging contracts. After receiving the information from Chinese police, a Thai investigation team started to search for the 9 Chinese individuals who had sought refuge in Thailand.

The nine had opened an online selling business that they used to cheat victims in China. The suspects worked together in creating fake businesses and accounts that cheated online transactions systems to their advantage in defrauding customers. Their actions allegedly defrauded the Bank of China resulting in damages valued over 5 billion baht.

The 9 suspects will be prosecuted including having their visas revoked before being deported back to China. All 9 suspects will be blacklisted to prevent them from visiting Thailand again.