German beggar faces deportation for charity-paid partying in Pattaya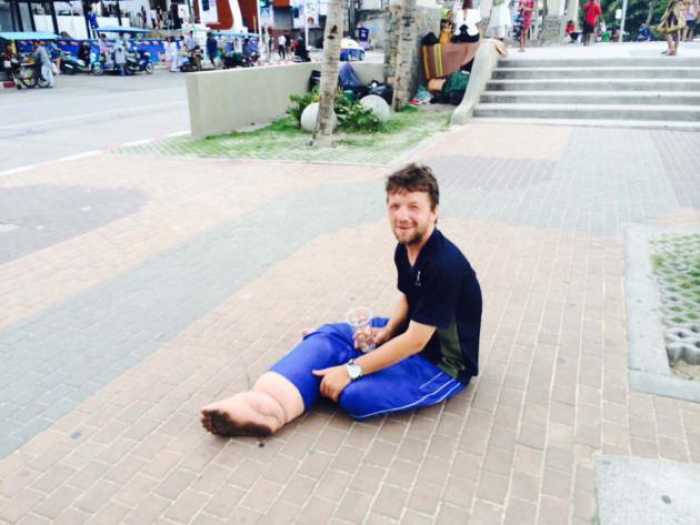 PHUKET MEDIA WATCH
– Thailand news selected by Gazette editors for Phuket's international community
German beggar faces deportation for charity-paid partying in Pattaya
The Nation / Phuket Gazette
PHUKET: After attracting sympathy and donations from Thais in Bangkok, a German with an excessively swollen leg was seen enjoying drinks and the nightlife in Pattaya on Wednesday night. Tourist police have detained Benjamin Holse, 29.
Lt-Colonel Arun Promphan of the Tourist Police Division said yesterday the German Embassy would be informed of the latest development and Holse would be deported.
Holse sneaked away from a Bangkok hotel that a German foundation had arranged for him to stay in while waiting for the issuance of a passport earlier this week. The German initially claimed his passport was stolen.
Taxi motorcyclists in South Pattaya said yesterday they recognised Holse from his pictures in the news when he showed up on Tuesday night.
Holse was described on social media as a poor man whose money and passport had stolen in Thailand and who ended up begging for money on Bangkok streets.
Chumphol Thiangtham, chairman of Deutscher Hilfsverein Thailand eV, said on Sunday the German organisation had approached Holse and offered him help before his case went viral on the Internet, but he turned it down.
Tourist police, after learning about Holse, then contacted Chumphol and asked him to help the German, he said.
The taxi motorcyclists in Pattaya claimed that Holse showed off more than Bt40,000 when they recognised him. "He also gave us money, telling us to get him some beer and some girls for him to sleep with," one of the taxi motorcyclists said on condition of anonymity.
He claimed Holse did not like the girl they brought for him and decided to check out Pattaya Walking Street himself.
During his trip to Pattaya, many pictures of Holse were taken and uploaded onto social media.
Once again pictures of him created a stir, but there was no sympathy this time.
Thais are angry because it seems he preyed on their generosity.
A hotel employee in Pattaya claimed a drunk Holse called Thais stupid for giving him money.
Tourist police who accompanied Holse to a hotel in Pattaya on Wednesday night said the German had just Bt7,000 left.
According to the tourist police, Holse claimed he came to Pattaya to meet a friend but his friend did not show up.
— Phuket Gazette Editors
Want more from the Thaiger family?
📱 Download our app on Android or iOS for instant updates on your mobile
📧 Subscribe to our daily email newsletter
👍 Like/Follow us on Facebook
🔔 Subscribe to or Join our YouTube channel for daily video updates
Pattaya fisherman surprised by friendly whale shark visit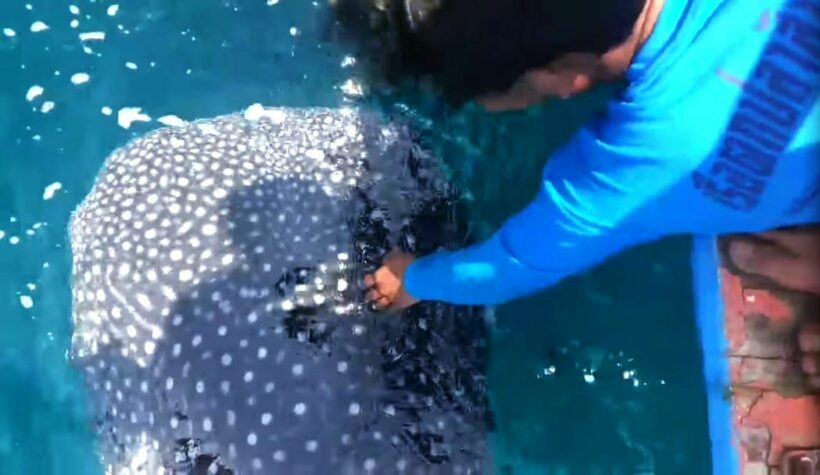 A local Pattaya fisherman had a shocking surprise visitor and was conscious enough to record a video to share with the world. The man, a fisherman for 10 years, posted 2 videos to Facebook on Wednesday of what appears to be a friendly whale shark casually visiting his fishing boat. Sightings in Pattaya of the majestic sea creature are relatively rare.
Whale sharks are the largest known fish species still living on Earth. They average from 5.5 to 10 metres in length, but the largest shark ever confirmed had a length of 18.8 metres.
The man, who goes by Mai Yud Yoo Ning Naklua (ไม่หยุดอยู่นิ่ง นาเกลือ) was sailing near Pai Island when the shark approached. The shark spent several minutes floating just inches from the boat and could be seen with shark suckers flanking it. The whale shark swam around the back of the boat and the man was able to capture a 3-minute video of the shark and another 49-second video where he can be seen getting up close and personal with the sea creature as it surfaced.
The Facebook video can be viewed on his original post, seen here. The man's post showed his excitement, as he described that it was his first time experiencing this in his 10 years on a fishing boat.
"This is my first time seeing a whale shark. I have been a fisherman for ten years and have heard many stories but this is my first opportunity to see one and share it with the world."
Locals in the Koh Larn area believe the appearance of this friendly fish is a sign that the environment is thriving. Covid-19 has prevented the throngs of tourists that normally flood the area, and with the reduction in traffic and boats churning the water, marine life such as whale sharks can safely return. In the waters off the coast of Pattaya, it appears that nature is healing.
SOURCE: The Pattaya News
Want more from the Thaiger family?
📱 Download our app on Android or iOS for instant updates on your mobile
📧 Subscribe to our daily email newsletter
👍 Like/Follow us on Facebook
🔔 Subscribe to or Join our YouTube channel for daily video updates
Pattaya fishing boat capsized in storm, 2 crew rescued, 2 missing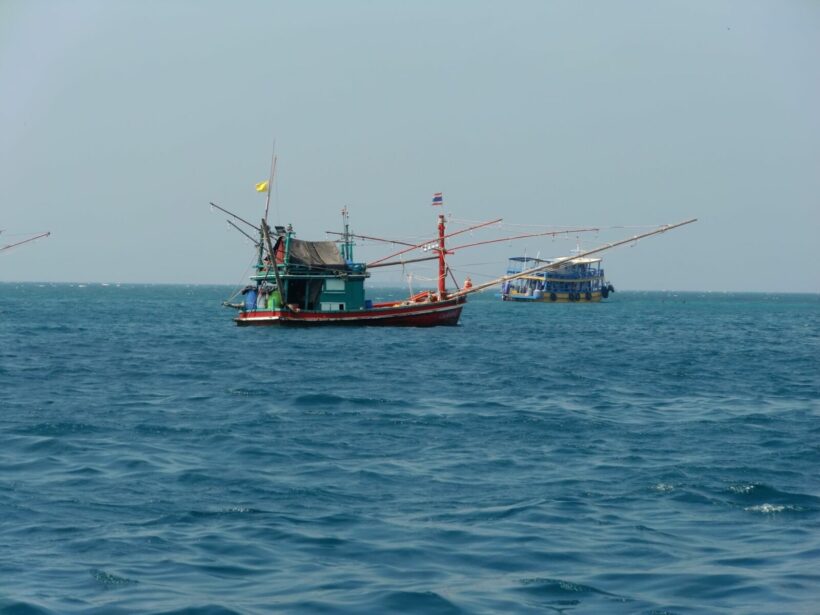 2 members of a fishing boat crew are still missing after a strong storm that capsized their boat off the Pattaya coast. Yesterday morning 2 people on board the boat were rescued after it was flipped in the high waves but confirmed that 2 more crew were aboard the ship and have not been found. The accident took place off Nongprue near the island of Pai.
The unnamed boat captain and another crew member were picked up by another local fishing boat in the area, but they were reported to have spent quite a while in the open water first, clinging to debris to stay afloat about 1.6 kilometres from the shore. The two crew members missing in the storm were a 60 year old man and a 31 year old man.
The captain of the boat that rescued the 2 men recalled rough waters and torrential downpours with a huge wave that capsized the fishing boat. He found the men shouting for help, holding on for dear life to big empty water jugs floating on the sea surface.
The Royal Thai Navy was contacted about the capsizing yesterday morning and naval officers searched all day for the 2 missing crew members without any luck. They continued the search this morning.
About 50 kilometres away, Rayong saw a similar tragedy in the same heavy storm, while rains pounded many parts of Thailand. A fishing boat there was also capsized in the storm with one crew member rescued. A second crewman was later found dead and a third is still lost at sea as rescue workers search.
Chon Buri has been particularly hard hit in the recent stormy weather in Thailand with high wind alerts and heavy rain. The Thai Meteorological Department is forecasting many more storms to come and is advising all local fishermen on small fishing boats to stay on land, especially overnight when the storms have been intensifying.
SOURCE: The Pattaya News
Want more from the Thaiger family?
📱 Download our app on Android or iOS for instant updates on your mobile
📧 Subscribe to our daily email newsletter
👍 Like/Follow us on Facebook
🔔 Subscribe to or Join our YouTube channel for daily video updates
Owner of 2 unsupervised pit bulls warned by mayor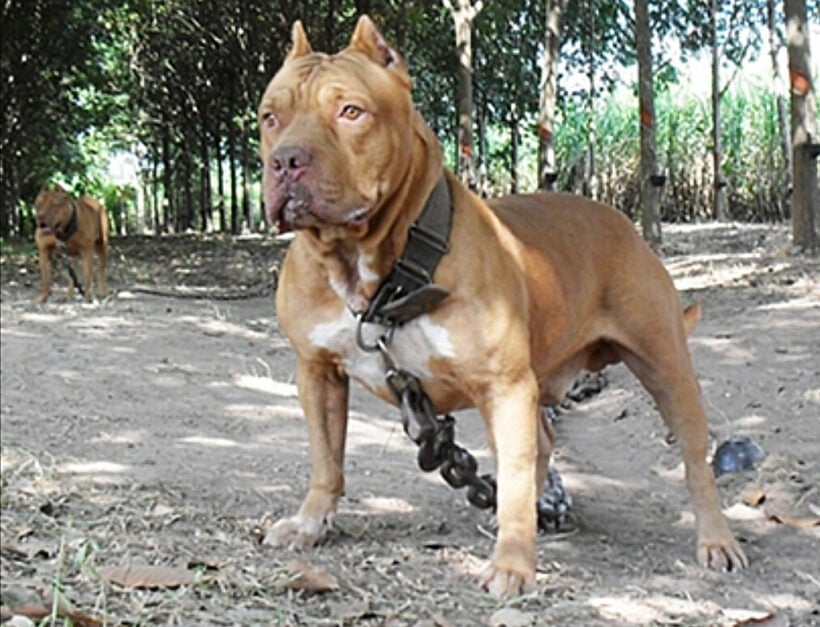 An unidentified owner of two pit bulls who reportedly allows them to wander freely near a public beach in the Bangsaen area of Pattaya has received a warning from Sane Suk Mayor Narongchai "Tui" Khunplome. making statements through his public relations accounts on social media and in local news outlets, the mayor stated that he had received multiple complaints from residents about the two pit bulls wandering around. They feared for the safety of the children and elderly people in the area, wanting to avoid attacks after the recent death of a pit bull owner who was mauled to death by his own pet. Residents also mentioned the possibility of a car or motorbike crash injuring or killing the pit bulls and possibly people.
The dogs were originally thought to be strays but were later determined to have an owner who allows them to wander freely, unaccompanied by a leash or any supervision. Local law forbids pets to be in public without an owner and also requires that owners clean up any droppings that their pets leave.
The owner of these pit bulls was singled out but not name publicly. The dogs were not reported to have attacked anyone or been aggressive in any way and the majority of complaints were just concerned citizens. The mayor's post on social media garnered 900 responses both for and against the wandering pit bulls and received more than 7000 likes.
Stray animals are a common problem in Thailand and around the Pattaya area. It is feared that the Covid-19 pandemic created more abandoned animals as people moved out of Chon Buri. Many strays have settled into areas vacated by tourists, and several areas around Pattaya are dealing with the surge in stray animals, especially Banglamung.
It is against Thailand's religious and cultural beliefs to put down strays, but there's a lot of debate over a solution. Soi Dog Foundation advocates for spaying or neutering animals and also vaccinating them before releasing them back into their natural habitat. This avoids animal shelters where conditions can become inhumane due to overcrowding, and also may prevent more aggressive dogs from claiming local territories. It is agreed that aggressive dogs should be removed from the public.
SOURCE: The Pattaya News
Want more from the Thaiger family?
📱 Download our app on Android or iOS for instant updates on your mobile
📧 Subscribe to our daily email newsletter
👍 Like/Follow us on Facebook
🔔 Subscribe to or Join our YouTube channel for daily video updates