Former Thai General seeks asylum in Australia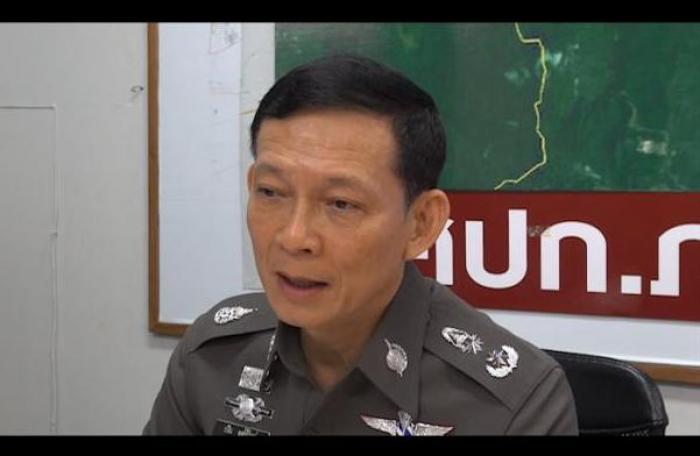 BANGKOK: A former high-ranking police officer, who headed a human-trafficking investigation that led to the arrests of state officials, is seeking political asylum in Australia, he disclosed yesterday.
Maj Gen Paween Pongsirin said he was seeking asylum, as he felt unsafe in Thailand.
"If I remained in the police force, I would be in danger. I sought help from my supervisors but received nothing – no protection, no mercy and no compassion," he told The Nation.
"Even after I resigned from the service, nobody seemed to care. So I decided to bring my family to Australia immediately after the national police chief approved my resignation," he said.
Gen Paween, 57, arrived in Melbourne on a tourist visa.
He resigned last month after being transferred, against his will, to the insurgency-plagued southern border region. Gen Paween told the Australian media that the traffickers he was pursuing were influential in that region and some senior police in the area were involved with the trade.
He then opted to quit rather than take up a new post, after allegedly receiving death threats.
"I worked in the trafficking area to help people in trouble. But now it is me who is in trouble. I believe there should be some safe place for me – somewhere on this Earth where I will receive help," he told The Guardian.
Gen Paween said he was seeking asylum in Australia, as he has friends there who could assist him.
In May, Gen Paween was appointed head of the police team investigating a human-trafficking ring active in the South, after many shallow graves and bodies of suspected Rohingya immigrants from Myanmar and Bangladesh were found in the border area with Malaysia.
The investigation led to the arrests of more than 90 people, including local businesspeople, politicians, administrators and senior military officers, who were charged with human trafficking.
This list included Manas Kongpan, a powerful army general in the South, accused of being a linchpin and using his local influence to funnel migrants through the region. Gen Manas denied the charges.
Gen Paween's unit was disbanded and the investigation declared complete in early October.
Speaking before he left the country and visibly shaken, Gen Paween said he was ordered to stop the investigation prematurely and that many more officials were likely involved in the trade.
"There are some good soldiers, but in the police and the military, there are some very bad ones involved in human trafficking," Gen Paween said to the Australian Broadcasting Corporation in Melbourne . "I feel deeply sad. It is so unfair that people who did these things will not be punished."
He remains a witness in the trial of the officials charged in connection with the alleged trafficking of migrants. However, he said that he had no plans of returning to Thailand to testify in the case.
Amy Smith, executive director of Fortify Rights, said that the outlook was not promising for Thailand, regarding its battle against human trafficking.
"This trial is a test of Thailand's commitment to end human trafficking, and the prognosis isn't looking good," Ms Smith said. "Gen Paween and other investigators should be supported to combat human trafficking in Thailand, not be forced into hiding."
— The Nation
Keep in contact with The Thaiger by following our Facebook page.
Never miss out on future posts by following The Thaiger.
Thailand bans assemblies, protests, mass gatherings citing Covid-19 fears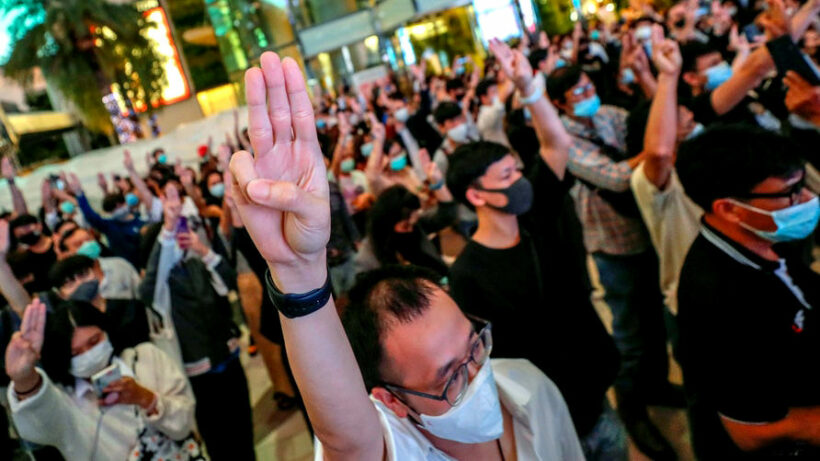 Thailand's government has banned assemblies, protests, and mass gatherings citing fears over Covid-19 spreading. The Royal Gazette, Thailand's official site for publishing new laws and regulations, made the announcement late last night on the heels of another protest scheduled for today.
The ban is in place for Bangkok and 5 other provinces including Samut Prakan, Samut Songkhram, Pathum Thani, Nakhon Pathom, and Nonthaburi provinces.
Thai Government officials insist the ban on protests is not political but some are skeptical as a protest last weekend ended in violence after demonstrators tried to march to the home of PM Prayut Chan-o-cha. The "leaderless protest" set for today, by "Redem" pro-democracy group, is set to march to the Thai Criminal Court. And, protest groups on social media have stated that the new regulations will not stop scheduled future protests.
Despite the Emergency Decree that has been put in place to ban mass gatherings, the new law will cover more ground by giving the government more power to assert control over law-breakers by including fines up to 40,000 baht or up to 2 years in jail. The new law is effective until further notice.
Yesterday, the pro-democracy group Ratsadon, arrived to the outskirts of Bangkok, after a nearly 250 kilometre, 17 day long walk from the Thao Suranaree statue in Korat province's Muang district. The group was protesting the imprisonment of 9 pro-democracy demonstrators who are being denied bail. The march, named "Walk Through the Sky: Bring Back the People's Power," started on February 16.
The march is expected to end today at Bangkok's Democracy Monument, but it is unclear whether or not the protest will be stopped in accordance to the new ban.
Thailand has seen a drop in the amount of daily reported cases of Covid-19, with numbers decreasing to double-digits. The Centre for Covid-19 Situation Administration assistant spokeswoman is now claiming that Thailand has successfully contained the second wave of Covid, which broke out last December.
SOURCE: Bangkok Post
Keep in contact with The Thaiger by following our Facebook page.
Never miss out on future posts by following The Thaiger.
Thai navy receives PETA award after rescuing cats from sinking ship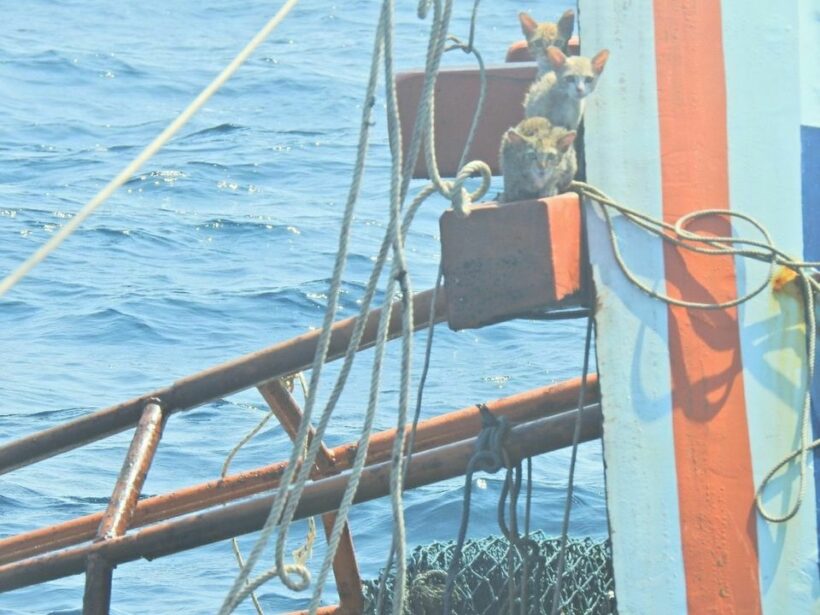 The Thai navy is celebrating receiving a PETA award after rescuing a group of cats from a sinking ship that had caught fire in the Andaman sea. The Hero to Animals Award was given to the naval officials by the People for Ethical Treatment of Animals group after Facebook user "Nookool.b" posted photos of the feline rescue mission.
The ship's 8 member crew had jumped off the sinking Phamonsin Nava 10 and were rescued by a passing fishing ship, but noticed 4 cats were left onboard. Navy sailors rescued the cats by carrying them piggy‐back style across the water to the navy vessel unit. The felines were safely rescued and were in good condition, just a bit dehydrated.
"They carried each cat on their backs and swam back to the Navy vessel until every cat was rescued."
PETA Senior Vice President Jason Baker said their efforts had resonated with kind people around the world.
"Peta hopes their example will inspire everyone to keep an eye out for animals in danger and do whatever it takes to ensure their safety."
PETA says they are sending the navy a framed certificate and letter of appreciation. The animal rights group has also offered to pay for the spaying or neutering of the cats.
In 1 rescue photo, a cat was shown to be riding piggy-back on a sailor as his crew mates pulled them both to safety. Other photos show the cats after they were rescued, enjoying food and cuddling in the naval command post in Koh Lipe.
Their rescuers, members from the Air and Coastal Defence Command Operation Unit 491, found the cats the day after they were deployed to assist the crew of the ship that had caught fire. The ship was located about 13 kilometres off Adang Island in the southern province of Satun
Keep in contact with The Thaiger by following our Facebook page.
Never miss out on future posts by following The Thaiger.
Thailand News Today | Changes to quarantine, 'adult content' ban continues | March 5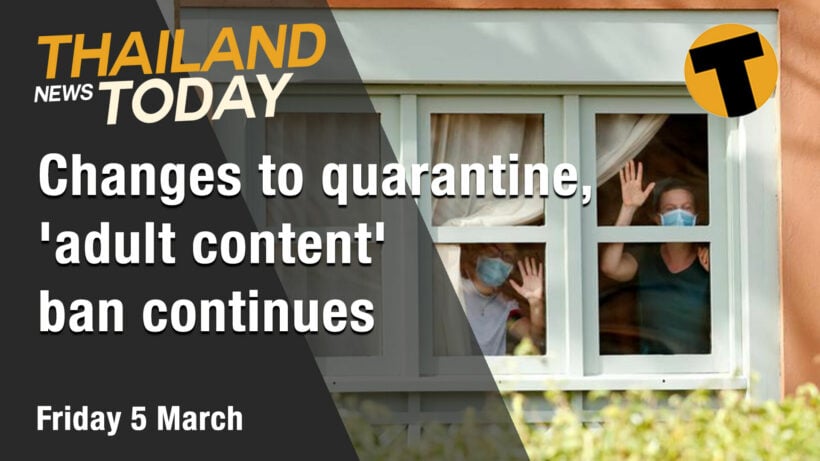 Thailand's Public Health Minister is chairing a meeting next Monday, where a vaccine passport scheme and potential travel bubbles is on the agenda. Anutin says those who've been vaccinated against Covid-19 will be issued with a book to confirm their vaccination. It's hoped this will make international travel easier, as well as boosting the public's confidence and helping life return to some kind of normality.
In related news…. From next month, foreign visitors to the Kingdom will be able to experience the delights of "area quarantine", after the government confirmed the scheme for 5 provinces. Following a meeting with the Public Health Ministry, the Tourism Minister confirmed that Phuket, Krabi, Chiang Mai, Chon Buri and Surat Thani, which includes Koh Samui, have been chosen to pilot the scheme.
P**nhub and other adult websites are remaining blocked in Thailand as they apparently "conflict with good morals for upstanding citizens". The Thai Government says the websites encourage "poor moral standpoints and can affect youth in a negative manner".
The Acting Minister of Digital Economy and Society and current Minister of Culture says that the decision that was made by the previous office holder will be upheld. The decision also includes keeping other popular adult websites blocked as the Thai Government has labelled them to be "obscene". But the move to ban adult content has brought protests with those disagreeing saying such sites are a part of freedom of expression.
A houseowner in the central province of Ang Thong, central Thailand, has discovered 3 skeletons on his land that are thought to be over 3,000 years old. 54 year old Somkiat Briboon says this most recent discovery isn't the first, as the first lot of bones was found last year after preparing his 17 rai plot of land to be rented out for sugarcane farming.
The Thai PM says he's ordered an investigation into allegations that the military has been using fraudulent social media accounts to aggravate the ongoing unrest in southern Thailand. Facebook has announced the removal of 185 accounts and groups that it has accused of "information-influencing", targeting audiences in the deep south of the country, where Muslim insurgents continue to fight for independence. The PM says he's tasked the Defence Ministry with looking into the matter and explaining it to the public.
Keep in contact with The Thaiger by following our Facebook page.
Never miss out on future posts by following The Thaiger.