Disappearance of Karen activist prompts concern; NACC denies bias; Teacher exam cheating probe begins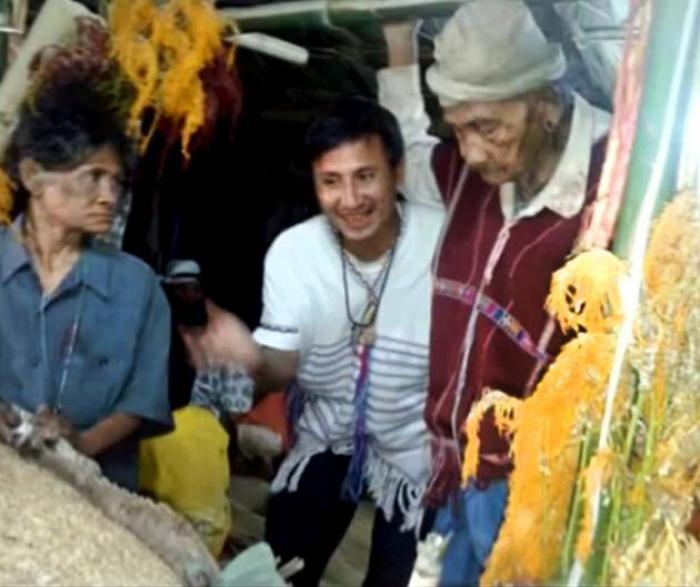 PHUKET MEDIA WATCH
– Thailand news compiled by Gazette editors for Phuket's international community
Disappearance of Karen activist prompts concern
The Nation / Phuket Gazette
PHUKET: Several organisations including Human Rights Watch and Amnesty International Thailand, are pressing Thai authorities to speed up investigation into the disappearance of a leading Karen activist.
Por Cha Lee Rakchongcharoen, also known as "Billy", has been missing since April 17.
"The disappearance of this prominent activist demands an immediate government response," Brad Adams, Asia director at Human Rights Watch, said. "Thai authorities should not stay silent about Billy's case but explain what happened to him."
Amnesty International Thailand said Billy's disappearance proved that activists working to protect human rights were subject to intimidation, especially when they have conflicts with state officials.
The head of Kaeng Krachan National Park, Chaiwat Limlikhit-aksorn, who is known to have had conflicts with Billy, has denied having had anything to do with the man's disappearance.
The Karen Network for Culture and Environment's Tanintharyi Region and the Cross Cultural Foundation have also demanded that police locate Billy as soon as possible. "The state should help the victim and punish the culprits," the two organisations said in a statement.
They suspect that Billy's role in suing Chaiwat and the Department of National Parks, Wildlife and Plant Conservation (DNP) might have had something to do with his disappearance. Three years ago, officials burned down the homes of Karen villagers living in the national park, and Billy helped the villagers take their case to the Administrative Court.
Meanwhile, witnesses said Billy was allegedly detained at a checkpoint last Thursday for allegedly having several bottles of wild-bee honey. Chaiwat also showed up to question him. However, there are no official records of Billy's detention or charges, and he has not been seen since.
Billy's wife, Pinnapa Preuksapan, lodged a missing-persons complaint with police yesterday.
"Before he disappeared, he told me he was going to prepare the villagers for the court hearings," Pinnapa said, adding that she believed his disappearance would affect the locals' fight for justice.
"I am gravely worried about his safety," Pinnapa said.
In 2011, Karen-ethnic activist Taskamon Oborm was shot dead.
A group of Karen people called on Phetchaburi province's deputy governor ML Kittibordee Pravit yesterday to help locate Billy. Kittibordee assured them that officials had already been told to work closely with police to find Billy.
Meanwhile, Chaiwat yesterday maintained he had nothing to do with Billy's disappearance. "I am innocent," he insisted, adding that some Karen leaders hated him for stopping them from cutting trees in the forest and thus wanted to "spread lies" about him.
"Now, they are even trying to portray me as a kidnapper," Chaiwat claimed. He admitted to meeting Billy last Thursday, but insisted that Billy had not been detained or harmed in any way. "I welcome any investigation," he said.
Issara Preuksahet and Suwanna Raman, student trainees from the North Bangkok University, said they were with Chaiwat when he rushed to meet Billy. "Initially, Billy was detained and brought into a pickup. But later, I saw Billy riding away on his motorcycle," Issara said.
National Human Rights Commissioner Niran Pitakwatchara said yesterday that if police failed to locate Billy, then the people would feel that officials are not working to maintain justice.
NACC official denies bias in conduct of probes
The Nation / Phuket Gazette
PHUKET: Witthaya Arkompitak, deputy secretary-general of the National Anti-Corruption Commission (NACC), yesterday defended the NACC against complaints that it conducts its affairs with a political bias.
Pheu Thai Party spokesman Prompong Nopparit has submitted a letter to the NACC, asking about the progress in its investigation of seven projects and crises during the Abhisit administration allegedly tainted by corruption.
They include the rice-distribution scheme, failed construction of 396 police stations, palm-oil shortage and crackdown on protesters in May 2010.
Pheu Thai demanded that the NACC explain why it managed to wrap up probes into cases arising during the Yingluck administration, which came after those still-pending cases.
Witthaya said the delay in the inquiry into corruption allegations in the rice-distribution scheme was due to some necessary documents also being used in court trials.
The NACC would invite former Pheu Thai MP Pairot Issarasomchai to appear for questioning and would close the case soon, he said.
Nakhon Phanom dump fire will take days to put out: mayor
The Nation / Phuket Gazette
PHUKET: It will take another three to five days to extinguish a fire at the Tambon Ban Phaeng Municipal dump in Nakhon Phanom, mayor Danai Sitthiwatcharachai has said.
As of press time, local authorities and fire-fighters were trying to control flames in the area. Villagers living near the 14-rai dump in Ban Tha Lat Thung said the fire, which started late last week, was sending out black foul-smelling smoke that was affecting them.
Ladda Kamsert, 76, said they were also disturbed by flies escaping the heat. Local residents want the dump moved further from their homes.
Probe into school director who sat exam for assistant teachers
The Nation / Phuket Gazette
PHUKET: Education officials have begun a disciplinary probe into the school director who sat an assistant-teacher recruitment exam on Saturday.
Pitak Supalert, director of Ban Nong Sai School in Buri Ram, was found sitting the exam on Saturday in Samut Sakhon.
His move has raised suspicion about exam cheating, but to date Pitak has maintained he simply wished to try the exam questions so he could guide his younger relatives on how to prepare themselves for such exams in the future.
"But no matter his intention, he must face a disciplinary probe. He went into the test without seeking prior approval from his supervising office. This is against regulations," Supoj Jiamjai said yesterday in his capacity as the chief of Buri Ram's Office of Primary Education Service Area 1.
The office has set up a fact-finding committee to look into Pitak's case. Supoj expected the committee to conclude the case within the next few days.
Buri Ram's Secondary Education Service Area 32, meanwhile, has received complaints that a group of suspects charged Bt200,000 to people wishing to become an assistant teacher, saying that they could help.
"We are investigating into the complaints," the office's director Kitti Booncherd said.
— Phuket Gazette Editors
Keep in contact with The Thaiger by following our
Facebook page
.
Never miss out on future posts by
following The Thaiger
.
Thailand News Today | State of Emergency lifted, Quarantine latest, Phuket Light Rail | October 22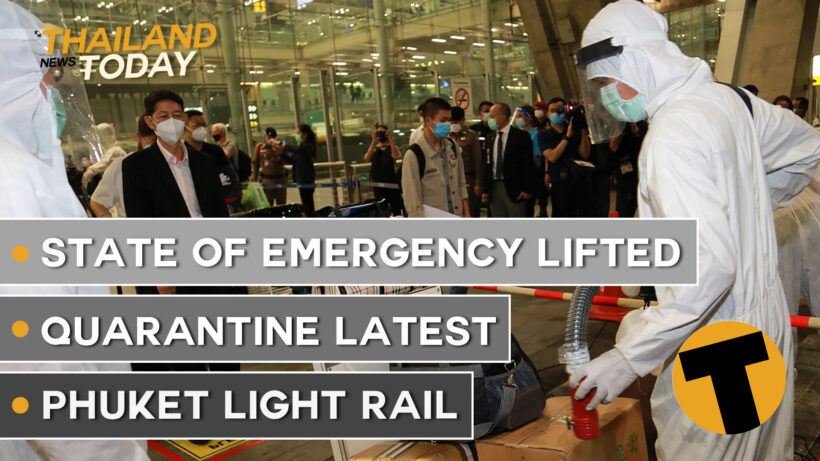 Today's latest news and information about Thailand. Like and subscribe to our YouTube channel too. Go on, right now 🙂 You can also LIKE our Facebook page https://facebook.com/thethaigernews to get even more information about Thailand.
Government lifts Bangkok's State of Emergency
Bangkok's State of Emergency has been lifted, according to a statement published in the Royal Gazette, making it official.
The order, that banned public gatherings over 5 people, and censoring critical media commentary, was imposed last Thursday morning by PM Prayut Chan-o-cha, leading to the breaking up a protest and the arrests of a number of activists.
Despite the State of Emergency, protesters ignored the orders and rallies only grew over the past week.
The emergency order also banned content on websites and social media considered to be a "threat to national security." Some Thai media outlets covering the protests were under fire, and authorities tried to suspend them under the emergency order. The court dismissed the requests to block those media companies, saying the Thai Constitution does not give the court power to shut down media platforms.
Large protest group amassed at Government House
The lifting of the State Emergency follows two key events last night.
A large, prepared protest group that marched on Government House demanding the resignation of the Thai PM – they even prepared a letter for him all ready to sign. Police had 2 buses, barbed wire and water cannon trucks, along with riot police, awaiting them. Both sides seemed poised for a confrontation but protests leaders peacefully dispersed the crowd at 9.35pm. The other was an address on national TV by Prayut Chan-o-cha, asking protesters to stand down and participate in dialogue with the government.
Negative Covid-19 results for first group on the Special Tourist Visa
Surely, the most anticipated and followed tourists ever to grace Thailand's shores. All 39 visitors who flew in from China this week on the new Special Tourist Visa have tested negative for Covid-19. While it's a small group, they're the first foreign tourists to arrive since travel restrictions were imposed in late-March.
More international tourists are expected to arrive next week under the auspices of the new Special Tourist Visa. If there are no positive Covid-19 cases in the first groups, the government says they could start to lift restrictions, like cutting down the mandatory quarantine period, or allowing more applicants under the STV.
Groups from China and Scandanavian countries are the next arrivals under the STV in the next few weeks.
Health Minister says quarantine could be reduced to 10 days, maybe eventually zero
Health officials have confirmed that they are ready to reduce the mandatory quarantine period for foreign tourists, provided other relevant bodies agree.
The current quarantine period is set at 14 days, but the Public Health Minister says this could be reduced to 10. He adds that if the reduction is successful, quarantine could be further reduced, eventually reaching a point where quarantine is no longer a requirement.
"The truth is, the Public Health Ministry is ready for the change, but other relevant agencies still have requested time to adjust. So, we have to wait and work together."
4.4 million methamphetamine pills seized near Laos border
Police seized 4.4 million methamphetamine pills worth more than 400 million baht after a police chase in the northeast near the Thai-Laos border.
Thai media reports that the alleged drug traffickers threw black bags full of the drugs out onto the road during the police chase and drove off into a rubber farm in the Bung Kla district.
Police had received a tip about drugs allegedly being trafficked across the Mekong River and were tracking a truck driving fast by the river.
Police searched the bags which contained over 4 million methamphetamine pills. Police also found 2,970 ecstasy pills.
Since October 1, the Royal Thai Navy has been involved in 18 drug trafficking busts, seizing methamphetamine, ecstasy, heroin and marijuana, totalling around 2.7 billion baht.
Phuket light rail study goes to Cabinet for approval
The Mass Rapid Transit Authority of Thailand has approved the findings of a study on Phase 1 development of a light rail system in Phuket.
The first phase, budgeted at 35 billion baht, will run 42 kilometres from Phuket Airport to Chalong intersection.
The findings of the study will be tabled in the Cabinet in 12 months time. If approved, bidding for joint investment will begin in early 2022, with trams expected to start running in 2026.
The service will have 21 stations, of which 19 will be at ground level, one at elevated level and one underground.
Critics say the route won't do much to benefit local communities and that the main Thepkasattri Road artery will be severely disrupted during the years of construction.
Keep in contact with The Thaiger by following our
Facebook page
.
Never miss out on future posts by
following The Thaiger
.
Foreign yachts allowed to dock in Thailand, tourists to quarantine onboard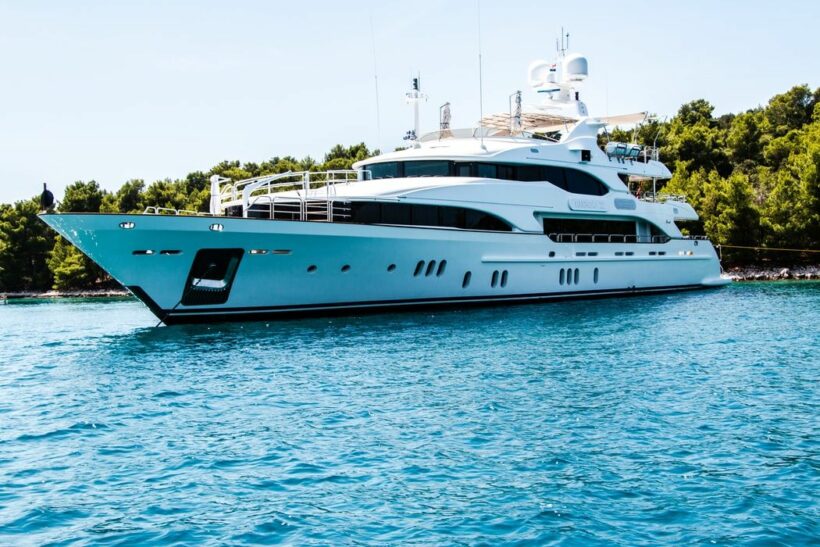 Overseas yachts are now allowed to dock in Thailand, but foreign tourists and crew members still need to adhere to strict health measures, according to the Centre for Covid-19 Situation Administration. Tourists will need to quarantine onboard the yacht for 14 days and be tested for Covid-19 tests 3 times before entering Thailand, according to the CCSA spokesperson Taweesilp Visanuyothin.
So far, there's around 60 yachts, each with about 600 to 650 tourists and crew members, that looking to dock in Thailand. The 27 superyachts and 33 cruisers could generate an income of 2.1 million baht.
Along with yachts, foreign ships are allowed to dock in Thailand to change vessels and head back to sea, the spokesperson says. Seafarers must also go through a 14 day quarantine period.
The spokesperson didn't go into detail about the visa requirements for the tourists and crew members travelling to Thailand on a yacht. Recently, Thailand started issuing the Special Tourist Visa to travellers from countries considered a low risk for spreading the coronavirus.
"At this stage, the countries considered as low-risk by the Department of Disease Control are China, Macao, Taiwan, Sweden, and Finland, Denmark, Norway, Switzerland, Japan, South Korea, Singapore, Australia, and New Zealand."
SOURCE: Phuket News
Keep in contact with The Thaiger by following our
Facebook page
.
Never miss out on future posts by
following The Thaiger
.
Thailand at the crossroads. The anti-government protesters vs Thai establishment – VIDEO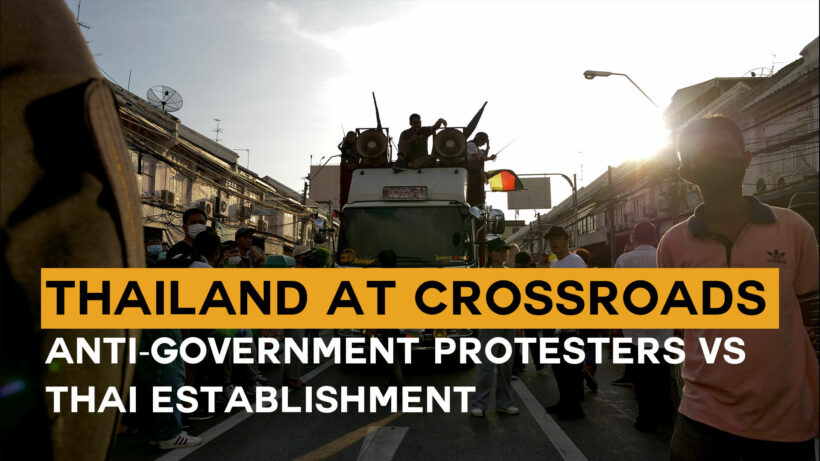 Click to watch the video…
This video provides some background of the protests and their challenge ahead. They are battling a deeply entrenched "establishment", including the Army, the government, the Bangkok 'elite' and years of conservative traditions protecting the revered Thai monarchy. The protesters are young, educated and motivated. The government controls the levers of power. What will happen?
Like and subscribe our YouTube channel too. Go on, right now 🙂 You can also LIKE our Facebook page to get even more information about Thailand.
Whilst the daily media coverage of the current protests in Thailand might give you the impression that Thailand is in some sort of chaotic mess, it's really nothing like that.
Yes, there are some protests going on in isolated parts of the city. Yes, they're disruptive to local traffic and they are getting plenty of media attention. But the vast majority of Thais, whilst many will be keeping abreast of the developments, are just getting on with their life and much of what you'd call Thai life is bubbling along like usual.
On the other hand Thailand is coming to terms with an economy mostly devoid of tourism. People are rearranging their lives and finding new jobs, but again, it's not as if there are long lines of unemployed, beggars or starving people. In most locations around Thailand, leaving out some of the tourist hot spots, like Phuket, Pattaya and Koh Samui, life is just plugging on. Even in those locations, once out of the touristy parts, the local economies are adapting and managing.
The people losing their work from tourism have, mostly, headed home to their families and are getting absorbed into family businesses or community life. It's a cultural resilience that is helping Thailand adapt and survive, even thrive in some sectors, during the worldwide pandemic.
There isn't even any tangible link between the two issues – the Covid-19 pandemic and the current protest movement. The push for change of the political status quo has been brewing ever since the current government seized power in 2014, firstly as an Army-led coup against the elected government of Yingluck Shinawatra, and then after the March 2019 election, when the coup leaders were able to cobble together a workable, and at least on paper, legitimate government.
But be assured, Covid-19 pandemic or not, this protest movement would have surfaced anyway and is driven by idealism and political evolution, not the pandemic or economy. The protesters are mostly educated students from middle class families and they've never once made mention of the lack of tourists or even the broader Thai economy. They're not disaffected opposition politicians, or even identify with the old red shirt/yellow shirt protests. They are mostly fresh, younger voices.
The protesters' demands have been unfalteringly consistent. Based on a 10 point manifesto, first read out at Thammasat University's Rangsit Campus on August 10 this year.
The demands are that the Thai PM resign, that the parliament is dissolved for a fresh election, that a new constitution is written to replace the 2017 Charter and that officials stop harassing protesters and people speaking out against the government. Most of those would be the sorts of things you may expect from opposition MPs or anti-government protesters. But this time they spiced up their wish list with a controversial demand for changes in the role of the country's revered monarchy. They have strenuously denied that they want to get rid of the Thai monarchy, instead, they want a new constitution to codify the role of the Thai monarch and limit the powers which they claim, are currently unfettered.
The hurdle for change, however, is that the current system is stacked against just about everything the protesters are demanding, especially the changes to the role of the Thai monarchy.
For any of these changes to take place there will have to be a national consensus, a new constitution and some sort of response, even involvement from the Palace.
The students are demanding change, now, but the reality is that, for a peaceful transition, there will certainly need to be constructive discussions, a desire to change and a passage of time. None of that, given the history of Thai coups and the role of the Army, appears likely at the moment.
Whilst the government is trying to diffuse the situation by calling emergency sessions of parliament, even offers to drops the State of Emergency or release some of the arrested protesters, there is still an enormous political gulf between the demands of the protesters and the government's preparedness to change.
Keep in contact with The Thaiger by following our
Facebook page
.
Never miss out on future posts by
following The Thaiger
.