Army repels major insurgent attack in South; Marines credit villagers for help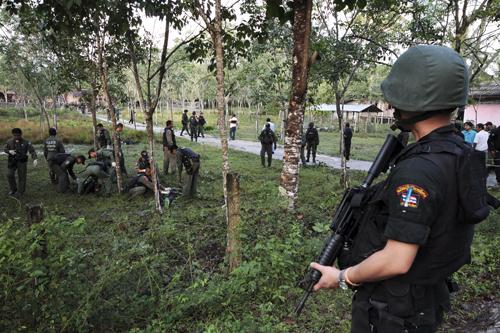 PHUKET MEDIA WATCH
– Thailand news selected by Gazette editors for Phuket's international community
Thai insurgents attack southern army base, 16 dead including Maloso Jantarawadee, leader of the Runda Kumpalan Kecil insurgent group
Reuters / Phuket Gazette / The Nation
PHUKET: A pre-dawn raid on a Thai military base ended with 16 Muslim insurgents killed today in the deadliest violence in Thailand's south in nine years, marking a dangerous escalation in the conflict.
Acting on a tip-off, marines lit flares and opened fire as insurgents wearing military fatigues approached the base at about 1am in Narathiwat province on the Malaysian border, said Internal Security Operations Command spokesman Pramote Phromin.
The number of insurgents involved in the attack has been estimated between 60 to 100 combatants.
He revised down the death toll to 16 from an earlier reported 17. None of the Thai military defenders of the base were hurt, he said.
Violence is common in Thailand's south but the scale of the attack and targeting of a marine base illustrate the difficulty Buddhist-majority Thailand faces in preventing the low-intensity Muslim insurgency from turning into a more dangerous conflict.
Although there is no indication of the fighting spreading beyond the provinces of Pattani, Yala and Narathiwat, it lies just a few hours' drive from some of Thailand's most popular tourist beaches.
"It was only going to be a matter of time before this type of incident happened," said Anthony Davis, a Thai-based analyst at security consulting firm IHS-Jane's.
"The insurgents have been moving towards larger attacks on military bases since 2011. At the same time, there has been more pro-active security intelligence work."
The violence comes as Southeast Asia seeks to present an image of stability to foreign investors who have poured into its financial markets. The Philippines government signed in October a pact with the country's largest Muslim rebel group. Long-running communal conflicts in Indonesia have mostly abated in recent years.
The 2011 election in Thailand ushered in a period of relative stability after more than five years of sometimes-deadly street protests. The economy is flourishing and the stock market was one of the world's best performers last year, rising 36 percent.
A political scientist with Deep South Watch, a think-tank that closely tracks the violence, said he feared the insurgents' failed attack would only spur them on. "If anything, it will make them more determined because of the high casualties incurred," said the analyst, Srisomphob Jitphiromsri.
He and other experts say the insurgency is becoming better organized. Today's death toll was the highest since security forces stormed a mosque, known as the Krue Se mosque, in 2004, killing 32 Muslims in a raid that intensified the insurgency. Since then, more than 5,300 people have been killed in the three provinces of Pattani, Yala and Narathiwat where insurgents are seeking greater autonomy.
About 94 percent of the region's 1.7 million people are Muslim, the main religion in neighboring Malaysia and in nearby Indonesia, and about 80 percent of them speak a Malay dialect as a first language, according to a 2010 survey by the Asia Foundation.
In recent weeks, attacks have appeared bolder. Five soldiers were killed by suspected insurgents on Sunday. That followed a spate of attacks on civilians, including one this month in which four fruit traders from outside the region were found shot dead with their hands and legs bound.
The government is considering imposing a curfew in parts of the south, where the military already has wide-ranging powers of search and arrest under an emergency decree.
A temporary, 24-hour curfew was imposed in four sub-districts of Narathiwat and two in Pattani from 6pm this evening while authorities scour the area, said Pramote.
The three provinces were once part of an independent Malay Muslim sultanate until annexed by Thailand in 1909. Muslims in the area largely oppose the presence of tens of thousands of soldiers and armed guards in the rubber-rich region.
The violence has ranged from drive-by shootings to bombings and beheadings. It is often aimed at Buddhists and Muslims associated with the Thai state such as police, soldiers, government officials and teachers.
Most believe the attacks are organized by the Barisan Revolusi Nasional (BRN) Coordinate, an offshoot of the Patani Malay National Revolutionary Front established in the 1960s to seek independence. Another group, the Patani United Liberation Front (PULO), publicly calls for a separate state.
Better understanding
Captain Somkiat Ponprayoon, marine commander of the Southern region praised the cooperation of villagers in repelling the attack by insurgents on their base in Narathiwat province this morning, saying it had been key to their success.
He said their cooperation was the result of better understanding about the work of the security authorities after being updated and following the news everyday.
Confiscated from the scene were 13 assault rifles and three pistols, a pickup and two motorcycles.
Among the dead was Maloso Jantarawadee, a leader of the Runda Kumpalan Kecil insurgent group blamed for much of the violence. Maloso had been wanted for the killing of a teacher earlier this month.
Authorities said they believed the attack was revenge for the recent death of a rebel leader.
— Phuket Gazette Editors
Want more from the Thaiger family?
📱 Download our app on Android or iOS for instant updates on your mobile
📧 Subscribe to our daily email newsletter
👍 Like/Follow us on Facebook
🔔 Subscribe to or Join our YouTube channel for daily video updates
Thailand Consumer Confidence Index hits record low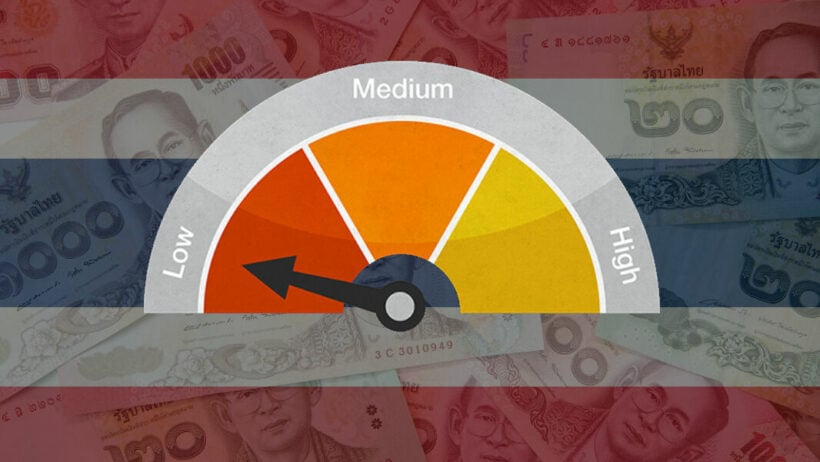 The University of the Thai Chamber of Commerce has reported that the Consumer Confidence Index has hit another new record low of 46.0 in April. The Covid-19 global pandemic has had a devastating effect on the economy and consumer confidence has fallen frequently to the lowest points that it has seen since 1998.
The president of the UTTC believes that consumers generally don't feel like there has been much of a recovery for the economy since the global pandemic began and without a stimulating event to motivate economic growth, the index is expected to continue to fall further. The university estimated that if the third wave of Covid-19 continues past the end of May the economy can expect to lose 400 to 600 billion baht.
The UTTC president stressed that the government should hasten to step up relief measures and make sure they continue relief and economic stimulus throughout the pandemic to avoid economic catastrophe. He predicted that the economy and the Consumer Confidence Index will continue on a downward slope without any hope of improvement until the vaccine rollout gets well underway towards herd immunity, and new Covid-19 infections are decreased dramatically.
Today saw another 2,101 new Covid-19 infections and 17 deaths in Thailand. Vaccination efforts are continually being stepped up, but still remain woefully slow.
The Consumer Confidence Index first started falling last year, with a drop below the previous record low in 1998 in April of 2020, when it fell to 47.2. A few months later, by July of last year, it had recovered significantly, climbing back over 50. But by March of this year, the index had fallen again to 48.5. With April's tumble of 2.5 points, the Consumer Confidence Index pushes once again to a new record low.
SOURCE: Thai Business News
Want more from the Thaiger family?
📱 Download our app on Android or iOS for instant updates on your mobile
📧 Subscribe to our daily email newsletter
👍 Like/Follow us on Facebook
🔔 Subscribe to or Join our YouTube channel for daily video updates
Thailand searches for cow vaccine for lumpy skin disease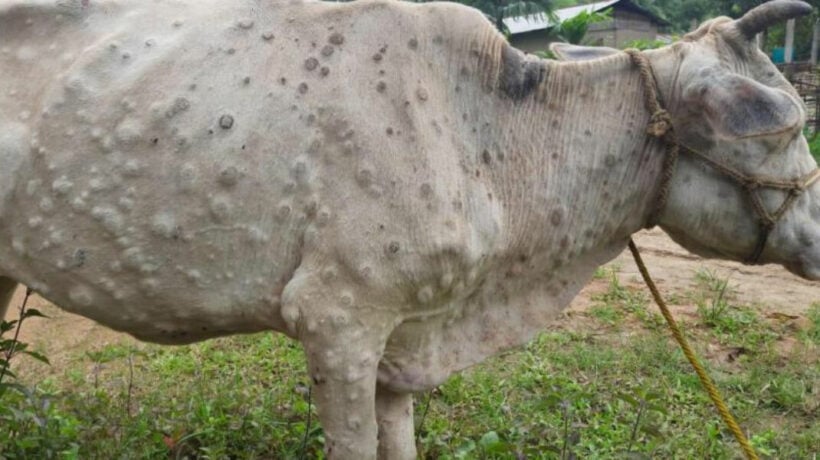 Move over Covid-19 there's a new disease sweeping the country as Thailand's cow population is afflicted with a lumpy skin disease. The Department of Livestock Development is now working on procuring vaccines from overseas manufacturers to import and treat the cattle population in Thailand. The lumpy skin is caused by pustules that are the most visible symptom, perhaps more detectable than other bovine signs such as drooling, loss of appetite and drowsiness.
The cow disease is spreading in the North, Northeast, and Central Plains area of Thailand and has been found in 18 provinces total. First identified in Roi Et, it has now spread in Chiang Rai, Kalasin, Kanchanaburi, Khon Kaen, Maha Sarakham, Nakhon Pathom, and Nakhon Phanom. The first case of the lumpy skin disease was reported in Don Daeng village last month and on April 9th officials reported it to the World Organisation for Animal Health.
The lumpy skin disease is found in cow pens and spread through flies, ticks, and mosquitoes, but the DLD says not to panic, it is not transmissible to humans. The department is distributing important information about symptoms and how the disease spreads to breeders and farmers in the area. They're requiring the breeders to monitor their cattle closely and have imposed measures to control the disease in heavy hit areas.
To prevent the spread of disease in livestock, traders are being requested to not buy and sell cattle within 50 km from disease-stricken regions. And for farmers caring for cattle, the DLD recommends spraying insecticide in all areas to prevent transmission via insects. Finally, in case the cattle were jealous of traveling humans, the DLD is advising farmers to prevent disease spread by isolating any new cow that comes into their farms with a 28-day bovine quarantine where they should be kept under nets to keep insects away.
SOURCE: Bangkok Post
Want more from the Thaiger family?
📱 Download our app on Android or iOS for instant updates on your mobile
📧 Subscribe to our daily email newsletter
👍 Like/Follow us on Facebook
🔔 Subscribe to or Join our YouTube channel for daily video updates
Covid-19 third wave cuts Thai domestic flights predictions by 38%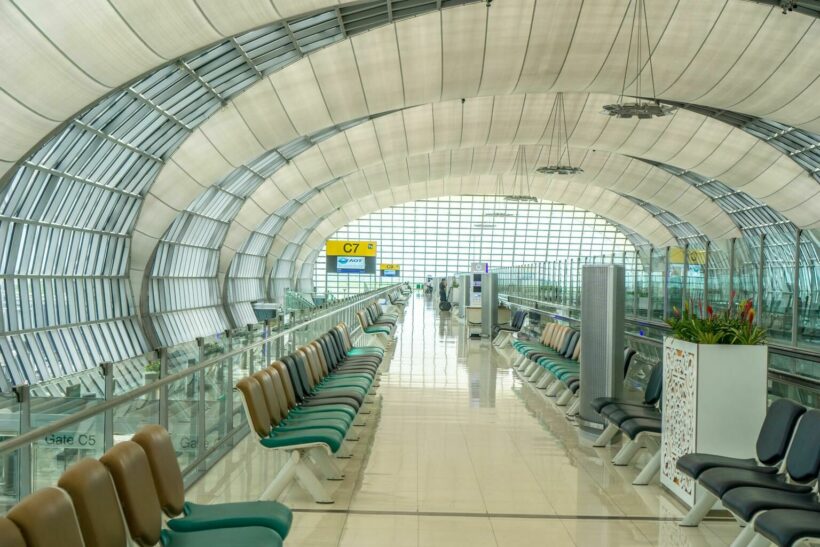 The Aeronautical Radio of Thailand is predicting a 38% drop in travel by domestic flights due to the effect of the third wave of Covid-19. Aerothai is a department under the Ministry of Transport that provides aeronautical communication and air traffic control in Thailand. With Covid-19 experiencing a rapid spread beginning in April and not yet under control, infections across all of Thailand's 77 provinces are projected to drastically hamper local travel until at least September.
The fiscal year, beginning last October, was originally predicted to have almost 519,000 domestic flight. But Aerothai has now reduced those figures down 38% to just over 323,000 flights in Thailand. The executive vice president for operations of Aerothai said that by the second half of April domestic flights had been severely reduced despite remaining relatively stable in early April.
The Civil Aviation Authority has also added increased restrictions on the way passengers are carried, adding another layer of difficulty for the domestic airlines who have slashed their schedules after having a bumper Songkran holiday period and were looking forward to better times ahead.
Flight reductions were a result of attempts to reduce and contain the spread of Covid-19 by implementing strict travel and safety measures. While domestic travel was strongly affected by Thailand's second wave of Covid-19 at the beginning of 2021, the current wave is much worse and Aerothai predicts domestic flights will reach their lowest point by the end of May.
An expectation of recovery beginning next month hinges on international flights starting to slowly creep back into Thailand. The Civil Aviation Authority of Thailand has loosened the restrictions for international travel in preparation for the government's plan to relaunch the tourism industry in key hotspots of Thailand like Phuket and Koh Samui in July. Aerothai is hoping that by August domestic flights will return to the levels seen at the end of 2020 before the second wave of Covid-19, with about 1,095 daily flights.
Aerothai has been tracking flight statistics since it was founded in 1948 by a group of airlines with the approval of the Royal Thai Government. In 1963 the government took on a majority stake in the company from the founding airlines and converted it to a state enterprise operating under the Ministry of Transport.
SOURCE: Bangkok Post
Want more from the Thaiger family?
📱 Download our app on Android or iOS for instant updates on your mobile
📧 Subscribe to our daily email newsletter
👍 Like/Follow us on Facebook
🔔 Subscribe to or Join our YouTube channel for daily video updates