Another beaten Thai Army private dies of injuries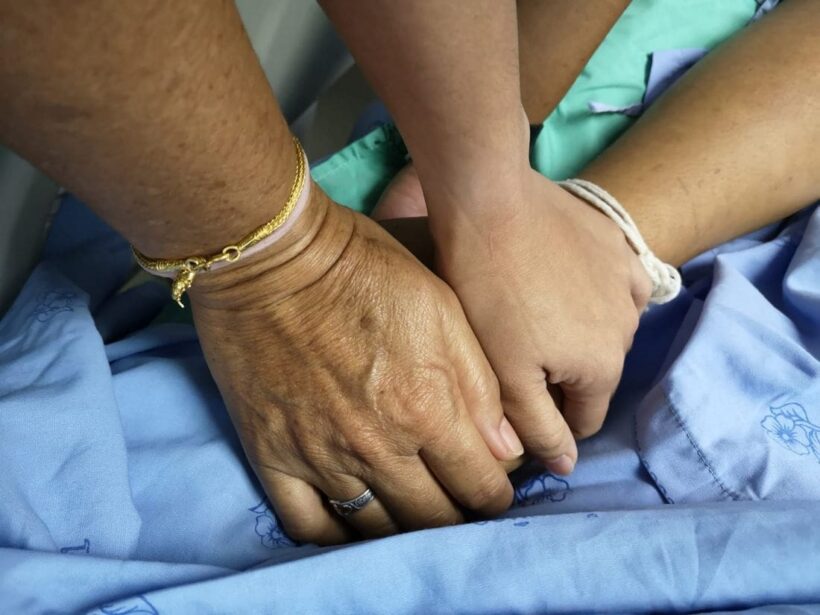 PHOTO/VIDEO: Facebook/Rejecttime Yok
Infantryman Khacha Pacha, hospitalised onAugust 21 after being beaten by three other soldiers at a Lop Buri Army camp, has died this morning. His pregnant wife confirmed the death on her Facebook page today (Friday).
It included a photo of her hand grasping his as he lay in his hospital bed and the caption, "I know you are very tired and you fought to survive until the end. Rest in peace."
Another relative posted a similar photo with the caption about "Khem" (Khacha's nickname): "Khem fought the best he could and passed away at 5.45am."
Khacha's injuries were initially believed to have been acquired while he was being disciplined. But Lt-Colonel Monchai Yimyoo, commander of the 31st Infantry Regiment (King's Guard), and Army chief General Chalermchai Sitthisart have denied this.
They insisted that Khacha was in the minority in a "three on one" fight and Monchai said the three assailants, all Army privates who have not been named, confessed to attacking Khacha during an argument. He said the three had been disciplined, along with their supervisor of the time.
Khacha's family had filed a complaint with Muang Lop Buri Police seeking assault charges. The case is ongoing and the charge could become more serious now that he's died.
Khacha, father of a toddler and soon-to-be born baby, was conscripted in May 2017. He was taken to hospital on the night of August 21 by Army officers who claimed he'd suffered acute cardiac arrest from "an unknown cause".
He'd been on a respirator in intensive care with what doctors estimated to be a 30 percent chance of survival.
His condition worsened early this month as his brain swelled and he developed infections in the lungs and blood.
STORY: The Nation

Politicians raise doubt over February 24 election date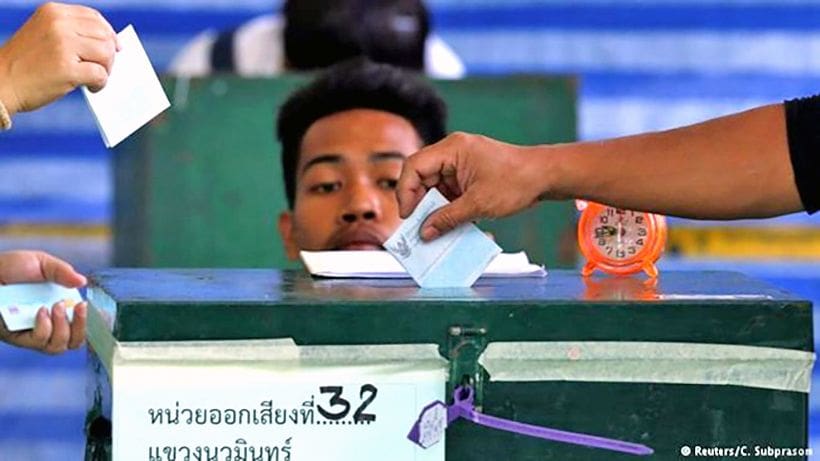 The Election Commission secretary-general Jarungvith Phumma is refusing to confirm that the next election will be held on February 24, fuelling speculation of a possible delay.
He said February 24 was the earliest date the agency would be ready to hold the general election, citing a conclusion of an Commission meeting held many months ago in Pattaya.
"The election commissioners, however, have not scheduled February 24 as the election date," he said.
Jarungvith added that according to its order, the ruling NCPO is also empowered to "work with" the EC in scheduling the election date.
The official noted that after the law on the election of members of Parliament takes effect on December 11, the national vote will be held within the next 150 days but not later than May 9 in accordance with the legislation.
Jarungvith's remark caused politicians to conclude yesterday that the election will not be held on February 24.
Paiboon Nititawan, leader of the pro-junta People Reform Party, said he was convinced the next election would not be held on February 24, as many political parties would not be ready by then. He added, however, that he saw no problem with that.
He noted that the law requires election candidates to be members of a party for at least 90 days to be eligible to run under its banner.
Varawut Silapa-archa, who heads the Chartthaipattana Party's policy and strategy committee, said he was not surprised by Jarungvith's remark.
"Many people in the political circles who I talked to agreed that there would be no election on February 24. There are many factors that would cause the postponement," Varawut said. However, he added that he believed the next election would be held within the legal limit of 150 days after the new law on MP elections takes effect.
"I can wait if the election will be postponed for a month or two. But it must be not later than 150 days. We have been waiting for four years already," he said.
The young politician blamed the EC's failure to designate constituencies early for the lack of preparedness of political parties. He said parties need to know which districts and areas are in which constituency so that they can field suitable candidates. Also, parties are required by law to select their candidates based on the results of primary voting among party members, he added.
Meanwhile, provincial officials of the EC have become worried that a delay in designating constituencies might cause the election to be postponed beyond February 24, according to a source familiar with the matter.
Pheu Thai politicians yesterday also called on the EC to complete the designation as soon as possible in order to prevent further delays in the election timing.
Meanwhile, Suthin Klangpha, a politician from the anti-junta Pheu Thai Party, said yesterday that he suspected the junta government was plotting to further delay the next election. He claimed that pro-junta political parties would seek postponement by arguing that they were not prepared for the election on February 24.

PHOTO: Election Commission secretary-general Jarungvith Phumma – The Nation
SOURCE: The Nation
Public hearings now on for Thais to discuss the new same-sex marriage bill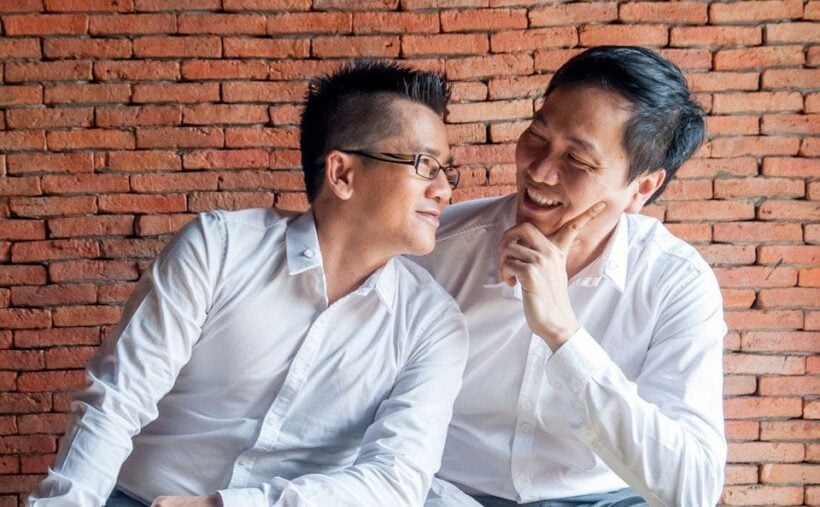 PHOTO: BK Magazine
The Thai Justice Ministry has kicked off public hearings on the proposed same-sex marriage bill that is scheduled to be submitted to the cabinet this month. So far the online survey has had no direct objections.
The public hearings were officially opened to at the Miracle Grand Convention Hotel today in Bangkok. The Justice Vice Minister Pongsatorn Sajjacholapan was there to sanction the hearings and give them the credibility of the Cabinet and the government as they start, first in Bangkok and then around the regions.
He says the Bill will legalise the unions of gays, lesbians, transgender and bisexual citizens.
A law lecturer from Chulalongkorn University, Vitit Muntabhoen, says in the Bangkok Post, that around 30 countries around the world have now legislated for same-sex marriages with other countries having 'bridge' legislation or other legal recognition of GLBTI relationships, including civil unions.
As well as the current Bangkok hearing, the Rights and Liberties Protection Department are poised to hold additional hearings in Chiang Mai, Ayutthaya, Songkhla and Khon Kaen.
The Bill is then due to be submitted, along with findings from the online survey and public hearings, to the Thai cabinet before the end of November. Notably, the proposed Bill does not include issues relating to taxation, child adoption or social welfare at this stage.
Thai nationals are invited to share their opinion HERE.
Dates clarified for new smoking bans and regulations
The Thai Public Health Ministry official announcement has been issued for smoking bans from no smoking zones.
The fine will be 5,000 baht.
Khaosod is reporting that the deputy general director of the Department of Disease Control, Doctor Kajonsak Kaewjaras, says the first announcement states the list of types or name of public places, work places and vehicles.
The list includes condos, rental buildings, pubs, hotels, religious buildings, karaoke establishments, restaurants, laundries, salons, cinemas, parking areas, spas, areas for Thai massage, clinics, hospitals, schools, swimming pools, fitness parks, clinics and 'other places', according to Thai Rath in an article last week. The regulations also specify precisely where internal smoking areas in buildings may be located.
The announcement will be enforced from February 3 next year.
The second announcement talks about the design and sizes of 'no smoking' signs which has already been enforced from November 6.
The 'no smoking' logo diameter must not be less than 10 centimetres.
The third announcement state talks about permissible wording that can be used on cigarette packets which will be enforced from May 4 next year.
All these announcements are based on the current laws but have been brought up to date and adapted. The most notable change, that there will be a five metre perimeter 'exclusion zone' from the entrances or exist of all public buildings.