800 million baht of drugs seized in three recent busts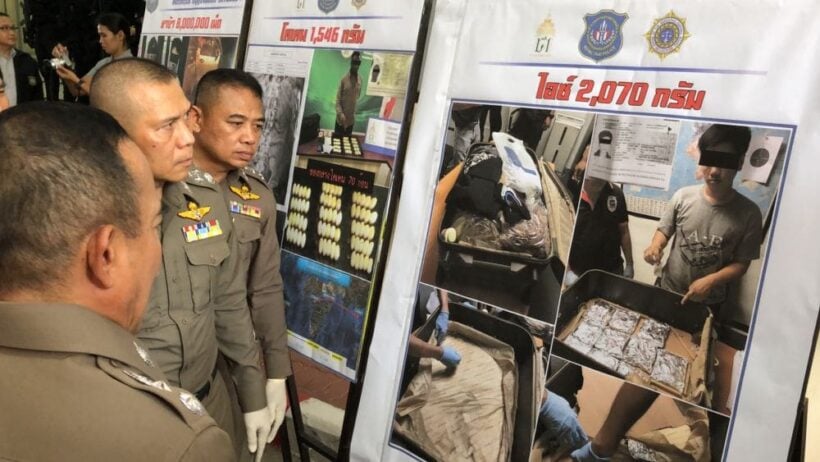 by Jessada Chantharak
Police have seized a total of eight million methamphetamine pills, 2,070 grams of crystal methamphetamine and 1,546 grams of cocaine with an estimated street value of 800 million baht from three recent drug busts.
Four suspects were arrested and a fifth was killed during arrest.
The report from the national police deputy commissioner Pol General Chalermkiat Srivorakan.
In the first case, police arrested three hill tribe men aged between 23-27
27 year old Boonsong Wusueku was killed in a gunfight with police during the arrests.
Eight million meth pills, three pick-up trucks, a pistol and five cell phones were seized in the March 16 bust in Chiang Rai province.
The three men had been charged with having illicit drugs in their possession with intent to sell.
In the second case police and customs officials arrested 47 year old Bamba Adama, from Ivory Coast, who allegedly smuggled 1,546 grams of cocaine in his stomach at the Suvarnabhumi Airport.
He has been charged with smuggling cocaine into Thailand and possessing cocaine with intent to sell.
In the third case, a 28 year old Thai man, Anucha Krinwongsa from Nan, was arrested on March 19 with 2,070 grams of crystal methamphetamine at Suvarnabhumi Airport.
His arrests followed a tip-off a day earlier about a batch of drugs to be smuggled out of the country via the airport.
Anucha was apprehended after officers found the "ice" hidden in his luggage. He was charged with drug possession with intent to sell and attempting to smuggle drugs out of the country.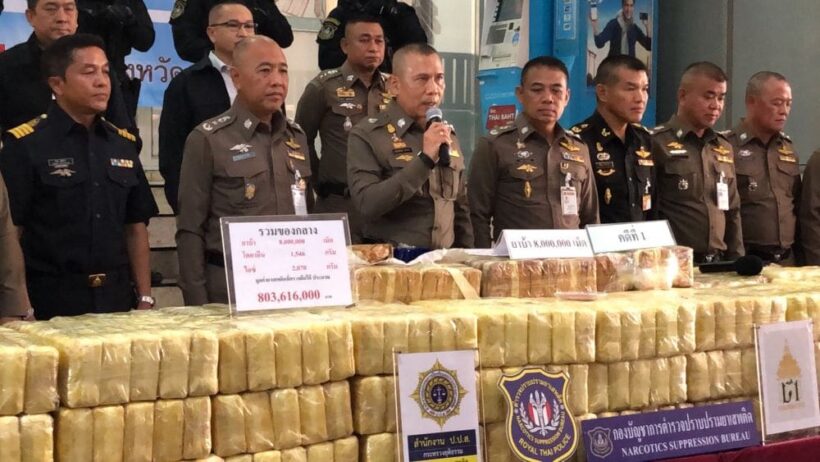 SOURCE: The Nation


Read more headlines, reports & breaking news in Thailand. Or catch up on your Thailand news.
Thailand to ban three kinds of plastic by end of this year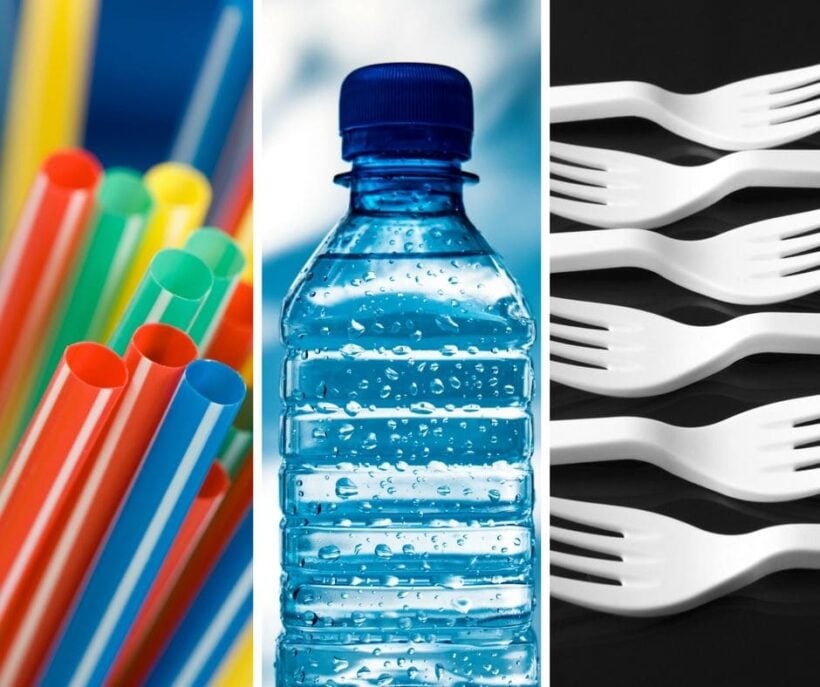 By the end of 2019 Thailand will be free from three types of plastic – microbeads, cap seals and oxo-degradable plastics.
Then by 2022 four other types of single-use plastics will also be banned – lightweight plastic bags less than 36 microns thick; styrofoam food containers for takeaways; plastic cups and plastic straws – according to a road map approved by the Cabinet.
The Plastic Waste Management Road Map 2018-2030 also includes an ambitious plan for Thailand to use 100 per cent recycled plastic by 2027 in various forms, including turning waste into energy.
The Cabinet has acknowledged the road map and assigned the Natural Resource and Environment Ministry to formulate a draft action plan for plastic waste management, so it is in line with the 20-year national strategy.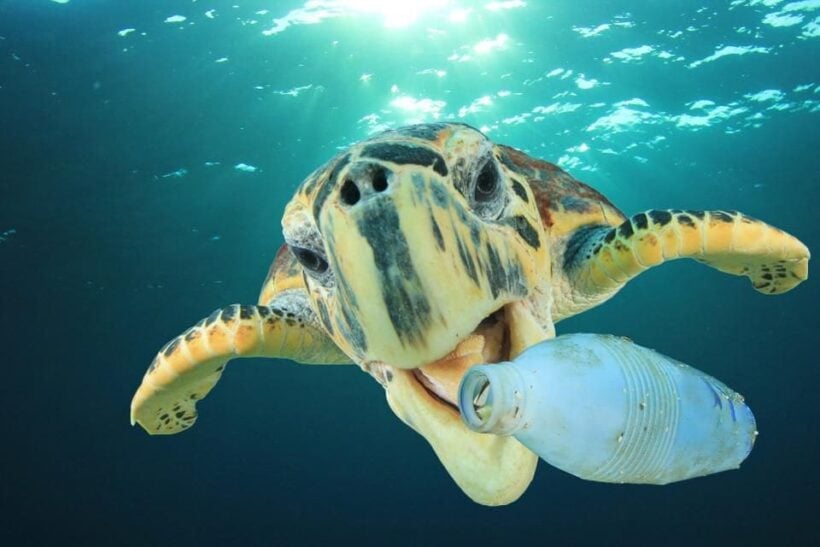 The Cabinet also called for clear details on related agencies' role in the integration of the work for managing plastic waste, which will also get huge participation from the private and business sectors. The related state agencies should create various mechanisms to propel this forward such as creating a good understanding among agencies, continuously implementing a public relations campaign via social media to achieve the set goals, the Cabinet instructed.
The work procedure must consider lifecycle plastic-waste management so steps are taken from the very start: with plastic products designed applying the "Eco Design" approach, manufacturing and post-consumption disposal which will include garbage separation, transport and storing, recycling and proper disposal.
According to the Department of Environmental Quality Promotion, Thais generate as much as 1.14 kilogram of garbage per head per day, contributing to the 27.04 million tonnes of waste per year.
One person uses approximately eight plastic bags a day – or 500 million plastic bags per day for the whole nation.
Most of the plastic waste ends up in the oceans, accounting for 16% of garbage in the seas.
SOURCE: The Nation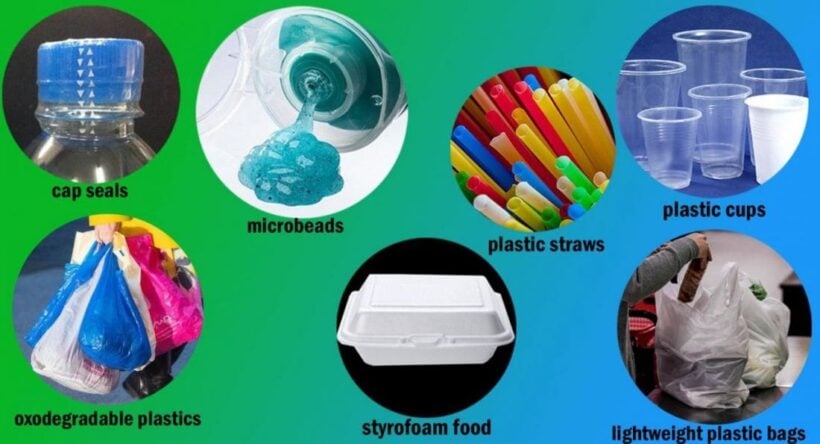 Mae Hong Son continues to be plagued with fires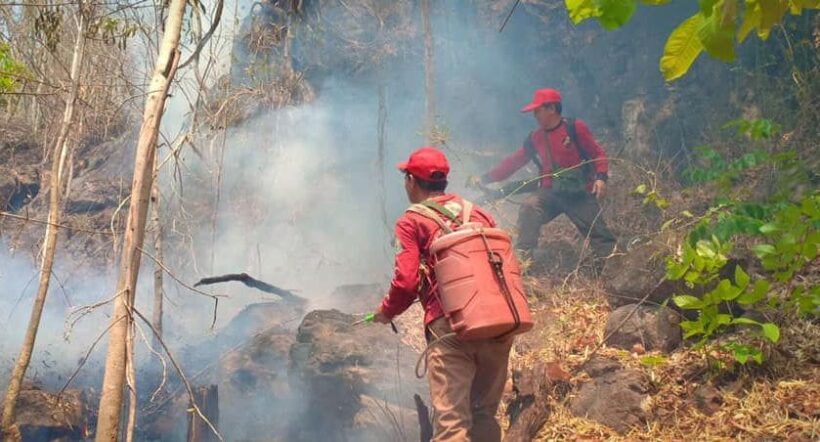 Mae Hong Son province continues to be plagued by forest fires despite the ban and the raging haze and smoke problems.
In recent months, Mae Hong Son has been struggling with haze most of the time with flights to its airport limited at the height of the crisis. Exposure to the serious air pollution has become a threat to the health of locals. Authorities continue to blame outdoor fires as the key cause of smog.
However, illegal outdoor fires continue to be detected.
Satellite images confirmed that there were at least 23 hotspots in Mae Hong Son yesterday. Of them, 13 were in Sop Moei district.
Kampanart Prachongpim, who heads Mae Hong Son's forest-fire control division, says that teams from several provinces had come to Mae Hong Son to help extinguish forest fires that were often caused by people. At least, two bushfires extinguished yesterday were caused by people going into the forest to collect forest produce. According to him, by the time these forest fires were put out, about nine rai of forest reserves had been destroyed.
Mae Hong Son is 100 kilometres north west of Chiang Mai, near the Myanmar border.

SOURCE: The Nation
The 5th Annual Stargazer talent contest returns to CC's Hideaway

This year the winner will receive 35,000 baht in prize money!
CC's Hideaway, located in Kata, proudly presents its fifth 'Stargazer Talent Contest' which will take place on April 27 between 6 pm and 11 pm. 
The goal of Stargazer is to create an opportunity for new individuals and groups to perform and promote their special talents and, with media and hundreds of guests in attendance, maybe even get their big break.
Stargazer is open to the Thai and expat communities alike. In previous years, the contest has attracted contestants from around the world, including Thailand, the US, Russia, Australia, Singapore, the UK, Italy, Canada, Kyrgyzstan and The Philippines.
Stargazer brings together a wide range of singers, bands, dancers, acrobats and actors who are scored by spectators and professional judges.
This year, the winner will receive 35,000 baht and a the Stargazer trophy, second place will receive 20,000 baht and third place will receive 10,000 baht. There is also the 'People's Choice' award, as chosen by the audience.

Past winners include Same Size Crew, Bboys dance team (2015), Khun Maatam Rapter from Chiang Mai who sing's like an lady (2016), Spectrum dance team (2017) and Daisy & Alvin, popular local Phuket performers (2018).
In line with CC's Hideaway commitment to give back to the Thai community, the resort will donate a portion of the revenue generated by Stargazer to the Life Home Project Foundation whose mission is to offer children who are affected or infected with HIV/AIDS a more dignified life, prevent the spread of this disease in Phuket and fight against the stigmatisation of people living with it. 
To apply, email [email protected] with a short biography, a photo and a link to a video of your performance. Contestants must be aged 13 or over.
Entry is free for the first 25 people who come before 7 pm and is 250 baht thereafter, including a drink. Guests and contestants are encouraged to dress in neon colours.
For more details, visit HERE, call 076 333 222 or email [email protected]
https://web.facebook.com/thethaigernews/videos/1688011211276700/
Tim Newton speaks to last year's winners, Daisy and Alvin Tumulak