4 Burmese men arrested after crossing Moei River to Thailand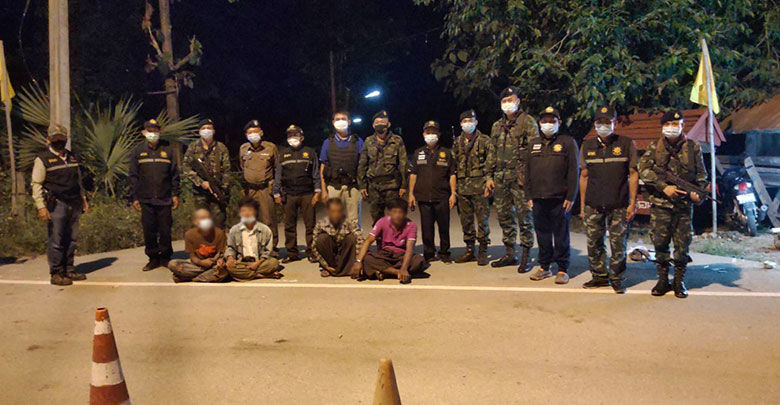 Tak border patrols have arrested 4 Burmese men who allegedly waded across the Moei River, crossing the natural border into Thailand illegally. Border officials have tightened their patrol since Myanmar reported a second wave of Covid-19 cases in August, and even more after this past weekend when 3 Burmese truck drivers tested positive for Covid-19 after entering Thailand through the second Thai-Myanmar Friendship Bridge checkpoint.
On early Monday morning, border patrol hiding in the forest in Tak's Mae Sot district spotted the 4 Burmese men allegedly crossing the natural border into Thailand. The men, ages 24, 29, 50 and 55, were all arrested for entering Thailand illegally. They also tested positive for illegal drugs and were charged with drug use.
Local villagers gathered yesterday in front of the second Thai-Myanmar Friendship Bridge border checkpoint and called on the local government to close the border. Over the weekend, 3 truck drivers crossing through the checkpoint tested positive for Covid-19 and were sent back to Myawaddy town. 73 people who came in contact with the drivers tested negative for the virus, health officials say. The deputy provincial governor then banned Burmese cargo vehicles from entering the Mae Sot border town.
Myanmar reported a surge of coronavirus cases in mid-August, with most of the outbreak concentrated in the Yangon region and the Rakhine state on the country's western coast. With cases now in Myanmar border districts, Thai authorities have increased patrol and some border districts have blocked natural border crossings with barbed wire.
Myanmar now has 27,974 reported Covid-19 cases with 646 deaths and 9,742 recoveries, according to Worldometer. Cases continue to rise. Yesterday, Myanmar health authorities confirmed 1,910 new Covid-19 cases.
SOURCES: Bangkok Post | Worldometers
Keep in contact with The Thaiger by following our
Facebook page
.
Never miss out on future posts by
following The Thaiger
.
Health Minister says quarantine could be reduced to 10 days, maybe eventually zero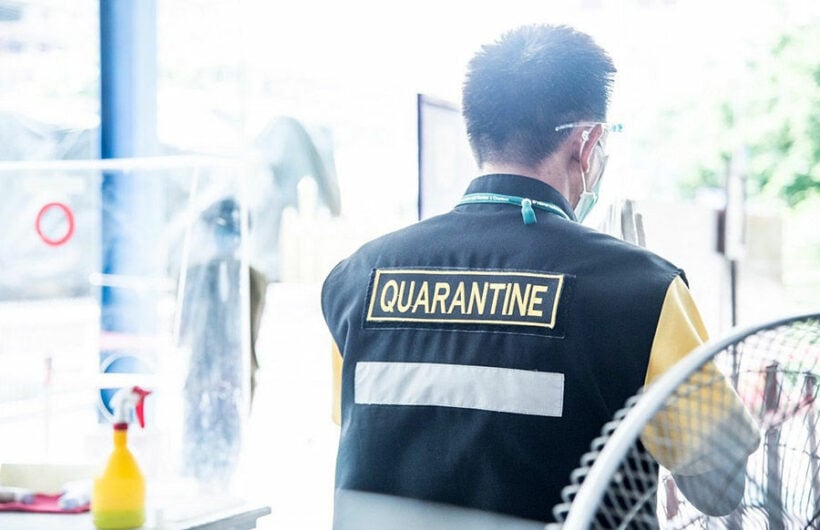 Health officials are ready to reduce the mandatory quarantine period for foreign tourists, provided other relevant bodies agree. The current quarantine period is set at 14 days, but the Public Health Minister, Anutin Charnvirakul, says this could be reduced to 10. He adds that if the reduction is successful, quarantine could be further reduced, eventually reaching a point where quarantine is no longer a requirement.
"The truth is, the Public Health Ministry is ready for the change, but other relevant agencies still have requested time to adjust. So, we have to wait and work together. The Department of Disease Control proposed reducing quarantine to 10 days to begin with. I have said that if we are confident, we do not have to be afraid since the goal is finding the safest period for quarantine. If we find a good method, it may be reduced to 5, 4, 3 days, or even none."
On Tuesday, Thailand welcomed the first group of foreign tourists to arrive in the Kingdom since borders were shut in late March. The Chinese visitors, who arrived from Shanghai, are all in 14-day quarantine, with all of them testing negative for Covid-19 so far. Once quarantine is over, they will be free to travel around, but their movements will be tracked via an app they had to download on arrival.
While a reduction in the quarantine period may go some way to encouraging more tourists to come, Anutin is not in favour of removing all entry restrictions. With travel restrictions lifted between many European countries, Covid-19 cases are once more on an upward trajectory, with officials concerned about what the approaching winter months will bring. Anutin points to the success so far of Thailand's quarantine programme, stressing the importance of keeping Covid-19 out, particularly in high-risk communities such as the border with Myanmar in Tak province.
SOURCE: Nation Thailand
Keep in contact with The Thaiger by following our
Facebook page
.
Never miss out on future posts by
following The Thaiger
.
Samut Prakan woman bitten by snake while using the toilet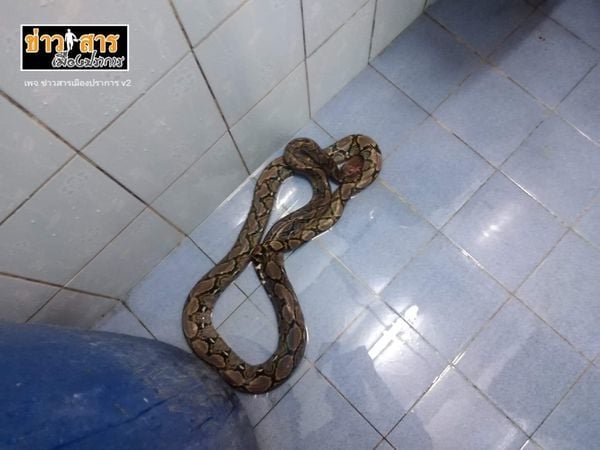 A python has bitten a woman on her backside and finger while using the toilet at a home in Samut Prakan, southeast of Bangkok. Rescue volunteers were called to her home, and said there was a lot of blood at the scene. The woman was later taken to the hospital.
The incident may sound shocking to some, but in Thailand, reports of snakes biting people who are on the toilet isn't that uncommon. Snakes can live and thrive in the sewers, usually hunting down rats, and sometimes enter pipes leading up to the toilet bowls.
Just last month, an 18 year old university in Nonthaburi, a suburb just west of Bangkok, was bitten on his penis by a python that was in the toilet bowl. He had to get 3 stitches. Another man's penis was bit by a snake while he was using the bathroom last year. He ended up with 15 stitches.
SOURCE:Facebook
Keep in contact with The Thaiger by following our
Facebook page
.
Never miss out on future posts by
following The Thaiger
.
Thailand News Today | STV arrivals, Released then re-arrested, Petition to oust PM | October 21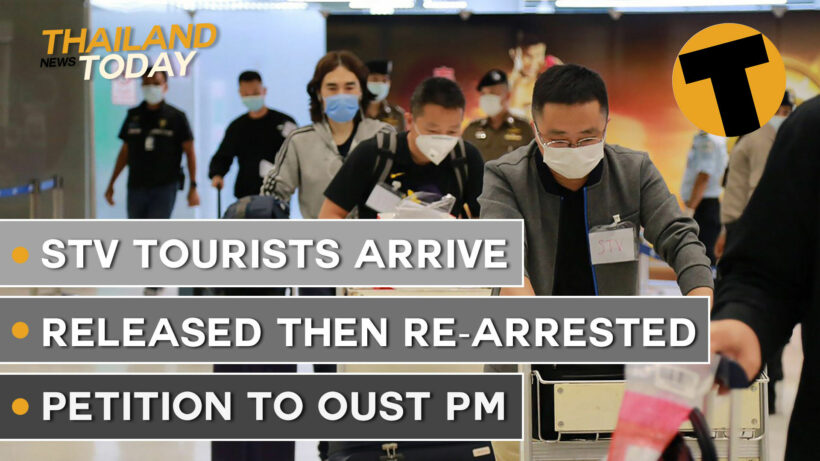 Today's latest news and information, coming to you from the Asok BTS in Bangkok. Like and subscribe our YouTube channel too. Go on, right now 🙂 You can also LIKE our Facebook page https://facebook.com/thethaigernews to get even more information about Thailand.
From 40 million visitors to 41: first STV tourists arrive
In 2019, almost 40 million tourists arrived in Thailand. Yesterday, it was 41. It was progress of sorts but a long, long way from the 110,000 daily arrivals at the same time last year.
Yesterday, the Kingdom welcomed its first tourists in 7 months, with the arrival of 41 Chinese tourists from Shanghai. The group landed at Bangkok's Suvarnabhumi airport on a chartered flight laid on by Spring Airlines, a low-cost Chinese carrier.
The visitors are here on the recently-launched Special Tourist Visa and had to download a special app to track their movements while in Thailand. They were bundled off to their 14 day quarantine before they can explore the rest of the country. The STV grants them a stay of up to 90 days and can be extended twice.
According to the TAT, "Most of them planned to visit the beaches and already reserved hotel rooms."
For anyone wishing to apply for the STV, your first port of call will be your local Thai Embassy and the thailongstay.co.th website. Good luck!
2 Thai protest leaders immediately re-arrested after being released on bail
To some protest news and authorities have re-arrested 2 of the leaders at the centre of anti-government protests right after they were granted temporary release on bail.
The 2 were being held on charges of violating the State of Emergency and released alongside fellow a fellow protester, after Thammasat University professors paid bail of 200,000 baht for each of them.
But the initial 2 were promptly re-arrested on the basis of another warrant issued by police, this time charged over another mass gathering in violation of the State of Emergency. They are being held pending another detention request being filed by police.
Letter calling for Thai PM's resignation signed by over 1,000 academics
A petition calling for the resignation of Thai PM Prayut Chan-o-cha, has been signed by up to 1,118 academics and delivered to Government House.
The petition was created by the Thai Academic Network for Civil Rights. A group of university lecturers and students have marched to Government House to deliver the letter. In the letter, academics slam the government's clampdown on an October 16 rally in Bangkok, when police used high power water cannons, allegedly laced with blue-dyed chemical irritants, to disperse protesters at the Pathumwan intersection.
They're also calling on the Government to refrain from violence when dealing with protesters, to stop the gagging of government critics andto put an end to laws that infringe on freedom of speech.
Protesters are also calling for a re-write of the 2017 Thai Charter (Constitution) and for reforms to the role of the Thai Monarchy.
Khao San Road evolving, all ages daytime event planned for Halloween
Bangkok's iconic Khao San Road now looks very different as Thailand emerges from the local coronavirus outbreak.
Not only are the backpackers gone from the "backpacker mecca," but the road in Bangkok's Banglamphu neighbourhood has gone through a street make-over. Now, Bangkok officials plan to hold events for "all ages" during the daytime during Halloween. But chaos can still be expected at night, even if it's mostly Thai customers at the moment as Thailand waits for the re-emergence of some sort of tourism industry.
Some 48.4 million baht was poured into a revamp of the "tatty" old Khao San Road, improving the drainage system and levelling out the road and sidewalk. There's now designated space reserved for emergency vehicles. You're invited to join in some Halloween celebrations at the new Khao San Road on October 30 and 31… events for kids will start as early as 9.30am.
Up to 5,900 jobs to go as Hong Kong carrier Cathay Dragon shuts down
Hong Kong airline Cathay Pacific is set to close its subsidiary, Cathay Dragon, with the loss of up to 5,900 jobs.
The carrier, that used to be called Dragon Air before being absorbed by Cathay, has become yet another casualty of the Covid-19 pandemic that has decimated the world's aviation business.
5,300 jobs are expected to go in the airline's Hong Kong base, with a further 600 axed in their overseas offices and operations. In total some 17% of Cathay's total workforce. Cathay Dragon primarily operated short-haul routes within Asia, including direct flights from Hong Kong to Bangkok and Phuket
Keep in contact with The Thaiger by following our
Facebook page
.
Never miss out on future posts by
following The Thaiger
.