21 Vietnamese fishermen taken for coronavirus testing in Songkhla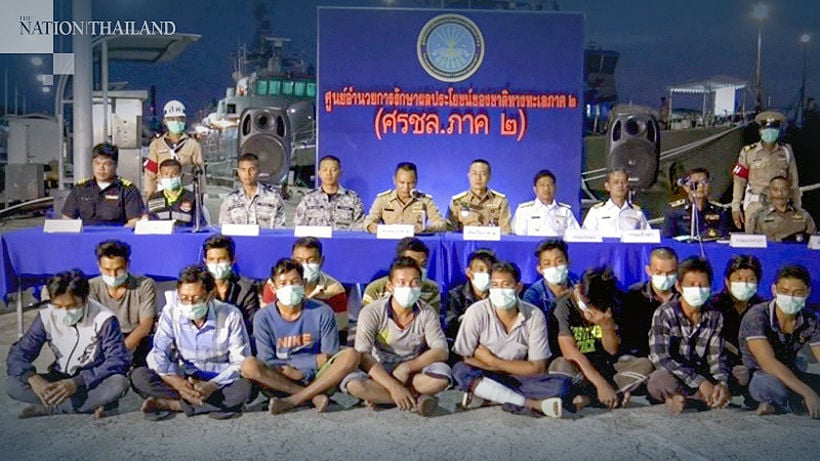 21 Vietnamese crew from four Vietnamese fishing boats looking for sea cucumbers have been taken ashore to a Songkhla Navy hospital by Royal Thai Navy officials last night. They are being quarantined whilst being tested for coronavirus.
Sea cucumbers are echinoderms from the class Holothuroidea. They are marine animals with a leathery skin and an elongated body containing a single, branched gonad. Sea cucumbers are found on the sea floor worldwide.
The Songkhla Naval Base Hospital's medical team has now screened the entire crew following a report that the Vietnamese boat had travelled to China since the start of the outbreak. Concerns were raised when Maritime Information Sharing Centre was informed on February 14 that foreign ships searching for sea cucumbers had also encroached into Thailand's maritime zone.
Thailand, Cambodia and Vietnam share parts of the Gulf of Thailand.
Its name in Malay and Khmer translates as the "Gulf of Siam". In Thai, the gulf is historically known as Ao Sayam. In Vietnamese it is known as Vịnh Thái Lan.
Of the fishermen brought ashore, 16 didn't show any symptoms of coronavirus while the condition of the other five, who have now been screened, is yet to be confirmed.
SOURCE: The Nation
Keep in contact with The Thaiger by following our
Facebook page
.
UPDATE: Visa amnesty signed by PM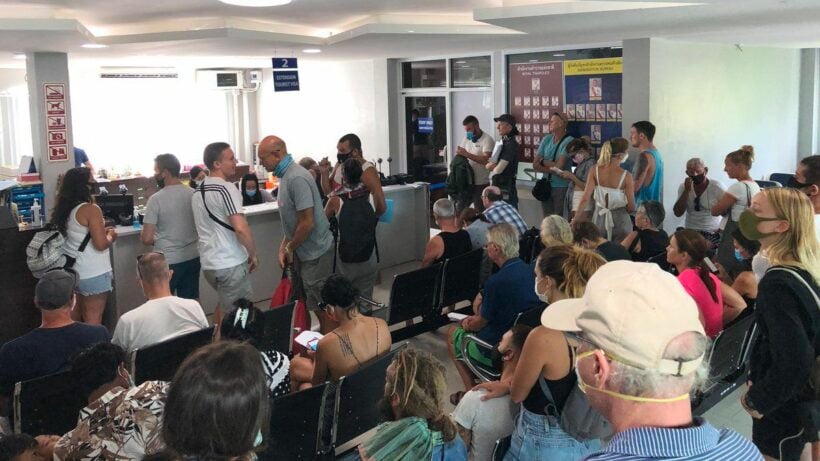 UPDATE: PM Prayut Chan-o-cha today signed an executive order granting visa amnesty to foreigners left stranded in Thailand by the Covid-19 coronavirus pandemic.
The order, released by the Ministry of Interior, grants "special permission for some classes of aliens to stay in the Kingdom."
It was signed by Prayuth and head of the Ministry of Interior, Anupong Paochinda.
ORIGINAL STORY:
With many flights cancelled, entire fleets grounded and hotels ordered closed, thousands of tourists and expats across Thailand are in a state of limbo… unable to leave, not allowed to stay. To make matters worse, social distancing requirements are creating chaos at crowded immigration offices nationwide, and onerous new requirements have been added for visa extensions. The situation has put foreigners and immigration officials at additional risk.
But the Immigration Bureau has announced that the Cabinet has approved a plan to offer automatic visa extensions for foreigners, though it will not come into effect until it has been signed by PM Prayut Chan-o-cha.
An immigration spokesman says a set of new rules, which also includes visa amnesty, has been approved by the Ministry of Interior Affairs and is due to be inked by the PM soon. The measure follows complaints of overcrowding and risk of virus infection at immigration offices across the country.
"It will be signed by the PM soon. Please wait for official announcements and don't fall for online rumours."
Details of the new rules emerged yesterday after local blogger Richard Barrow wrote on his social media platforms that the bureau has proposed plans to give every foreign national an automatic 30 day stay extension, citing sources within Immigration.
Richard also noted that the 90-day reporting will be temporarily suspended and those who have obtained permanent resident status will not lose their status if they are not able to return to Thailand within a one year period.
Visa amnesty will be granted to every foreigner, but the post did not elaborate on how it will be enforced.
The Immigration Bureau has already approved the proposal to offer automatic extension of stay to foreigners in #Thailand. They are waiting to implement it but they cannot do anything until it has been signed by the PM. They understand your anger & ask you to be patient. THREAD >>

— Richard Barrow in Thailand 🇹🇭🇬🇧 (@RichardBarrow) April 7, 2020
"This is ready to be implemented straight away, but the Immigration Bureau cannot start until it has been signed by the PM. From what I understand, it's already in the prime minister's office. They are optimistic he will sign it very soon."
"I just got off the phone with another Immigration official. So, it looks like the photos that I tweeted of long queues have caught the attention of the right people."
But immigration officials said that concerned foreigners shouldn't rely on online rumours…
"Who is he? He is not the Immigration Bureau. How could he come out to say something like that?We will make official announcements when it becomes effective."
SOURCE: Khaosod English | thaivisa
Keep in contact with The Thaiger by following our
Facebook page
.
Phuket officially announces restricted travel between districts from April 13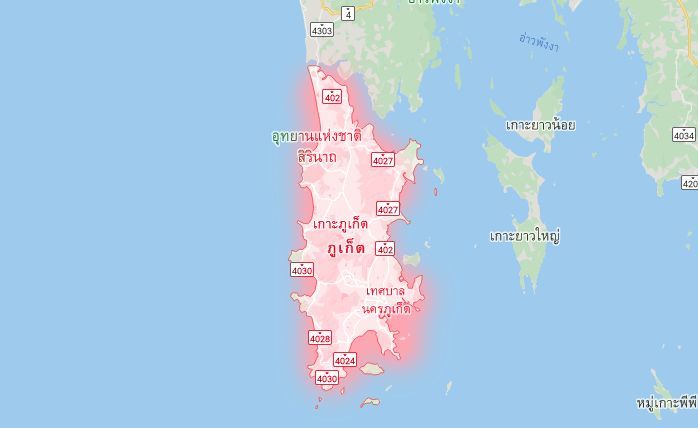 Phuket prepares to close off every district on April 13, for 14 days. Phuket officials have already ordered the closure of more than 6 sub-districts includes Patong, Kathu, Rawai, Karon, Kata and Pla Klok Districts.
Pakpong Thawiphat, the Phuket Governor has given a live interview on MCOT, explaining in-depth that Phuket will close all the remaining sub-districts from April 13 for 14 days. He stressed that it is not a new curfew as people will still be able to travel within their own district.
The Phuket Communicable Disease Committee have also agreed that the remaining sub-districts should be shut down and all 17 districts will have a screening point along roads into their areas.
The reduction of movement from the locals will allow officials to help prevent further spread of the disease.
The announcement say that you are allowed to leave your house for important errands (including shopping for food and supplies, or medical care) but you must follow the 10pm – 4am curfew and not to travel between the districts. The Communicable Disease Committee Phuket say they hope that the situation would have improved by April 30.
🔴 #ด่วน❗️ #ภูเก็ต #ปิดทุกตำบลเริ่ม 13 เม.ย. นี่ผู้ว่าราชการจังหวัดภูเก็ต ให้สัมภาษณ์สดช่อง 9 MCOT เมื่อสักครู่ว่า ภูเก็ตมีทั้งหมด 17 ตำบล สั่งปิดไปแล้ว 6 ตำบล อีก 11 ตำบลที่เหลือ จะถูกสั่งปิดทั้งหมด ภายในวันที่ 13 นี้ (วันสงกรานต์คือ วันปิดเกาะโดยสมบูรณ์) เป็นเวลาทั้งสิ้น 14 วัน ผู้คนยังคงออกนอกเคหะสถานได้ แต่ออกนอกเขตตำบลไม่ได้ ให้อยู่แต่ในตำบลของตนเอง และภูเก็ตจะเป็นจังหวัดแรกในประเทศไทย ที่ใช้มาตรการนี้

Posted by เสียงประชาชน คนภูเก็ต Phuket People's Voice on Tuesday, April 7, 2020
SOURCE: Phuket People's Voice
Keep in contact with The Thaiger by following our
Facebook page
.
International visitor numbers down 35% January-March, exceeding worst predictions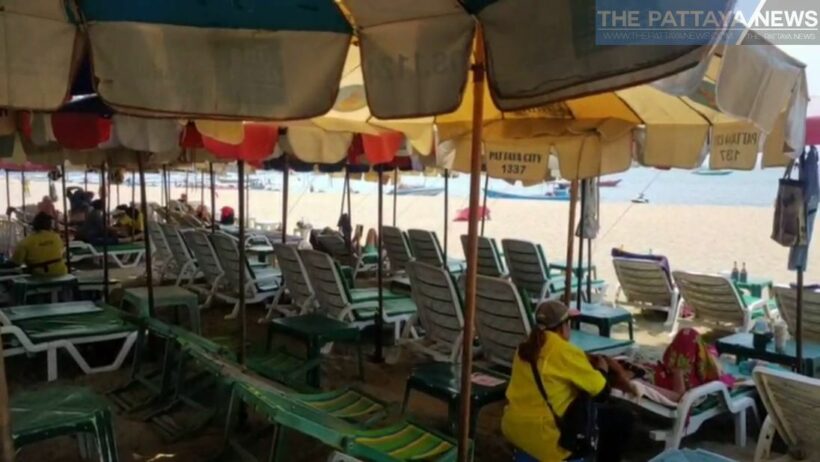 International visitor numbers to Thailand from January to March dropped by 8.5 million, or 35.3% year-on- year, according to the Civil Aviation Authority of Thailand. You can be sure the specific numbers for March would have been a lot worse.
The biggest decline, unsurprisingly, was in Chinese visitor numbers, which dropped by 59.4% compared to 2019, to around 2.4 million. China placed a ban on group tours leaving the nation in January as the Covid-19 coronavirus pandemic began to spread. Visitors from Japan fell by 28% to 1.6 million, while those from Russia dropped only 0.6% per cent to 1.19 million passengers.
The top 10 sources of travellers to Thailand were China, Japan, Russia, Singapore, India, South Korea, Malaysia, Hong Kong, and Vietnam, followed by the United Arab Emirates, Qatar, Taiwan, Cambodia, Myanmar and Indonesia.
Tourism accounts for about 16% of Thailand's total GDP, and has been called the "lifeline" of the kingdom's already battered economy. Thailand's tourist industry could be decimated in the wake of the world coronavirus outbreak. Tourism accounts for an estimated 16% of Thailand's total GDP.
Only weeks ago, the governor of the Tourism Authority of Thailand governor, mourned that, in a worst case scenario, Thailand could bleed 10 million of its projected 40 million tourist arrivals this year.
SOURCE: The Nation
Keep in contact with The Thaiger by following our
Facebook page
.