17 year old reports to Chon Buri police that she was molested and raped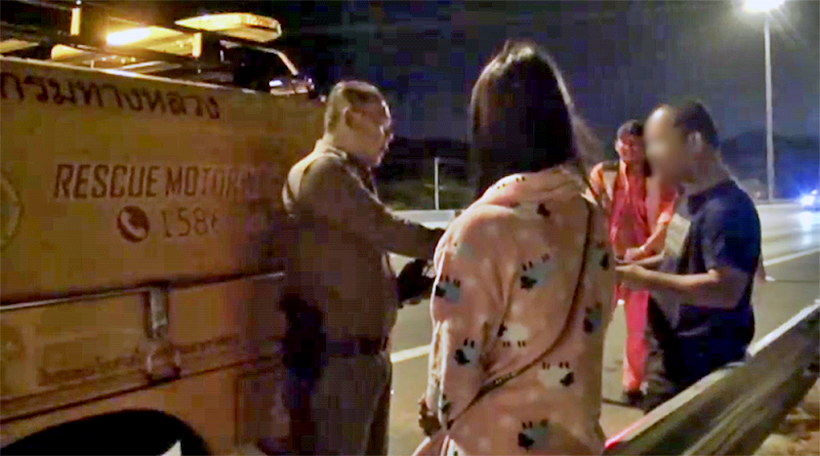 PHOTO: khaosod.co.th
A 17 year old girl is safe after a potentially dangerous situation ended well thanks to her intuition to call a relative. The teenager 'met' a man online and they had been talking on the Line application for many months. But their two versions of events are not quite the same…
According to her report to police, the man invited her to enjoy the New Year countdown with him at Bang Saen Beach in Chon Buri. Cut to new years eve when Chonburi Police received a notification of a girl that was "lured and molested in a Black Toyota Yaris with a Bangkok license plates".
Police discovered that the car was on the highway heading to Bangkok. Traffic police were informed of the situation and to look out for the vehicle. Soon after police came across the teenager waiting on the side of the motorway.
Police report that she was found "standing in fear". She told police that she had been talking to the man online and that she lived in Nakhon Nayok Province and the man lives in Bang Na, Bangkok. He'd invited her to the new year countdown on Bang Saen Beach in Chon Buri and she agreed to join. He drove to Nakhon Nayok, north east of Bangkok, to pick her up and promised her that they would return home after the countdown.
When it came time to take her home the man told her that his legs were aching and drove into a hotel. According to the girl's statement, they checked into a room and he started molesting her and attempted to rape her. She told police she fought back and demanded he take her home. Then while on the road back to Nakhon Nayok he started molesting her again in the car. The girl asked him to park on the side of the road, she jumped out of the car and called police and relatives for help.
Meanwhile, Tonatat, 27 years old and originally from Samut Prakan, claims that he lives in Bang Na. He provided a slightly different version of the story from the teenager.
He says he discovered the girl on an online dating app and they started talking. The girl told him to come to pick her up in Nakhon Nayok. When he arrived he told her that he was only 20 years old. He says they drove together to Bang Saen Beach and watched the countdown. Then while they were on the way back home his legs started to hurt so he decided to drive into a hotel to rest for a while. Tonatat stated that they only hugged on the bed, "just like normal girls and boys".
Then he says he noted the girl was chatting on her phone to another man and realised that she had a boyfriend. This made him decide to drive her back to her home. He claims he didn't know that she was only 17 years old.
After relating his story to emergency responders, police have invited him to come in for an interview at the police station. The victim's parents have also been called in along with related officials for the case.
SOURCE: Thai Residents
Keep in contact with The Thaiger by following our
Facebook page
.
Dutchman jailed for 100 years in Thailand for money laundering is released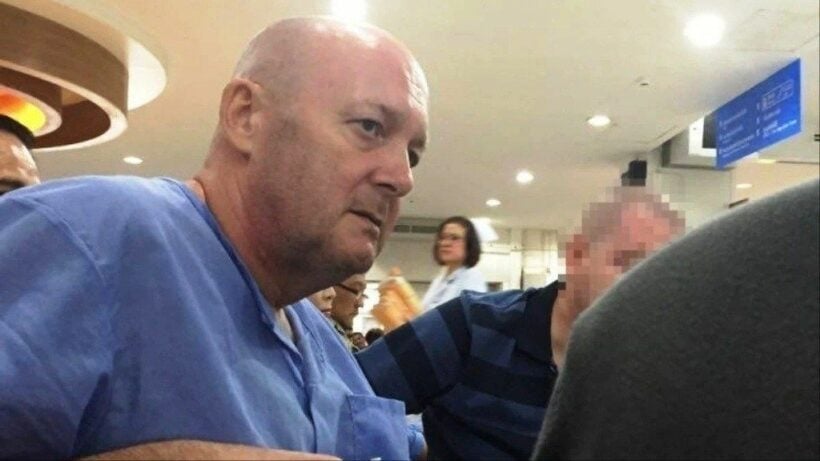 A Dutch citizen who was jailed for 100 years in Thailand, is now on his way home after years of campaigning for his release. His sentence was reduced to 75 years on appeal and later to 50 years by the Supreme court. Johan van Laarhoven, who ran several cannabis "coffee shops" in Holland, was jailed in Thailand for money laundering, along with his Thai wife, though the offences took place in The Netherlands.
Thai authorities began investigating Van Laarhoven in 2014 after a letter from a Dutch public prosecutor's office, informing them that he had earned his money selling marijuana and requesting their help. Last year, MPs called on the government to to extradite Van Laarhoven and his wife back to Netherlands. The Dutch justice minister even met with PM Prayut Chan-o-cha and the Justice Minister Somsak Thepsutin to discuss the case.
Even though cannabis is legal in the Netherlands, Dutch officials bungled a tax query to Thai authorities regarding the sale of the Dutchman's cannabis cafe chain. This led to a criminal investigation and his televised arrest in Thailand.
Thai authorities seized the Dutchman's assets and he was sentenced to 100 years in prison. His young Thai wife, Mingkwan, was jailed for 13 years as an accomplice. The Netherlands has an extradition treaty with Thailand, but it can only be implemented after a case has been ruled "definitive." Van Laarhoven's sentence was upheld late last year, clearing the way for a diplomatic solution. It's unclear whether his wife will be allowed to join him in the Netherlands.
Once back, Van Laarhoven will spend two years in a Dutch jail to complete his sentence, and also face criminal investigation for money laundering. The investigation will focus on tax fraud, membership in a criminal organisation and laundering €20m (675 million baht) according to a Dutch public prosecutor.
SOURCE: The Chiang Rai Times | Dutchnews.nl
Keep in contact with The Thaiger by following our
Facebook page
.
Thailand is making you fat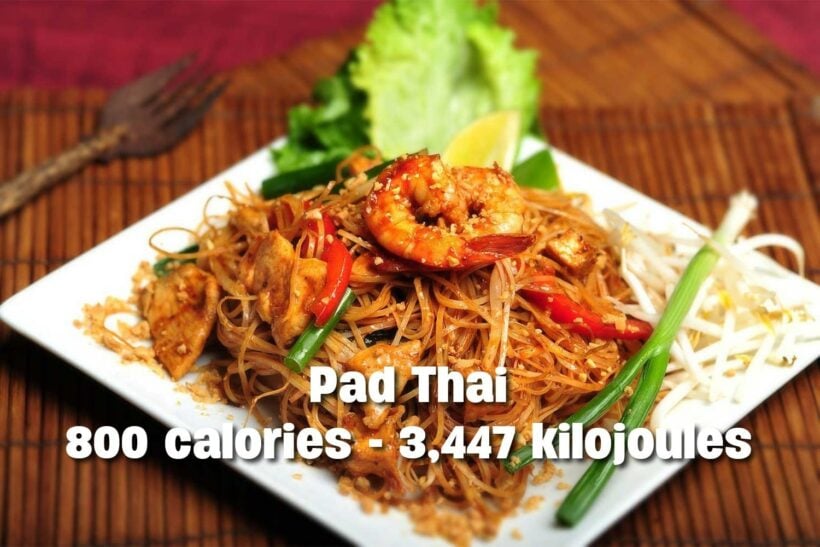 "…compare a Big Mac to an average Pad Thai and there's at least double the kilojoules in the Thai noodle dish."
I came to Thailand as a fit, healthy 70 kilogram Australian. After six years in Thailand I'm now a reasonably fit, healthy 76 kilogram Australian. Why? Well, Thai food, despite its healthy appearance and fresh origins is also full of fats, sugars and salt. For example, compare a Big Mac to an average Pad Thai and there's at least double the kilojoules (or calories) in the Thai noodle dish. (There's plenty of variation in Pad Thai servings but we took an average from three websites reporting on the nutritional value of Thai food). One website went as far as reporting that your average Pad Thai had FOUR times as many calories in it.
(A big Mac has 1075 kilojoules per 100 grams of weight and weighs approx. 200 grams)
Whilst Thai food is generally fresh, cooked quickly, full of nutrition (vegetables, carbohydrates and protein), it's also full of calories. But the problem goes deeper than this. And it partly answers the question as to why Thais, as a population, are growing taller and fatter than in the past – they're getting a lot more calories than in the past.
Head to your local convenience store and scan the shelves. Anything fresh is difficult to find. Many foods that would have traditionally come without sugar are now laced with additional sugar – yogurt, fruit juice, bread, and we're hardly past the front counter yet.
Anecdotally, I would suggest that the ingredients for your average Thai meal have evolved over the past 100 years and now there is a lot more salts, sugars, MSG and saturated fats than a century ago (the MSG argument is something for another time). Of course, all these things make most foods taste better, I won't deny it.
Thai food is still a great source of all the nutrients you need to get through the day but eating large Thai meals with lost of noodles and white rice is not going to help you return to your 20 year old surfer body. White rice has about as much nutrition as cardboard. Cook it in a sea of saturated fat (fried rice) and you're on the way to a big calorie intake.
Nutritionists recommend avoiding six types of Thai foods including Pad Thai, yellow, green and red curries, Tom Kha soup (Tom Yum is ok), stir fries and Thai tea (the orange sweet milky concoction).
Well, that's about every Thai meal I love 🙁
chefjohnhowie.com has a list of Thai food dos and don'ts.
Meanwhile Hayden Rhodes, Phuket nutritionist and well-being consultant, says there are three things to take into account when consuming our beloved Thai food.
1) Most food is fried, many times in cheap nasty rancid vegetable oils. Avoid fried Thai food.
2) Thai food over the years has followed the SAD… standard American & Australian Diet (very SAD) which means consuming more sugar per head per year. Sugar makes you fat. Period. Ask for no sugar to be added to Thai dishes (yes- it's in everything!)
3) A lot of Thai food is full of chemicals 'fresh from the farm'; detoxification processes will be hampered – body fat will be stored. Ask your fancy hotel or beach club where their food comes from and 99% will likely be 'Macro'. Find out who uses organic ingredients and eat there. Yes – this will have a direct impact on your energy, mineral content in your body and your fat line… oops I meant waist line."
Add to the high calorific content of all our favorite Thai foods is the relatively inexpensive and plentiful alcohol and street food stalls every 50 metres along any road and you're heading for a fright when you step onto the scales. It's also a lot easier to jump on the motorbike in Thailand to travel short distances we might have happily walked back in our home country.
So next time you see a friend heading into McDonalds for a Big Mac, rather than fat-shaming them, they might actually be trying to lose weight! (We certainly don't recommend eating Bic Macs or 'fast food' too often though)
Health aficionados and doctors would always recommend a balanced food intake with fresh food at the top of the list along with regular exercise, at any age.
Good advice! So it's back to the swimming pool and gym, and choosing Tom Yum over Pad Thai.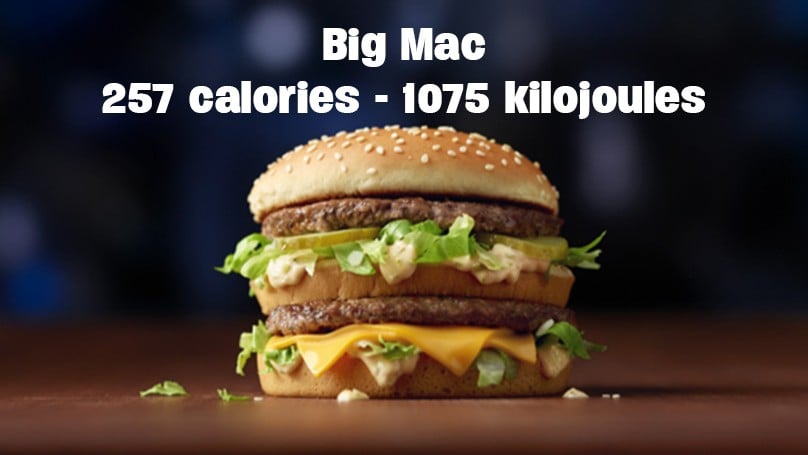 (per 100 grams of weight)
Keep in contact with The Thaiger by following our
Facebook page
.
Piyabutr acknowledges that Future Forward will probably be disbanded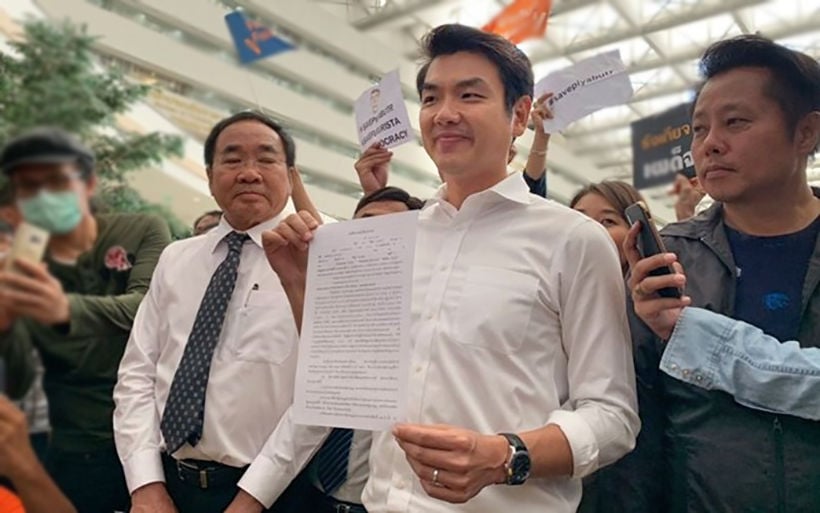 Future Forward Party's secretary-general Piyabutr Saengkanokkul is urging the party's 60,000 members and other supporters to switch their allegiances to a new party that would be formed if Future Forward ends up being dissolved by the Constitutional Court this week. The hearing by the Constitutional Court is set for Tuesday. Piyabutr acknowledges that the party will likely be disbanded.
Thailand's Constitutional Court has handed down a number of decisions since the 2019 March election, heavily weighted in favour of the MPs and parties who support the Palang Pracharat party and the ruling quasi-democratic government of PM Prayut Chan-o-cha.
Yesterday Piyabutr at the "Future is now" event at Thammasat University at the Rangsit campus. The high-profile law professor branded the accusations against the Future Forward party and its leadership as nonsense. Both the party and its leader Thanathorn Juangroongruangkit have come under fire from pro-government supporters and activist since they won unexpectedly high support at last year's election.
The petition to disband the party was brought by Dr. Natthaporn Toprayoon, a former advisor to the chief ombudsman. Natthaporn accuses the FFP, its leader Thanathorn Juangroongruangkit, party secretary-general Piyabutr Saengkanokkul and party executives of violating Section 49 of the charter. Section 49 prohibits actions that undermine the constitutional monarchy.
But Piyabutr describes the charges of being anti-monarchy as a patchwork of "spurious accusations against him and party leader Thanathorn Juangroongruangkit". The charges have been drawn from content of Thanathorn's interviews before entering politics, his involvement in the campaign for amendment of Thailand's lèse majesté laws and the FF party's reference to the 1932 revolution, which transformed Thailand from an absolute to a constitutional monarchy.
Piyabutr says none of these accusations prove either he or Thanathorn are seeking a republic or to overthrow the monarchy. He went on to claim that Natthaporn is afraid of the Future Forward party's success and "wants to nip the party in the bud".
Piyabutr openly dismissed accusations that he and Thanathorn are republicans and said that they are supportive of a constitutional monarchy.
"Those who accuse us are ultra-royalists who see us as radicals. In fact, they are the radicals. These people do not want change, want to hold back development and make us the enemy."
SOURCE: Thai PBS World
Keep in contact with The Thaiger by following our
Facebook page
.