National manhunt after rape, shooting suspect evades police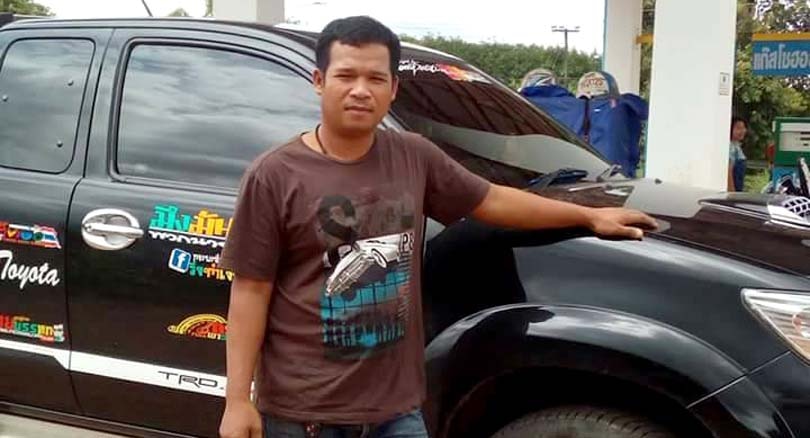 An arrest warrant has been issued for a 29-year-old suspect accused of shooting a male third-year university student in the cheek in Kalasin's Na Mon district and abducting and raping a female sophomore student.
The female student was later released in a Phuphan forest early Tuesday morning.
Thisanu Thonarat was described as armed and dangerous, Kalasin police chief Pol Maj-General Montri Charanpong said on Thursday, adding that police might have to kill him to apprehend him.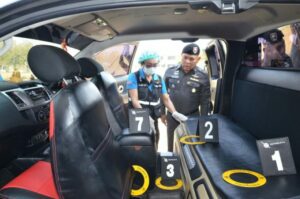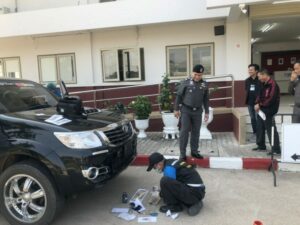 Police were looking for the rubber tapper in the Phuphan Mountain Range area in Kham Moung district, at his relatives' houses in Sakhon Nakhon and in Bangkok, where he might have fled to, Montri added.
Thisanu narrowly escaped arrest by police officers on Wednesday night when they raided his home in Kham Moung district, Montri said. Thisanu's Toyota pickup truck was recovered at the house and identified by the rape victim as the culprit's vehicle, he added.
After police collected evidence, including semen, hair, pubic hair and Thisanu's documents, Kalasin Court approved his arrest warrant for attempted murder, coercion using a weapon, carrying a gun in a public place and rape.
Thisanu's relatives claim that the man has been under stress from an earlier family dispute earlier, but it was unclear whether the incident was related to the subsequent crimes.
The suspect allegedly followed the two students, whom he did not know, as they were riding a motorcycle to buy food at night. He allegedly cut in front of the victims' motorbike, shot the young man and dragged the young woman into his pickup before speeding away. The female student was later found in the forest and filed a rape complaint against her abductor. The male student was still recovering at Kalasin Hospital and could not give a full account of the incident to police, while the female victim was reportedly traumatised.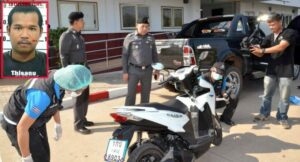 STORY: The Nation
Keep in contact with The Thaiger by following our
Facebook page
.
Never miss out on future posts by
following The Thaiger
.
4.4 million methamphetamine pills seized near Laos border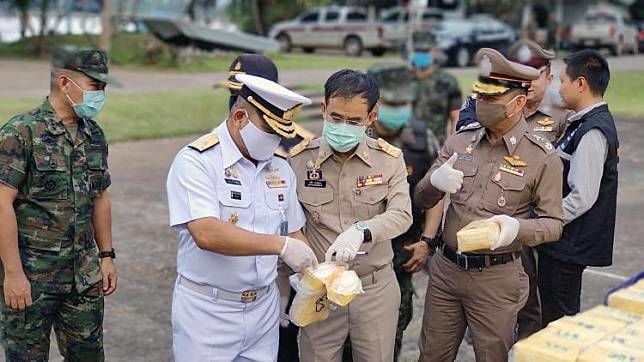 Police seized 4.4 million methamphetamine pills worth more than 400 million baht after a police chase in the Northeastern province Bueng Kan near the Thai-Laos border. Thai media says the alleged drug traffickers threw black bags full of the drugs out onto the road during the police chase and drove off into a rubber farm in the Bung Kla district.
The Royal Thai Navy and Thai Custom's Enforcement Division had received a tip about drugs allegedly being trafficked across the Mekong River and into Thailand. Officials followed a truck they say was suspicious and driving fast by the river. The truck dropped 2 black bags on the road before driving off into a rubber farm.
Police searched the bags and found bags full of yaba, which translates to "crazy drug" and is known to be pills containing mixture of caffeine and methamphetamine. Police also found 2,970 ecstasy pills.
Since October 1, the Royal Thai Navy has been involved in 18 drug trafficking busts, seizing methamphetamine, ecstasy, heroin and marijuana, altogether worth around 2.7 billion baht.
SOURCE: Thai Residents
Catch up with the latest daily "Thailand News Today" here on The Thaiger.
Keep in contact with The Thaiger by following our
Facebook page
.
Never miss out on future posts by
following The Thaiger
.
The World's 50 Best Foods: Thai massaman curry tops the list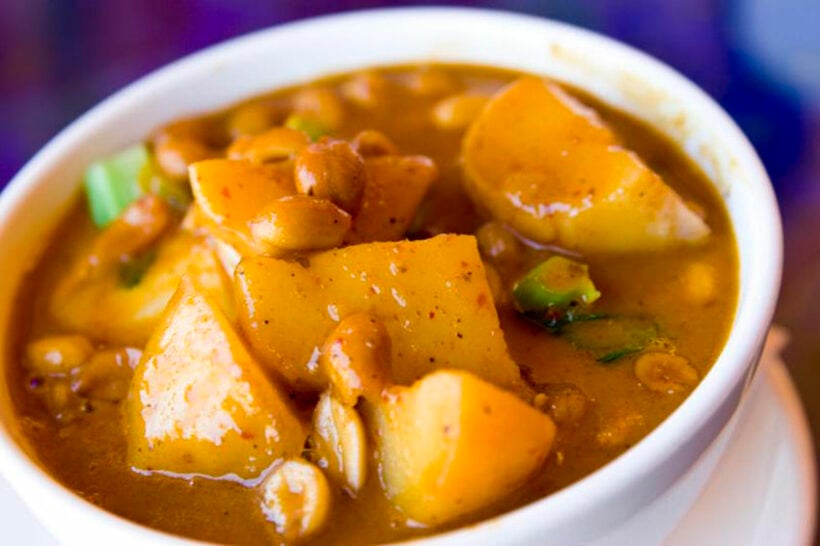 The humble massaman curry has topped a list of the World's 50 Best Foods, compiled by CNN Travel. Thailand's coconut milk and potato-based curry (add the meat, tofu or vegetables of your choice) comes in at number 1, with 2 other popular Thai dishes also featuring. The hot and spicy shrimp soup, Tom Yum Goong, comes in at number 8, with papaya salad, aka somtam, in 46th place (mai phet please!) Tell us your favourite Thai dish, and why, in the comments section (below).
CNN Travel says its staff conducted extensive research on global cuisine to find the 50 best dishes ever created. Nice work if you can get it…
Here's what they had to say about the 3 Thai dishes that made the grade:
Massaman curry, 1st place: Emphatically the king of curries, and perhaps the king of all foods. Spicy, coconutty, sweet and savoury. Even the packet sauce you buy from the supermarket can make the most delinquent of cooks look like a Michelin potential. Thankfully, someone invented rice, with which diners can mop up the last drizzles of curry sauce. "The Land of Smiles" isn't just a marketing catch-line. It's a result of being born in a land where the world's most delicious food is sold on nearly every street corner.
Tom Yum Kung, 8th place: This best food Thai masterpiece teems with shrimp, mushrooms, tomatoes, lemongrass, galangal and kaffir lime leaves. Usually loaded with coconut milk and cream, the hearty soup unifies a host of favourite Thai tastes: sour, salty, spicy and sweet. Best of all is the price: cheap.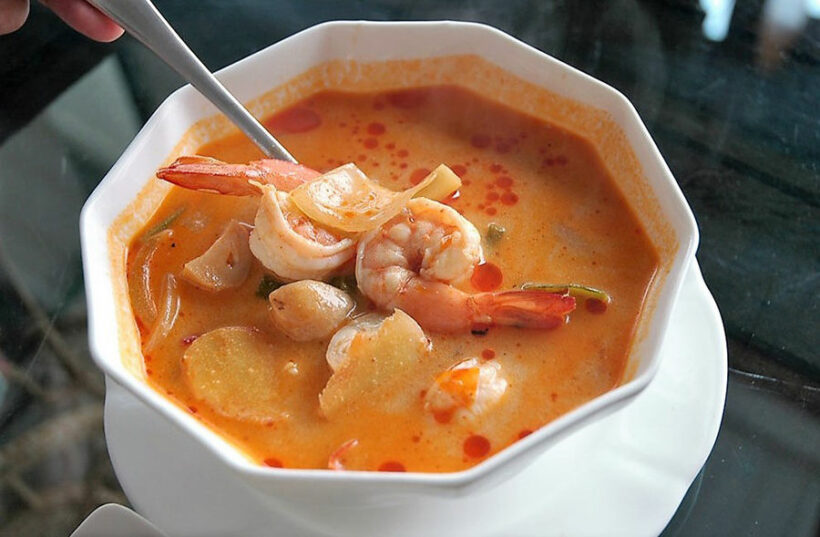 PHOTO: Richard Lee on Flickr
Som Tam/Papaya salad, 46th place: To prepare Thailand's most famous salad, pound garlic and chilies with a mortar and pestle. Toss in tamarind juice, fish sauce, peanuts, dried shrimp, tomatoes, lime juice, sugar cane paste, string beans and a handful of grated green papaya. Grab a side of sticky rice. Variations include those made with crab (som tam pu) and fermented fish sauce (som tam pla ra), but none matches the flavour and simple beauty of the original.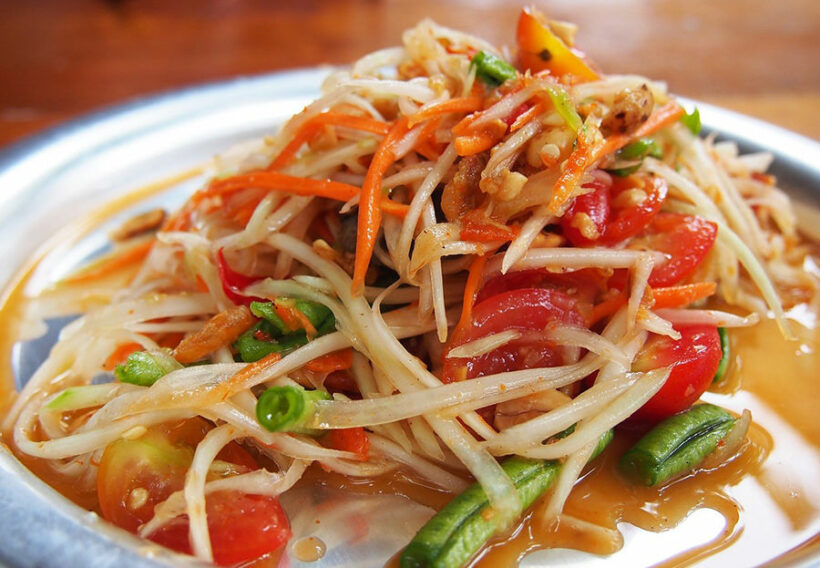 PHOTO: www.needpix.com
SOURCE: Thai Residents | CNN Travel
Keep in contact with The Thaiger by following our
Facebook page
.
Never miss out on future posts by
following The Thaiger
.
Pattaya residents accuse Greek expat of throwing sewage, threatening neighbours, and damaging property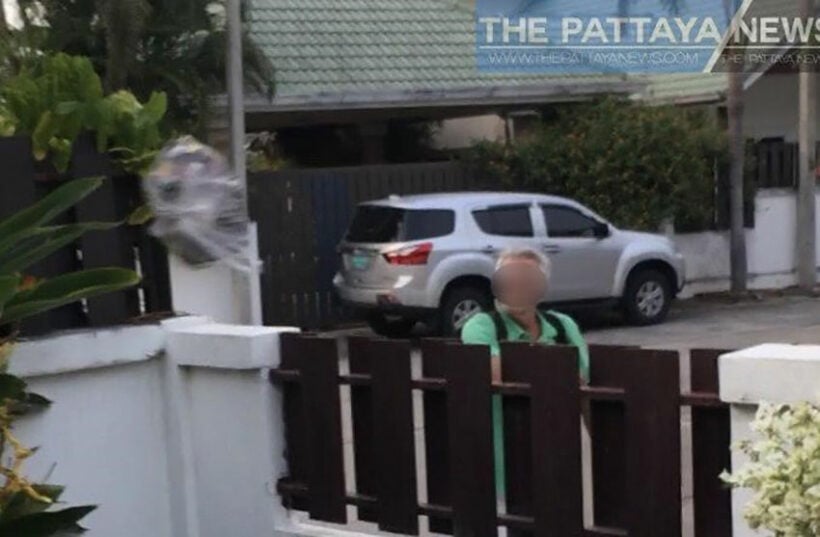 Residents of a housing estate in the district of Banglamung in Pattaya, have filed a police report against an expat they accuse of threatening and damaging behaviour. According to The Pattaya News, neighbours say the Greek national has threatened them, as well as "throwing sewage" at their homes, and damaging their fences. They add that, despite filing a police report about the man's behaviour, which has also been captured on CCTV, they feel nothing is being done.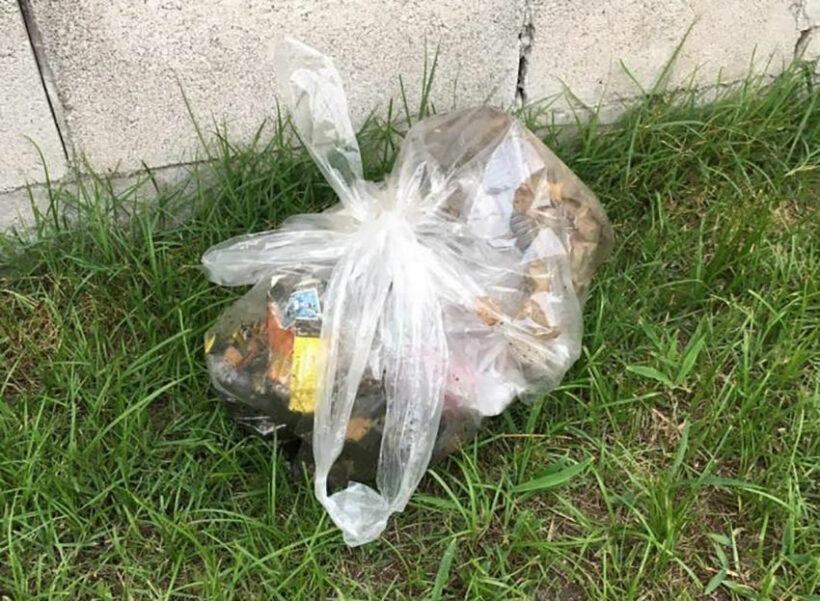 PHOTO: The Pattaya News
In the police report, neighbours say the man is from Greece and around 50 years old. They accuse him of destroying fences with a hammer, while threatening and screaming at residents. According to the report, he has also thrown bags of sewage and other trash over fences and onto other people's property. He is also accused of attacking a security guard and an elderly woman in the estate.
Residents say they are mystified as to why the man is acting this way, insisting they have done nothing to provoke such behaviour. The man's name has not been disclosed.
SOURCE: The Pattaya News
Keep in contact with The Thaiger by following our
Facebook page
.
Never miss out on future posts by
following The Thaiger
.