Monkey's birth control starts in Phuket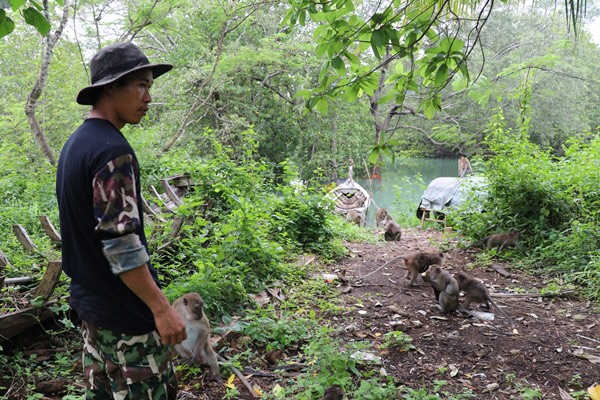 The start of the monkey sterilisation process has begun in Phuket today (June 12) after all the public meetings agreed that the island's monkeys, in the public 'hot' zones, needed to be sterilised in a systematic program.
Read more HERE.
Five islands that have been surveyed as the monkey's new home, are not in reserved forest areas. Authorities will be able to use the land on the island but will not be able to construct buildings. The movement of monkeys to the islands will be conducted under the authority of the Phuket governor.
Read more about the project to move the monkeys to the uninhabited islands HERE.
This morning, cages were placed placed at Bang Rong Pier in Paklok. Food has been put in those cages to encourage the monkeys to enter for food. Cages are not being closed today so the monkeys can get in and out as normal.
But the monkey's luck will run out tomorrow. Cages will be closed and the monkeys will be removed from the area for sterilisation tomorrow (June 13). At Baan Yamu, officials were unable to place cages as it is a high tide.
Pongchart Chouehorm, the Director of the Natural and Wildlife Education Centre at Khao Phra Thaew Non-Hunting Area in Thalang, says, "There are about 140 monkeys at these two locations in Paklok. These monkeys will be taken to an area we've set aside for sterilization at the Bang Pae Waterfall in Paklok. Next, cages will be placed in Rassada to go through the same process with those monkeys."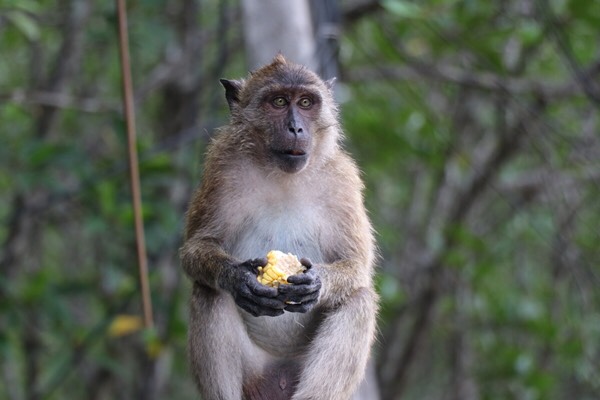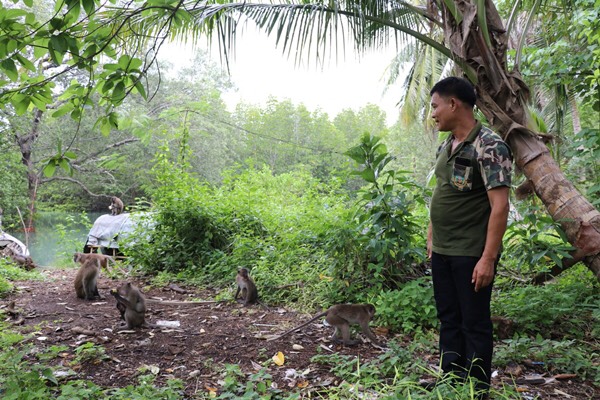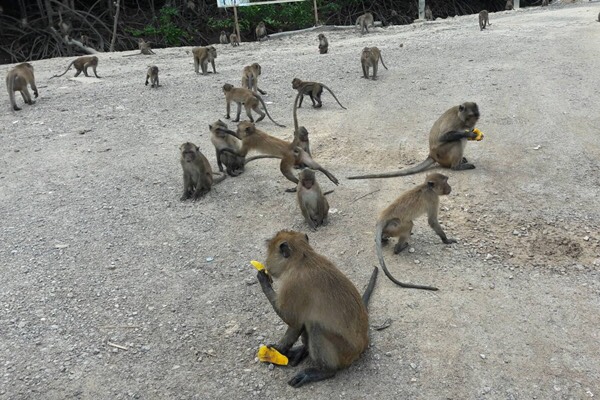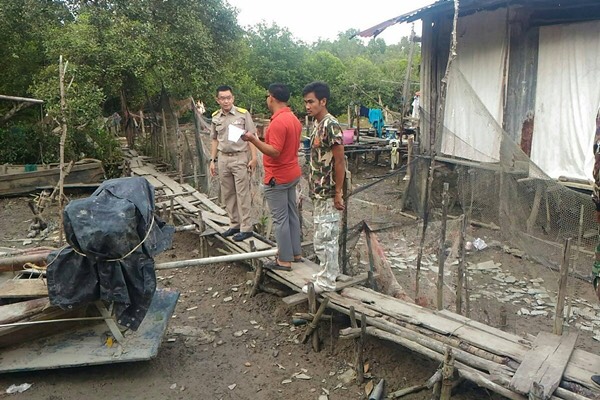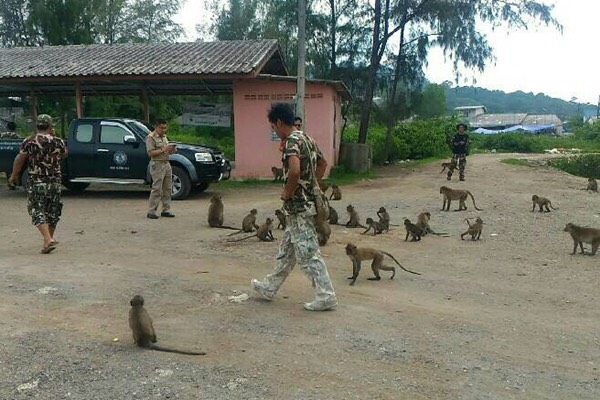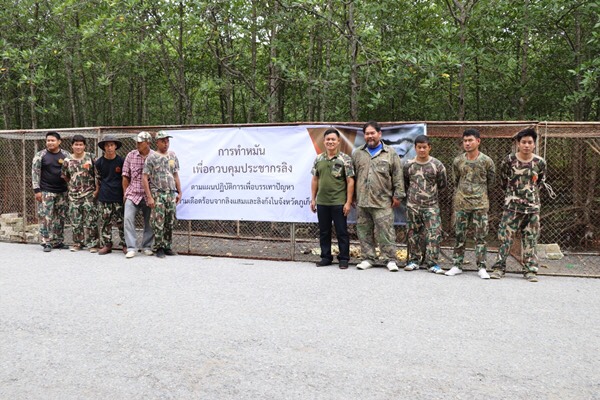 Read more headlines, reports & breaking news in Phuket. Or catch up on your Thailand news.
Three injured in fresh seafood pickup accident in Krabi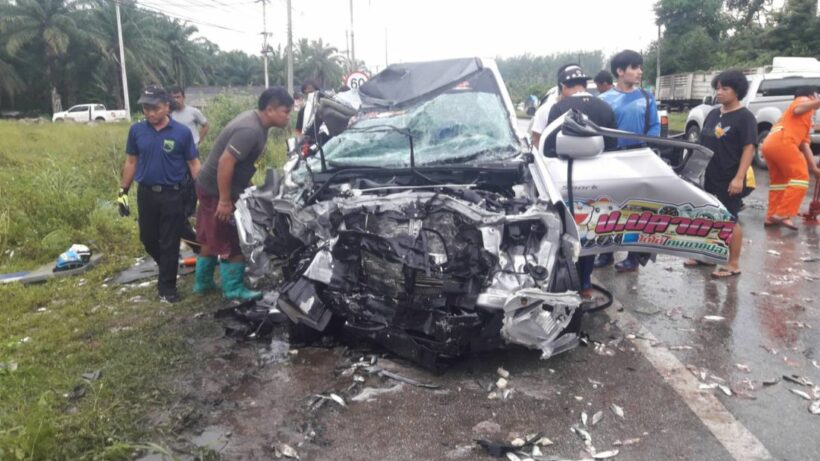 A pickup truck has lost control and collided with a fresh seafood pickup truck in Krabi. Locals helped to collect the fresh seafood and take it back to the pickup truck. The incident is the third 'seafood' crash incident this week.
Klongtom Police were notified of the incident yesterday afternoon on Petchkasem Road in Klogtom.
Police and emergency responders arrived to find fresh and other seafood scattered all over the road. Nearby they found two damaged pickup trucks.
Three injured people were stuck inside the pickups. They sustained serious injuries and were taken to the local hospital.
Witnesses say one pickup truck lost control then collided with another pickup truck which was carrying the fresh seafood. Locals were helping to collect the fresh seafood and pack it back in the storage boxes.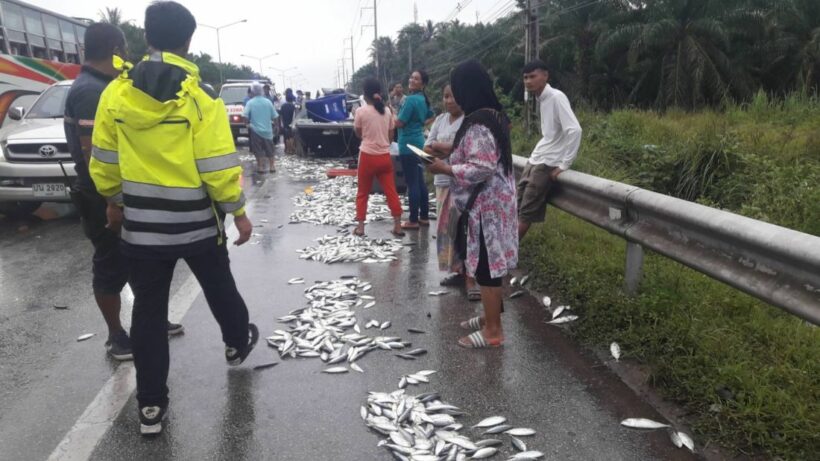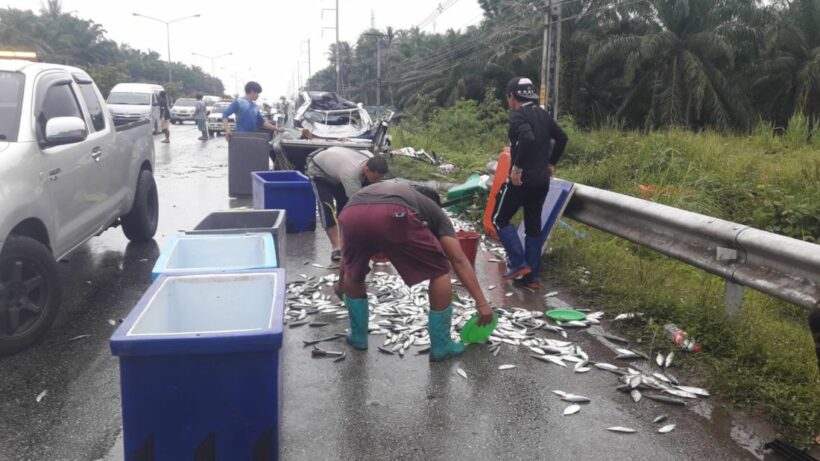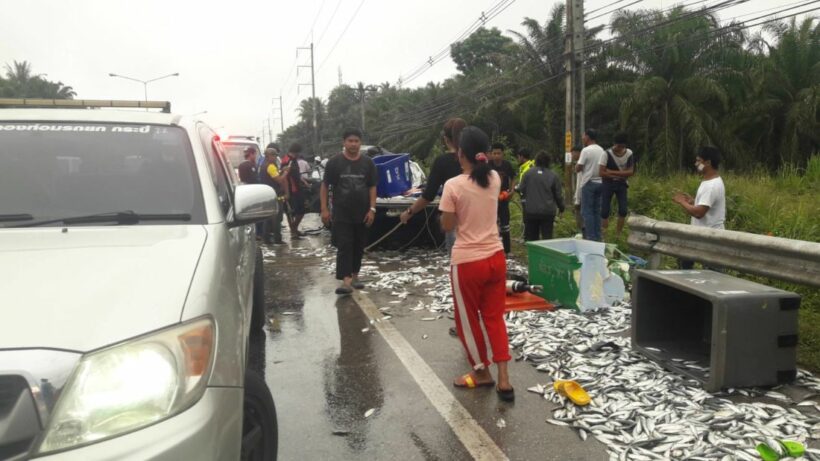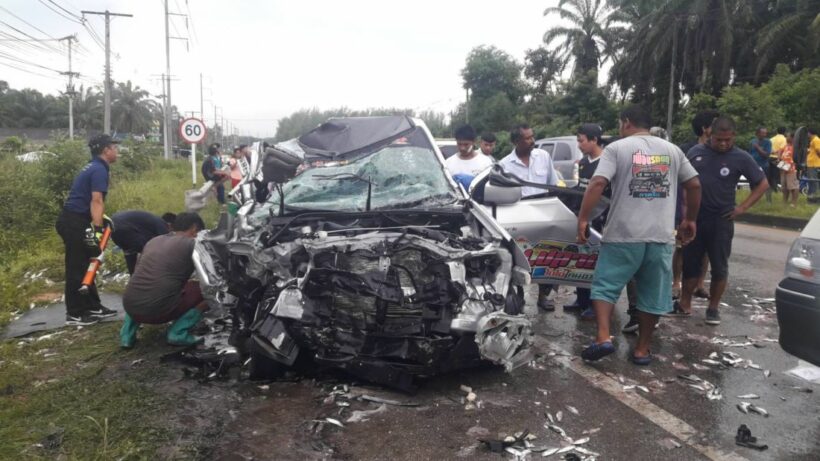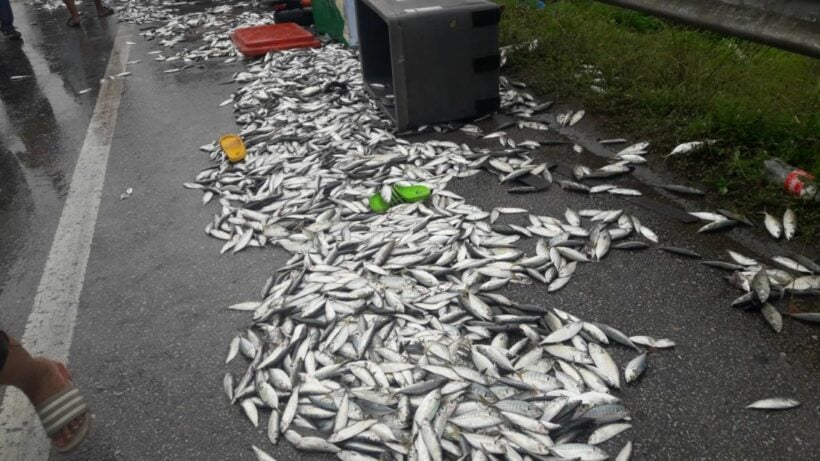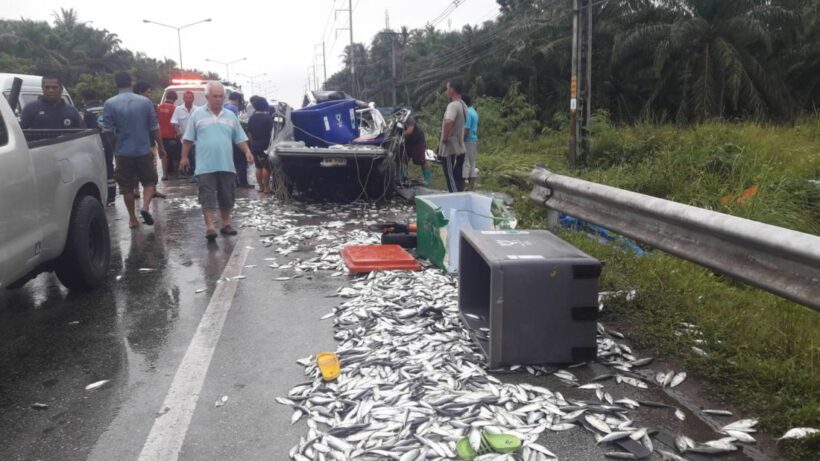 IKEA Thailand launches full online store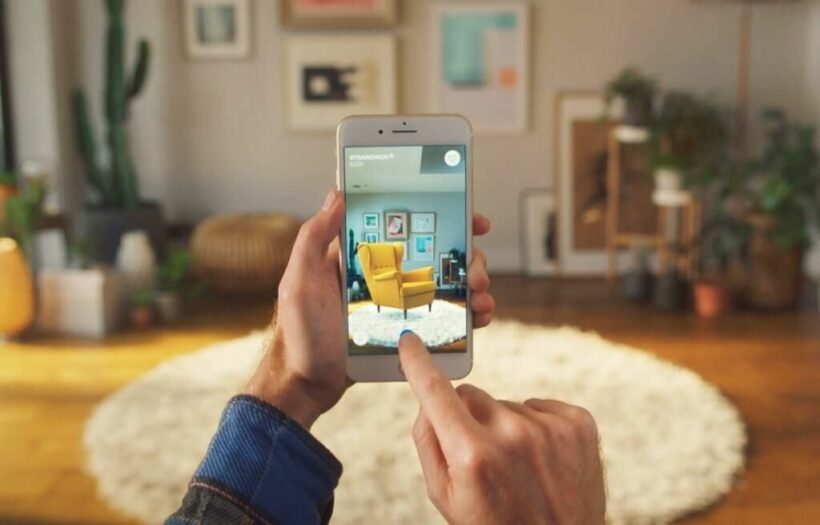 "…it took IKEA about two years to study the market demand, develop the infrastructure, and prepare everything before launching their e-commerce service in Southeast Asia."
by Kwanchai Rungfapairsarn
IKEA Thailand has announced the official launch of its IKEA Online Store as it gets set to better provide for individual customers across the Kingdom.
IKEA Thailand say the seamless online shopping experience will offer the same journey and impression customers get when they visit a physical IKEA store.
"We see the potential – it is a potential in Thailand for IKEA. We have only been accessible within Bangkok so far, and now we will be accessible for people from across the country," Lacia Sherlock, the deputy retail manager for Thailand, Singapore and the Philippines, said.
"The delivery prices need to be affordable and all the services need to be accessible for consumers living outside of Bangkok, so that they are able to get the assembly or whatever they need."
IKEA has developed the full e-commerce platform for modern shoppers providing a convenient channel to access it products and inspirations, 24 hours a day and from anywhere in Thailand.
Sherlock said it took IKEA about two years to study the market demand, develop the infrastructure, and prepare everything before launching their e-commerce service in Southeast Asia.
"We aim to provide an impressive online shopping experience similar to the shopping experience customers get when visiting our physical stores. The online store has been available in Singapore and Malaysia within Southeast Asia."
"We are pleased to now be able to provide this access to Thais. We have been wanting to do this for a long time, along with providing them with a superior experience and inspiration through both of our two Bangkok stores," said Sherlock.
IEA soft-launched its e-commerce service in Thailand on March 26 in order to test the system and procedures and ensure they were fully functional before yesterday's official launch.
"We are looking at achieving 17,000 online orders this year. We believe that the IKEA Online Store will help strengthen IKEA Thailand and drive sustainable growth, as our popular in-store shopping experience is complemented by our new online offering."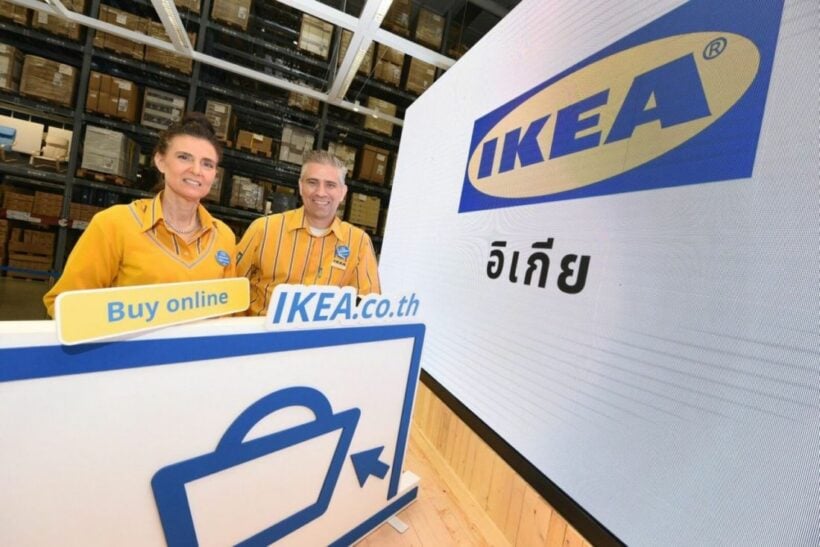 PHOTO: The Nation
Watch out Thailand, here comes Vietnam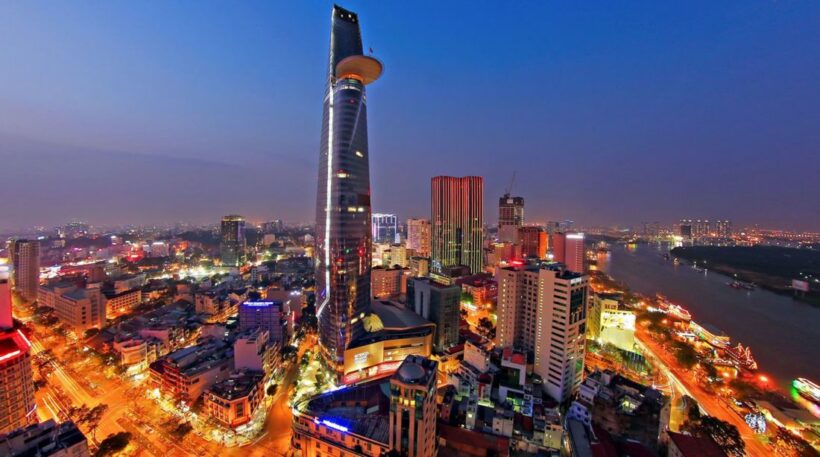 "Vietnam is poised to take advantage of the next wave of digital technologies such as blockchain, AI (artificial intelligence), internet of things and cloud-based services to become Asia's next high-performing economy and improve the living standards of its residents."
Dr Lucy Cameron, from Australia, lead author of the report "Vietnam's Future Digital Economy Towards 2030 and 2045", says the country should carefully navigate a number of risks while undertaking digital transformation. She was presenting her findings in Ho Chi Minh City yesterday.
"Vietnam has been one of the world's fastest-growing economies and has already become one of the most dynamic countries in East Asia," she said.
"A boom in digital hardware and software exports has occurred, and Vietnam's young population is rapidly taking up new mobile internet services," according to the report.
But the report also noted some challenges.
"The population is ageing, while climate change and rapid development is straining the environment and food production as the country rapidly urbanises. The workforce needs to learn higher-level skills, especially as jobs are becoming automated in the agriculture and manufacturing sectors."
Australian Ambassador Craig Chittick said the report was the first major output of the Aus4Innovation partnership between Australia and Vietnam.
"It will guide our work over the next three years as we deepen the collaborative linkages between our two countries and help strengthen the Vietnamese innovation system as it adapts to the challenges and opportunities of the digital economy," he said.
SOURCE: The Nation