Swiss man dies after being pulled from the water at Krabi beach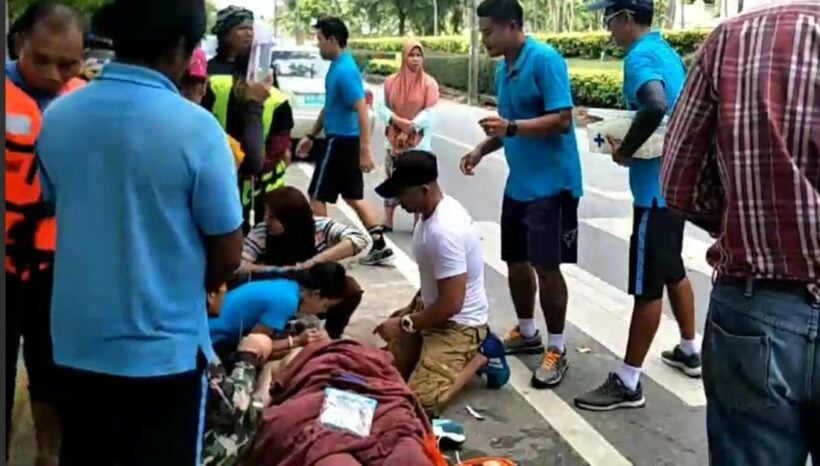 A 53 year old Swiss man has died after being pulled out of water at a beach in Krabi.
The man has been identified as 53 year old Pipoz Pierre Alain from Switzerland. He was recovered from the water at a beach in Pakbia Beach in Koh Hong, Krabi. He was rushed to Krabi Hosiptal where he was later pronounced dead.
Mr Alain came with his family in a group of five people. When they arrived at the beach yesterday he went into the water wearing a snorkel. He wasn't wearing any flotation devices (as currently recommended at some beaches for foreign swimmers).
Mr Alain went swimming outside the designated swimming zone at the beach. Witnesses say he was pulled under by a wave. He tried to swim back to the beach but became exhausted. A group of Thai tourists, who are nurses, tried giving him first aid after after he was pulled back to the beach.
National park officials have warned every swimmer to swim inside the designated swimming zones as the outside zones can have strong waves. Buoys have also been placed to identify swimming areas.
"Every swimmer has been warned to wear a buoyancy vest before going into the water." (The word 'life jacket' was used in the Thai story but was meant to say 'buoyancy vest'.)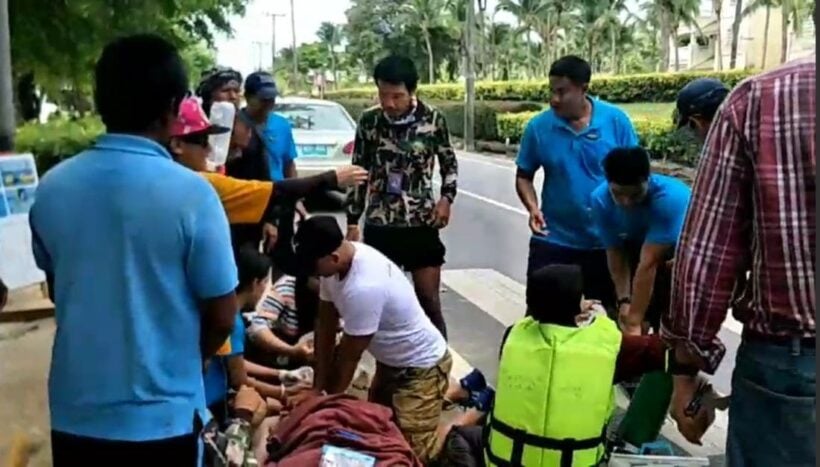 Read more headlines, reports & breaking news in Krabi. Or catch up on your Thailand news.
Maya Bay's extended closure "vital to conserve the ecology"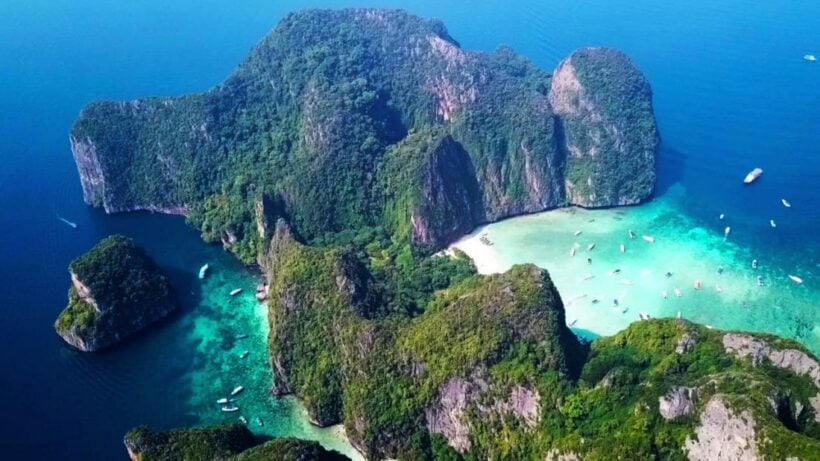 Worapot Lomlim, chief of the Hat Nopparatthara-Phi-Phi Islands national park has confirmed that he might keep Maya Bay closed for up to five years to allow the current recovery to continue.
The Department of National Park, Wildlife and Plant Conservation has agreed to extend the closure of Ao Maya, or Maya Bay, located on one of the Phi Phi islands between Krabi and Phuket, for another six month period after an initial 10 month closure to allow nature to regenerate the ecosystem.
The Chief reports that the local ecological systems of Maya Bay, degraded by years of accelerating tourist traffic, has steadily improved during the current closure. Up to 5,000 tourists a day were visiting Maya Bay at its peak before authorities weighed up the pressures of the conservationists and tour operators and decided it was best to close the popular tourist attraction for an extended period
He cited the frequent sightings of blacktip reef sharks near the beach and the gradual growth of some 23,000 corals farmed at a coral centre in Trang province, which were planted in the Bay with the help of volunteer divers.
After the next six-month extended closure, Khon Worapot indicated that the department will consider extending the closure for an even longer period, up to 4-5 years, to allow full rehabilitation of the environment and the ecological system.
Maya Bay was closed to all tourist access on June 1, 2018.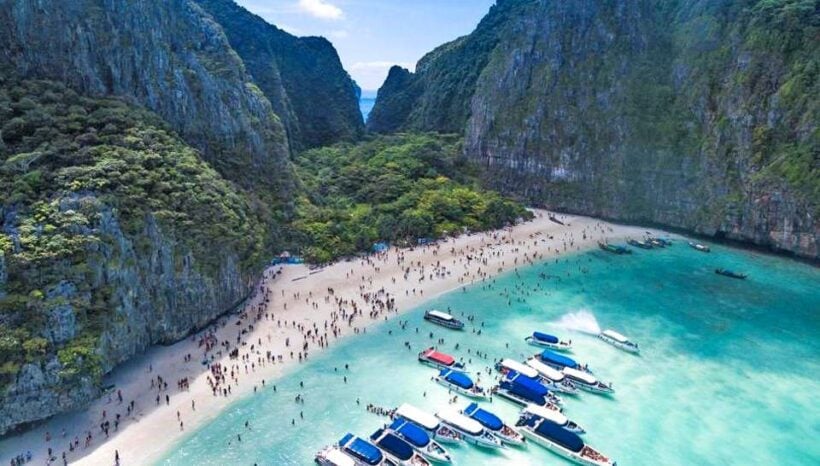 Up to 5,000 tourists a day were visiting the Bay at its peak
Suspect arrested for sexually assaulting British tourist on Koh Phi Phi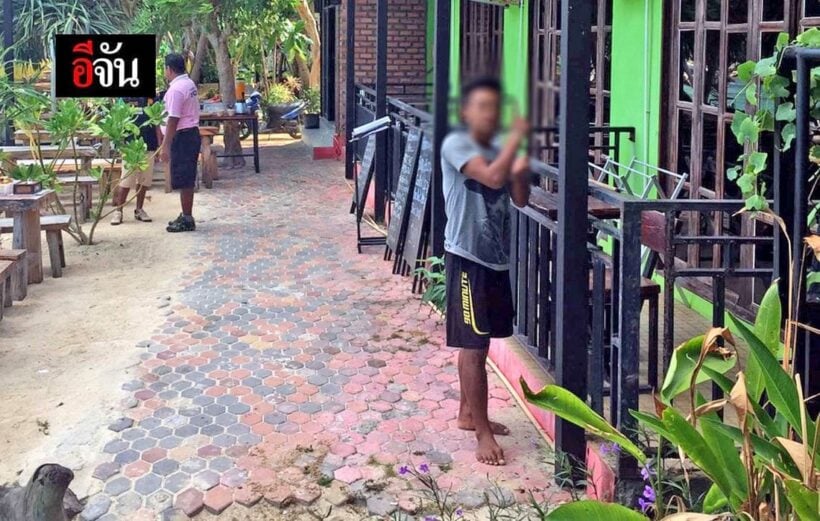 PHOTO: ejan.co
A man has been arrested for allegedly sexually assaulting a British tourist on Koh Phi Phi.
Police spokesman Krissana Pattanacharoen says that the Thai suspect's name is Trairat Changsanan, a local ferry worker who was arrested yesterday.
He has been accused of sexually assaulting the 21 year old British tourist on Koh Phi Phi Don on April 15. She was travelling around Koh Phi Phi Don alone.
According to police reports, the British tourist, named as 'Megan Penny' met with an Irish male tourist and ended up drunk falling asleep on the floor of a local restaurant near their accomodation.
The suspect saw the female tourist, used a cutting tool to cut the her jean-shorts and removed her bikini. He allegedly sexually assaulted her and asked her to have sex with him. She pushed him away from her before she reported the incident to police.
SOURCE: ejan.co
Maya Bay to be closed for up to five years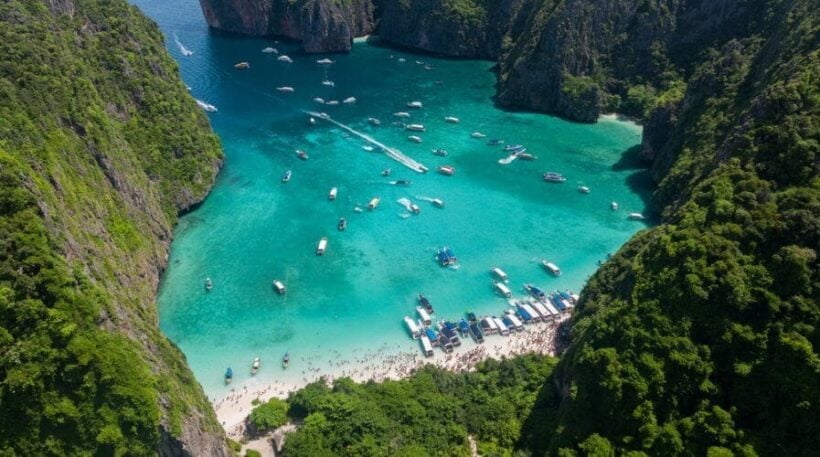 Maya Bay's beach, closed last year to allow coral restoration and beach recovery, could remain closed to visitors for many years. Maya Bay is located in the Phi Phi islands between Krabi and Phuket.
The famous Koh Phi Phi Ley beach needs time for its ecology to fully recover years of tourist abuse, this according to the Phi Phi national park chief Vorapot Lomlim as reported in Khaosod English.
"Maya Bay must continue to be closed until nature has fully recovered. We expect it will take four to five years."
"Since Maya was closed off nearly a year ago, sea creatures like reef sharks and ghost crabs have returned to the island."
He also reported that 23,000 corals have been planted by marine officials since the closure last year.
Maya Bay was closed to tourist on June 1 last year. The Bay first became famous as part of the setting for the 2000 film 'The Beach' starring Leonardo Di Caprio. That fame would lead to a surge in tourists and a rapacious local tourist industry that ramped up the numbers of tours to cater for the international popularity.
At its peak Maya Bay, the south's most popular attraction, was receiving up to 5-6,000 tourists a day. Unwittingly, the tourists were trampling the beach and surrounding areas whilst the boats delivering them to the famous beach were throwing anchors over the side, destroying the natural coral.
Initially the national park chiefs closed off Maya Bay access for a period of three months  but it soon became apparent that the fragile bay was going to need a lot longer to recover. Officials reported that up to 50 percent of the Bay's coral was dead.
SOURCE: Khaosod English