Some patients experience side effects from medicinal marijuana in Krabi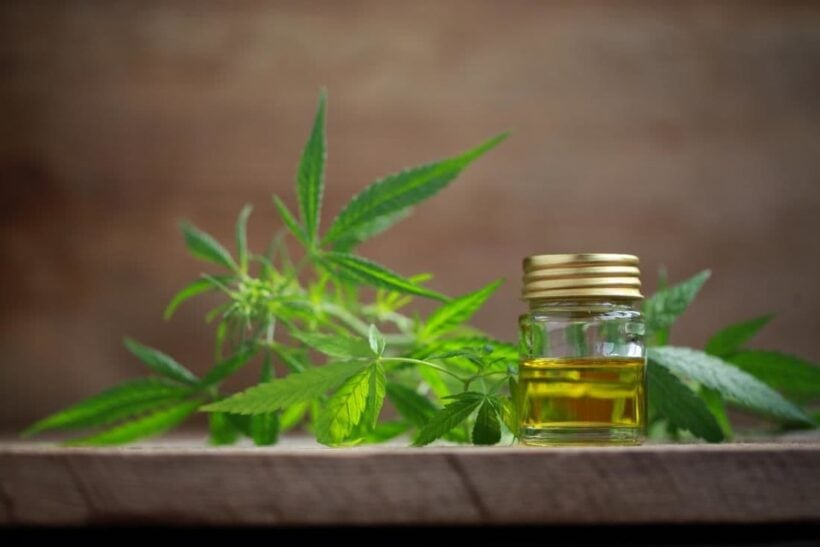 PHOTO: Medical News Today
Some medicinal marijuana users are developing side effects such as nausea, vomiting and hallucination.
Krabi Public Health Office revealed yesterday that medical professional in the area report that, out of the registered 158 medical marijuana users , many had developed side effects.
Thailand legalised medical marijuana in response to findings that is helpful to in some patients for diseases such as cancer and Alzheimers and may provide relief for some cancer patients .
Between February and May this year, marijuana users were offered amnesty and encouraged to come forward to be registered as legal users of the substance for medical uses. The office's deputy chief Pinyo Tarangkon said 158 medical marijuana users had registered with the authority in the southern province of Krabi.
"I've received reports that most users did not consult doctors and have developed side-effects," Pinyo said.
He advised patients to seek advice from pharmacists and Thai traditional doctors with special training on the use of medical marijuana.
"Although extracts from marijuana can ease pain, they may not be suitable for some patients."
SOURCE: The Nation
TMD issues a new weather warning for tropical storm Danas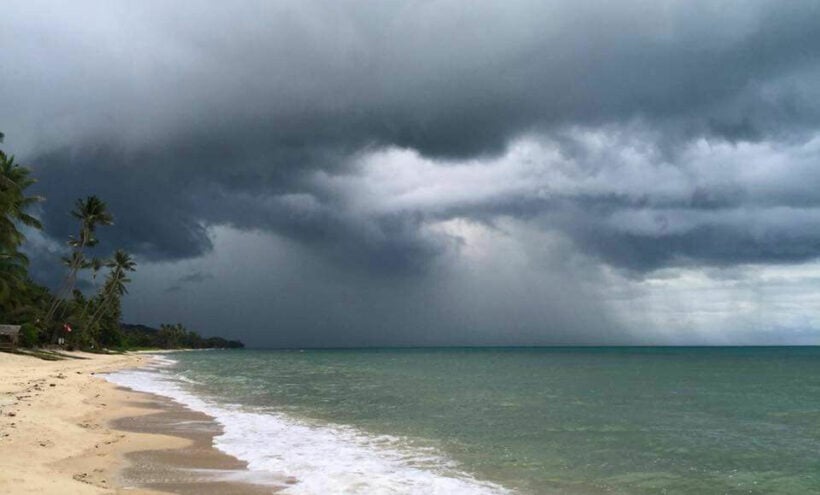 The Thai Meteorological Department has issued another warning about tropical storm Danas since saying it's on the move, from the Philippines' Luzon, north and north-eastward into the East China Sea. The storm appears headed for Taiwan and likely to dump plenty of heavy rain on the way.
The storm is 'sucking' in moisture from the Indian Ocean across southern Thailand, causing additional rain in the southern and central provinces.
The influence of DANAS will intensify the monsoon across the Andaman Sea and the Gulf of Thailand on July 18 and 19 brining outbreaks of heavy rain to the South, the East and the lower Central regions of Thailand.
"People should beware of flash floods and water runoff, according to the warning."
TMD advises that all ships proceed with caution, and small boats remain ashore.
Possible isolated heavy rains are forecast for…
July 18
Kanchanaburi, Ratchaburi, Lop Buri and Saraburi, Sa Kaeo, Chon Buri, Rayong, Chanthaburi and Trat, Chumphon, Surat Thani, Nakhon Si Thammarat, Phatthalung, Songkhla, Pattani, Yala and Narathiwat, Ranong, Phang Nga, Phuket, Krabi, Trang and Satun.
July 19
Kanchanaburi, Ratchaburi, Lop Buri and Saraburi, Rayong, Chanthaburi and Trat, Phetchaburi, Prachuap Khiri Khan, Chumphon, Surat Thani, Nakhon Si Thammarat, Phatthalung and Songkhla, Ranong, Phang Nga, Phuket, Krabi, Trang and Satun.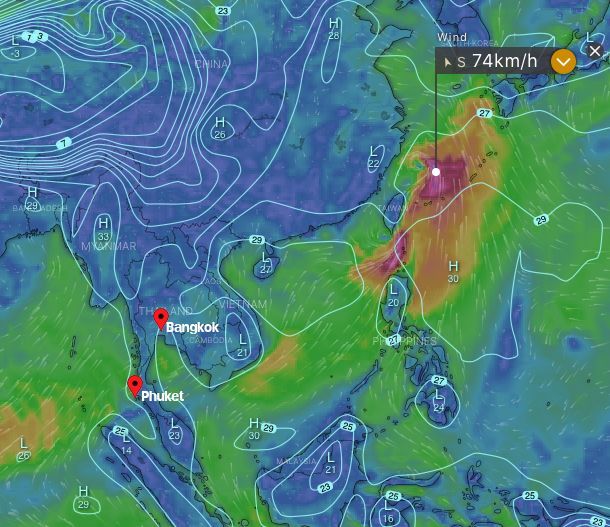 Number of passengers and flights drop slightly at 28 secondary Thai airports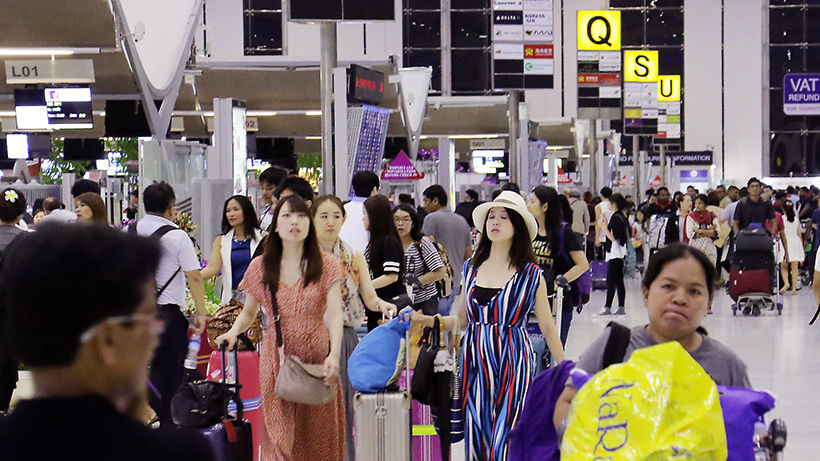 28 airports under the Thai Airports Department have dropped traffic by 1% compared to the same time last year. The airports under the Airports Department don't cover the largest airports at Suvarnabhumi, Don Mueang, Phuket, Chiang Mai, Hat Yai and Chiang Rai.
Some 14.4 million passengers were recorded at the 28 airports under the department from October 2018 to June 2019 – a 1% drop compared to the first nine months of the 2018 fiscal year, according to Ampawan Wannako, director general of the Airports Department.
She says about 115,000 flights used the 28 airports between October 2018 to June 2019, also a 1% drop. The decrease was mainly due to cancelled in-country flights by several domestic airlines.
Ampawan said her department was seeking to add flights to foreign cities from the 28 airports to compensate for the drop in domestic traffic.
On July 10, the low-cost airline T'way Air from South Korea launched a new route from Seoul to Krabi with seven flights per week. In October, Blue Panorama Airlines, a low-cost airline from Italy, will launch a Warsaw-Krabi route with one flight per week and three more European airlines are interested in introducing flights to Krabi and Surat Thani.
She expected that the number of passengers using the 28 airports would not grow much during the last three months of the 2019 fiscal year (up to October 2019).
SOURCE: The Nation
Krabi skinny-dippers fined 500 baht, claimed they were 'bored'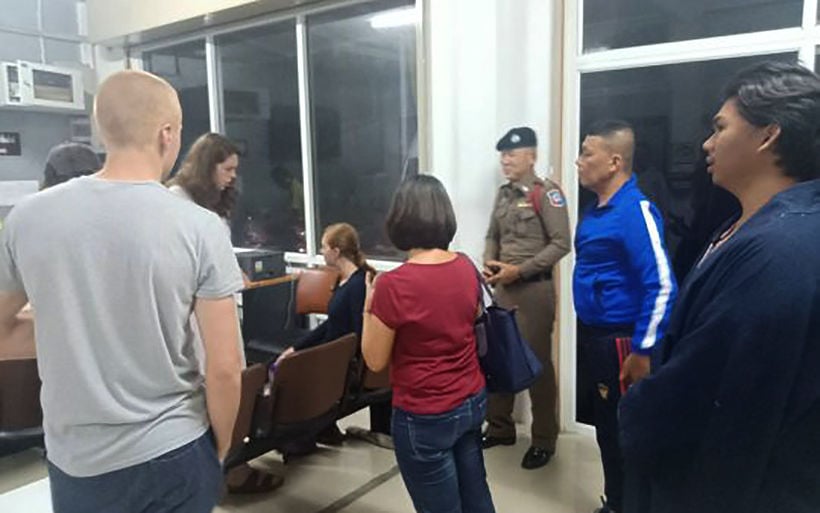 Police marched six naked tourists, aged between 17-20 years old, back on to the Ao Nang beach to get dressed after being caught on a midnight skinny-dip.
A local, who didn't appreciate their nudist antics, informed the local police late on Monday night about the groups' late night seaside frolicking.
metro.co.uk reports that the group included five women and one man. They were having their spontaneous nudist convention off the shores of Ao Nang before being interrupted by stern local police.
Police told the swimmers from Britain, Australia, Spain, and Japan, to go get out of the water and put on their clothes.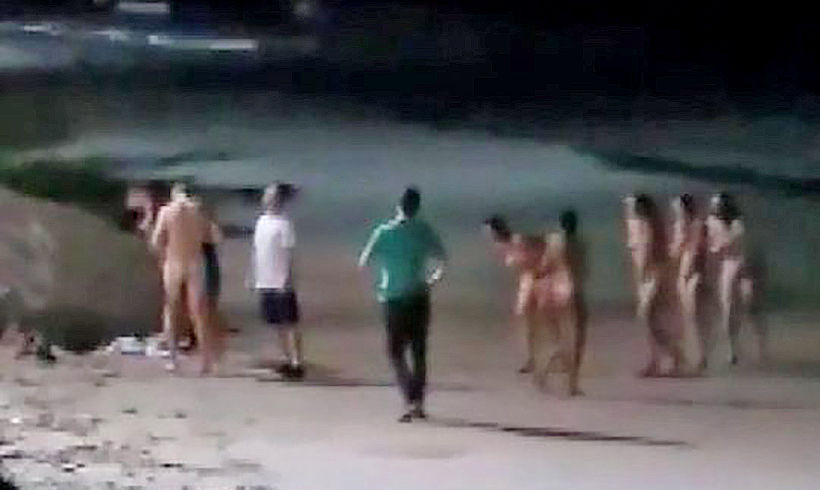 The unnamed tourists put on their clothes before before being taken to Ao Nang police station. They were charged with public indecency and fined 500 baht, according to the report in metro.co.uk.
The au-natural swimmers explained their behaviour saying they were bored because the bars had closed early (midnight) to mark the the national Buddhist holiday on Tuesday.
Police say the group willingly admitted their inappropriate behaviour, saying that they were drunk and had nothing to do after all the bars were closed.
"Each of the tourists were fined for 500 baht and they apologised saying they won't repeat such behaviour again in the future."
SOURCE: metro.co.uk