Monk allegedly rapes 78 year old woman in Krabi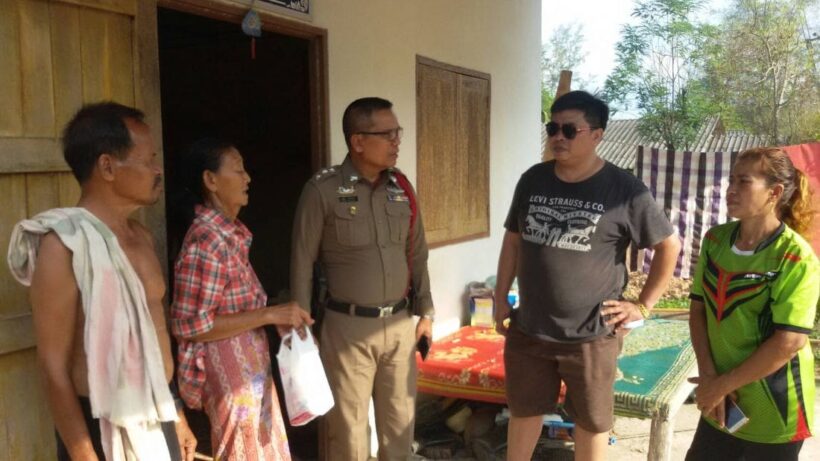 A 78 year old woman has filed a report to police saying that she was raped by a monk near Krabi temple. Police are searching for the suspect.
Khlongtom Police in Krabi visited the temple which is 400 metres from the 78 year old woman's home. The woman told police that the suspect was aged around 40 years old.
She told police that the monk used a knife to threaten her before raping her near the temple while she was collecting fruit. According to the woman's report he said "thank you" after raping her and fled the scene.
Police are searching for the suspect and noted that one of the monks at the temple has disappeared in recent days as well.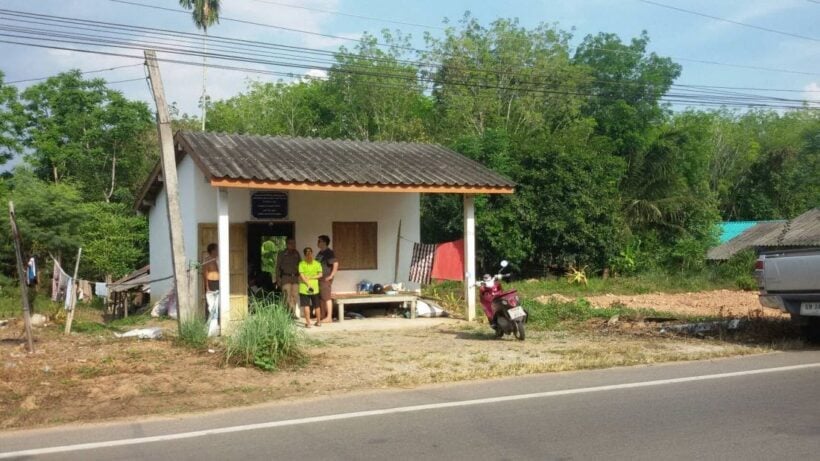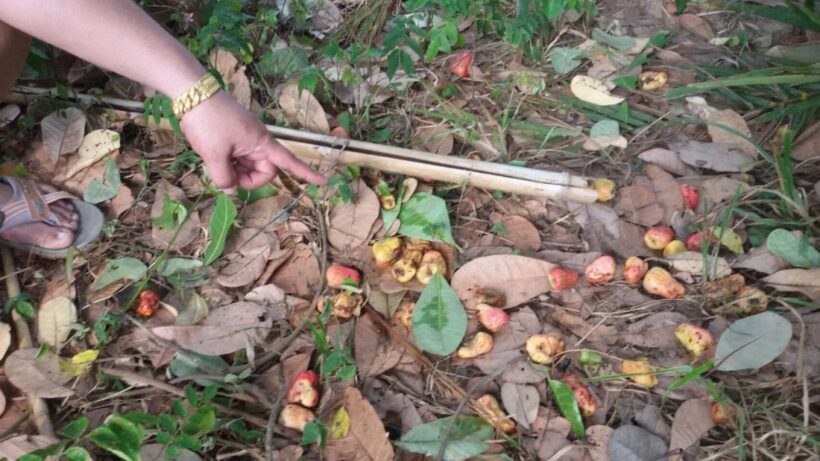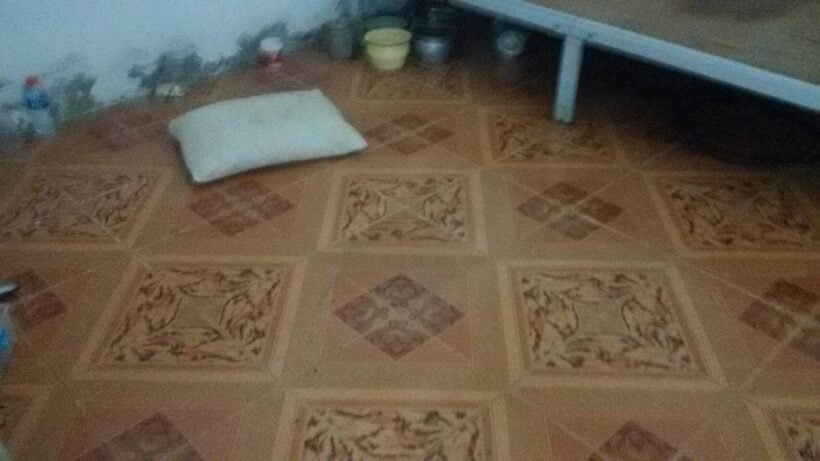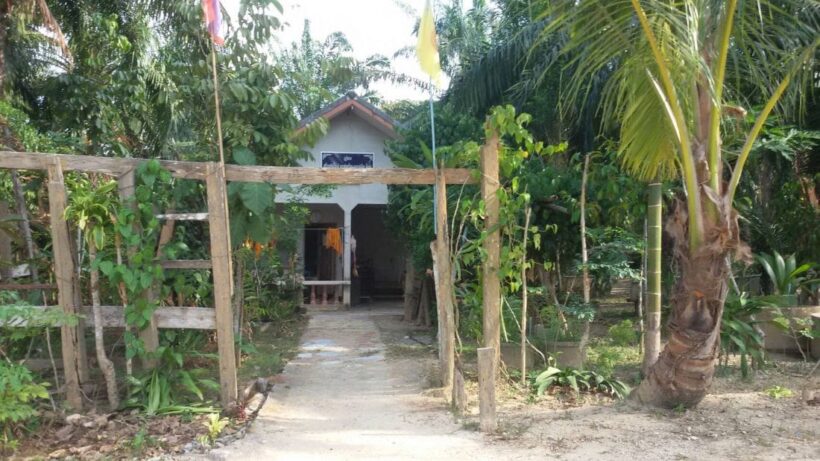 Want more from the Thaiger family?
📱 Download our app on Android or iOS for instant updates on your mobile
📧 Subscribe to our daily email newsletter
👍 Like/Follow us on Facebook
🔔 Subscribe to or Join our YouTube channel for daily video updates
Krabi tourism operators call for vaccination ramp up, clarity on national park rules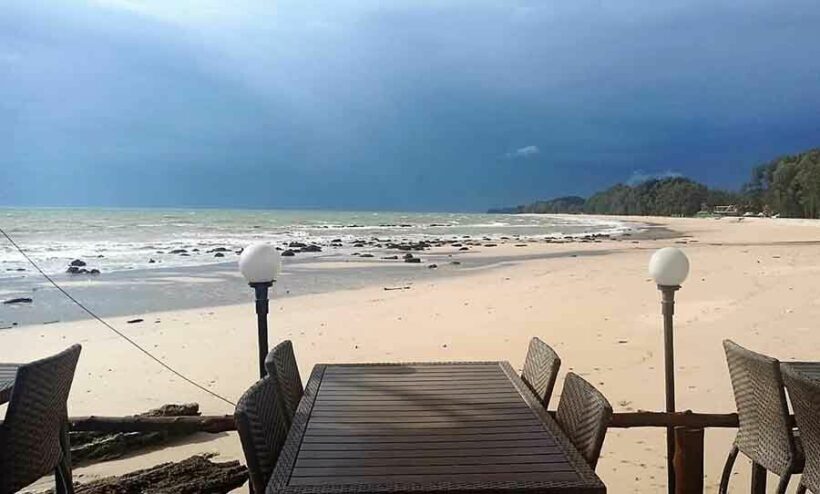 With Krabi eyeing October 1 for a re-opening to vaccinated foreign tourists, operators in the region are calling for greater clarity and for vaccination to be ramped up. Ekawit Pinyotamanotai from the Krabi Tourism Association says tourism workers need to be prioritised for vaccination and there is a need for clarity on regulations governing national parks.
The Krabi sandbox model covers Koh Lanta, Koh Phi Phi, Ao Nang, and Railay Bay, which are all hoping to open to vaccinated travellers and reboot their decimated economies. The Bangkok Post reports that Ekawit is calling for a ramp-up of vaccination efforts in the region, saying this is crucial to rebuilding confidence among locals and tourists alike.
According to Ekawit, between 40,000 and 80,000 workers in the tourism sector in Ao Nang, Railay, Lanta, and Phi Phi need to be prioritised for Covid-19 vaccination. Krabi's vaccine rollout is expected to kick off next month, with officials aiming to administer between 8,000 and 10,000 doses a day in the first stage.
Ekawit says there has been interest in the province from travel agents in Scandinavian countries, as well as Germany and the UK. However, with 90% of tourist attractions being located in areas designated as national parks, he points out that there is an urgent need for the National Parks, Wildlife and Plant Conservation Department to clarify the regulations applicable to these sites.
Furthermore, he says the sudden closure of places like Maya Bay make it extremely challenging for operators to plan itineraries in advance. He says that while operators appreciate a need for periods of rehabilitation, the department must implement more practical solutions to manage visitor capacity, including clarifying how long tourists can spend on islands and beaches.
"Operators agree natural resources need rehabilitation, but the closures require more clarification."
Meanwhile, the president of the Krabi Tourism Association, Sasithorn Kittidhrakul, says businesses are calling for an extension to the domestic tourism stimulus package to cover low periods such as August and September. She points out that such an extension would give businesses in places like Koh Lanta a chance to make some money, given that they cannot open to international tourists until October.
SOURCE: Bangkok Post
Want more from the Thaiger family?
📱 Download our app on Android or iOS for instant updates on your mobile
📧 Subscribe to our daily email newsletter
👍 Like/Follow us on Facebook
🔔 Subscribe to or Join our YouTube channel for daily video updates
Krabi officials hunting motocross drivers who rode bikes in historic cave – VIDEO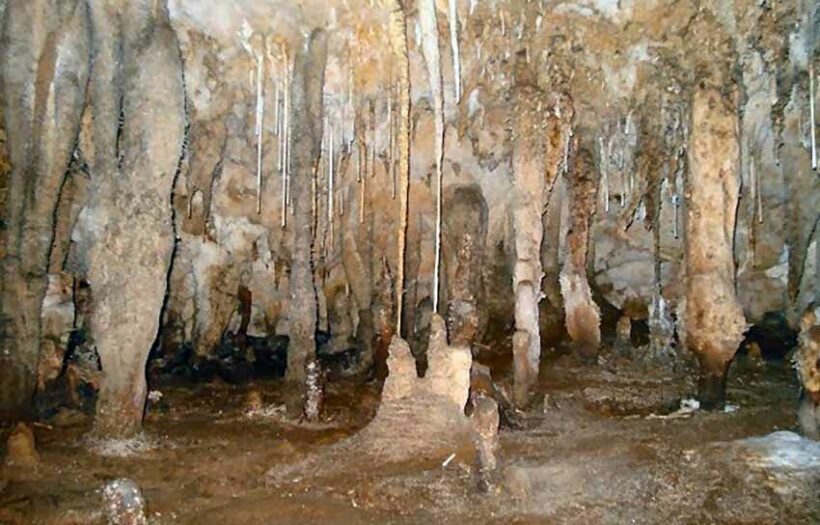 Officials in the southern province of Krabi are on the hunt for a group of motocross riders who rode their bikes through an historic cave considered a significant ancient site. It's believed the bikers were participating in some sort of race, and officials are now attempting to track down the race organisers as well as the bikers. According to a Bangkok Post report, it's believed there may be some local politicians among the organisers.
In September 2016, the Fine Arts Department, which sits under the umbrella of the Culture Ministry, declared Toh Luang cave, in the Ao Luk district of Krabi, a significant ancient site. The cave has been used as a film location for a number of foreign movies.
The bike race came to the attention of local authorities when residents reported seeing a group of motocross riders enter the cave on bikes and race an obstacle course around the cave's stalagmites, before speeding away after about 20 minutes.
VIDEO: Thai PBS News
Yesterday, the Royal Forestry Department and local officials conducted a survey of the inside of the cave, in which they observed damage to some stalagmites and stalactites, as well as tyre marks on some of the ancient paintings that decorate the cave wall. After checking all 3 levels of the cave, officials say there is evidence the race took place on both the first and second level. Adisorn Nuchadamrong from the Royal Forestry Department say those responsible face charges of damaging or destroying forestry resources.
It's understood the race was filmed and originally shared on social media before the post was deleted.
SOURCE: Bangkok Post
Want more from the Thaiger family?
📱 Download our app on Android or iOS for instant updates on your mobile
📧 Subscribe to our daily email newsletter
👍 Like/Follow us on Facebook
🔔 Subscribe to or Join our YouTube channel for daily video updates
Banyan Tree Krabi – Bringing Thailand's luxury brand to Krabi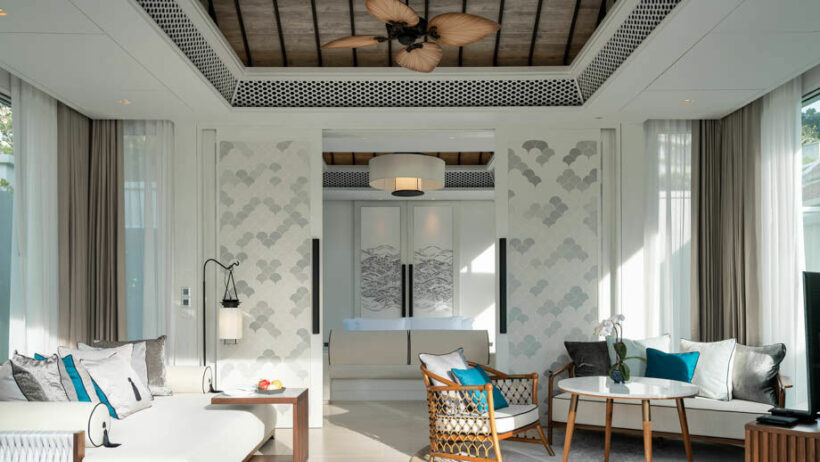 Krabi is a fabulous place to stay and home to some of Thailand's most beautiful views and landscapes. Some of Thailand's best known brands have already built resorts in the area but there was one of Thailand's key hospitality brands missing… the iconic luxury brand of Banyan Tree.
But here it is, after just over two years of painstaking and meticulous work, a new Banyan Tree resort emerges from the mud of the Tub Kaek coastline. This sanctuary of Banyan Tree luxury, featuring the brand's 'new look', peers out across the magical Phang Nga Bay, its islands and sunsets.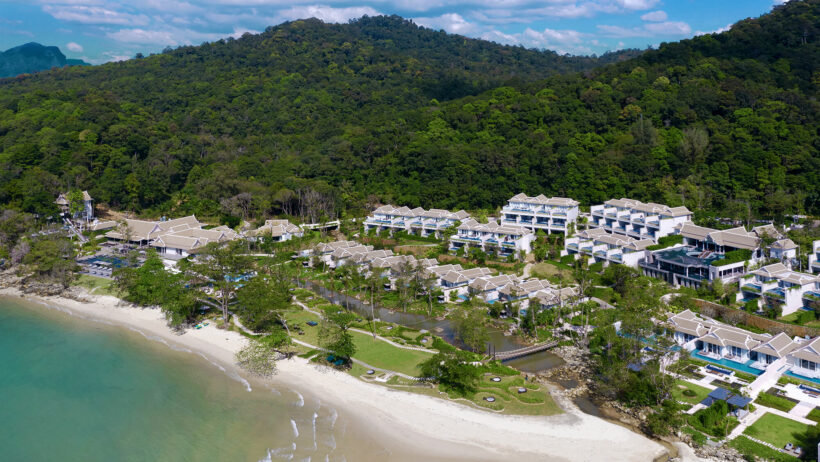 The Thaiger was invited on a special weekend get-away along with other travel writers and influencers from Bangkok. We were flown courtesy of Thai VietJet from Suvarnabhumi Airport in Bangkok to Krabi International Airport. The airport is undergoing a mega upgrade right now and Thai VietJet are currently scheduling 2 direct flights per day to and from Krabi (as of March 2021).
The Banyan Tree brand started in Phuket in 1984 as the feature property in the new Laguna development. Every resort key was a pool villa, leaning on traditional Thai architectural cues, natural timber finishes and rich tones.
The newer Banyan Tree resort's 'look' has now evolved into a lighter pallet of whites and natural timber tones, set off with a turquoise accent in the silk cushions. The rooms remain airy, beautifully appointed and, yes, each with a private infinity salt water pool. And, here in Krabi, every villa also has a view. Still with plenty of 'Thainess' but a 21st century rendition that won't date.
There are eight suite and villa types – altogether 72 keys. The starting point is the Deluxe Pool Suite at 99 square metres with a sumptuous king-size bed. You have a private terrace, plunge pool and a bathroom the size of some of Bangkok apartments.
At the other end of the scale is a 7 bedroom Presidential Villa with access right onto the beach. It's actually three separate villas but can be combined into a single land of luxury, canals, pools and terraces – a total of 1,335 square metres.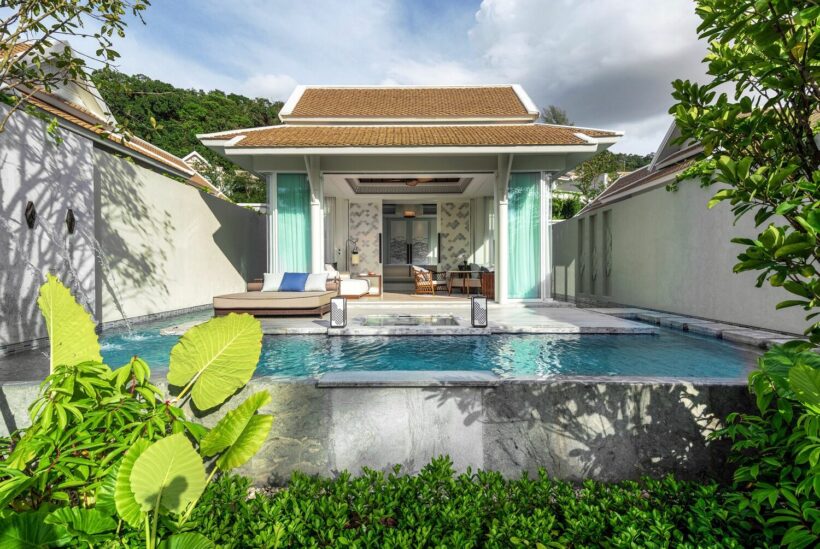 I'd like to gush for a moment about the beds. Considering that you're going to spend a third of your stay in a bed, it better be comfortable, right? The beds at Banyan Tree Krabi were astonishingly comfortable – the linen, the pillows, the duvet covers – pure luxury. They looked so good I felt almost embarrassed to crumple all that white linen by getting in between the sheets. But I did. Two of the best nights sleeps I've had in a long time. (Note to self – where can I buy these mattresses and sheets?!)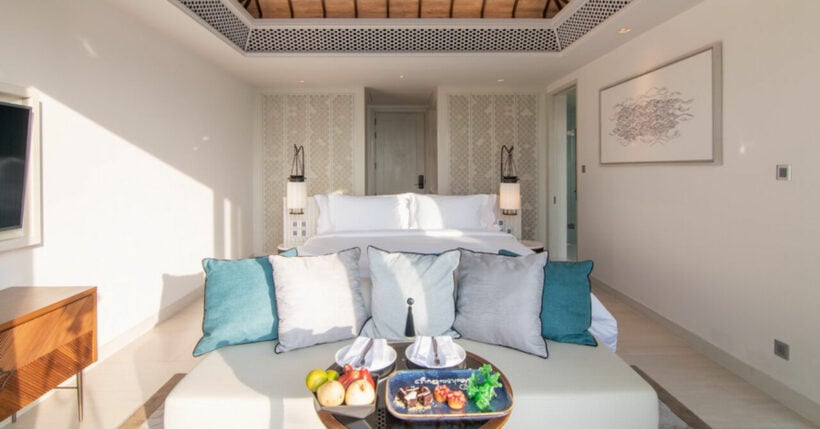 The resort fronts Phang Nga Bay, facing west so you're in the perfect location to enjoy the sun sinking into the mystical islands that dot the famous bay. Behind the resort is dense rainforest rising up as part of Krabi's hilly landscape. The resort is sandwiched between the two but has packed all the Banyan Tree cues in between as the land sweeps down to the rocky Tub Kaen beach.
A feature of Banyan Tree resorts is their marriage with nature and the use of water, everywhere. From each room's bath and private pool, to the waterways and streams that traverse the property, you can't walk far without being reminded about the importance of water to the brand. There's also an adult 'water park' for adults, 'The Rainforest'. Banyan Tree describe it as "a holistic and innovative wellness experience designed to heal and soothe". I'd describe it as an onslaught of H2O to your senses and your entire body – hot, cold, freezing, steam, sprays, gushes, bubbles, mists and waterfalls – all in the one facility.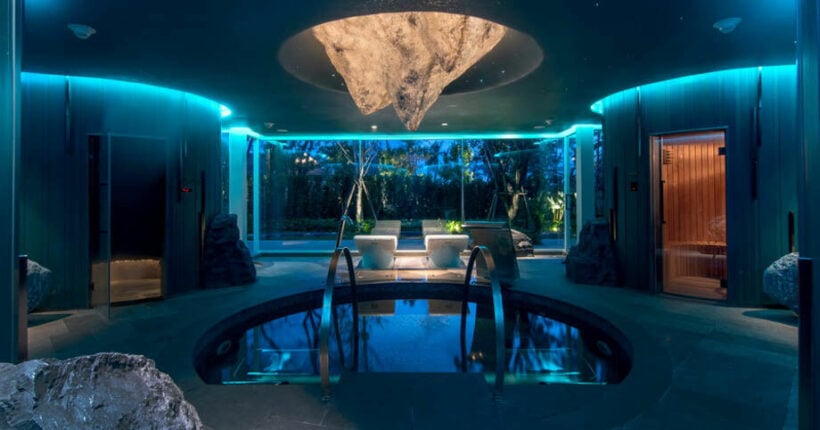 And there's also a supervised Kids Club, both indoor and outdoor, with its own mini waterpark, whilst you sneak off for your well-deserved spa treatment.
A lot can be said for the resort's appointments, functional but hidden away. But it's the staff that truly define your Banyan Tree experience. You'll be hard-pressed to find a more balanced and well-trained staff anywhere in Thailand. This is what really sets the Banyan Tree brand apart. The staff are always around, but not in your face. Polite, but not ingratiating, attentive but never annoying.
As a truly international resort your selection of foods at the various restaurants on site are excellent. The menus draw on cues from southern Thai cuisine, including the fusion of local ingredients and suppliers. The main restaurant, The Naga Kitchen, is also where they serve the breakfast buffet each morning – extravagant and expansive. It's a classic 'Banyan Tree' interior incorporating fine Thai silks, natural surfaces and the option to sit outside overlooking the resort's main pool area.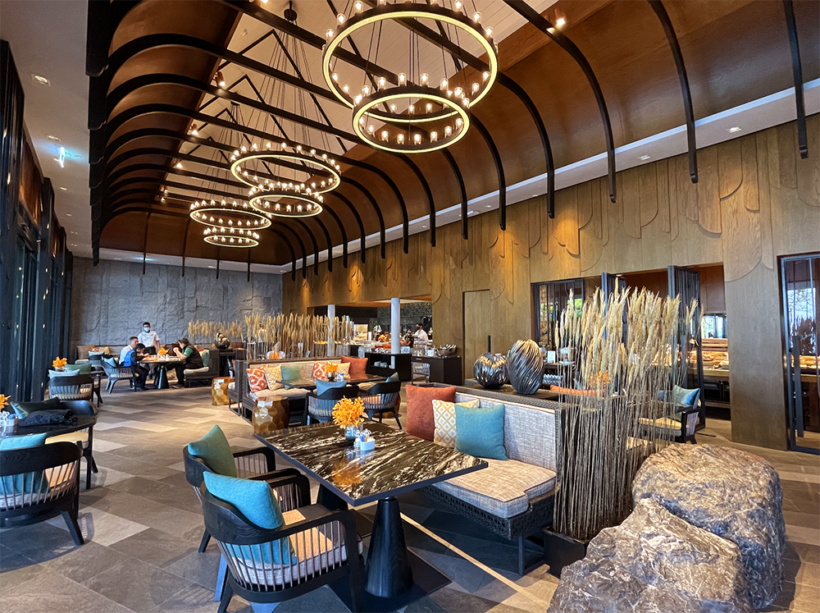 But you can also take the short cable car ride up to the Saffron Restaurant where there's also a magnificent view across the entire resort. For that alternative dining experience try the Bird Nest, where you are suspended amongst the coastal tree tops. And THAT view!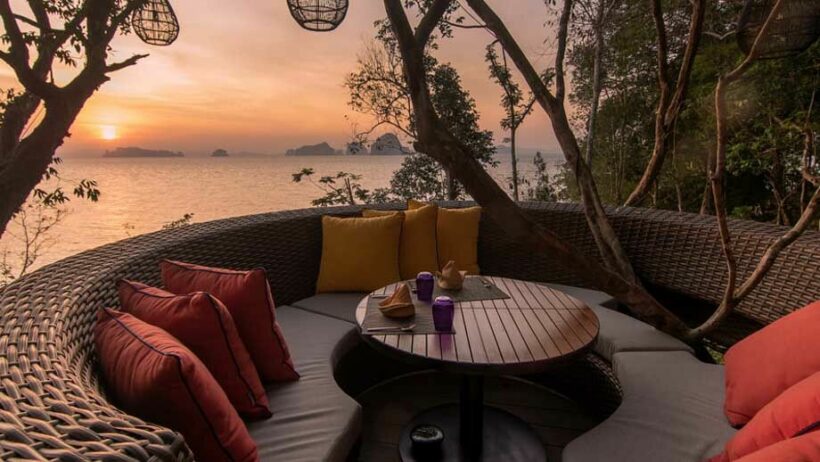 No matter how you spend your days at the resort, paddling just off the beach or on an island excursion nearby, you will certainly want to return to enjoy the sunset experience. This is where you'll get the best seat in Thailand for the daily sunset. The Tub Kaek Beach, whilst not the biggest or sandiest beach in Thailand, certainly provides a perfect photographic foreground with its rocks and flora framing the feature nightly performance.
Looking out across Phang Nga Bay, cocktail in hand, sinking into your beanbag perched on the grass verge overlooking the beach, you'll ponder, at least for a moment, why you can't just live THAT moment for the rest of your life. Let the short video take you there…
Banyan Tree Krabi proves that you can re-invent, and evolve, a great hospitality brand. Whilst the Samui Banyan Tree is waiting for the tourists to return at this time, Banyan Tree Krabi has been well supported by domestic travellers in its opening months, making the launch of the resort an outstanding success story during Thai tourism's most challenging year.
Big thanks to the outstanding team at Banyan Tree Krabi, led by the genial host and General Manager Remko Kroesen. Also to Thai VietJet for flying our group from Bangkok to Krabi, and back, and Colin from Balcony Media Group.
(There are currently 5 airlines flying into Krabi at the moment, most with multiple flights each day. That situation will change over time but you have plenty of choices from both Bangkok airports. And with the extended Krabi airport coming on line sometime in 2022, the whole airport experience will certainly continue to improve. Otherwise Krabi is an easy 3 hour drive from Phuket and there are bus services from Bangkok and other provinces almost every day, even at the moment. You can book your stay at Banyan Tree Krabi directly or search your favourite online aggregators for special deals.)
Want more from the Thaiger family?
📱 Download our app on Android or iOS for instant updates on your mobile
📧 Subscribe to our daily email newsletter
👍 Like/Follow us on Facebook
🔔 Subscribe to or Join our YouTube channel for daily video updates