Krabi
Cargo boat from Phuket hits rocks off Koh Phi Phi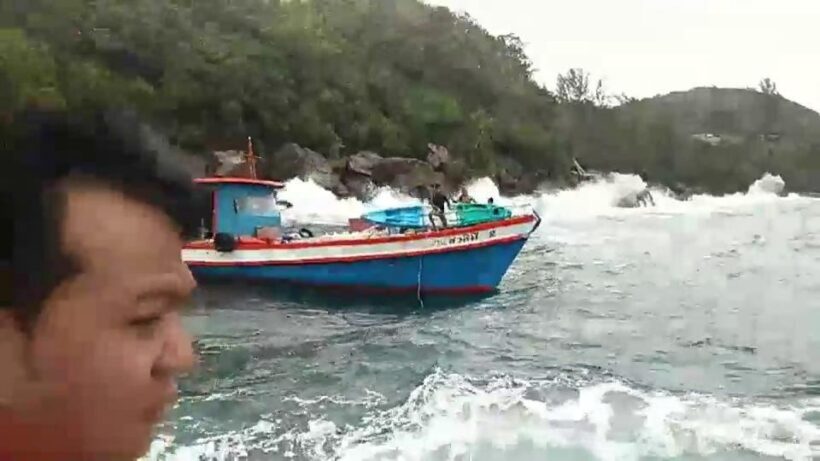 A cargo boat travelling from Phuket suffered engine failure, was hit by waves and ended up stuck on rocks off Koh Phi Phi in Krabi this morning (August 23).
Officials from the Hat Nopparat Thara National Park were called at 10.30am to inform them that a cargo boat name 'Salinee' had engine failure and was found drifting near Laem Tong on Koh Phi Phi.
A tour boat from the Andaman Wave Company was used to tow the cargo boat off the rocks. It took about one hour to get the boat to a safe area away from the rocks. The boat wasn't badly damaged and all boat crews were safely taken off Salinee to awaiting boats during the rescue.
Worapot Lomlim, the head of the Hat Nopparat Thara National Park says, "The cargo boat was heading from Phuket to deliver products to Koh Phi Phi. There were about 5 or 6 crew on the boat."
"The engine failed while they were at sea approaching the island. A big wave, up to three metres, hit the boat. The anchor was dropped but failed to stop them drifting towards the rocks. The boat eventually struck some rocks and was stuck. After the boat was pulled off the rocks and the engine fixed, the crew continued on their journey to deliver the goods to the island."
https://www.facebook.com/tnamcot/videos/308218266611236/UzpfSTIxMTc4Njk4ODk1NTI5OToxNDAwMTE1MzEwMTIyNDU1/