Bus driver and company charged after reckless driving in Krabi – VIDEO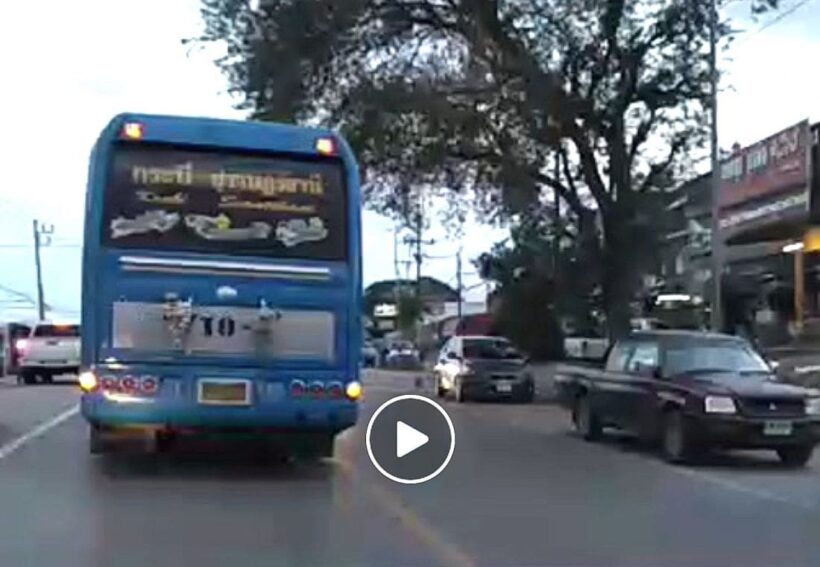 A Krabi- Surat Thani driver and his bus company have been charged after a case of reckless driving being caught on video.
The video clip of the reckless Krabi –Surat Thani bus driving on a road spread in social media during the week.
The Krabi Land Transportation Office Chief Ronnakorn Songin contacted the bus driver to meet. The bus driver, 35 year old Tanit Chaisri from Krabi, and a representative from the Pantip Company, met at the Krabi Land Transportation Office.
Khun Ronnakorn says, "The driver admits that he was driving at high speed but he refuses to discuss the reason why he had to rush. After watching the video the bus company representative has also admitted that it was dangerous driving."
"The bus driver has been fined 5,000 baht. His driving license has been suspended for 15 days. The bus company has been fined 10,000 baht."
แลที่มันขับ.#สาย กะบี่-สุราษฎร์ธานี

Posted by ป๋า'โอ๊ต สี่เข็ม on Sunday, October 28, 2018

Keep in contact with The Thaiger by following our
Facebook page
.
Biologist calls on Thailand to list all sharks as endangered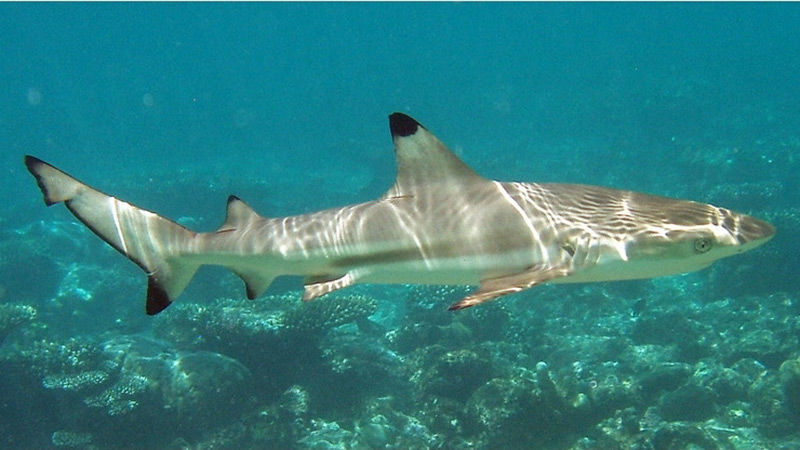 PHOTO: Wikipedia
Marine biologist Thon Thamrongnawasawat, insists Thailand must place all shark species on its list of endangered animals. His warning is accompanied by Facebook photos showing chopped up blacktip reef sharks being sold on Koh Lanta, in Krabi province.
As black tip reef sharks are not listed as endangered, no law is currently being broken. And while the waters around Krabi are considered a wildlife conservation area, sharks that are less than 50 centimetres in length may be caught.
But Thon warns that such practices are threatening many shark species, including hammerheads and leopard sharks.
"The number of sharks in Thai waters has been decreasing rapidly in recent decades. I have been urging government agencies for years to change this rule and list sharks as endangered, but sadly most people still don't realise the importance of shark conservation."
Thailand's marine life is a huge tourist attraction, bringing scuba divers from around the world to the Krabi region, where the population of blacktip reef sharks is currently the largest in Thailand.
But Thon is concerned that these numbers are threatened unless urgent steps are taken.
"I posted these two pictures so you can see and decide for yourself where the sharks belong – in an iced cooler or in the sea."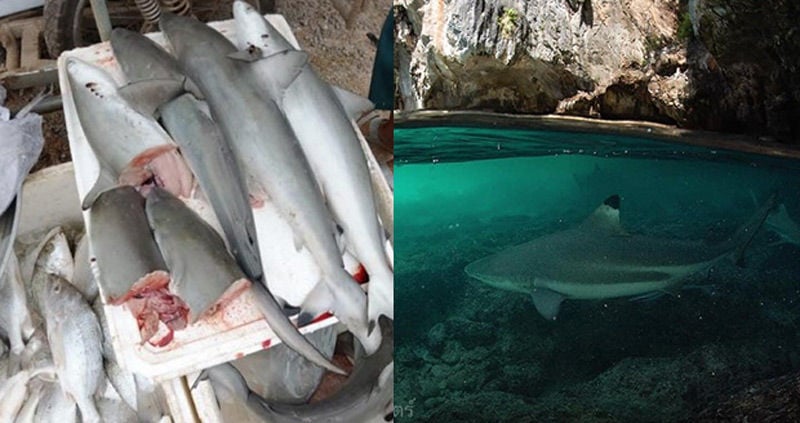 PHOTOS: Thon Thamrongnawasawat
SOURCE: The Nation
Keep in contact with The Thaiger by following our
Facebook page
.
Environment Ministry wants to increase dugong populations by 50% over a decade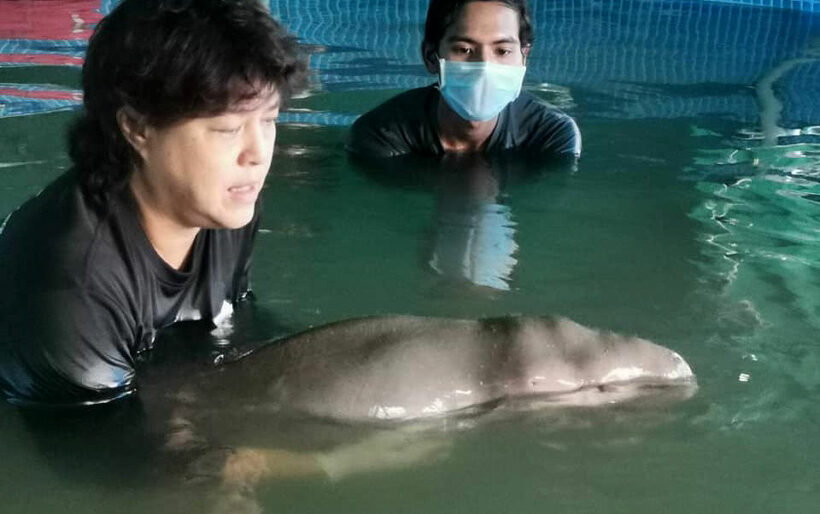 "Dr. Thon Thamrongnawasawat says that trash in the seas was the main cause of the death of many endangered marine species."
Pinsak Suraswadi, deputy director-general of the Marine and Coastal Resources Department, says the Ministry of Natural Resources and Environment wants to increase the population of dugong in Thailand's waters by 50% in the next ten years.
The effort will be applied to areas other than Koh Libong in the southern province of Trang, which is home to most of the dugongs, such as Koh Phra Thong in Phang Nga province, Koh Si Boya in Krabi province, Koh Lidee and Koh Sarai in Satun province, Koh Kood, Koh Mark and Koh Kradan in the eastern province of Trat, Kung Krabane bay in Chanthaburi, the Prasae estuary in Rayong province, Sattahip bay in Rayong and Pattani bay in Pattani province.
Pinsak said that the efforts to increase the population of dugongs would be jointly undertaken by officials and communities, with a plan to ban the use of fishing gear which poses a threat to endangered marine animals, including dugongs, in order to reduce the fatality rates from such fishing gear. They also plan to preserve sea grass, the main source of food for dugongs.
Pinsak chaired the first meeting of a working committee to protect rare marine species yesterday following last week's tragic death of Mariam the baby dugong, after she had been cared for by officials of the Department of Marine and Coastal Resources for the past four months.
Nanthrika Chansue, director of the Veterinary Medical Aquatic Animals Research Centre at Chulalongkorn University, said at the meeting that plastic waste in the feeding grounds of the dugongs must be removed before they pose an even greater threat to the rare animals.
Dr. Thon Thamrongnawasawat, vice dean of the Fisheries Faculty at Kasetsart University, said that trash in the seas was the main cause of the death of many endangered marine species, adding that about 80% of the trash in seas around Thailand originated from the mainland and has been washed into the sea in rivers.
SOURCE: Thai PBS World
Keep in contact with The Thaiger by following our
Facebook page
.
25 year old dugong washes ashore in Krabi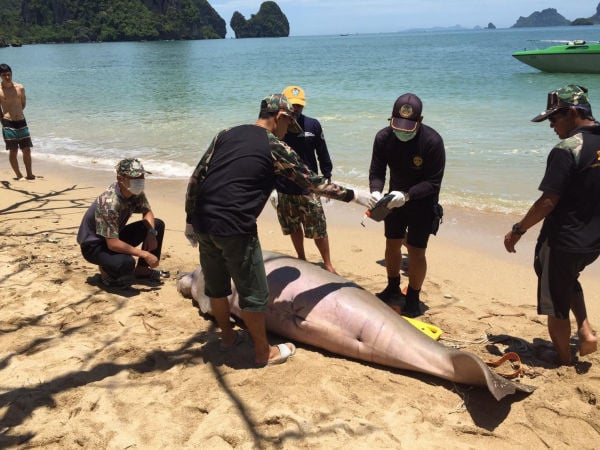 PHOTO: Sitthichai Sikhawat
A 240 kilogram, 2.6 metre long adult male dugong has been found dead after being washed up on Rai Lay Bay in Krabi yesterday afternoon. The announcement was made by Hat Noppharat Thara–Mu Ko Phi Phi National Park head Worapot Limlom.
The dugong, thought to be around 25 years old, was swept ashore at Ton Sai Beach in tambon Ao Nang around midday, prompting villagers to alert the park officials. The animal had bruising on its left fin.
Officials suspect it had died not long before the carcass was discovered. Park officials later contacted the Phuket Marine Biological Centre to collect the carcass for autopsy to determine the cause of death.
Internet dugong baby star 'Marium' died on Friday after succumbing to the ingestion of plastics. Read that story HERE.
SOURCE: The Nation
Keep in contact with The Thaiger by following our
Facebook page
.