Expensive bling and bad-taste comments about 'Meay' case put pressure on Prawit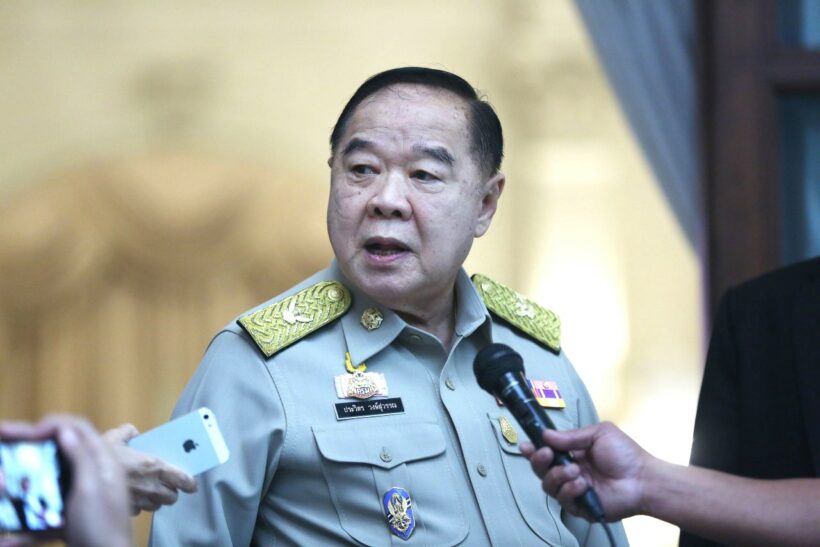 The PM General Prayut Chan-o-cha has been urged to exercise his absolute powers to suspend Deputy Prime Minister General Prawit Wongsuwan from duty as the deputy premier remains mired in controversy.
"We call on Prayut to use Article 44 to temporarily suspend Prawit from his posts as deputy premier and defence minister without pay until the investigation conclusion," Srisuwan Janya, secretary-general of the Thai Constitution Protection Association, said in a statement issued yesterday, referring to the absolute powers granted to the head of the National Council for Peace and Order (NCPO). In the statement, Srisuwan said Prawit was facing an investigation by the National Anti-Corruption Commission (NACC) regarding whether he had intended to conceal his assets.
Early this month, Prawit landed in hot water after being photographed wearing a flamboyant Richard Mille wristwatch and diamond ring that he had not declared in his assets list to the NACC when taking office in 2014. Social media users later piled on the pressure by posting photos of Prawit wearing seven other luxury watches while attending recent events.
In his four assets declarations during his on-and-off membership in governments since 2008, Prawit has never declared a single asset worth more than 200,000 baht to the NACC. His latest declaration in 2014 valued his total assets at 87 million baht.
The investigation has also raised questions about the general's "unusual wealth" regarding his total assets and the expensive watches. Pictures have shown him wearing what look like two Richard Mille watches that are estimated to cost between 4 million and 10 million baht.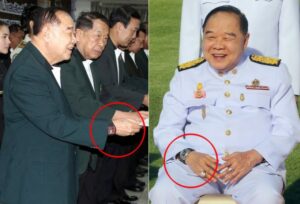 Srisuwan added that the deputy premier was also facing an online campaign pressuring him to step down over offhand comments he made about the death of cadet Phakhapong "Meay" Tanyakan, who died under suspicious circumstances at a military academy in October. Prawit's remarks that he had also been previously disciplined harshly but had not died, seeming to blame Phakhapong's poor health for his death, grabbed national headlines.
Srisuwan cited two previous suspension orders issued by Prayut, asking the premier to treat controversial incidents in a fair manner. The NCPO chief invoked Article 44 to suspend then-Bangkok governor MR Sukhumbhand Paribatra, who was under investigation over alleged irregularities during his tenure. Prayut also suspended Premsak Piayura, former mayor of Ban Phai Municipality in Khon Kaen, over accusations of misconduct in a case in which a reporter who exposed Premsak's alleged engagement to a schoolgirl was stripped of his clothes as a form of public embarrassment.
"I hope Prayut will not use a double standard or favour his close associates. [Prawit's suspension] is necessary to get rid of a bad apple to save the whole bushel, or the whole organisation. It would help to maintain the junta's good image concerning fighting corruption," Srisuwan said. Meanwhile, Prawit smiled yesterday before telling the media briefly that he felt tired amid the mounting pressure on him to resign.
For the past two weeks, the embattled deputy premier has remained silent on how he will explain to the NACC his possession of the items, only saying early on in the affair that he would submit a letter of explanation to the agency. However, local media have cited an aide to the deputy premier as saying that the watch had belonged to one of Prawit's close friends who died earlier this year. The aide said the pair had known each other for more than 60 years since their elementary school days. The unidentified deceased friend, who was described as a businessman and watch lover, lent watches to Prawit, some of which were not returned, the aide reportedly said.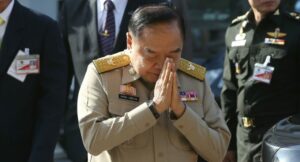 Deputy Prime Minister and Defence Minister General Prawit Wongsuwan greets expectant journalists as he attended a meeting at Government House yesterday amid a spiralling scandal about allegations of his "unusual wealth".
Keep in contact with The Thaiger by following our
Facebook page
.
Never miss out on future posts by
following The Thaiger
.
100+ test negative after Koh Samui Covid-19 case of the Thai/French woman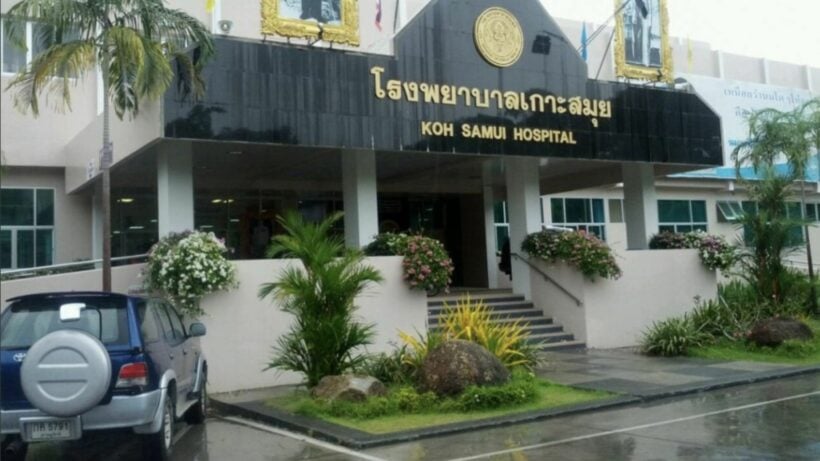 So far, more than 100 people have tested negative for Covid-19 after a 57 year old French/Thai woman tested positive for the virus in Koh Samui. Her case is the first on the island in 7 months and health officials are investigating to determine if she came in contact with the virus on the island, when travelling from France or possibly while in quarantine at an ASQ hotel in Samut Prakan, just southeast of Bangkok.
The woman, born in Thailand, was repatriating back to Thailand with her family. She has dual citizenship.
Meanwhile, 30 people are considered to be at "high risk" of contracting the virus. The Koh Samui Hospital director Veerasak Lorthongkum says those people, including her husband and son, as well as people seated close to her onboard a flight, show no signs of infection.
Traces of the virus were found on gym equipment at the ASQ hotel in Samut Prakan where the woman stayed when she arrived back in Thailand. She spent the mandatory 2 weeks in isolation upon entering Thailand and tested negative for Covid-19 twice during her stay. A few days after she was released, she complained of a fever. A few days later, she checked in to hospital in Koh Samui where she tested positive for Covid-19.
SOURCE: Coconuts Bangkok
Keep in contact with The Thaiger by following our
Facebook page
.
Never miss out on future posts by
following The Thaiger
.
Thousands of protesters descend on the German Embassy in Bangkok awaiting to submit their petition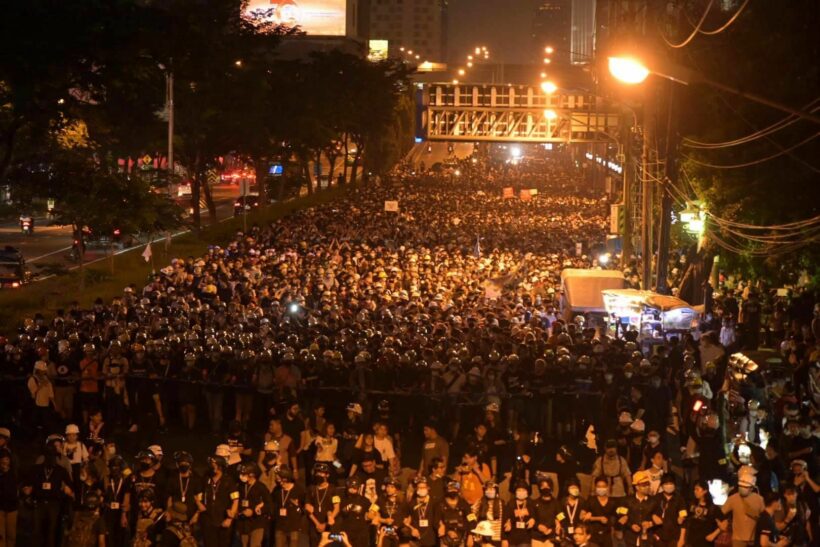 7.15pm and the protesters arrived out the front of the German Embassy. Thousands have blocked the way in Sathorn Road but protesters say they're waiting for more to arrive. Estimates of the crowd say there are up to 10,000 anti government protesters already. Protesters say they're waiting for an invitation by the German Ambassador for representatives to enter the embassy to submit their petition.
Protesters have been met by hundreds of riot police protecting the entrance to the embassy, in fact three lines of police. The ensemble of police is matched by a huge Thai and overseas media contingency.
Protesters are seeking an opinion from the German Government about the residential status of the Thai Head of State in the state of Bavaria, claiming that the monarch has been conducting political business whilst in residence.
Protest leaders asked the demonstrators to show restraint and avoid any violence as the rally moved from the Sam Yan intersection, near the Chulalongkorn University, towards the German Embassy along Rama IV Road.
At this stage no officials have emerged from the gates of the embassy to accept the petition. A number of protest leaders are waiting at the gate with their petition after clearing the way for the representatives to approach the front gate in waiting for someone to come out.
As of 7.15pm, no one had emerged from the embassy buildings although a report has come from Thai Enquirer that the Embassy has agreed to accept 3 protest leaders inside to submit their petition.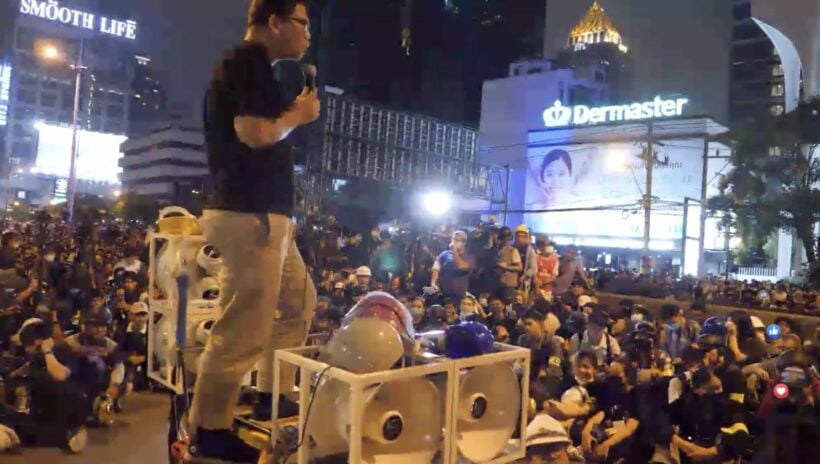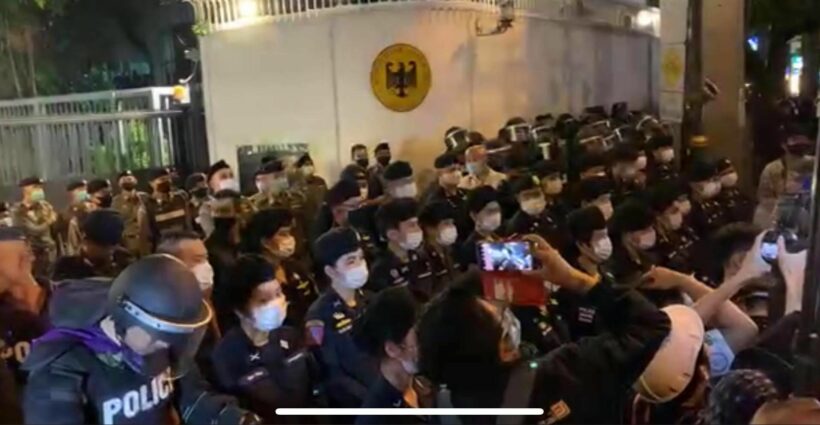 Keep in contact with The Thaiger by following our
Facebook page
.
Never miss out on future posts by
following The Thaiger
.
Thai protesters head to German Embassy to file controversial petition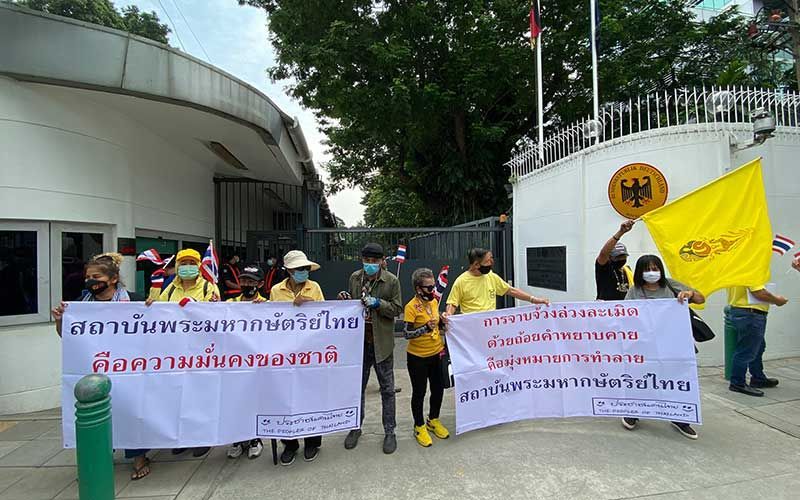 There was a spontaneous rally outside the German Embassy in Sathorn Road by government supporters and yellow-shirted royalists early this afternoon, a prelude to this afternoon's march by anti-government protesters walking from the Sam Yan intersection to the embassy, a route of about 1.5 kilometres.
Protesters say they will submit a petition considered to be unprecedented and controversial in Thailand, calling on Germany to investigate His Majesty the King Maha Vajiralongkorn, who spends a significant amount of his time in Bavaria, to determine if he has violated German sovereignty by exercising power on German soil.
"Our monarchy has been used as a political tool for several years. The dictators and fascists have used the monarchy to tackle those who stand against them. This is the reason why Thailand is not moving forward as it should be."
Meanwhile, another protest has popped up in Wongwian Yai, Thonburi, on the west banks of the Chao Praya, Bangkok.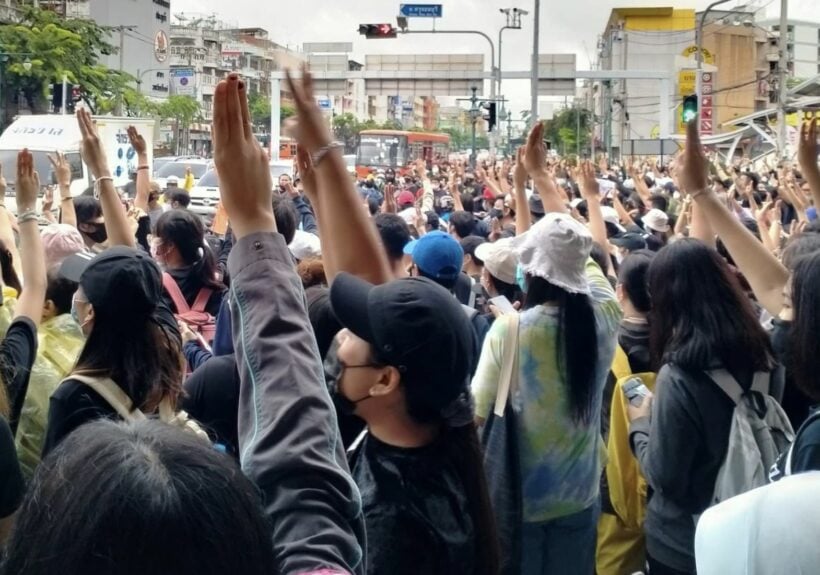 A few hundred pro-government supporters rallied outside the German Embassy in Sathorn for just over an hour sharing their enthusiasm for the Thai monarch with the spokesperson yelling "Show me who would be Thailand's first president", Who would that be", suggesting that the protesters were talking of changing Thailand from a constitutional monarchy to a republic, something that has never been a part of the current protesters' demands.
Royal supporters dressed in yellow, a colour representing the Thai Monarchy, waved the Thai flag and held up photos of the Royal family. The royal supporters are an older demographic than the pro-democracy activists who include many students, showing a clear generational divide in the current conflict.
It is the first time a foreign government has been directly targeted by the anti-government protesters. Protesters say the intention is to push for the restoration of a "truly" constitutional monarchy in Thailand, under law. In past protests, some signs said "Republic of Thailand" rather than "Kingdom of Thailand," as some protesters pushed for full democracy rather than a constitutional monarchy and parliamentary democracy.
Protesters have been calling on government reform and a rewrite of the 2017 Charter. They've also been pushing on Prayut Chan-o-cha to resign. During the protests, parliament was in an "emergency" special session, expected to wrap up on Tuesday evening, in response to the political rallies.
Thailand's lèse majesté laws in Section 112 of the Thai Criminal Code prohibits insults and criticism regarding the Thai Monarchy. A section in the Computer Crime Act also prohibits the insults. Despite this the Monarchy is now being openly discussed on social media and amongst Thais, previously a taboo topic in Thailand.
SOURCES: Nation Thailand| Reuters
Keep in contact with The Thaiger by following our
Facebook page
.
Never miss out on future posts by
following The Thaiger
.