"Don't arrest us. We just work here." Activists call for ban on sting operations targeting sex trade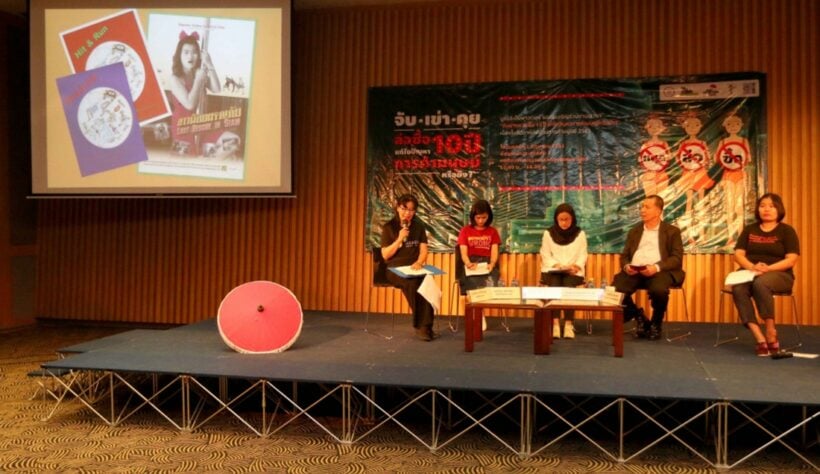 By Pratch Rujivanarom
Stings and raids staged to crack down on human trafficking in the sex industry violate human rights, and lead to stigmatisation and discrimination against women who are working as sex workers of their own volition, an activist organisation said yesterday.
Empower Foundation yesterday exposed the problems of discrimination and rights violations faced by women working in the sex industry from sting operations targeting human trafficking.
The foundation says that in order to rescue 10 victims of enforced or underage sex workers, on average some 100 innocent women are also arrested. These women suffer distress from violation of their human rights and dignity.
The women's rights group urged the authorities to decriminalise prostitution and register sex workers as a legal career in order to give them protection and welfare as per labour law, which will also be a sustainable solution to suppress human trafficking in the sex industry.
Thanta Laovilawanyakul, Empower Foundation coordinator, said that during the last 10 years more than 300 women, who worked at entertainment venues, had been arrested in sting operations targeting human trafficking in the sex industry every year, even though they were not involved in human trafficking.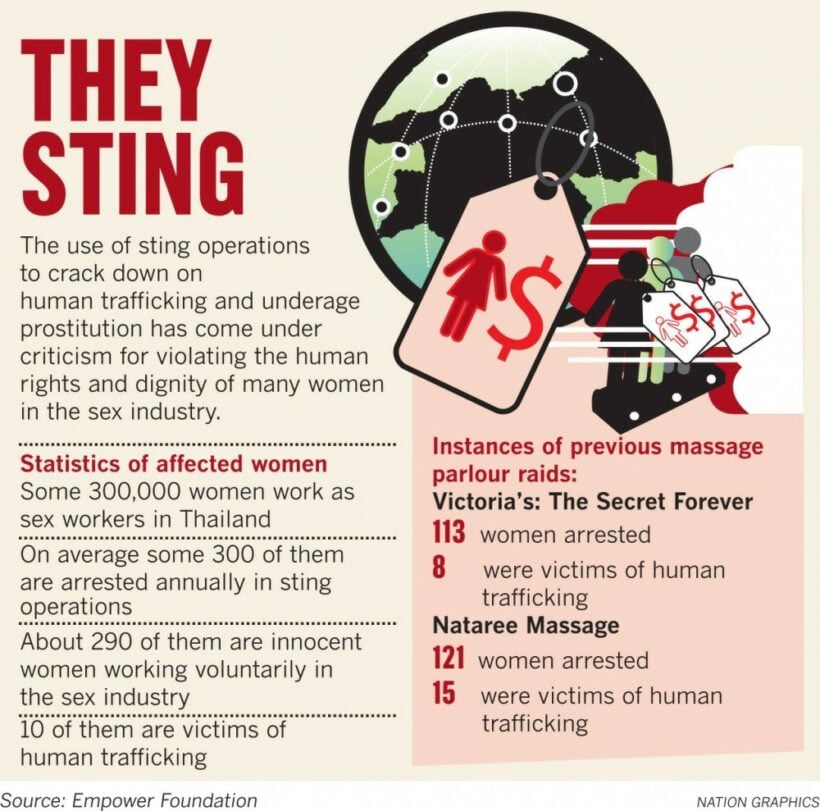 "Only 10 out of 100 arrested prostitutes are actually the victims of human trafficking and forced labour in the sex industry. The rest of them are innocent women, who voluntarily work as prostitutes, but they have to face disgrace due to the arrest and improper practices by the officers and media," Thanta said.
"Many of them face the charge of adultery and are publicly exposed for working in the sex industry. Even the victims of human trafficking are mistreated by the officers, as they are detained in an improper detention area for a long period and they are unable to contact their family."
"National Human Rights Commission (NHRC) Commissioner Angkhana Neelapaijit highlighted that this kind of treatment for women from sting operations was a clear violation of human rights."

Angkhana also pointed out that improper media coverage of raids on brothels also discriminated against the arrested women.
A recent study by the NHRC and the Thai Journalists Association found that even though these women covered their identity under blankets, they still suffered a lot from deprivation of their dignity and stigmatisation as a bad person in the eyes of the public.
"Even though prostitution is against the moral codes of society, the sex workers are human, hence their human rights and dignity must be respected like the others," she said.
Considering the adverse impacts on the rights and dignity of the arrested women, Thanta said sting operations on such sensitive issues were inappropriate and against the international code of conduct laid down by the Convention on the Elimination of All Forms of Discrimination against Women, so the practice must end immediately.
"Sting operations to suppress human trafficking in the sex industry are unnecessary. There are various other methods for the law enforcers to gather evidence against the traffickers without jeopardising the rights and dignity of these women," she said.
"Therefore, we want this malpractice to be declared illegal and those who practise this harmful tactic must be punished," she added.
Thanta also urged the authorities to legalise prostitution by revoking the outdated prostitution suppression law. That would allow the proper regulation and control of the sex industry to genuinely tackle human trafficking and ensure that the sex workers receive welfare and protection under labour laws, she said.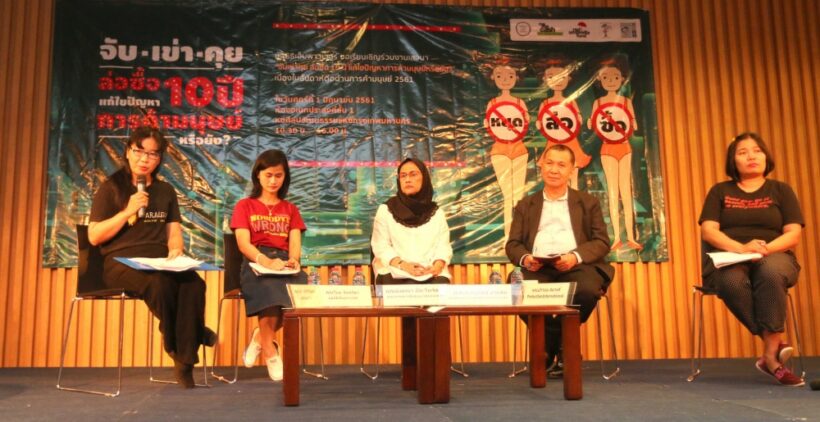 STORY: The Nation
11 die in early morning passenger van collision in Sa Kaew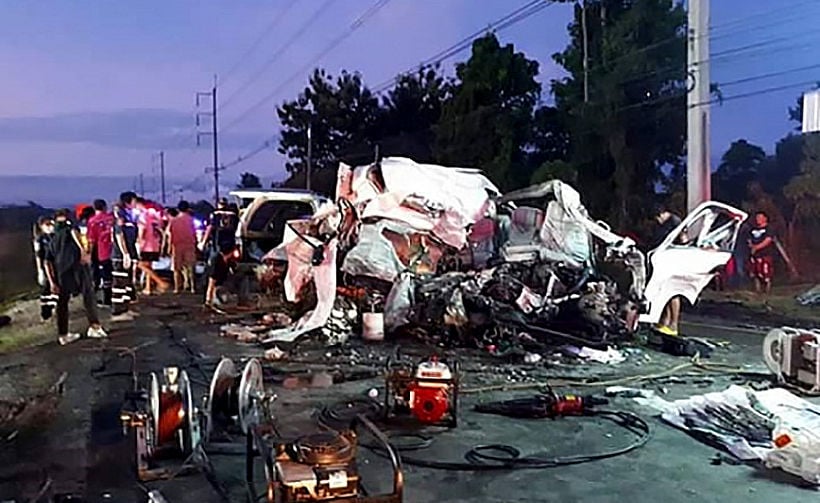 PHOTOS: The Nation
Eleven people have been killed and four others seriously injured after a chartered van carrying Lao workers collided with an 18 wheel truck in Sa Kaew province, east of Bangkok on the Cambodian border, early today (map below).
The Nation reports that they were travelling to the Chanthaburi immigration checkpoint to renew their visas.
Police suspect the Thai van driver, Sansern Sathongkhan, might have dozed off behind the wheel, and driven the passenger van into the opposite lane where it crashed head-on with the oncoming 18 wheel truck.
Police and rescue workers rushed to the scene at 4.15am on the Sakaew-Chanthaburi Road section of the highway near the entrance to the Wang Somboon District Office.
They found the dead bodies of the van driver and Lao passengers, many of whom were crushed in the wrecked van while others were flung out of the van with the force of the impact. Rescue workers were able to remove four seriously wounded people from the wreckage, including three Lao passengers and the truck driver, Subin Pengmoo, to rush them to the district hospital.
SOURCE: The Nation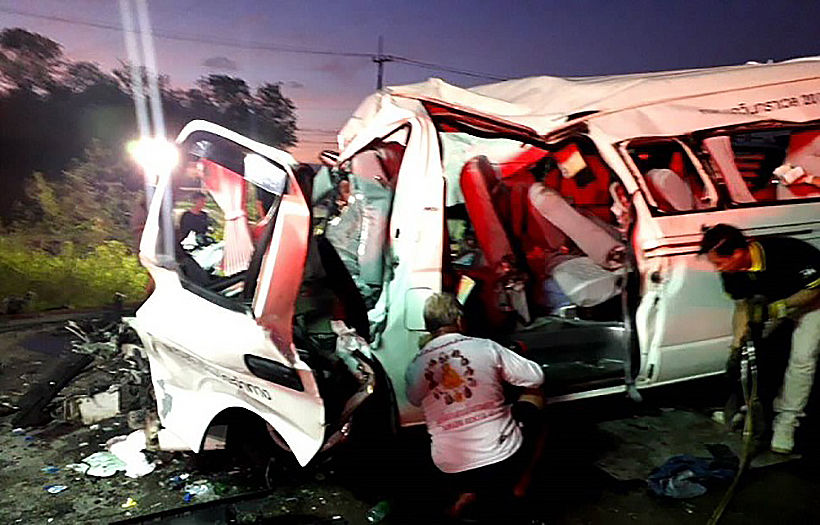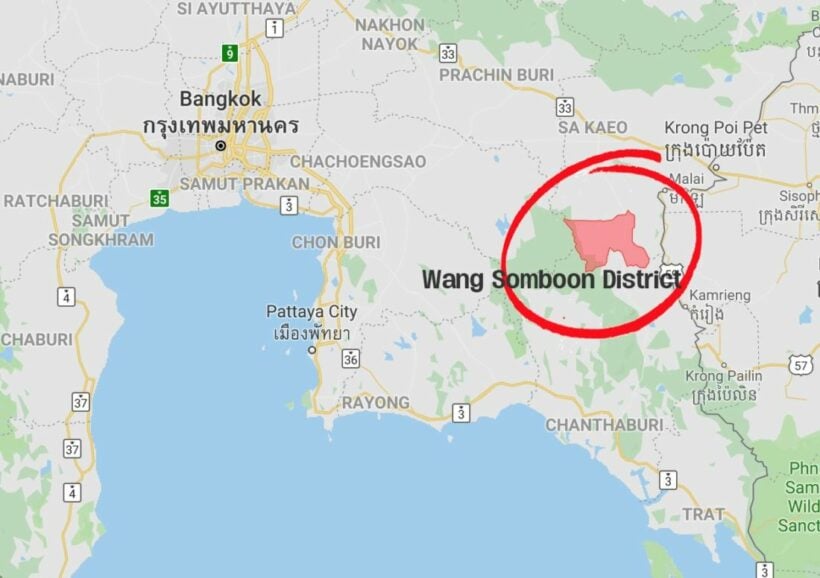 Chinese and Indians to be offered visa free arrival for 15 days in Thailand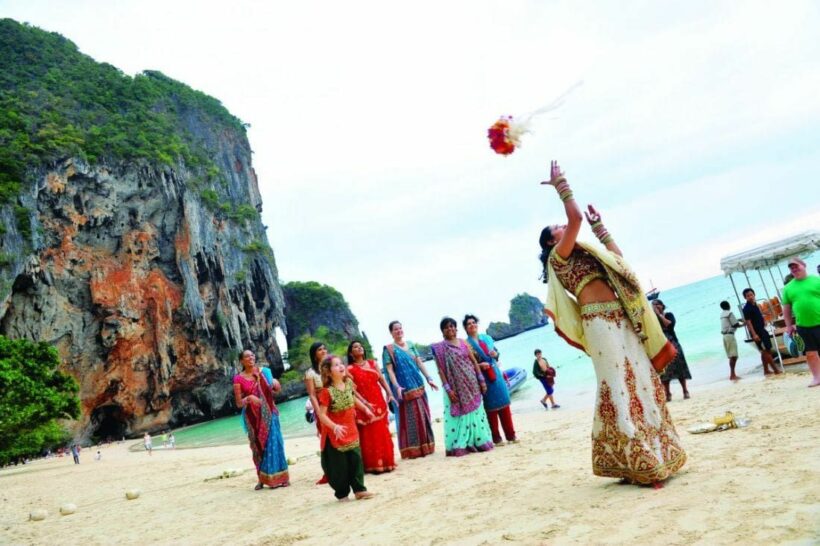 The Tourism and Sports Minister says he'll seek cabinet approval to offer visa exemptions to visitors from China and India for one year. Already Chinese tourists have a visa-on-arrival fees exemption. The current promotion is set to end on October 31 this year.
If the new visa exemption is approved by cabinet it will start on November 1 and run through to at least October 31, 2020.
The Tourism and Sports Minister Phiphat Ratchakitprakarn says the visa exemption will allow travel in Thailand for up to 15 days.
"Free visas is the ministry's must urgent stimulus policy, without which tourism arrival growth might not reach our target," the Minister told the Bangkok Post.
A slowing global economy and a strong Thai baht have put a small dent in the rise and rise of Thailand's 'teflon' tourist industry this year. But the arrival numbers have mostly recovered after a sluggish April and May this year.
The numbers show that 19.76 million tourists arrived in Thailand for the first half of 2019, a small increase of just 1.48% compared to H1, 2018. But Chinese tourists declined by 4.73% over the same period with the nationalities taking up the slack – including India – up 24% compared to the first half of 2018.
The minister says he is confident the visa exemption will help boost the number of travellers from India to reach some 3 million next year and help to encourage Chinese tourists back as well.
Vichit Prakobgosol, president of the Association of Thai Travel Agents says the visa exemption will bolster the number of inbound Indians and Chinese to Thailand and will be a significant boost in tough world economic conditions.
Department warns of possible floods and landslides for 12 provinces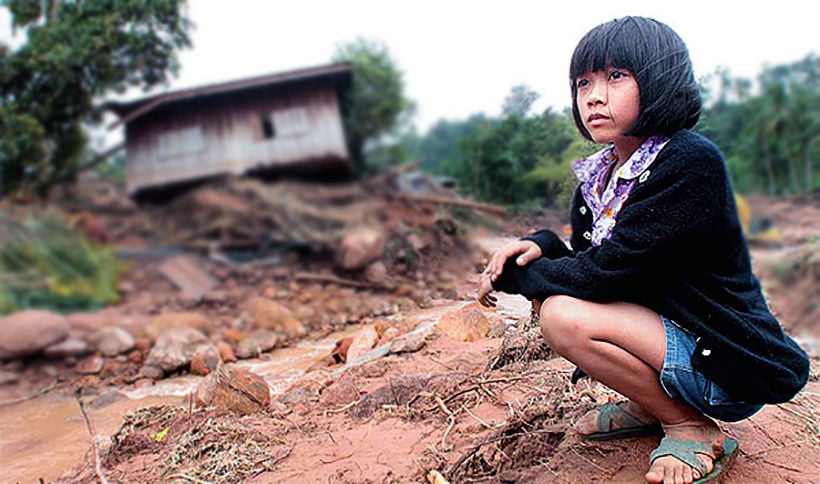 FILE PHOTO
Officials and emergency responders in 12 provinces have been instructed to be prepared, and put equipment on standby, to cope with possible floods and landslides until August 20 (Tuesday).
Department of Disaster Prevention and Mitigation director-general Chayaphol Thitisak says the alert was issued because of heavy downpours in the North, the Central and southeastern coastal areas.
Officials were told to monitor weather conditions, as well as rainfall and river levels around the clock while also preparing fast-moving teams and equipment to be stationed at disaster-prone areas, ready to aid residents. The locals have also been urged to follow weather reports closely, according to The Nation.
The 12 affected provinces include…
Mae Hong Son (Muang, Pang Mapha, Khun Yuam, Mae Sariang, Mae La Noi, Pai, Sop Moei districts), Chiang Rai (Mae Chan, Mae Suay , Mae Lao and Wiang Pa Pao districts), Phayao (Chiang Muan, Chiang Kham and Pong districts), Phrae (Song, Long, Wang Chin and Rong Kwang districts), Nan (Muang, Bo Klua, Chalerm Phrakiat, Wiang Sa, Chiang Klang, Tha Wang Pha, Na Noi, Na Mun, Pua, Thung Chang, Santisuk, Mae Jarim and Ban Luang districts), Uttaradit (Ban Khok, Tha Pla and Nam Pad districts), Tak (Tha Song Yang, Mae Ramat, Mae Sot and Pop Phra districts), Nakhon Nayok (Muang district), Trat (Bo Rai and Khlong Yai districts), Ranong (Muang, Kra Buri, La-un, and Kapoe dsitricts), Phang Nga (Muang, Kapong, Takua Pa and Tai Muang districts), and Trang (Na Yong district).
The department's hotline is 1784 and monitored 24/7.
FORECASTS: weather.com
Meanwhile the forecast from weather.com for Phang Nga is for mostly dry conditions during the warning period.

…whilst Chiang Rai's forecast includes a greater chance of rain.