"Don't arrest us. We just work here." Activists call for ban on sting operations targeting sex trade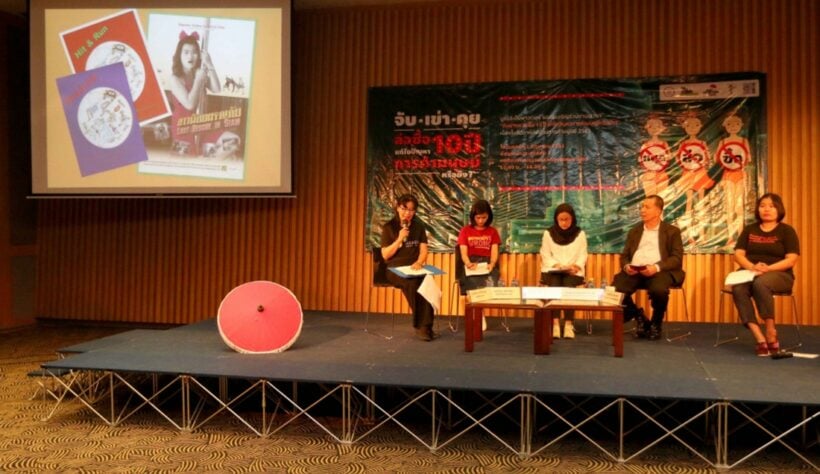 By Pratch Rujivanarom
Stings and raids staged to crack down on human trafficking in the sex industry violate human rights, and lead to stigmatisation and discrimination against women who are working as sex workers of their own volition, an activist organisation said yesterday.
Empower Foundation yesterday exposed the problems of discrimination and rights violations faced by women working in the sex industry from sting operations targeting human trafficking.
The foundation says that in order to rescue 10 victims of enforced or underage sex workers, on average some 100 innocent women are also arrested. These women suffer distress from violation of their human rights and dignity.
The women's rights group urged the authorities to decriminalise prostitution and register sex workers as a legal career in order to give them protection and welfare as per labour law, which will also be a sustainable solution to suppress human trafficking in the sex industry.
Thanta Laovilawanyakul, Empower Foundation coordinator, said that during the last 10 years more than 300 women, who worked at entertainment venues, had been arrested in sting operations targeting human trafficking in the sex industry every year, even though they were not involved in human trafficking.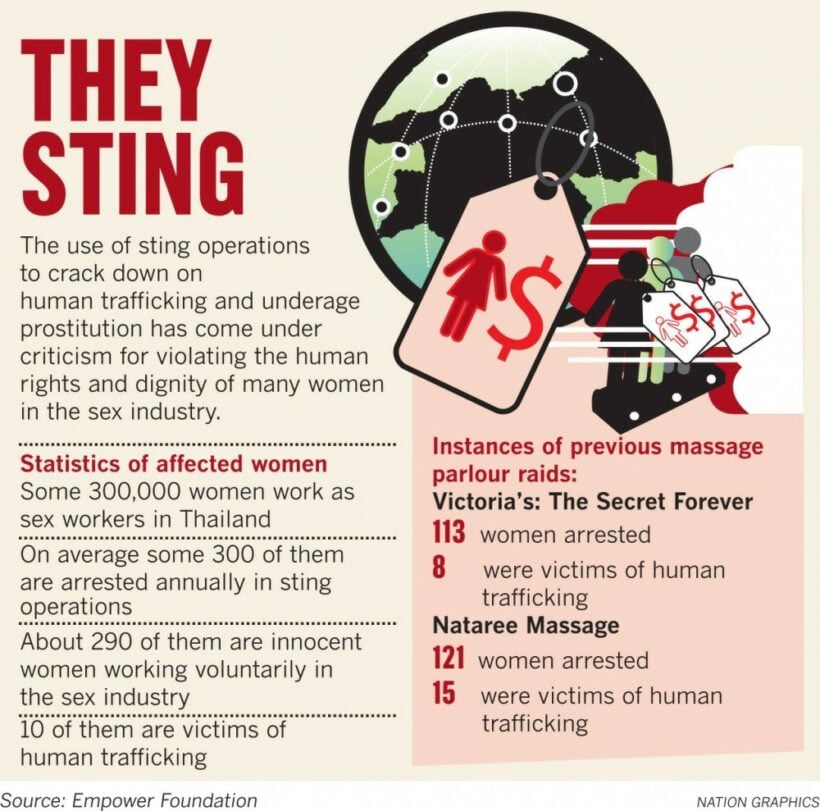 "Only 10 out of 100 arrested prostitutes are actually the victims of human trafficking and forced labour in the sex industry. The rest of them are innocent women, who voluntarily work as prostitutes, but they have to face disgrace due to the arrest and improper practices by the officers and media," Thanta said.
"Many of them face the charge of adultery and are publicly exposed for working in the sex industry. Even the victims of human trafficking are mistreated by the officers, as they are detained in an improper detention area for a long period and they are unable to contact their family."
"National Human Rights Commission (NHRC) Commissioner Angkhana Neelapaijit highlighted that this kind of treatment for women from sting operations was a clear violation of human rights."

Angkhana also pointed out that improper media coverage of raids on brothels also discriminated against the arrested women.
A recent study by the NHRC and the Thai Journalists Association found that even though these women covered their identity under blankets, they still suffered a lot from deprivation of their dignity and stigmatisation as a bad person in the eyes of the public.
"Even though prostitution is against the moral codes of society, the sex workers are human, hence their human rights and dignity must be respected like the others," she said.
Considering the adverse impacts on the rights and dignity of the arrested women, Thanta said sting operations on such sensitive issues were inappropriate and against the international code of conduct laid down by the Convention on the Elimination of All Forms of Discrimination against Women, so the practice must end immediately.
"Sting operations to suppress human trafficking in the sex industry are unnecessary. There are various other methods for the law enforcers to gather evidence against the traffickers without jeopardising the rights and dignity of these women," she said.
"Therefore, we want this malpractice to be declared illegal and those who practise this harmful tactic must be punished," she added.
Thanta also urged the authorities to legalise prostitution by revoking the outdated prostitution suppression law. That would allow the proper regulation and control of the sex industry to genuinely tackle human trafficking and ensure that the sex workers receive welfare and protection under labour laws, she said.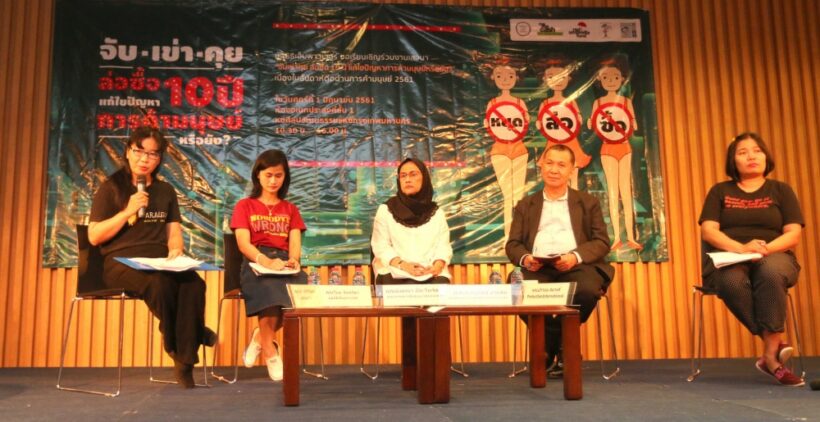 STORY: The Nation
Keep in contact with The Thaiger by following our
Facebook page
.
Phuket police arrest meth dealer, discover drugs valued at 15 million baht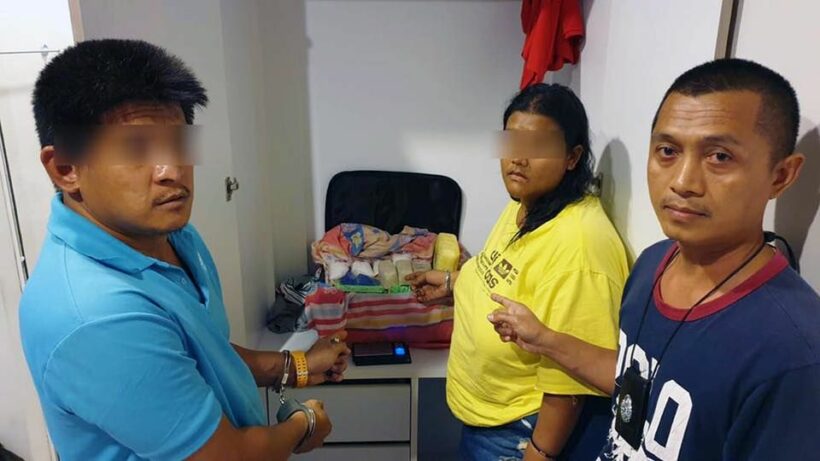 PHOTO: Newshawk Phuket
Drugs valued at 15 million baht have been seized in a drug crackdown in Phuket. On October 22, Phuket police, along with Phuket Governor Pakkapong Tawipat, reported to the media about a drug crackdown that ended up with a total seizure valued around 15 million baht.
Earlier, the police received a report from an undercover agent that a woman named 'Ying' or 'Suthicha Thirawut' was a local drug dealer trading drugs in Phuket area, so police planned to purchase drugs from the woman. They contacted Ying through another woman named 'Noina', Ying's close friend. Around 10pm on October 20, police bought 1 gram of crystal methamphetamine from Noina before arresting Ying and another man, Thanet Thongtan, at the Naka Condominium.
The two confessed that they receive the drug from a man who they weren't able to name, in order to sell in Phuket. They were paid 40,000 – 50,000 baht per time and admitted to police that they have done this for the man three times already. This time, the drugs hadn't been sold to customers as they were arrested before being able to make a sale.
Apart from 2.4 kilograms of crystal methamphetamine, valued around 4.8 million baht, the police also discovered 76,800 methamphetamine pills, worth around 11 million baht.
The three are now assisting Phuket police with their enquires related to the case.
SOURCE: Newshawk Phuket
Keep in contact with The Thaiger by following our
Facebook page
.
Out of 37 countries, Thailand has the worst pension system, says Bloomberg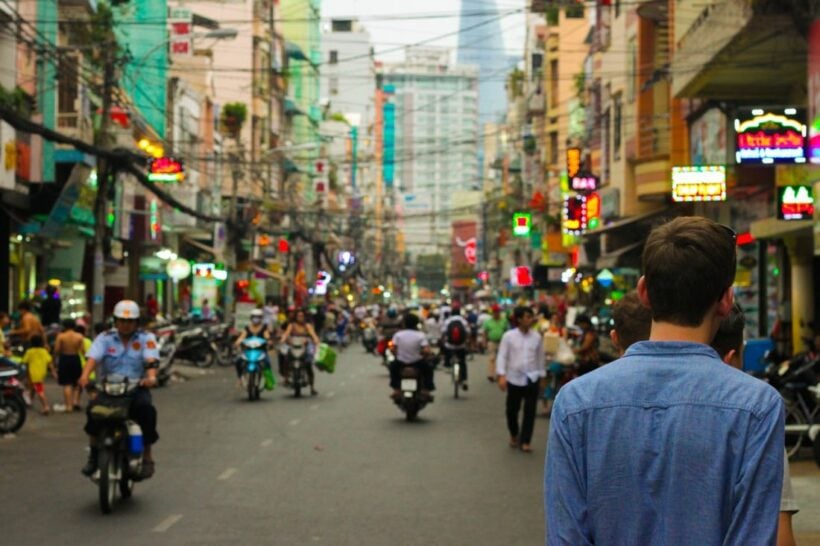 Thai Residents reports that on Sunday, Bloomberg published an article on the world's best pension systems, using information gathered from the 2019 Melbourne Mercer Global Pensions Index.
The survey looked at the pension systems of 37 countries with metrics including employee rights, savings, the number of homeowners, growth of assets, and growth of the economy. The purpose of the analysis was to determine what was needed to improve state pension systems and to gauge the level of confidence citizens had in their state pension system.
The Netherlands and Denmark were found to have the world's best state pensions, with Australia, Finland, Sweden, Norway, Singapore, New Zealand, Canada, and Chile next. Out of all 37 countries, Thailand finished last, with what the report described as an extremely ineffective and ambiguous system.
"Thailand was in the bottom slot and should introduce a minimum level of mandatory retirement savings and increase support for the poorest."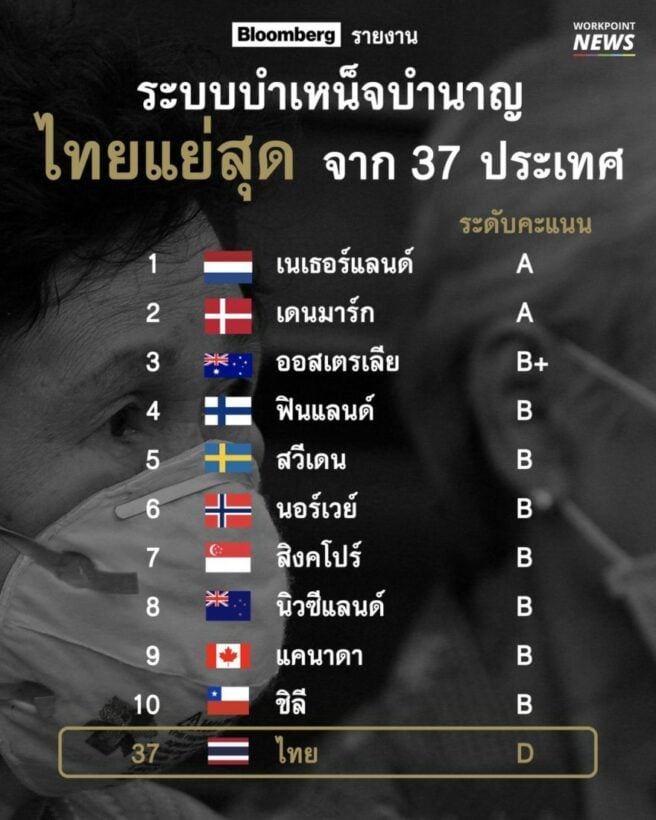 Photo: WorkpointNews
Thai Residents states that only those employed within the government system in Thailand are eligible for a pension based on salary. For most Thai citizens, pension amounts vary from 600 baht to 1,000 baht a month, depending on the recipient's age.
A report carried out by The Securities and Exchange Commission (SEC) advises Thai citizens to have at least 4 million baht saved by the time they retire, but Thai Residents reports that 60% of Thai retirees have less than 1 million baht in savings, with one in three citizens who have reached retirement age are forced to continue working in order to survive.
SOURCE: thairesidents.com
Keep in contact with The Thaiger by following our
Facebook page
.
Immigration police arrest German man in connection with death of German woman in Pattaya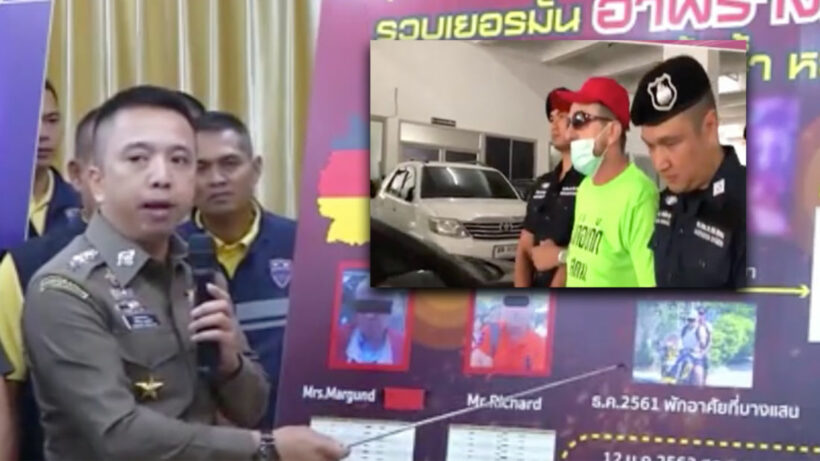 A German man who has overstayed his visa has been arrested in Pattaya in connection with the death of a German woman found dead in a canal in Chonburi province.
The Pattaya News reports the dead woman as 77 year old Marg und Schaefer and says she ran a bar with the man who was taken into custody on Tuesday.
The alarm was raised when Ms Schaefer's family in Germany contacted German police when they were unable to contact her. German authorities then contacted the police in Thailand, who tracked down the man after finding his visa had expired in June 2017. He is believed to be 52 years of age and known only as Mr Richard.
It's understood the arrested man is also facing fraud charges in his home country and fled to Thailand after allegedly conning several elderly women out of more than 6,000 euros.
Police have questioned his Thai girlfriend, who claims Ms Schaefer died in January after falling in the bathroom. She says Mr Richard then disposed of her body in a canal in Chonburi, adding that he had been spending the German woman's pension fund on a daily basis.
A warrant was issued for the man when Ms Schaefer's body was found in the canal on January 12 and he was eventually tracked down to a rented house earlier this week. He denies all charges against him.
It's understood the police will be using DNA testing to confirm how Ms Schaefer died.
SOURCE: thepattayanews.com
Keep in contact with The Thaiger by following our
Facebook page
.