Criminal offences to avoid during Songkran.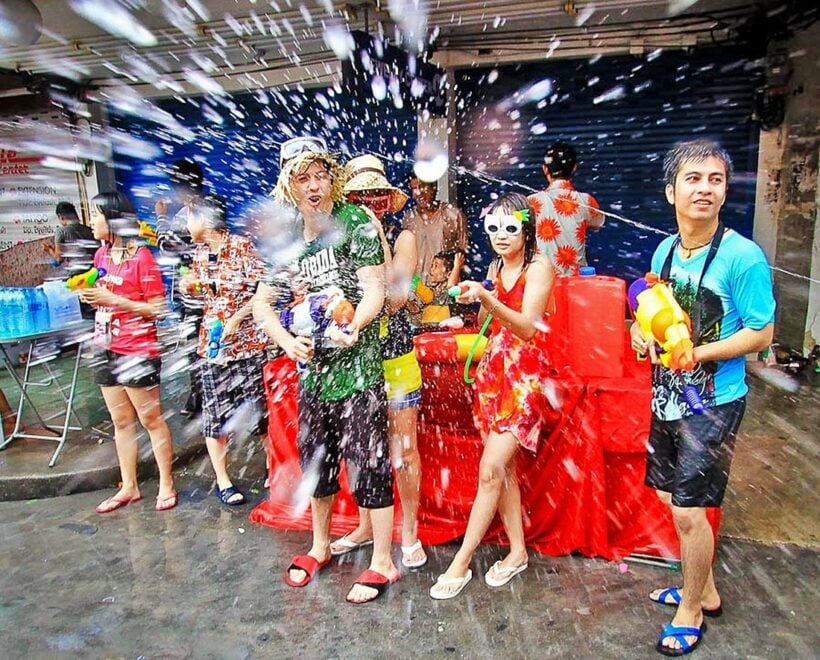 Splashing water on people not wanting to get wet, or having asked you not to splash them, during the Songkran Festival can lead to imprisonment. This from a Thai lawyer, adding many common violations of laws during the festive period may carry severe penalties.
Ratchapon Sirithaworn, a legal expert and owner of the Facebook fanpage "LawByRachaponsLawyer", which provides knowledge on law, cautioned people to celebrate Songkran within the limit of laws.
He says offences such as drinking alcohol in prohibited areas or splashing water randomly can lead to high fines or even being jailed.
Ratchapon says on his Facebook fanpage that many minor offences in the eyes of the public have very severe punishments and urged the people to celebrate Songkran with discretion or they might find themselves in prison for their 'minor' crimes.
"Even though splashing water on other people is culturally accepted during Songkran Festival, as it is seen as an enjoyable celebration, this enjoyment can turn into a criminal offence if we soak someone who does not intend to get into a water fight, or causes them damage," he said.
He explained that splashing water on random people and causing damage to their valuables such as mobile phones is a criminal offence under Article 358 of the Criminal Code. Offenders are subjected to punishments of up to three years in jail or 60,000 baht fine.
He also warned that even though no damage may have been done to another's belongings, the act of splashing water can be considered physical harmful and offenders can be charged with battery and given a month's imprisonment or 10,000 baht fine.
Ratchapon gave examples of five other criminal offences regularly committed during Songkran: up to 10 years imprisonment for celebratory shooting; 10 years in jail for sexual harassment; six months jail for drinking alcohol inside a driving vehicle or at a petrol station; and 5,000 baht fine for indecent behaviour in public.
Original story HERE.
Keep in contact with The Thaiger by following our
Facebook page
.
Policeman falls asleep behind the wheel and crashes into roadside pole in Phang Nga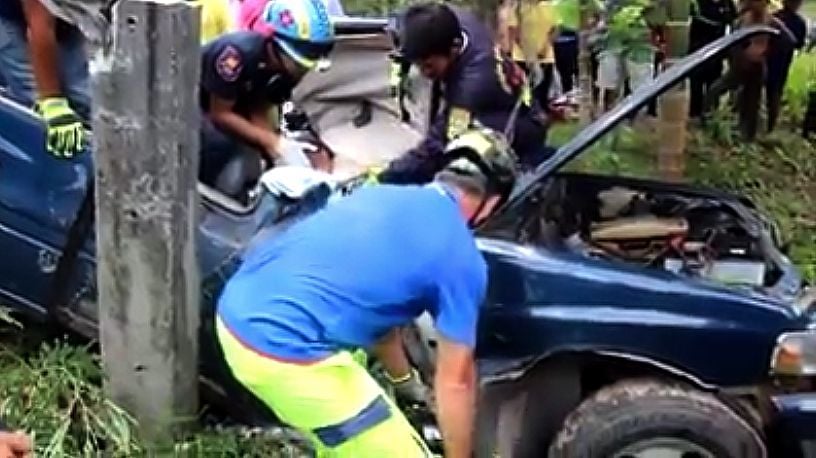 SCREENSHOT: Newshawk Phuket
On October 12, a pick-up truck was involved in a horrific road incident on Ban Dok Daeng – Ban Bangsai, Takuapa, in Phang Nga. Luckily the driver, a local policeman, survived but was trapped inside the vehicle while emergency responders figured out how to get him out.
The vehicles was in such bad shape that the rescue team had to use the hydraulic jaws to pry open the car and rescue the trapped driver, Pol. Snr. Sgt. Chainarong Waratikul, from Talad Yai Police Station, in Takuapa.
The blue Isuzu pick-up truck, with Phang Nga plates, crashed into a high-voltage electric pole and almost completely destroyed the front and side of the car, especially on the driver's side where the roof collapsed.
The rescue was difficult as the crushed roof was pressing the driver into the seat and the team had to use a machine to cut open the roof into pieces, which took about half an hour, before they managed to get him out and then rushed him to the Bangsai Hospital.
He told the team that he was driving alone from the police station and when he arrived at the scene of the crash, a sharp curve, he was feeling exhausted and probably fell asleep, losing control of the car resulting in the accident.
STORY: Newshawk Phuket
🔴 พังงา-นาทีชีวิต กู้ภัยใช้เครื่องตัดถ่างงัดร่าง ดาบตำรวจขับกระบะชนเสาไฟฟ้าหวิดดับ วันที่ 12 ตุลาคม 2562 ที่ถนนสายบ้านดอกแดง-บ้านบางไทร บริเวณบ้านดอกแดง ม.5 ต.บางไทร อ.ตะกั่วป่า จ.พังงา เจ้าหน้าที่กู้ภัยสว่างเมฆาตะกั่วป่า พร้อมเจ้าหน้าที่กู้ภัยเขาหลัก และหน่วยกู้ชีพโรงพยาบาลบางไทร เร่งให้ช่วยเหลือผู้ชายคนหนึ่งออกจากรถกระบะตอนครึ่ง ยี่ห้ออีซูซุ สีน้ำเงิน หมายเลขทะเบียน บง 1924 พังงา ซึ่งเกิดอุบัติเหตุ มีสภาพพังยับเยินทั้งคัน โดยเฉพาะฝั่งคนขับที่ชนฟาดกับเสาไฟฟ้าแรงสูงจนหลังคายุบ ทำให้การช่วยเหลือเป็นไปด้วยความยากลำบาก เนื่องจากหลังคารถได้ยุบมากดทับที่คนขับทำให้ต้องใช้เครื่องตัดถ่าง ตัดหลังคารถเป็นชิ้น เพื่อที่จะนำร่างผู้บาดเจ็บออกมา ซึ่งใช้เวลาประมาณครึ่งชั่วโมง จึงสามารถนำตัวออกมาได้พร้อมนำส่งโรงพยาบาลบางไทร จากการสอบถามเบื้องต้นทราบว่าชายดังกล่าวคือ ด.ต.ชัยณรงค์ วราธิกุล พนักงานวิทยุ สภ.ตลาดใหญ่ อ.ตะกั่วป่า ซึ่งได้ ขับรถมาคนเดียวจาก สภ.ตลาดใหญ่ อ.ตะกั่วป่า พอมาถึงที่เกิดเหตุเป็นทางโค้ง คาดว่าน่าจะหลับใน ทำให้รถเสียหลักหมุนไปฝาดกับเสาไฟฟ้าแรงสูงจนเสาไฟหักCr. andaman focus อันดามัน โฟกัส

Posted by เหยี่ยวข่าว ภูเก็ต Newshawk Phuket on Sunday, October 13, 2019
Keep in contact with The Thaiger by following our
Facebook page
.
Professor: Military government too interested in tourism – not people's welfare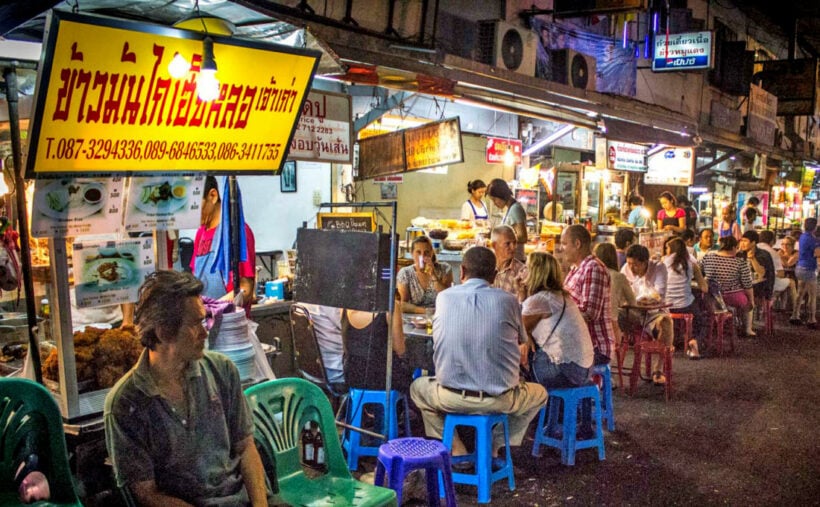 A professor of Rangsit University has criticised the previous military government for focusing too much on tourism and not enough on the welfare of the Thai people. The professor was speaking at Chulalongkorn University at a seminar discussing street stalls and urban development.
She questioned the National Council for Peace and Order's policy of clearing street vendors in all but a few areas such as Yaowarat and Khao San Road that mainly cater to tourists.
She claimed that the NCPO – in power since the coup of 2014 until this year's election – was more interested in economic development through tourism than in the welfare of the public.
Having affordable street food options was not just about tourism, she said, it was vital for poor workers who have migrated from the countryside, adding that it was part of an informal rather than a formal economy.
"For years people had earned their living from selling goods and services, including food, on the streets."
This in turn provided an affordable option to eat for workers who came to Bangkok on for large investment projects. The issue, she said, was not just about tourism but the wider economy that might benefit.
The professor noted that CNN had once called Bangkok the best place in the world for street food but this had changed with the sanitized food trucks that have appeared since stalls and vendors were banned from most areas.
The Thaiger notes that banning street vendors has divided the capital. Many are happy that the sidewalks are easier to navigate, but others – including tourists – have said that the lifeblood and character of the city has suffered.
SOURCE: Naew Na | ThaiVisa Forum
Keep in contact with The Thaiger by following our
Facebook page
.
Thais commemorate the passing of beloved King Bhumibol Adulyadej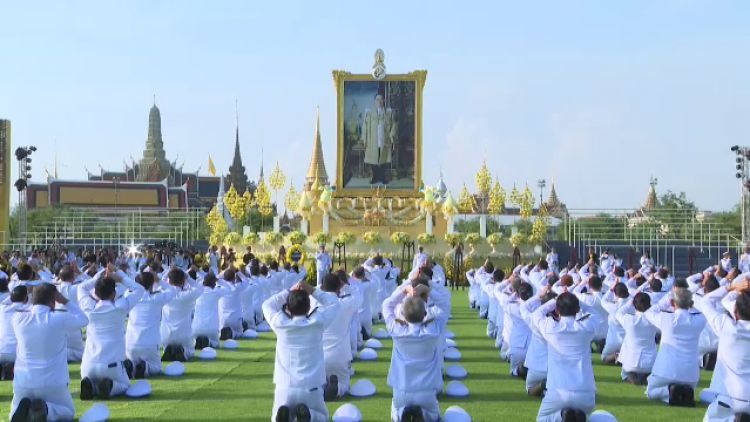 Thousands across the Kingdom, many wearing yellow, attended religious ceremonies and activities yesterday to commemorate the passing of the beloved late King Bhumibol Adulyadej. His Majesty died on October 13, 2016
In Bangkok, a large crowd offered alms to hundreds of monks and novices as PM Prayut Chan-o-cha led ministers, military leaders and officials in paying homage to the late King and placing wreaths in front of a huge portrait of the late monarch.
Similar activities were held at provincial halls throughout the country, and a candlelit ceremony, led by the Prime Minister, was held at Sanam Luang in Bangkok.
In Hua Hin, some 500 people, mostly dressed in yellow, the colour of the late King, joined a charity walk and run on the Phetkasem highway in the morning. In the north-east province of Yasothon, Thanisorn Chittama placed rice crops in his 1 hectare rice field to form an image of the late King, with wording related to the King's philosophy of sustainable economy.
SOURCE: thaipbsworld.com
Keep in contact with The Thaiger by following our
Facebook page
.