Thai citizenship likely for one of the Mu Pa team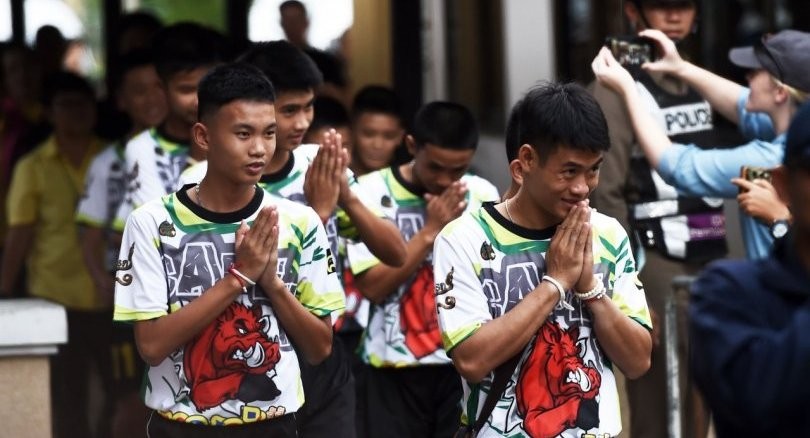 PHOTOS: The Nation
During the rescue of the Mu Pa 13 from the Tham Luang caves in Chiang Rai it emerged that three of the team members and their 25 year old coach Ekkapol, were 'stateless' – caught in a bureaucratic neverland between Thailand and the nearby border Myanmar area which isn't recognised by the Myanmar government. Their status leaves them with no passport, no ability to apply for bank accounts or get married.
Now, at least one of the four, 13 year old Mongkol Boonpium, has a good chance of securing Thai citizenship.
"We have found his records at a municipal nursery, and although his parents are not Thais they are documented residents of Thailand," Tambon Wiang Pha Kham Municipality's clerk Lieutenant Kittichai Charoenying said earlier this week.
"So it is very likely that he was born here in Thailand."

Under Thai law, a person can get Thai citizenship if he is born to a Thai parent or parents, or is born in Thailand.
During the operation to retrieve the team it was revealed that Mongkol, Mu Pa teammates 16 year old Pornchai Khamluang, 14 year old Adul Samon as well as their 25 year old assistant coach Ekkapol Chantawongse are stateless. Since then, there have been growing calls for the four to get assistance with the process of seeking citizenship.
Kittichai this week said his municipality had already told Mongkol's parents to produce witnesses or further documents to back up their request to recognise the boy's Thai citizenship.
"The process will take some time. But at this point, it is quite convincing that the boy was born here in Thailand," Kittichai said.
Ban Pa Meud School director Iam Boriboon said Mongkol had enrolled at his school from Prathom 1.
"We can issue the certification in this regard," Iam said.
Chiang Rai is a border province with Myanmar, and many people living there lack Thai citizenship papers. Among them is Adul and many of his friends at the Chiang Rai Grace Church.
"To tell the truth, most children at the church do not have Thai citizenship," said a migrant worker from Myanmar who has already given birth to three sons on Thai soil. She said she has known Adul well since he was very young.
"He's an orphan. His parents have already passed away," she said. Speaking on condition of anonymity, she said it would be extremely difficult for Adul to successfully undergo the nationality-verification process, given that he no longer had his parents by his side. By Thai laws, a parent must contact authorities to request Thai citizenship for his or her child.
SOTRY: The Nation
Keep in contact with The Thaiger by following our
Facebook page
.
Tourism Council of Thailand cites Thai baht as biggest challenge to tourism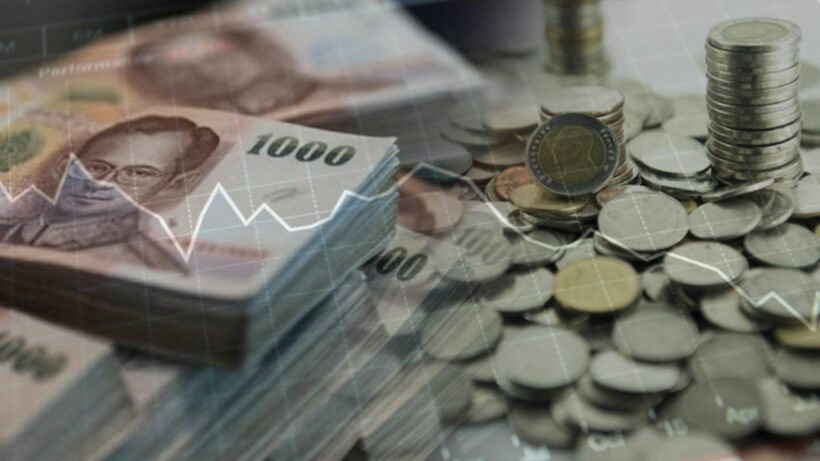 The strong Thai baht is proving to be the biggest obstacle in trying to lure tourists, according to The Tourism Council of Thailand who have had to lower its projection of over 40 million foreign visitors this year down to 39.7 million.
The president of the council says the surging baht is the main reason for the decline.
"It's frightening to see the baht so close to 30 to a dollar. It's the key reason for arrivals and receipts growth being lower than expected."
The country's significant current account surplus is being blamed for the strengthening of the currency and Somchai Amornthum from Krungthai Asset Management (KTAM) says that although the surplus is less than it was last year, it could still strengthen the baht, albeit at a slower rate.
"The baht could break past the 30 per dollar band at some stage next year, but the degree of currency appreciation is not expected to be too strong." KTAM predicts that the baht will be at 31 to the dollar by the end of the year and 30 by the end of next year.
It has outperformed every other Asian currency this year with its strength hurting exporters and the tourism industry. The Bank of Thailand is limited in what measures it can introduce, with the policy interest rate already low, and Somchai says any further policy easing would have limited effect.
SOURCE: chiangraitimes.com
Keep in contact with The Thaiger by following our
Facebook page
.
Italian busted in Australia smuggling heroin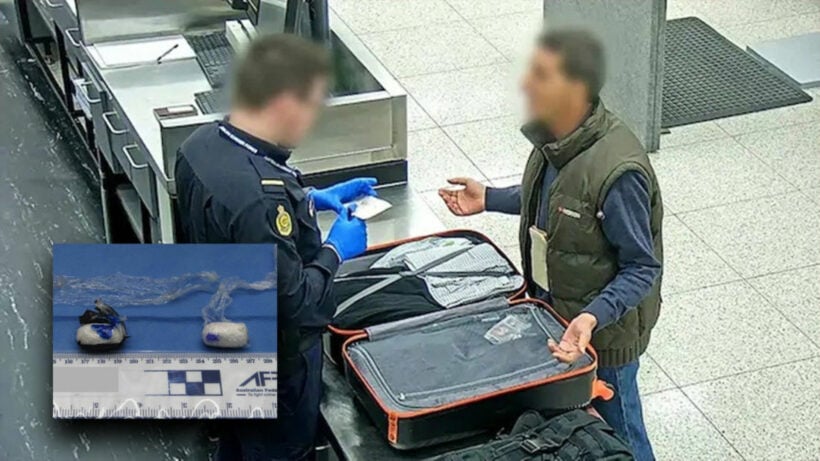 An 49-year-old Italian has been charged with drug smuggling after arriving at Perth Airport from Chiang Mai. He allegedly had about 300 grams of heroin, worth about 135,000 Australian dollars, hidden inside his body.
After trace technology during a baggage examination showed positive for narcotics, Australian Border Force officers referred him to the Australian Federal Police for an internal exam.
The man was taken to hospital where 63 pellets of heroin were allegedly found in his stomach. X-Rays also revealed three more pellets of heroin had been internally inserted into his rectum.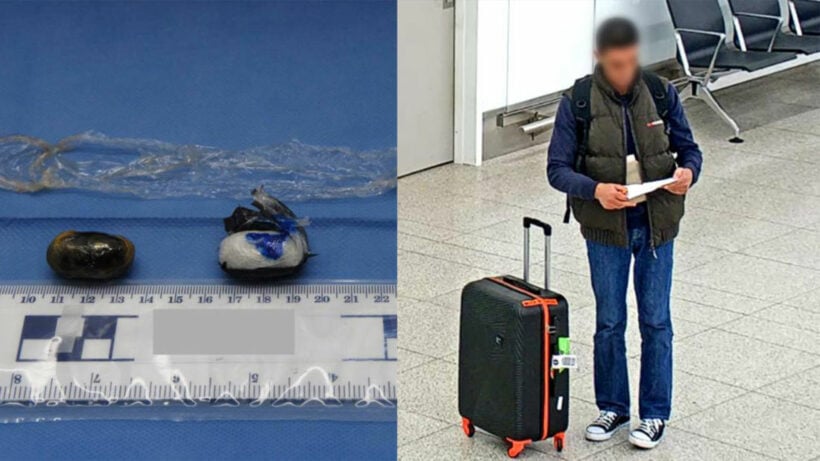 Photo: Australian Border Force
He was charged with importing a controlled drug and faces 25 years in prison.
A spokeman for the Australian Border Forcesaid the ABF is fully aware of the lengths people are willing to go to bring drugs into Australia.
"They not only risk lengthy jail time, but are playing Russian roulette with their own lives and health," he said.
"Smuggling drugs internally is an incredibly stupid endeavour. Furthermore there is a risk that stomach acid will eat through the wrapping of the heroin, consequently risking a fatal drug overdose," according to federal police.
SOURCE: chiangraitimes.com
Keep in contact with The Thaiger by following our
Facebook page
.
Earthquake could hit Chiang Mai and Chiang Rai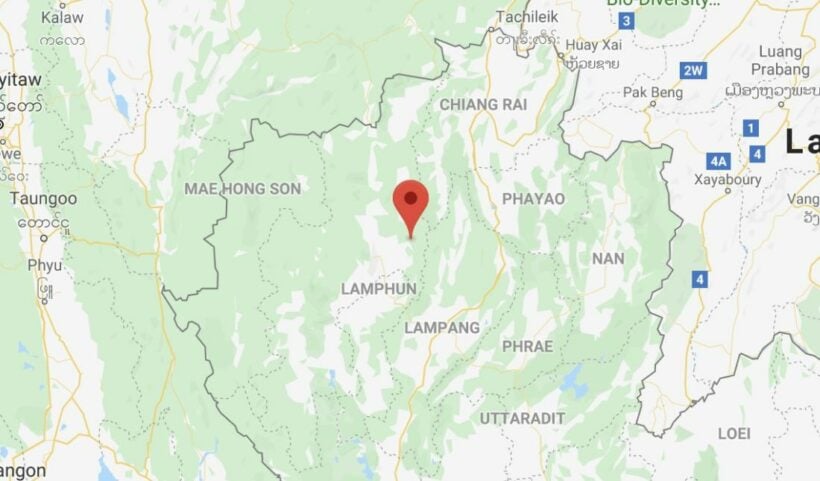 A magnitude 4.1 tremor shook seven districts of Chiang Mai and Chiang Rai on Friday night, prompting the Department of Mineral Resources to warn that the two northern provinces could face a magnitude 5 earthquake within ten years.
The prediction is based on analysis of movements in the Mae Tha fault lines, including the 5.1 ML quake in December 2006, centred under the Mae Rim district of Chiang Mai.
Geological studies in Ban Pong Samakkhi, Chiang Mai, indicate that the area experienced a 5.9 ML quake about 2,000 years ago.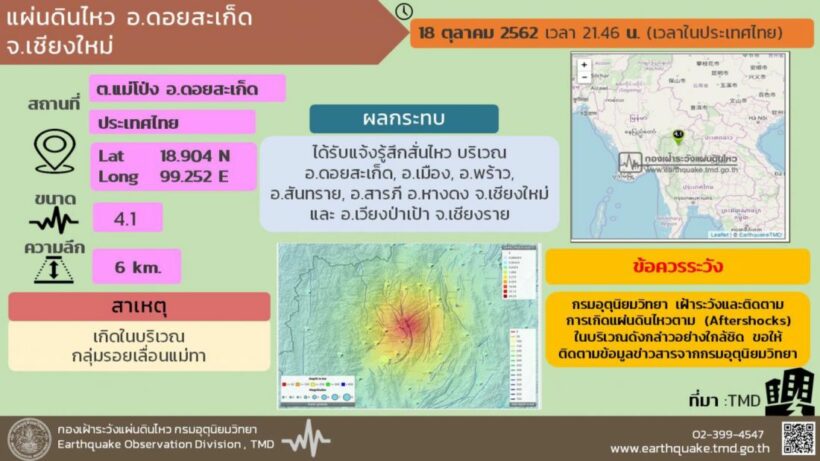 Photo : earthquake.tmd.go.th
Friday's temblor occurred at 9:46 pm, with its epicentre about six kilometres below the surface in Doi Saked district.
The tremor was felt in the Muang, Prao, San Sai, Doi Saket and Hang Dong districts of Chiang Mai and Wiang Papao district of Chiang Rai, though there have been no reports of casualties or property damage.
SOURCE: thaipbsworld.com
Keep in contact with The Thaiger by following our
Facebook page
.