Chiang Mai massage worker has baby in the police toilets, abandons the child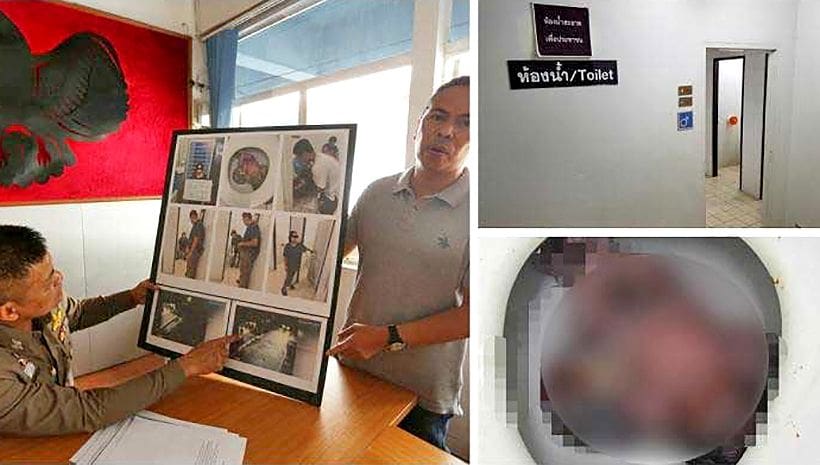 Thai Rath reports that police in Chiang Mai have located and arrested a 43 year old woman who snuck into the city district police station and had a baby in the toilets there.
After giving birth last weekend, the mother left with her child still in the toilet bowl. The baby was found soon after, survived, and is now stable and healthy in the Maharat Nakorn Hospital.
43 year old Busaba Somfu, a massage worker at a nearby shop, has been arrested over the incident.
She explained to police that she experienced stomach pains while serving a customer. She went into the police toilets and was 'shocked' when she gave birth.
She was caught on CCTV entering the toilet at 10.05 pm and leaving at 10.21 pm. She explained that she was not ready to have a child and her husband had refused to accept any responsibility, so she left her baby in the toilet bowl.
Police Col Piyaphan Patrapong, a deputy commander of the provincial Chiang Mai police, says the woman has been charged under a law related to abandoning a child.
Maharat Nakorn Hospital staff say the baby was in 'good condition' and would be handed over to a children's home as no one had come to claim the child.
SOURCE: Thai Rath
Want more from the Thaiger family?
📱 Download our app on Android or iOS for instant updates on your mobile
📧 Subscribe to our daily email newsletter
👍 Like/Follow us on Facebook
🔔 Subscribe to or Join our YouTube channel for daily video updates
University student carves "112" into chest after being charged with violating lèse-majesté law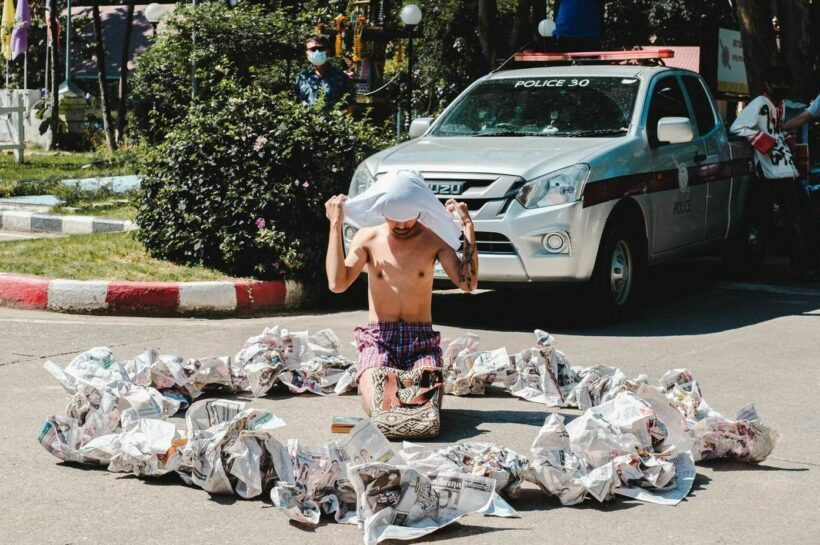 A Chiang Mai University student now has the numbers of "112" carved across his chest after using a razor blade on himself in defiance of the Section 112 of the Criminal Code, also known as the lèse-majesté law. The student took to cutting himself after arriving at the police station to face charges of violating the law. He was also charged with breaching the National Flag Act.
The 23 year old student and his colleague, are facing charges brought by political activist Srisuwan Janya after the duo allegedly placed an altered Thai national flag, featuring critical words against the monarchy, at an exhibition site at the university. Police tried to prevent him from harming himself further, as Vitthaya claimed it was an act of freedom of expression, but he was taken to the police station for first-aid treatment. The other student told reporters that he did not amend the Thai flag as police alleged, citing again, that it was a work of art. Both students are now released, but must come back to report themselves on May 31.
Thasanai Sethaseree, a university lecturer at the Faculty of Fine Arts, says the use of the Thai national flag in a work of art does not constitute a violation of the Thai National Flag Act. However, the lecturer didn't comment on whether the words adorning the flag would constitute a violation of the lèse-majesté law, or Section 112 of the Criminal Code of Thailand.
Last Thursday, jailed student activist leader Panusaya "Rung" Sithijirawattanakul was granted bail of 200,000 baht after repeated denials of bail requests over the last 2 months. Rung was detained on charges using Thailand's strict lèse-majesté laws that carry a 15-year maximum sentence for insulting the royal monarchy and has been held without bail since March 8.
She joined her fellow activist leader Parit "Penguin" Chiwarak on March 30 in his hunger strike to protest the bail denials. Penguin was recently hospitalised over health concerns due to his hunger strike that began March 16.
SOURCE: Thai PBS World
Want more from the Thaiger family?
📱 Download our app on Android or iOS for instant updates on your mobile
📧 Subscribe to our daily email newsletter
👍 Like/Follow us on Facebook
🔔 Subscribe to or Join our YouTube channel for daily video updates
3 journalists from Myanmar arrested in Chiang Mai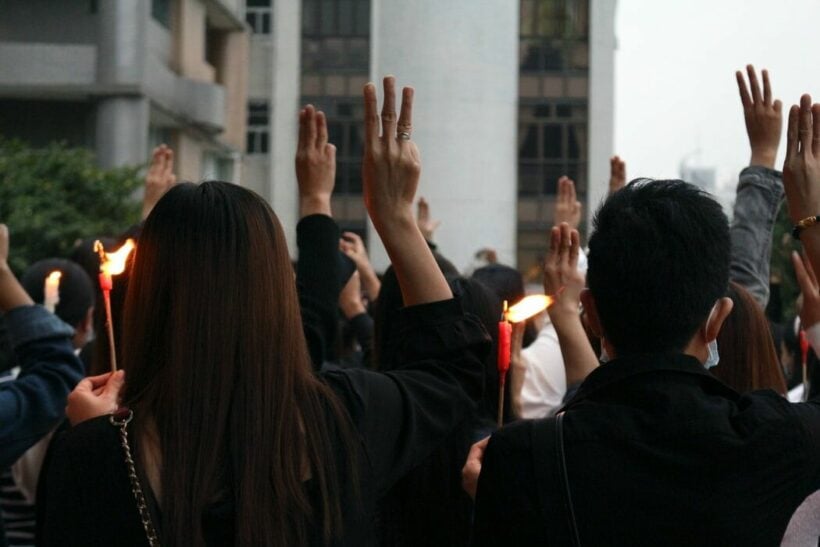 Police in Northern Thailand arrested 3 senior journalists who had fled Myanmar due to orders from the military junta to stop reporting, the director and editor of the news agency Democratic Voice of Burma said in an email to the Associated Press.
The journalists, along with 2 associates, were arrested yesterday in Chiang Mai for allegedly illegally entering Thailand. Police were doing a random search, the editor says.
The FCCT also released a statement calling on Thai authorities to release the journalists and offer them protection in Thailand.
These 5 individuals would face certain arrest and persecution, if not worse, for their work and association with the DVB, and under no circumstances should they be deported back to Myanmar.
Rather, the DVB journalists and their associates should be released from detention, urgently offered protection, and granted the right to remain temporarily in Thailand.
SOURCE: Associated Press
Want more from the Thaiger family?
📱 Download our app on Android or iOS for instant updates on your mobile
📧 Subscribe to our daily email newsletter
👍 Like/Follow us on Facebook
🔔 Subscribe to or Join our YouTube channel for daily video updates
Murder of Thai wife may have been 2nd attempt by US man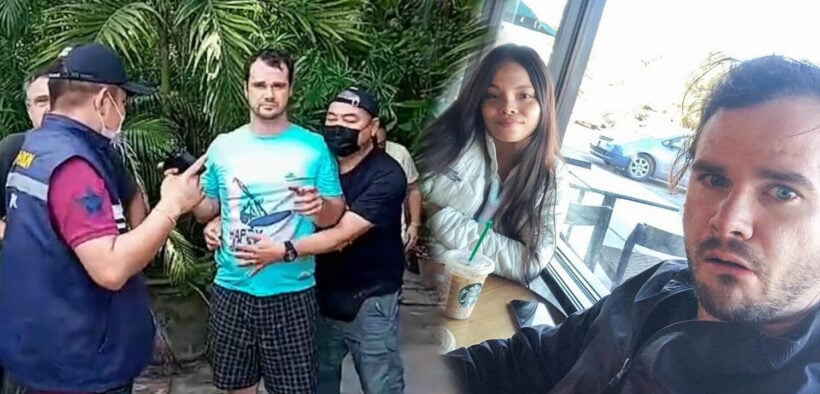 The American man accused of the murder of his Thai wife in Chiang Mai has now confessed to the brutal crime. And it may not have been the first time he tried to kill her. The 32 year old man, who was a computer programmer in the United States, admitted that he killed his wife while she was 3-months pregnant. Jason Matthew Balzar is now in custody at Muang Nan police station and has reportedly told police that he stabbed his wife Pitchaporn "Som O" Kidchob in the chest with a knife while she slept.
Police said after stabbing his wife, Jason put her body in a plastic bag and dumped it on the side of the road on Ban Srikerd-Samun Road, about 10 kilometres from their rented home at Tambon Chaiyasathan in the Muang district. A crime re-enactment was held at their home, a common occurrence in Thailand for police to piece together criminal acts and record details.
The murder was not Jason's first accusation of violent crime, with details surfacing of his 2019 conviction for threatening to murder a woman in the US. There is unconfirmed speculation that the victim of that attack was the same Thai wife murder victim, but in Colorado domestic violence cases withhold the names of victims.
He was sentenced to 2 years of probation after an attack in Longmont, Colorado that was originally charged as attempted murder, but lessened due to a technicality. According to the arrest report, Jason attacked her after she refused sex, hitting her head and pointing a gun at her, which fired near her head. He was again arrested for violating his probation by possessing 73 guns in December 2020.
After confessing to killing his pregnant Thai wife, Jason is being charged with the murder and with concealing her body. The American man claimed that he decided to kill her in her sleep because he was upset that she wanted to leave him. The couple had plenty of rough patches with frequent arguments being common in their household.
The victim's family don't believe the murder was a sudden crime of passion. Her sister and mother said they have often seen him carrying a knife.
SOURCE: Bangkok Post
Want more from the Thaiger family?
📱 Download our app on Android or iOS for instant updates on your mobile
📧 Subscribe to our daily email newsletter
👍 Like/Follow us on Facebook
🔔 Subscribe to or Join our YouTube channel for daily video updates