Armed gang steals 30,000 baht in early morning Chiang Mai hotel attack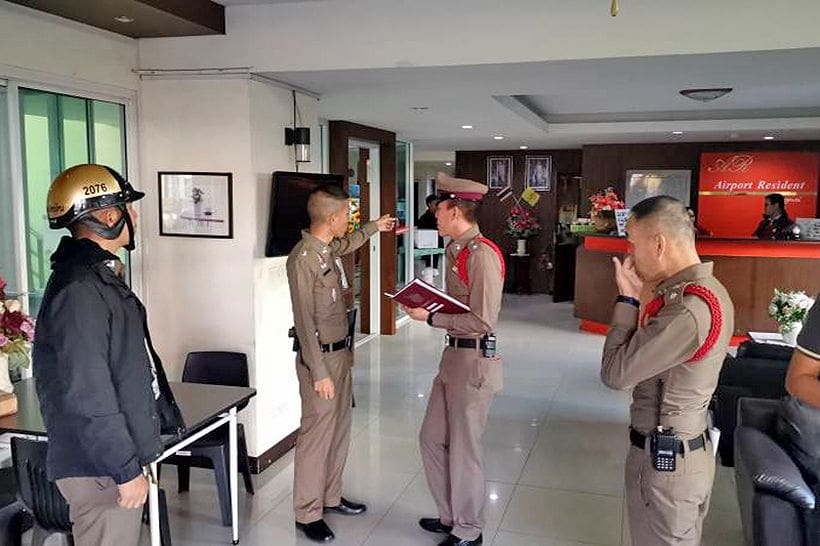 UPDATE of this story HERE…..
An armed gang has robbed the Airport Resident Hotel in downtown Chiang Mai early this morning.
Daily News reports that the deputy provincial police chief is asking police to locate the criminals in what he said was a "brazen attack that could damage tourist confidence".
A 30 year old staff member of the hotel, Yossakorn Detdiawying says that three armed men entered the hotel in the early hours with long sleeved shirts pulled over their heads. They were armed with knives.
A scuffle followed and the staff member was put in a head lock and told not to resist. But he did resist and was cut twice by another person in the gang but the injuries to his arm were minor. The attack took around 20 minutes.
The gang then reportedly ransacked the reception area and office before fleeing with 30,000 baht and the CCTV TV system.
Yossakorn told police that, hearing the robbers, they appeared to have foreign accents. He says the attackers fled along Mahidol Road on a Honda Wave motorcycle.
"Such a brazen attack had the potential to damage tourism in the city," he police.
SOURCE: Daily News


Read more headlines, reports & breaking news in Chiang Mai. Or catch up on your Thailand news.
Developer pulls the plug on 500 million baht retirement project in Chiang Mai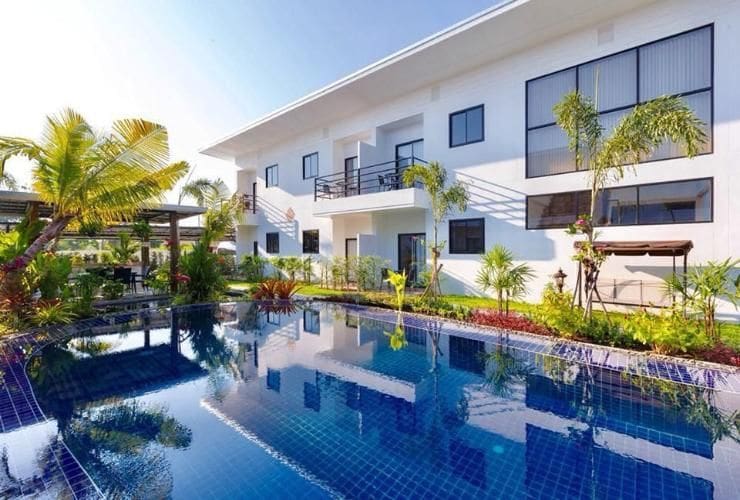 PHOTO: Sunshine International Retirement Residence & Serviced Apartment, Hua Hin
Sunshine International, Thailand's leading brand of retirement residences says that their project which was due to be constructed near Chiang Mai's city centre has now been cancelled.
Sunshine International, a retirement property that included around the clock medical facilities, on site doctors and nurses, and state of the art facilities, was due to be built on a five rai site in central Chiang Mai.
But ThaiVisa reports that the company says, due to the problems the city is experiencing with poor air quality, smog and pollution, it has been forced to cancel the Sunshine International Retirement Residences project.
Andrew Stocks of Sunshine International said they had an increase in people contacting them saying they have been forced to leave Chiang Mai because of the smog.
He said that due to the negative impact the project is currently not viable.
Andrew said his company will now focus on its other retirement projects located in Hua Hin, as well as a soon to be announced project in Phuket. He said Sunshine International would consider returning to Chiang Mai again if the smog situation improved.
Andrew called on the authorities to step in to help protect the livelihoods of local people who rely on income generated by the tourism industry in the region.
SOURCE: ThaiVisa.com
UPDATE: 'Flight of the Gibbon' ride in Chiang Mai temporarily closed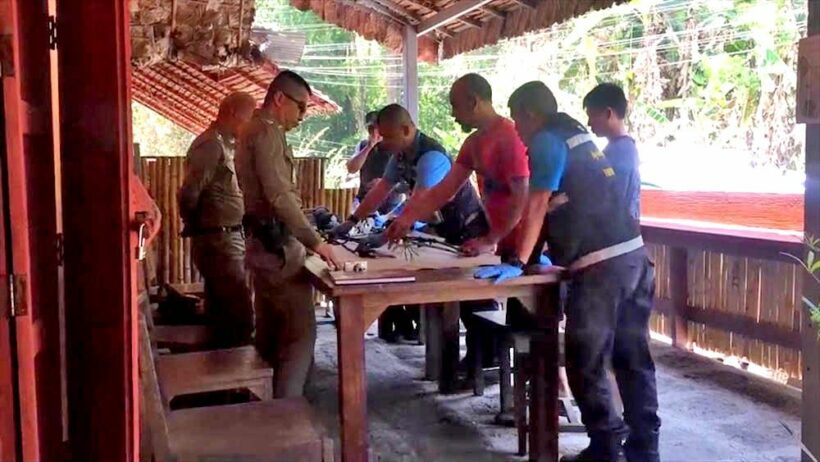 PHOTOS: Guruchiangmai
The 'Flight of the Gibbon' zipline ride in Chiang Mai has been ordered to temporarily shut down while an investigation continues into the death of a Canadian tourist on Saturday.
The Canadian tourist's weight has been officially reported now as 122 kilograms after a lot of discussion in Thai media whether the man was over the 125 kilogram weight limit for the ride.
The 25 year old Canadian tourist, Donaldson Spencer Charles, fell to his death after safety lines allegedly broke on his zipline ride in Chiang Mai. He was traveling with a group, including his girlfriend, at the time. Initial investigations indicate that the young men fell shortly after launching off the treetop platform.
Read The Thaiger's initial report HERE.
Guruchiangmai website report that the zipline has been order to temporary shutdown and the riding license has been withdrew
And Khaosod English reported yesterday that Chiang Mai's Governor Supphachai Eiamsuwan has published the 25 year old Canadian tourist Spencer Donaldson's weight as 122 kilograms. He was a resident of British Columbia.
No charges have yet been filed in the ongoing investigation.
Meanwhile, the management at the Flight of the Gibbon say they will take full responsibility and have offered extra compensation to the victim's family, in addition to a 1 million baht insurance payout. At this stage their website is taking bookings and there is no mention of the incident.
Online, the tourist attraction claims it's the "#1 zipline tour operator in Thailand," and that it was established 12 years ago.
Flight of the Gibbon has been temporarily shut down before after three Israeli tourists were injured after colliding into one another and falling to the ground in 2016.
Another two Chinese tourists died in 2015 after falling from two separate zipline attractions, one operated by Skyline Adventure, the other at Flying Squirrels. There was also another Chinese tourist injured at the Flying Squirrels' zipline attraction in 2016.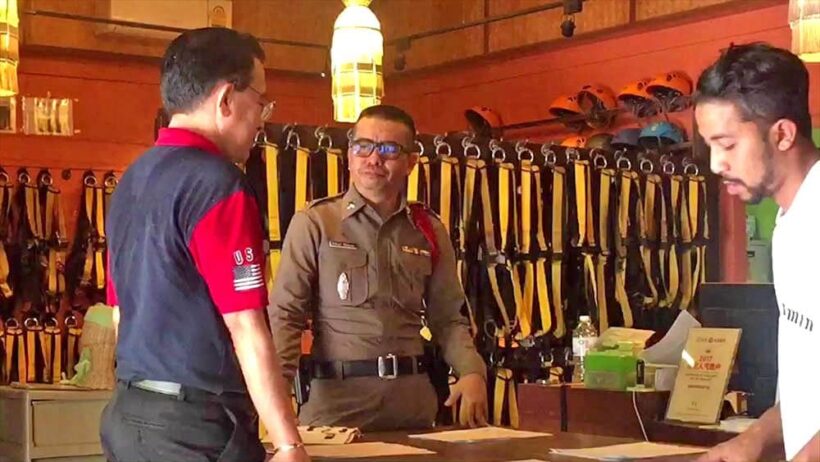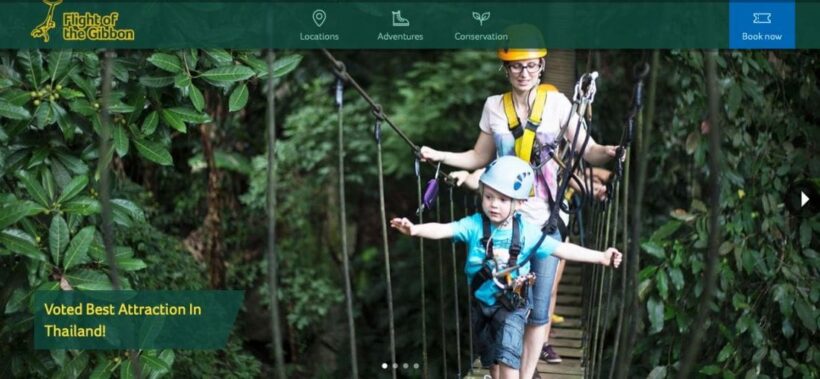 New fires in the North likely to be arson – Army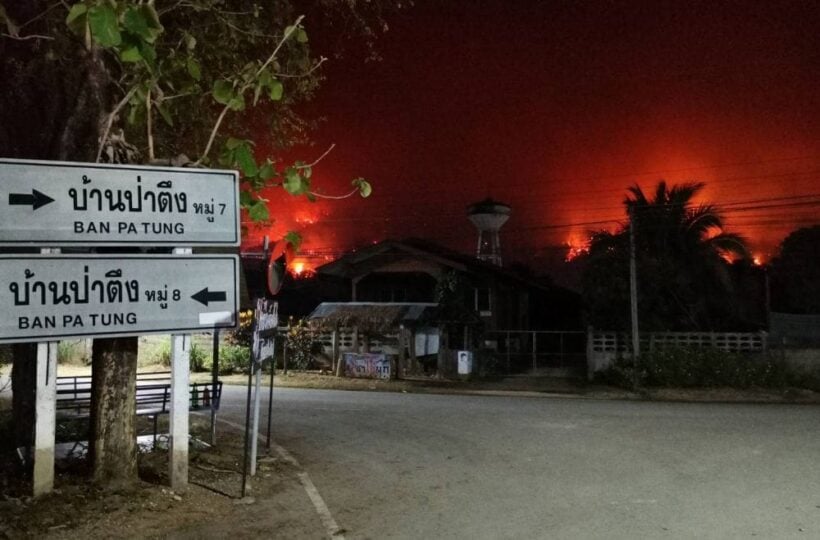 Some 1,000 combined professional and volunteer firefighters are battling a major forest fire in the mountainous area overlapping Chiang Mai's Muang and Mae Chan districts.

The fire started on Sunday night in the Doi Jorakhe area of Tambon Tha Sud in Muang before spreading to Tambon Pa Teung in Mae Chan, a densely populated area and home to Mae Chan Hospital and temples.

As of this morning the fire had already devastated 1,000 rai of forestland and nearby plantations.

Mae Chan disrict chief Wandee Ratchomphu led the efforts by 800 state officials and volunteers to put out the fire and prevent it from reaching communities or more forestland in Mae Fah Luang district. A special coordination centre was set up at Wat Pateung to dispatch firefighters to the affected areas by first light, attempts to put out the flames in the heavily wooded mountainous area during the night considered dangerous.

Third Army Region deputy commander Major Buncha Duriyapan was also on the scene to help supervise soldiers joining the fire-fighting efforts. The Army brought in a helicopter to provide support to the Protected Area Regional Office 15's chopper being used to carry water from the three-metre-deep Tham Sua reservior to douse the flames in hard-to-reach spots.

Buncha also ordered related agencies, especially the police and army, to investigate and identify the person(s) who started this massive fire, saying this was "a strange and unprecedented situation when wildfires erupted all over the province's mountainous areas simultaneously".

He said he was convinced that this was a case of arson and not a freak natural incident like a lightening strike.

The Geo-Informatics and Space Technology Development Agency's fire monitoring system, as of yesterday morning, identified 521 hot spots in the North. Chiang Rai led the pack with 291 hotspots, followed by Nan (57), Lampang (46), Phayao (46), Chiang Mai (44), Tak (15), Mae Hong Son (14), Phrae (6) and Lamphun (2).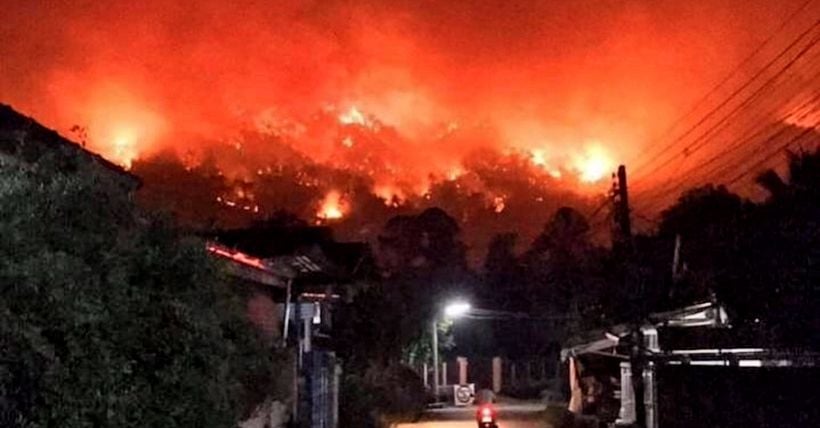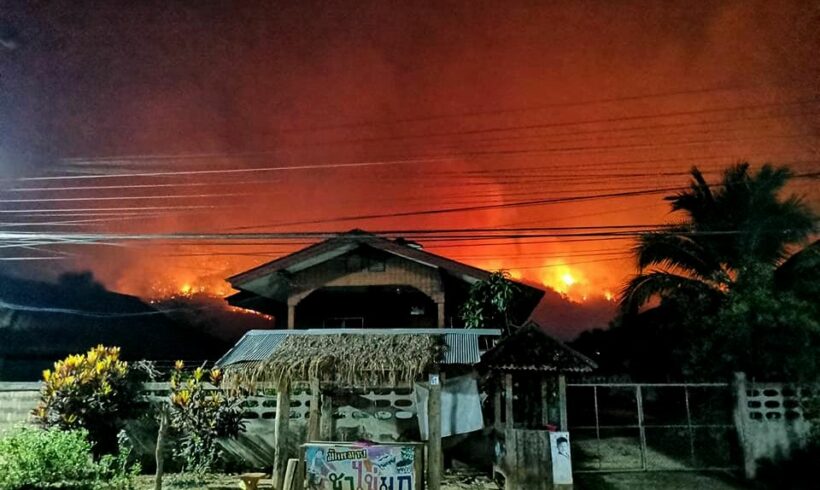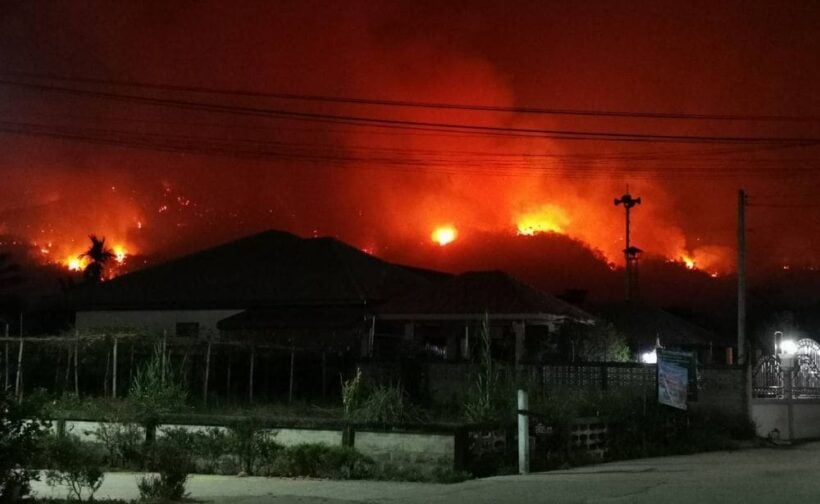 SOURCE: The Nation